From punishing sunlight to extreme temperatures, a boat's radio has to endure a lot of abuse. If you want great sound on your boat, you need marine-rated gear that's designed to stand up to the elements. This guide will explain the marine designs and help you choose the receiver that's right for your boat.
What makes marine radios different?
Marine radios have to be able to endure an open climate, even when the boat is tied up in the marina. The water, salt, and sun that make boating so much fun for you can wreak havoc on your boat's electrical components. If your gear isn't made for this sort of abuse, it won't last a season.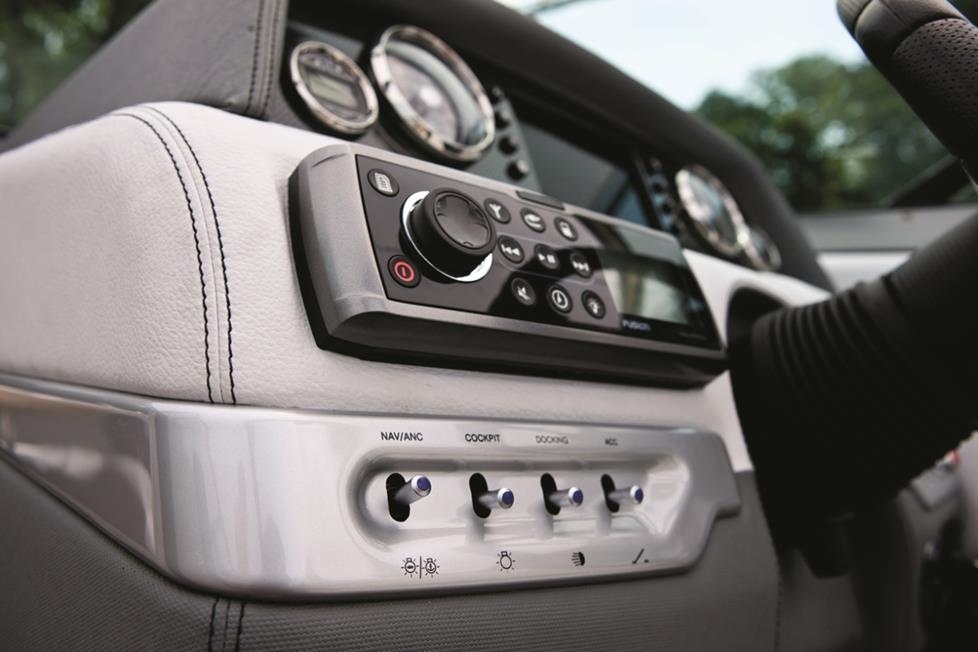 Marine audio gear undergoes hundreds—even thousands—of hours of extensive pre-production testing. Ultraviolet test chambers simulate years of sun exposure, while special "salt fog" chambers simulate years of exposure to harsh salt water environments. Blasts of water test every seal to ensure that every button, switch and port is moisture-proof. And special conformal coatings provide additional protection for the internal circuitry.
There are three key things to consider when you're looking at audio equipment for your boat:
Water resistance: If your gear is "water resistant," that means it can handle splashes and light rain, but isn't built to handle submersion. Levels of resistance vary by manufacturer. Waterproof products, on the other hand, can be fully submerged without damage, though the specifics vary here, too.
UV resistance: Quality marine gear is designed to withstand sun damage. It's a key feature to look for on receiver faceplates, speaker cones and remote controls.
Anti-corrosion protection: Salt water can turn great gear into ballast in no time. Marine audio gear is designed to resist rust and corrosion, with coated circuit boards, plated connections, and rust-resistant chassis components.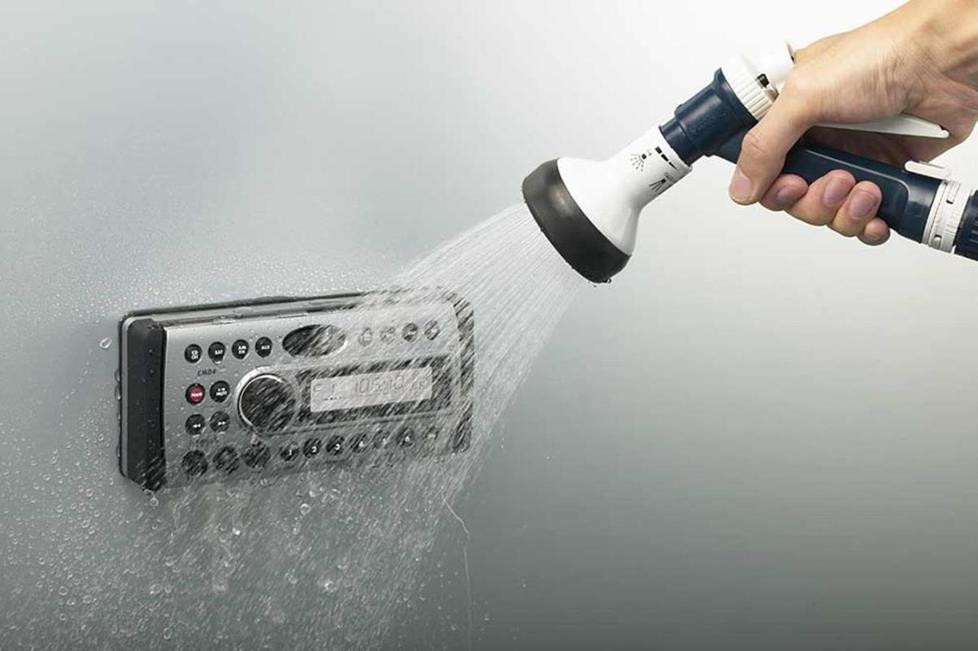 Water resistance is essential for marine electronics. If your stereo can't stand up to the elements, it probably won't last a whole season.
What should you look for in a marine radio?
Shopping for a marine-rated stereo is a lot like shopping for a car stereo. A lot of the same notes apply.
The right specs
Marine audio gear is just like car gear in that better specs mean better sound. For receivers, look for a high CD signal-to-noise ratio, a wide frequency response, and plenty of RMS power. If radio's your thing, check the FM sensitivity spec — the lower, the better.
Bluetooth®, SiriusXM satellite radio, and more
The days of the basic, one-trick AM/FM radio are long gone. Today's marine CD receivers and digital media receivers are every bit as powerful and feature-packed as their automotive cousins. Built-in Bluetooth® connectivity lets you stream music or make calls without taking your hand off the helm. SiriusXM satellite radio tuners let you enjoy your favorite music, sports, and talk up to 200 miles offshore. And multiple USB and aux connections will let you enjoy your entire music collection by plugging in your smartphone, a thumb drive, or music player. Today's aftermarket marine receivers have everything you need to stay entertained at the dock and on the water.
Better sound
When looking for new marine speakers, you'll want plenty of power handling, plus weatherproof cones, rubber surrounds, and UV-resistant grilles. See our Best Marine Speakers article for more info about choosing new speakers for your boat.
High power
Since you'll be listening to your music out in the open air (as opposed to within the acoustic confines of a car), high power is a must for clean, clear sound on a boat. Most marine receivers come with built-in 4-way amplifiers, but if you like it loud or just want to drown out the nautical background noise, you might want to consider adding an external marine amplifier to your system. A marine-rated amp (and a marine-rated amp wiring kit) will bring out the best in your new speakers.
Expandability
If you have a larger system in mind, look for a marine receiver with multiple sets of preamp outputs. That makes it easier to connect and control external amplifiers and subwoofers as you build your ultimate boat audio system.
Many marine radios are available with waterproof, wired remote controls. These remotes allow you to mount the radio inside a watertight compartment if you need to, plus they give you and your passengers convenient control over what's playing from various spots on the boat.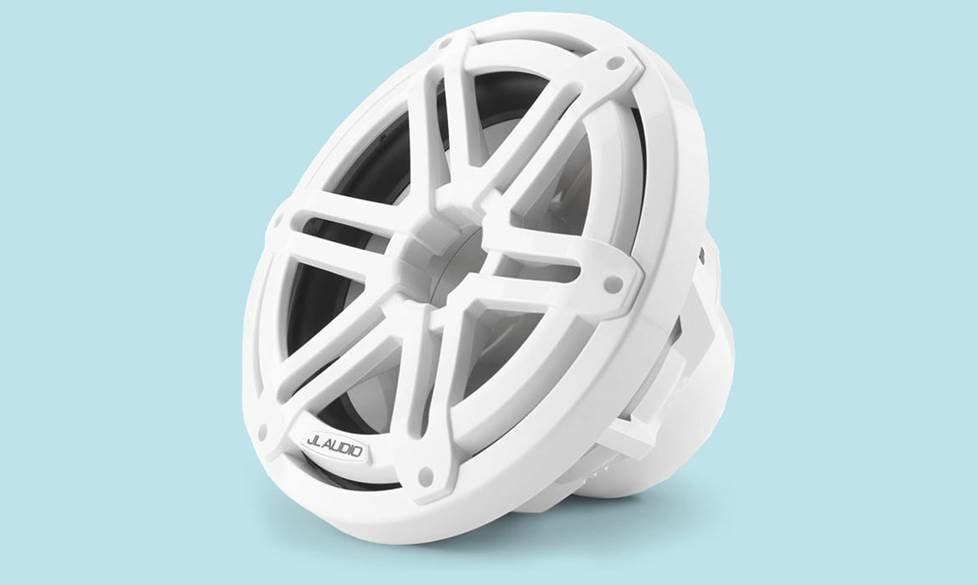 You can really boost your boat's bass with a marine subwoofer
How are you going to install it?
Installing a new receiver in a boat can be a bit tricky. Unlike most land-bound vehicles, boats don't generally offer one obvious, ideal place for audio equipment. And, depending on the various power and space limitations, your boat installation could present a unique set of challenges.
In most cases, replacing your boat's stereo is a relatively painless process. Many boats are equipped with "single-DIN" (2" tall) receivers, and there are plenty of aftermarket marine receivers that will fit nicely. Most of the time, the old stereo pops right out with the aid of simple tools, and the new one should slide right in with the help of the mounting brackets included in the package.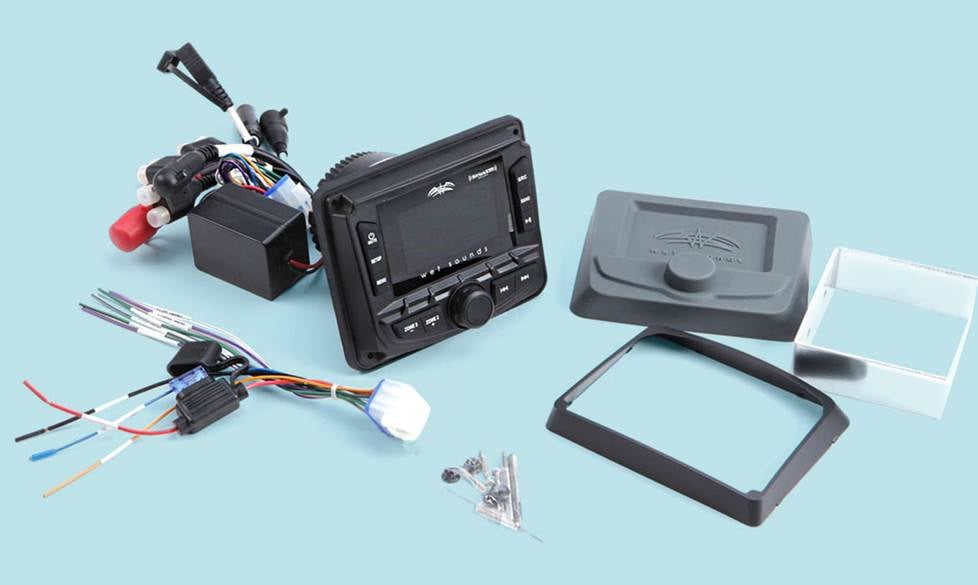 Gauge-style receivers come in several shapes and sizes. This Wet Sounds model has a rectangular face, but others are round.
Another option, especially for smaller boats, is a gauge-style receiver. These digital media receivers are, as you've probably guessed, designed to fit into a standard gauge opening. They're handy for smaller boats with limited dash space. They won't play CD's, of course, but they're terrific for standard AM/FM/Weather radio and playing music from your smartphone.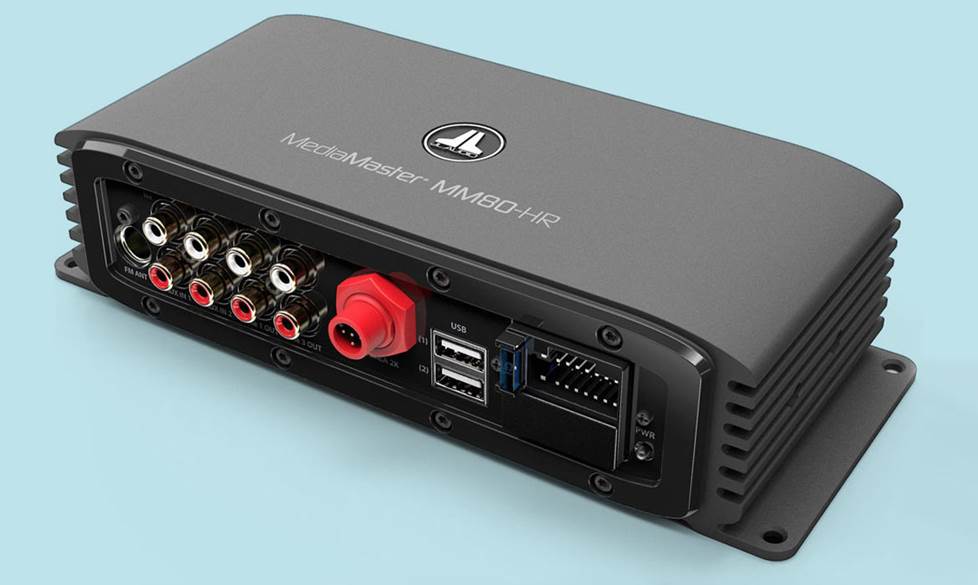 Don't think you have space for a receiver? Hideaway models like this JL Audio MM80 give you great sound, and you can install them in a cubby or console.
Some boats don't offer a convenient place to install a receiver. If your boat is one of those, or you just don't want to create a mounting location, consider a "black box" hideaway receiver. These digital media receivers are designed to be installed out of sight, but they come with rugged, waterproof controllers that give you access to all the functionality and connectivity you'd ever want from a marine receiver.
The most important thing to remember is that whether you're doing the installation yourself or letting someone else handle the job, you (or your installer) will have access to our tech support team if you need help along the way. As a Crutchfield customer, you get free tech support help for the life of the gear. Our experts are right here in Virginia and available by phone or chat seven days a week.
Get the radio that's right for you
There are a wide variety of durable, high-quality marine radios on the market today. In fact, just about any A/V configuration you can imagine in your car can now be tweaked to work on your boat. With that flexibility in mind, there are many things to take into account when shopping for a marine audio system, so be sure to study each product carefully before deciding which is the best one for you.
As always, if you have any questions, contact us via phone or chat. Our advisors are here to help!