In this article, we'll take a look at marine-rated receivers, speakers, subs, and more. Whether you're outfitting a yacht or upgrading the sound on a bass boat, we have the all-weather stereo gear you need to make any boat sound awesome.
Marine audio gear at Crutchfield
Crutchfield is best known for our car audio and home audio expertise, but we have plenty of products and advice for boaters, too. We stock a wide variety of rugged, durable marine audio equipment, and our marine audio experts know what works and what doesn't.
In addition to receivers, speakers, subs, and amps, you'll also find a number of marine-rated products that allow you to listen to satellite radio on the water. We also stock all the cable and gear you'll need to hook everything up in your boat.
When you outfit your boat at Crutchfield, you'll get the peace of mind that comes from our more than 45 years of mobile audio experience, along with free technical support for the life of your boat's audio gear.
Have questions about your marine stereo system?
Our friendly Advisors can help you decide what you need to build the audio system of your dreams for the boat you always dreamed about owning. There's even a team of Crutchfield marine advisors who specialize in helping boat owners build great audio systems.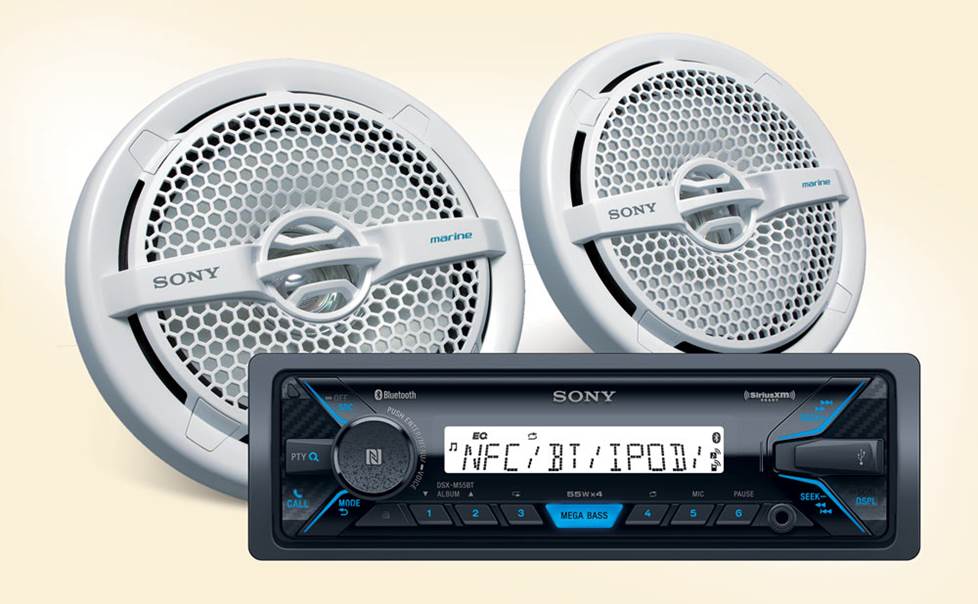 This Sony DXS-M5511BT marine receiver/speakers package is a great system for smaller boats
What to look for in marine audio gear
The water, salt, and sun that make boating so much fun can wreak havoc on your boat's electrical components. If your gear isn't designed to withstand this environment, it won't last a season. That's why it's so important to choose the right gear for your boat's audio system. From your receiver to your cables, everything needs to be ready for life on the water.
Here's a quick guide to some terms you'll see frequently when you're shopping for marine audio gear:
Water-resistant — Can handle splashes and light rain, but not built to handle submersion. Levels of resistance vary by manufacturer.

Waterproof — Able to be fully submerged, though depths and the amount of time underwater vary by manufacturer. Check out our article about IP waterproof ratings to learn more about water-resistance and waterproofing.

UV-resistant — Designed to withstand sun damage. Found on receiver faceplates, speaker cones and grilles.

Anti-corrosion — Specifically designed to resist rust and the corrosive effects of salt water. Examples of anti-corrosive features include coated circuit boards, plated connections, and a rust-resistant chassis.

NMEA 2000 — This "plug and play" communications networking protocol allows devices as varied as receivers, chartplotters, GPS units, wired remotes, and wind instruments to function as one complete system. Learn more in our NMEA 2000 networking system article.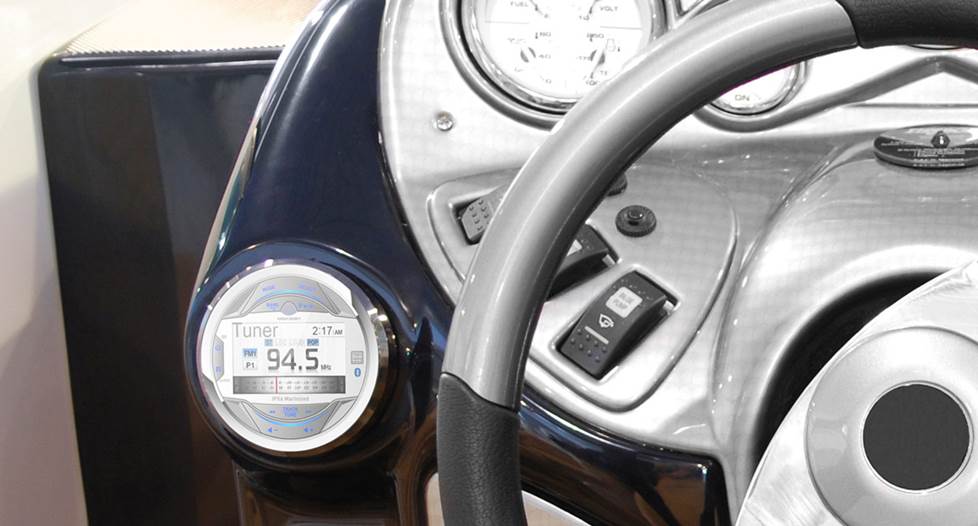 For some boats, a gauge-mount digital media player is an ideal solution
Components of a marine stereo system
Receivers — You'll want to buy a marine receiver with a coated circuit board, a water-resistant faceplate, line-level outputs for sending signals to an external amplifier, and satellite radio controls. A weatherproof faceplate cover and a watertight remote control are great accessories to add on to single-DIN (2" tall) receivers. We also offer receivers that will fit into gauge openings. Read our Marine Radio Buying Guide for more tips.
Speakers — When you're buying marine speakers, look for plastic cones (such as polypropylene) and rubber surrounds for maximum weather protection, corrosion-resistant mounting hardware, and enough power to pump out tunes over wind, water, and engine noise. Be sure to look at where you're mounting the speakers — if your speakers are near your compass, they should be magnetically shielded.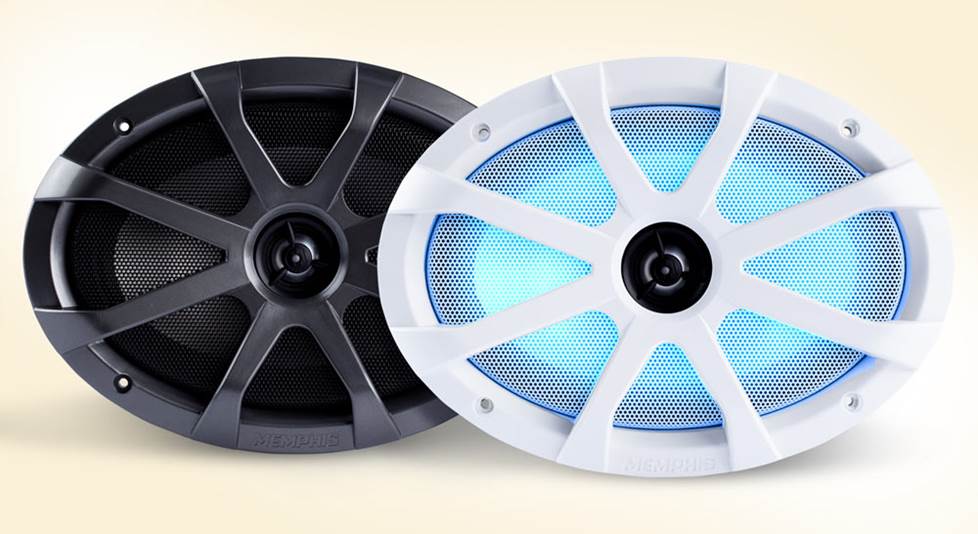 Quality marine speakers will make a big difference in your boat's audio performance
Amplifiers — Since you'll be listening to your music out in the open, you'll want plenty of power for clean, clear sound. Aftermarket marine receivers come with built-in 4-way amplifiers, but if you love it loud or want to drown out the nautical background noise, you might want to consider adding an external amp to your system. A quality marine amplifier will feature coated circuit boards, plated, non-corrosive connectors, and plenty of power.
Subwoofers — Bass matters on boats, too, so it's smart to invest in a sturdy, powerful marine subwoofer. Look for plastic cones and rubber surrounds for maximum weather protection. Free-air rated component subs or enclosed subwoofers are good for the challenging mounting locations you'll often encounter in a boat. If you don't plan to add an external amplifier, look for a powered enclosed subwoofer.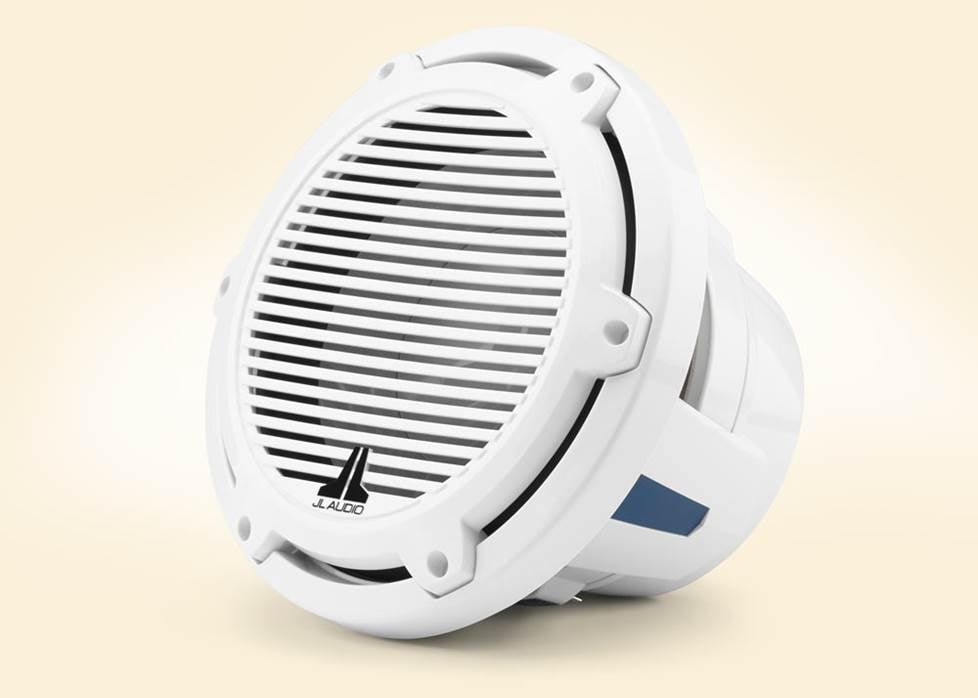 Marine subwoofers (like this one from JL Audio) will bring big bass to your boat
Speaker wire and cables — Marine-rated wiring is an essential part of any marine audio system. All wires should be tinned; bare copper can corrode quickly in salt water conditions.
Satellite radio — SiriusXM satellite radio is truly a "must-have" part of any boat stereo system, because satellite radio reception extends up to 200 miles off shore. Many marine receivers are satellite radio-ready, which means you can add an external tuner, mount it out of sight, and run the cable into the radio. Even better, plug-and-play satellite radio tuners can be transferred from car to boat to home. Look for a marine kit for your plug-and-play tuner, including a marine-rated satellite radio antenna.
GPS — Okay, so it's not technically an audio component, but most boaters wouldn't leave shore without GPS navigation. When considering which marine GPS unit or chartplotter is best for you, look for conveniences like rechargeable batteries, a bright color screen that won't wash out in direct sunlight, Blue Chart compatibility, and, of course, weather resistance. Need a fish finder? We have those, too!
Power Inverter — A power inverter is an incredibly handy thing to have on board, especially with smaller boats, because you can charge your phone battery, a laptop computer, or run small electronics. Be sure that the inverter has a Ground Fault Circuit Interrupter, which protects you against accidental shocks.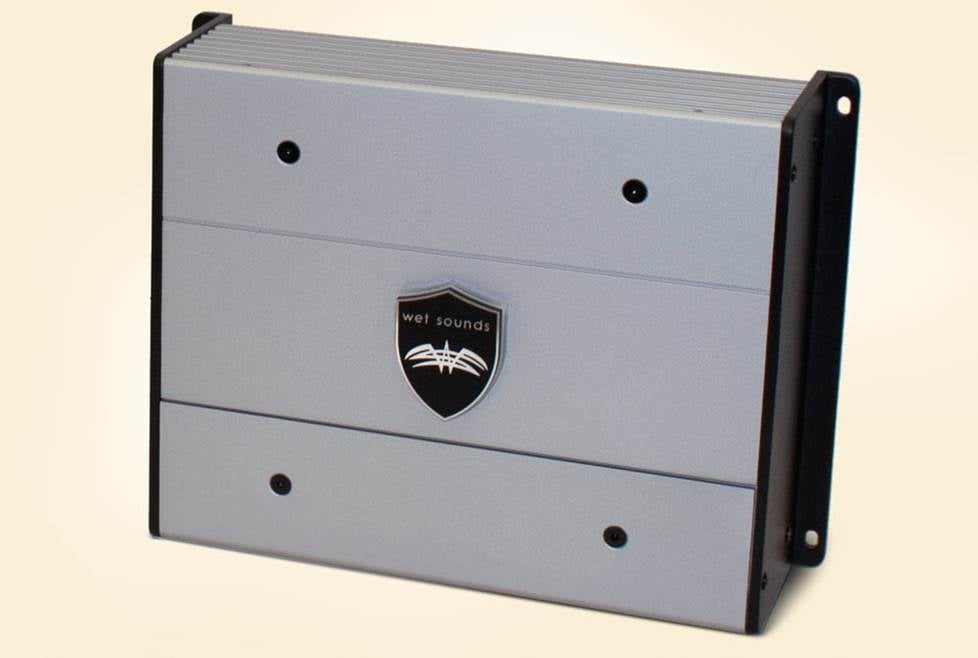 This Wet Sounds HTX-4 marine amplifier is built to make music sound better. It's also built to stand up to life on the water.
Where to install audio components on your boat
Unlike most cars and trucks, there isn't one ideal place to install audio equipment on every boat. Different models have different power and space limitations, so each installation presents a unique set of challenges. What sounds great in a Carver might not even fit in a Donzi — and what's great for a motorboat might not be ideal for a sailboat.
If you're replacing your boat's existing radio and speakers, you can probably use the same mounting locations and wiring. Otherwise, you might need to cut some paneling or run new wires for the components. Most marine receivers are a standard single-DIN (2" tall) size, and connect to a 12-volt marine battery.
Amplifiers and subwoofers can go in a compartment under the seats, under the bow, or even on a wakeboard tower. Midrange and midbass speakers and tweeters can fit into side panels or the dash panel. It really depends on your boat, your needs, and your tastes.
Grounding your electrical components can be a challenge in a boat, though some do have specific, dedicated grounding plates. Consult your manufacturer for more information on where to ground components in your boat.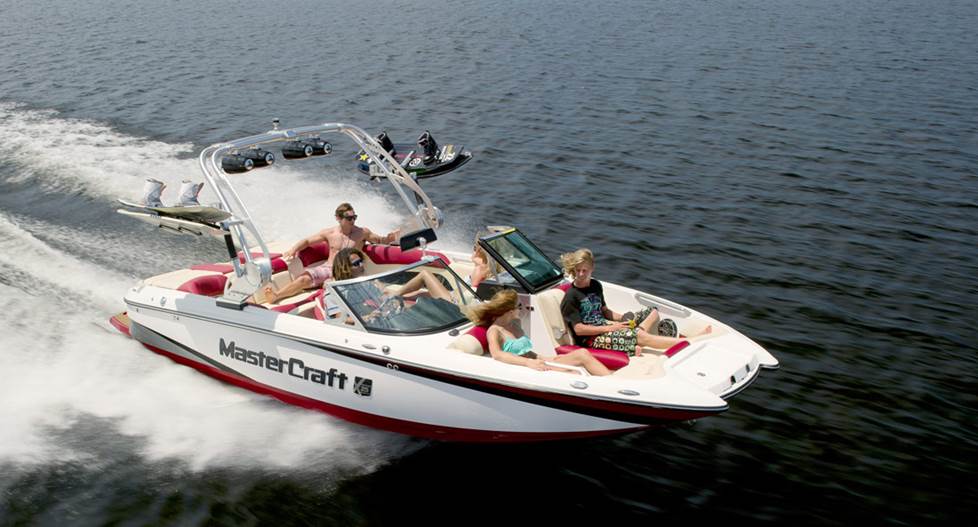 A new stereo system will make your days on the water even better
Materials that will stand up to the elements
Nothing ruins a party like audio equipment that can't handle the elements, so make sure that all of the electronics on your boat are protected against salt, sun, and water.
If you need an extra measure of protection (or want to use an unprotected component on your boat), install a universal cover on your single-DIN receiver. It will shield your receiver from the outside world, then flip up out of the way so you can get to the controls.
A waterproof, wired remote control is an excellent alternative to exposing your receiver to the elements — you can mount the radio inside a watertight compartment and let the remote do the work.
The other gear you'll need
Let Crutchfield help outfit your boat
If you have any questions or want a second opinion, don't hesitate to contact us. Like we mentioned up above, our friendly Advisors can help you determine what you need for any boat's stereo system.