In this article: We cover the basics of high-res audio
It's the small details that make your music come alive — the sizzle of brushes on a cymbal; the sound of fingers gently gliding along guitar strings; a quick intake of breath before the singer starts. Want to hear all those hair-raising details? Give hi-res audio a try.
Hi-res audio files sound better than CDs. And they sound way better than the compressed digital audio files we get from iTunes, Amazon, and most music streaming services. They come much closer to capturing all the nuances of the original performance.
Great sound with digital convenience
High-res audio formats give you excellent sound quality and the convenience of digital audio files. High-res music files are a bit larger since they retain all the audio information from the original recording, so they take up more space on your hard drive and require more bandwidth for streaming.
These tracks can cost a little more, too. But if music is your passion, it's a small investment towards increased listening pleasure.
High-res audio specs
Recordings are converted to digital audio through a series of waveform samples.
The term "bit depth" tells you how detailed each sample is. High-res files usually have a depth of at least 24 bits.
The sampling frequency tells you how many samples were taken per second during the digitization process. More frequent sampling leads to smoother, more natural sound. High-res files have sampling rates up to 192 kHz.
Of course, all that extra information increases file size. A 24-bit/96kHz high-res music file, for example, is about three times bigger than a CD-quality file of the same music track.

High-resolution audio can provide much more musical detail than CD.
High-resolution audio file types — bigger and better
It's important to know which high-resolution file types are compatible with your system.
WAV
Standard format for CDs
Can be played on Windows® and Apple® computers
AIFF
Apple's uncompressed audio format
FLAC
The most popular lossless compressed format
Takes up about half the space of uncompressed files
Not compatible with iTunes or Apple Music
ALAC
Apple's lossless compressed audio format
Takes up about half the space of uncompressed files
Not always supported by non-Apple devices
DSD
Processes the audio signal as a stream of single bits (vs. PCM's multi-bit chunks)
Most high-res players convert DSD files to PCM for playback
Some players support native DSD playback
MQA
An additional encoding process that makes PCM and DSD files small enough for streaming
Preserves all file information for playback through audio components with an MQA decoder
Backward compatible: MQA-encoded files can be played through any audio equipment
Learn more about how MQA makes high-res audio files small enough to stream.
Where to find high-res music online
Here's a short list of some of the major sites offering high-resolution downloads and streaming:
Offers the world's largest selection of high-res audio downloads
File formats: WAV, AIFF, ALAC, FLAC
Has a wide selection of audiophile recordings available for streaming
File formats: FLAC
Offers an extensive selection of music in all genres for downloading and streaming
File formats: WAV, AIFF, FLAC
Offers high-fidelity downloads in stereo or surround sound
File formats: MP3, Dolby Digital, DTS, WMA Lossless, FLAC, PCM, Blu-ray, DVD-Audio
Offers classical music downloads and streaming
Subscription streaming service uses 16-bit FLAC
File formats: FLAC stereo and surround, DSD stereo and surround, WAV
Three levels of subscription streaming services: FLAC 16-bit/44.1 kHz, FLAC 24-bit up to 192 kHz
Digital album booklets for many titles
Download file formats: FLAC, ALAC, AIFF, WMA, WAV
premium subscription streaming service uses 16-bit FLAC with MQA encoding
Amazon Music HD offers three sound quality options:
SD — Bitrate: 320 Kbps
HD — Bitrate: average of 850 Kbps; Sample rate: 16-bit/44kHz Ultra
HD — Bitrate: average of 3,730 kbps; Sample rate: up to 24-bit/192kHz
Media players for high-res audio
iTunes can play AIFF and WAV files, but it's probably not the best choice if you're building a high-res music library. iTunes doesn't provide the best sound quality, and it doesn't support common high-res formats like FLAC.
If you're looking for a high-res media player that works with iTunes, check out Amarra, Audirvana, or Pure Music.
The latest version of JRiver Media Center is compatible with MacOS®, and also runs on Windows® and Linux systems.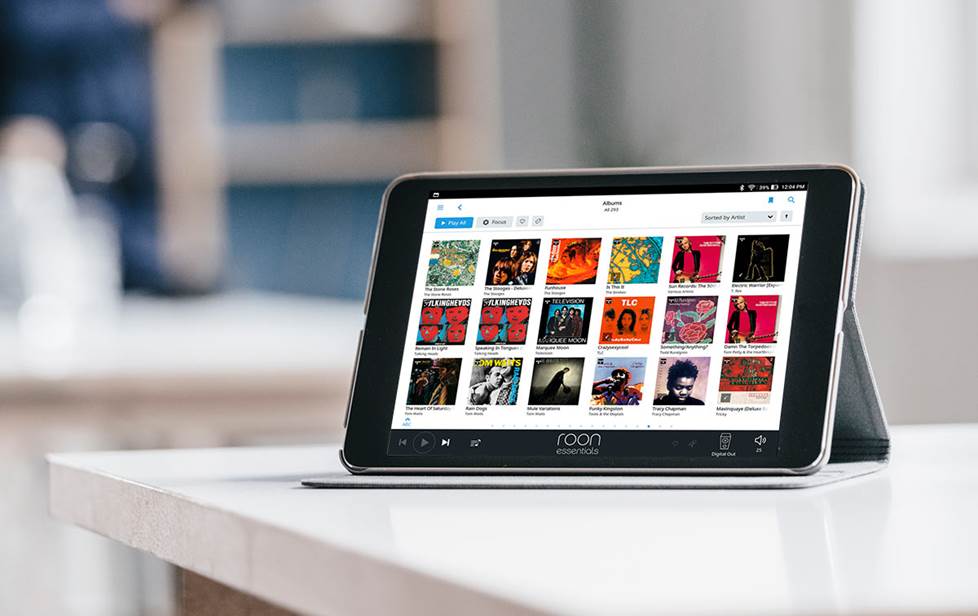 Roon is a subscription-based music management system that provides extensive info about your music, including artist bios, photos, reviews, lyrics, and show dates. Its "Discover" feature lets you find new music based on your preferences. Roon offers optional integration with TIDAL. Learn more about how Roon makes high-res listening easy and fun.
Gear for listening to high-res music
High-res audio support has made its way into all sorts of audio gear, from stereo components to home theater receivers and even sound bars and car stereos.
Portable high-res music players come with ample memory for file storage. Many also have built-in headphone amps to give you the best listening experience with high-performance headphones. See our best picks.
High-resolution digital music players and network audio streamers let you enjoy high-resolution music through your home stereo system.
The Bluesound Vault 2i is a streaming music player with a built-in CD ripper and a 2TB hard drive. It lets you access TIDAL (including their high-res MQA service tier). It can also store downloads from high-res music sites. You can enjoy high-res music without involving a computer.
Personalized advice from our team of experts
Have questions about which high-res formats and equipment will best suit your needs? Our expert Advisors know the gear inside and out. Contact us today.
Free lifetime tech support is included with every Crutchfield purchase.