In this article: Find out which products work best for streaming Qobuz, the high-res music service:
I'll also share my review of Qobuz and show you how it compares to Spotify, Tidal, and other music services.
Qobuz isn't nearly as well-known as other streaming services. But to the music-obsessives who work and shop at Crutchfield, this high-res audio streaming service is kind of a big deal. That's because Qobuz offers the same convenience as the big streaming services — along with better sound quality than most.
Of course, in order to get the most out of Qobuz, you need the right gear. And the reverse of that statement is also true. If you're upgrading your home, car, or desktop system, you'll quickly learn: the sound is only as good as the foundation — your music source.
What is Qobuz?
Qobuz offers lossless streaming of CD-quality and high-resolution music. Qobuz says they have over 70 million tracks available in these premium audio formats. Pronounced "Ko-buzz", they were founded in France by a group of hardcore classical music fans, and have since expanded around the globe.
They launched in the U.S. on February 14, 2019 — Valentine's Day.
That same weekend, I interviewed Qobuz's Managing Director Dan Mackta and their Chief Hi-Res Music Evangelist David Solomon at a major headphone trade show in Manhattan. And I've kept in touch with the Qobuz USA team ever since. They're a crew of tech and record industry pros, who all share an indie-label spirit, underdog mentality, and a deep love and knowledge of music.
I interviewed Dan Mackta (left) and David Solomon of Qobuz the weekend they launched in the USA.
Like other streaming services, Qobuz has a desktop app for your Mac or PC and a mobile app for your Apple or Android phone. But unlike other streaming services, their lowest subscription tier offers only CD-quality and high-res tracks — they don't offer a tier with only mp3 sound quality. And they recently became the first streaming service to offer high-res 24-bit playback through Sonos.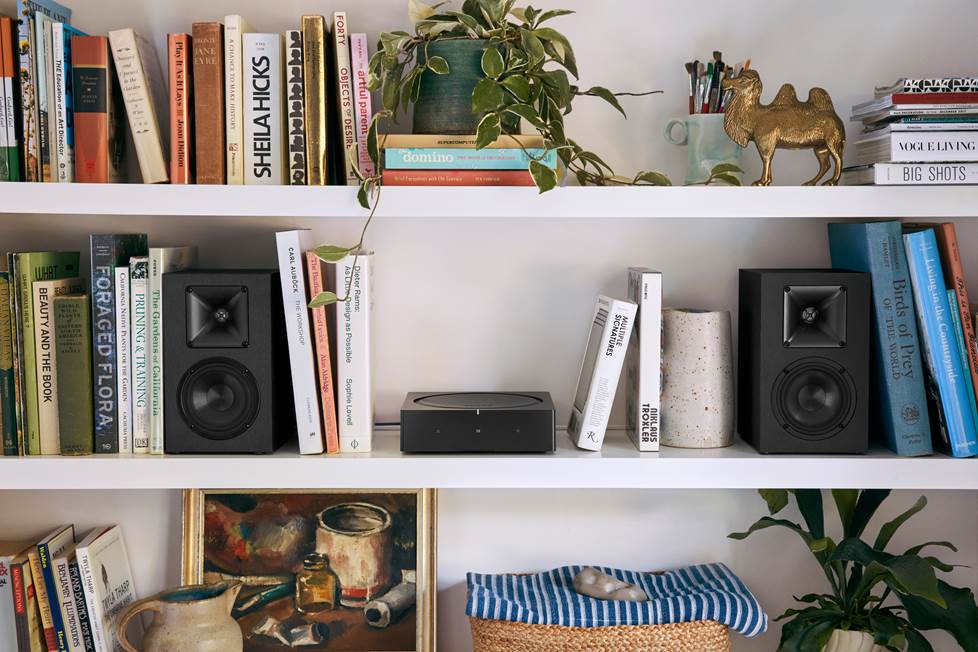 Connect a nice pair of speakers to your Sonos Amp, and stream in CD quality or 24-bit high-res with Qobuz.
"We're not interested in feeding you empty calories," Dan Mackta told me recently. Dan is a longtime music industry vet who's worked with artists ranging from Buddy Guy to Weird Al, and maintains deep ties to the labels and musicians. "Artists and engineers are making a conscious effort to create vivid, more dynamic recordings than we heard 10 or 15 years ago — and we want to preserve that."
What is lossless streaming?
Streaming services like Spotify, Pandora, and Apple Music typically compress music files for fast, efficient delivery to your smartphone or tablet. Their sound is decent, especially for background music or just popping in earbuds. But when I'm auditioning higher-end gear — or enjoying a favorite album — I want the full effect.
So when we say Qobuz streams "lossless," it means less information is lost along the way. You hear more of the original music. Specifically, I notice better dynamics and more detail — the stuff that makes for a substantial, fulfilling listening experience.
Sound quality: Qobuz vs. Spotify
Qobuz streams CD-quality and high-res FLAC files at up to 9,216 Kilobits per second (kbps) with a sample rate up to 24-bit/192kHZ. That's an incredible number when you consider Spotify and Apple Music only stream compressed, lossy files at 320 kbps (roughly mp3 quality).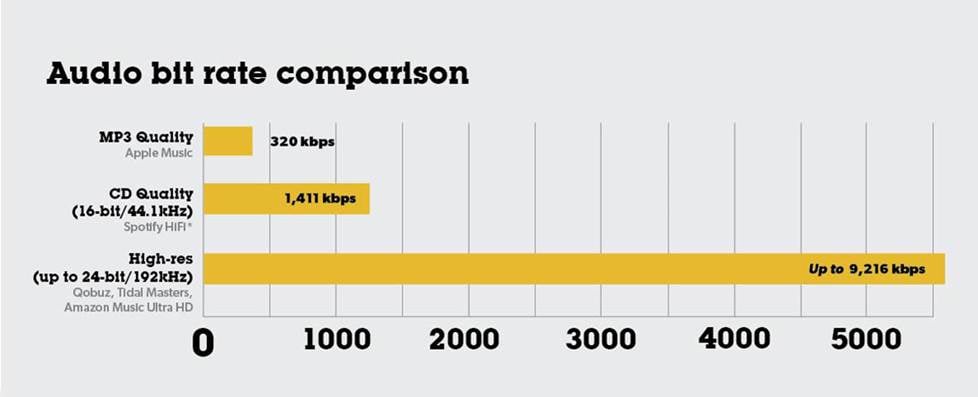 Lossless streaming services like Qobuz deliver far more data, meaning you can hear more of those important musical nuances. (*Spotify HiFi coming soon.)
In February, Spotify announced they'll soon launch their own lossless streaming tier called "Spotify Hi-Fi." It will cost more than their current $9.99 tier and will max out at CD-quality — presumably up to 1,411 kpbs at 16-bit/44kHz. (Then in June, after this article was published, Apple Lossless debuted at no extra cost on Apple Music.)
That's on par with standard Qobuz tracks that aren't high-res, making up the bulk of their catalog. I personally find the leap from mp3 to CD-quality is pretty striking. So it's noteworthy — and cool — that more music services are starting to offer lossless streaming.
Qobuz vs. Tidal vs. Amazon Music HD
Speaking of, both Amazon Music HD and Tidal also offer lossless streaming up to high-res. Comparing the three sonically, it is kind of a wash. They are all capable of excellent sound with the right gear. So it really comes down to the usability and presentation.
I'll have more later in this article, but I prefer the Qobuz app's look and feel. I'm a big fan of their whole experience, including their thoughtfully themed playlists and well-written, interactive articles.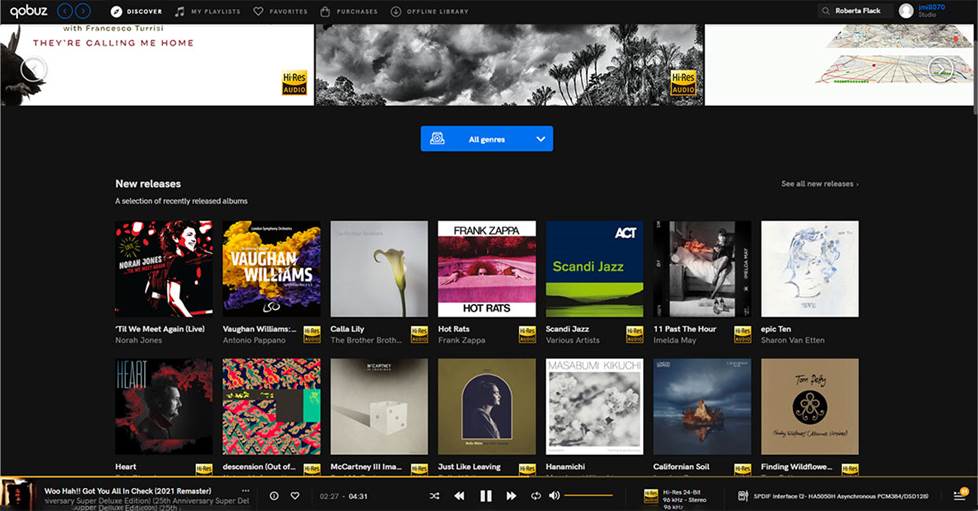 The Qobuz desktop app serves up an eclectic mix of new releases, hidden gems, and reissues — not simply the chart-toppers.
In terms of how well they play with the gear, Tidal uses a technology called MQA for their high-res "Tidal Masters" selections. You need a specific type of player or component to unlock MQA's full potential, while Qobuz and Amazon Music HD work with a wider variety of products.
How much does Qobuz cost?
Qobuz starts at their "Studio Premier" plan that costs $14.99 if you pay monthly. You can also get a yearly subscription for $149.99, which shakes out to $12.49 a month. That's $3 to $5 more than the lowest paid tier of Spotify and Apple Music. But if you're already investing in high-performance audio gear, you might find that it's worth it to pay the premium.
There is also a family plan for $24.99 a month that gives you up to six high-res streaming accounts with one subscription.
Downloads for offline listening or adding to your collection
Qobuz lets you download songs to your phone to play when you're away from an internet connection. This is a pretty common feature of streaming music services, and you do need an active subscription. But it really comes in handy when you're traveling, or when you don't want to use your data plan.
But Qobuz also takes it one step further — you can also purchase high-res and CD-quality downloads, priced by the track or album. They are yours to keep, whether you remain a Qobuz subscriber or not. "Our Download store is more popular than I expected," said Dan Mackta. "I think our audience recognizes that a direct purchase puts more money in the pockets of the artist and songwriters."
You'll need a fast and strong internet connection
I generally only recommend streaming in high-res when you're connected by Wi-Fi or Ethernet. Even if your mobile network can handle it, lossless streaming can tear through a lot of cellphone data, pretty fast. So if you're out and about — and don't have an unlimited data plan — you'll probably want to download music for offline use, or stream in lower quality.
With that in mind, Qobuz will let you choose to stream in "MP3 320 kbps." You can make adjustments within the settings menu of the Qobuz app.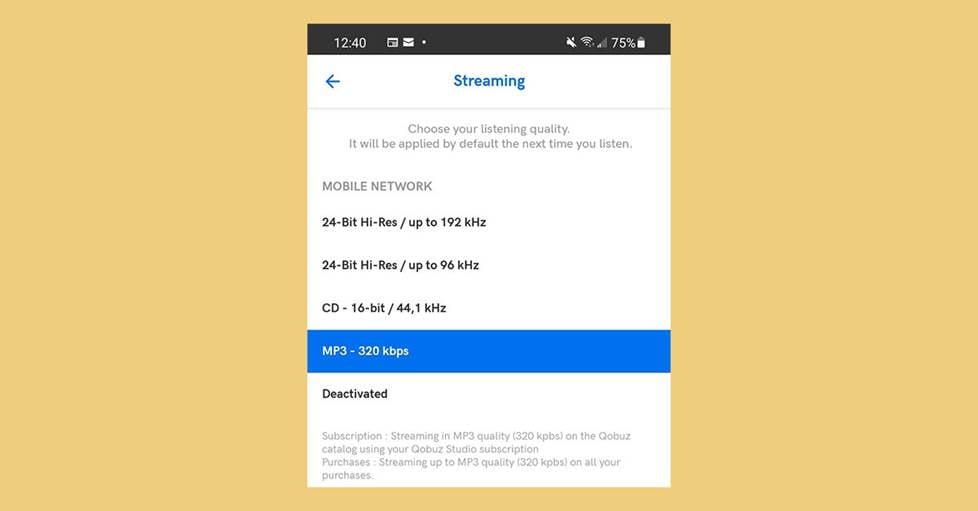 In the Qobuz app's settings, you can choose different sound qualities for your mobile network and home Wi-Fi connections.
But even when you're at home, lossless streaming can tax your wireless network — Qobuz says streaming high-res tracks requires a 5-10 Mbps internet connection. But we recommend more, especially if your family is simultaneously using your home network for other purposes, like watching TV, working from home, or taking remote classes.
Check out our wireless router buying guide for tips on beefing up your home network.
The Gear
Here is a list of components, speakers, and other products that will ensure you get the most out of your Qobuz subscription.
Headphones and a DAC — the high-res gateway
Since I primarily write about headphones, I'm starting with what I know. An audiophile headphone setup is a simple, effective way to experience high-res music.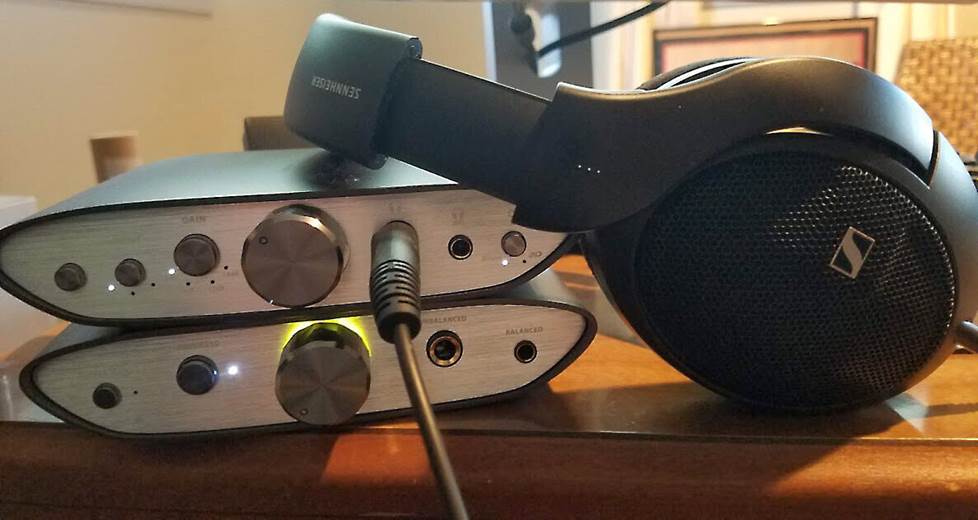 Listening to Qobuz thorough the Sennheiser HD 560 S headphones and this iFi Audio DAC/amp combo is a real treat.
But you won't realize the full sonic benefit of Qobuz by connecting the best wired headphones directly to your phone or laptop. Most phones won't be able to decode high-res or CD-quality on their own. The audio circuitry inside phones and laptops is often an afterthought. So an outboard DAC (digital-to-analog converter) will bypass that circuitry and help squeeze out more musical detail.
With the right set of wireless headphones, you might also hear a difference. Bluetooth headphones and devices with support for either aptX HD or Sony's LDAC wireless codecs can stream up to CD quality. (Our best-selling Sony WH-1000XM4 noise-cancelers have LDAC on board.)
But if you're tethered to you home office or laptop most of the day anyway, a nice set of wired headphones and a DAC lets you hear Qobuz at its best. You can check out my colleague Archer's full list of best DACs for 2021. But a good place to start is with AudioQuest's DragonFly series.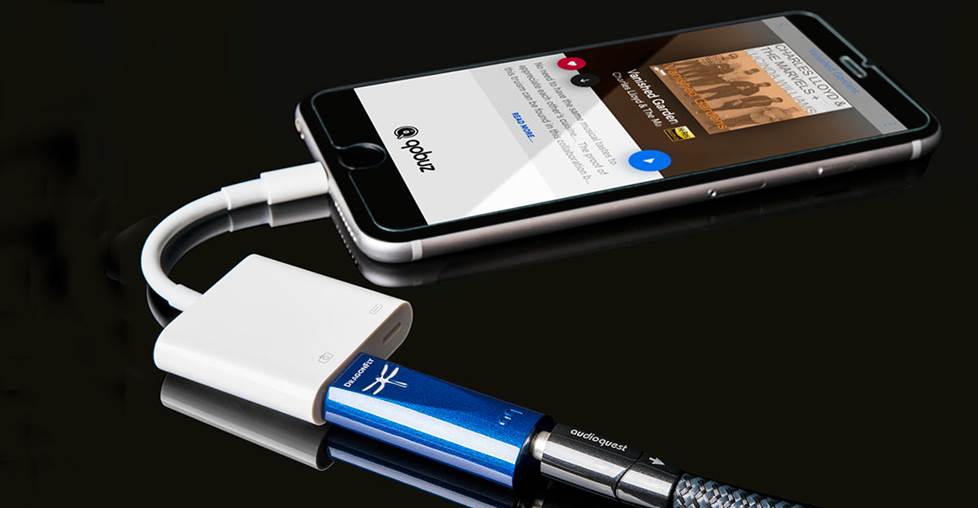 The compact AudioQuest Dragonfly® Cobalt (pictured with optional Apple® Lightning adapter) is our best-selling headphone amp — it's incredibly portable and offers a premium upgrade to your phone's sound.
These portable DAC/amp combos resemble a thumb drive, but they serve up powerful, high-precision sound. And they'll play high-res tracks from Qobuz up to 24-bit/96kHZ (everything above that is downsampled).
Hear your Sonos speakers at their absolute best
Sonos is by far our most popular multi-room music system. They make speakers, sound bars, and amps/streamers that you can put in different rooms of the house — or even your treehouse. But most people stream compressed music on Sonos, never unlocking the full potential of their tunes.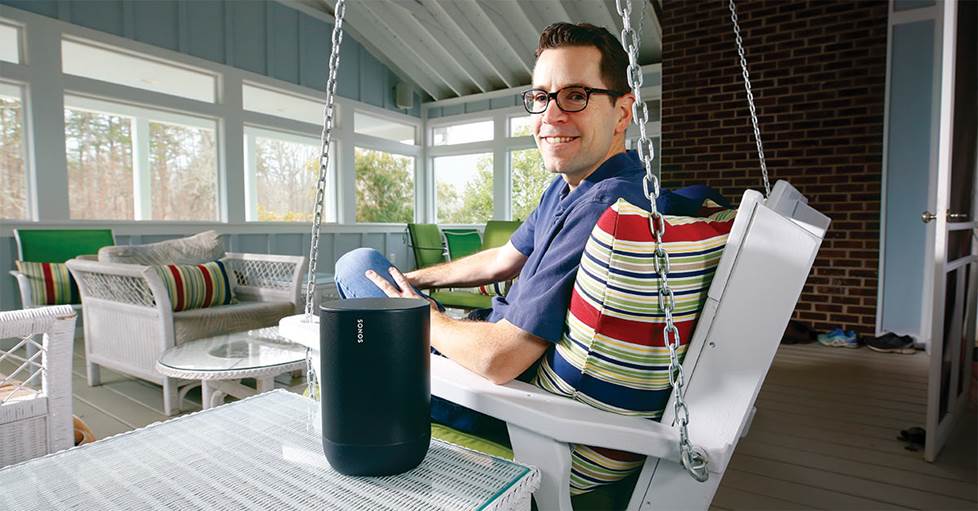 Crutchfield editor Dave Brown carries his Sonos Move and CD-quality Qobuz playlists with him all over the house — even out on the porch.
All Sonos gear will play Qobuz tracks in at least CD quality. That's way better sound than the reported 90% of Sonos users who are listening to compressed mp3 quality right now. I've called that the audio equivalent of buying a 4K TV and only watching the cloudy standard-def channels. So switching to Qobuz creates an instant upgrade.
And now on newer Sonos "S2" compatible speakers and hardware, Qobuz will stream up 24-bit/48kHz. That means you can hear your Sonos gear at its absolute best.
Casey on our merchandising team is a longtime Sonos user. He set up the 24-bit option for Qobuz the day it was announced. "I was struck by the extra depth and dynamics," he told me. "On Sturgill Simpson's bluegrass album, he has a great arrangement of his already great song 'Welcome to Earth.' I was just entranced by the brilliant imaging and layering of the string instruments."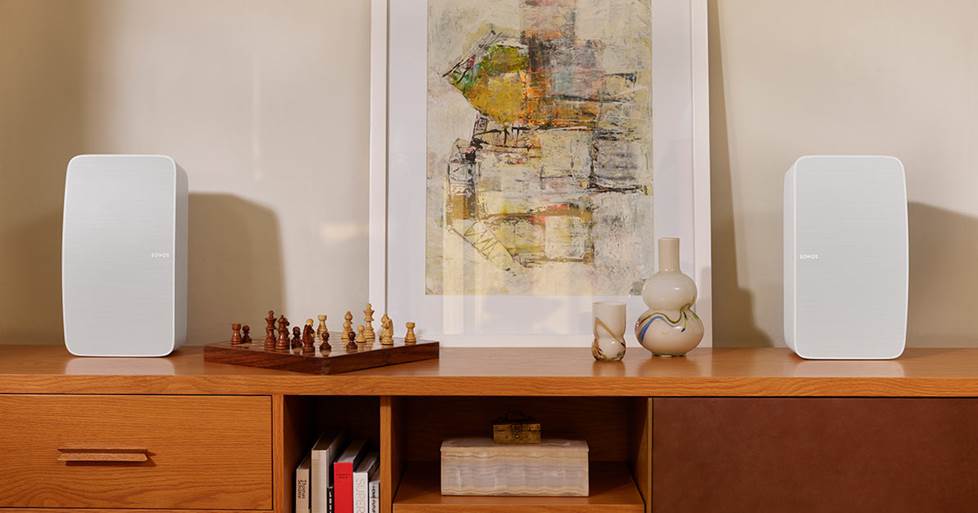 "I played the John Batiste track 'Freedom' and my Sonos Five speakers filled the whole living room with full bass and lively horns," Casey told me.
Qobuz and Sonos do have a few kinks to work out. Any track at sampling rates above 24-bit/48kHz will downsample to play at 16-bit/44.1 kHz CD quality. And Casey said it wasn't immediately easy to find and identify compatible 24-bit tracks within the Sonos app. Sonos and Qobuz told us that they are working on making that clearer.
In the meantime, Qobuz put together a playlist of music that will stream in 24-bit on Sonos. And Dan Mackta says that well over half their high-res tracks will play to their full resolution on Sonos. So if you have Sonos — or plan on getting it soon — Qobuz can help you maximize its performance.
Go full high-res with other multi-room systems
There are other multi-room audio systems besides Sonos with their own premium DACs inside. Some can play full high-resolution music up to 24-bit/192kHz. (Just note that most only allow a single high-res stream at a time. If you try to send a high-res track to more than one room, it may down-sample to CD quality.)
In an informal survey, we found that Crutchfield Advisors often recommend Bluesound gear for Qobuz subscribers. It makes sense — if ever there was a system that could take advantage of higher-quality music streaming, it would be Bluesound. Their pedigree is just so strong.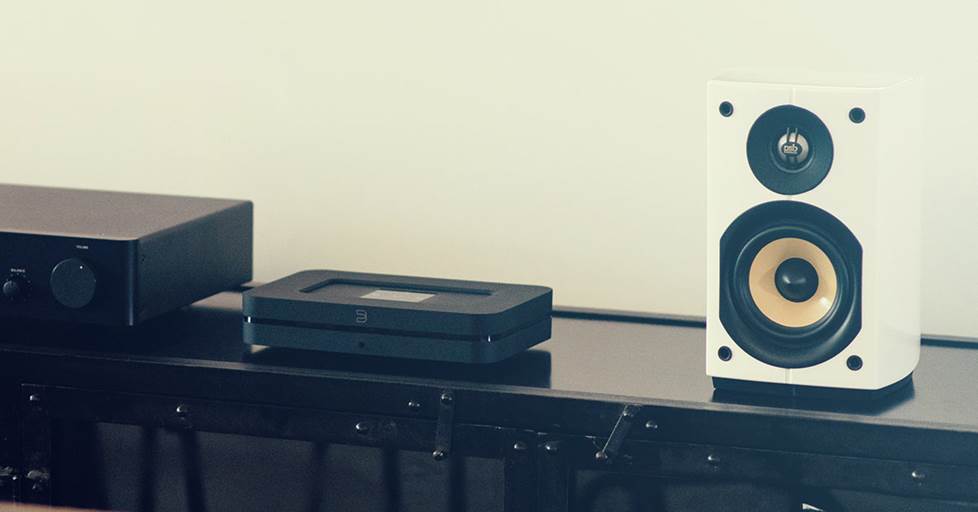 Several of our Advisors named the Bluesound NODE as their go-to recommendation for adding Qobuz to a home stereo.
Bluesound's collection of premium speakers and audio components were all informed or inspired by legendary speaker designer Paul Barton. And they share engineers with their sister company NAD, who knows amplification as well as anyone.
Yamaha offers Qobuz through speakers and components compatible with their MusicCast multi-room system. MusicCast is built right into most of their popular stereo and home theater receivers. It's a convenient way to get top-notch performance from bookshelf and tower speakers.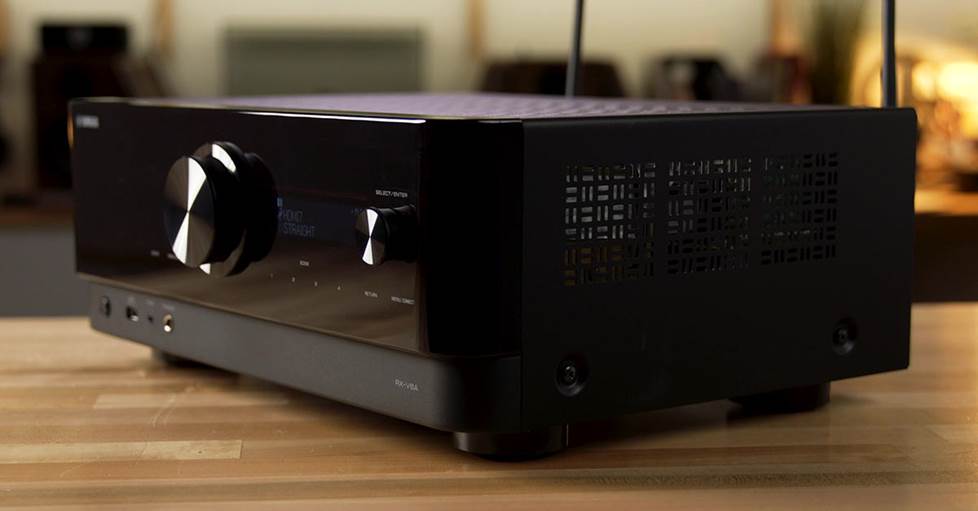 The Yamaha RX-V6A home theater receiver has MusicCast built-in — so it has the ability to stream high-res music with Qobuz.
DTS Play-Fi is a multi-room music system that lets you mix and match different brands. Qobuz is available through the Play-Fi app, and Play-Fi products support high-res streaming up to 24-bit/192kHz. High-end audio brands like McIntosh, Audiolab, and SVS, among others, all have products that you can control via Play-Fi.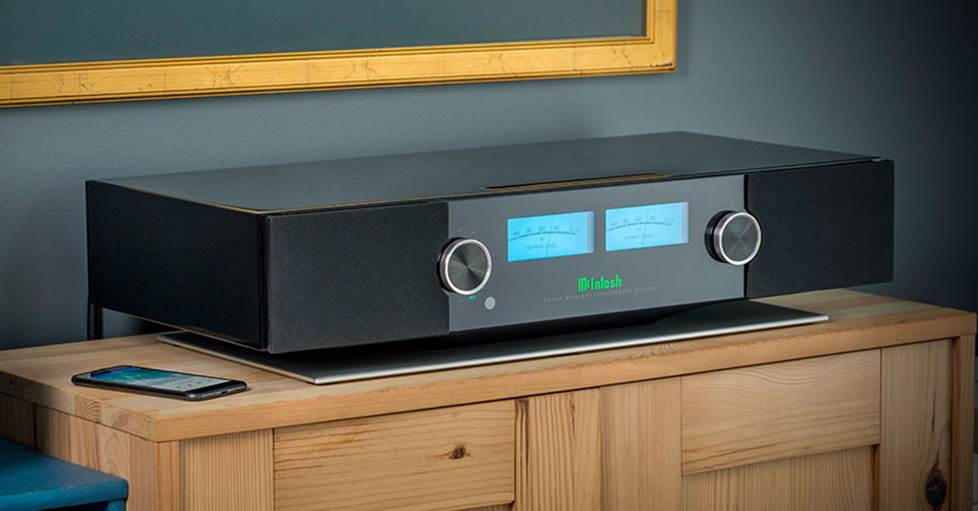 The McIntosh RS200 wireless speaker will play Qobuz up to 24-bit/192kHz with Play-Fi's "Critcial Listening" mode.
Finally, there are many different products with Google's Chromecast built-in for audio. You'll find it in home theater receivers, wireless home speakers, and sound bars. Chromecast audio is capable of playing Qobuz in high-res up to 24-bit/96kHz, but results will vary, of course, depending on the size, scope, and quality of the gear.
When your smartphone is on the same network as a device with Chromecast built-in for audio, you'll see a "cast" button in the top right corner. Tap it, and your music will play through the speaker — your phone essentially becomes the remote.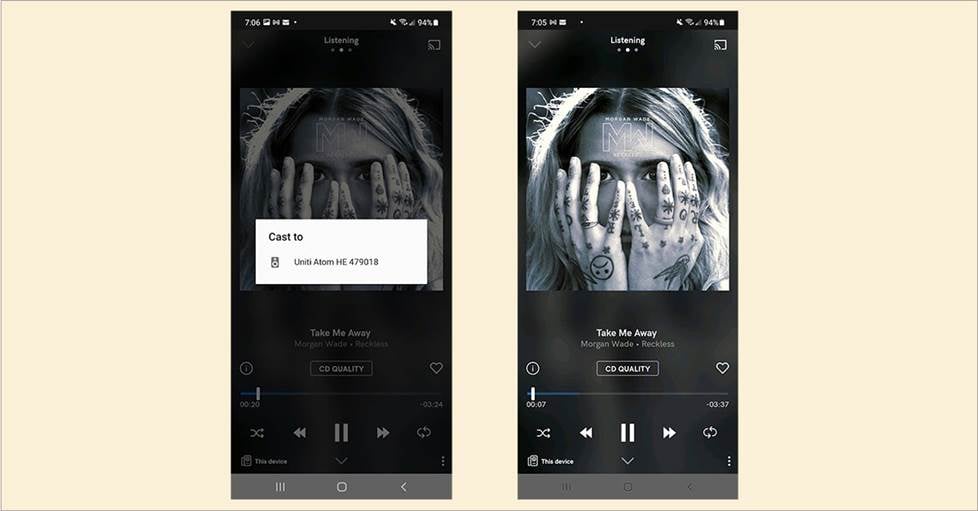 By tapping the "Cast" button on the top right corner of the Qobuz app, you can play audio on a Chromecast device and control it on your phone.
Keep in mind that all these multi-room systems can be even more taxing on your home network. So ensure your home network and router are up to the task. Our article "5 tips to solve Netflix streaming problems" includes some advice that can help here, too.
Qobuz through your hi-fi stereo system
Good, old-fashioned two-channel audio has gotten really popular over the last year. More people are discovering the thrill that comes from a pair of well-placed, properly powered speakers — and the right song. And while our Advisors say that turntables and vinyl often steer the conversation, most also want the convenience of playing music from their phone.
"I often bring up Qobuz," said David, an Advisor who specializes in hi-fi stereo. "I think it offers a better listening experience [than lossy streaming services], and there are several ways to incorporate it into a home theater or two-channel system."
If you already have a set of speakers and an amp or receiver that doesn't have Qobuz, you can always hardwire your laptop or phone with a DAC. But a compatible network streamer gives you a little more flexibility. They connect to your stereo and your home network, then make the direct communication with Qobuz. You can control the music wirelessly with your phone or laptop.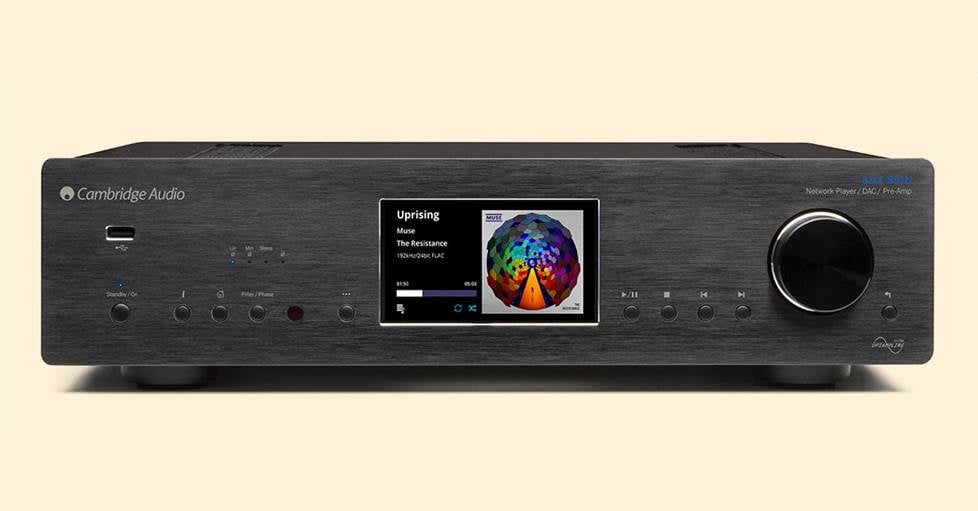 The versatile Cambridge Audio Azur 8511 is a popular network streamer due to its plethora of connections and premium audio circuitry.
David said adding a streamer and Qobuz to his stereo system was a game-changer. "Tool's 'Chocolate Chip Trip' is a great test track that really puts your system through the ringer," he said. "It felt like I had moved my speakers a good three feet wider on each side the sound stage was so huge. And lots of serious left and right panning."
Qobuz in the car
This is Crutchfield, so of course we're going to show you how to enjoy Qobuz on the road. In fact, several of us here at work listen to Qobuz in our own vehicles. We have a full in-depth article on how to listen to high-res music in the car, but here are a few ways you can go.
If your car stereo has a good old-fashioned AUX input, the Dragonfly portable DAC comes in handy again. Simply use its analog/headphone output and connect it to a stereo's analog input using a stereo mini cable. It's one of the simplest ways to hear your music at its best.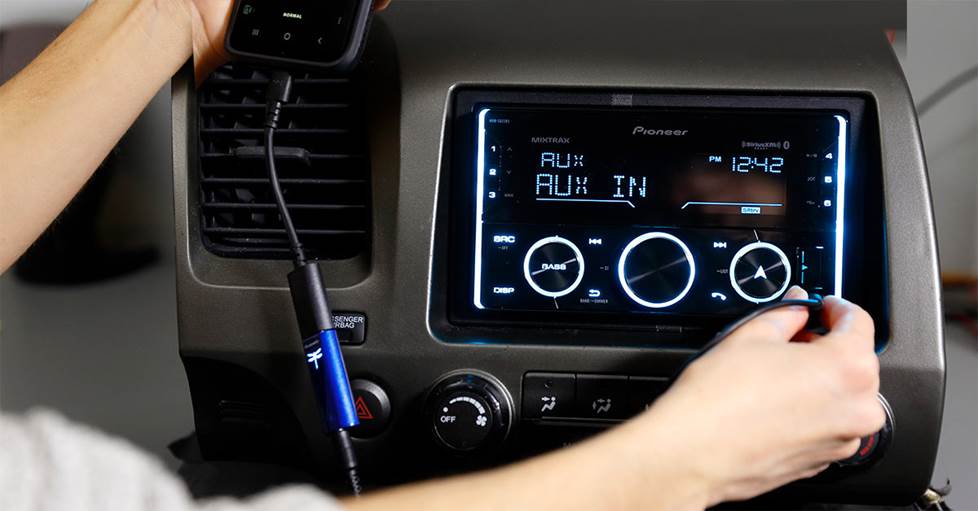 Using a car stereo's AUX input with a smartphone DAC, like AudioQuest's Dragonfly Cobalt, is a quick and easy way to get solid sound from Qobuz.
Our Car editor Matt uses an aftermarket JVC stereo that's capable of high-res playback. So he connects his iPhone via the USB port. He uses Apple CarPlay™ to play Qobuz (it is also available on Android Auto™), which will play tunes in lossless CD-quality. "I notice a vast difference between Qobuz and regular compressed music," said Matt. "The staging is higher, the stereo imaging better, and the separation between instruments is awesome."
Right now, in-dash controls over Qobuz are limited with CarPlay and Android Auto. Qobuz tells us full control over streaming tracks is coming soon. But for now, Matt said he's learned to set up his albums and playlists before he starts driving — and feels the sound is worth the extra effort.
Aleta, our Customer Support director, recently improved the system in her 2019 Atlas. And Qobuz was a key ingredient to the audio upgrade. "I'm hearing new nuances in songs I've listened to for years," she said.
Aleta opted to keep the factory radio, which already had a USB port to connect her phone — along with a big display and Apple CarPlay to control Qobuz. But she plussed the sound with a powerful Alpine amp, two pairs of Hertz speakers and dual 10" Rockford Fosgate subs. The Rockford Fosgate DSR1 syncs Aleta's new gear with the factory stereo.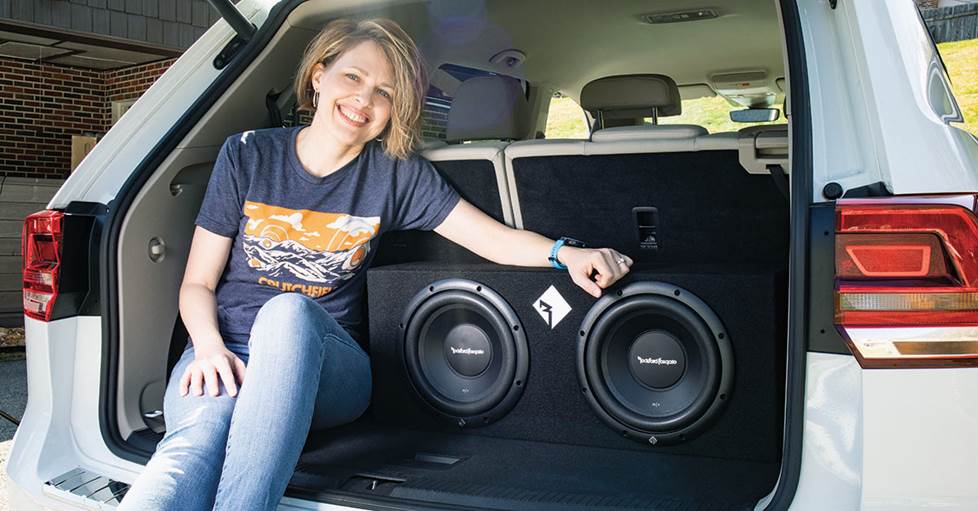 "Fleetwood Mac, Supertramp...I'm playing all my favorites on Qobuz," said Aleta. "There's a new depth, a new layer I was always missing."
"I've been at Crutchfield a long time, and had a lot of car stereos, but this is the best I've installed yet," Aleta said. "During the pandemic, I'd find myself firing up Qobuz and just driving around in the mountains, listening to my new system."
My review of Qobuz
As noted, I primarily use the Qobuz desktop app at work while I test headphones. Lately, my everyday home listening rig has been a stack of the iFi ZEN DAC connected to the ZEN CAN dedicated headphone amp.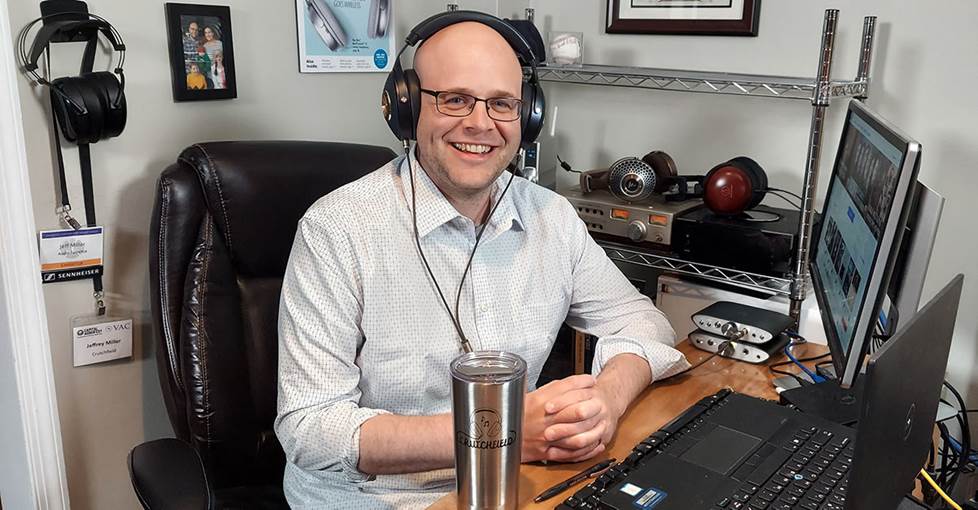 I've auditioned a lot of great headphones through my iFi stack, but the Focal Celestee closed-back headphones gel particularly well with this setup.
I've used Spotify more than any other music service over the years, so that's my point of reference. But I've tried them all. And when you first pull up Qobuz, you can see this is a different animal.
Where Spotify and Apple Music are both sleek and slick, and Amazon Music super-clean and functional, I find Qobuz's presentation more warm and inviting. It feels very obvious that this is designed and kept up by people who live and breathe music.
"We think of ourselves as a boutique record store," said Sujan Hong, their director of U.S. content who helps shape the Qobuz experience. "We'll show you the music you know, but also point you towards some choices that might not be in your wheelhouse...Something that shares some overlapping qualities, or a connection you're not aware of."
So when they serve up their new releases, a highly regarded jazz reissue, underground hip-hop album, or — going back to their roots — a well-recorded concerto series might get the same billing as the current chart-topper. On Qobuz, Julien Baker's latest album shows up side-by-side with a new one from DJ Khaled.
VIDEO: The making of a Qobuz playlist
We love to look "under the hood" here at Crutchfield. In this edited clip from my interview with Sujan Hong of Qobuz, she explains the process of creating a timely playlist. Plus, what happens when Beyoncé, Taylor Swift, or another artist drops a surprise album?
Music Discovery
A lot of people know what they want to listen to whenever they fire up their music service. Others need a little guidance. I've always been fond of Spotify's music discovery prowess. They use a mix of human curators and algorithms to recommend music I might like based on my history— and they do a great job at it.
Qobuz takes a more manual approach. Sujan and company's recommendations are not always as surefire as Spotify's, but they are often less formulaic. I can't tell you how many different Spotify autoplay sessions have sent me into the same loop of late-90s hip-hop songs.
With Qobuz, it feels like you have a steady hand guiding you through your musical journey. It seems like other services are designed to keep me focused on what's playing next. Qobuz immerses you in the moment with lush album art, playlists assembled by hand, and written content that draws you deeper into the listening experience. Their recommendations feel more natural.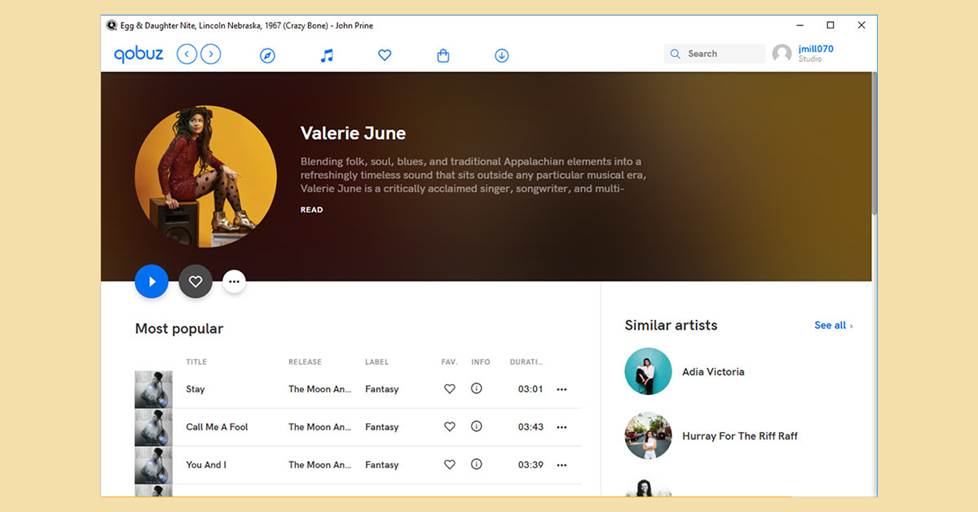 I find Qobuz's "hand-assembled" playlists well-themed and nicely paced. Their team has a knack for choosing the right song order.
I like that they don't always serve up the obvious recommendations. Perhaps it feels bolder that they're willing to put their tastes out there. Or maybe I've been in my comfort zone so long, that I enjoy being challenged.
But either way, it took Sujan — working from her Brooklyn home, and Qobuz, a company headquartered in France — to help me discover Morgan Wade, a singer/songwriter from Damascus, Virginia. That's a town in between Crutchfield's Charlottesville HQ and our Southwestern Virginia customer care center!
Wade's debut album, Reckless, sang soulfully through my Focal headphone setup, and has been in heavy rotation ever since.
Her music sounds worldly, weathered, and wise beyond her years. She's only 26, but has obviously been through a lot. Unflinching, straight-forward takes on sobriety, mental health, and failed relationships, all wrapped in metaphors that may seem too obvious, until an even deeper meaning is revealed on the second or third listen.
Music selection
Right now, Qobuz has a selection on par with the other music services. They've built up their catalog greatly since they launched in the U.S. two years ago. If you tried them early on and you were frustrated that something was missing, it may be worth giving them another try now.
Early on, they made a conscious choice to have that robust audiophile selection, so in some genres — like jazz and classical — they have a deeper catalog. And if you listen to older rock or soul, you'll find a lot of reissues and classic albums in high-res. In 2021, Qobuz released nine of Frank Zappa's albums in high-res for the first time.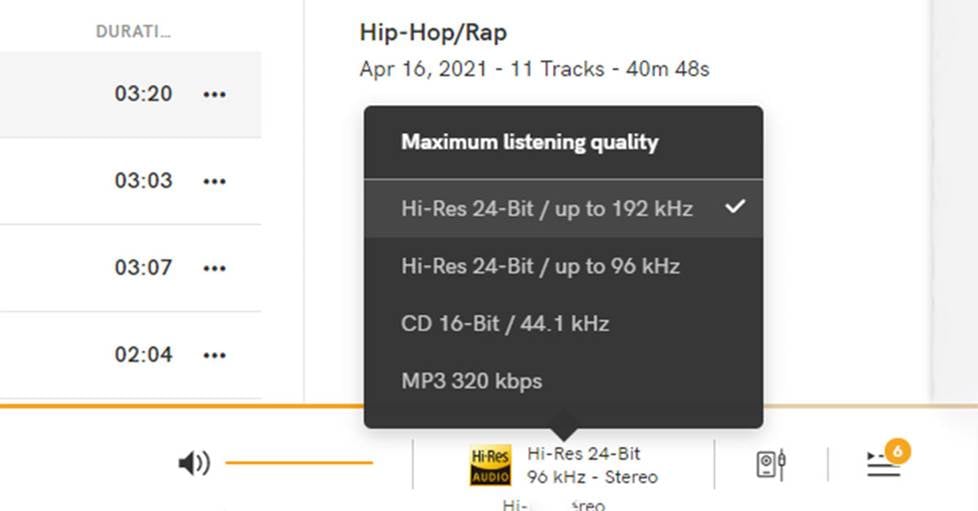 On the desktop app, you can choose your listening resolution and see what your DAC or device is capable of playing.
And I've been struck by the newer stuff that has the high-res badge. Qobuz says they're up to about 70-80% high-res in new releases each week. Of course some of that includes classic material, but it's a real testament to how artists and engineers are embracing better sound. And at the same time, the digital recording equipment is better and more accessible than ever.
A few small misses
When I'm using Qobuz, I do miss a few "creature comforts" from the other streaming services. I know, I know…I kind of dismissed these features earlier, but they are nice to have. Luckily, Qobuz tied up their most glaring loose end — they recently added an "autoplay" feature, so you'll get a related playlist of music when your listening queue runs out.
Still, the search function isn't as on-point as Spotify's. The most obvious song, artist, or album won't always display first — and it is not as forgiving of bad spelling! Usually, when I'm on desktop, I can find what I want. But it's more frustrating when I'm using my phone on the go.
Articles and liner notes
Qobuz's "Panoramas" section features topical longform articles and in-depth looks at different artists, genres, and music scenes. These are extremely well-written and are often embedded with YouTube clips and, of course, links to albums, playlists, and artist pages within Qobuz.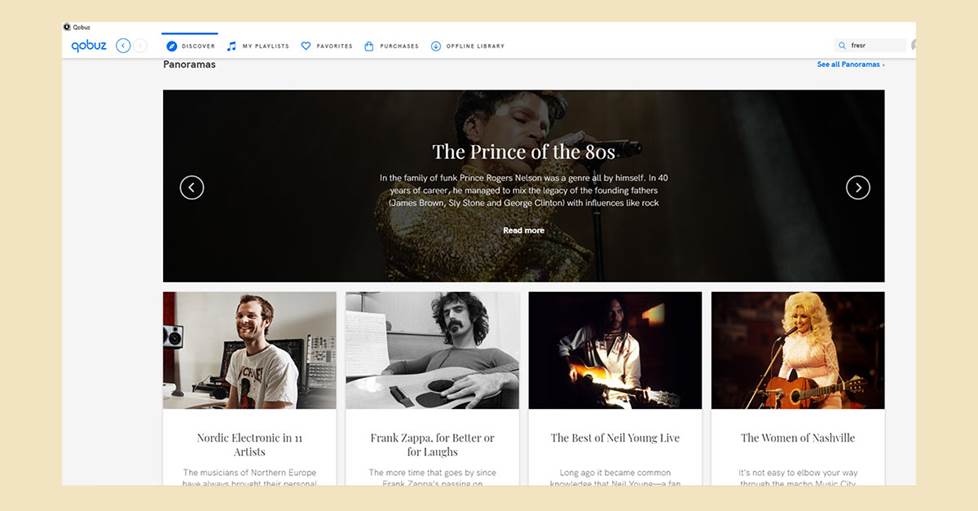 The Qobuz Panorama section offers deep dives into different scenes, careers, and moments, along with music to play along the journey.
Each discovery took me further down the rabbit hole. I'd learn that the producer of one song worked on another classic album, or this major artist was a session guy on that older recording. It was the digital equivalent of digging in the record crates.
The sound
With all due respect to Sujan and crew, my favorite time spent with Qobuz is when I'm not paying attention to the screen at all. It's when I can sit back, close my eyes, and really soak in what I'm listening to.
Roberta Flack's 1969 debut First Take was recently reissued in 24-bit/192kHz. Through the iFi gear and those premium Focal headphones, the album sounds incredibly textured. It opens with the cover song, "Compared to What," where Ron Carter's hypnotic bass line thumps dead center, forcing my head to nod. Flack eases us into the groove with her smooth, elegant vocals before she and the song challenge us — both sonically and with the lyrics that are sadly as relevant and poignant today as they were back then.
Blaring horns cut through the trance from the left, the percussion picks up the pace, and Roberta takes the emotion to another level and octave. It's as jarring as it is beautiful. And it's best appreciated in its full glory. It's not a "let me analyze and listen for every detail" experience. It's more you get such a sense of place and the palpable urgency that each musician plays with.
To me, those are the moments where Qobuz truly earns its keep.
Have questions about Qobuz?
Contact one of our Advisors for advice or help finding the right gear to get the most out of your high-res streaming experience.