In this article, we'll offer ideas and suggestions for the best ways to listen to your high resolution music in the car. We'll cover:
aybe you've been interested in starting a high-res music library, or like me, you've already got one going. I have audio components at home that can play these files, but once my library began to grow, I wanted to enjoy the uncompressed and fully detailed sound that high-res music delivers in my car, too.
Let's talk about how to do it.
[If you're new to high-resolution music, check out Crutchfield's great guide to high-res audio.]
Ways to listen in the car
The first step is to decide how you plan to get your high-res tunes into the car to begin with.
1. Make your music portable
There are growing options to buy high-res music, including my go-to online retailer HDtracks. With these growing options to purchase music in digital formats, like FLAC, WAV, and DSD, you can load these files on a USB drive, a portable high-res player, or even on your smartphone.
2. Subscribe to streaming high-res music
If you're a streaming music fan, rejoice! Several paid streaming services, like TIDAL, Qobuz (pronounced ko-buzz), and Amazon Music HD, include excellent music catalogs in pristine high-res sound. You can also access these three services from Apple CarPlay™ and Android Auto™. TIDAL even offers a sizable library of music encoded in MQA (Masters Quality Authenticated) high-res format, which can really bring some serious detail out of music you've probably listened to many times before.

How to play hi-res audio through your car stereo
Next, how do you get that music into your car's stereo system?
1. USB port
You can load up your tunes in a compatible hi-res format (usually WAV or FLAC) on a USB drive. So plug in and get crisp, detailed music for your commute or road trip.
2. Smartphone and apps
If you'd like to store and play high-res music on your smartphone (providing you have the storage space), both Apple® and Android™ platforms work with a variety of apps that can play high-res music. Not all high-res formats work with the native players on phones. I've used apps such as VOX for the iPhone® and JetAudio for Android phones as great alternatives. Additionally, these two apps are also compatible with Apple CarPlay and Android Auto — something to think about if you're buying a new car stereo.
3. AUX input
Then, there's the old tried and true method, a car stereo's AUX input. If you want to store your music library on a portable high-res player, you can simply use its analog/headphone output and connect it to a stereo's analog input using a stereo mini cable. It's still one of the simplest and best-sounding ways to enjoy your music. Part of that is the purity of high-res music, and part of it is the great DAC (digital to analog converter) that these portable players include.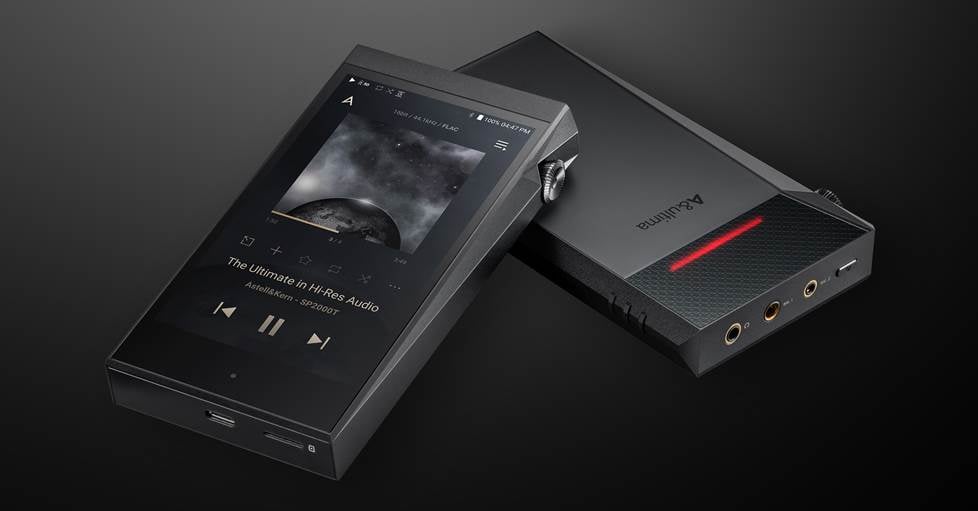 Bring along the Astell&Kern A&ultima SP2000T portable high-res music player, which can hold lots of music and sound great playing it.
A word about Bluetooth® connections
While Bluetooth is super-convenient for audio streaming (and hands-free calling), it won't pass high-res audio. Yep, it's wireless, it's in the majority of car stereos, and its techology has evolved into being really, really good for music. But, it's not high-res. So if you want that truly uncompressed music experience, Bluetooth isn't the best way to get it done.
Choosing the right gear for high-res
There are lots of ways to turn your car into your favorite place to listen to music. Make your daily commute the best part of your day!
1. Replacing the factory radio
Most car stereos offer an AUX input, so plugging in a portable high-res player or a smartphone loaded with music is simple. However, more and more aftermarket car stereos now include high-res capabilities using a built-in USB port, even on some of the most affordable models. Many of these stereos work with the FLAC and WAV formats, so you can load up a USB drive and cruise on down the road.
Helpful tip: If you plan to get a new stereo that plays high-res, but doesn't have a touchscreen display, you may want to consider a stereo that offers a compatible control app for your smartphone, like Sony's Music Center app or JVC's Remote app. This would let you navigate the music stored on your thumb drive more efficiently than using the car stereo's controls and display.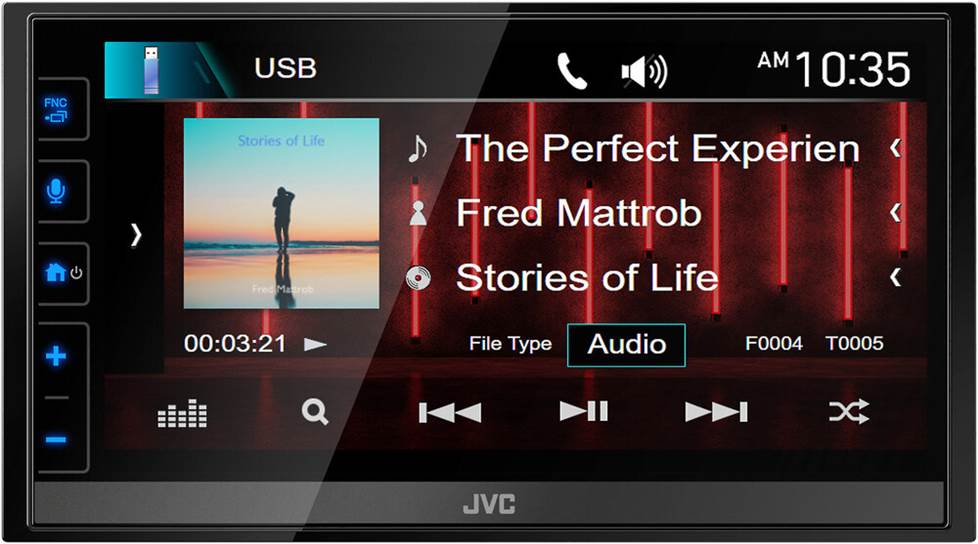 JVC's KW-M788BH digital multimedia receiver includes a USB port that handles high-res WAV and FLAC files up to 32-bit/192kHz.
If you want to take your mobile high-res experience to the next level, you may want to consider a car stereo with Apple CarPlay or Android Auto built-in. First, the interface is one you'll be familiar with since it looks like your phone's interface. Next, you'll be using your new stereo's digital-to-analog converter (DAC), which in most cases, translates into better sound than your phone's DAC. Finally, the big touchscreen display offers a great to way to control and see your streaming services and their high-res offerings.
2. Keeping the factory radio
Many factory radios cannot be replaced, or owners prefer not to change out the radio for a variety of reasons. We get that. You can still get high-res audio goodness while using your factory gear.
If you've been shopping for a new vehicle recently, you may have noticed that many factory radios include Android Auto and/or Apple CarPlay, so the same high-res app guidelines I mentioned earlier still apply. Many factory radios have the AUX input option, too. So, you can connect a portable high-res player or your phone using a high-res music player app, like VOX or JetAudio, and enjoy.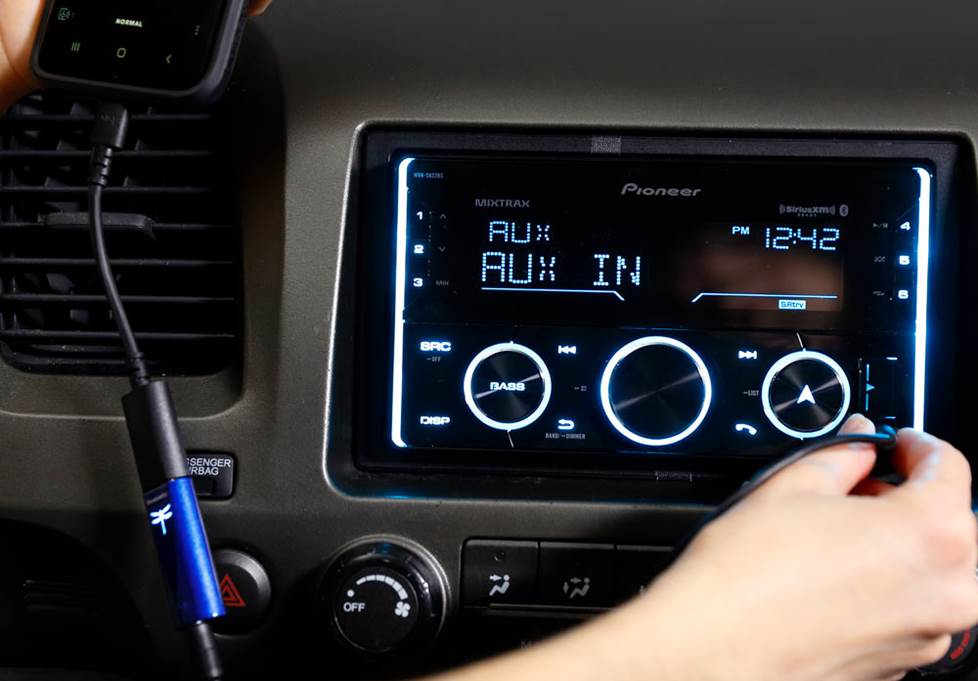 Using a car stereo's AUX input with a smartphone DAC, like AudioQuest's Dragonfly Cobalt, is a great way to get solid sound.
But if you're using your smartphone, let's take this a step further. With the evolution of high-res music and the everyday use of smartphones, we've seen more DACs that are designed to work directly with phones. Great examples are the AudioQuest Dragonfly DACs. Since they're designed for headphone use, they're super-portable. But, more importantly, they really clean up the music from your phone since they bypass the phone's internal DAC. So when you plug into your car stereo's AUX input, you'll get a really smooth music experience being fed into your radio.
3. Overcoming factory stereo equalization
Did you know that many car manufacturers equalize their system's overall sound to make factory speakers sound better? That equalization often isn't what a listener may prefer or translate well to new audio gear that doesn't suffer from sound deficiencies like stock speakers and amplifiers can.
A digital signal processor (DSP) not only allows you to tie into the factory speaker wires, dial in the best sound for your vehicle, and keep your factory radio, but many can reset your factory's botched sound equalization to a flat sound that you can tweak as you like. Some amplifiers we offer include a DSP as well, so you get more power for new speakers, plus a pure, flat audio signal to use (more about amps below).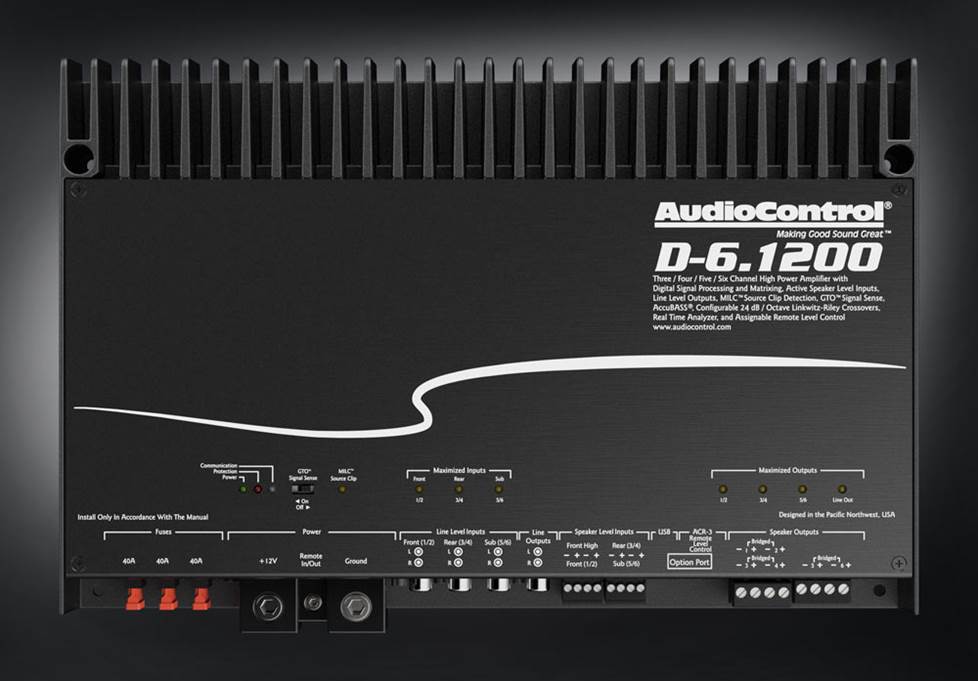 The AudioControl D-6.1200 is both a beefy amplifier and a digital signal processor that lets you re-equalize your audio signal.
If you want to take that next step into system expansion, you can also add a combination amplifier/DSP to your stereo. The added power from an external amp will bring out the details in your music. Some of these amps and DSPs even offer an AUX input, so you can connect your phone or high-res player directly to the DSP. This would let you bypass the factory stereo entirely, but will require a really long auxiliary cable if your DSP is mounted in the rear of the car.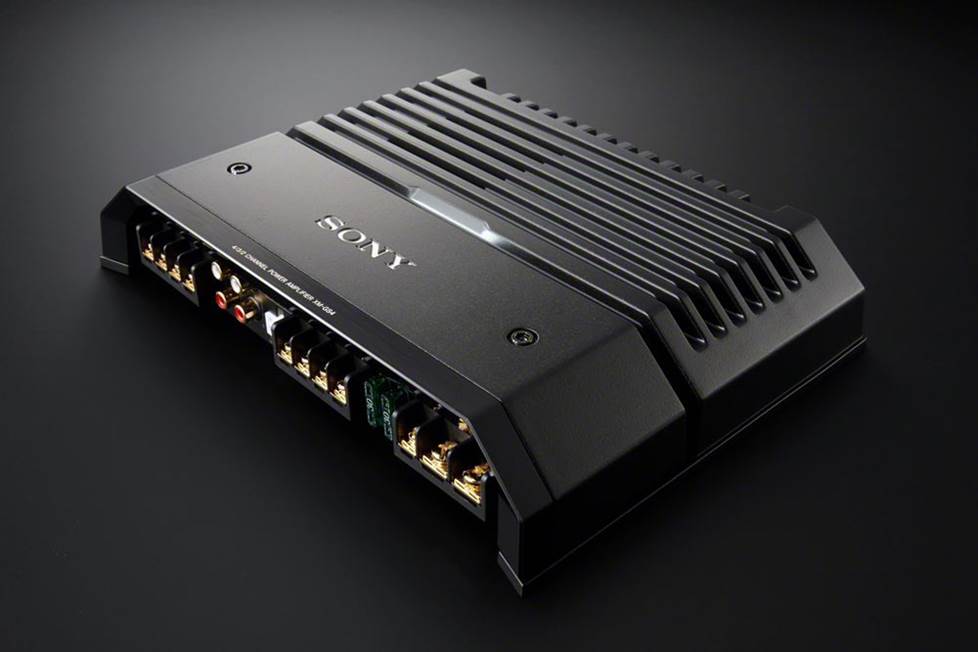 Sony's XM-GS4 4-channel amplifier offers a super-wide frequency response of 10-100,000 kHz to help with tones that affect your music.
4. Speakers and amplifiers? Really?
Yes, really. Car audio manufacturers have concentrated on upping their game for all their audio components. Speakers, specifically designed with high-res audio in mind, tend to have wider frequency responses. And while these ranges are beyond the perfect human hearing of 20-20,000 Hz, these super- and sub-sonic frequencies still color the tonal qualities of the music we listen to.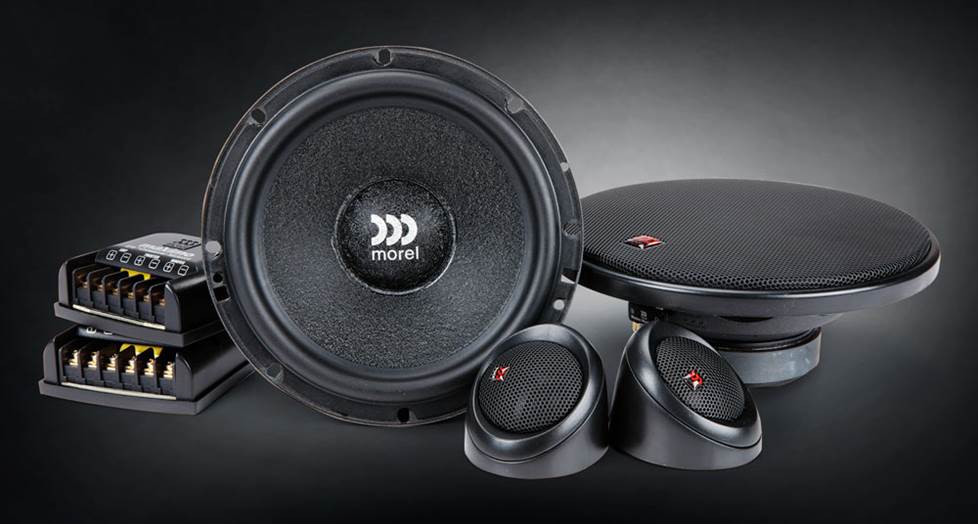 Using the Morel Maximo 6 component speakers in my Subaru Outback really lets my high-res music come alive.
Amplifiers have followed suit, with wider frequency responses to complement the added power and control they provide to get the most out of your speakers and music. I have a Morel MPS 4.400 4-channel amp, rated for a frequency response of 10-30,000 Hz, powering the Morel speakers in my Subaru for really sweet high-res sound.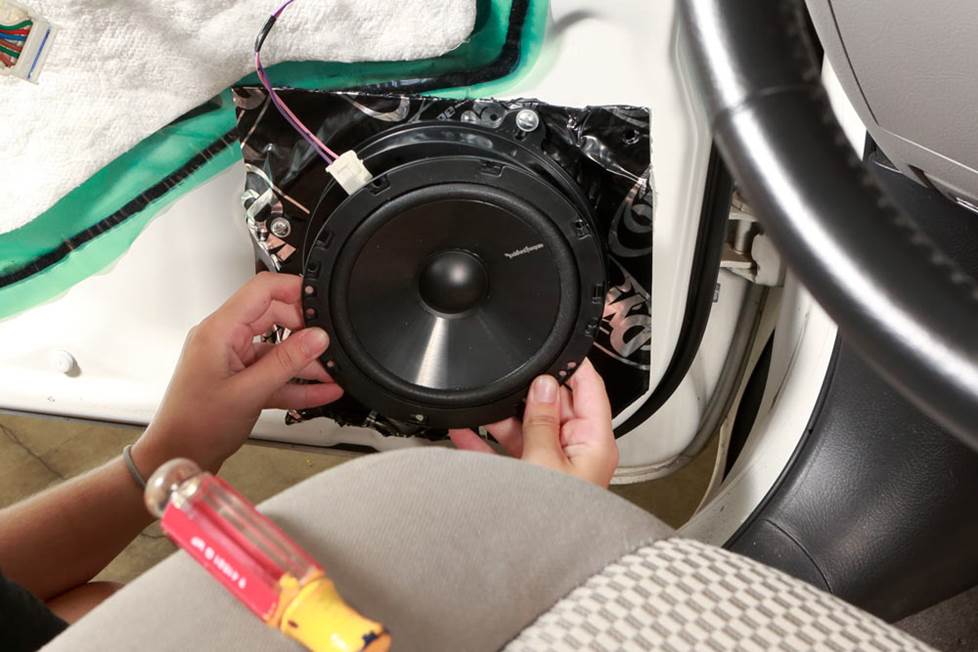 Adding sound-deadening products, like this Dynamat Xtreme door speaker kit, really knock out the sounds you don't want.
5. Silencing the road noise
I've heard this one many times: "High-res in a vehicle? What's the point with all the noise while I'm driving?" The point is that, even with any road noise and interior vibrations, better quality music files will still sound better than lower quality files. And hey, that means you can turn it up and not hear the disappointing limitations of compressed music, like those swishy cymbals and muddled bass. Yuck!
The other point is that you can also make improvements to your vehicle's environment to take out some of that noise. This can make just as much of an impact as the audio products you choose. This is where noise isolation and sound deadening materials come into play. If you're already dismantling panels to change your speakers, you might as well install something to knock out those unwanted vibrations, quieten your interior, and seal in those new music makers.
Personalized advice from our team of experts
Have questions about choosing the best high-res gear for your vehicle? Our expert Advisors know the gear inside and out. Call or chat with us today
Free lifetime tech support is included with every Crutchfield purchase.