In this article, we'll discuss seven of our customer-favorite and best-selling car stereos. What makes them sure bets for 2024? Let's take a look! We'll also give you some shopping tips at the bottom of the article.
Here are the popular head units that made the list:
Now is a great time to consider a new car stereo for your ride. Not only do you get performance upgrades and expandability over factory radios, but stereo makers are incorporating a variety of ways for connecting to your phone to provid navigation, streaming music, and remote control apps.
From simple CD stereos with Bluetooth® connectivity, to big touchscreen multimedia receivers with user-friendly app interfaces like Android Auto™ and Apple CarPlay®, there are lots of choices for upgrading your vehicle's overall sound experience.
After reading this article, if you want a deeper dive into what to look for when shopping for a new car stereo, check out our car stereo buying guide.
[Check out all of our best-selling and top-rated car stereos]
What makes these favorites?
We looked at our best-selling head units that also earned an average Crutchfield customer rating of 4 (or more) stars. That means that our customers took the time to provide some feedback once they've spent some time with the stereo.
We tried to include car receivers of various types and sizes. We left out receivers with built-in navigation. If you'd like to see our top picks for that category, read our Best in-dash navigation stereos article.
Now, on to the winners...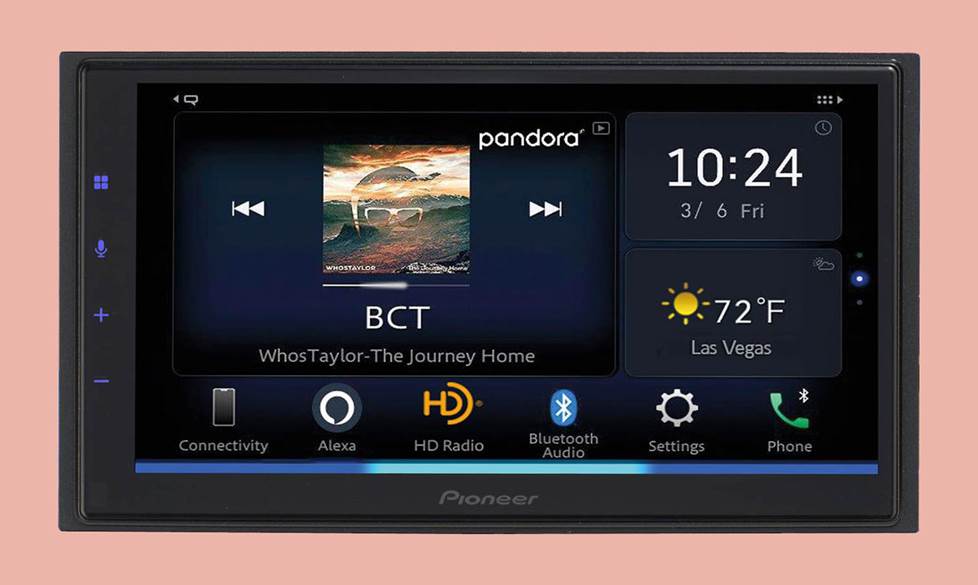 Pioneer DMH-WC5700NEX digital media receiver — Modular installation option and wireless convenience
What you need to know: Pioneer's DMH-WC5700NEX digital media receiver offers a 6.8" touchscreen display with user-friendly icon controls. While its display is a standard double-DIN height, its chassis connects to the display via a single cable to enable flexible installations in really tight dash compartments. Wireless or wired Android Auto, Apple CarPlay, built-in Bluetooth, and built-in Amazon Alexa really make this receiver a winner.
Phone integration features: This receiver lets you link into wireless Apple CarPlay or Android Auto, while you can use its WiFi connection for hands-free voice control using Amazon Alexa. Its built-in Bluetooth can be paired to two different phones simultaneously.
Audio/Video features: To back up their heritage of great sound, Pioneer included a 13-band equalizer and digital time alignment to ensure your listening position is the best position. Using the stereo's robust customization capabilities and Pioneer's CarAVAssist app, you can also tweak its onscreen display. A built-in HD Radio® tuner gives you ultra-clear radio from participating stations in your area. Preamp outputs let you add amplifiers for more power and oomph from your sound. There's a video input for a backup camera and you can also feed video to additional backseat screens.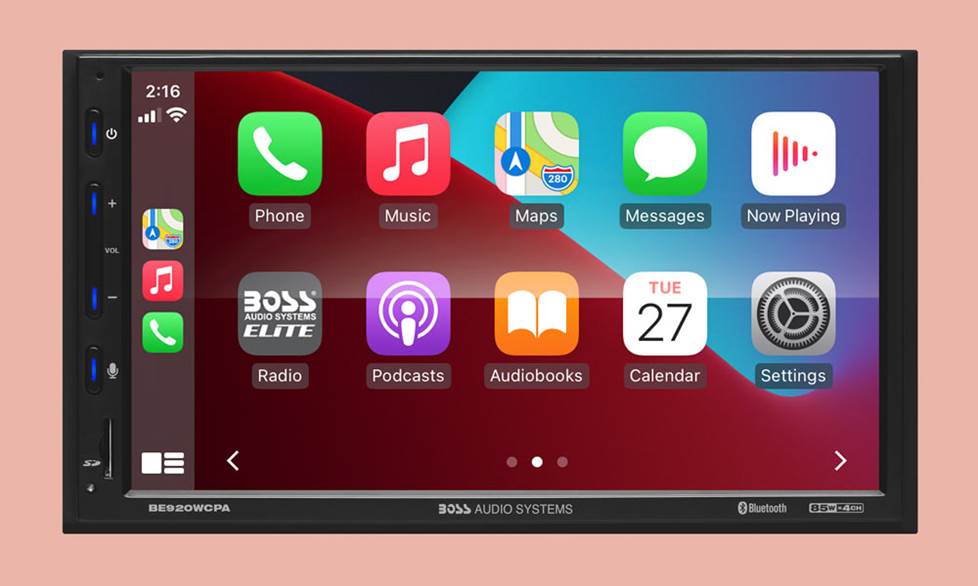 Boss BE920WCPA digital multimedia receiver — Wireless phone connectivity on a budget
What you need to know: If you think plugging in your smartphone is a hassle, Boss's BE920WCPA double-DIN digital multimedia receiver offers up ways to "connect" your phone without being tethered. It's also loaded with deep sound-sculpting tone controls and ways to add more gear for better sound and additional driver assistance. This stereo's 5-year warranty is one of the longest in the category. All of that makes the BE920WCPA one of our best values in the multimedia receiver category.
Phone integration features: This receiver lets you link into wireless Apple CarPlay or Android Auto, so you can control your media with an interface you already know on the Boss's 7" touchscreen display. And built-in Bluetooth lets you and other passengers quickly stream music and take hands-free phone calls.
Audio/Video features: The wired connections on this receiver are pretty cool, too. Two camera inputs lets you add a backup camera plus an additional front-view camera for a dash cam. A rear aux input lets you connect just about any device with an analog output. There are plenty of equalizer settings, so you can zero in on just the right sound for you.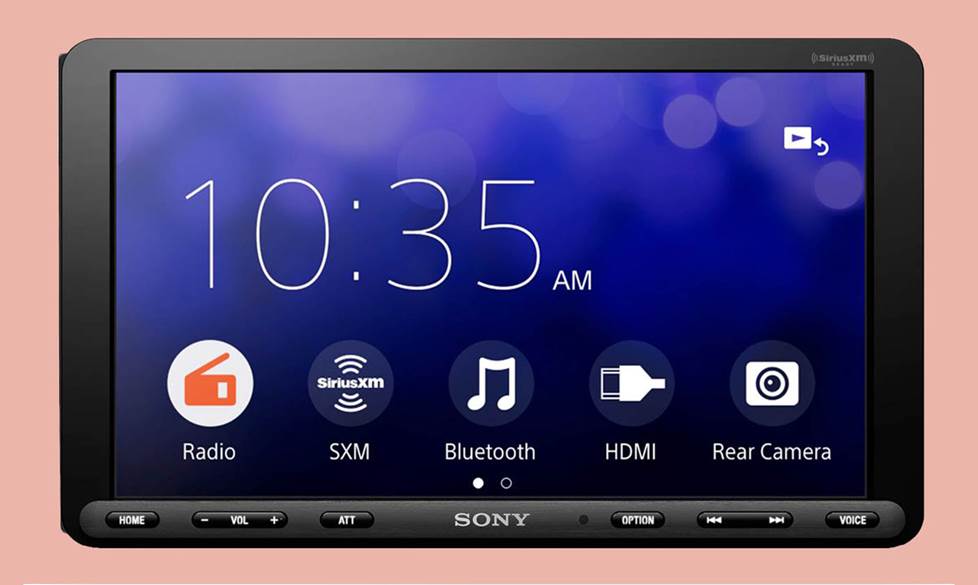 Sony XAV-AX8100 digital multimedia receiver — Savvy big-screen receiver that offers Android Auto and Apple CarPlay
What you need to know: The Sony XAV-AX8100 mech-less (no CD player), single-DIN receiver offers wired Apple CarPlay and Android Auto to create an interface that's just like your phone. All of your navigation, music, and phone apps are shown off and controlled on its big 8.95" touchscreen display.
Phone integration features: In addition to the phone integration mentioned above, this Sony stereo includes Bluetooth for wireless convenience. The included WebLink feature allows you to mirror select apps directly onto its display.
Audio/Video features: This receiver's 10-band EQ lets you get just your right sound, while the five 5-volt preamp outputs enable you to add amplifiers for your speakers and a sub. There's even an input for a rear-view camera — great for tight parking spots. A rear USB port lets you hook up your phone, and an HDMI input provides an option for a game system or Blu-ray player to be added.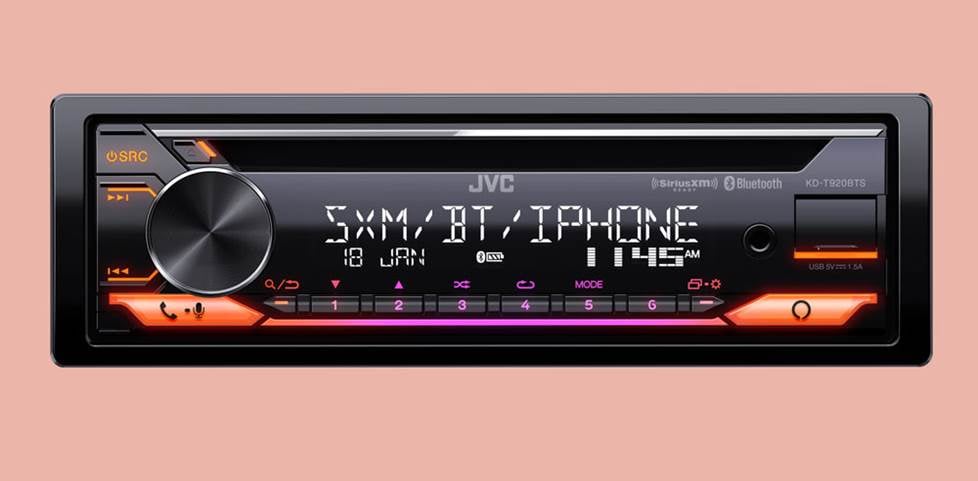 JVC KD-TD920BTS CD receiver — A simple CD stereo with lots of features
What you need to know: If you're looking for a stereo that combines vintage music playback with modern features, JVC's KD-TD920BTS CD receiver delivers. You can use your smartphone to play music, bring your media, and use Amazon Alexa for handy voice control while driving.
Phone integration features: This stereo's USB port will charge your iPhone® or Android phone, and let you play and control the music on your phone. Its built-in Bluetooth can be paired to two different phones simultaneously. You can even use Amazon Alexa voice control for simple audio controls, hands-free phone calls, traffic updates, and weather information.
Music options: As mentioned above, you can play music from your phone, or control Pandora directly from the stereo. Its USB port even handles FLAC files, so you can bring your high-res library along with you. And here's something cool – JVC's "Streaming DJ" feature lets up to five Bluetooth equipped smartphones stream audio and control the stereo for a mega road trip playlist.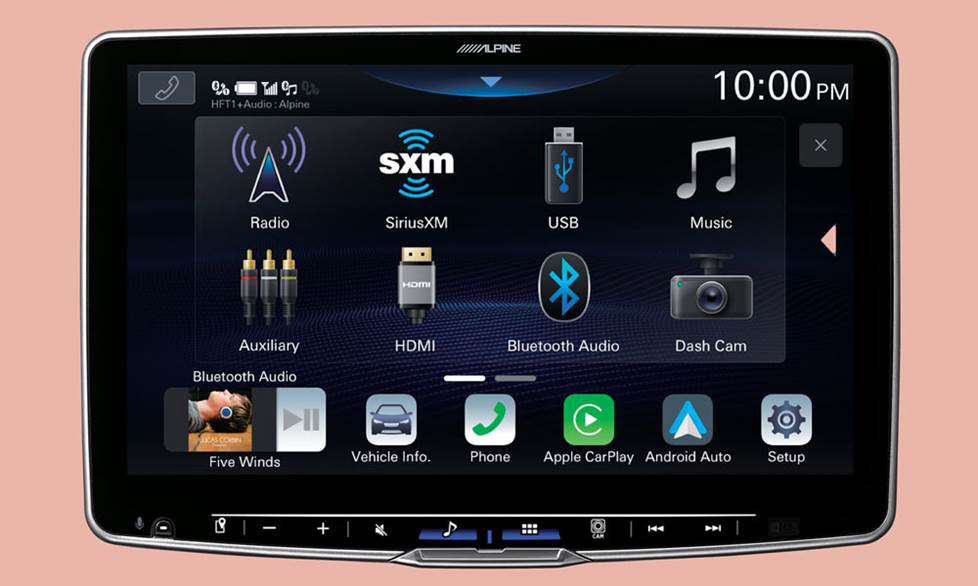 Alpine Halo11 iLX-F511 digital multimedia receiver — Huge 11" display and fits in a 2" tall dash opening
What you need to know: The eye-catching "Halo" series of stereos from Alpine have turned a lot of heads in the past few years. The Alpine Halo11 iLX-F511 receiver follows that trend. Besides amazing media options like Apple CarPlay and Android Auto, this big-screen beauty offers some installation versatility. Its single-DIN chassis fits many vehicles, and you can set the angle and height of the protruding display to get the optimal positioning in your dash. This Alpine stereo also works with iDatalink's Maestro RR interface for select vehicles, which lets you retain lots of factory features, many of which you can view on the big screen.
Phone integration features: Wired Apple CarPlay and Android Auto top the phone integration features on the iLX-F511, so you can quickly access your favorite music and navigation apps. This Alpine's big 11" touchscreen display looks just like your phone's display, so there's no learning curve. If you don't want to always plug in, you can also use this receiver's built-in Bluetooth to wirelessly stream music and take calls hands-free.
Audio/Video features: The iLX-F511 plays lossless FLAC audio files so you can bring your high-res playlist to the car. For sound control and refinement, you get a 5-band parametric EQ and digital time correction. You can add a backup camera for added safety and there's an HDMI input for even more A/V flexibility.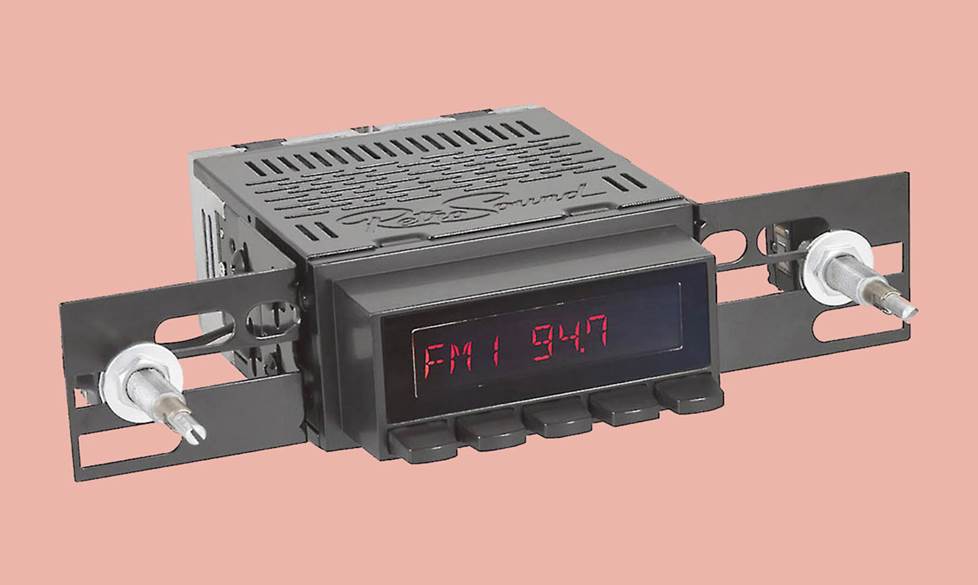 RetroSound RetroRadio M4HD digital media receiver — Classic styling for vintage vehicles
What you need to know: We sell several stereo options for vintage cars, but this one is easily the most popular. RetroSound's RetroRadio M4HD infuses the venerable shaft-style radio design with modern features, like Bluetooth connectivity, an HD Radio® tuner, a USB port, and a switchable color display. Its old-school shaft system makes it a great choice for folks who want to add modern conveniences to classic older vehicles.
Phone integration features: The RetroRadio M4HD includes Bluetooth for hands-free calling and wireless music streaming from your phone or tablet.
Customization features: What's so cool about the RetroRadio and other RetroSound receivers is their ability to blend into the dash of vintage rides. Its "Infinimount" shaft and bracket system enables the RetroRadio to fit in a variety of vehicles with different shaft spacing. You can choose from black, chrome, or ivory options to match your vehicle or just make a statement. It even has three vintage screen protectors to give it that look of yesteryear.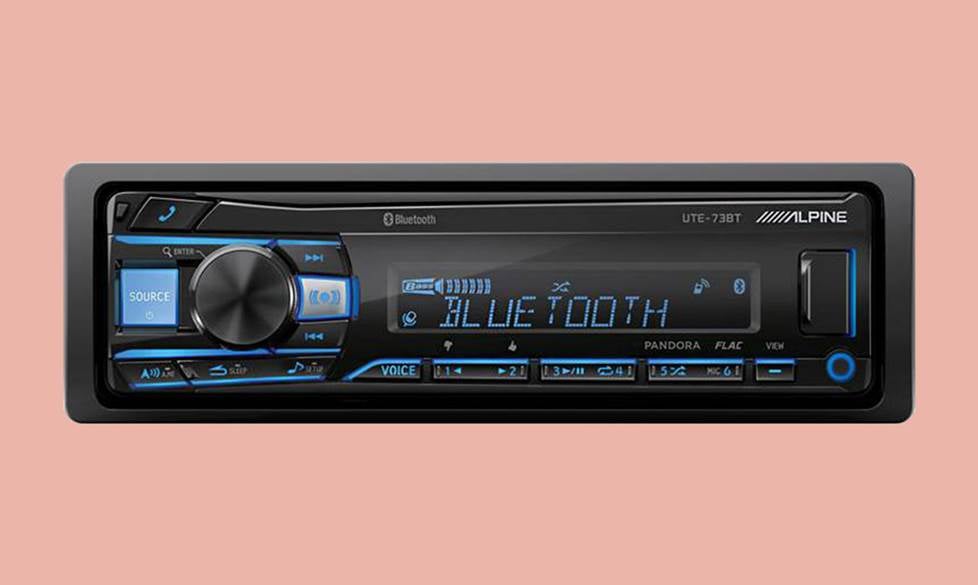 Alpine UTE-73BT digital media receiver — Simple controls, clean sound, and access to lots of digital media
What you need to know: The Alpine UTE-73BT receiver comes in a slim, single-DIN chassis that fits in lots of vehicles. Alpine outfitted it with lots of features for the money, including Bluetooth, a USB port for Android and iPhone integration, and a solid digital-to-analog converter (DAC) for stellar sound quality.
Phone integration features: Bluetooth connectivity provides hands-free streaming and calling, and two phones can be paired at the same time. Both Android and iPhone smartphones are compatible with the front-panel USB port for charging and music access and control.
Audio features: This stereo's USB port is compatible with all kinds of music files. This Alpine's 24-bit DAC keeps your digital music crisp and clear. There are even preamp outputs and crossover controls to add amplifiers to your system.
With the right car stereo, even waiting in traffic can be fun
If you're ready to make the move to better sound, phone integration, and smooth controls, there are a few things to keep in mind:
How much do you want to spend? There's certainly a balance between your budget, the features you want, and the look you're going for in your dash. Using the filters we've installed in our selection of car stereos, you can set a particular budget range that works for you.
What features are must-haves? In addition to the filter for budget, you can also filter the most common features for car stereos. This lets you quickly focus in on the stereos that give you want you want, like Bluetooth, Apple CarPlay, satellite radio, and more.
What fits your car? You'll need to pick a stereo that fits the dash of your car. For some newer vehicles, replacing the factory receiver might be impossible because of climate controls or other design elements. However, the majority of vehicles in our database work with double-DIN (4" tall) or single-DIN (2" tall) radios. Receivers without a disc player (known as digital media receivers or "mechless" head units) are especially easy to fit due to their shallow depth. Use our vehicle selector tool to narrow your choices to only those stereos that will work in your vehicle.
[Check out all of our best-selling and top-rated car stereos]
Let us help you shop for a new stereo
Don't forget to read our car stereo buying guide, and then contact our advisors if you have any questions or to confirm what you need to install a new stereo in your car.
Popular questions customers ask
Adding GPS navigation requires that you get a touchscreen stereo, of course, and you have two options. First, Android Auto and Apple CarPlay let you use your favorite GPS app including Apple Maps, Google Maps, and Waze. If you want GPS navigation without tying up your phone, you'll have to get a new stereo with built-in navigation.
Yes, when connected via USB or Bluetooth, you can play music from your phone on the radio. And if you're using CarPlay or Android Auto, you can control most music apps from the stereo's touchscreen for a "true" car stereo feel.
Our vehicle database is unmatched. We've taken apart the dashes and door panels of more than thousands of vehicles and measured every space and bolt pattern. We'll also make sure you get the right installation gear when you order.
You'll need a special adapter to keep those handy buttons working with your new stereo. When you shop on our site, we'll show you all the options for installation hardware, including the right adapter for the steering wheel controls.
New stereos will often work with your existing backup camera. We'll let you know before you make your purchase. If your car doesn't already have a camera, you'll find compatible backup cameras under the stereo's "Accessories" tab on our site.