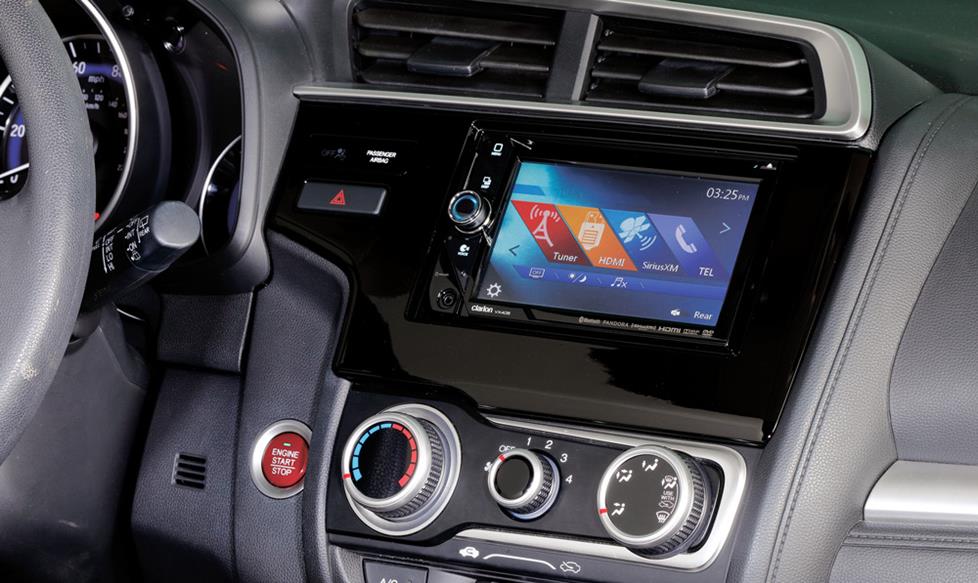 Questions about upgrading your car stereo? We have the answers! (Crutchfield Research Photo)
Here are some of the more common questions we get about picking and installing a new car stereo. If you have other questions or need more details, contact us via phone or chat. And if you want to see which stereos will fit your car, just use our vehicle selector to tell us what you drive.
Q: Why should I get a new car stereo?
A: Sound and features are the two best reasons for getting a new car stereo. Aftermarket car stereos typically have more powerful amplifiers and better sound-shaping controls than factory stereos. And you'll find plenty of cool features, like Bluetooth® and smartphone compatibility, USB and aux inputs, touchscreen controls, navigation, satellite radio compatibility, and much more, depending on the type and model of car stereo you buy.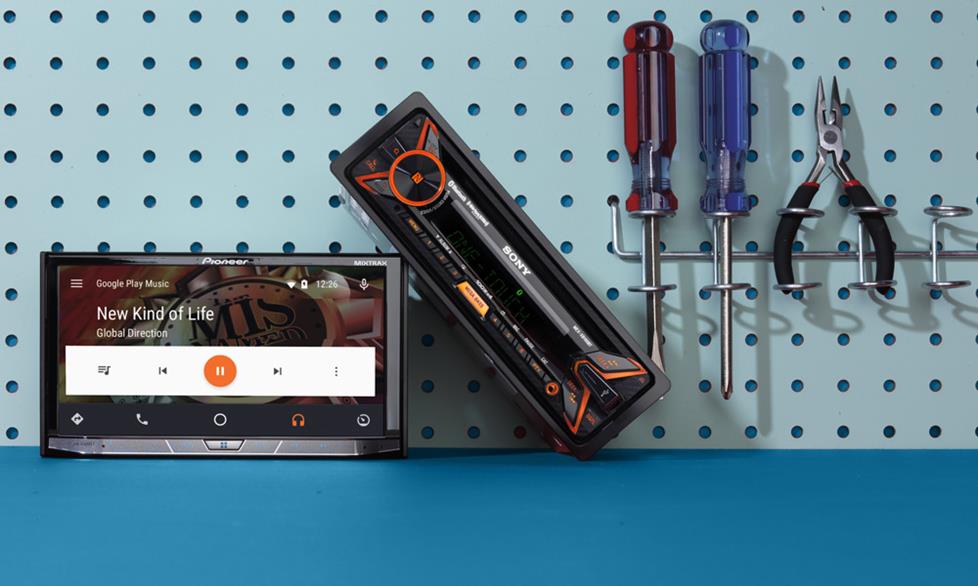 There are many types of car stereos, from touchscreen models to CD receivers.
Q: There are lots of different types — which is best for me?
A: Once you start shopping, you'll find four main types of car stereos: CD receivers, digital media receivers, DVD receivers, and navigation receivers.
CD receivers — This is what most people think of if you say "car stereo." CD receivers play CDs of course, but most models will also feature an aux and USB input, plus a radio tuner of course. You'll find CD receivers in both single-DIN (2-inch tall) and double-DIN (4-inch tall) sizes.
Digital media receivers — These car stereos do away with the CD player. That's a great option if you only listen to music from digital music players, smartphones, or streaming music services. A cool variation of these receivers are Retrosound car stereos, designed to fit into classic cars that don't have dash openings large enough to accomodate a CD receiver.
DVD receivers — These receivers not only play DVDs as well as CDs, but feature touchscreen displays that you can watch video content on when you're parked. You'll also enjoy features like album art display, touchscreen audio adjustments, and smartphone integration, including Apple CarPlay and Android Auto with some models.
Navigation receivers — If you travel a lot, a navigation receiver may be right for you. You'll find the features of a DVD receiver, along with built-in GPS navigation that doesn't rely upon your smartphone.
Q: How do I know what'll fit my car?
A: Don't worry, we've done the heavy lifting! Our vehicle research team has checked out thousands of cars and trucks to find out what will (and won't) work in specific vehicles.
There's also the common question about DIN size: Do you need a single-DIN stereo or a double-DIN stereo? Which one is better? You can read our "Single-DIN vs. double-DIN" article to find out, but the easiest answer is to use our vehicle selector to tell us what you drive, and we'll let you know. Or, if you want to get right to the experts, give us a call and we'll give you the straight story.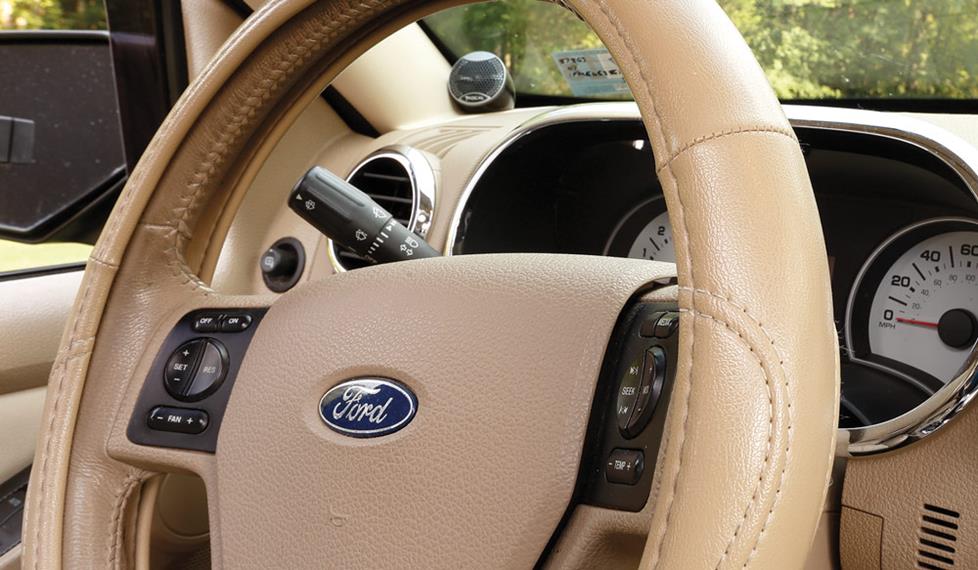 With the right adapter, you can continue to use your steering wheel controls.
Q: Can I keep my steering wheel controls?
A: You sure can — but in most cases you'll need to install a special adapter. And when you buy any stereo from us, you'll get a deep discount on the steering wheel control adapter for your car. See our article about Steering Wheel Audio Control Adapters for more information.
Q: Will a new stereo work with my existing factory options?
A: Your car may have come with factory-installed options, like satellite radio, navigation, or Bluetooth. In most cases, these are built into the existing factory stereo, or use proprietary protocols which aren't compatible with new aftermarket car stereos, so these features won't work with a new stereo. This can be a complicated issue though, so call or chat with us and we can check out your specific vehicle and features.

Match your dash illumination with a variable color display.
Q: Can I get a stereo that will match my dash illumination?
A: We love it when a new car stereo really looks like it belongs in your dash, and matching the existing dash illumination scheme is a big part of that. To really hone in the color match, look for models that let you adjust the color for different parts of the receiver — for example, white for the display and red for the buttons. You'll also find models that let you adjust specific RGB color levels for a perfect match. Search for stereos that feature variable colors to see your options.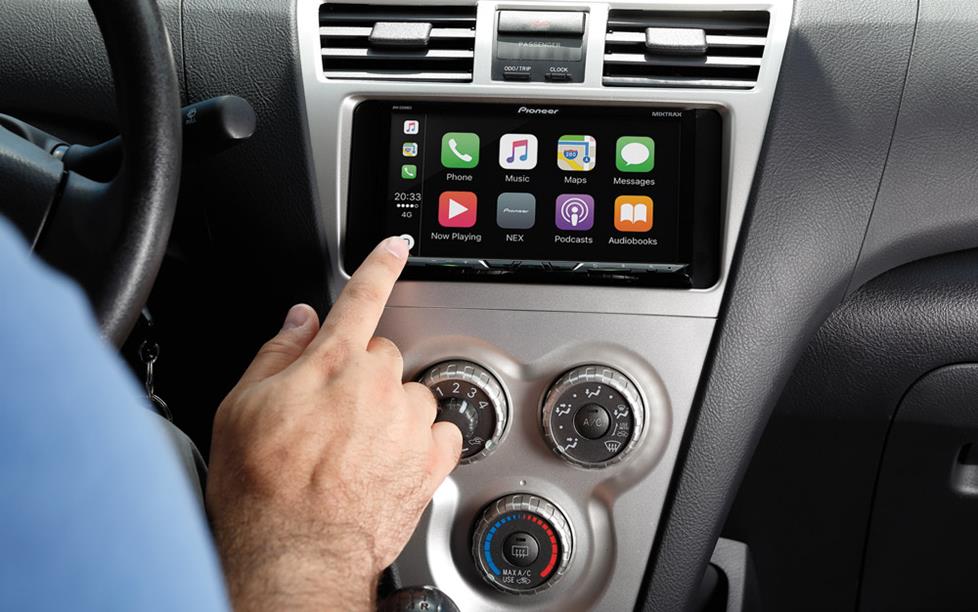 An increasing number of touchscreen receivers support Apple CarPlay (pictured) and Android Auto.
Q: Will a new car stereo work with my smartphone?
A: One of the most exciting things about new car stereos is the way that they integrate with your smartphone. Almost all models offer USB connection to your phone, letting you access your music files or other stored media from both iOS and Android devices. And if your new stereo has Bluetooth, you'll be able to access your music or streaming services that way too. One of the coolest recent developments has been in the number of receivers that support the Apple CarPlay and Android Auto interfaces, allowing truly integrated touchscreen operation of many smartphone features.
Q: Can my factory speakers handle a high-powered car stereo?
A: Your factory speakers should be able to handle the output from an aftermarket CD receiver, but there are limits to their performance. Turn up your new radio with the car sitting still, make a note of the volume level at which your factory speakers start to distort, and avoid cranking the radio up past that point.
Of course if you want to get the best sound, we recommend adding quality, aftermarket speakers as soon as you can. A new set of speakers will let you take full advantage of the big, rich sound your new receiver has to offer.
Q: How much power do I need to get optimum performance from my car's sound system?
A: Since every car stereo is different, there's no magic "wattage formula." As long as you stay within the recommended power range of your speakers, increasing power will always add richness and depth to your music. Compare a spinet piano to a concert grand. The small piano is good enough to play music clearly, but move up to a grand and you'll gain better tone, greater harmonic detail, and more volume. The larger instrument is simply more powerful.
Here are a couple things to consider:
How efficient are your speakers? Your speakers have a direct influence on the overall "power" of your system. If you plan to power your speakers with your in-dash receiver, efficient speakers (sensitivity of 90 dB or higher) will give you more bang for the buck. If you're installing high-performance component speakers, an outboard amp will generate maximum performance.
Are you adding a subwoofer? Subs need substantial amounts of power to reproduce the lowest tones, so it's essential to use an outboard amplifier with them. You should count on using more power for bass than you use to power all of your full-range speakers. If your receiver puts out 20 watts RMS x 4 channels (80 watts total), send at least 80 watts to your sub. Using a 50 watt x 4 amp to drive your components? Dedicate at least 200 watts for bass.
How good is your wiring? Your system's chain of components is only as strong as its weakest link, so don't cheat your amps and speakers with substandard power cable and speaker wire.
Before you buy, think about your vehicle and how you use it. If you drive a quiet sedan with the windows up, you'll need much less power than someone who goes off-roading in a pickup. Speaker location, extraneous road/car noise, noise damping material, and personal taste are factors that may affect how much power you'll need in your ride.
Q: Will I have better bass with a new car stereo?
A: Great bass depends on a lot of factors, including what you define as "great bass." Generally though, the increased power of a new car stereo will improve the punch of the low end in your system. But if you really looking to dial in some thump, consider adding a subwoofer with an outboard amplifier, or perhaps a powered subwoofer.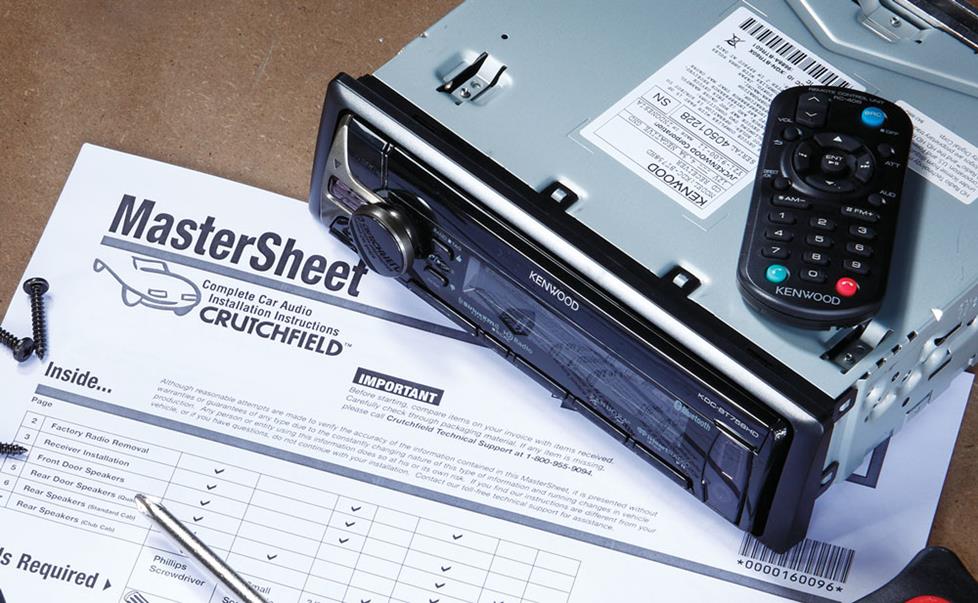 We provide Crutchfield MasterSheets with detailed installation instructions for most cars.
Q: Is it hard to install a new car stereo?
A: Helping you install your own gear is our specialty. Since 1974, Crutchfield has helped hundreds of thousands of first-time installers put a new stereo in their dash, and get the job done right. With your purchase of a new stereo from us, you'll receive our exclusive, free step-by-step instructions for your vehicle. For most vehicles, we also offer mounting kits that let you install your new stereo in your dash with a professional look, wiring harnesses that plug right into your factory wiring, and, in some cases, specialty adapters that let you retain certain factory features. If we have these parts for your vehicle, you'll get a deep discount on them when you buy any stereo.
Plus, you're able to take advantage of our friendly, comprehensive tech support, seven days a week. It's like having a pro looking over your shoulder while you work! For additional installation information, read our Car Stereo Installation Guide.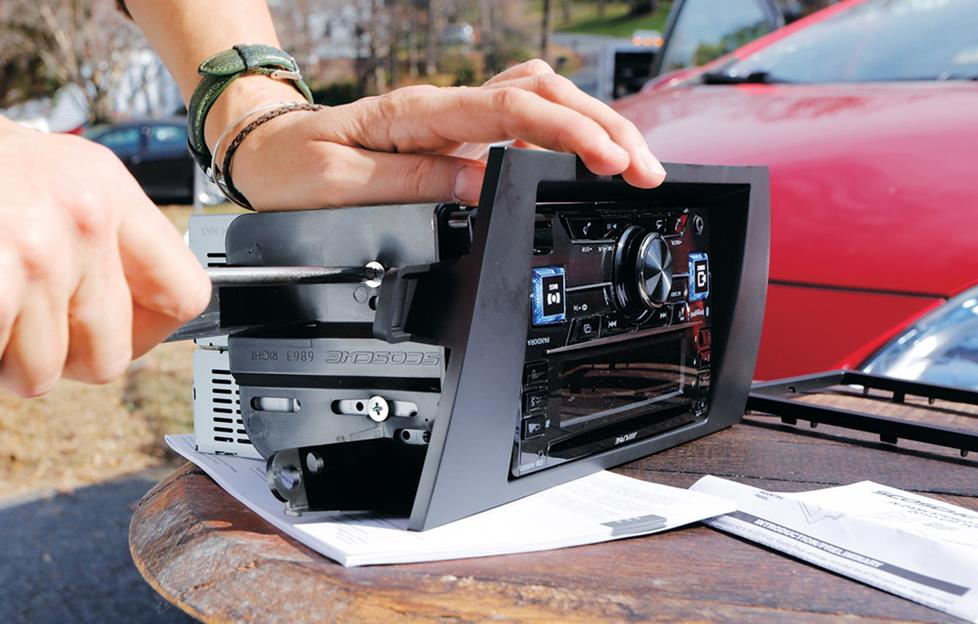 Installation kits are designed to let you install your new stereo in specific cars.
Q: Will I need an installation kit?
A: Most cars require some sort of mounting kit to ensure that the new car stereo fits properly and looks good in the dash. Depending on your car, these can range from simple to elaborate. When you buy a new car stereo from us, you can be sure we'll recommend the kit you need. And don't forget, you'll get a deep discount on installation kits when you buy any stereo.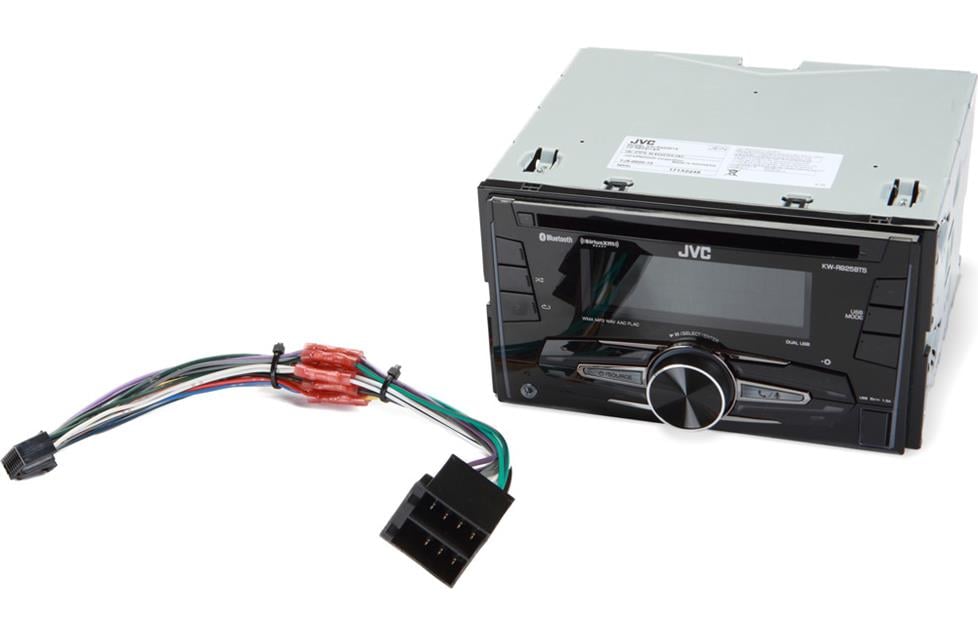 With Crutchfield's ReadyHarness option, we'll wire the harness for you.
Q: What's the best way to connect the Crutchfield wiring harness to my new CD receiver's harness?
A: Maybe you don't know that when you buy a car stereo from Crutchfield, we include a vehicle-specific wiring harness that you will have to connect to the wiring harness that comes with your car stereo. The most important factor here is getting a tight connection that won't come loose over time. Simply twisting the wires together and taping them with electrical tape won't give you a strong connection.
Soldering used to be the go-to method, but these days most people find crimping the wires to be much easier. Our favorite method is using Posi-Twist™ connectors. They're even easier than crimping and provide a strong, secure connection. You'll find more Posi-Products, crimp tools, connectors and more in the car stereo installation tools section of our website. And when you buy any stereo from us, you'll get a deep discount on these tools and connectors.
We're really excited about our new ReadyHarness service. For a fee, we'll make the connection for you, resulting in a sturdy, properly wired harness that'll save you time during your installation.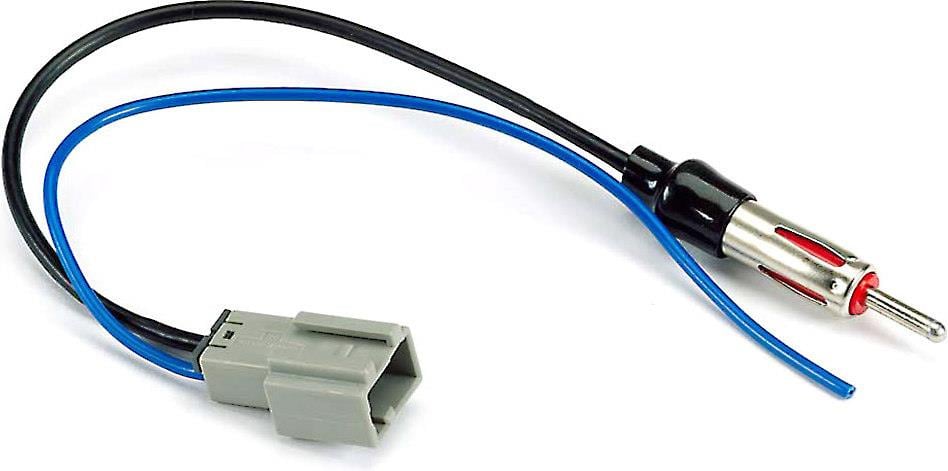 You may need other adapters, like this antenna adapter, when installing your new stereo.
Q: Will I need other, special adapters for my car?
A: Besides the stereo's wiring harness, you may need additional wiring adapters and interfaces, depending on your vehicle and its options. One common and inexpensive adapter you may need is an antenna adapter, to accommodate the different styles of antenna plugs found on different car models.
Many late-model vehicles may require special adapters for factory functions that are built in to the existing factory radio, like door chimes and warning tones. You may also have factory amplifiers and other features that could require the addition of adapters like an iDatalink Maestro module to retain your factory functionality.
As always, our vehicle selector will guide you through the process of seeing what's needed. And don't forget to call or chat with us, and our Virginia based experts will help you find out what you need to know.