16 tips for Sonos users
Learn how to get the most out of your wireless speakers
New to Sonos? Congrats on a wise purchase. Had it for a while? I'll bet there are a few useful features you haven't tried yet. Here are 16 tips that will help you enjoy your Sonos gear to the fullest. We'll start with user tips and then wrap things up with some system building ideas.
User tips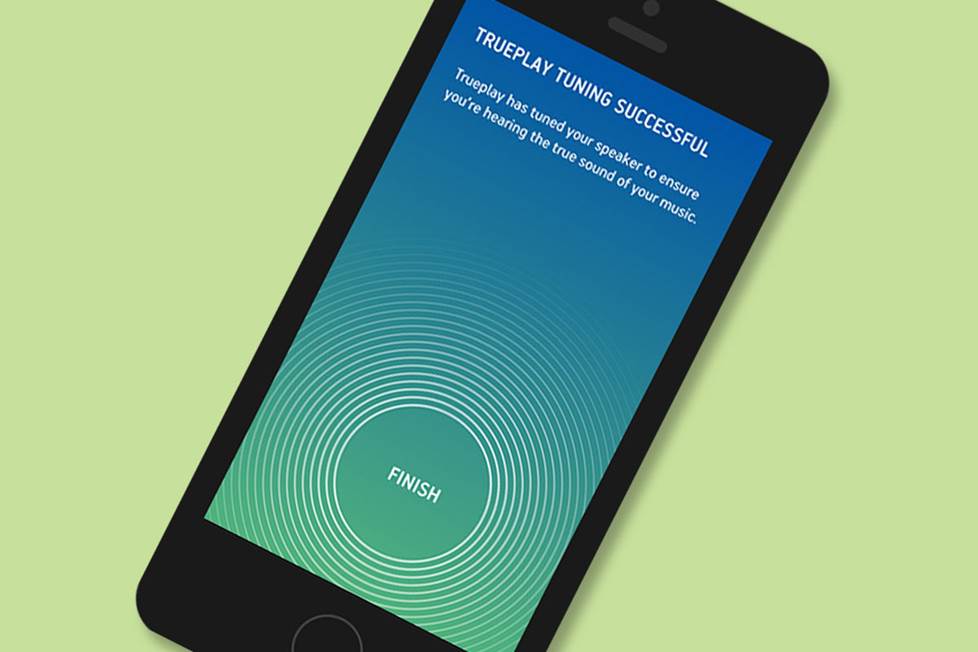 1. Get better sound with Trueplay
Do you use Sonos with an iOS® device? Great news: you can optimize the sound of your Sonos speakers.
Sonos' Trueplay feature measures how sound reflects off walls, furnishings and other surfaces in a room, and then it fine-tunes your Sonos speaker to make sure it sounds great no matter where you've placed it.
Portable Sonos speakers can tune themselves automatically using their own microphones with automatic Trueplay. Auto Trueplay starts tuning as soon as you begin playing audio. It automatically re-tunes as you play new content and bring your Sonos product to different locations.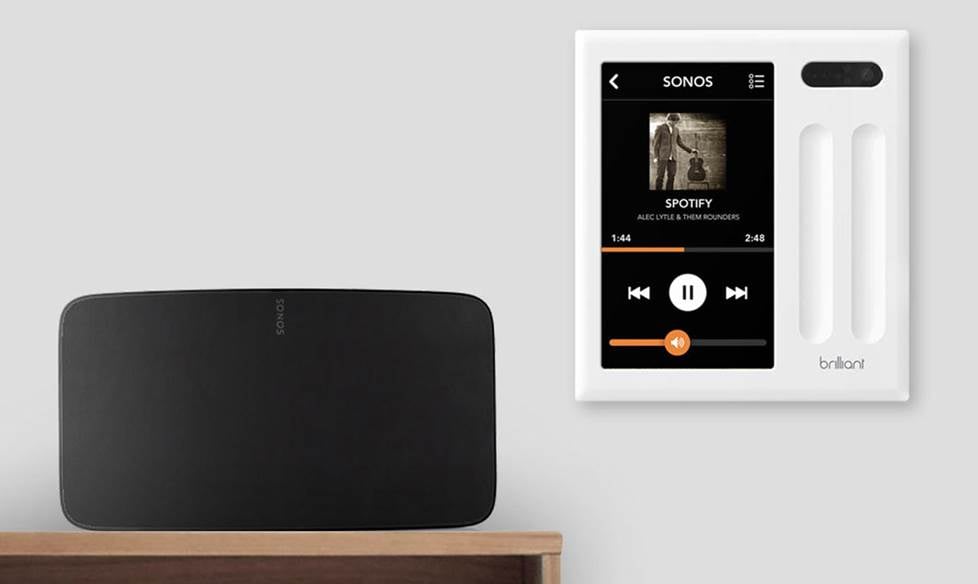 2. Get into voice control
The Sonos control app is very user-friendly. But voice control makes Sonos even friendlier.
Select Sonos speakers come with both Amazon Alexa and Google Assistant voice control built in. You can control all of your Sonos speakers from a single voice-controlled speaker like the Sonos One.
Once you have it all set up, you can say, "Alexa, play Tom Petty," or "Hey, Google, play Tom Petty." How cool is that?.
One other option: if you own a Brilliant smart home controller, you can also use its built-in Amazon Alexa to control your Sonos speakers. Plus if you have a Sonos speaker in the same room as your Brilliant controller, the lock screen can display the album art of what it's playing.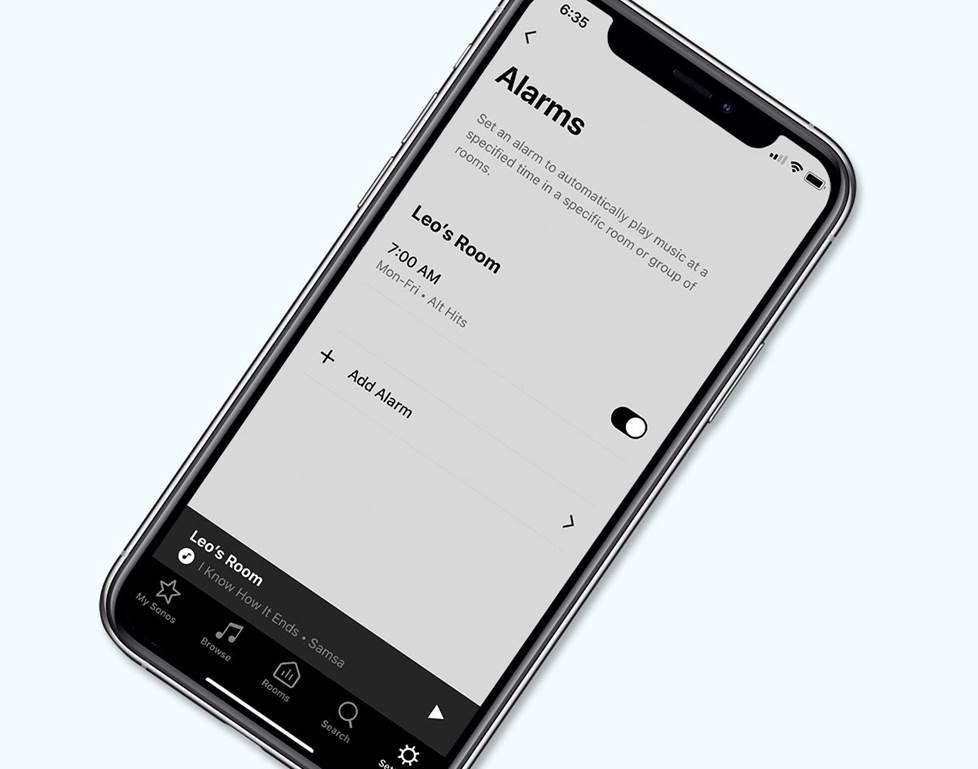 3. Wake up and go to sleep with Sonos
Bedside alarm clocks are so last century. Use Sonos to wake up to your music of choice. Set it to gently wake you with a classical piece through the Sonos One speaker on your nightstand. Or wake up the whole house with something a little more energetic playing in every bedroom.
You can also use your bedroom speaker to help you fall asleep. Create a "sleep time" playlist of soothing music or nature sounds that will help you drift off. Program a sleep timer to turn the sound off after you've fallen asleep.
One more thing: You'll want to turn off the status lights on your bedroom speakers. In the Sonos app, go to Room Settings, then select your Bedroom and turn off the White Indicator Light.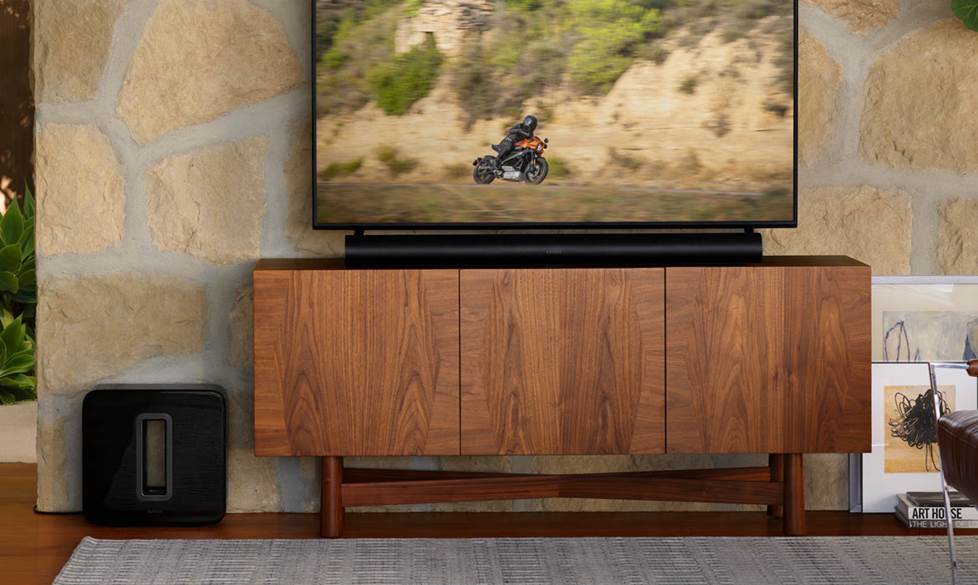 4. Learn the Play/Pause button tricks
The play/pause button does a lot more than meets the eye. Playing just one speaker? Press once to pause. Press again to pick up where you left off.
If you're playing music in multiple rooms, press and hold to silence only that speaker. Press and hold to group an inactive speaker with the other active ones.
Press twice or swipe across the button (from left to right between the touch controls) to skip a track. Swipe from right to left to skip back to the previous track.
5. Make playlists from multiple music services
The Sonos app lets you search for songs across every music service linked to your account, as well as your personal digital collection.
Build playlists from multiple services and sources. Cue up one song from Spotify and then add another from an album stored on your computer, and another that you bought from iTunes®.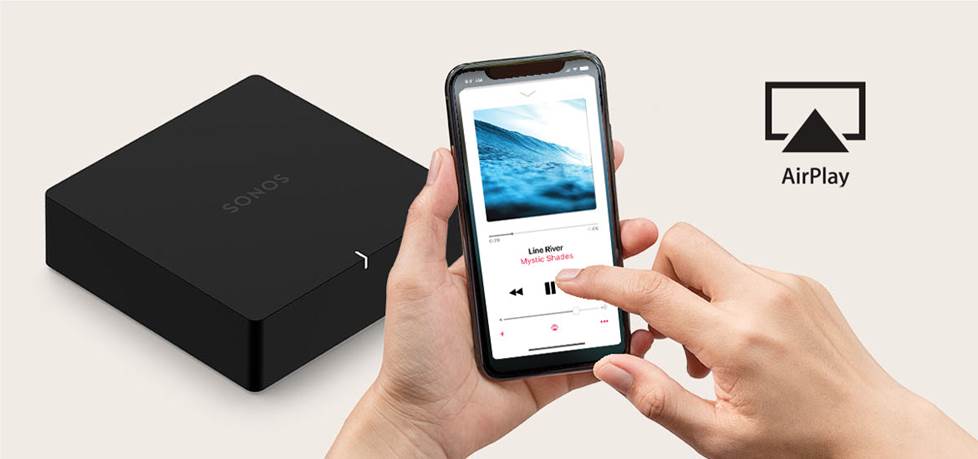 6. Stream all your favorites to Sonos with Apple AirPlay® 2
Use AirPlay 2 on your iOS device to stream your favorite music, movies, podcasts and other audio directly to your Sonos speakers.
When an AirPlay compatible Sonos product is playing AirPlay audio, you can group it with any other Sonos product in your system for multi-room playback.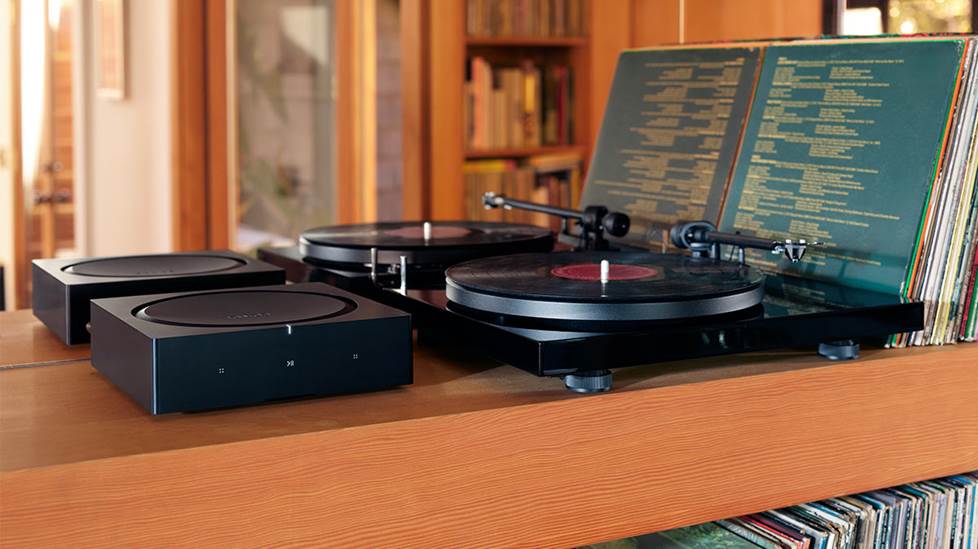 7. Stream your vinyl
Want to spin some records and hear them all over your house? Connect your turntable (with phono preamp) to the AUX input on a Sonos Five speaker, Sonos Port, or Sonos Amp. Any of these devices will digitize the analog signal and send it to any Sonos product.
The AUX input on the Sonos Five is a stereo mini jack. You'll probably need an RCA-to-mini adapter to connect your turntable.
If you don't already have a turntable, getting a Victrola Stream Carbon is an even easier solution. This belt-driven turntable comes with Wi-Fi and Sonos streaming technology built in. So you can stream directly from the turntable to other speakers in your Sonos system. Plus the Stream Carbon has a built-in phono preamp and stereo RCA output, so you can connect it to your home audio receiver.
8. Stream TV sound throughout your home
Ever crank up your TV sound so you can hear the game's play-by-play in the kitchen while you're getting snacks?
Sonos sound bars solve that problem by letting you stream TV sound to other Sonos gear. Keep up with every play on your Sonos One speaker in the kitchen, or bring the game to another room with your Sonos Move or Roam.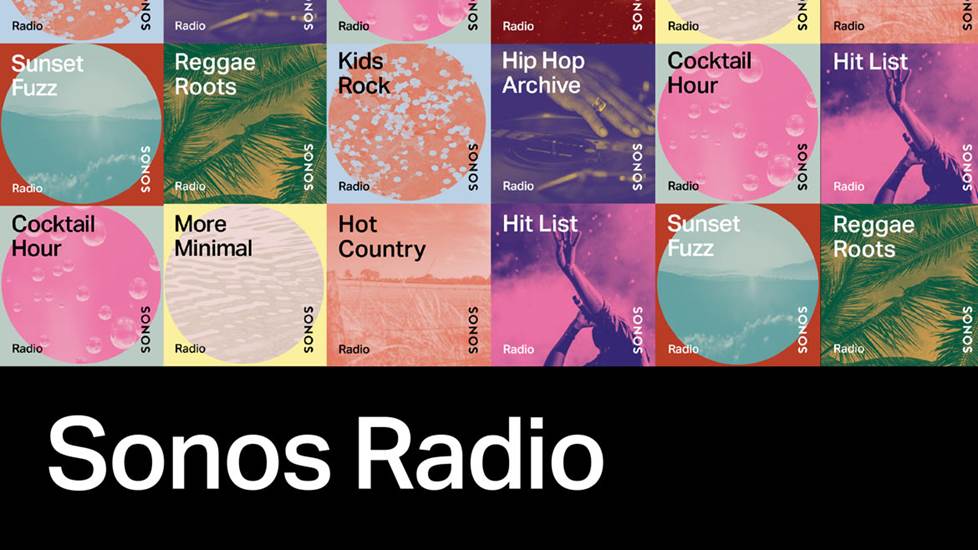 9. Discover new favorites with Sonos Radio
Feed your love of music with original shows and programming created to help you uncover up-and-coming artists and deep cuts from the archives. Find the genres and decades you love most with original stations for mellow mornings, dinner parties, and more.
Try Sonos Radio for free, or upgrade to Sonos Radio HD to enjoy ad-free listening, lossless audio, and access to exclusive stations.
System-building tips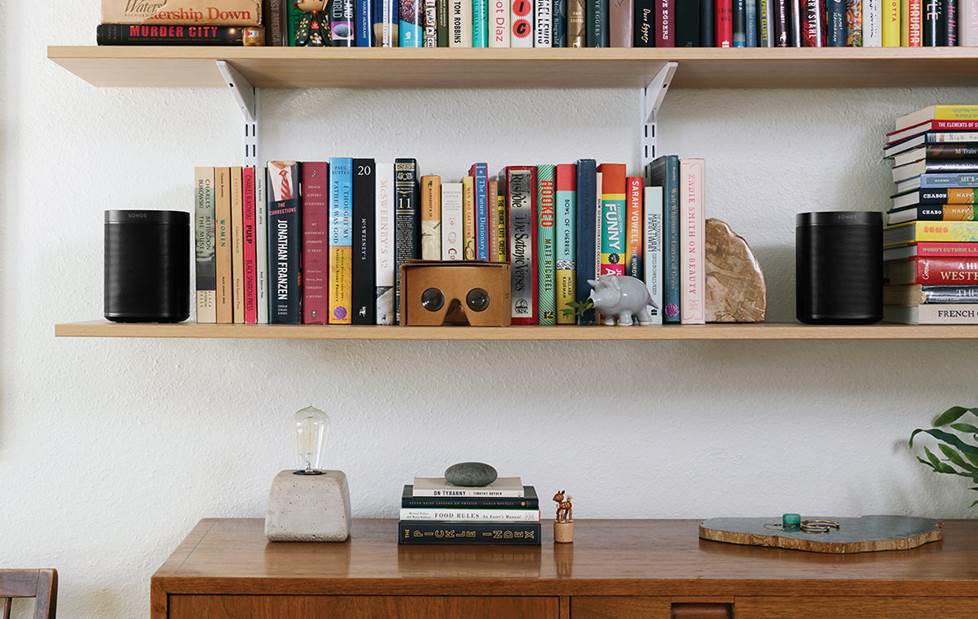 10. Pair two speakers for stereo sound
Have a single Sonos speaker? Consider adding a second one in the same room.
Pair two Sonos Five, or Sonos One or Sonos One SL speakers. The speakers will automatically separate the right and left channels, so you hear true stereo sound.
11. Add a Sonos subwoofer to pump up the bass
Like your bass extra bold? Add a Sonos Sub. Or for a smaller system, add a Sonos Sub Mini.
Team one of these sleek powered subwoofers with a Sonos One, Sonos One SL, Sonos Five, Sonos sound bar or a system that features a Port music player.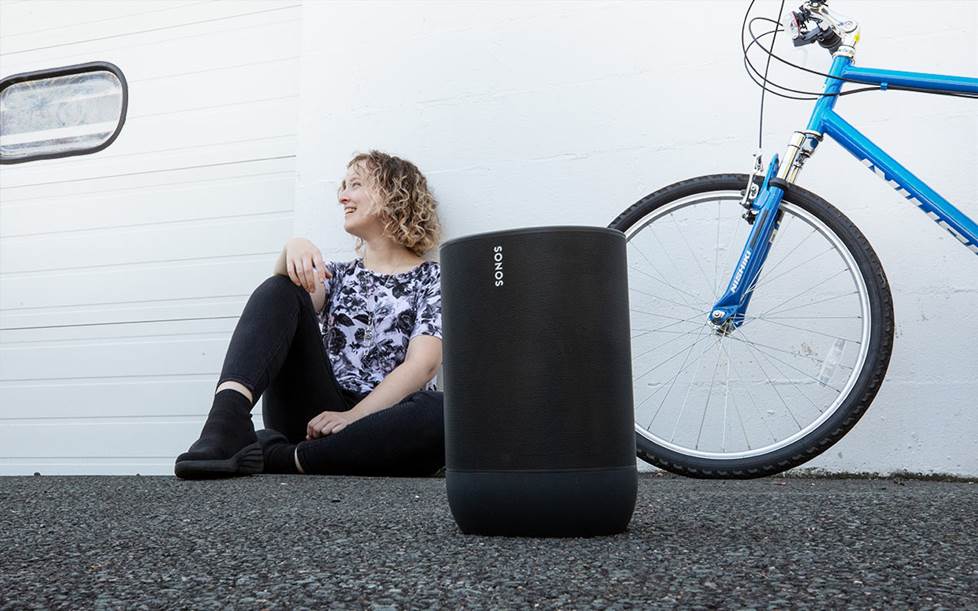 12. Listen outside
Sonos offers a few ways to enjoy outdoor music. The portable Sonos Move and Sonos Roam speakers let you bring your music outside whenever you want. As long as you use them within range of your home's Wi-Fi, you can set either one of these models up as another speaker to send music to. When they're out of range, you can still stream music to them from your phone via Bluetooth.
The larger Sonos Move is great for a patio, porch, or sunroom and the Sonos Roam's smaller size makes it great for hiking, camping, or the beach — and within WiFi range it's a great option for your garage, deck or back yard.
You can also use a Sonos Amp to power a pair of most any stereo speakers, including those designed to live outdoors. Sonos by Sonance Architectural outdoor speakers are specifically optimized for the Sonos Amp, but any outdoor speakers will work.
13. Play Sonos through your ceiling or in-wall speakers
Here's another great use for the Amp. Use it to power in-ceiling or in-wall speakers.
Maybe you bought a home that has ceiling speakers, but no music system to feed them. You'll need a Sonos Amp for each set of speakers. Or you could use one or more Sonos Port players and a multi-channel amplifier. Learn how by reading our article on how to use Sonos with ceiling speakers and outdoor speakers.
14. Upgrade your old stereo system
Happy with your existing stereo, but wish it could join your Sonos system? That's what the Sonos Port is for. Plug it into an aux input, and you'll breathe new life into your old stereo receiver.
15. Improve your TV sound
Looking for a speaker that does music and TV sound equally well? Take a look at the Sonos soundbars.
16. Surround sound, the Sonos way
A Sonos sound bar can reproduce the left, right, and center channels of a surround soundtrack.
Add two Sonos One, Sonos One SL, or Sonos Five speakers for the rear surround channels. (You could also use a Sonos Amp with a set of third-party surround speakers.)
The wireless Sonos Sub gives you the final ingredient of a powerful, space-saving 5.1-channel surround sound system.
Need help?
Have questions about choosing the Sonos gear for your system? Contact us today. Free lifetime tech support is included with your Crutchfield purchase.