In this article: My list of best stereo speaker picks for 2024...
... plus a bonus pick for creating your own streaming music system, and some shopping tips.
onsider me a speaker junkie. From the old Kenwoods in my dad's garage to the several-thousand-dollar models I've auditioned here at Crutchfield, I've always enjoyed discerning sonic differences between speaker models and learning what makes each one tick.
A good pair of loudspeakers can put the front row of a concert in your living room. That airy sense of audible depth, width, and height some models reproduce help crank the immersion up to eleven. Some even make you start noticing things in your music you hadn't before.
I put this list together to help you get started enjoying music and movies the way they were meant to be heard.
Why are these my favorite speakers?
We carry a plethora of floor-standing speakers, bookshelf speakers, and powered stereo speakers — so many that, even to me, it's overwhelming. By no means is this an exhaustive list. It's just a short one that has some of my all-time favorites on it to help you narrow things down.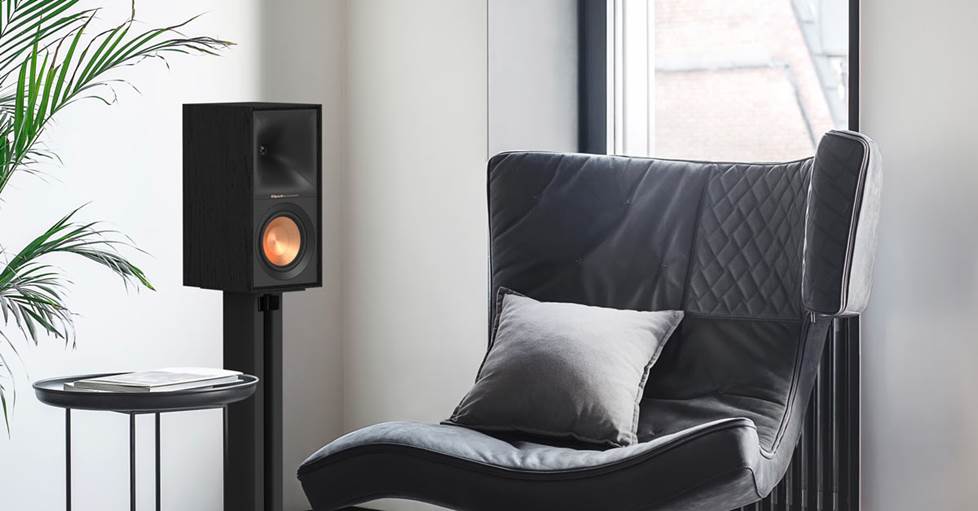 Best budget bookshelf speakers — Klipsch Reference R-50M
Our customers adore Klipsch's Reference line, as it offers premium sound at an affordable price. The R-50M bookshelf speakers are the best bookshelf entry in that line, and their performance makes them a great value. These next-generation speakers use a 5-1/4" spun-copper TCP (thermoformed crystalline polymer) woofer for punchy bass and articulate midrange, as well as a 1" tractrix horn-loaded titanium tweeter for clean highs.
Each speaker also sports a circular port on the back. That port allows more efficient airflow in and out of the cabinet, effectively reducing port noise and distortion while also making the bass have more punch.
Since these speakers are rear-ported, I strongly recommend pulling them away from your bookshelf or wall to give them some breathing room.
Details:
5-1/4" spun-copper TCP woofer and 1" LTS titanium tweeter
frequency response: 58-21,000 Hz
sensitivity: 92 dB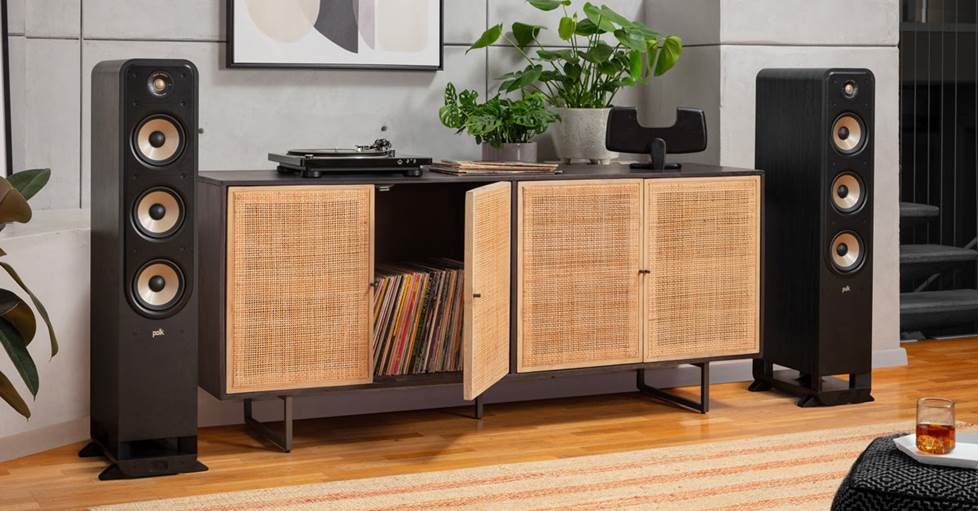 Best budget tower speaker — Polk Audio Signature Elite ES60
Polk released the Signature Elite line as a testament to how good affordable speakers could sound. The ES60 is the flagship floor-standing speaker of the line, and it packs quite a punch. A 1" Terylene tweeter reproduces silky smooth highs while three 6-1/2" mica-reinforced polymer woofers work a double shift, dishing out detailed mids and deep, impactful bass.
The ES60 has smooth corners and a beautiful finish, helping it blend into most modern décor. Whether you're using a pair of them in a two-channel music setup or you're running a full Polk home theater system, these towers help to increase your immersion into whatever you're listening to
Details:
three 6-1/2" mica-reinforced polypropylene woofers and a 1" Terylene tweeter
frequency response: 32-40,000 Hz
sensitivity: 90 dB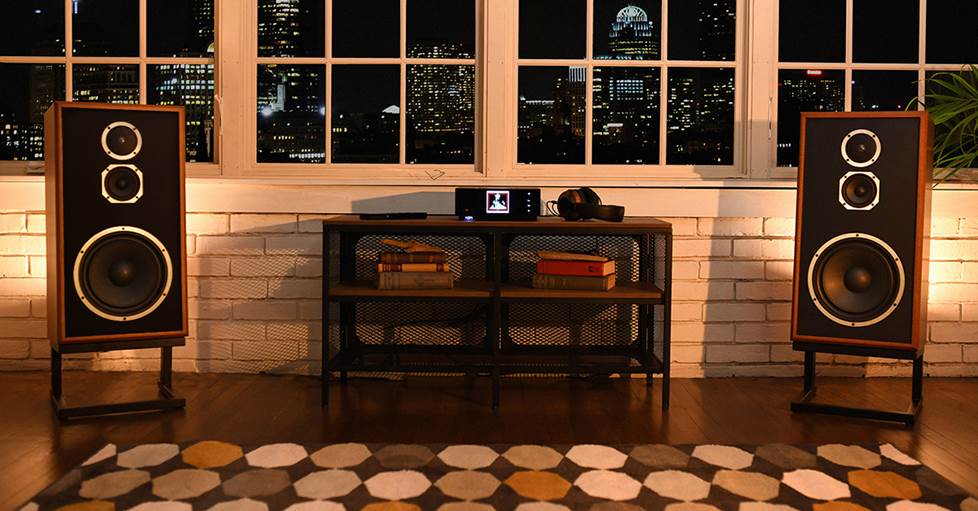 Best retro speaker — KLH Model Five
The original KLH Model Fives were released in 1968, and were one of the most recognizable speakers of the time. The revamped KLH Model Five pays homage to the original's retro appearance and 3-way speaker design, but the drivers have been updated to ensure it keeps up with the demands of modern audiophiles.
A 10" woofer delivers tight, articulate low-end performance, aided by the sealed cabinet. The 4" midrange and 1" aluminum dome tweeter work together to provide engaging detail and depth in the mids and highs. There's even a "sound shaping" knob on the back that lets you fine-tune the the speaker's sound to match your room's acoustics.
Details:
10" woofer, 4" midrange, and 1" aluminum dome tweeter
frequency response: 42-20,000 Hz
sensitivity: 90.5 dB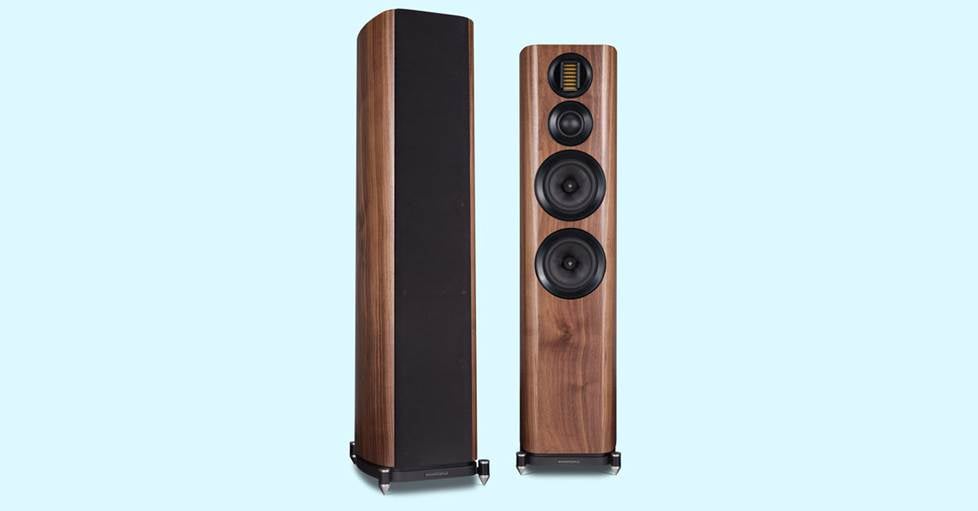 Best hi-fi tower speaker — Wharfedale Evo 4.4
The Evo 4.4 floor-standing speaker is a culmination of everything Wharfedale does best at a surprisingly manageable price point. Twin 6-1/2" Kevlar woofers do a standout job of keeping the bass tasty and impactful, while the 2" soft-dome driver maintains an elegant smoothness on the midrange. The AMT (Air Motion Transformer) tweeter is the real icing on the cake, dealing out tons of high-frequency detail without a hint of shrillness.
Wharfedale's Evo series doesn't just stop at floor-standing speakers — there's a complete suite of Evo home theater speakers to help you get the high fidelity surround sound system your movies deserve.
Details:
3-way speaker design; twin 6-1/2" woofers, 2" midrange, AMT tweeter
frequency response: 40-22,000 Hz
sensitivity: 89 dB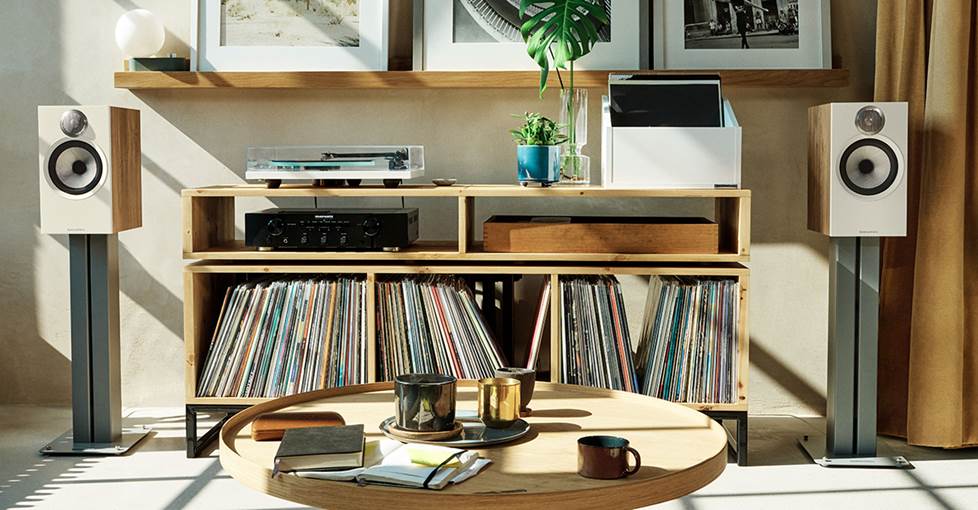 Best hi-fi bookshelf speakers — Bowers & Wilkins 606 S3
Bowers & Wilkins have been in business since 1966 and their touted 600 Series speaker line has endured a quarter of a century. The company's latest 600 Series bookshelf speaker, the 606 S3, has gobs of goodies on the inside.
The biggest change B&W made on the 606 S3s is to their tweeters. They gave the speakers decoupled titanium dome tweeters (as opposed to aluminum) for even more treble accuracy and detail. The tweeters also sport new, more acoustically transparent mesh grilles. The speakers' 6-1/2" Continuum™ cone midbass drivers effortlessly reproduce crystal clear mids and punchy lows. These speakers are great for music, and they also work great as front speakers or surround speakers in a home theater system.
Details
6-1/2" Continuum cone mid/bass driver, 1" decoupled titanium tweeter
frequency response: 52-28,000 Hz
sensitivity: 88 dB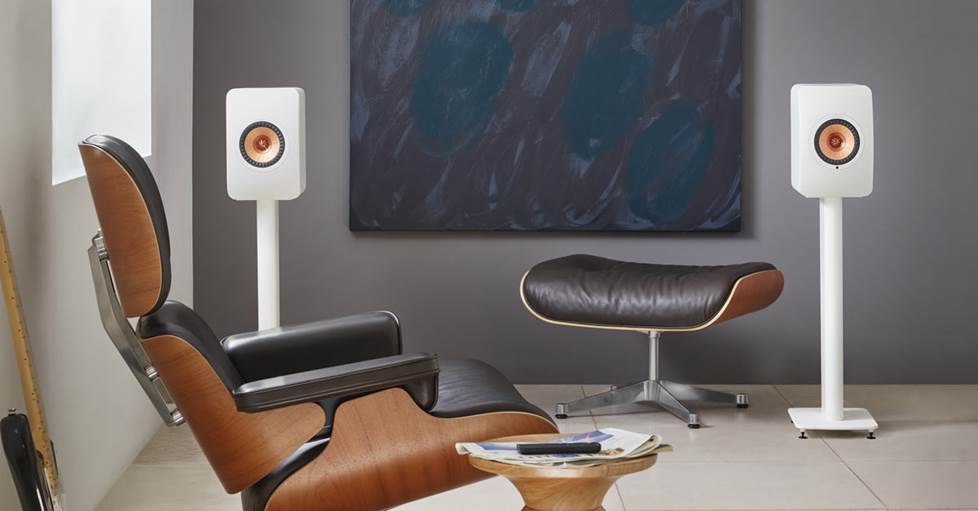 Best powered speakers — KEF LS50 Wireless II
The LS50 Wireless II speakers offer up unbelievably powerful, spacious sound. The first time I heard the original LS50 Wireless speakers, my jaw hit the floor. That such great sound could come from a pair of powered bookshelf speakers shook my world up and made me rethink how I gauge speakers.
The sound quality of the LS50 Wireless IIs owes itself to KEF's Uni-Q technology. If you look in the center of the 5-1/4" aluminum woofer, you'll notice a 1" vented aluminum tweeter. KEF placed the tweeter right in the acoustic center of the cone, essentially making the "sweet spot" much, much wider — so much so that one could argue that the entire room is one big sweet spot. These powered speakers will deliver crystal clear highs, surprisingly stout bass, and intricate mids no matter where you sit.
The KEF connect app (free for iOS® and Android™ ) makes setup and streaming a breeze, and gives you access to almost every music streaming app, including TIDAL, Qobuz, Deezer, and Spotify. The speakers can stream over Wi-Fi or Bluetooth, so even if your internet goes out, you can still jam.
Details:
self-powered bookshelf speakers with Wi-Fi and Bluetooth
app controllable through the KEF Connect app
frequency response: 45-28,000 Hz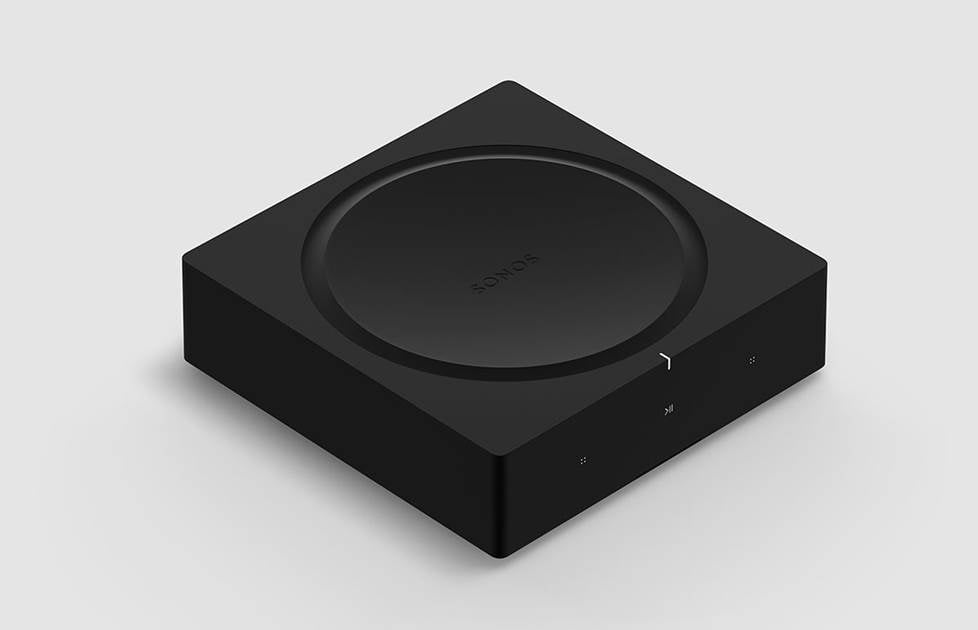 Bonus pick — Create your own amplified streaming music system
Got a pair of passive (non-amplified) speakers you'd like to stream to without using a large receiver? The Sonos Amp is my go-to pick for creating an amplified streaming music system. Its compact size lets it fit on tables, shelves, and the like without taking up a lot of real estate. No need to worry about your speakers being hungry either — the Sonos Amp's 125-watt per channel output is more than capable of driving all but the most demanding speakers.
The Sonos Amp has AirPlay® 2 built in, which means you can stream audio directly from your iPhone®, iPad®, or Mac® through your Sonos system. You can even connect a CD player or turntable to play your favorite albums.
Learn more about Sonos' customer-favorite music players and home theater solutions.
Tips on choosing the right pair of home speakers
Choosing hi-fi stereo speakers is very much a personal decision and a considerable investment. Your room's acoustics, your amplification, and your source material all affect how speakers will sound in your listening room.
Picking the right size speakers for your room is important. After all, you wouldn't want to use a pair of small bookshelf speakers to fill your greatroom with music. For example, in my small home office, I use a pair of bookshelf speakers and get excellent results. In my larger living room, I use floor-standing speakers to get the performance level that I like.
Get the most out of your new speakers
Speaker placement goes a long way towards getting the best sound from your loudspeakers. And the right wire and connections make a big difference, too.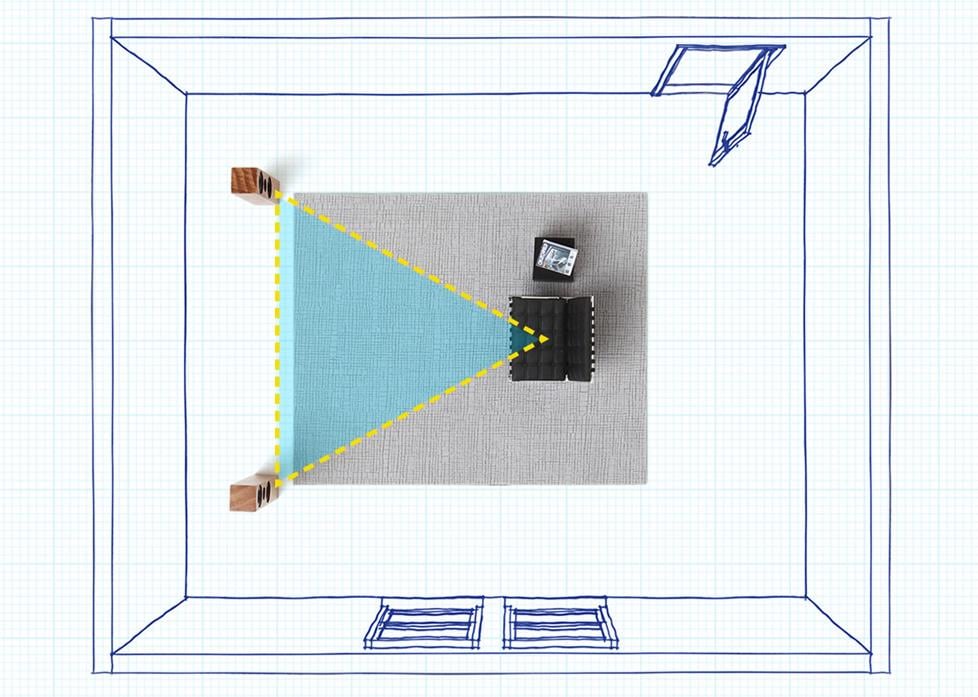 Want to create a "sweet spot" for your system? Read our placement tips to get the best sound out of your speakers.
What type of amplifier should you use?
There are lots of different ways to power your speakers. For a budget-friendly system, consider a stereo receiver. Those have ample amplification and source control, plus an AM/FM tuner. For higher-end systems, I recommend an integrated amp or power amp for the best sound.
An important factor when choosing your amplification is how efficient your speakers are. In other words, how much volume a speaker produces when fed a given amount of power. You can check under the "sensitivity" specification on a speaker's data sheet to see its efficiency. We consider anything rated 90dB or over to be easy to drive, relatively speaking.
A pair of highly efficient speakers like the Klipsch Reference R-50M, which boast an efficiency rating of 93dB, produces excellent volume with 40 or 50 watts of power. Some high-performance speakers — like the Polk Legend L800s — are hungry when it comes to power consumption. You'll want 100 or even 200 high-quality watts driving these speakers to get the most out of them.
For additional insights into choosing speakers, read our stereo speakers buying guide. Check out our home stereo systems guide to learn more about how all the components in a stereo system work together.
While this article is intended to help you choose the best speakers for music, the models featured here are also good choices for home theater systems. To learn how to approach speaker shopping for surround sound, check out our intro to home theater speakers.
Get free personalized advice from a music enthusiast
Have questions? Contact us today.
Our expert advisors know home stereo gear inside and out. They'll help you choose the best speakers for the money you have to spend, the type of music you love most, and the gear you'll connect them to.
Free lifetime tech support is included with your Crutchfield purchase.
Popular questions customers ask
Everyone's ears are different, so evaluating speakers for different types of music is subjective. Fortunately, Crutchfield's Speaker Compare technology lets you audition a wide range of speakers online, using your own music so you can get an accurate comparison. Give it a try today!
Not necessarily. Floor-standing speakers use a combination of larger drivers and spacious cabinets to produce full-range sound with great bass. But they are not the only way to go. A pair of smaller bookshelf speakers with a subwoofer might be a good fit for your room. Or you might use tower speakers as front left/right speakers in a surround sound setup with bookshelf speakers as the surrounds.
You'll see a recommended power range listed on individual speaker pages. This gives you a sense of how strong your amp should be. Another spec to consider is sensitivity: the lower the number, the more power the speakers need to play at a given volume. Giving your speakers more power not only lets you play them louder, it helps them render music and voices with greater detail.
Good speakers will sound good no matter what you play through them. If you're putting together a home theater system, it's common to use that same system for playing music as well as movies. Many home speakers are designed to work as part of a "voice-matched" surround sound system, which helps keep the sound consistent throughout your room.