Klipsch vs Polk
Which of these top home speaker brands is best for you?
In this article: Everything you need to know about Klipsch and Polk, two of the world's most popular home speaker brands:
Which is better, Klipsch or Polk? We get that a lot.
It's a good question. But I'm afraid I can't give you an easy, clear-cut answer. What I can do is provide you with the information you need to decide for yourself.
Buying home speakers is a long-term investment
Because speakers last a long time, you don't want to buy on impulse. Carefully consider the pros and cons of each brand and each series they offer.
The more you learn, the more likely you are to find the right speakers. That means speakers that:
Suit your taste in music and movies
Work well and look good in your listening space
Are compatible with the receiver or amp you already have or plan to buy
There are a lot of technical details to digest. I'll do my best to help you understand how they translate into tangible benefits.
Want to hear the differences without traveling to a store?
I'll show you the only way to audition Klipsch and Polk speakers without going to a store that has both brands on display.
Try Crutchfield's exclusive SpeakerCompare technology. Using headphones, you can listen to different Klipsch and Polk models side by side. To whet your appetite, here's an example:
Brand histories and design concepts
I don't have room for comprehensive brand stories here, but I hope you'll read what Klipsch and Polk have to say about their journeys.
My colleague Jeff Miller learned a lot about Paul Klipsch's legacy when he visited the company's headquarters.
Another colleague, Kramer Crane, recently paid a visit to Polk HQ to chat with the designer of the new Legend series.
Klipsch history
Paul W. Klipsch, an avid music lover and brilliant engineer, wanted to bring the live music experience into his living room. In 1946, that was a novel idea and a huge challenge. His tin-shed startup in Hope, Arkansas was one of the first U.S. manufacturers of loudspeakers. It has since grown into one of the world's most iconic and beloved home audio brands.
Klipsch design philosophy
Klipsch's tagline, "Pissing Off The Neighbors Since 1946," hits the nail on the head. Their time-tested horn technology produces a bold, engaging sonic signature. If you want to feel like you're in the mosh pit or the orchestra seats at a live performance, Klipsch speakers are a good bet.
Paul Klipsch approached speaker design with four principles in mind:
High efficiency/low distortion — You won't need a ton of power to play your music loud and clear.
Controlled directivity — Klipsch speakers focus more of their sound toward the listening position and less of it off to the sides. Too much sound reflected off side walls can smear the soundstage. That's the three-dimensional presentation of voices and instruments that makes you feel like you're hearing a live performance.
Wide dynamic range — Reproducing both soft and loud sounds with remarkable clarity is perhaps the most important thing a speaker can do. That's what gets you close to the live music experience.
Flat frequency response — Some speaker designs reinforce bass and/or treble to produce an artificially pleasing sound. Klipsch doesn't play that "colorization" game. They want the music to sound the way the artists intended.
Polk history
Polk Audio was founded in 1972 by Matthew Polk and a couple of college buddies, George Klopfer and Sandy Gross. Polk and Klopfer started their audio partnership building PA systems for fiddlers' conventions. That experience led them to a Baltimore garage, where they began building home speakers. These "rock and roll mad scientists" developed a number of signature technologies as they built the Polk brand into a hi-fi household name.
Polk design principles
Like a lot of speaker companies, Polk aims to replicate the experience of a live musical performance or draw you into a movie's onscreen world. They're known for a timbre that remains pleasing throughout long listening sessions — even at high volume levels.
Polk also strives to achieve a uniform sound throughout the listening area. They don't want you tethered to a narrow sweet spot.
To meet these goals, Polk developed some noteworthy technologies:
Dynamic Balance — Polk conducted a lot of research into how different raw materials resonate. The research led to the development of composite driver materials that don't add their own resonant vibrations to the sounds they're reproducing.
Power Port — A patented method of controlling the way air flows through the vent in a speaker enclosure. It gives you more bass impact with much less port noise.
Wide Dispersion Array — Polk's smaller speakers present a surprisingly wide soundstage. That means a broader "sweet spot," which is exactly what you want when the whole family gathers for movie night.
SDA (Stereo Dimensional Array) — By canceling out a phenomenon known as inter-aural crosstalk, SDA technology fools our brains into perceiving a much wider and deeper soundstage. SDA is available only in Polk's Legend L800 floor-standing speakers.
Klipsch home speaker lines
The Reference and Reference Premiere lines offer all the pieces you need to build an impressive surround sound system. The Heritage series is more geared toward serious stereo music systems.
Klipsch also offers some very popular outdoor speakers, ceiling and in-wall speakers, wireless speakers, and sound bars.
Reference Premiere series
The Reference and Reference Premiere series share a strong family resemblance. But for passionate, sharp-eared music and movie fans, the Reference Premiere line is worth the extra investment.
What are the big differences?
Let's start with the horn. Take a close look, and you'll see it's a different shape. A circular throat meets a square mouth in a new geometry that enhances soundstaging. The new horn is made of compressed molded silicone. It doesn't resonate like plastic, so you get highs that are spot-on accurate, without a trace of harshness.
Behind the improved horns you'll find titanium tweeters, which are less resonant than the aluminum tweeters in the Reference series. This translates, once again, to increased accuracy and an almost silky smoothness.
The woofers are made of a patented material called Cerametallic — anodized aluminum sandwiched by ceramic layers. They feature a titanium voice coil former. To reduce port noise, there's a tractrix bass port on the back of the speakers.
There's a new baffle design that minimizes diffraction. There are no visible fasteners for the drivers or grilles, and the edges are chamfered (angled). All of these details contribute to high performance.
They look great, too, with a premium woodgrain polymer veneer in ebony or walnut. There's a wider selection of models than the Reference series offers, so you're sure to find the right fit for your room.
Klipsch Reference Premiere floor-standing speakers

| | |
| --- | --- |
| RP-4000F | dual 4" woofers |
| RP-5000F | dual 5-1/4" woofers |
| RP-6000F | dual 6-1/2" woofers |
| RP-8000F | dual 8" woofers |
| RP-806FA | dual 8" woofers plus up-firing Atmos drivers |
Klipsch Reference Premiere bookshelf speakers

| | |
| --- | --- |
| RP-400M | 4" woofers |
| RP-500M | 5-1/4" woofers |
| RP-600M | 6-1/2" woofers |
Klipsch Reference Premiere center channel speakers

| | |
| --- | --- |
| RP-400C | dual 4" woofers |
| RP-500C | dual 5-1/4" woofers |
| RP-600C | dual 6-1/2" woofers |
| RP-404C | four 4" woofers |
| RP-504C | four 5-1/4" woofers |
Klipsch SPL powered subwoofers

| | |
| --- | --- |
| SPL-100 | 10" Cerametallic woofer, 200 watts |
| SPL-120 | 12" Cerametallic woofer, 300 watts |
| SPL-150 | 15" Cerametallic woofer, 400 watts |
Klipsch Reference Premiere surround speakers

| | |
| --- | --- |
| RP-500SA | dual 4" woofers |
| RP-402S | dual 5-1/4" woofers |
| RP-502S | dual 6-1/2" woofers |
Reference Premiere home theater systems
To take the guesswork out of your home theater system build, we've created two Reference Premiere systems. There's a basic 5.1 system and a 5.1.2 Dolby Atmos system.
Reference series
The Reference series is Klipsch's most affordable range of home theater speakers. Equally at home in 2-channel systems, Reference speakers give you the sound Klipsch is famous for. Expect a lively, front-row presentation.
Reference series speakers are highly efficient. That means you can get satisfying volume from a relatively modest amount of amplifier power.
For the highs, Klipsch deploys aluminum tweeters behind tractrix horns. The bass comes from copper-spun Injection Molded Graphite (IMG) woofers.
The drivers are housed in sturdy MDF (medium-density fiberboard) cabinets that sport an attractive woodgrain vinyl finish.
Here are listings of the available Reference models, by type. Click on the links to read the customer reviews for each model.
Klipsch Reference floor-standing speakers

| | |
| --- | --- |
| R-610F | 6-1/2" woofers |
| R-620F | dual 6-1/2" woofers |
| R-820F | dual 8" woofers |
| R-625FA | dual 6-1/2" woofers plus up-firing Atmos drivers |
Klipsch Reference bookshelf speakers

| | |
| --- | --- |
| R-41M | 4" woofers |
| R-51M | 5-1/4" woofers |
Klipsch Reference center channel speakers

| | |
| --- | --- |
| R-34C | four 3-1/2" woofers |
| R-52C | two 5-1/4" woofers |
Klipsch Reference powered subwoofers

| | |
| --- | --- |
| R-8SW | 8" IMG woofer, 50 watts |
| R-100SW | 10" IMG woofer, 150 watts |
| R-120SW | 12" IMG woofer, 200 watts |
Klipsch Reference Dolby Atmos/surround speaker

| | |
| --- | --- |
| R-41SA | 4" woofers |
Reference home theater systems
To make your shopping easier, we put together a complete 5.1 Reference Series home theater system.
Heritage series
Most Heritage series models were designed and developed by Paul Klipsch, beginning with the flagship Klipschorn model.
Most people use these U.S.-made, furniture-grade beauties in stereo music systems, though there's no law against incorporating them into a theater system. There's no subwoofer or center channel speaker, but there is a Heritage Theater Bar — a passive (non-amplified) 3-channel sound bar that will save space and blow your mind.
Polk home speaker lines
Crutchfield offers several different Polk Audio home speaker ranges. We'll focus here on Polk's most recent introductions. The Signature series, which debuted in 2017, offers a bold new look to go along with some sonic upgrades. Their latest creation is the flagship Legend series.
Signature Series
Polk bills the Signature Series as the latest embodiment of their "American HiFi" tradition. The cabinet design features rounded shoulders inspired by the shape of a typical acoustic guitar.
A new Terylene tweeter delivers the extended high-frequency performance required to earn Hi-Res certification.
Power Port is one of Polk's legacy technologies. What's new is that it's now available at much lower price points. In the Signature Series the port fires downward, which gives you more flexibility with regard to placement. (Rear-ported speakers can sound boomy if placed too close to a wall.)
Mica-reinforced polypropylene woofer cones are supported by custom-molded butyl rubber surrounds. The surrounds allow for extreme excursion (the in/out motion of the woofer that creates sound waves). The upshot is clean, powerful bass.
Polk's patented Cascade Crossover technology creates a wide sweet spot. Signature Series speakers sound great pretty much anywhere in your room. Follow the links in the charts to see all of our customer reviews.
Polk Signature Series floor-standing speakers

| | |
| --- | --- |
| S50 | dual 5-1/4" woofers |
| S55 | dual 6-1/2" woofers |
| S60 | three 6-1/2" woofers |
Polk Signature Series bookshelf speakers

| | |
| --- | --- |
| S10 | 4" woofers |
| S15 | 5-1/4" woofers |
| S20 | 6-1/2" woofers |
Polk Signature Series center channel speakers

| | |
| --- | --- |
| S30 | dual 5-1/4" woofers |
| S35 | six 3" woofers |
Polk Signature Series powered subwoofers

| | |
| --- | --- |
| HTS 10 | 10" woofer, 100 watts |
| HTS 12 | 12" woofer, 200 watts |
Legend Series
The best speakers Polk has ever made? That's what they say about the new flagship Legend Series. After hearing a demo at Crutchfield headquarters, I won't argue.
The star of the show was the L800 floor-standing speaker, which reintroduces Polk's patented Stereo Dimensional Array technology.
There are two midrange/tweeter panels in each L800. The panels that are angled toward the listening position reproduce the normal left and right channel signals. The panels angled away from the sweet spot reproduce the opposite channels, out of phase.
What this does, in simple terms, is to prevent your left ear from hearing the right channel and vice versa. What you do hear is a much wider soundstage and a remarkably lifelike three-dimensional image.
The L800 is the only SDA model, but all Legend models feature the new Pinnacle ring radiator tweeter. Its tuned waveguide broadly disperses high frequencies, giving you a wide sweet spot.
The new Turbine cone midrange driver is both light and stiff. It responds quickly to dynamic signals without flexing, and the result is highly accurate and emotionally engaging sound for music and movies.
The new enhanced Power Port® design reduces port noise, so you hear unadulterated deep bass.
The beautiful real wood cabinets are expertly engineered to prevent unwanted resonances and tame internal standing waves. They're available in brown walnut and black ash.
Polk Legend Series floor-standing speakers

| | |
| --- | --- |
| L600 | dual 7" woofers, 5-1/4" midrange drivers |
| L800 | dual 10" woofers, dual 5-1/4" midrange drivers |
Polk Legend Series bookshelf speakers

| | |
| --- | --- |
| L100 | 5-1/4" woofers |
| L200 | 6-1/2" woofers |
Polk Legend Series center channel speakers

| | |
| --- | --- |
| L400 | dual 6-1/2" woofers, 4" midrange |
Polk Legend Series surround speakers

| | |
| --- | --- |
| L900 | Add-on height module for L600 and L800 |
Other Polk options
In addition to the Signature and Legend series, we offer the TSi, RTia, and Blackstone TL series. These are long-time crowd-pleasers that are still in production.
Polk's value-packed in-wall and in-ceiling models and the rugged Atrium line of outdoor speakers are popular with folks who are building a whole-house music system. There's an assortment of subwoofers and sound bars, too.
Ready for some demos?
Crutchfield's SpeakerCompare technology lets you listen to comparable Klipsch vs Polk models side by side.
For each type and size, I've pre-selected two or more pairs of speakers. When you click the "Listen now" button, you'll be asked to select your model of headphones. Next, pick a genre of music and hit play.
Toggle between the speakers to hear the differences. In equal power mode (the default setting), you hear differences in loudness as they naturally occur. Switch to equal volume mode to hear the tonal differences.
Bookshelf speakers with 4" woofers
Polk Audio Signature S10

Klipsch Reference R-41M

Klipsch Reference Premiere RP-400M
Powered by .

Crutchfield's patented virtual audio technology.
Bookshelf speakers with 5-1/4" woofers
Polk Audio Signature S15

Klipsch Reference R-51M

Klipsch Reference Premiere RP-500M
Powered by .

Crutchfield's patented virtual audio technology.
Bookshelf speakers with 6-1/2" woofers
Polk Audio Signature S20

Klipsch Reference Premiere RP-600M
Powered by .

Crutchfield's patented virtual audio technology.
Floor-standing speakers with 5-1/4" woofers
Polk Audio Signature S50

Klipsch Reference Premiere RP-5000F
Powered by .

Crutchfield's patented virtual audio technology.
Floor-standing speakers with 6-1/2" woofers
Klipsch Reference R-610F

Klipsch Reference R-620F

Polk Audio Signature S55

Polk Audio Signature S60
Powered by .

Crutchfield's patented virtual audio technology.
Floor-standing speakers with 8" woofers
Klipsch Reference R-820F

Klipsch Reference Premiere RP-8000F
Powered by .

Crutchfield's patented virtual audio technology.
Ask the experts
I hope you find the information above helpful. I also hope you will find time to ask a Crutchfield advisor for help with your choices.
Say "Klipsch or Polk?" and your advisor will probably ask you a lot of questions before answering. To make a truly helpful recommendation, they'll need to know a lot about your musical preferences, your listening habits, your listening space, your receiver or amplifier, and your budget.
To collect a sampling of advisor opinions, we invited several of them to listen to some music through comparable Klipsch and Polk speakers. Here's what they had to say as we played a variety of songs through the Klipsch Reference Premiere RP5000F and the Polk Signature S50 (both of which deploy dual 5-1/4" woofers).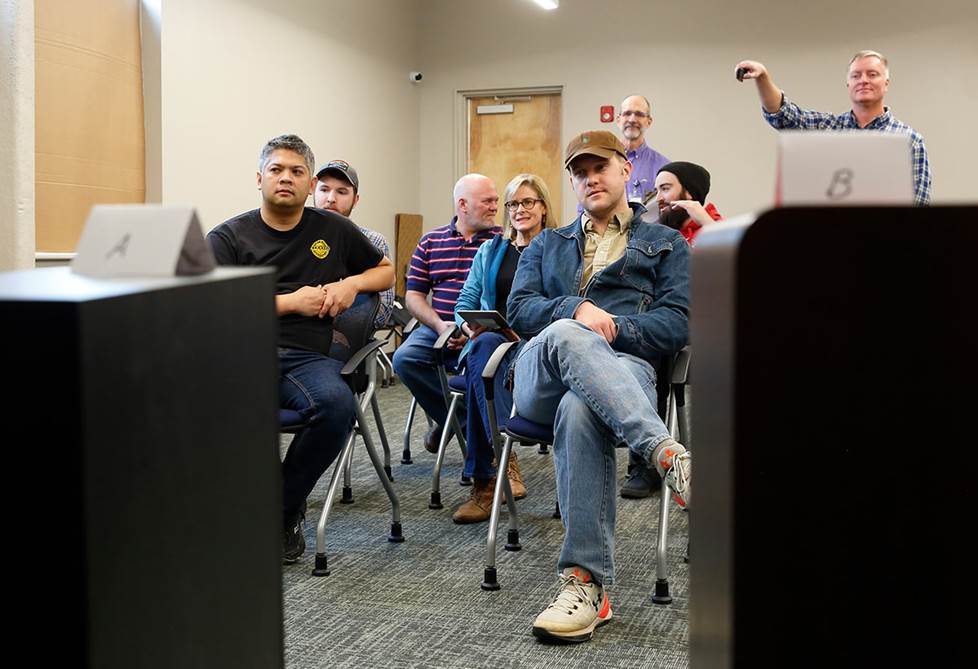 We asked several of our advisors to listen to comparable Klipsch and Polk speakers side by side.
At the same volume setting, the Klipsch speakers played a little louder than the Polks, though not by as much as most of the advisors expected.
There were no unanimous verdicts, but the majority favored Klipsch for live recordings of rock music like Cheap Trick's version of Ain't That A Shame from their Live at Budokan album. A couple of listeners liked the way the Klipsch speakers drew their attention to the cymbals, cowbell, and other details of the drum kit.
"I like my music loud and proud. I want to hear the cymbals," said JR (who plays drums). "What some people find fatiguing, I love."
Colt put it this way: "If you want 'in-your-face' sound for action movies, gaming, or rock 'n' roll, it's Klipsch, 100 percent."
But Colt mentioned that Polk speakers are more versatile and that they tolerate less-than-ideal placement better than Klipsch. "Polks are my favorite 'do everything' speakers. Anything you want, you can put through Polk speakers, and they sound great."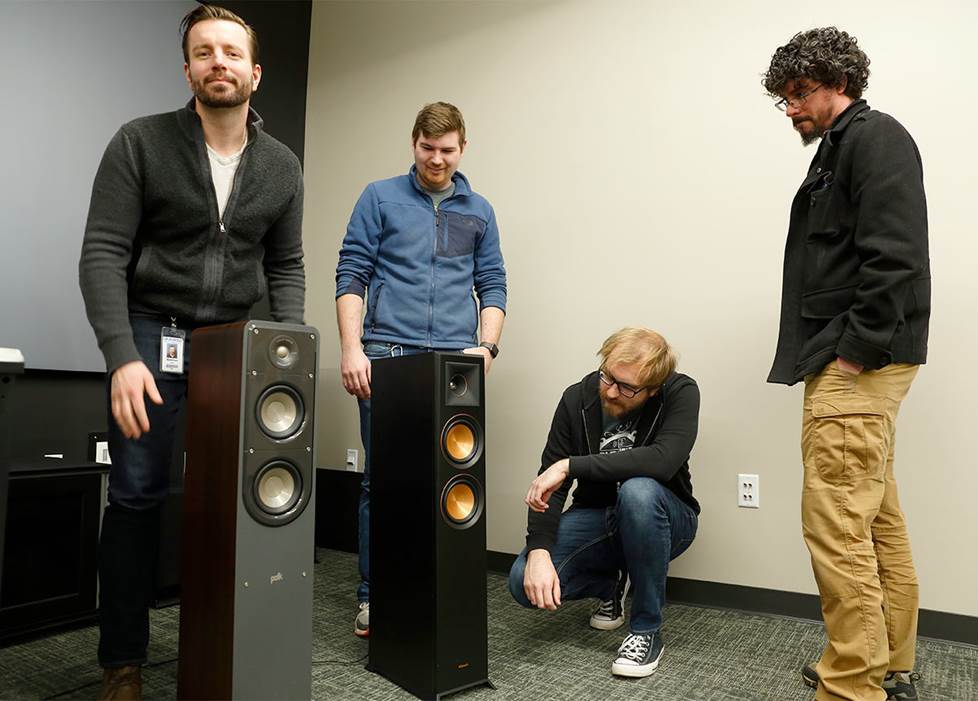 Most of our advisors preferred Klipsch for hard-rock music, especially live recordings. For acoustic music, they tended to favor Polk.
JR reminded me that Klipsch had re-voiced their tweeters to take a bit of the edge off. Lee noticed the difference.
"I never thought I'd like a horn tweeter," Lee said, "but Klipsch changed my mind."
Most listeners preferred the Polks for intimate studio recordings of acoustic instruments and jazzy female vocals. They were wowed by Madeline Peyroux's rendition of the Leonard Cohen's Dance Me To The End Of Love from the Careless Love album.
"I'm now willing to admit there are some songs the Polks are better for," said JR.
Quinn noticed the subtle nuances of Peyroux's vocal delivery.
"The Polks sounded a little more airy," Quinn said. "You could hear her take a breath before she started to sing."
For more insights from our advisors, watch the video below.
Shopping tips
Mind the size
Don't forget to look at the dimensions, especially if you need to fit a speaker into a piece of A/V furniture.
System building tips
Putting together a home theater system? Stick with the same brand and series as much as possible. "Voice-matched" systems present a seamless soundscape. Mismatched speakers can stand out — in a bad way.
Take care to match your speakers to your receiver, too. You don't want to overpower the speakers with more watts than they can handle. But under-powering them might be worse. If you want a loud system, and you don't have a super-powerful receiver, get the most efficient speakers you can find (Klipsch, most likely). Look at the sensitivity spec (the higher the number, the more efficient).
Your listening space and tastes
How big is your room? Does it have a lot of carpeting, drapes, and other sound-absorbing features? Or is it a "live" room, with lots of hard, reflective surfaces?
Do you like to play your music and movies loud? What types of music do you prefer?
Crutchfield advisors have well-educated ears. They've listened to Klipsch and Polk speakers (as well as many other brands) in many different settings, with a wide range of program material. Their job is to ask you about your setup and help you choose the speakers that best meet your needs.
Want to learn more?
Here are links to a few of our speaker buying guides:
How-to get the most out of your new speakers
Choosing speakers is Step 1 on the road to audio bliss.
Step 2 is deciding where to place them in your room. The articles below provide some placement guidelines. Use the guidelines as a starting point. If at first you're not thrilled, move your speakers around a bit.
Small changes can make a big difference. Move the speakers away from the walls a few inches. Or push them back. Move them closer to each other. Or a little bit further apart. Angle them toward your seat a little more, or a little less.
Still not thrilled? Don't give up yet. Maybe you just need to break your new speakers in a bit. Leave the music playing for several hours a few days in a row. See what your speakers sound like after a week or two of heavy use.
Step 3 might be to work on your room a bit. Try moving the sofa forward or backward a bit. Add a rug, drapes, or some other sound-absorbing materials. (See our room acoustics article for a lot more tips.)
Moral of the story? A well-situated pair of Brand A speakers might sound better than a pair of poorly situated Brand B speakers. And vice versa.
How do you know when you've purchased the right speakers and tweaked their placement to perfection? There's a good answer to that question in this video from Steve Guttenberg Audiophiliac.
Intrigued? Try reading these articles: