In this article: Everything you need to know about Klipsch and Polk, two of the world's most popular home speaker brands...
...and some other resources to help you learn more about speakers and systems.
As a Crutchfield Advisor, I was often asked the age-old question of how Klipsch and Polk, two of our most popular home speaker brands, compare. I'll start by saying that both Klipsch and Polk are exceptional brands across the board. Both bring their own flavor of sound defined by unique, patented technologies.
There's not a definitive "This brand is better" type answer. What it boils down to is what your ears prefer. To give you a better understanding of each brand and how they got to where they are, I'd like to first discuss how they got started.
Klipsch History
Paul W. Klipsch began prototyping speaker designs in 1938, shortly before his service in the U.S. Army during World War II. His first speaker was the Klipschorn, which became patented in 1945 after years of perfecting its design. His speaker building business, Klipsch & Associates, began in a tin shed in Hope, Arkansas the next year.
Mr. Klipsch hand-built the first Klipschorn, and every other Klipschorn, in that tin shed from 1946 until 1948, when he hired his first employee. From there, the company blossomed, and more speaker designs began to form.
The Heresy came about in 1957 to act as a center channel between two Klipschorns. Then came the Cornwall in 1959, the La Scala in 1963, and finally the Forte in 1985.
Those Heritage models are still in production today, still being hand-crafted with care in Hope, Arkansas. You can find the same design principles from the early days even on non-Heritage models.
Klipsch design principles and technologies
Mr. Klipsch wanted his speakers to reproduce music the way the artist intended it to sound. To achieve that, he developed four core design principles for his speakers:
High efficiency/low distortion — Klipsch speakers are efficient and don't need a lot of power to play music at full volume. They're able to maintain high output levels for hours on end with minimal distortion.
Wide dynamic range — Klipsch builds their speakers to reproduce loud, impactful sounds and quiet, more subtle sounds with equal degrees of detail and clarity.
Flat frequency response — When speakers "color" sound, they're using their own sonic characteristics to alter the way you hear your tunes. Klipsch detests colorization, and their speakers feature a flat frequency response that provides an honest presentation of your favorite albums.
Controlled directivity — Klipsch designs their speakers to be directional. With the speakers angled at your listening position, more sound is coming at your ears, rather than reflecting off your walls and muddying your soundstaging and imaging.
There are also some key technologies used in Klipsch speakers.
Horns, for example, are a Klipsch staple. The Tractrix® horns the company uses are well known for their precision and clarity.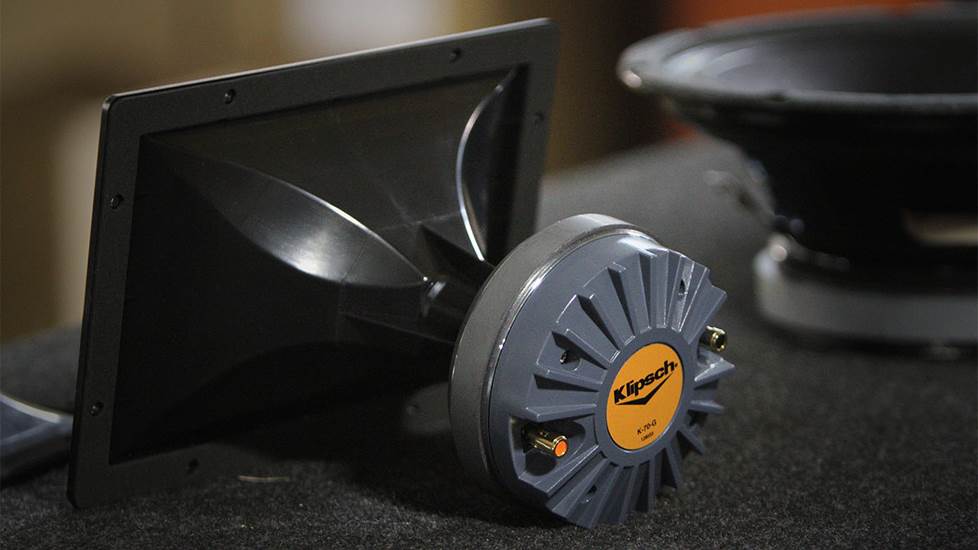 Klipsch's famed Tractrix horn and tweeter, shown removed from a speaker's cabinet.
Inside of the horn lies an LTS (Linear Travel Suspension) tweeter that uses Kapton (an ultra-lightweight and ultra-rigid material) as part of the suspension system. By using a light tweeter suspension system, the efficiency of the tweeter increases, distortion decreases, and resolution and detail improve.
Another feature found on Klipsch's modern speaker offerings are metallic cones. The cones come in two flavors: copper-spun or Ceremetallic™. Klipsch found that metal cones provide a high stiffness-to-mass ratio, meaning the drivers have exceptional rigidity without extra weight. That means their drivers can dig into bass frequencies without heavy distortion or detail loss.
Polk History
Polk Audio is the brainchild of two students at Johns Hopkins University in Baltimore: Matthew Polk and George Klopfer. The first speaker system they designed was a public address system for a local fiddler's convention. After getting a taste of what they could do together, they set out to make a name for themselves.
Polk began as a garage project in a Victorian rooming house in Baltimore in 1972, with only $200 to its name. The company had secured a contract to build private-label speakers for a stereo shop in D.C., but the order got cancelled.
Seeing as how they now had inventory that needed moving, they partnered up with fellow Johns Hopkins alumn Sandy Gross, and found their way into the market.
Two years later, the three released their first big hit, the Monitor 7. By the '80s, Polk was well into the home audio game. The company was past 100 employees and they'd produced their legendary flagship model, the SDA 1A.
Fast-forward to today and you'll find that Polk hasn't forgotten its roots. The company has continued to enhance previous designs while keeping their speakers cost-effective.
Polk design principles and technologies
Polk Audio has also developed some pretty neat tech for their speakers.
Dynamic Balance — Polk does a lot of research into how different raw materials resonate in their hunt for premium sound quality. They use laser imaging to determine which combination of cone materials are the least resonant. Drivers that use Dynamic Balance reproduce full-range, smooth sound with super low distortion.
Stereo Dimensional Array (SDA) — This technology combats inter-aural crosstalk. Inter-aural crosstalk is a sound phenomenon where your left ear and right ear hear different things at different times. It does away with crosstalk by using a second set of drivers to play an out-of-phase signal from the opposite channel, thus cancelling the effects of crosstalk and leading to a more realistic soundstage.
Power Port® — This unique port geometry takes care of port noise — a form of distortion where you can hear the bass chugging out of the cabinet's port — by improving turbulence, helping the speaker deliver clean, crisp bass.
Wide dispersion array — Polk's way of giving their speakers a wider soundstage. That means a broader, less directional "sweet spot," which is perfect for movie nights and two-channel listening sessions.
---

Klipsch speaker lines
Klipsch has three speaker lines: the Reference, Reference Premiere, and Heritage series. Both the Reference and Reference Premiere are great for home theater, while the Heritage Series is more geared toward high-performance two-channel listening setups.
Klipsch Reference
Klipsch's home speaker line starts with their humble Reference Series. Reference speakers are affordable but don't cut any corners sound-wise. They use copper-spun IMG woofers, tractrix horns, aluminum LTS tweeters, and are easy to drive with most amplifiers.
Generally speaking, you can tell what woofer size the speaker has by looking at its model name. Reference models with a "5" in their name (like the R-50M) tend to have 5-1/4" woofers, and those with a "6" have 6-1/2" woofers (like the R-600F)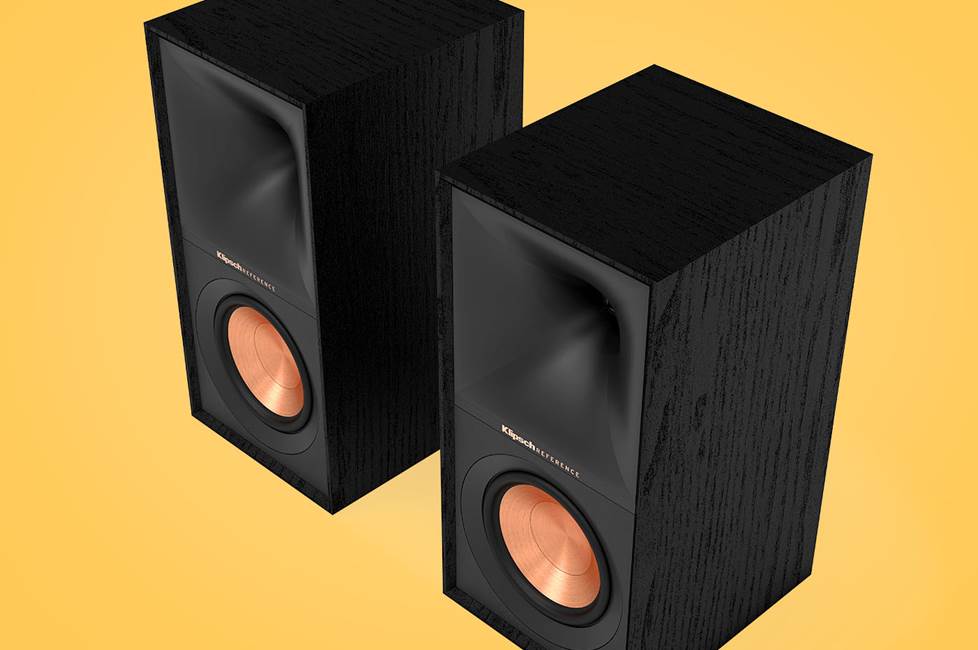 If you'd like to check out all the Reference Series has to offer, check out the following:
Klipsch Reference tower speakers
Klipsch Reference bookshelf speakers
Klipsch Reference center channel speakers
Klipsch Reference Premiere
The Reference Premiere line is Klipsch's real bread and butter. These speakers are a bit more expensive, but you get more refined tweeters, Ceremetallic woofers, and richer sound out of them compared to the regular Reference line.
The naming conventions used for the RP Series still reference woofer size. The RP-8000F II, for example, uses two 8" woofers.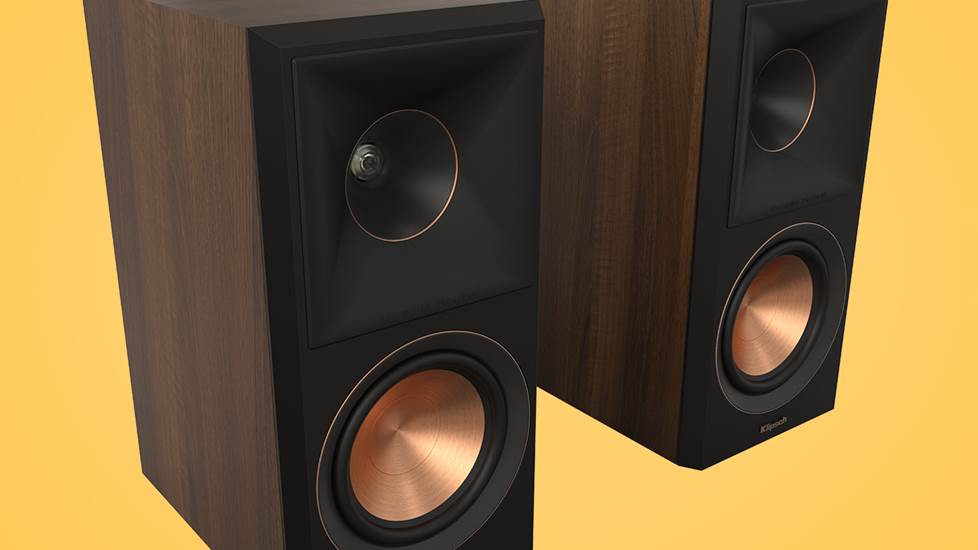 If you want to see all the Reference Premiere series speakers, check these out:
Klipsch Reference Premiere tower speakers
Klipsch Reference Premiere bookshelf speakers
Klipsch Reference Premiere center channel speakers
Klipsch Reference Premiere surround and Dolby Atmos® enabled add-on speakers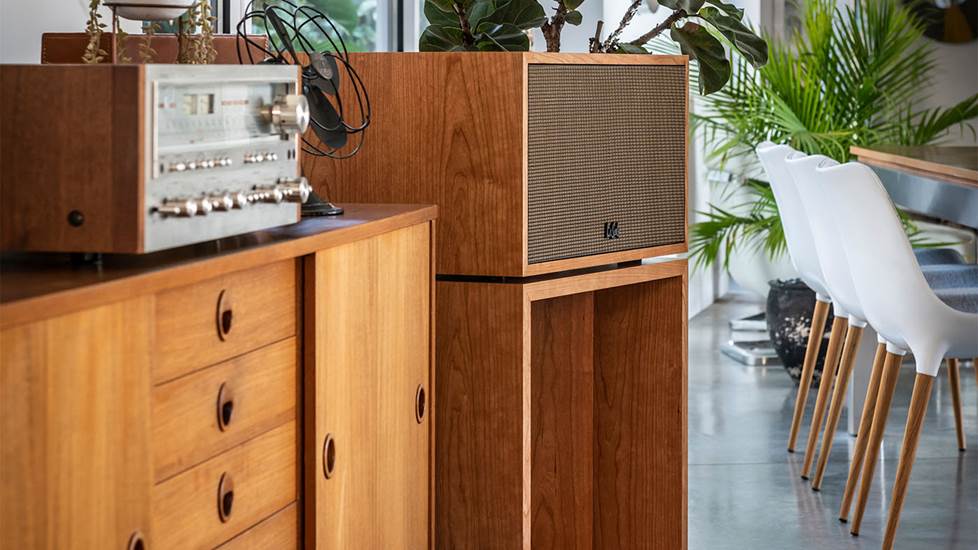 Klipsch Heritage
At the top of Klipsch's lineup is their Heritage Series. These special speakers make up Klipsch's flagship and are modern versions of legendary legacy speakers. This line starts with the Heresy and moves all the way up to the speaker that made Klipsch, the Klipschorn.
---
Polk speaker lines
Polk has a variety of speaker lines to choose from, based on your budget and the level of performance you're looking for.
Their entry-level TSi line is great for starting a home theater system. The Signature Elite Series gives you exceptional performance at an affordable price. And the company's top-of-the-line Legend Series provides premium performance for two-channel music.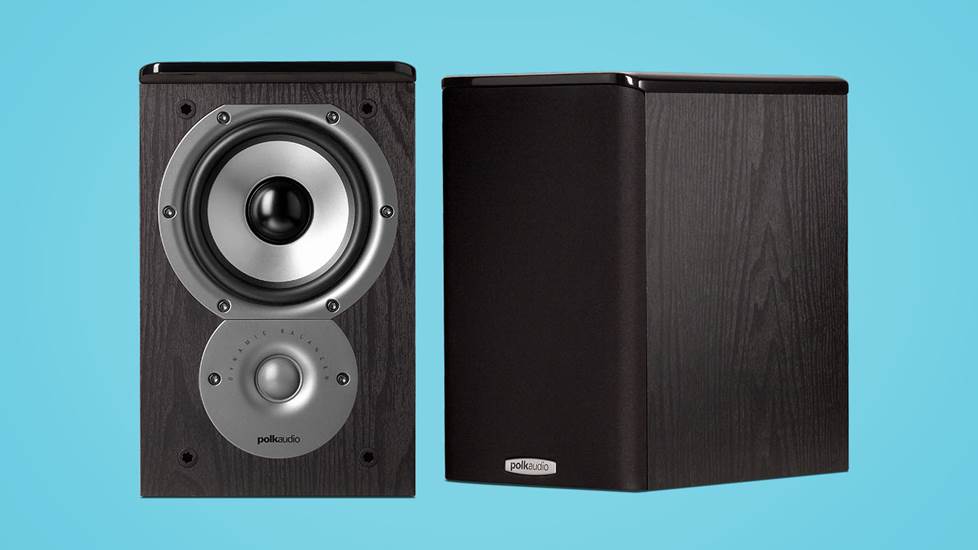 Polk TSi
Polk's entry-level TSi speakers are an excellent bang for your buck. They are a good starting point if you're dipping your toes into home theater, serving up plenty of great sound without breaking the bank. TSi Series speakers use Dynamic Balance silk dome tweeters and have modest power ratings.
Polk Monitor
The next level up in Polk audio's speaker offerings is their Monitor line. This cost-effective series delivers high-resolution sound at an affordable price. The speakers here use Terylene dome tweeters for smooth highs, and bi-laminate paper cone woofers for a more natural mid-and-bass response.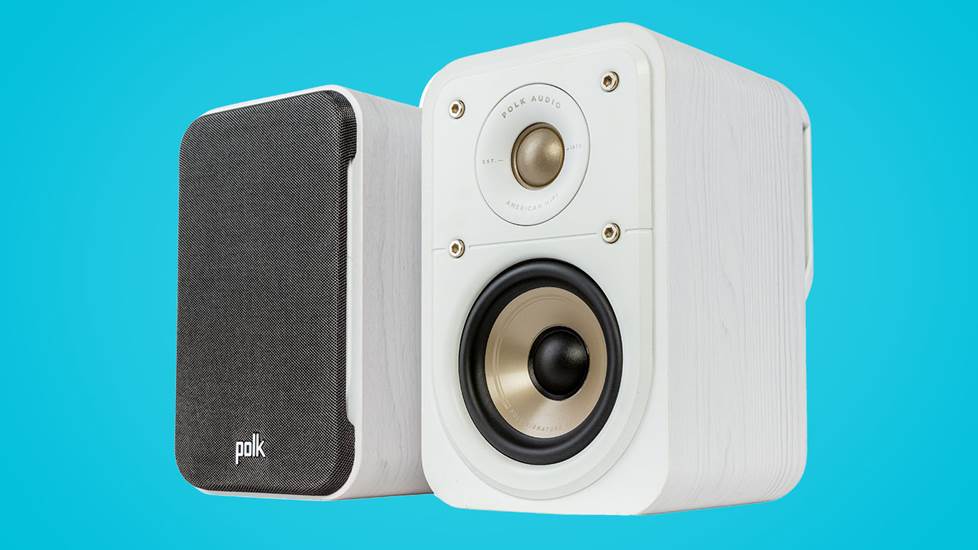 Polk Signature Elite
Polk's Signature Elite speakers are where the company shines. These middle-of-the-line speakers are a great balanced between price and performance, and they look sharp, too. They use a more refined Terylene high-resolution tweeter for accurate treble reproduction and mica-reinforced polypropylene Dynamic Balance woofers for punchy and detailed midrange and bass.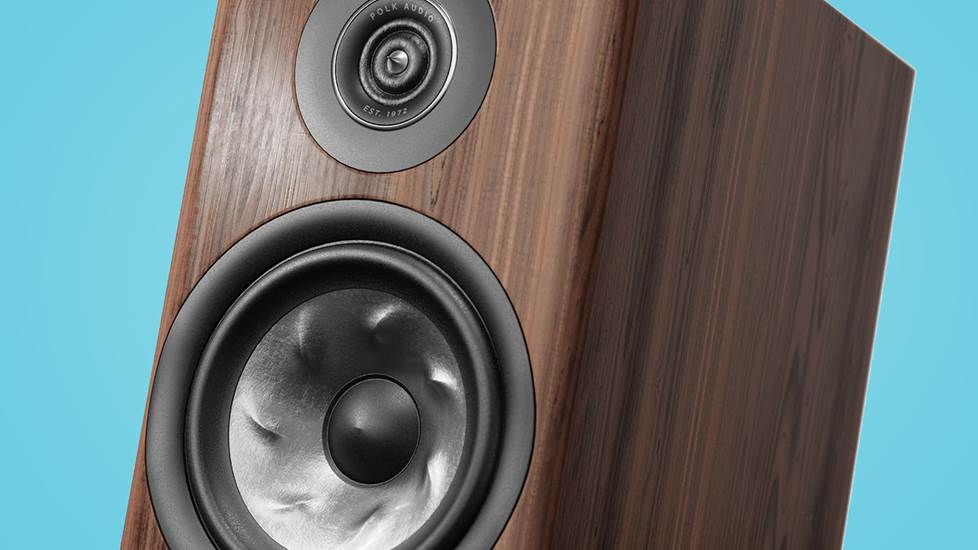 Polk Reserve
The Reserve Series is where Polk's speakers start getting beefier. Polk crafts their Reserve speakers with gorgeous cabinets and potent drivers. They use Pinnacle ring radiator tweeters and and Turbine Cone™ midrange/bass drivers to deliver outstanding, realistic sound.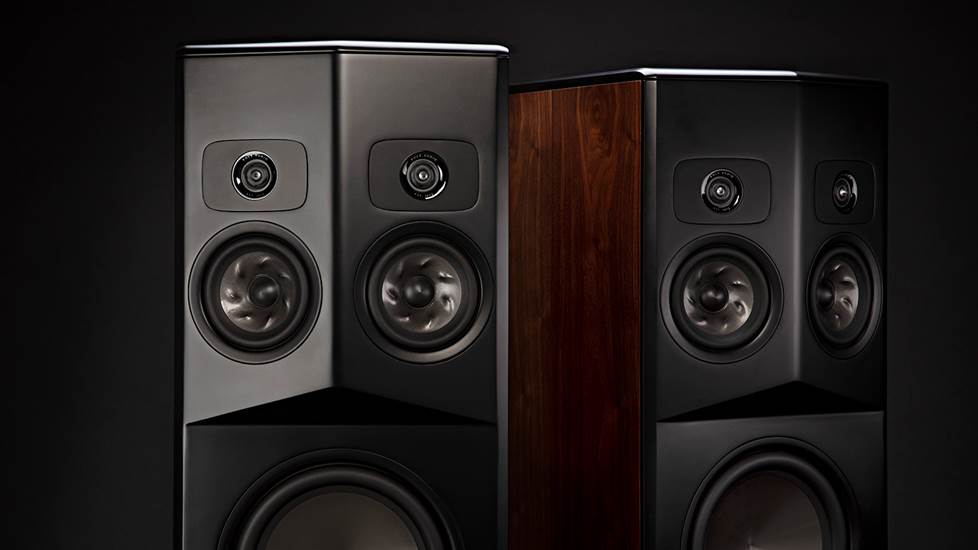 Polk Legend
The most expensive Polk speakers we carry are their Legend Series. These are high-end powerhouses geared towards serious audiophiles who want to hear the subtleties of their favorite songs. The massive Legend L800 speakers use Polk's SDA technology and deliver unrivaled accuracy, clarity, and soundstage depth and width.
We did an in-depth article on what makes the Legend speakers tick. You can read the full scoop on them here.
How to audition speakers without going to a store
It's hard to choose which speaker you like best if you've never listened to them before. We know how difficult it is these days to find a dedicated listening room, so a few years back, we decided to provide our customers a virtual one.
Our SpeakerCompare™ virtual audio technology gives you an accurate representation of how specific speakers sound. All you need to start demoing speakers is some time, some music, and some headphones.
Here are a few example comparisons
Polk Audio TSi 200 vs Klipsch RP-400M
Polk Audio Legend L100 vs Klipsch RP-600M
Polk Audio TSi 400 vs Klipsch R-610F
Polk Audio Legend L600 vs Klipsch Reference RF-7 III
Other offerings from Klipsch and Polk
So far, we've only discussed passive speakers for home theater and stereo setups, but both companies offer much more than those things. Both Klipsch and Polk have a full lineup of sound bars, powered subwoofers, outdoor speakers, in-wall and in-ceiling speakers, and Dolby Atmos speakers.
Klipsch also makes wireless speakers and powered stereo speakers, plus a few 3-channel and 5-channel wireless speaker bundles for building a wire-free Reference Series system. And Polk has a whole host of car speaker and subwoofer options.
Shopping tips
For extensive information on choosing the right speakers, take a look at our Stereo speakers buying guide. Here are some general tips to help you get started.
Keep sizes in mind
Make sure to check the dimensions of the speakers you're buying, especially if you're trying to squeeze them into a piece of A/V furniture.
System building tips
If you're putting together a home theater system, my best advice would be to keep it as "voice-matched" as possible. Stick with the same brand and series and you'll be able to experience everything they have to offer. Mismatched speaker systems leave your sound bland and imbalanced.
Also, be sure to match speakers to your receiver. You don't want to overpower the speakers with more wattage than they can handle because it can damage the speakers. You also don't want to underpower them and leave them sounding thin.
If you want a loud system but you don't have a super-powerful receiver, get the most efficient speakers possible. If you're ever in doubt, be sure to check the speakers' sensitivty spec. Remember: the higher the number, the more efficient the speakers are.
Your listening space and tastes
The room your speakers are going in is often an overlooked factor. You first need to consider how large your room is and how "full" you'd like it to sound. You also need to examine what acoustic challenges your room presents.
Things like carpeting, drapes, and other sound-absorbing features can take the sparkle away from your tracks. On the flip-side, if you have a "live" room, with lots of hard, reflective surfaces, higher notes can become a bit too sharp and overbearing.
There are workarounds for those problems. Moving furniture and other things around in your room until the sound is right works most of the time. If your room is too "bright" and reflective, you could try adding some drapes, rugs, or acoustic treatment panels to ease the shrillness.
Want to find out more about speaker placement and room acoustics? Give these articles a shot:
Speaker break-in
Brand new speakers may sound a little thin at first. It's because all drivers have a small break-in period. During break-in, the drivers loosen up and let their sonic characteristics come to fruition. Give your speakers time to break in and you'll appreciate how good they can sound.
Want to learn more?
We have a ton of articles on home speakers if you'd like to learn the nuances of setting up a system. Our Home Speakers 101 article discusses speaker types, while our Intro to Home Theater Speakers goes over how to build a home theater system. We also have one on choosing the right home theater subwoofer.
If you're more of a two-channel listener, we have an Intro to Home Stereo guide that goes over how to build a stereo system.
Any questions?
Have questions about home theater or home stereo? Our expert advisors live and breathe the cool stuff we carry and they'd be happy to lend a hand. Contact us today for one-on-one, personalized advice.