A behind-the-scenes look at Polk Audio's Legend Series speakers
An audio engineer explains the magic of loudspeaker innovation
On a rainy Friday last fall, I found myself at the doorstep of Polk Audio's research and development facility near Baltimore. They'd just released their new Legend Series speakers, and a few colleagues and I had driven up from Charlottesville to check them out. This was my first visit to a speaker manufacturing facility, and I was excited to get a behind-the-scenes look at how Polk's magic is made.
Insight from an engineering pro
Our tour guide for the day was Stu Lumsden — longtime Polk Audio engineer, and speaker design guru. After 42 years with Polk, Stu retired in 2019 after the launch of the Legend Series. It was an honor to meet the man who helped create so many of the Polk speakers that Crutchfield customers love, and to explore the process of speaker innovation with him.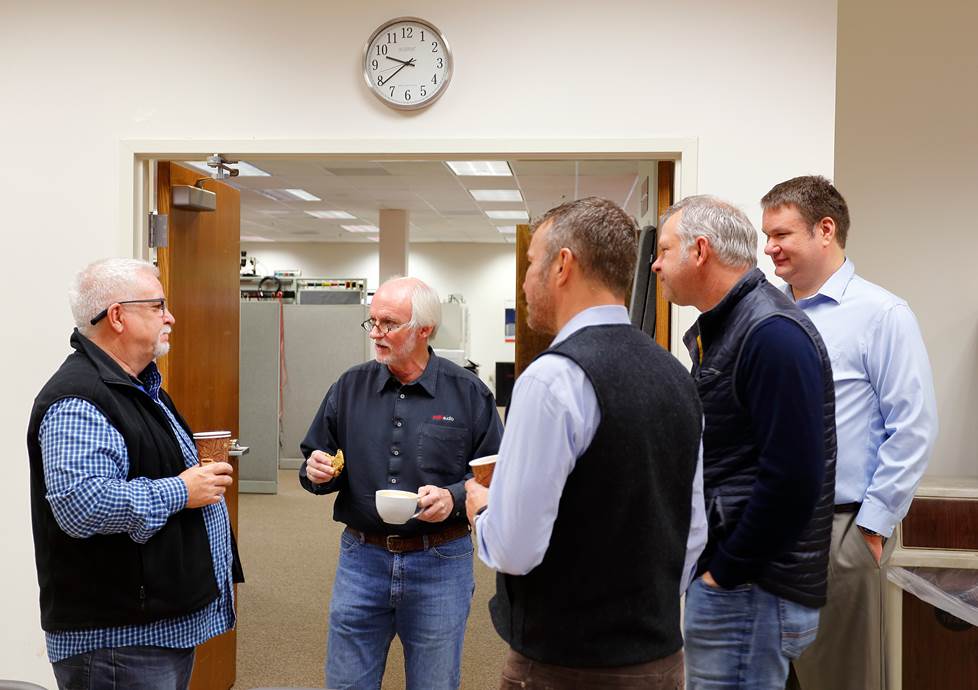 Stu Lumsden, pictured second from the left, was Polk's Vice President of Engineering until he retired in 2019. He kindly gave us a tour of the company's Baltimore-based R&D facility.
Coffee in hand, our group began walking around Polk's labyrinth of wow-worthy tech rooms. Along the way, Stu explained how each area worked. I was particularly enamored by the "cheese room," one of several chambers at the facility dedicated to carefully measuring speaker response.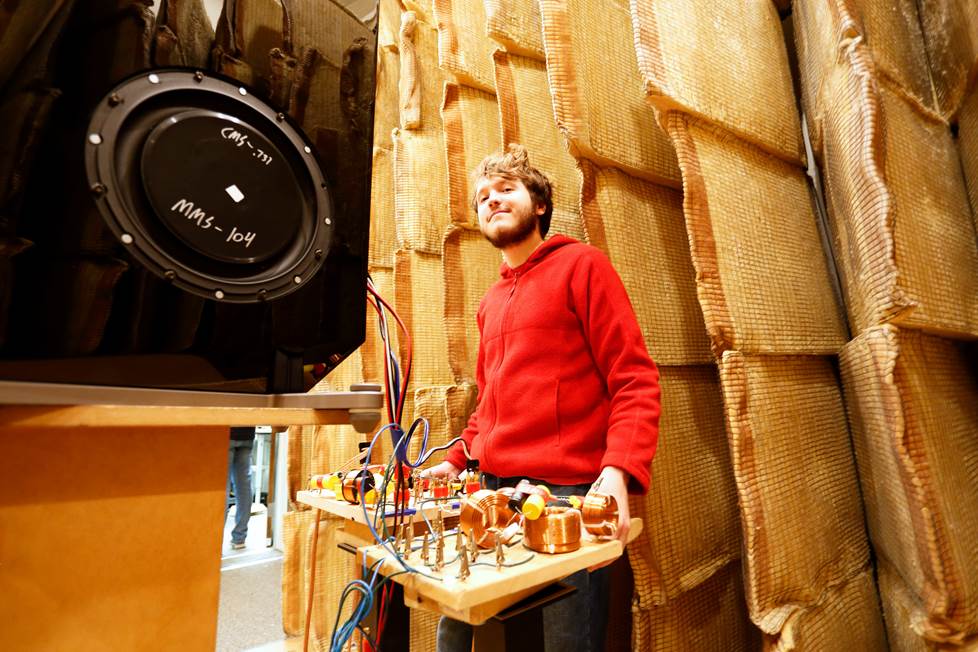 Frank Starobin is one of the many talented speaker experts that work at Polk Audio. He's shown here testing a speaker prototype in the cheese room — one of the company's acoustic measuring chambers.
I was fascinated by the sheer complexity of the design and production processes. Stu showed us the wing of one of Polk's buildings where speakers are put through rigorous tests to ensure long-term durability. One machine subjects speakers to extreme heat and cold, while another sprays marine speakers with salt water. Polk even drops ready-to-ship boxes from several stories up to test the robustness of their packaging.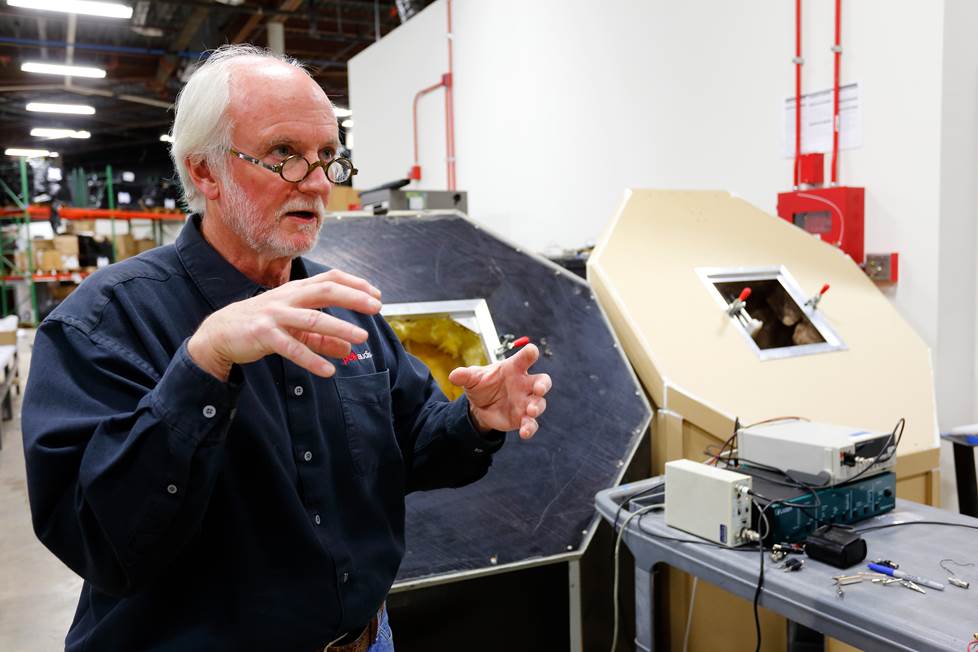 Stu explained that the speaker chambers shown behind him are acoustic replicas of equipment used in Polk's manufacturing plant overseas. This ensures that testing data can be precisely duplicated between the two facilities.
I also got to meet several longtime Polk employees during my visit, including technician Freeman Stills. Freeman originally worked on Polk's driver and tweeter assembly lines in Baltimore. Back in the day, he helped develop tooling and fixture techniques that would later be used in Polk's speaker factory in Mexico.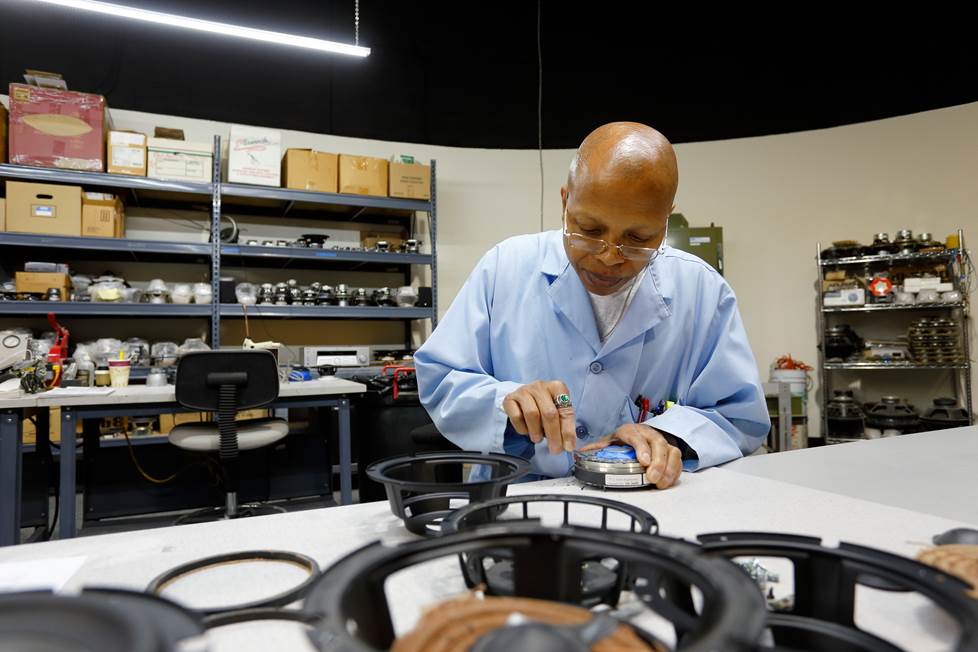 Freeman Stills is a technician and transducer expert. He can rebuild just about any woofer or tweeter you give him.
Legend Series: Polk's best-ever speakers
After a lunch of quintessential Baltimore food (including delicious Chesapeake Bay-seasoned potato chips), it was time to check out the Legend Series up close.
The Legend Series flagship
One of the things I was most excited to do at Polk was listen to some music on the Legend L800. This unique floor-stander is the flagship model of the Legend Series, and bears the distinction of being the best speaker Polk has ever made.
I'd auditioned a pair of these towers at Crutchfield headquarters prior to my visit. It's not hyperbole to say that it was the best pure stereo listening experience I'd ever had. The L800s were only positioned about six feet apart from each other. Yet they created a soundstage so wide I found myself retraining my ears to process all of the sonic detail pouring in from the sides of the room.
After that listening session, I was eager to learn more about what makes the L800s so special.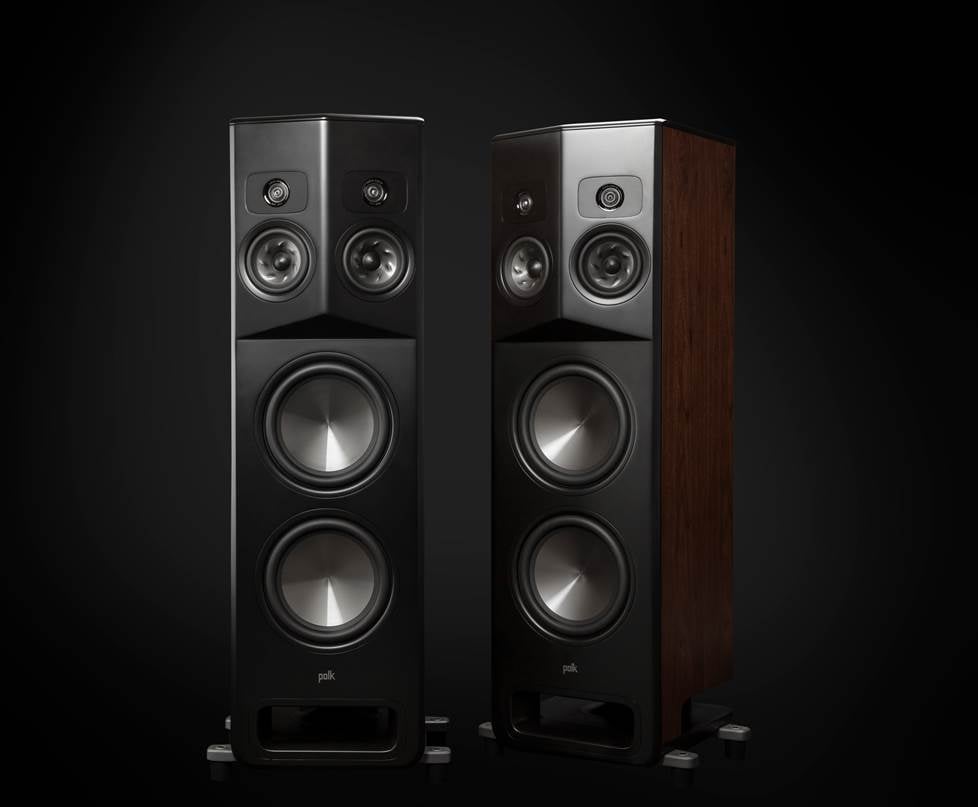 Simply put, Polk Audio's L800s are the best speakers the 45-year-old company has ever built.
Decades of know-how went into creating the L800
Stu talked to me about the history behind the L800s, and the approach they took during the design process. It turns out that the L800's "secret sauce" actually traces back several decades.
In 1985, Polk introduced a patented speaker design called SDA® (Stereo Dimensional Array.) This design helped solve the problem of "interaural crosstalk." As Stu describes it, "That's when sound from a left stereo speaker is heard by the listener's right ear, and vice versa on the other side."
This crosstalk makes it harder for us to precisely locate where musicians and instruments are in space. SDA minimizes crosstalk, and provides better stereo separation between a pair of speakers.
A new recipe for SDA
Stu and his team designed a new version of SDA for the L800s called SDA-PRO. Each speaker has two angled 5-1/4" midrange drivers, as well as two angled 1" tweeters. The "inside" drivers — the ones aimed toward the listener — make up the stereo array. And the pair of drivers angled away from the listener make up the dimensional array.
The stereo array works like a traditional speaker, producing a normal left- or right-channel signal. Stu explained that each dimensional array creates an exact opposite signal of the interaural crosstalk produced by the opposing speaker's stereo array. This cancels out the signal-muddying crosstalk, giving you true stereo separation.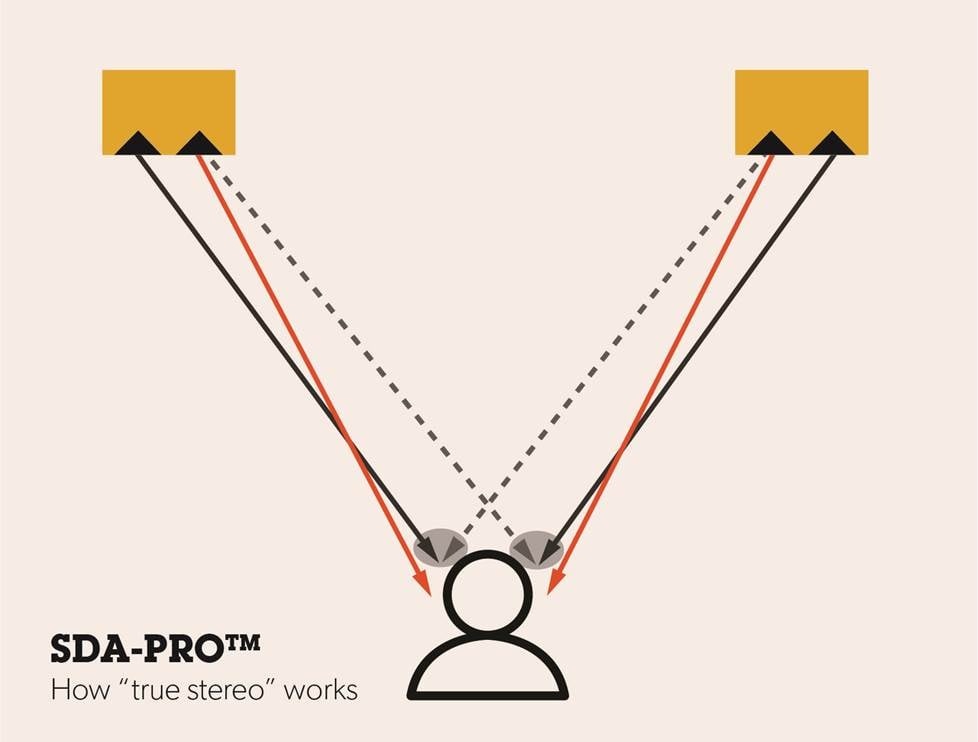 The L800s use a special pair of drivers to cancel out interaural crosstalk — the phenomenon with conventional front-firing speakers where sounds from the left channel are heard by the listener's right ear, and vice versa.
Listening to music on the L800s is like listening on headphones — each ear only hears what the artist intended. But there's a bonus with these large floor-standing speakers: an ultra-wide, room-filling soundstage with true-to-life stereo imaging.
Check out this short video to see how SDA-PRO works.
Advanced driver technology for superb sound
SDA is part of what makes the L800s sound so good. But there are a myriad of other advanced speaker technologies that went into their design. Chief among them is a pair of Turbine cone foam-core midrange drivers. These improve stiffness and damping over conventional polypropylene and paper-based cones, but without adding unwanted mass.
All of the Legend Series models feature the Turbine cone for super-smooth midrange performance. Each Legend speaker also uses Polk's newly designed 1" Pinnacle ring radiator tweeter — a remake of a design that made Polk's LSi Series speakers beloved by our audiophile customers for years. Its carefully tuned waveguide helps create a wide listening "sweet spot," while also producing precise spatial imaging.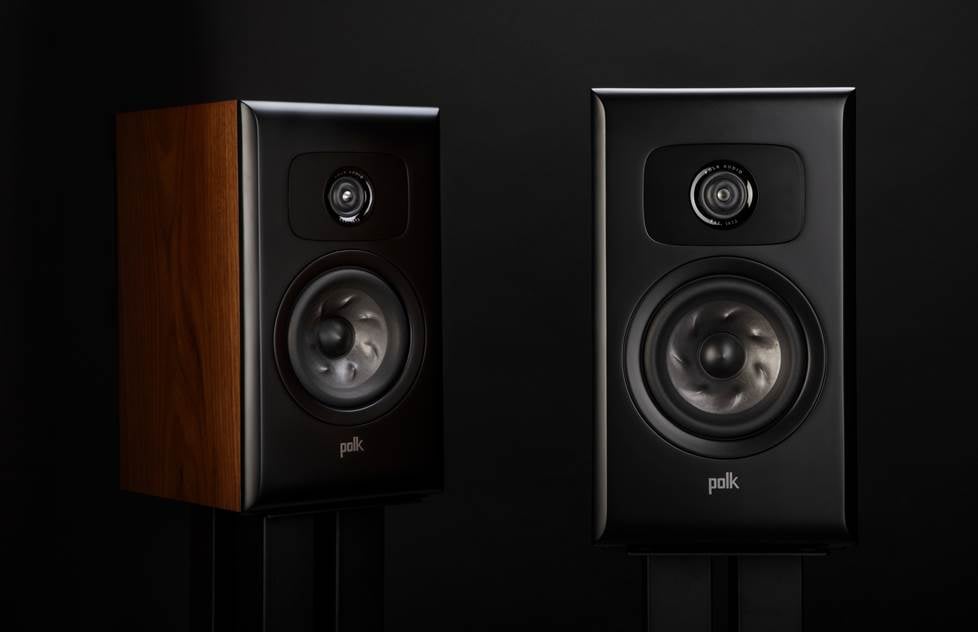 Each Legend Series speaker — including the stand-mountable L100 — uses Polk's 1" Pinnacle ring radiator tweeter for a wide listening "sweet spot" and precise spatial imaging.
When I asked Stu what he was most proud of about the L800s, he said, "The completeness of the performance. From transducers to enclosure design, to diffraction mitigation, to system tuning, and, of course, SDA." Put simply? "Be prepared for a truly awesome listening experience."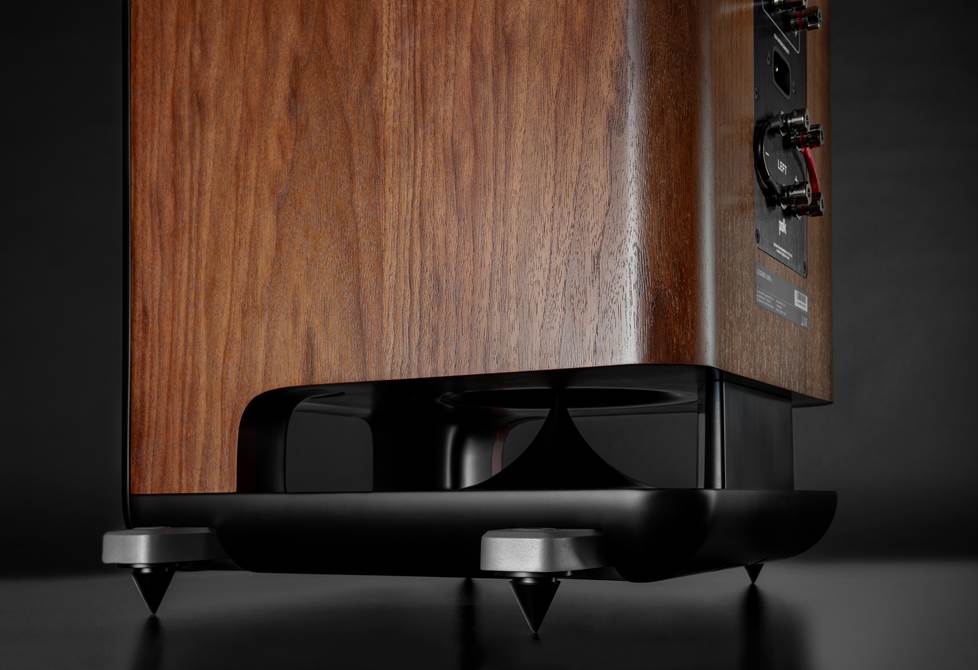 Legend Series speakers use Polk's Enhanced Power Port®, which reduces noise and increases bass output compared to traditional round or slot-firing ports.
My listening notes for the L800s
I talked with Stu about what he most enjoys auditioning on the L800s. He said that he recommends "tracks that have a minimum of compression, and that build from one-to-few-to-many instruments with real-life staging." As he describes it, "The L800s let each instrument, or object, have its own space." He mentioned tracks from Snarky Puppy's Family Dinner 2 as being particularly good at this.
Stu played a variety of tracks for us that showed off what the L800s could do. For example, Herbie Hancock's "Chameleon" presented an expansive stage of performers, with a plucky bass guitar way off to the left, and a tinkling piano to stage right. For speakers positioned relatively close to each other, the sonic separation of the instruments was magnificent.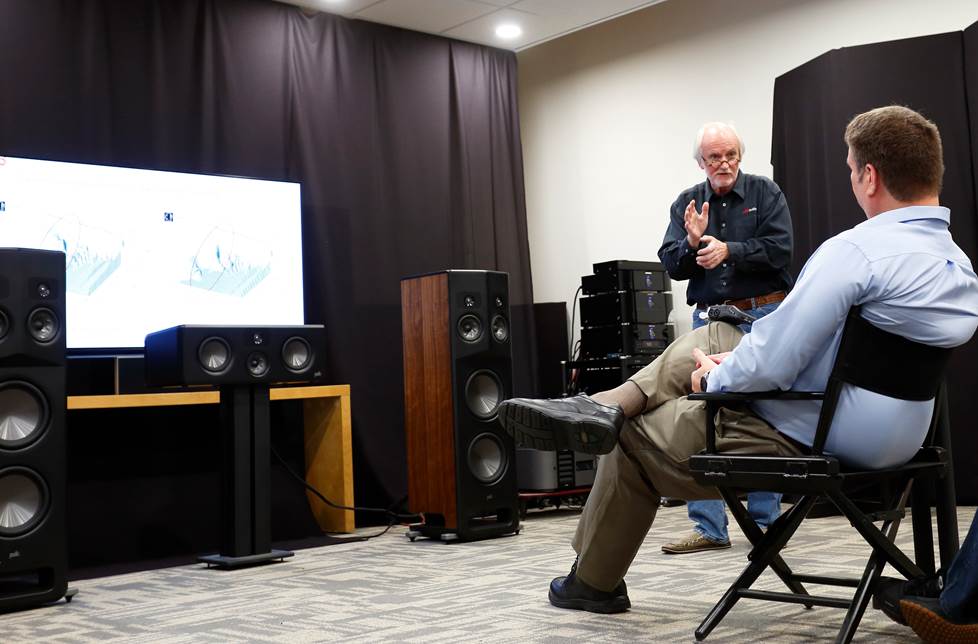 In between auditioning tracks, Stu gave me a technical breakdown of how the Legend L800s work.
My favorite song of the day was Jacob Collier's rendition of "Flintstones," a track for which he sang an incredible seven-part harmony. Collier won a Grammy Award® for Best Arrangement, Instruments And Vocals for this song, and I quickly fell in love with his performance. The L800s sounded like they were playing music from a large a capella group that was spread out on stage. But really it was only Jacob harmonizing with himself.
The two 10" woofers in each speaker delivered deeply music bass, while the "other Jacobs" effortlessly blended together to cover the rest of his remarkably wide vocal range. If you end up buying a pair of the L800s, I recommend "Flintstones" as the first track you play on them!
Made for music and for movies
Listening to the L800s at Polk's facility made me marvel at just how well SDA works. And the L800s don't just excel at music reproduction. They're incredible home theater speakers too.
On the top of each enclosure is a panel that houses the optional upward-firing Legend L900 height module. This flush-mounted speaker allows the L800 to create overhead sound effects without having to install in-ceiling speakers.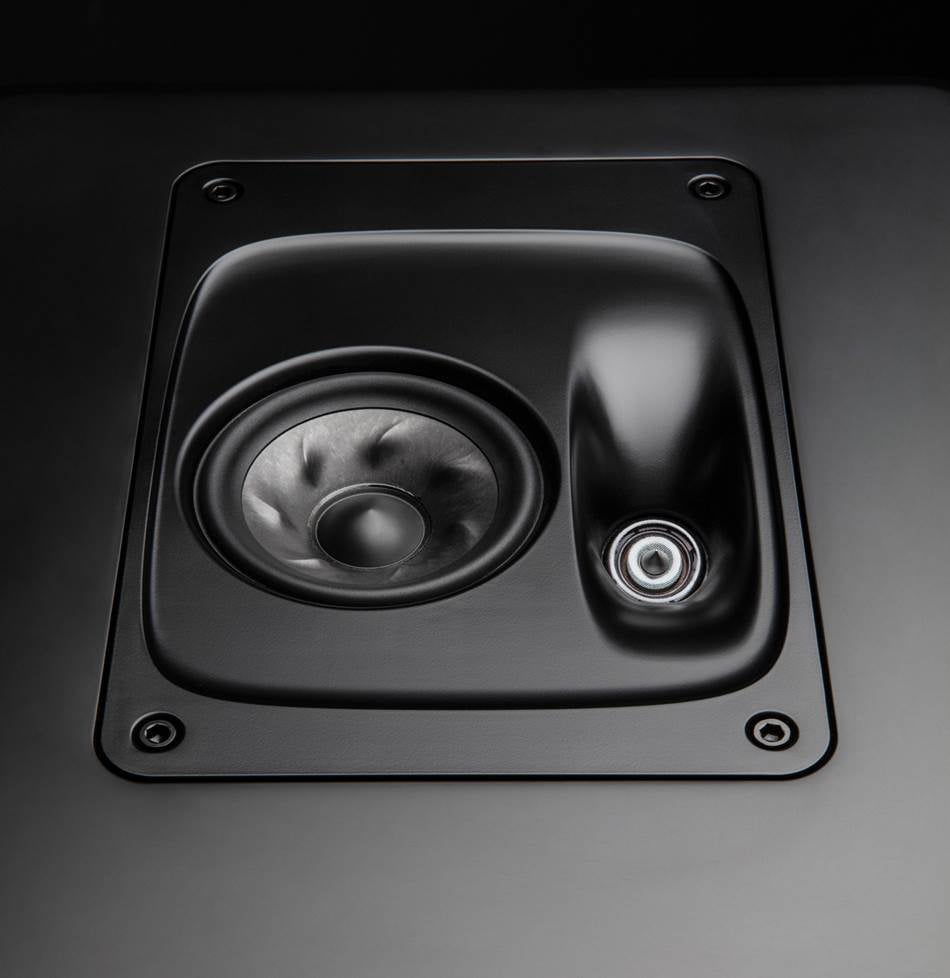 The upward-firing L900 fits inside Polk Audio Legend L600 and L800 floor-standing speakers.
We watched The Fifth Element in Dolby Atmos®, with a pair of the L800s up front, and a pair of Legend L600 towers as the surround sound channels. The Legend L400 center channel provided exceptionally clear dialogue and center-stage effects as Bruce Willis and Milla Jovovich fought to save the planet.
All four of the floor-standing speakers had the optional L900 height modules installed. So when outer-space sound effects roared through the room, they came from more than one plane of sound — a key component for me in an immersive home theater experience.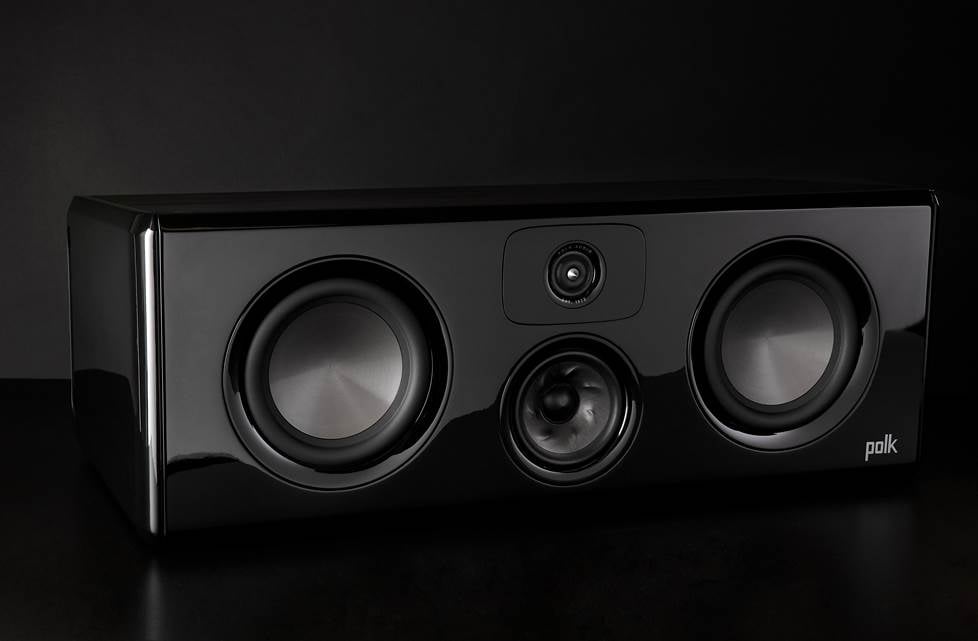 The Legend L400 is Polk's best-ever center channel, delivering exquisitely clear dialogue and center-stage sound effects.
Are the Legend L800s right for your room?
There are a couple of things to keep in mind if you're considering a pair of the L800s. First, they connect together with a 15-foot SDA-PRO interconnect cable, which allows the SDA channels to communicate with each other. Each speaker comes with one of these special cables, and they can be daisy-chained together if you need additional length.
It's also worth noting that you need to have a minimum of three feet of space between each speaker and its respective side wall for SDA to work as intended. If you don't have three feet of open space to the side of each speaker, you won't hear the ultra-wide soundstage that the L800s are capable of creating.
If the L800s aren't a good fit for your space, consider a pair of the L600s instead. Though I auditioned these highly capable floor-standing speakers as surrounds, they're well-suited for a traditional stereo or home theater system's main speakers.
Don't have room for tower speakers? Go small!
One of the things I appreciate most about the Legend Series is that even its stand-mount speakers sound phenomenal.
The Legend L100 and L200 bookshelf speakers use the same driver materials as their floor-standing counterparts, but in a smaller package. If you're building a hi-fi stereo system in a smaller space, the L100 or L200s are a wonderful choice. Both of these models also make excellent front or rear speakers in a Legend Series home theater system.
Since each Legend Series speaker is voice-matched with the other models in the lineup, you can mix and match them to best suit your space and budget. No matter which Legend model you choose for your system, you're getting the absolute best sound that Polk speakers have ever offered.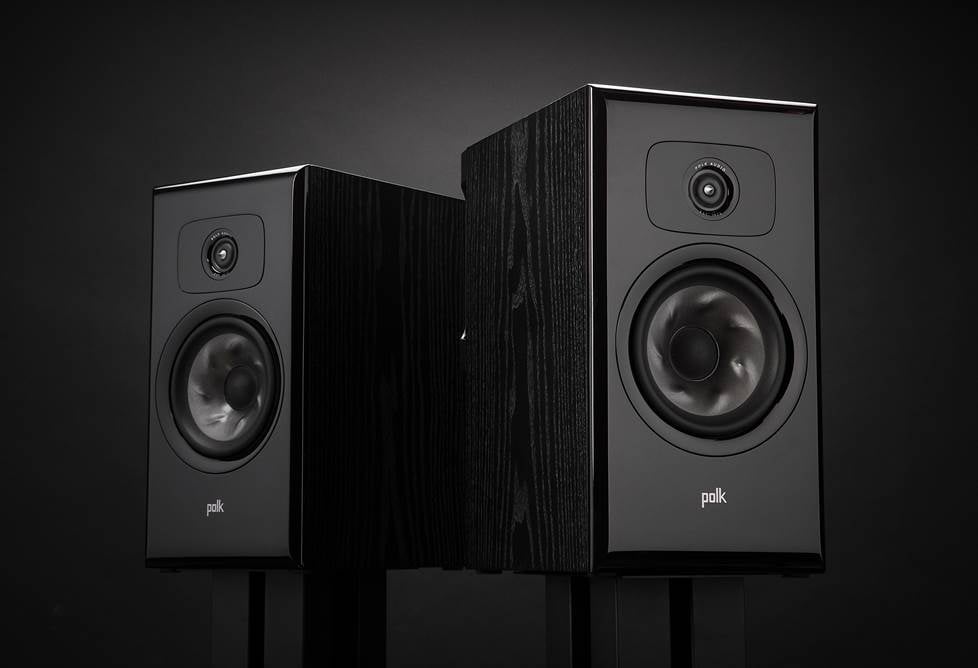 Polk's L200 stand-mount speakers are ideal for a high-end Legend Series music or home theater system.
You'll want a powerhouse amp to drive them
Many more affordable Polk speakers are known for their high efficiency (they don't need much power to produce great sound). But that's not the case for Legend speakers. Because of their high-end design and construction, they need more power to sound their best.
For stereo systems, I recommend pairing your Legend Series speakers with a high-current power amp or integrated amp. Our article on choosing amplifiers is a great place to start if you're in the market for a new amplifier.
If you're building a home theater system, go with a receiver that has as much power as possible. Even better would be to use a multi-channel amplifier and home theater preamp processer to power your surround system.
Put your "bookshelf" speakers on stands for the best sound
Going with a pair of the Legend L100s or L200s? Placing your speakers on a pair of speaker stands helps eliminate unwanted vibrations and reflections.
Speaker stands also bring the tweeters to ear level for the best high-frequency performance. My article on speaker stands offers a closer look at why they're so useful.
Proper speaker placement is also crucial to getting the best performance out of the L100s and L200s. Check out my article on stereo speaker placement for positioning and setup tips in your room.
The end of a wonderful day
I spend most of my time researching and writing about the gear we sell at Crutchfield. So when the unique opportunity came up for me to visit Polk, I jumped at it — and I'm so glad I did! Meeting the friendly folks behind the brand helped me understand the enormous creativity and hard work that are poured into each product they make.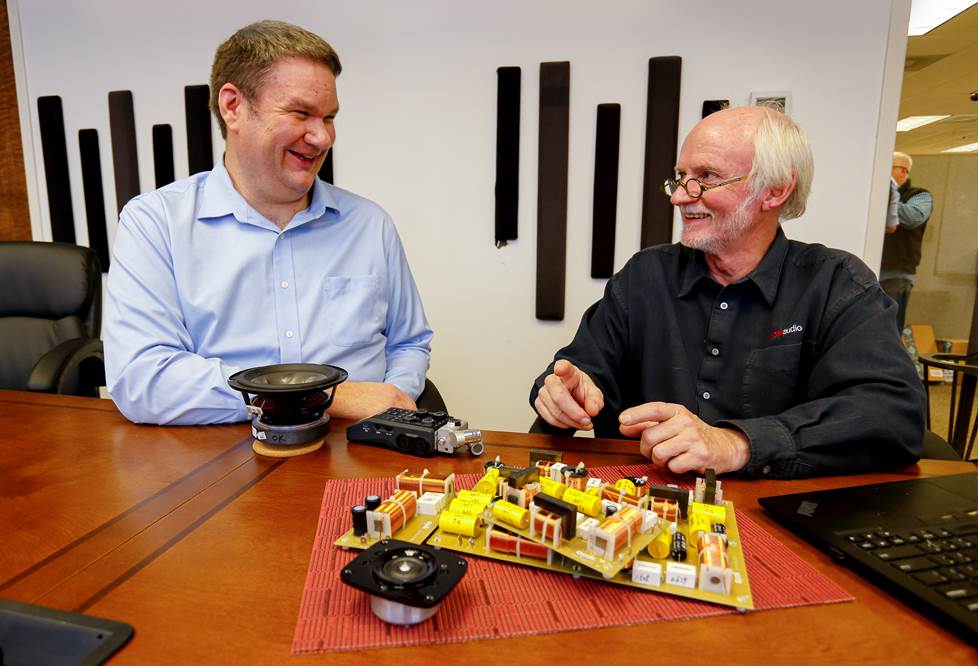 When I asked Stu what was the most fun he had while working on the L800s, he looked at me thoughtfully and said, "When you want to run and grab a friend to listen. That's when you know you've created something special."
Crutchfield gets hands-on with Legend Series
When the Legend Series launched, Polk visited our facility to audition the speakers for our staff. In the video below, Crutchfield's training manger J.R. covers the ins and outs of this elite lineup. Check it out if you're considering adding Legend speakers to your home audio system.
Connect with us for a personalized recommendation
Have questions about choosing your next speakers? One of the great benefits of shopping with Crutchfield is working with an expert advisor.
For free one-on-one shopping advice, contact us today. We'd love to help you choose the right gear for your next system.