In this article: our top sound bar picks, along with a few wallet-friendly alternatives...
...plus we'll provide some handy shopping tips.
One of the easiest ways to add high-quality sound to your home theater is to pick up a powered sound bar. These space-efficient, speaker-packed bars can fit snugly under most TVs and are a breeze to set up. Most of the time you only need to deal with a couple wires: an A/V cable connected directly to your TV and a power cord plugged into an A/C outlet.
Most sound bar systems cost less than a traditional component home theater system. And lots of bars come bundled with a powered subwoofer, so you can still enjoy deep bass impact with your entertainment. There's a lot to love about a solid sound bar system. But which one is right for you? No better place to start than a list of the best.
Check out our top sound bar picks for 2023 below.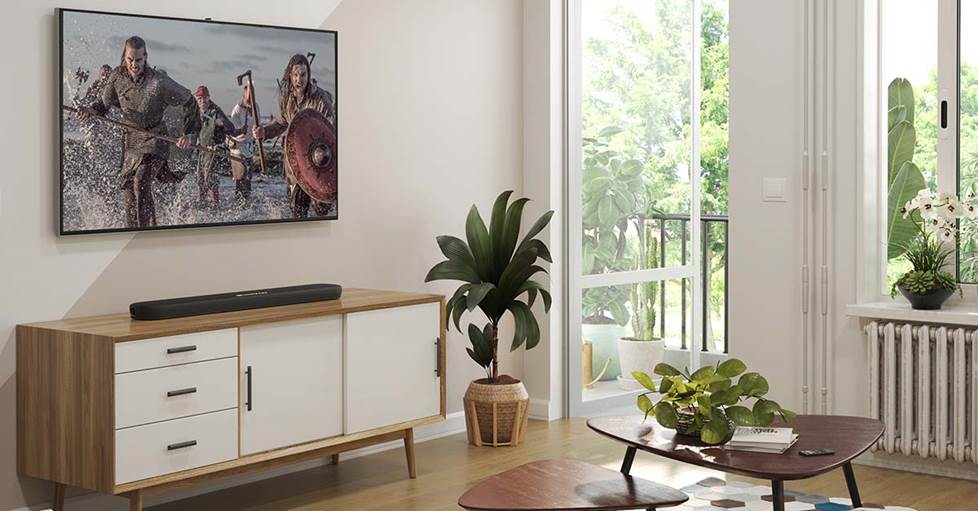 Best budget sound bar— Yamaha SR-B20A
Yamaha's sound bars have been a hit with our customers for years. The SR-B20A is no exception, with a set of six drivers including two built-in ported subwoofers for powerful full-range sound. This slim two-channel bar is packed with value, providing immersive home theater sound with DTS Virtual:X. This sound processing technology simulates surround and height channel speakers to create a surprisingly spacious soundstage.
The SR-B20A also comes with built-in Bluetooth, which lets you control the bar with a free downloadable app and easily stream music from your phone.
Details
two-channel sound bar with simulated 3D surround sound
DTS Virtual:X digital sound processing simulates surround and height-channel speakers
built-in Bluetooth for wireless music streaming from compatible devices
Clear Voice mode for clearer, louder dialogue with movies and shows
A wallet-friendly upgrade
The JBL Bar 2.1 Deep Bass MK2 provides high-quality two-channel sound with its bar, but adds a compact subwoofer. That extra bass adds impact you can feel to your favorite movies and TV shows.
What our customers say about the SR-B20A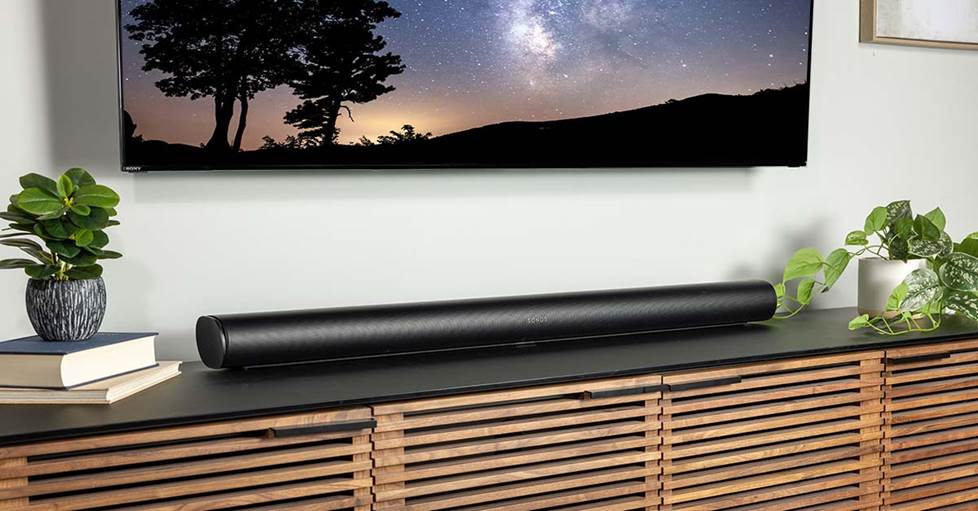 Best sound bar for music lovers — Sonos Arc
The Sonos Arc is one of our most popular and well-rated sound bars. Sonos lets you play music from an expansive range of streaming services, making it easy as pie to find and enjoy your favorite tunes. It's also great for movie night. This Dolby Atmos bar offers high-quality sound with 11 built-in speakers, including angled side-firing and up-firing speakers that can place sound effects in a precise three-dimensional soundstage as they move around you.
One of the coolest things about Sonos is that they make it simple to expand your system without running wires all over your house. You can pair the Arc with a Sonos Sub to add serious bass impact to your movies and music. Or if you want to build up to a home theater system with true surround sound, the bar can also be paired with two Sonos Era 300s or Era 100s to act as rear-channel speakers.
Controlling the Arc is a breeze, too, whether you're using Sonos's intuitive app or the bar's built-in voice Amazon Alexa and Google Assistant voice control. If you're an Apple fan, you can also control the bar with Siri using Apple AirPlay 2.
Details
11 built-in speakers (two up-firing drivers, dedicated center channel, and eight elliptical woofers)
communicates wirelessly with other Sonos players
quick, easy setup and control with free Sonos app
you can add other Sonos speakers to your TV sound system
easy to integrate into Sonos wireless whole-home audio system
A wallet-friendly alternative
The compact Sonos Beam (Gen 2) is a great option from Sonos if you're tight on space, delivering surprisingly big sound from a bar of its size. There's also the Sonos Ray, the slimmest and most affordable bar from Sonos so far.
What our customers say about Arc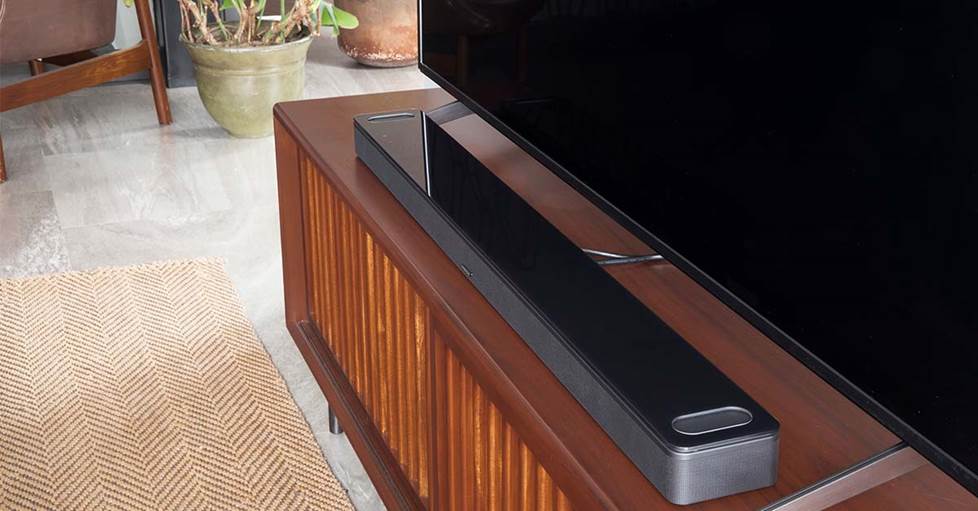 Best sound bar for large rooms — Bose® Smart Soundbar 900
The Bose® Smart Soundbar 900 is the most powerful entry in Bose's line of impressive sound bars. It delivers the smooth sound quality Bose is famous for and has a clean, elegant look that fits almost any room.
This bar supports Dolby Atmos and features nine built-in speakers, each expertly arranged to aim discrete sounds towards different parts of your room. By reflecting sounds off your ceiling and walls, the sound bar generates effects that feel like they're coming from all around you.
True to its name, the Smart Soundbar 900 also has a ton of convenient smart features like built-in voice control and robust music streaming options. Your home theater setup can also be expanded with deep bass and rear-channel effects by adding a Bass Module 700 and a pair of Surround Speakers 700s, respectively.
Details
specially designed drivers deliver full, spacious sound
PhaseGuide® technology simulates surround sound
built-in voice control with Amazon Alexa and Google Assistant
support for Dolby Atmos for an immersive, theater-like experience
solid build with a metal grille and beautiful tempered glass top panel
A wallet-friendly alternatives
The Bose Smart Soundbar 600 is a slimmer bar but still adds some serious "oomph" to your home theater. And it comes with all the convenient smart features of the 900.
What our customers say about the Soundbar 900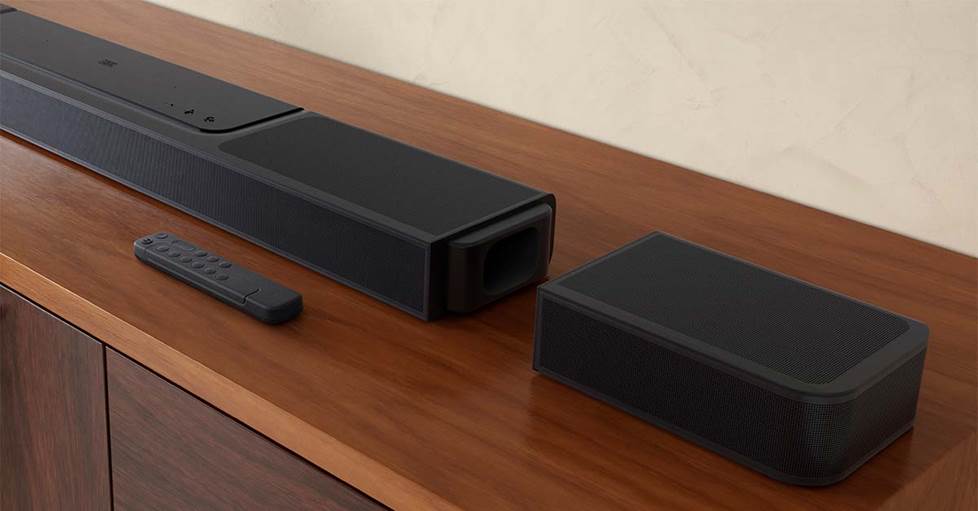 Best sound bar with wireless surround sound — JBL Bar 1300X
The JBL Bar 1300X is a streamlined 11.1.4-channel Dolby Atmos system that features a speaker-packed bar and 100% wire-free surround speakers. And the included 12" wireless subwoofer adds deep bass to help you feel the action onscreen.
The coolest feature of the 1300X has got to be the ultra-convenient battery-powered surrounds. They charge when connected to the bar and can be detached in seconds. This lets you effortlessly add rear-channel effects when you need them, without worrying about finding an A/C outlet.
The surrounds also feature Bluetooth that can be operated separately, letting you use them to play music in another room. Just pair them up and go. You can even use a single surround to listen in mono, just like a portable Bluetooth speaker. When JBL says "wireless" they mean it.
Details
powered sound bar, wireless 12" subwoofer, and true wireless surround speakers
delivers 11.1.4-channel sound with MultiBeam technology, DTS:X, and Dolby Atmos for immersive 3D audio
surround speakers feature built-in batteries and recharge when attached to the sound bar
PureVoice technology for crystal-clear dialogue
Wi-Fi, Bluetooth, Apple AirPlay 2, and Chromecast built-in for wireless music streaming from compatible devices
A wallet-friendly alternative
The Samsung HW-B650 is a top-selling 3.1-channel bar and sub combo with the option to add wireless rear speakers whenever you're ready to upgrade to true surround sound.
What our customers say about the Bar 1300X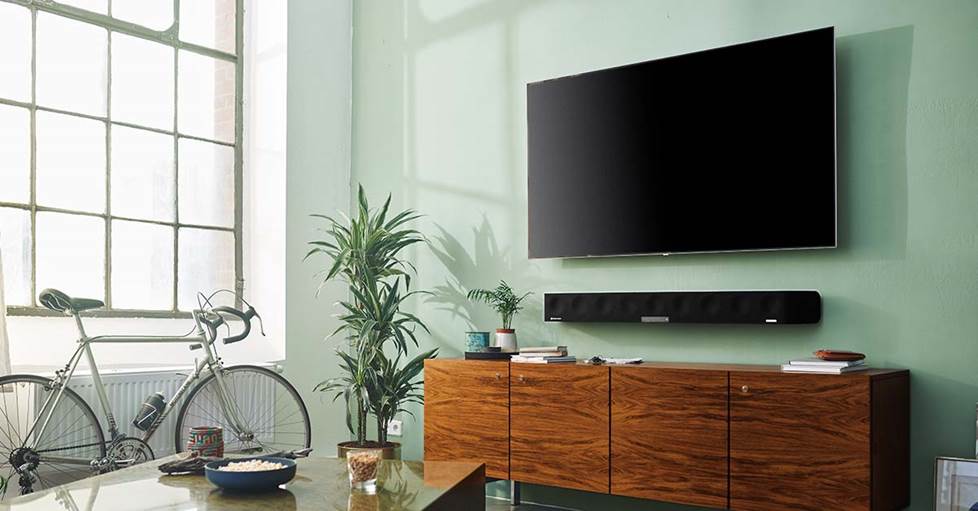 Best-sounding sound bar — Sennheiser AMBEO | Max
The AMBEO Soundbar | Max has been one of our best-selling and top-rated sound bars for years with room-filling 3D sound that injects life and impact into everything you listen to. It also made a big splash here at Crutchfield. Folks still talk about the demo around the office. A whopping 13 drivers are built into the bar, expertly controlled to produce incredibly immersive and detailed sound.
The AMBEO Max's secret sauce is Sennheiser's AMBEO advanced virtualization technology, which auto-calibrates the bar's sound to match your room's acoustics. This allows the AMBEO Max to simulate realistic surround and height effects, so you can hear sounds above and around you that feel true to life. You can even customize the level of virtualization the bar produces to match your mood or what you're watching.
Details
13 built-in drivers deliver 5.1.4-channel sound from a single sound bar
AMBEO 3D technology creates an immersive experience using 32-bit processing and room calibration to virtually place speakers around the room
supports content encoded with Dolby Atmos and DTS:X
Chromecast built-in for easy streaming and multi-room music, compatibility with Google Assistant voice control
mono RCA subwoofer output lets you add your own powered subwoofer
A wallet-friendly alternative
The AMBEO Soundbar | Plus is the powerful "little" brother of the Max. It offers the same AMBEO virtualization for immersive surround sound in a more compact and affordable package.
What our customers say about the AMBEO | Max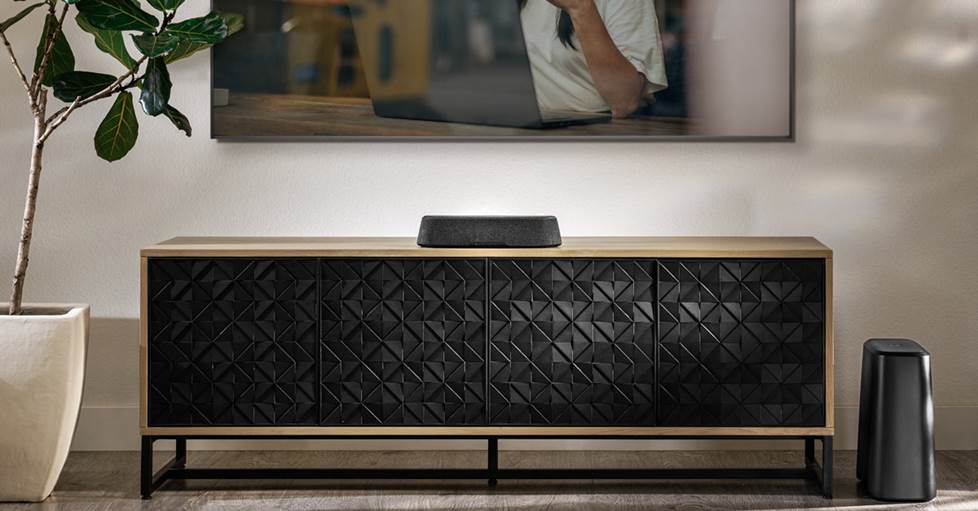 Best sound bar for small rooms — Polk MagniFi Mini AX
Polk packed in as much sound as they could into a tiny package with the MagniFi Mini AX. This ultra-compact sound bar and subwoofer system delivers an expansive soundstage with a level of detail and precision you'd expect from a much bigger and more expensive bar.
The MagniFi Mini AX's 3D audio mode adds a virtual height dimension, enhances surround effects, and even upmixes stereo audio for bigger, more involving sound. You can also expand your system to true 5.1 home theater sound with the optional Polk SR2 wireless surround kit.
If you want to chill and listen to music, this bar has you covered with built-in Wi-Fi, Bluetooth, Apple AirPlay 3, Chromecast built-in, and Spotify Connect. With all these options, it's easy to wirelessly stream your favorite tunes from your phone directly to the sound bar.
Details
three 2" midrange drivers and two 3/4" tweeters
separate wireless subwoofer with 5" x 7" driver
Great sound from a compact bar
Chromecast built-in and Apple AirPlay 2 for easy streaming and multi-room music
Polk VoiceAdjust™ technology helps keep dialogue intelligible
A wallet-friendly alternative
The JBL Bar 2.0 All-in-One MK2 is a great solution for anyone with a smaller space that doesn't need (or have room for) a subwoofer.
What our customers say about the MagniFi Mini AX
Sound bar shopping tips
We carry lots of sound bars and they come in a variety of shapes and sizes. There's something to fit almost any space and budget. To find the one that will fit your needs best, you can start by asking yourself a few questions.
How "home theater" are you looking to go?
Are you looking for a theater-like experience or just trying to hear your TV a little better? If it's the latter, a simple two-channel or three-channel sound bar will be more than enough in all likelihood.
The bigger you want to go the more you'll want to consider a bar that's matched with a subwoofer or that comes with rear-channel surround speakers. The sound bars with the biggest sound are the ones that come with a sub and support both height and surround channels.
Are you having trouble hearing dialogue?
Look for models that have a dedicated center channel and/or dialogue enhancement features. These two features will help you hear those hard-to-catch lines above anything else.
How much space do you have?
The bigger your room the more a larger sound bar starts to make sense. The same goes for your TV. If you have big TV, you'll want your sound bar to be big enough to match. Always double check a sound bar's dimensions before you pick it up to make sure it's a good fit for your space.
Where's the sound bar being placed?
Lots of sound bars will fit right under your TV. This is probably the easiest way to install a sound bar, but you need to double check the bar's height to make sure it will fit under your TV.
If you prefer a clean setup, you might consider a sound bar that can be wall-mounted. Fortunately, this is pretty much standard these days.
Are you trying to connect several components?
The more A/V equipment you've got in your setup, the more you might need a few extra connections on the back of your sound bar. If you're connecting a source like a Blu-ray player or gaming console straight to the sound bar, you'll also want to make sure the bar supports video passthrough.
Check out our sound bar connection and setup guide for more information.
Get started today!
There are tons of great sound bar systems to choose from, and we're here to help. We have even more tips in our full sound bar buying guide. And if you need a little guidance finding exactly what you're looking for, don't hesitate to get in touch with one of our friendly Advisors.
Free lifetime tech support is included with your Crutchfield purchase.
Popular questions customers ask
Not aways. Self-powered sound bars are more common than passive sound bars. You don't need a receiver or amplifier of any kind to drive a self-powered sound bar. The amplification is built into the bar itself.
We carry over 50 sound bars that can learn your remote's commands. This helps keep the number of control devices to a minimum. From your TV's remote, you can adjust the volume, switch sources, and more.
Yes. While your TV's speakers might have had you saying, "Huh?" a lot, sound bars are great for making dialog discernible. Some have a dedicated center channel for dialogue, and many even have dialog enhancement modes that add even more emphasis to voices.
If you already have a self-powered subwoofer you'd like to use alongside your sound bar, you're in luck! We carry a handful of models that have a dedicated mono subwoofer output. All you need to connect the two is a standard subwoofer cable.
Most of the sound bars we carry have Bluetooth built in for streaming your favorite tunes. Some models only support basic Bluetooth, while others support higher resolution codecs like aptX and LDAC. There are also a few models that support Bluetooth transmission, which lets you send audio wirelessly to headphones and compatible Bluetooth speakers.