If you're browsing our web site, chances are you appreciate great audio. But that doesn't mean you have the desire (or the living room real estate) for a big home theater system.
A sound bar can be a good option in those situations — that's why I bought my Yamaha digital sound projector from Crutchfield in 2011. It was a huge improvement over my TV's speakers, and its sixteen built-in beam drivers made movies come alive. It kept me happy for a really long time.
Working at Crutchfield this past year, I've had regular opportunities to hear some really fantastic speakers. Unsurprisingly, this has basically ruined me. As much as I loved my sound bar, I realized that its slim cabinet couldn't do justice to my music collection. It wasn't giving me chills like the speakers I'd been hearing in those regular demos and trainings at work.
I wanted a system that would give me those chills with music, but could still produce big sound on movie nights. And I wanted all that without dedicating my whole living room to speakers. That was a tall order. Fortunately, I'm surrounded by experts who were happy to help.
A 3.1 system that suits my space and style

My left, right, and center channel speakers are powered by a receiver. The subwoofer is also connected, but it has a built-in amplifier of its own.
For music, I only really needed a great pair of speakers and a receiver to power them. But I knew I also wanted the depth that a subwoofer adds to music (and the boom it adds to action flicks). And I wanted a center channel speaker for TV and movies so I wouldn't miss a word of dialogue.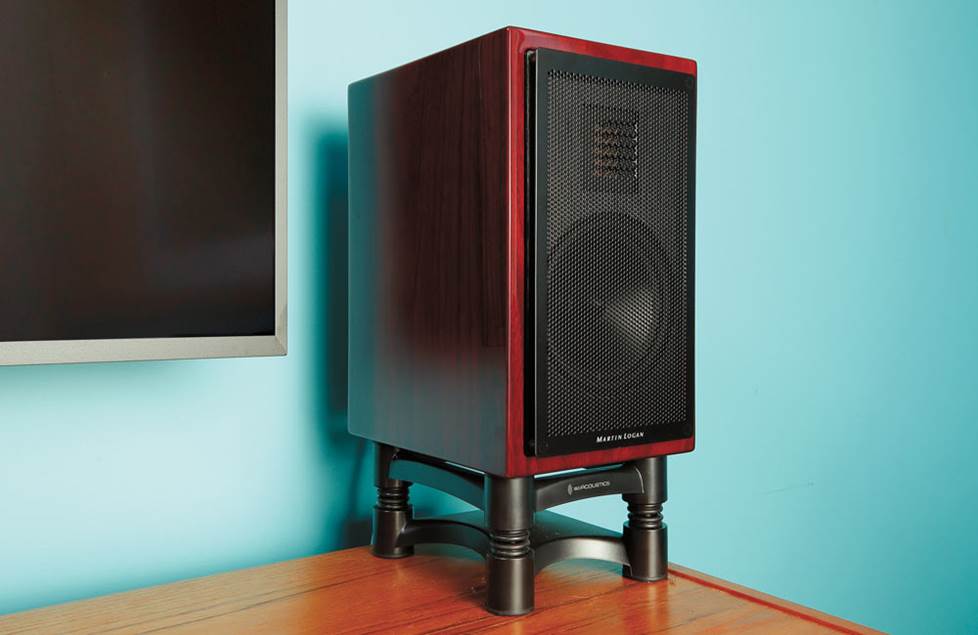 My LX16s are getting a boost from a pair of IsoAcoustics monitor stands.
My show-stopping left and right channel speakers
I don't have the floor space for tower speakers, but I have plenty of room on either side of my TV for a pair of bookshelf speakers. That narrowed my search, but still left almost too many good options. So I spoke to co-workers from all over the building and got some recommendations for great-sounding speakers, from budget-friendly all the way to break the bank.
But when I heard the MartinLogan Motion LX16s during a demo, I fell a little bit in love. It doesn't hurt that they are very well-reviewed and have a lot of fans here at HQ. Admittedly, I was also charmed by their stunning cherry finish. They look and sound so good on the IsoAcoustics speaker stands I borrowed from work that I'll probably pick up stands of my own when I finally have to return these.
The LX16 speakers are no longer available, but the Motion B10 is an excellent alternative.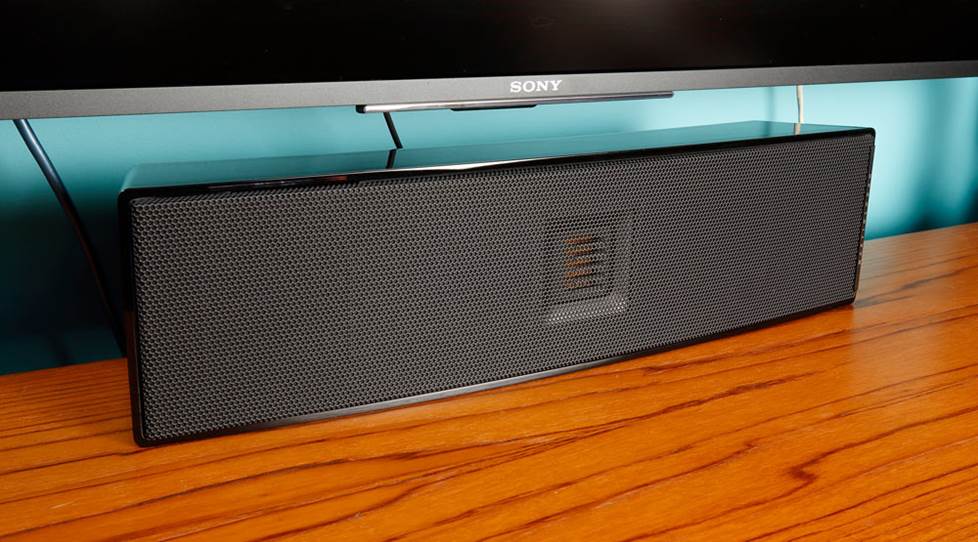 The Motion 8 center channel is just the right height to sit below my wall-mounted TV.
A sleek, voice-matched center channel speaker
Our huge selection of center channel speakers was a bit overwhelming. It helped to limit my search to MartinLogan speakers so that my front soundstage is voice-matched. I briefly considered splurging on the Motion 30 because of the great reviews and the matching cherry finish. But it was just a little too big and boxy for me (and also more than I wanted to spend).
A co-worker suggested I check out the Motion 8, a popular partner to the LX16s. It doesn't have their glossy red finish, but I appreciate that it's sleek and unobtrusive. Plus my wall-mounted TV clears the top of it on the rare occasions that I pull it away from the wall and angle it one way or another.
The Motion 8 is now discontinued, so consider the updated Motion 8i if you want a compact MartinLogan center channel speaker.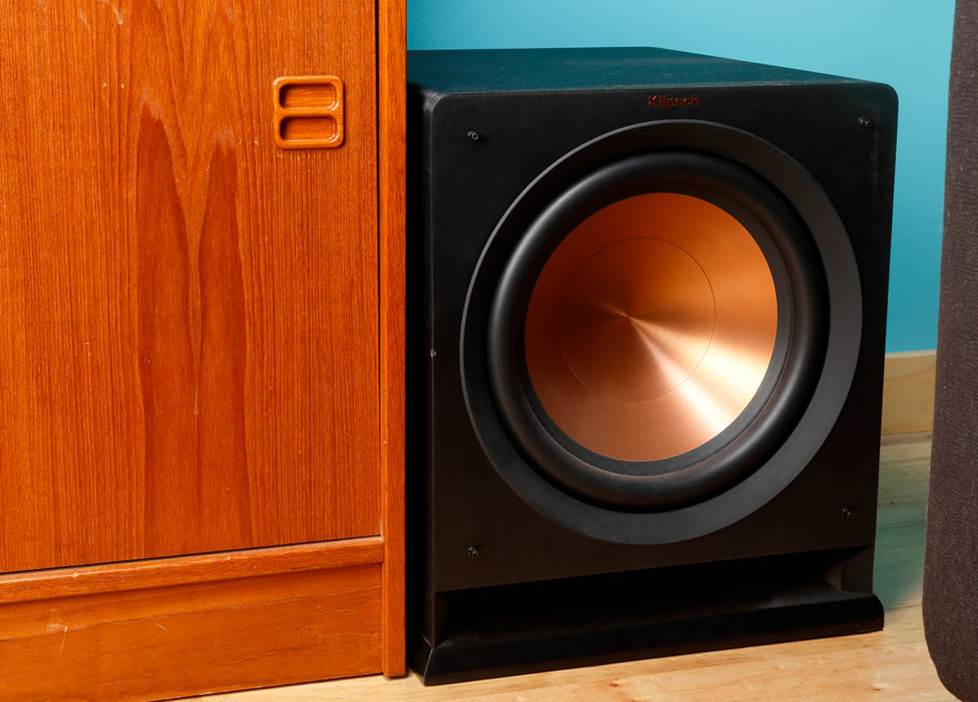 The all-important .1!
Seriously boosted bass
I needed a sub to round out the low end in both music and movies. Usually when I'm shopping for something, I search by top-rated products, and this was no exception. The Klipsch R-112SW was at the top of the heap based on reviews by our customers. All those raves were good enough for me. Well, that and I'm a sucker for that gorgeous spun-copper woofer.
I shared my choice with a fellow writer and it turned out he had the same sub. He said "that sub will change your life." Spoiler alert: he wasn't wrong.
The R-120SW and the SPL-120 are two current alternatives to my older 12" Klipsch subwoofer.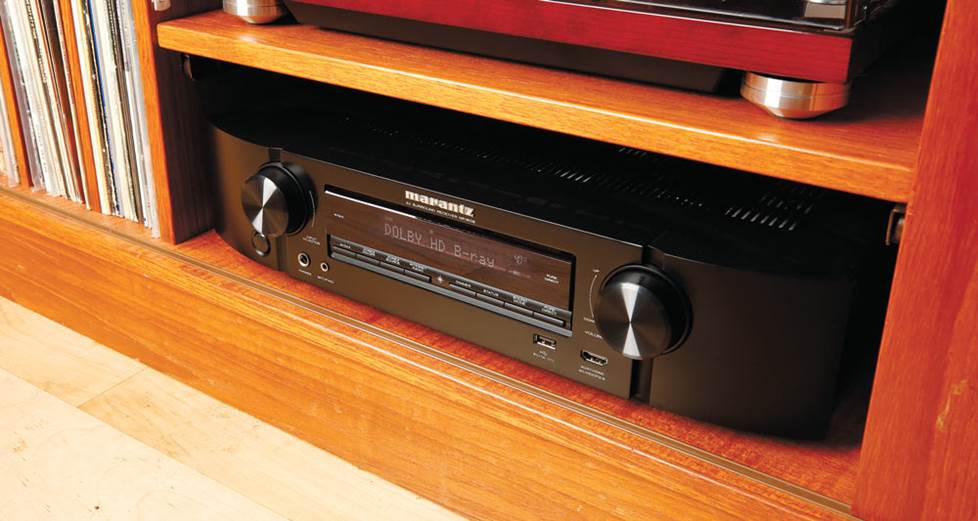 This slimline receiver tucked right into my cabinet with room to spare for ventilation.
A space-saving receiver
The receiver that's running this whole show has to fit inside my grandfather's old media cabinet because I love it. This is part nostalgia, part "it really ties the room together." Happily, there are some excellent "slimline" models that are made for tight spaces. The Marantz NR1608 is a perfect fit.
Another big reason I chose it over the other available models was that I wanted seven channels. While I'm only doing 3.1 channels now, I liked the idea of allowing myself room for future expansion. Later on I can add rear surrounds and a second wired zone for music, without buying a new receiver.
First impressions
When I first set up the system, I only had the bookshelf speakers connected to the receiver. They looked beautiful, which was important to me, as they are prominently displayed in my living room. Music sounded noticeably better, but it was lacking on the low end. And TV shows just did not sound as good as they did on my old Yamaha sound bar. My regrets evaporated when I added a center channel and a subwoofer.
Cinema sound
The movie Dunkirk begins in stark silence. I could hear the subtle crackle of paper in a soldier's hand when he reached up to grab a falling leaflet. The squeak of a water faucet and the clunk of his helmet on the ground were almost startling in the silence. I was transported.
The system handled the big stuff, too. I had to lower the volume a bit because the crack of gunfire startled my dogs. And while the rumble I got during the bombings wasn't as intense as when I saw this in the theater, it was a pretty big improvement over the sub that came with my sound bar.
The magic of music
After I set up the system, I asked friends, family, and co-workers to send me their favorite speaker-testing songs. I got a whole range of artists to try out, including some I'd never heard before and ended up loving. A particular standout was "Draw Your Swords" by Angus and Julia Stone which has a lovely, dynamic blend of softness and intensity.
I created a Spotify playlist with their suggestions, and I was pleased that the Marantz receiver had lots of connectivity options for streaming it. I chose to use my Sonos Connect, hooked up to the receiver via optical cable.
The LX16 bookshelf speakers sounded pretty great with most genres I tried, though I think MartinLogan's Folded Motion™ tweeter especially shines on female vocalists ("Diamonds and Rust" by Joan Baez gave me particular chills).
But when I added my Klipsch sub to the system, music definitely sounded more complete. If you want to hear a real difference, try "Radioactive" by Imagine Dragons with and without a sub. There's no comparison.
My stereo music test wouldn't have been complete without taking my new TEAC TN-400S turntable for a spin. Timing worked out well as my dogs recently discovered the joys of vinyl — chewing on, rather than listening to — so I had a stack of records to check for damage anyway. I was pleased to discover most of the actual LPs were undamaged, and they sounded great on the new system.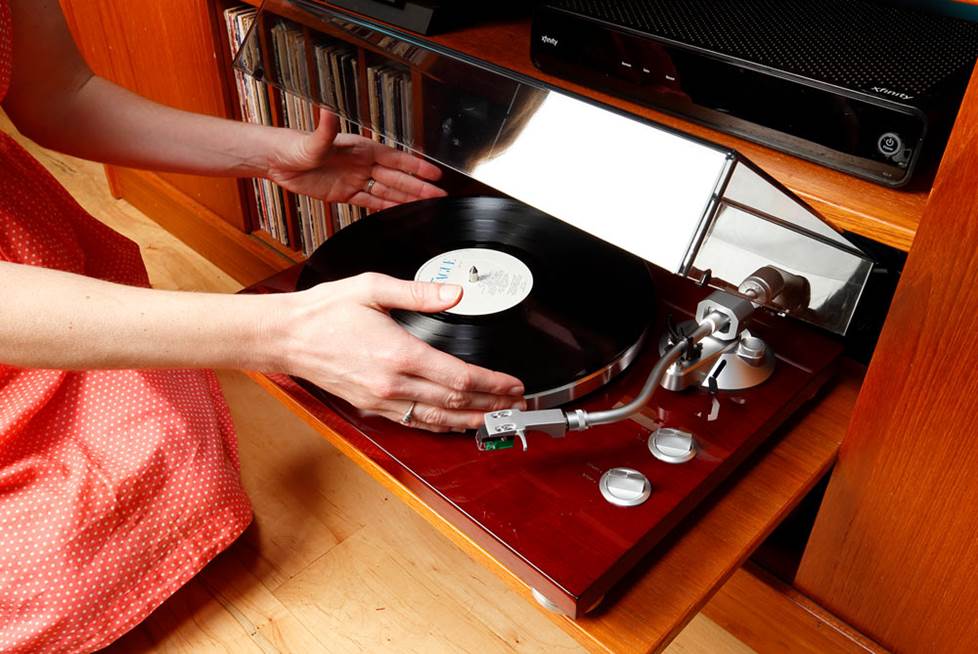 This beautiful turntable is breathing new life into my old record collection (plus the gorgeous cherry finish really complements my new speakers).
Since publication of this article, TEAC discontinued this turntable. You can view our available turntable options here.
The takeaway
I started this journey looking to improve the sound of music in my living room while maintaining the good movie sound I got from my sound bar. I didn't realize until after I tested my new 3.1 system that it would improve my movie nights, too.
The drivers on my old Yamaha sound projector were designed to create room-filling surround effects by bouncing sound off walls. It did this with ease in the smaller, more closed-off living room of my old house. But I think it struggled in the wider, open floor plan of my new house. And while the passive sub that came with my sound bar tucked nicely onto a shelf, it lacked the "oomph" of a bigger, powered sub. That simple upgrade massively improved both music and movie sound.
My new 3.1 system doesn't give me surround sound, but I am enjoying the fuller front soundstage I get with these quality speakers. Plus, my receiver leaves plenty of room for expansion (up to 7.2 channels).
I'm really pleased with my movie-night audio quality after adding the center channel and sub to my stereo system, but my favorite part of this whole process has been listening to and discussing music with my favorite people, both near and far. It's been a joy.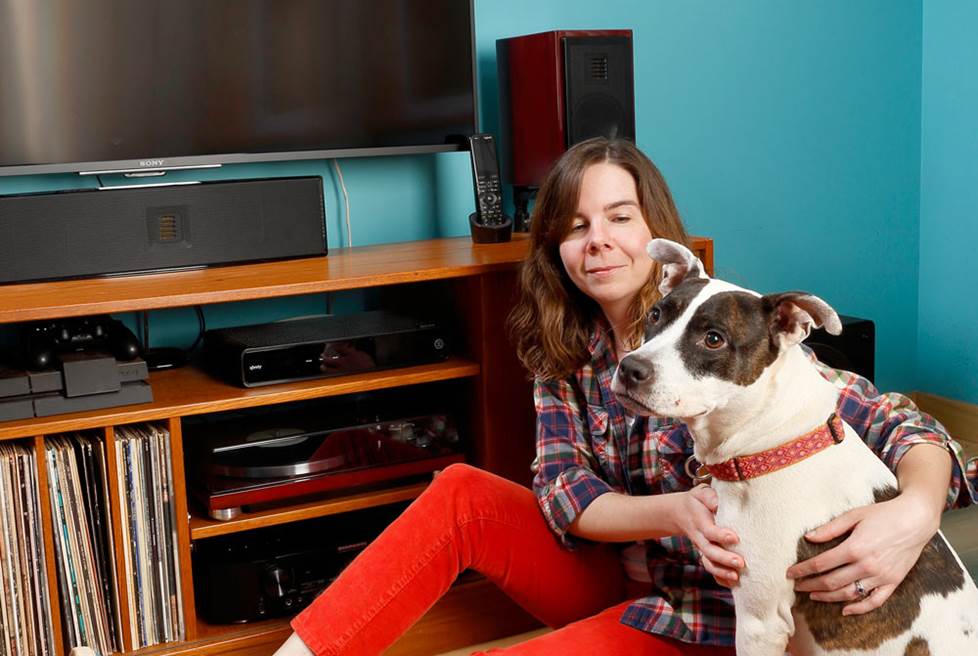 Find the right gear for you
A sound bar can be an excellent option for greatly improved sound with a small footprint, but it's not the only one. You can have a 3.1 system without sacrificing a lot of floor space, especially if you opt for a nice pair of bookshelf speakers. If you're still on the fence about what type of system would work best in your space, read our small home theater ideas article. And then give our advisors a call at 1-800-555-7088.