If your A/V receiver has given up the ghost and is in need of recycling, you might end up being glad it expired when it did. Today's receivers have all sorts of new technology and cool features to take advantage of.
Even if your old receiver is still working, it might be time to pass it on to a friend or family member for their "starter system," and hook up something swanky for yourself. Not sure whether the change is worth it? Here are six solid reasons to go ahead and upgrade to a new home theater receiver.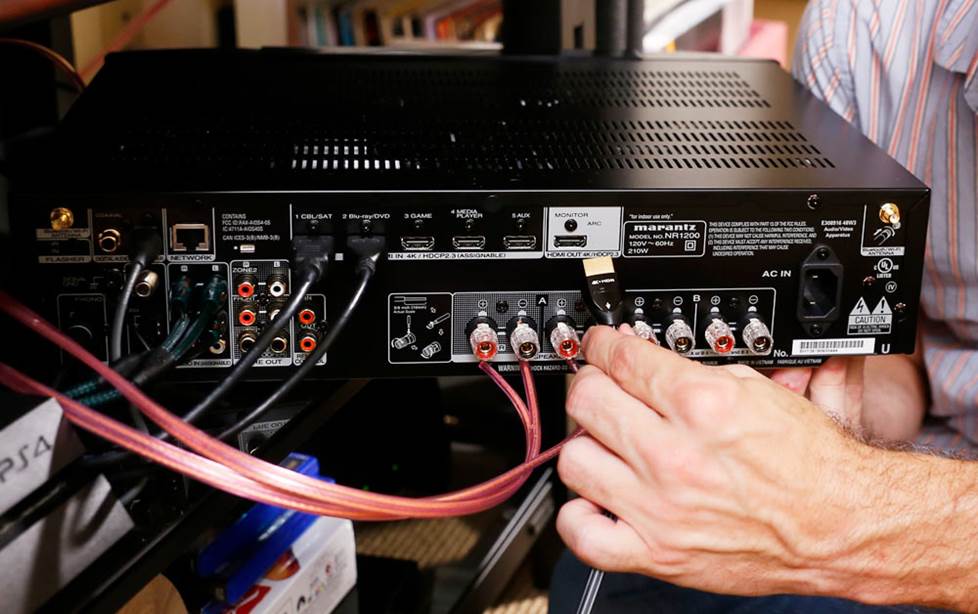 Life moves pretty fast. Chances are that your hard-working receiver has earned its retirement, and you could benefit from an upgrade with the latest tech.
1. New gear means you need more connections (or the right kind)
The more equipment you pick up and add to your system, the more connections you'll need on your receiver. If you've got a TV, Blu-ray player, a couple video game consoles,etc., you can start running out of real estate pretty quickly. Some gear also requires specific connection types. A dozen RCA inputs won't help you play the music you've stashed on a flash drive. You'll need an USB port for that.
Sure, you could hook one of your sources directly up to the TV or pick up an adapter/switcher, but you'd be adding an extra layer of needless complexity. Who wants to try (and probably fail) to explain the intricacies of their home theater setup every time their relatives visit?
Let's walk through a few more quick tips. A new receiver can help you:
Power up your sound
If want to add more speakers to your surround sound system, or hook up wired speakers in another zone, you'll need more speaker outputs. We'll talk more about surround sound and multi-room systems further down, but we recommend getting a receiver with at least seven channels if you think you'll want to expand.
Get 4K-ready
If you're picking up a new 4K TV, you'll need a receiver that supports HDCP copy protection. Fortunately, this is the industry standard now, so the vast majority of receivers available are HDCP compatible.
Add more bass
Adding a second subwoofer can help you feel the full impact of those dinosaurs exploding onscreen, no matter where you are in the room. If you want extra bass, look for a receiver that has dual subwoofer outputs.
Hook up a turntable
The records you've been holding on to for years aren't going to play themselves. If you're picking up a sweet new turntable, it's easy to connect it to a receiver with a built-in phono input.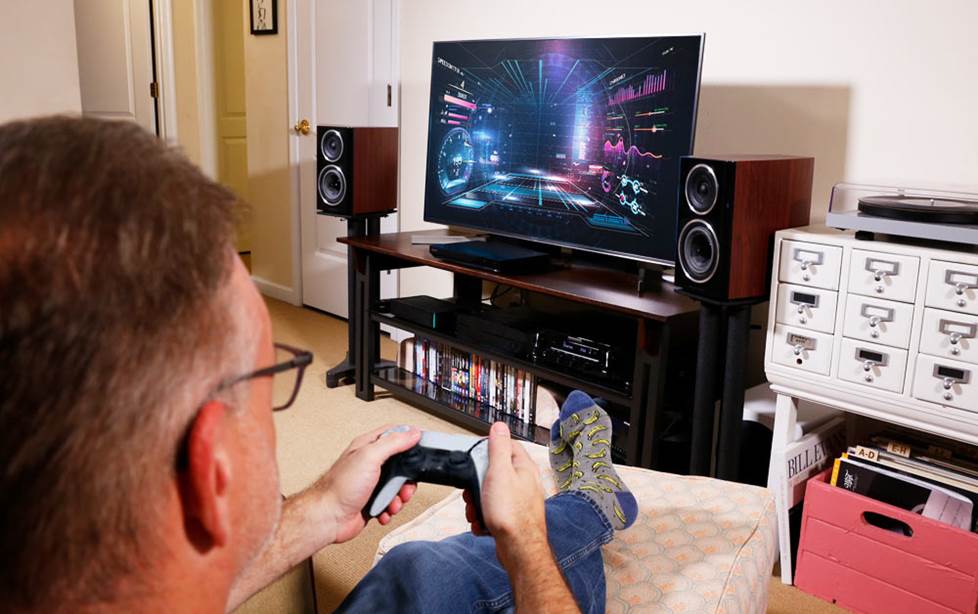 If you're looking to experience the full benefit of a next-gen video game console like the PS5, you'll want a receiver that supports key new features like passthrough for 4K resolution at 120 Hz.
2. You want to get the most out of your next-gen gaming console
Speaking of connection types, if you're adopting a next-gen video game console, you'll need the right system to fully take advantage of your investment. Both the Xbox Series X/S and the PS5 really need to be hooked up with an HDMI 2.1 connection to shine their brightest. This latest version of HDMI has a much higher bandwidth that its predecessors, passing up to 48 Gbps. (In comparison, HDMI 2.0 hits a max of 18 Gbps.)
Because HDMI 2.1 can pass so much information at a time, it's capable of running 4K picture quality at a super-smooth 120 Hz refresh rate — a key feature for next-gen consoles. On the flipside, that means it can pass 8K at 60 Hz too. This is great news if you're also investing in a stunning 8K TV.
Securing the best connection requires every link in the chain to be compatible with HDMI 2.1. That means you'll need HDMI 2.1 support from your receiver and your TV. You'll also need ultra high speed HDMI cables to support HDMI 2.1's greater bandwidth.
Leave one of these out and you're automatically working with the lowest version of HDMI in the chain, and missing out on the enhanced gaming features of 2.1. Take a look at our HDMI cables buying guide for more information on HDMI 2.1.
Here are a couple more important HDMI 2.1 gaming features to look out for when shopping for a new receiver:
VRR (Variable Refresh Rate) dynamically adjusts your TV's refresh rate to match the framerate of your game. This keeps your visuals smooth by preventing distracting screen tearing and shuddering.
ALLM (Auto Low-latency Mode) signals your TV to automatically switch over to a gaming-focused "low-lag" preset when it detects a signal from a gaming source. This keeps your controls responsive and in sync with the action onscreen.
Dolby Atmos and DTS:X audio formats bring your entertainment to life by immersing you in high-quality surround sound.
3. It's always a good time to pump up your home theater sound
Upgrading a sweet A/V system is often incremental. Most of us collect cool new components and incorporate them piece by piece. Your home theater receiver is the hub of that process, and as you push for bigger and better sound, an older receiver can start to hold you back. If you're looking for your new receiver to open the door a little wider, there's a pretty key factor to consider: surround sound.
Few things can make movie night or gaming more immersive than being fully wrapped in sound from all directions. Having more speaker channels increases the number of discrete locations sound effects can arise from, which builds to create a detailed three-dimensional soundscape.
Taking your receiver from a five-channel to a seven or a nine can make a world of difference. If you're looking for the most expansive surround experience possible, or want to make sure you have room to grow in the future, you can turn this dial all the way up to an eleven- or thirteen-channel system.
Check out our article on DTS and Dolby surround sound formats to get an idea of what adding more speakers to your surround sound system can do for you.
Dolby Atmos and DTS:X: the latest — and coolest — surround sound formats
Dolby Atmos and DTS:X are the most immersive surround sound formats yet, with support for true overhead sound effects. Fortunately, decoding for Dolby Atmos and DTS:X is now standard for most new receivers with seven or more channels. For a deep dive, head over to our helpful article on DTS:X vs. Dolby Atmos.
A few more ways a new receiver can give you better sound
If you're a little hesitant about adding more speakers to your system, a decked out receiver can still work in your favor — even if you're not using the extra channels. For one, you can give more power to channels you are using by bi-amping them for fuller sound.
A new receiver with more power output makes your speakers sound their fullest. Automatic speaker calibration can also quickly tune your surround sound to the acoustics of your room, making the setup process a lot simpler.
A receiver is only part of the story though. If you're looking for some guidance on what to look for in new speakers to fill out your system, check out Home Speakers 101.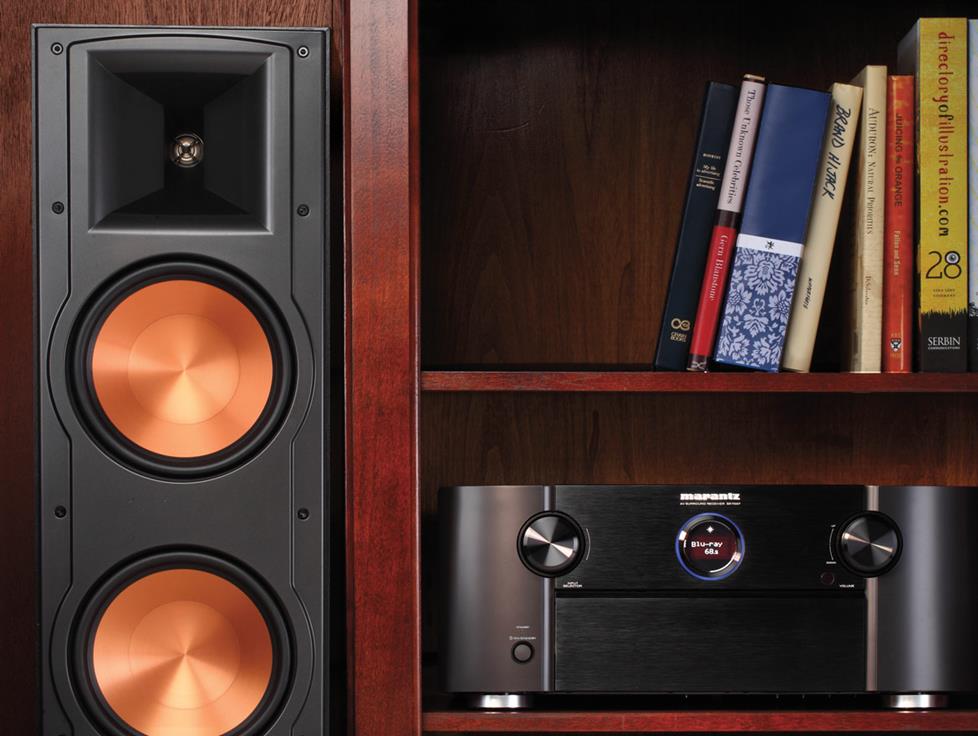 Receivers with decoding for high-resolution music files can be paired with high-quality home speakers for a dedicated listening experience that's rich and detailed.
4. You want to give this whole "high-res" thing a go
A new home theater receiver can also net you better sound processing for music, helping you take advantage of high-resolution music. Who doesn't want to listen to music in better quality? It just makes sense. Fortunately, most new receivers have built-in decoding for uncompressed high-resolution files, so you're hearing more of the artist's original performance and intent. The level of quality can meet and fully exceed what you would get from a CD.
A new receiver with a high-quality onboard DAC (digital-to-analog converter) can improve the clarity and performance of all of your digital files. It's an essential ingredient for the best high-res music experience. It's all about nuance and the subtle details. After you've experienced high-res with the right combination of receiver and speakers, it's hard to go back. It can feel hollow in comparison.
If you're ready to start your high-res journey, head over to our high-resolution audio guide.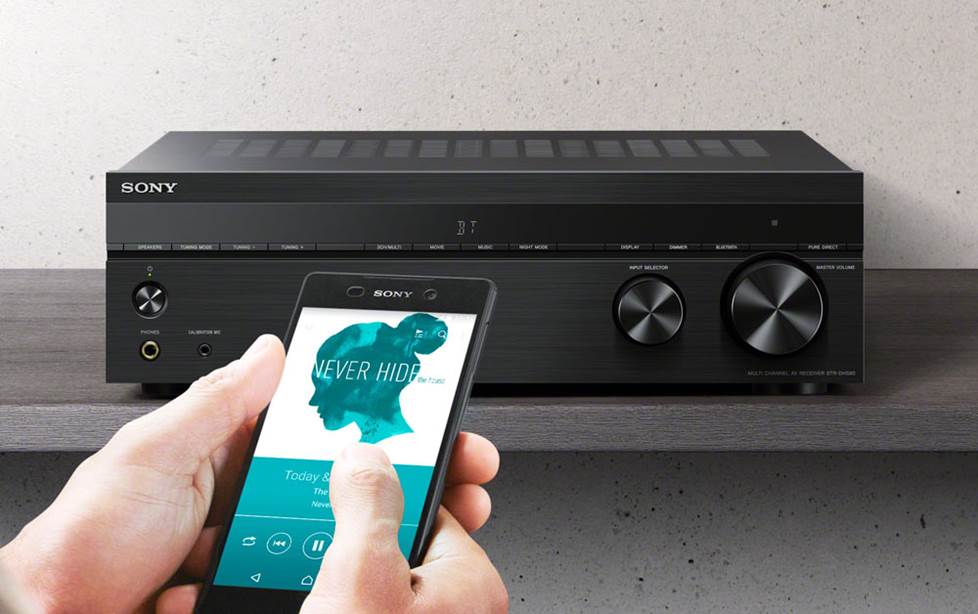 Streaming liberates your musical options. Play tunes through your home theater system by passing them from a mobile device or pulling them directly from the internet.
5. Network and streaming features are super-convenient
If being able to access all of your favorite music at the drop of a hat interests you, you're in luck. Streaming is more accessible than ever and there are several ways to go about it. Let's dive in to some of the options currently available.
Bluetooth lets you play about anything you can listen to on your phone or tablet through your home theater system. Pairing up a device is almost instantaneous, and these days receivers with built-in Bluetooth are easy to find. It's also a quick way for your friends and family to share their favorite tunes with you. Few things bring people together like discovering new music. Sharing is caring, after all.
You've got even more options with an internet-ready receiver. New receivers usually have Wi-Fi or a wired Ethernet connection, letting you access internet radio stations from all over the globe and streaming services like Spotify, Qobuz, and Pandora. If you've got a stash of digital files on your computer, you can tap in and stream those through your home theater system as well.
Apple fans are covered too with receivers that have AirPlay 2 built in. If you have an iOS device like an iPhone or iPad, or even just an iTunes library stashed away on your computer, you can use Apple AirPlay 2 to quickly access your music. It can also be used to stream audio from other sources, like Youtube videos and even Netflix.
A lot of manufacturers integrate various streaming sources into a single app, letting you use your mobile device as a remote and control everything in one place. If that sounds cool (it is), then you'll want to look for a receiver with built-in app control.
You know what's even easier than controlling your music with a phone? Using your voice. A lot of receivers are compatible with Alexa or Google Assistant now, so it's easy to get started. Few things make you feel like you've arrived in the future like saying "Alexa, play Queens of the Stone Age" and watching your system light up and kick on "Go with the Flow" all by itself.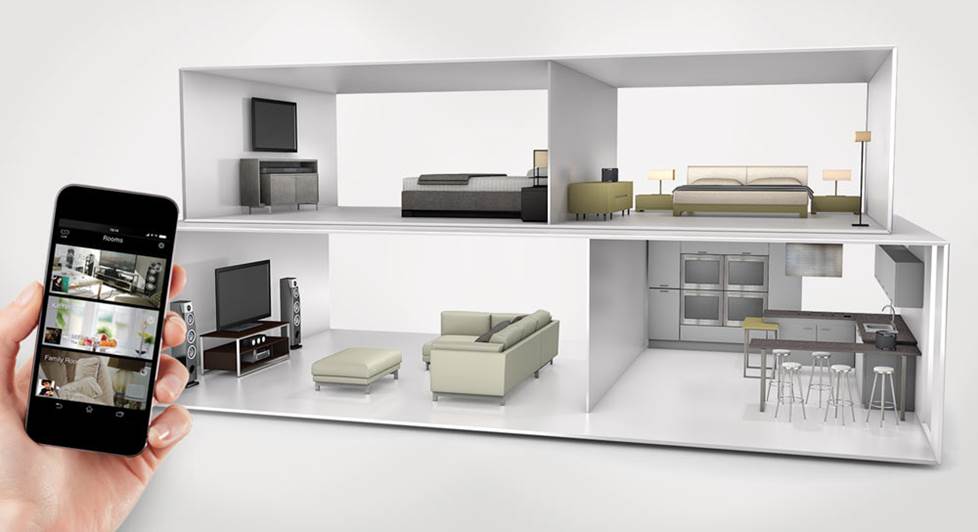 If you have a receiver that supports a family of wireless components like MusicCast, you can rock out a home theater system in your living room and spread the love to other rooms in your house.
6. You can add music (and video) to other rooms in your house
Got a hankering for tunes in another room, but need your receiver to stay put with the rest of your home theater system? Instead of buying two receivers, you can use just the one to power the home theater in your living room and the stereo music system in your office. There are two ways to get this ball rolling: wired or wirelessly.
Wired multi-room audio and video
Snagging a receiver with discrete Zone 2 or Zone 3 outputs and extra channels gives you the extra flexibility for multi-room applications. You can keep all of your sources connected in one place, but output music to a dedicated second or third zone. Sounds pretty nifty right? If you're interested, check out our guide to powering a multi-room music system.
You can do more than music in a second zone though. You can also use a single receiver with multi-room HDMI outputs to set up video in another room. You can keep your Blu-ray player in the living room and still set up a movie for the kids in the playroom, without interrupting your morning coffee and news combo. For a full rundown, head to our article on multi-room video.
Wireless multi-room music
If you want to go multi-room without all the wires, you can do that easier than ever. More and more receivers are now compatible with wireless multi-room music platforms. Here's a quick list of options:
These platforms let you integrate your home theater system into a wireless ecosystem of speakers throughout your house. You can then group your equipment and control the various zones with your phone.
Get started today!
There are tons of options, but we're here to help. If you need a little guidance finding exactly what you're looking for, don't hesitate to get in touch with one of our friendly Advisors.
Free lifetime tech support is included with your Crutchfield purchase.