In this article: Our top home theater receiver picks for 2024...
...along with some advice on choosing a home theater receiver.
There's nothing like kicking back after a long day and enjoying a spectacular cinematic experience right from the comfort of your couch. Whether you're an action movie buff, a drama lover, or a concert lover, there's nothing a good home theater receiver won't help bring to life.
If you're in the market for a new receiver and wondering how the models we carry compare, you may find yourself a little overwhelmed. I've compiled a "best of" list to highlight some of my favorites and guide you along.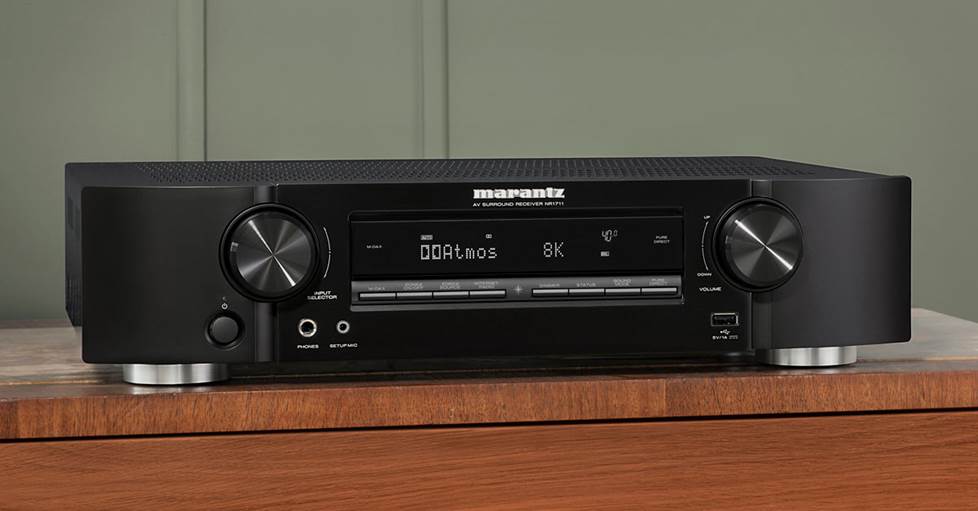 Best receiver for small rooms — Marantz NR1510
Not all rooms have the space to fit a full-sized home theater receiver. Thankfully, Marantz makes a slimline home theater receiver for just that scenario.
The Marantz NR1510 has a short overall profile (just a hair over 4" tall) which is perfect for tucking it into tight spaces like cramped AV cabinets and the like. You can use the receiver's outputs to power a 5.2-channel home theater system. It has decent power on tap — 50 watts RMS per channel — and is great for powering bookshelf speakers or efficient floor-standing speakers.
The NR1510 also gives you ample streaming and control options. It's compatible with Apple AirPlay 2 and Denon's wireless HEOS ecosystem. You can even use your voice to control it if you have an Amazon Alexa or Google Assistant voice controller.
Details
5.2-channel amplifier
50 watts per channel
HDMI connections: 5 in, 1 out
HEOS Built-in, Bluetooth, and Apple AirPlay 2 wireless music streaming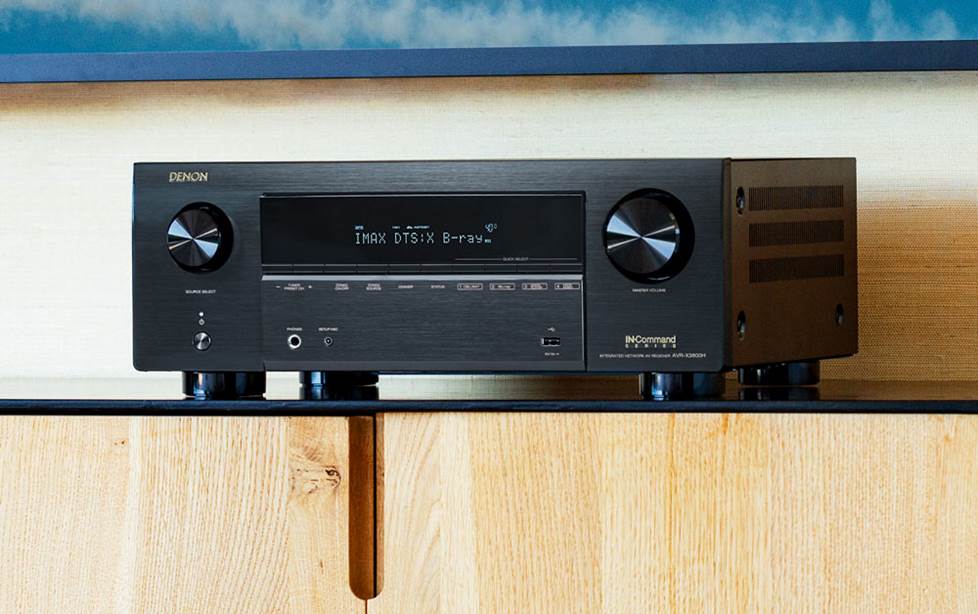 Best receiver for Dolby Atmos — Denon AVR-X3800H
Denon's AVR-X3800H is one of their latest powerhouse receivers. The 'X3800H excels at processing Atmos-encoded movie soundtracks. You can use this stout nine-channel receiver to drive a 5.2.4, 7.2.2, or if you really love bass, a 7.4.2 Dolby Atmos system. You read that right — this receiver supports four subwoofers at once.
The thing I love about Atmos is how much it increases your movie engagement. The 'X3800H reproduces sound effects like a dream and helps give you an awesome three-dimensional soundscape. If you're running a full Atmos system, you'll have sound coming at you from all angles — including overhead — just like you would in a fancy cinema.
The 'X3800H's usefulness doesn't stop at just powering a home theater system. This receiver also supports Bluetooth transmission to headphones for private listening without disturbing others, meaning you can watch your favorite flicks long after everyone else has fallen asleep.
Details
9.4-channel amplifier
105 watts per channel
HDMI connections: 6 in, 3 out
8K/60Hz ready
HEOS Built-in, Bluetooth, and Apple AirPlay 2 wireless music streaming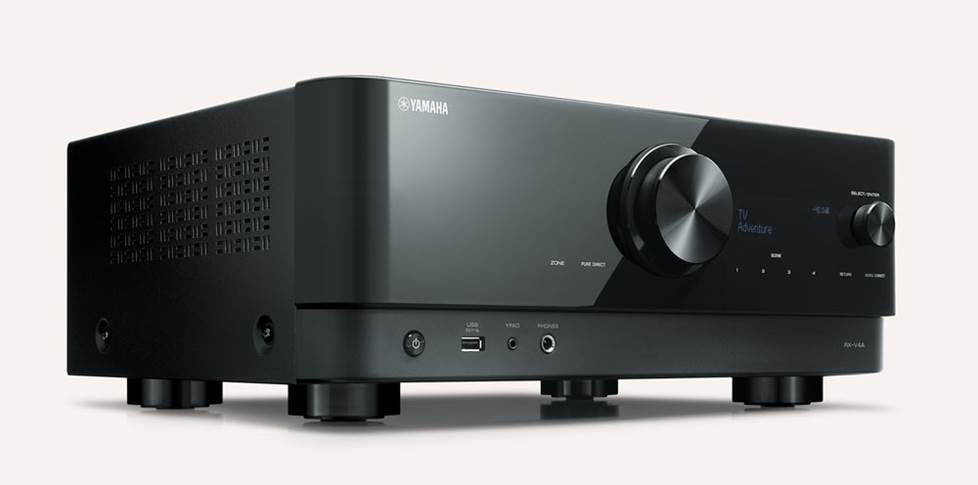 Best budget receiver — Yamaha RX-V4A
Getting great surround sound doesn't mean you have to set your wallet ablaze. Yamaha's RX-V4A is a solid choice for getting great A/V performance on a budget.
At just under $600, this receiver is a steal. It nets you 5 channels to hook speakers up to, two subwoofer outputs, and built-in Bluetooth, Wi-Fi, and Apple AirPlay 2. It also works with Yamaha's MusicCast wireless music ecosystem and can be integrated into a larger MusicCast multi-room system.
The robust RX-V4A also lets you reassign speaker channels. You can set the "surround left/surround right" channels as a second audio zone or you can use them to bi-amp your speakers for better performance.
Details
5.2-channel amplifier
80 watts per channel
HDMI connections: 4 in, 1 out
Voice controllable with Amazon Alexa and Google Assistant
Bluetooth wireless music streaming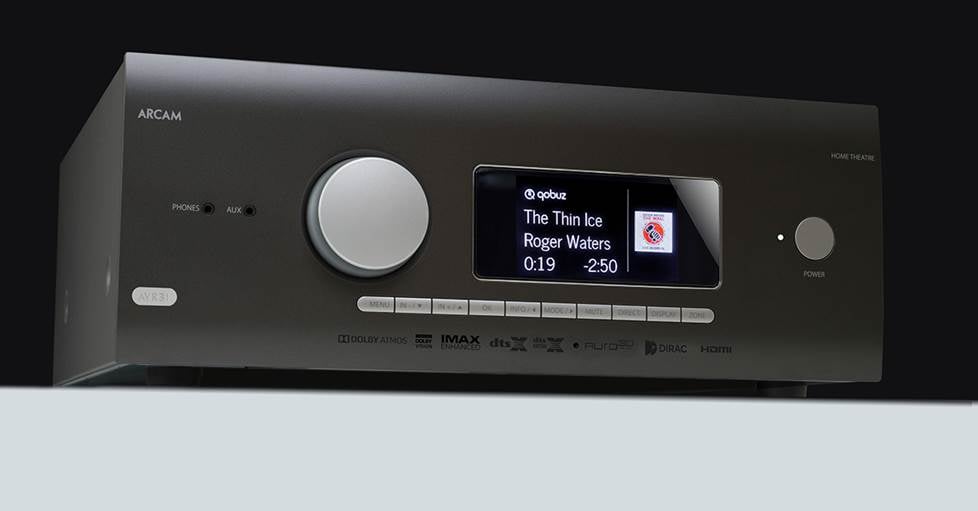 Best AV receiver for music — Arcam AVR31
I've listened to music on many home theater receivers in my time at Crutchfield. One of my fondest experiences was with Arcam's AVR31. Not only does it have excellent home theater capabilities, but the way it tackles music is a treat.
The AVR31 uses a high-performance Class G amplifier purpose-built for efficiency and dynamic music reproduction. What that means in the real world is that the amplifier reproduces audio with plenty of clarity and accuracy.
Aside from the amplifier, the AVR31 also employs twin audiophile-grade ESS Sabre ES9026PRO 32-bit/768kHz digital-to-analog-converter chips. The DAC chips work overtime polishing up your tunes and do away with pesky digital timing errors.
Details
7.2-channel amplifier
120 watts per channel
high-performance Class G amplifier
HDMI connections: 7 in, 3 out
Chromecast Built-In, Spotify® Connect, Bluetooth, and Apple AirPlay 2 wireless music streaming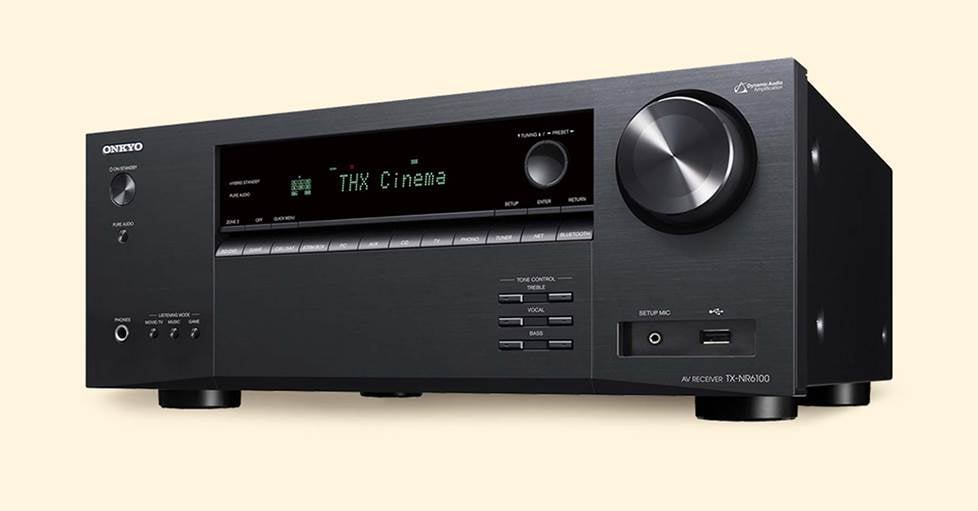 Best AV receiver for gaming — Onkyo TX-NR6100
I've been a gamer for most of my life. And I really appreciate Onkyo adding in gaming-optimized features on their TX-NR6100 receiver. If you own a next-gen console like a PlayStation® 5 or an Xbox Series X, I'm sure you'll appreciate the receiver's features too.
For starters, the TX-NR6100 has three HDMI inputs that all support 4K/120Hz and 8K/60Hz video content. That already nets you the best resolution and frame rates available at the moment. The remaining three HDMI inputs support 4K/60Hz.
This receiver also supports Variable Refresh Rate (VRR), Auto Low Latency Mode (ALLM), Quick Media Switching (QMS), and Quick Frame Transport (QFT) across all inputs. Those gaming-oriented features reduce or eliminate lag and frame tearing. They won't make you necessarily better at your game, but they will give you a better overall experience.
And the 'NR6100 doesn't skimp on power either. At 100 watts per channel across each of its 7 channels, it's able to drive most home theater systems with ease.
Details
7-channel amplifier
100 watts per channel
HDMI connections: 6 in, 2 out
Chromecast built-in, Bluetooth, and Apple AirPlay 2 wireless music streaming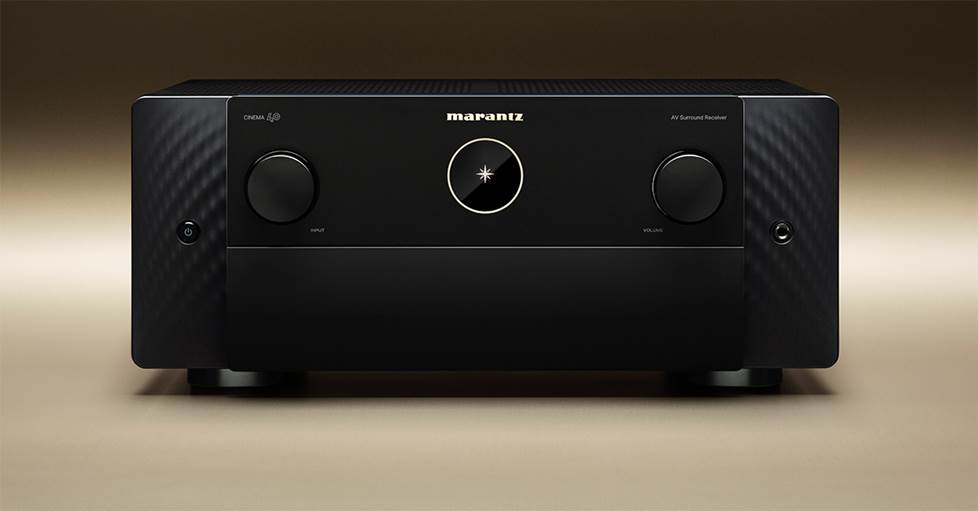 Best all-around — Marantz Cinema 40
We carry some remarkable receivers across all price points. Choosing one as the king of all of them is near impossible. However, Marantz's Cinema 40 comes close. Dollar-for-dollar, it's one of the most awesome performers in our selection.
The Cinema 40 is Marantz's latest high-end flagship receiver. It features just about every technology one could hope for — audiophile-grade amplifier circuits, advanced audio/video and HDR processing, a huge custom power supply, fantastic room correction, and an intuitive user interface.
This receiver supports up to three zones of audio, and drives up to 9 speakers at a time. It boasts a whopping 125 watts of power per channel and drives bookshelf speakers, floor-standing speakers, and custom-installed wall or ceiling speakers with authority.
The receiver also has the latest HDMI features, next-generation gaming features like QFT (Quick Frame Transport), ALLM (Auto Low Latency Mode), and VRR (Variable Refresh Rate), and can even upscale standard-definition sources up to 8K.
The Cinema 40 is also compatible with the accalimed Dirac Live® room correction software. Once you purchase a license for it, you can run the software to calibrate the receiver.
Details
9-channel amplifier
125 watts per channel
HDMI connections: 7 in, 3 out
HEOS Built-in, Bluetooth, and Apple AirPlay 2 wireless music streaming
Tips on choosing the right receiver
Before buying a shiny new receiver, you need to take inventory of your system (or the system you're building) and consider what you'd like the new receiver to do. Figuring out things like the number of channels needed to power your speakers and the number of inputs and outputs your source components require early on is crucial for picking out the right receiver for your needs.
While you're thinking, I suggest jotting down the features that are "must-haves" for you. That way you'll have a ballpark idea of what you're looking for and know whether spending more for a more advanced model is worth it to you or not. Some features, like Zone 2, XLR connections, or a phono input for a turntable, are more useful to some folks than others.
You can find some more in-depth info on picking out a new receiver in our home theater receiver buying guide.
Feeling stuck?
Still having a hard time choosing? There's nothing better than some one-on-one personal advice. Our helpful Advisors get to listen to a lot of different receivers during vendor trainings throughout the year. They would be more than happy to help guide you further. Feel free to give them a shout!
Free lifetime tech support is included with every Crutchfield purchase.
Popular questions customers ask
A home theater receiver has two main jobs: to provide sound and power to your speakers, and to send video to your TV or projector. It also lets you switch between connected sources like a Blu-ray player, cable or satellite box, or a media streamer like Roku or Apple TV 4K.
You need one channel of power for each speaker in your home theater. For example, a 5.1-channel surround sound system gets five channels of amplification from the receiver. (The ".1" is your subwoofer, which has its own amp.) It's okay to have unused channels on your receiver since they let you grow your system down the road. Some receivers even let you use extra channels to power speakers in another room.
A good rule of thumb is to stay within the power range of your speakers but look toward the upper end of that range. More power is a good thing ù it gives you stronger bass and clearer, louder sound, especially in larger rooms.
Absolutely! All home theater receivers can play music through your front left and right speakers. Some receivers even have additional modes for playing music through all the speakers in your surround sound system. Love playing vinyl? Look for a model with a dedicated phono input for connecting a turntable.
Most home theater receivers have Bluetooth for wireless music streaming from your phone or other device. Some models also have Wi-Fi, which gives you better sound and range. WiFi equipped receivers also offer built-in support for popular music services like Spotify and Qobuz, and some even let you stream music to compatible speakers or components in other rooms.