Best AV receivers for 2022
Our top home theatre receivers from Yamaha, Denon, Marantz, Onkyo, and more
In this article: Our top home theater receiver picks for 2022, along with a few shopping and setup tips.
I spent the first half of my Crutchfield career as an Advisor, helping our customers design audio/video systems. I'd hear back from folks after they hooked everything up. "Hey Kramer," they'd say, "My new surround sound system rocks!" I want to help you experience that same joy in your home.
What makes these receivers my favorites?
Below is a short list of my favorite home theater receivers for 2022. So what makes these models stand out?
My selections are based off of my listening experiences, customer feedback, and industry reviews. This is by no means an exhaustive list, but it highlights some of the best options available.
Naturally, not every awesome receiver we carry is listed here. But my hope is that it gives you some solid footing as you plan out your new system. Let's dive in.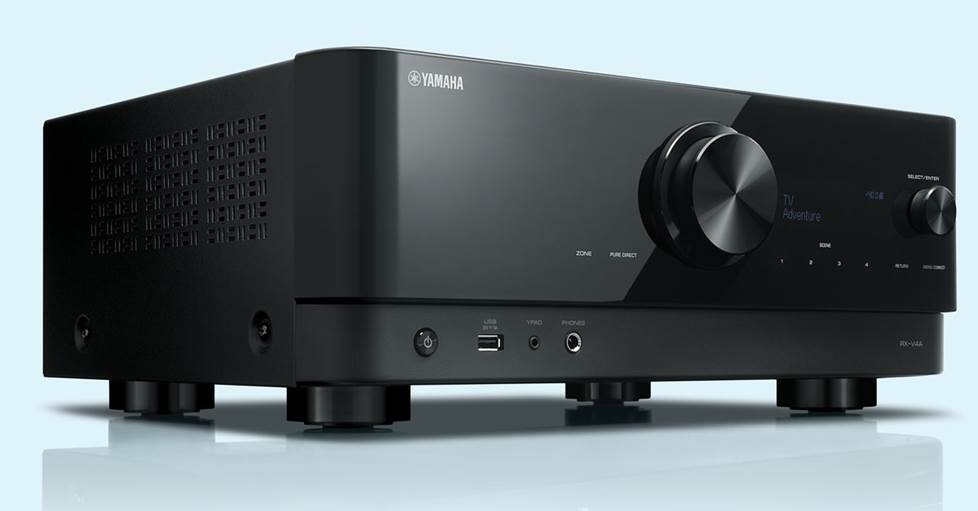 Easiest receiver to use — Yamaha RX-V4A
It might be hard to remember, but we haven't always been able to control A/V equipment from our phones. But now that we can, life sure is a lot simpler when it comes to using our gear.
Yamaha leads the way on this front with their value-packed RX-V4A. It combines an easy-to-use on-screen interface with an intuitive control app. Together these make switching sources, changing volume, and picking songs quick and easy.
Despite the RX-V4A's modest price tag, it's actually loaded with features you'd expect from a more expensive model. On the video side it supports 4K and HDR-encoded content. And for music it uses Apple AirPlay® 2, Bluetooth®, and MusicCast for high-quality wireless streaming.
Details
5-channel amplifier
80 watts per channel
HDMI connections: 4 in, 1 out
MusicCast, Bluetooth, and Apple AirPlay 2 wireless music streaming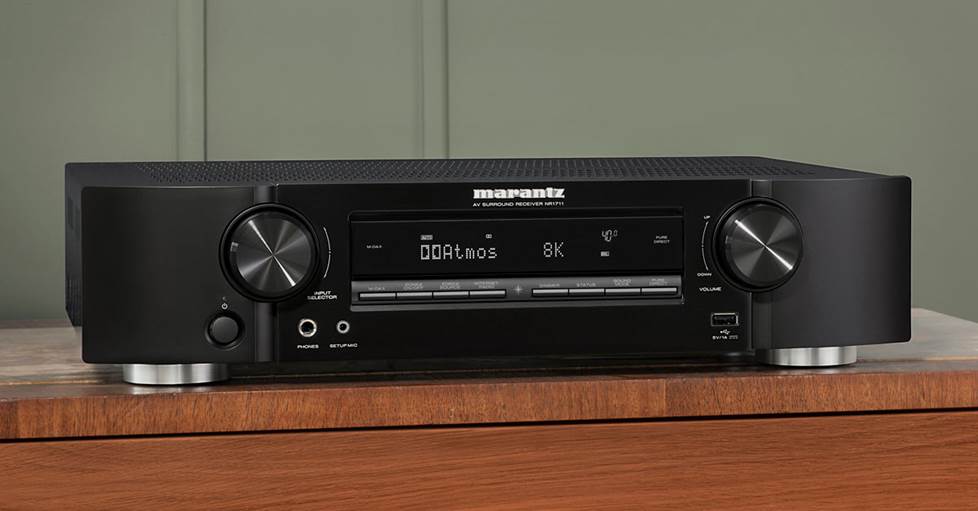 Best receiver for small spaces — Marantz NR1711
Large home theater receivers definitely have their place. But not every piece of furniture will accommodate them. Thankfully, there's a fantastic alternative if you're tight on space.
The Marantz NR1711 features a slimline design, so it can fit into areas that conventional receivers can't. At just over 4" high it's an excellent choice for use on a smallish shelf, or inside a slender A/V cabinet.
Use it to power a 7.2-channel home theater system. Or go with a conventional 5.1-channel setup, and power an additional pair of speakers in another room at the same time.
Details
7-channel amplifier
50 watts per channel
HDMI connections: 6 in, 1 out
HEOS Built-in, Bluetooth, and Apple AirPlay 2 wireless music streaming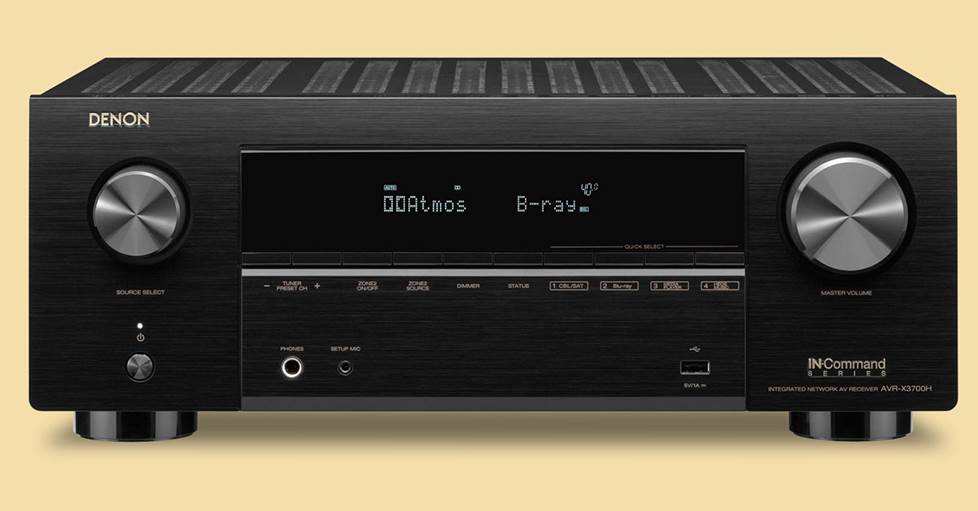 Best receiver for Dolby Atmos — Denon AVR-X3700H
Do you have overhead effects speakers as part of your home theater? Denon's AVR-X3700H does a fantastic job processing Atmos-encoded soundtracks. Use this powerful nine-channel receiver to drive a 5.2.4 or 7.2.2 Dolby Atmos system, and enjoy spacious sound effects above, beside, and in front of you — just like you would in an actual theater.
Last year I added Atmos modules to my Definitive Technology BP-9060 floor-standing speakers as part of a home theater makeover. The additional plane or "layer" of sound has made watching movies and playing video games immensely enjoyable.
I added Definitive Technology A90 upward-firing Atmos modules to my BP-9060 tower speakers last year. The larger soundstage has been a treat, and the installation couldn't have been simpler.
Helpful features for late-night listening and more
The AVR-X3700H has enhanced Audio Return Channel (eARC), which lets you pass full-resolution soundtracks from your TV to the receiver. That's particularly helpful when you stream Atmos-encoded movies on Netflix from your TV.
And here's one of my favorite features: the 'X3700H supports Bluetooth transmission to headphones (think late-night movies or TV watching), which lets you listen long after everyone else has headed off to bed.
Details
9-channel amplifier
105 watts per channel
HDMI connections: 7 in, 3 out
HEOS Built-in, Bluetooth, and Apple AirPlay 2 wireless music streaming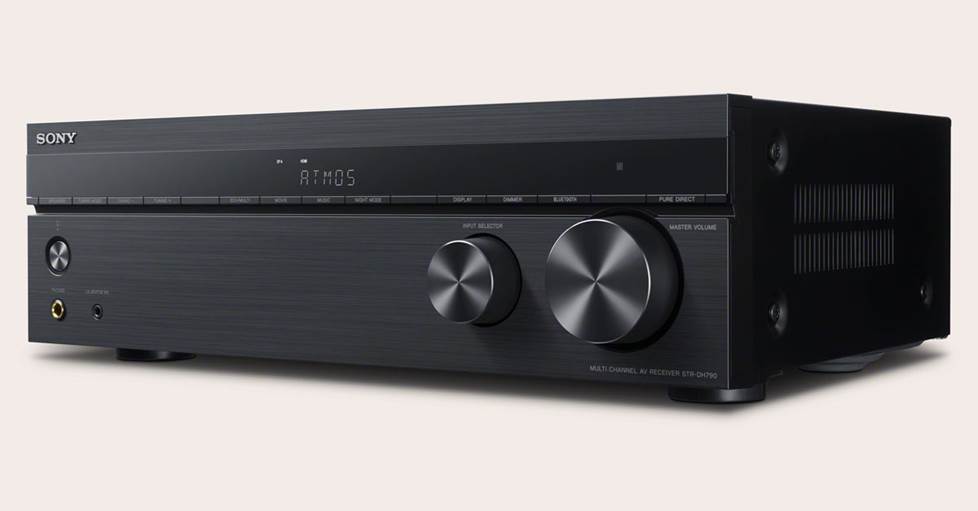 Best budget receiver — Sony STR-DH790
Having a sweet surround sound system doesn't have to set you back a ton of cash. Sony's STR-DH790 is a good choice for getting solid A/V performance out of a modest budget.
This receiver powers up to seven speakers at a time, so you can drive a 5.1.2-channel Dolby Atmos system with it. You can also play music wirelessly from your phone through Bluetooth.
Is this level receiver right for you?
As you're shopping, make a list of features that are "must haves" for you. That way you'll know whether jumping up to the next-level model is worth it or not. Some features are more useful to some folks than others, like a second zone of audio, or a phono input for a turntable.
So what are you giving up by going with a budget-friendly model like the STR-DH790? Well, it doesn't have Wi-Fi, so you can't control it with an app. It also doesn't support wireless streaming through Apple AirPlay.
That said, the 'DH790 is surprisingly good for the money and can deliver clear dialogue and immersive surround effects in most rooms.
Details
7-channel amplifier
90 watts per channel
HDMI connections: 4 in, 1 out
Bluetooth wireless music streaming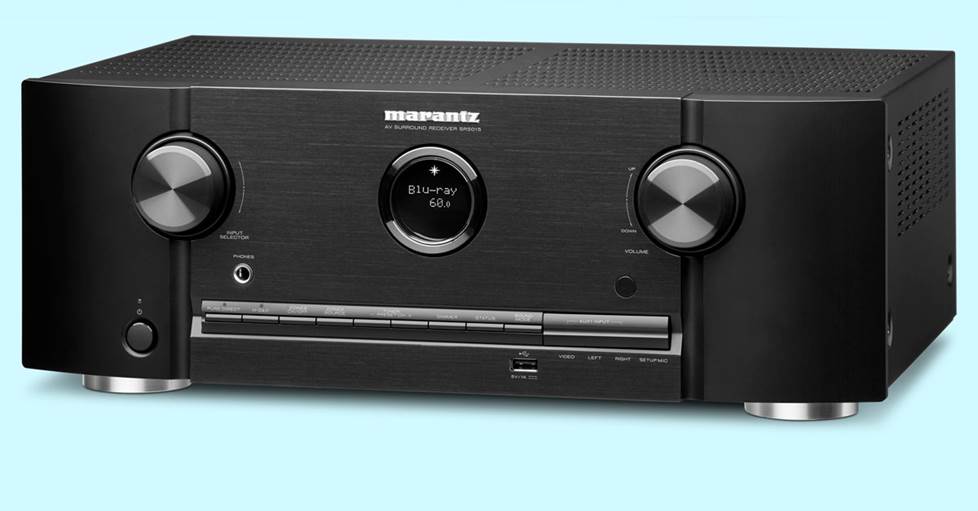 Best receiver for music — Marantz SR5015
I have a Marantz-based home theater system, and am particularly fond of how it sounds in stereo. That's because Marantz is known for its rich, warm sound and precise stereo imaging, and that's exactly what you get from the SR5015.
This 7.2-channel receiver is a workhorse with movie soundtracks. But flip it to one of its stereo modes, and enjoy pristine playback of your favorite albums. That includes vinyl too, since this receiver has a built-in phono stage for a turntable.
HEOS Built-in gives you easy wireless streaming
The SR5015 uses Bluetooth and AirPlay 2 for music streaming. It also has "HEOS Built-in," which is Marantz's wireless music ecosystem (it's Denon's too, by the way).
HEOS Built-in lets you stream music from Pandora®, Spotify®, and other online music services while controlling everything from your phone.
You can also link the SR5015 to wireless HEOS Built-in speakers around your house for seamless multi-room music. My in-home review on Denon's Home series speakers offers a closer look at how it all works.
Details
7-channel amplifier
100 watts per channel
HDMI connections: 6 in, 2 out
HEOS Built-in, Bluetooth, and Apple AirPlay 2 wireless music streaming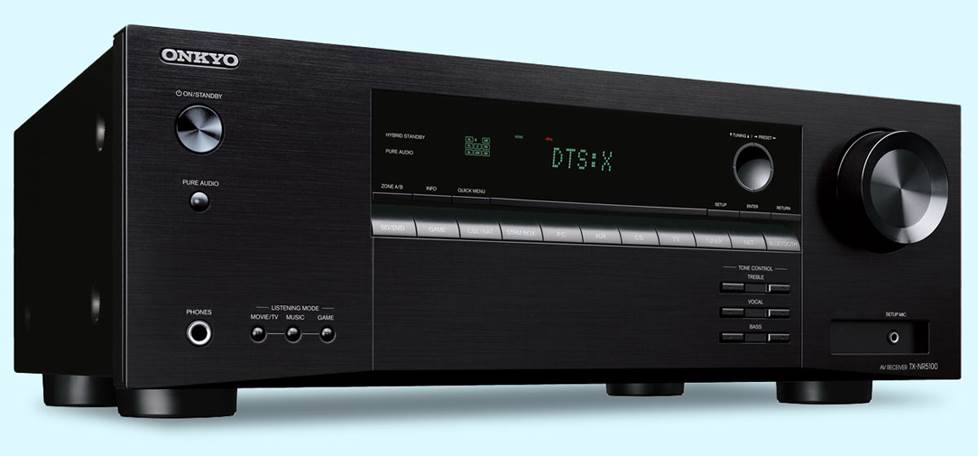 Best for gaming — Onkyo TX-NR5100
Video games can bring a great deal of joy to our lives, especially when played on a "next-gen" console like Sony's PlayStation® 5, or the Xbox Series X. That's where a receiver like Onkyo's TX-NR5100 shines.
Onyko made sure the TX-NR5100 is compatible with the latest video technology. Each of its four HDMI inputs supports 4K/120Hz and 8K/60Hz video content — the best resolution and frame rates currently available in a home theater receiver.
Advanced gaming features for smooth, lag-free play
The TX-NR5100 offers several gaming-optimized video processing technologies for a smooth, lag-free gaming experience.
Variable Refresh Rate (VRR), Auto Low Latency Mode (ALLM), Quick Media Switching (QMS), and Quick Frame Transport (QFT) reduce or eliminate lag and frame tearing. All of that adds up to an awesome gaming experience that looks and sounds incredible.
Details
7-channel amplifier
80 watts per channel
HDMI connections: 4 in, 2 out
Chromecast built-in, Bluetooth, and Apple AirPlay 2 wireless music streaming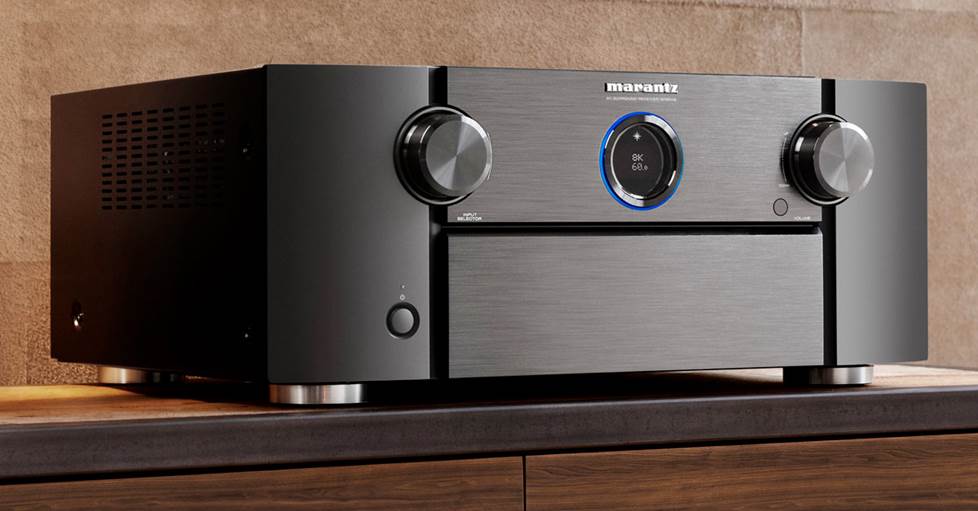 Best all-around — Marantz SR8015
It's not easy to pick a "best" home theater receiver. That's because we're pretty selective with what we carry at Crutchfield. Each model we offer brings a unique mixture of features and value to the table.
With that in mind, I believe the best all-around receiver we currently sell is the Marantz SR8015.
As the flagship receiver in Marantz's lineup, it has every technology I look for — crystal-clear amplification, advanced audio/video processing, a huge power supply, an intuitive user interface, and superb wireless music streaming.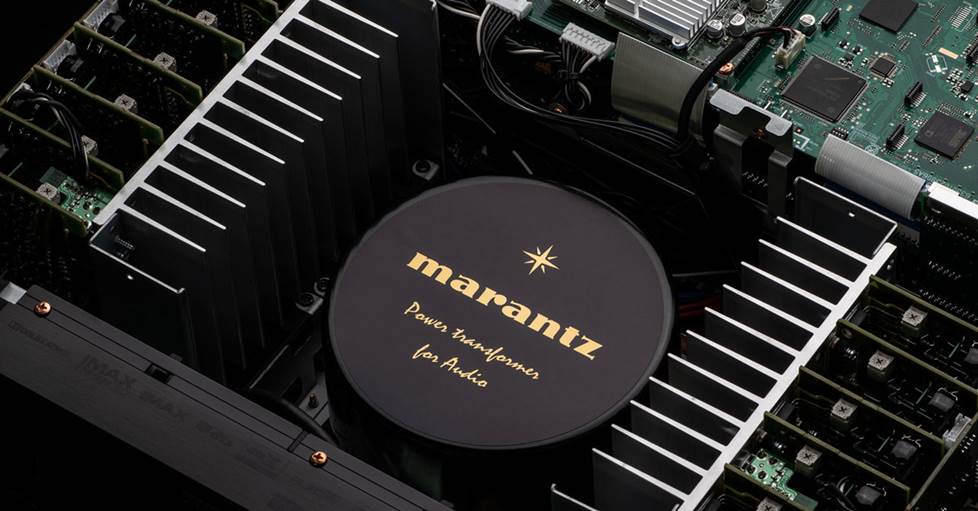 A high-performance power transformer helps the SR8015 deliver Marantz's signature sound.
A true "whole house" receiver
The SR8015 supports up to three zones of audio, and can drive 11 speakers at a time. You can focus all of its power on your surround sound system, or use some of it to play music in other spaces.
With 140 watts of power per channel, the SR8015 can drive bookshelf, floor-standing, and custom-integrated wall or ceiling speakers with authority.
Get the best sound possible in your room
This receiver uses Audyssey's MultEQ® XT32 auto setup and room calibration system to tailor its sound to your room's acoustics. I use MultEQ XT32 for my home theater, and have been impressed by how smooth and cohesive it makes my system sound.
On that note, if you go this direction I recommend you spring for the optional Audyssey MultEQ Editor app (around $20). It lets you direct the speaker calibration process from your phone or tablet instead of with the handheld remote control.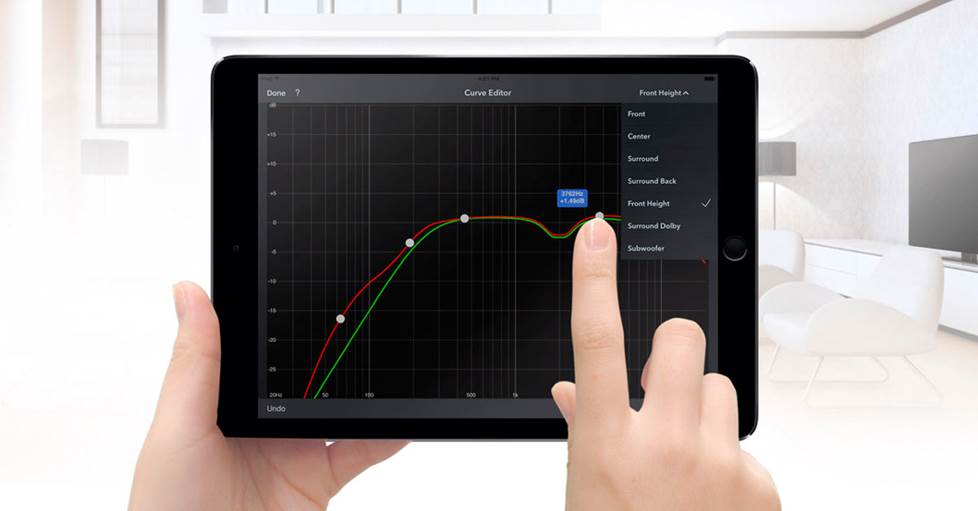 I used Audyssey's MultEQ Editor app to calibrate my home theater, and highly recommend it for yours.
The app also unlocks additional Audyssey features that I have found well-worth the money, like EQ curve adjustment, Midrange Compensation control, and the ability to save multiple calibration profiles.
Bottom line: this receiver is a fantastic choice for the long haul
If you're making a long-term investment into your home theater system, the Marantz SR8015 is my pick for the best all-around receiver we carry. It has the latest HDMI features, loads of power, and the ability to fill even large rooms with fantastic surround sound.
Details
11-channel amplifier
140 watts per channel
HDMI connections: 8 in, 3 out
HEOS Built-in, Bluetooth, and Apple AirPlay 2 wireless music streaming
Tips on choosing the right receiver
There are a few key factors to keep in mind when shopping for a new receiver. Questions like, "How many channels do I need?" and, "How many inputs and outputs should it have?" are important to consider.
Those topics and more are covered in our home theater receiver buying guide.
Get the most out of your new receiver
Once you've gotten your new receiver home, check out our setup tips to get the best sound possible from your system.
Free lifetime tech support is included with every Crutchfield purchase.
Jump into the conversation
If you have a question about a receiver you're considering — or want to pick my brain about anything in the article — leave a comment below.
I respond quickly, and if I don't know the answer I'll find someone here that does. Thanks for reading!
Popular questions customers ask
A home theater receiver has two main jobs: to provide sound and power to your speakers, and to send video to your TV or projector. It also lets you switch between connected sources like a Blu-ray player, cable or satellite box, or a media streamer like Roku or Apple TV 4K.
You need one channel of power for each speaker in your home theater. For example, a 5.1-channel surround sound system gets five channels of amplification from the receiver. (The ".1" is your subwoofer, which has its own amp.) It's okay to have unused channels on your receiver since they let you grow your system down the road. Some receivers even let you use extra channels to power speakers in another room.
A good rule of thumb is to stay within the power range of your speakers but look toward the upper end of that range. More power is a good thing ù it gives you stronger bass and clearer, louder sound, especially in larger rooms.
Absolutely! All home theater receivers can play music through your front left and right speakers. Some receivers even have additional modes for playing music through all the speakers in your surround sound system. Love playing vinyl? Look for a model with a dedicated phono input for connecting a turntable.
Most home theater receivers have Bluetooth for wireless music streaming from your phone or other device. Some models also have Wi-Fi, which gives you better sound and range. WiFi equipped receivers also offer built-in support for popular music services like Spotify and Qobuz, and some even let you stream music to compatible speakers or components in other rooms.
Last updated 11/19/2021