A well-planned multi-room audio system keeps music moving through your home. You can power in-ceiling speakers, floor-standing and bookshelf speakers, and outdoor speakers, all through the same wired system.
Wired multi-room audio systems can range from simple two-room, one-receiver setups to more advanced multi-zone systems. We'll start with the basics and work up to the more complex scenarios.
Audio in two rooms using one receiver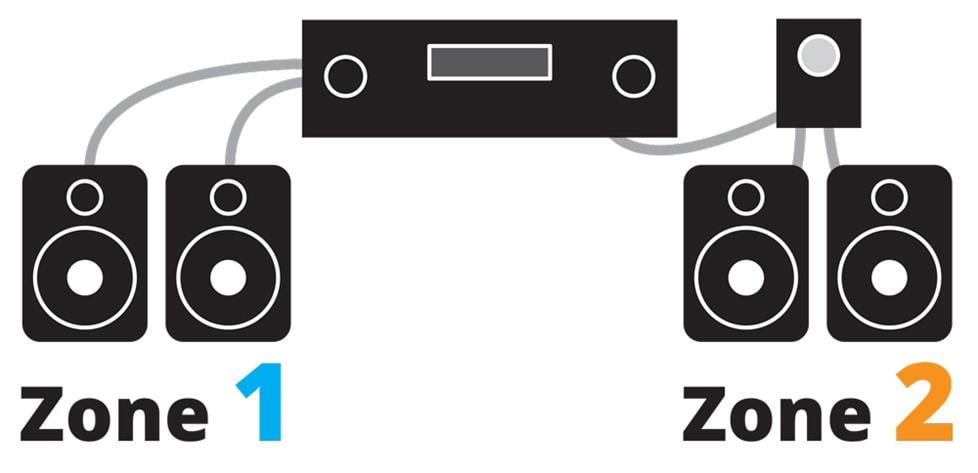 A stereo receiver with A and B speaker outputs lets you play the same audio source in two rooms. The volume control shown in Zone 2 is optional.
Most home theater receivers with seven or more channels have a set of Zone 2 speaker outputs for a pair of stereo speakers in a second room. With a dual-zone/dual-source receiver, you can listen to different audio sources in each zone.
You'll need at least five channels for surround sound in Zone 1. Use two of your remaining channels for Zone 2. The in-wall volume control shown in Zone 2 is optional.
Multi-zone home theater receivers have seven, nine, or eleven channels of power. Sometimes they have more speaker connections than channels. A receiver with nine sets of speaker outputs, for example, might only be able to power seven speakers at a time.
Let's say you have a nine-channel receiver with 11 speaker outputs. You can hook up a full nine-channel surround sound system, plus stereo speakers in another room.
What's the catch?
When you are listening to music in Zone 2, two of the rear channels drop from your surround mix. This leaves you with you 7 channels of surround sound in Zone 1. When you turn off the Zone 2 music, your surround sound reverts to 9 channels.
Audio in three rooms using one receiver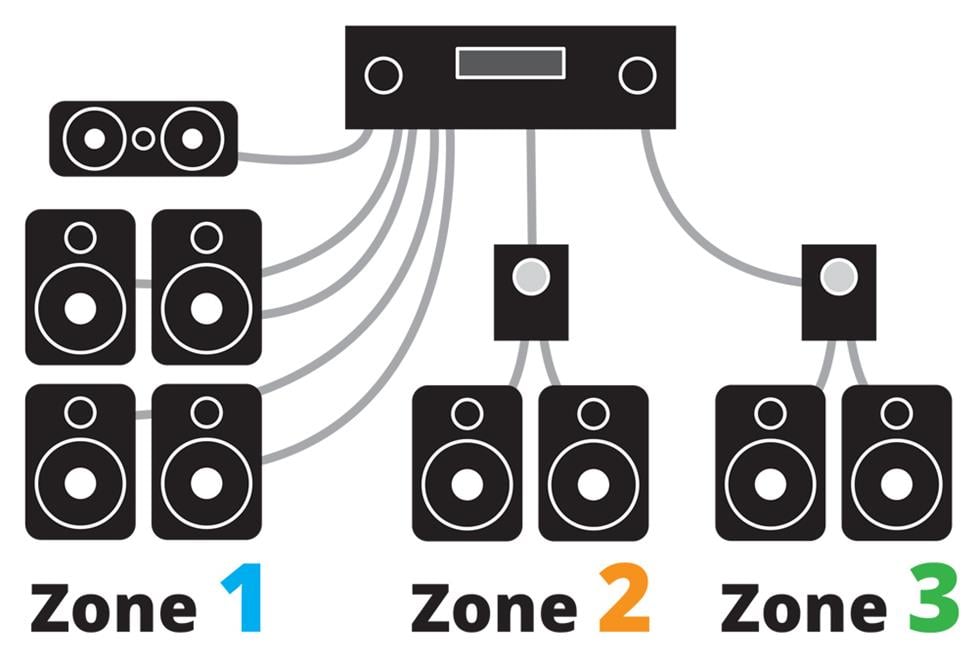 Some multichannel receivers have powered speaker outputs for audio in two additional zones. (Again, the volume controls are optional.)
The easiest way to get audio in three rooms with one receiver is to find a 9- or 11-channel receiver with powered speaker outputs for Zone 2 and Zone 3. These models often support 3-zone/3-source audio, so you can listen to something different in all three zones.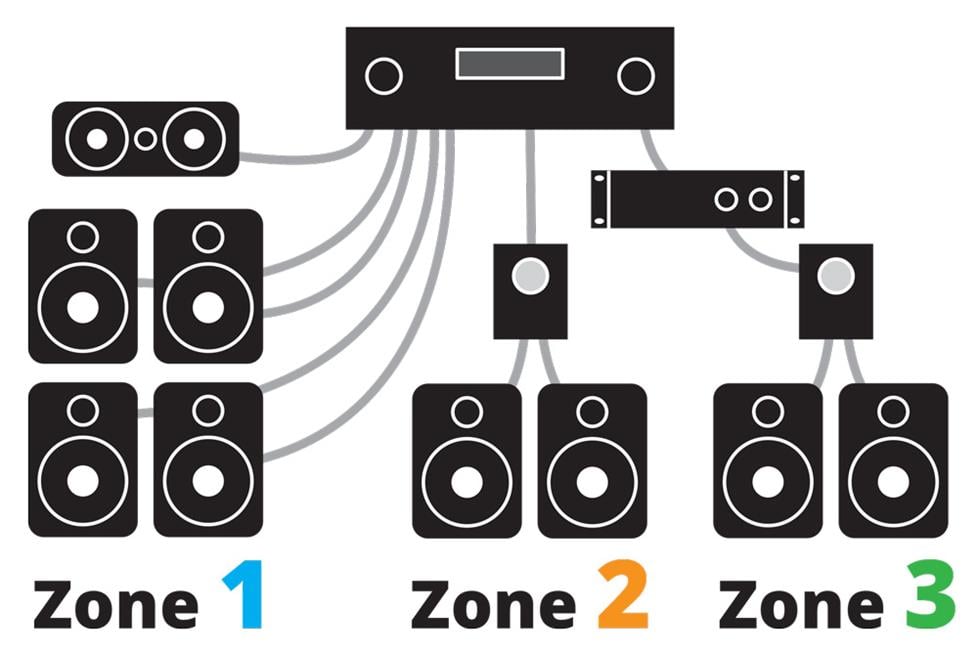 Some receivers offer powered speaker outputs for Zone 2 and preamp or line-level outputs for Zone 3.
Using preamp outputs means you'll need a second receiver or amplifier for Zone 3. This is a great option if you have an old receiver you'd like to put to good use.
More than three rooms
Want your audio system to extend beyond three rooms? The first thing you'll want to do is talk to an experienced system designer.
There are a lot of factors to consider when selecting your equipment and setting everything up. How big are your rooms? How loud will you play your music in each room? Do you want to be able to play different music in different zones at the same time?
Your designer can pick out the right multi-channel amplifier for your needs. They'll also show you how to configure it so you end up with an easy-to-use system that does what you want it to.
To give you an idea of what's involved, we'll look at a fairly typical three-zone, five-room system.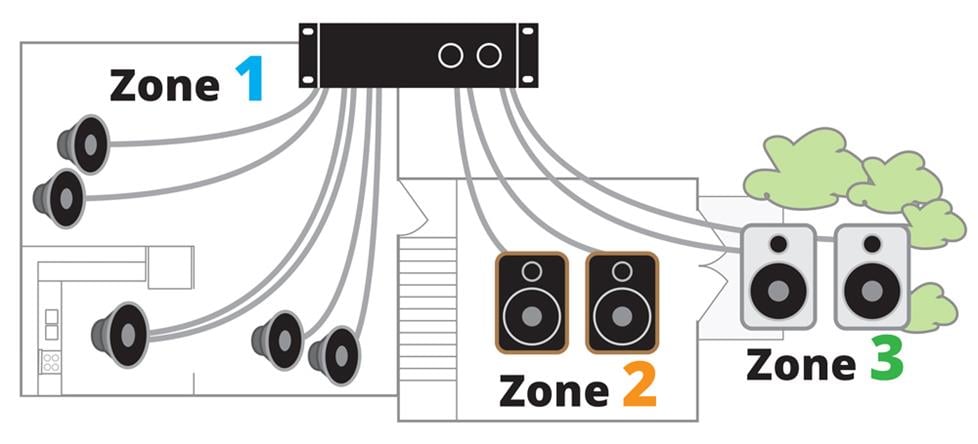 One multichannel amplifier can distribute audio throughout your home.
Zone 1
Let's say you have an open floor plan, without walls separating the kitchen, dining room, and great room.
You'll need multiple speakers to evenly distribute sound throughout that large, open area. In our example, we're going with five.
We need six amplifier channels to power the five speakers in Zone 1.
Channels 1 and 2 are for the left and right speakers in the great room.
Channels 3 and 4 go to a stereo-input speaker in the kitchen.
Channels 5 and 6 go to the left and right speakers in the dining room.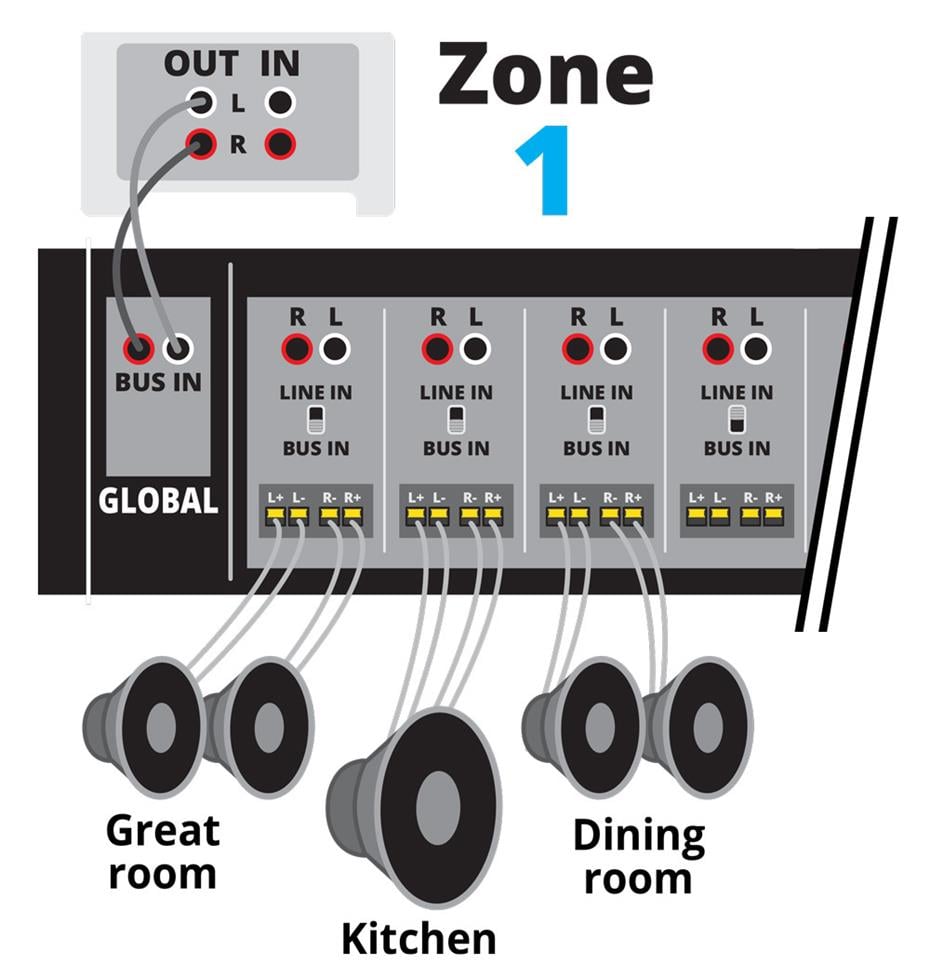 The music player for Zone 1 connects to the amplifier's "bus" input (sometimes called a "global" input). The input switch for each pair of channels is set to "bus" so your Zone 1 music player plays through all five speakers.
Zone 2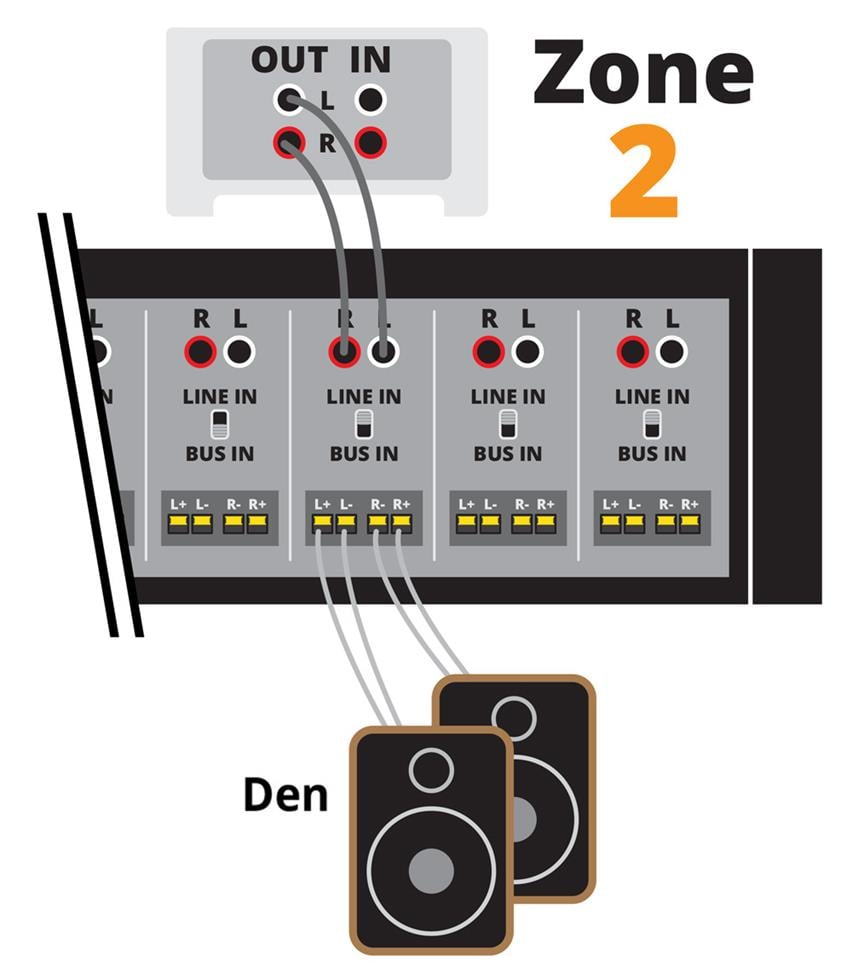 The music player for Zone 2 connects to the "local" line input for channels 7 and 8. The input switch is set to "line in".
Zone 2 is simple, with just one pair of speakers in the basement den. We'll use two amp channels to power the left and right speakers.
Zone 3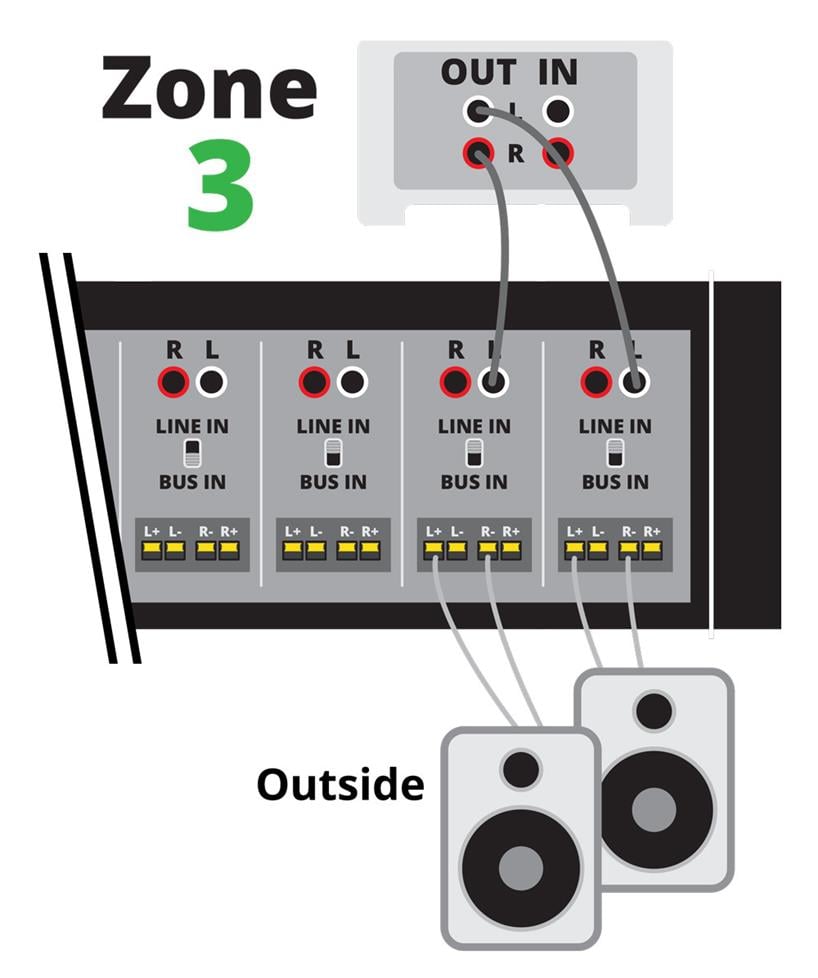 For the Zone 3 music player, we'll connect the left output to the left (mono) input for channels 9 and 10 on the amplifier. The right output goes to the amp's left (mono) input for channels 11 and 12.
Zone 3 is different. There's a single pair of outdoor speakers, but they need more power than indoor speakers. To get them to play at decent volume levels we "bridge" (combine) four amplifier channels into two.
Sonos Port and other music player options
You may have noticed that the music player in our multi-channel amplifier illustrations looks a lot like the Sonos CONNECT (which has been discontinued and replaced by the Sonos Port). That's no accident, it's a popular choice for systems like the ones in our examples. Just remember, if you want to play different music in each zone, you'll need a Port for every one.
Of course, you could use a CD player, a network music player, or just about any other audio component. Many brands besides Sonos offer wireless multi-room audio systems that include streaming adapters like the Port.
NAD gives you a space-saving option in the CI 5180 V2 4-zone, rack-mountable streamer. It provides four separate music streams from one small component. And it's compatible with the Bluesound wireless multi-room system.
Need a system for your business?
Residential audio gear isn't well suited for stores, restaurants, and other commercial buildings. We have a separate team of designers to help you put together a system for your business. Get started by filling out a commercial system design request form.