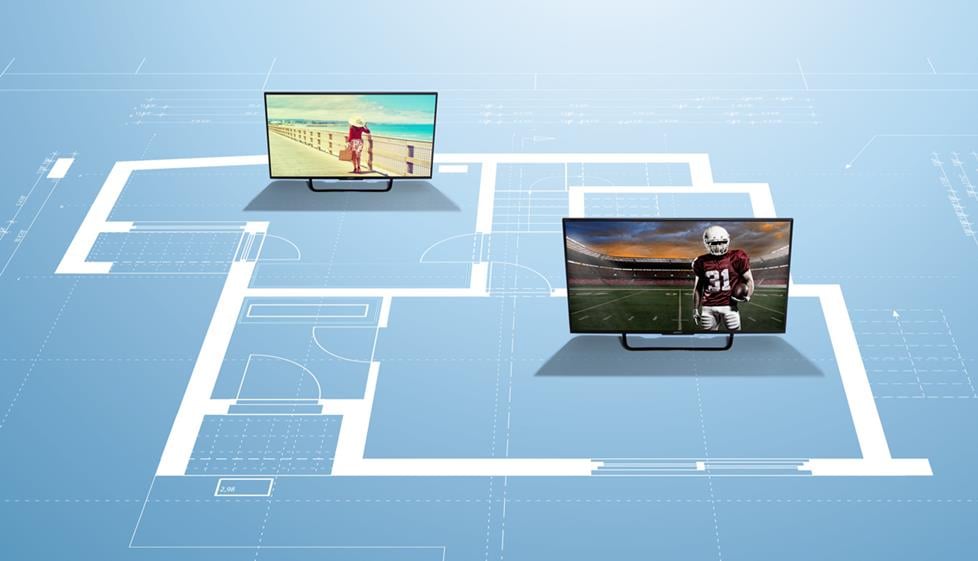 A receiver with multi-zone video lets you connect your cable or satellite box, Blu-ray player, and other entertainment sources in your living room and send video out to a TV in a different room. Watch a Blu-ray in one room and cable in the other. To watch different TV shows in each room, you'll need to connect a second cable or satellite box.
Watch TV outdoors
A porch is a great spot for a TV. When it's nice outside, you can watch TV out on the porch and have access to all the same content you would in your living room. Start the morning news in your living room while the coffee is brewing in the kitchen, and when it's ready, finish the news on the porch while you enjoy your coffee in the fresh air. Or grill burgers and serve drinks to your guests without missing a moment of the big game.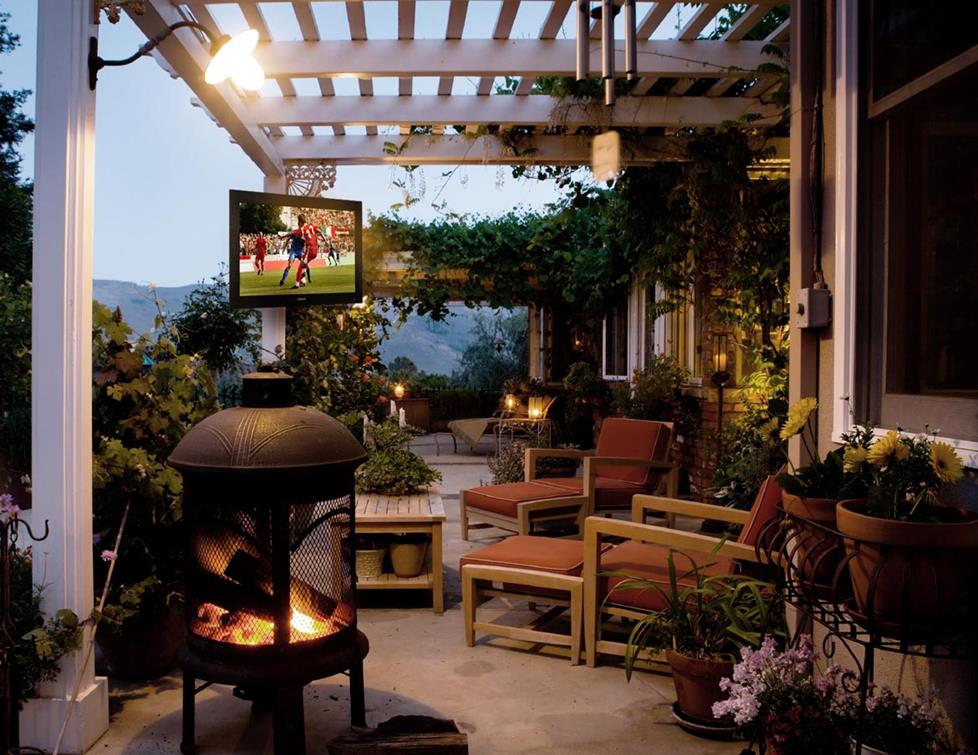 Get the most out of an outdoor TV setup with a multi-zone receiver.
Two TVs in one room
Take a moment to envision your ideal man cave. What if you want to watch two sporting events at the same time? You could flip back and forth between channels, of course, but wouldn't it be better if you could just watch them both on separate screens?
If you want to watch two games simultaneously in one room, you'll need two cable or satellite boxes connected to your multi-zone receiver. Just put the game you want to hear on the main TV, and use the second TV as a video monitor to keep tabs on the second game.
Some cable companies' boxes have multiple remote codes for easy control of both TVs, or you can use IR repeaters with carefully placed sensors and flashers to avoid remote control conflicts. You could also use an Apple TV or another media player to stream games from Watch ESPN.
Audio options for your second video zone
An HDMI Zone output lets you send audio and video to a TV in another room with one cable. Audio is then output through the TV's speakers in the second zone.

An HDMI Zone output allows you to send audio and video to another room with a single cable.
If you want better sound than what your TV speakers are capable of producing, you've got a handful of options to consider.
Zone 2 audio out from the receiver
Receivers with multi-zone video capabilities also have multi-zone audio outputs.
Powered zone 2 audio outputs give you two-channels for a pair of speakers in a second zone. If you're working with a 7-channel receiver, using these outputs in a separate zone means the surround sound system in the main zone will be reduced to five channels. Some receivers will revert back to full 7-channel surround sound when the second zone isn't in use.
Line level zone 2 outputs let you send audio to a separate amplifier or receiver in your second zone.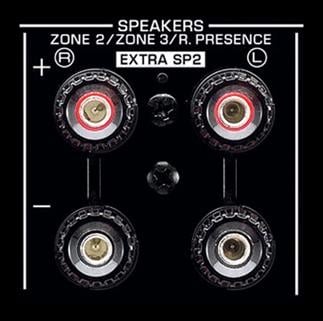 Zone 2 speaker terminals can power stereo speakers in a second room.
Most powered and line level zone 2 audio outputs are designed for music listening. So, unfortunately, when you use them with HDMI video in zone 2, the audio is out of sync with the video. Another potential problem with using the receiver's zone 2 audio outputs is that many home theater receivers will only output analog audio sources to a second zone. Only higher-end receivers can sync audio from zone 2 outputs with zone 2 video.
Add a sound bar in your second zone
One easy way to get better sound from the TV in your second zone is to connect a sound bar via the TV's optical output. This is a quick, simple solution that allows you to use any A/V receiver with multi-zone video, and you don't have to worry about running speaker wire to the second zone or reducing your 7-channel surround system to five channels.
Put your old receiver to good use
If you want even bigger sound, you could connect a spare receiver with a pair of speakers to the second TV. If your new multi-zone receiver is replacing an older model, this is a great way to get some use out of your old one.
Just a few multi-zone receivers can output multi-channel audio to a second zone. If you have one of these models and you want surround sound in your second zone, connect the HDMI zone out on your new receiver to an HDMI input on your old one and add as many speakers as the old receiver will allow.
If you only want two speakers in the second zone, you can use an audio output from the second zone TV.
Zone 2 HDMI connections
You'll need to run HDMI through a wall or ceiling to connect the receiver in your main zone to a TV in another room. The same goes for speaker wire if you're planning on using zone 2 speaker outputs from your receiver to power speakers in your second zone. See our In-wall wiring guide for home A/V to get an idea of what might be involved.
For HDMI runs of up to 65 feet, you can use an in-wall HDMI cable. We urge you to test the cable with your equipment before running it through your wall. Results may vary.
For longer runs, there are two additional options for sending HD video signals to a second zone:
HDMI baluns: This cable system uses dual CAT-5 Ethernet cables along with a transmitter and receiver to send video to a second room. HDMI baluns can deliver HD video signals up to 1080p and full surround sound over cable runs of up to 100 feet.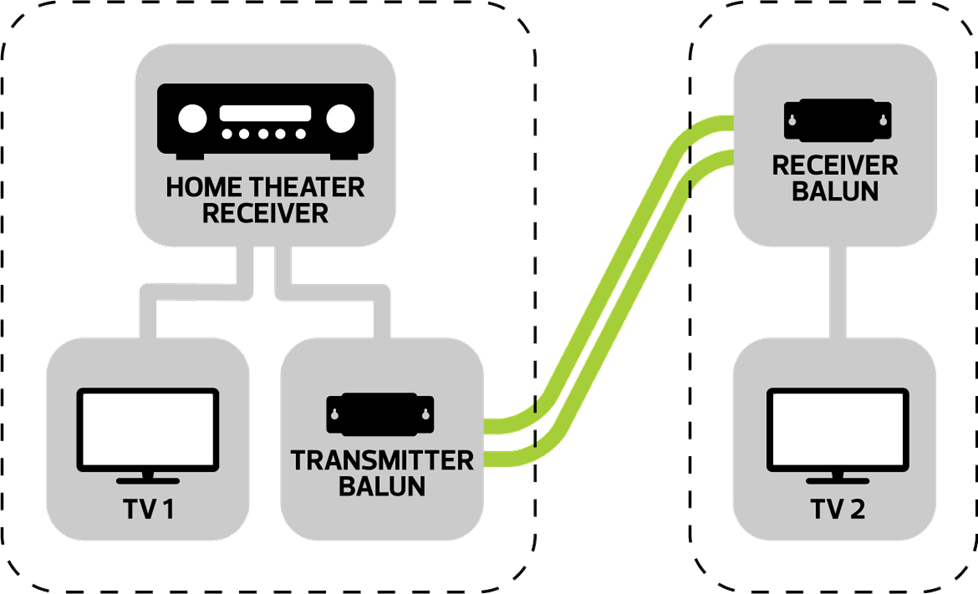 HDMI baluns let you send HD video signals to a TV in another room.
Fiber optic HDMI cables: a fiber optic HDMI cable is a single-cable solution for sending video signals up to 1,000 feet. Fiber optic cables are a higher-bandwidth, faster option, and their thin form factor makes them easy to conceal.
Fiber optic HDMI cables are the best option of you need to pass a 4K Ultra HD video signal over more than fifty feet.

A fiber optic HDMI cable can pass 4K Ultra HD video signals over long cable runs.
Note on video resolution: With most multi-zone receivers, the video in both zones will be output at the highest resolution supported by both TVs. This means that if you have a 4K TV in your living room, and you send video to a 1080p TV in your second zone, a 1080p video signal will be sent to both TVs.
Controlling your system from Zone 2
If all of your sources are connected in your living room, and you want to switch sources or change channels from your second video zone, you have a couple of options.
Use a Wi-Fi remote control App on your phone or tablet
If you have a network-capable multi-zone receiver, you'll have access to a remote app to control content in your second zone with a phone or tablet. Playback in the second zone can be controlled via Wi-Fi with the app, but channel selection would have to be controlled with a different app, if one is available.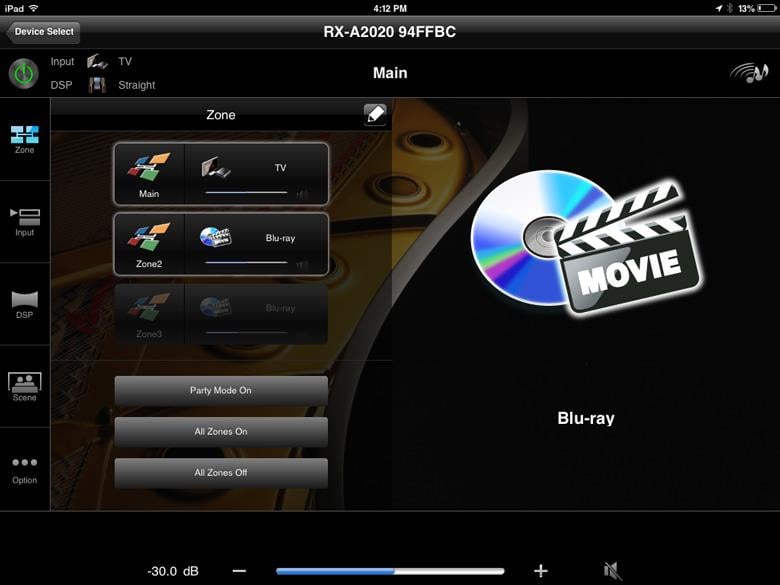 Remote apps for tablets and smartphones offer easy Wi-Fi control over your system from another room.
Use a universal remote control
An RF (radio frequency) remote can be used to control components that are out of the line of sight of typical IR (infrared) remotes. RF signals can pass through walls and ceilings, which makes this type of remote a good option for controlling your connected sources from another room.
Since RF signals can pass through walls, a universal RF remote is another great option for controlling your system from another room.
A Wi-Fi capable universal remote can control the receiver and connected sources from any room using Wi-Fi and and IR blasters.
Need help figuring it all out?
There's a lot to consider when shopping for a multi-zone home theater receiver. Our product pages are designed to help you through the process. You'll find loads of useful information under the "Details" tab for any given receiver, and you can access the owner's manual from there also. Our Advisors are happy to answer any questions you might have. Contact us today for expert shopping help.