A Texas-sized A/V setup
Helping a customer complete his sprawling multi-room A/V system
In the course of building a custom home in Austin, longtime Crutchfield customer Rob called a few local installers to see what a whole-house A/V system would cost.
"For a fully installed system, they quoted me from $60,000 to $120,000."
After picking himself up off the floor, Rob called Crutchfield and spoke to Tony, one of our residential A/V system experts. Tony put together a system that did everything Rob wanted — for under $8,000.
A dream home with music everywhere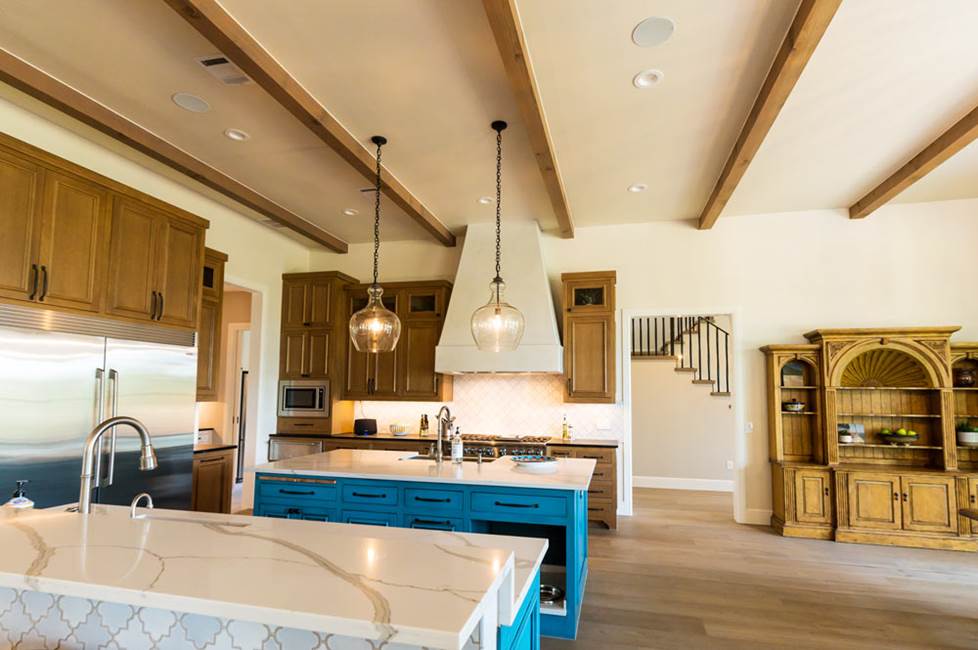 In-ceiling speakers fill the kitchen's wide-open spaces with clear sound.
One of the benefits of building a custom home is that you get to choose everything. So when Rob planned his dream A/V system, his priority was a whole-house music setup, with nine zones of audio, plus four independent zones of video (and the capability to add two more). And it had to be customizable and easy to control.
Complex multi-room systems are the specialty of our A/V Design team. Tony came up with a cost-effective solution.

Each of Rob's three Denon receivers sends audio and power to speakers in three rooms. In addition to nine zones of audio he set up four zones of video.
The heart of the system
Tony recommended that Rob use three 11-channel Denon receivers to power his system. The receivers also have the benefit of HDMI switching, so they could handle Rob's video needs as well.
Denon's AVR-X6500H 11.2-channel home theater receiver handles everything from 4K movies to streaming music from different sources, and it has 3-room/3-source output.
The equipment closet
So where'd Rob put all the receivers? "All the A/V gear is centrally located and hidden away in a closet under the stairs," he said. Even the receiver that runs his very impressive media room is in there.
In addition to the Denon receivers, the closet holds his video gear: a TiVo Roamio Plus DVR and two TiVo Minis, each of which is a video source for each of the receivers, plus a Roku Ultra connected to the receiver that feeds the projector system in the media room. The closet also contains all of Rob's networking equipment.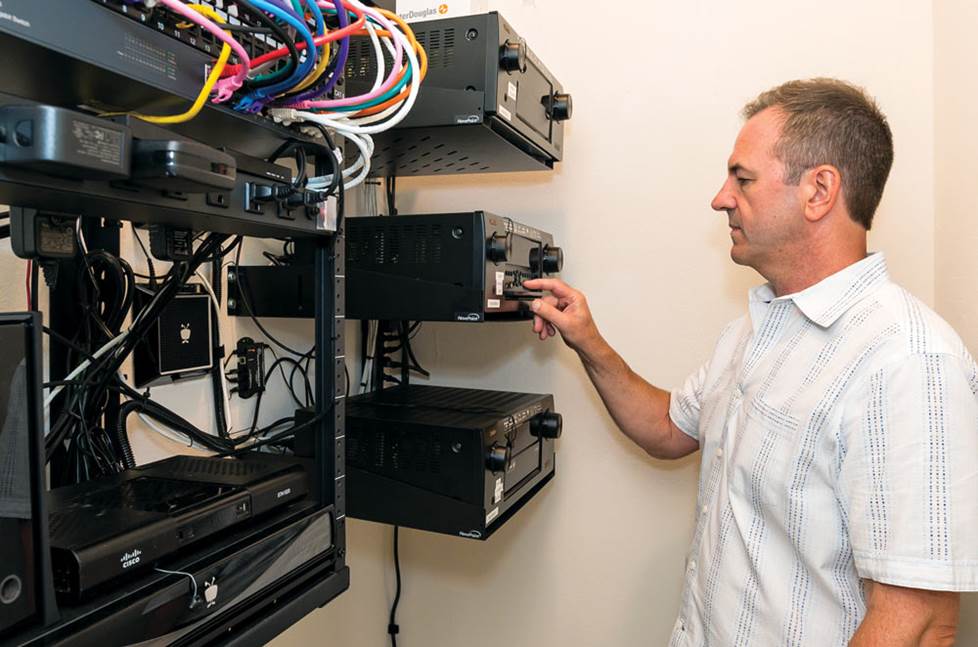 All of Rob's A/V equipment is kept out of the way in a closet, including his three Denon receivers, video sources, and networking gear.
Rob also had his HVAC contractor install a fan/exhaust in the closet to keep it cool, including a thermostat-controlled switch for the fan. So far, even in the middle of summer, he hasn't had to use it.
Rob is pretty savvy when it comes to system planning and setup. Labeling which zones each receiver controls helps cut down on potential confusion for other users of the system.
For Rob, wired beats out wireless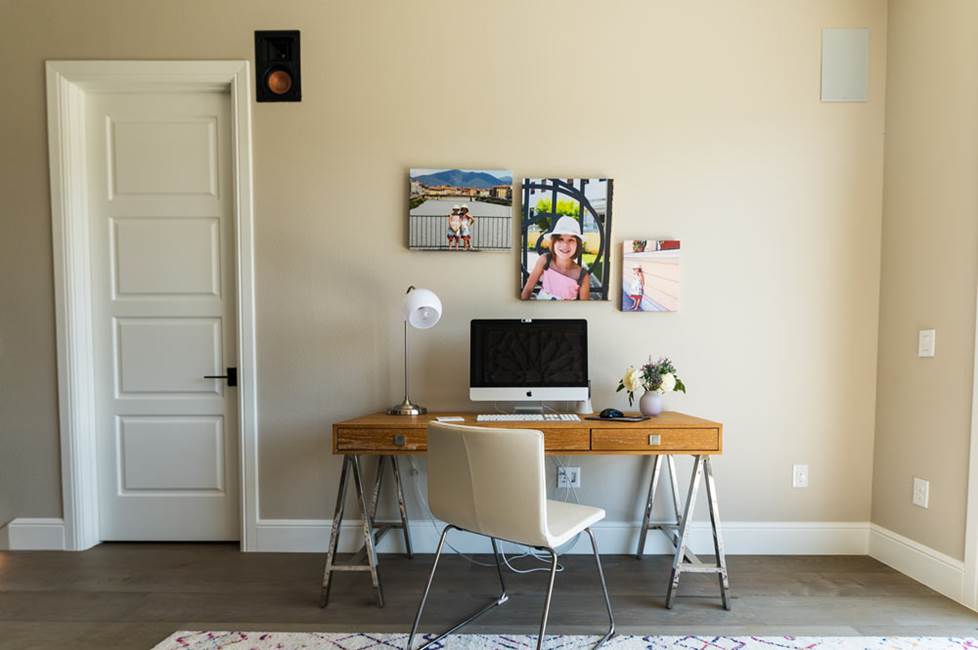 Planning a whole-home system during new construction provides the opportunity to run wires exactly where you need them. Rob had Klipsch in-wall and in-ceiling speakers installed in several rooms.
Rob hired a contractor to pull all the wire during the framing stage of construction, and later install Klipsch in-ceiling and in-wall speakers. He wanted a wired system rather than a Wi-Fi-based system with wireless speakers in each room.
"I wanted to hard-wire as much as possible to maximize performance and avoid overloading the Wi-Fi network," Rob told me.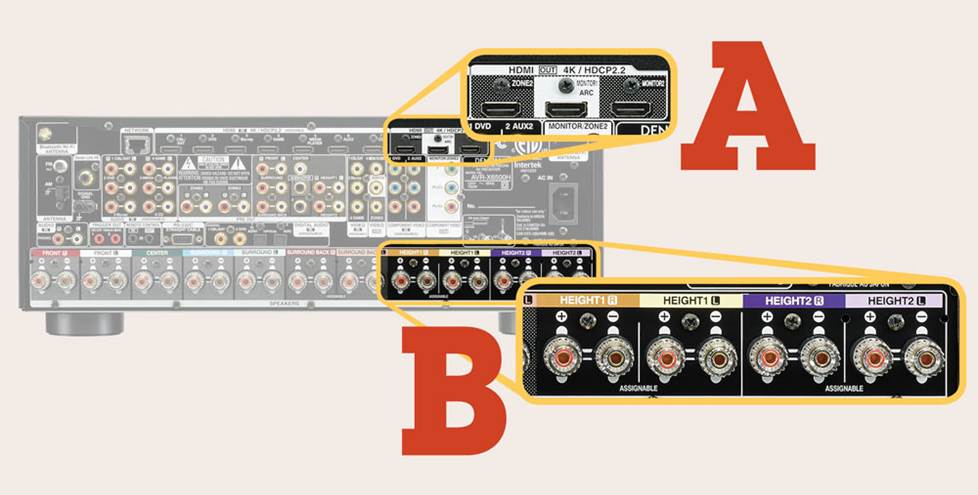 A: "Zone 2" HDMI output - The Denon AVR-X6500H can send two different HDMI video feeds to two displays at the same time, directly from the receiver.
B: Flexible speaker output - Denon's Amp Assign feature lets you reassign extra surround channels to second and third zones.
Wireless is good, too
"Then Tony enlightened me about HEOS," Rob said.
Denon HEOS is a wireless multi-room audio system. HEOS is built into Denon's great-sounding lineup of home theater receivers, and it helps them excel at multi-room control and networking.
HEOS lets you access all your music — from your computer's music library, internet radio, and popular streaming services like Pandora®, Spotify®, and TIDAL — through the receiver.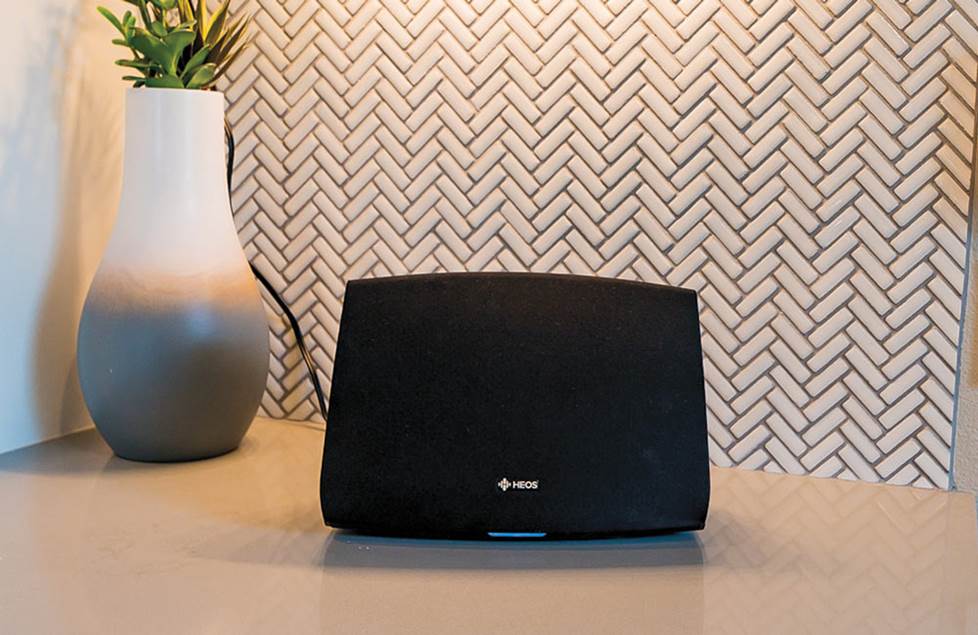 Denon's HEOS multi-room audio is a big part of the story. We sent Rob a HEOS 5 wireless speaker to thank him for sharing his story with us.
App-based control
Rob can control his entire audio system with his phone using the Denon HEOS app. He can easily bring up different songs in different rooms or play the same song throughout the house. He also has several Harmony remotes (recommended by Tony) for easy control in the rooms with video capability.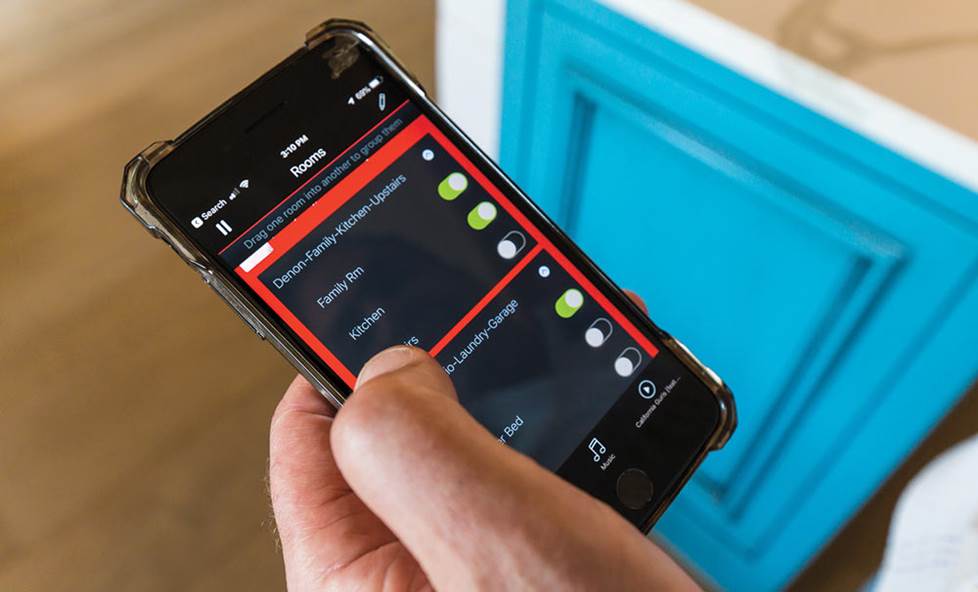 Rob can play music throughout the house using the Denon HEOS app on his smartphone.
He did it his way
Rob and his family have been in the house for almost a year now, and they're loving the system. In fact, we learned of Rob's story when he emailed us about how happy he was.
"I just wanted to share my gratitude, particularly for Tony," he wrote. "You saved me a bundle, and I'm really happy with my system."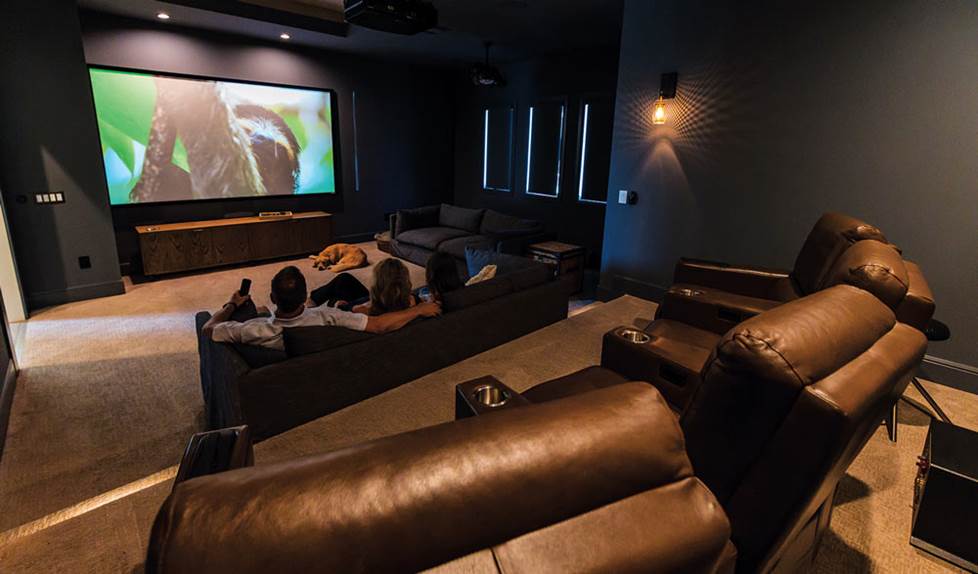 Rob and his family relaxing in the impressive media room, which features a 120-inch screen and 7.1-channel surround sound — and some really comfy chairs.