In a nutshell: Connecting a basic sound bar to your TV is easy. But what if you want to connect your cable box, Blu-ray player, and game console to your sound bar? We'll answer the following questions:
What cables do you need?
Which jacks should you plug them into?
Which settings will you have to change in your TV's audio menu?
Which sound bar settings will help you make the most of your new purchase?
The last time I hooked up a sound bar, about five years ago, there was practically nothing to it. I had it up and going in under five minutes.
When I went down to the Crutchfield Lab to set up one of the latest models, it was a different story. This thing worked like a home theater receiver, with connections for several A/V components and lots of different ways to play music. It took a bit longer to set up, but it was worth every minute.
You can still find a no-frills sound bar you can hook up and have working in no time flat—I'll cover those here, too—but having more options is a good thing.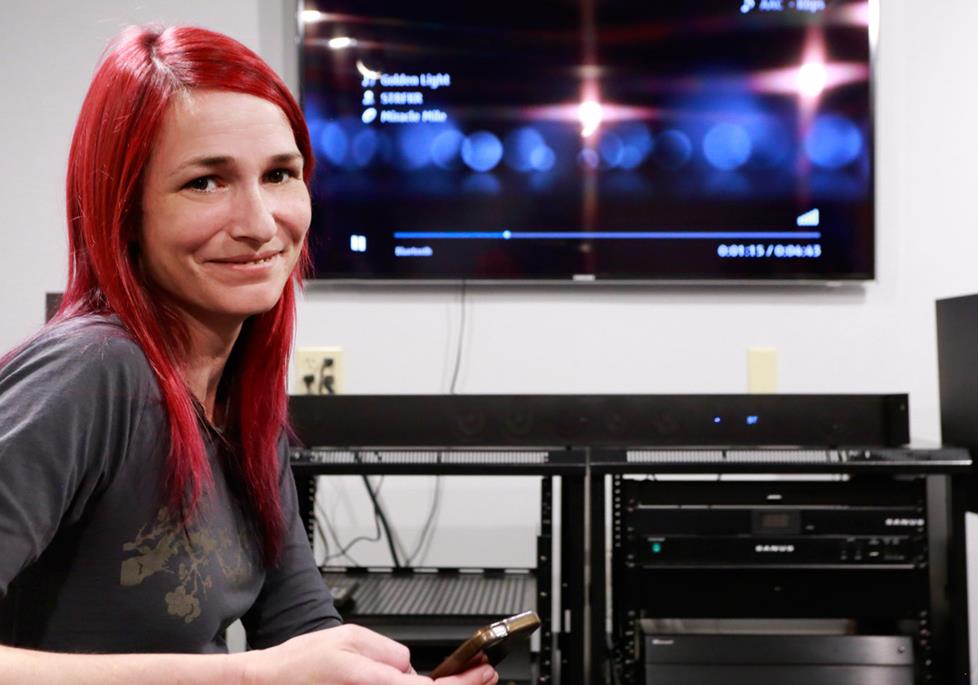 Now that I've gotten this sound bar hooked up, it's fun to see what it can do. Here I am taking advantage of the sound bar's Bluetooth connection to stream music from my phone.
The easy way: components connect to the TV
Are you connecting your cable box, Blu-ray player, game console, or other components to your TV? Then it's a snap to connect and set up a sound bar. The sound bar's role in this scenario is simply to sound better than your TV speakers. An optical digital audio cable transfers the audio signal from your TV to the sound bar. You continue to use your TV remote to switch sources.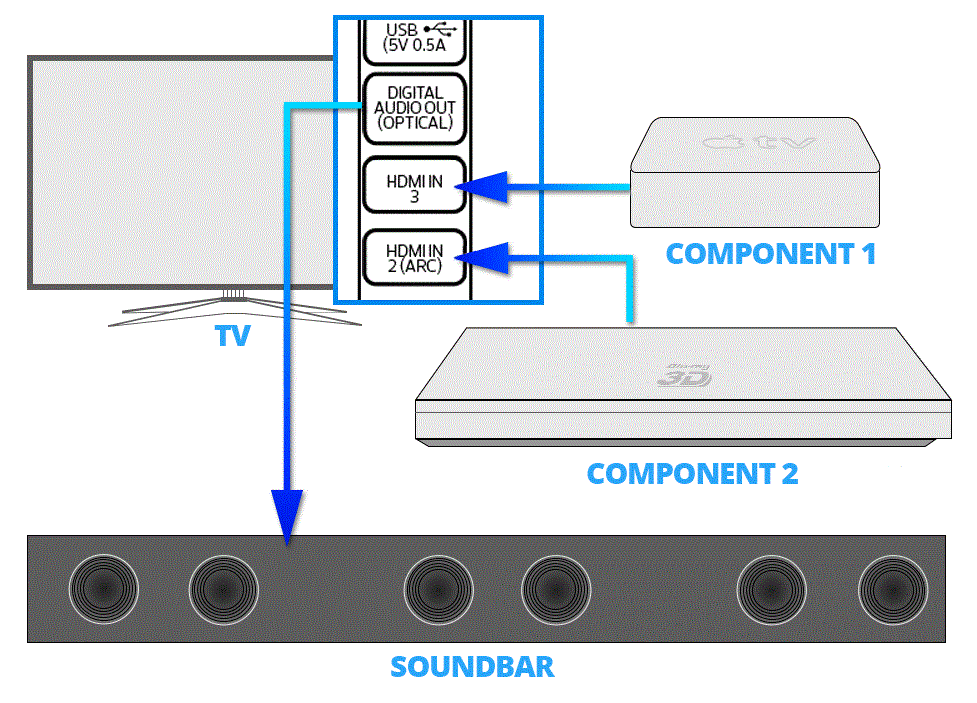 In this example, your TV has control of your input selection, and passes the audio signal to your sound bar.
Setup tips for optical digital connections
Deactivate your TV's speakers. From the TV audio menu, you'll either turn off the built-in speakers, or select "external speaker."
If your TV can send digital surround sound formats through the optical output, but your sound bar doesn't decode them, set the TV's digital audio output to PCM.
Scenario 2: components connect to the sound bar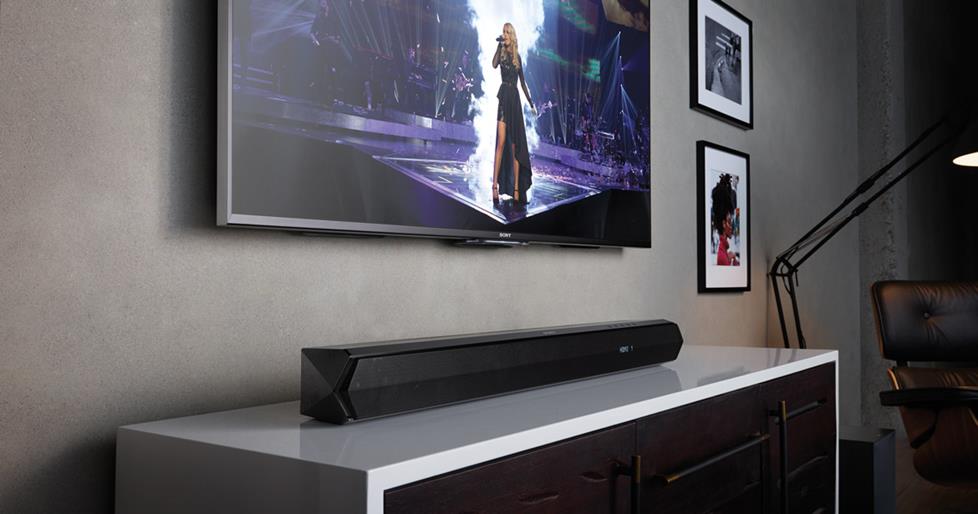 If your TV is wall-mounted and your sound bar sits on the furniture below, it makes sense to use your sound bar as the hub for your A/V components. You'll only have to run one cable to the TV.
If you choose to connect your components to your sound bar, installation will take a bit longer. The HDMI soundbar connections guarantee you the best sound quality from Blu-ray soundtracks and other multi-channel formats. (That's because many TVs can't send digital surround sound formats through the optical output.)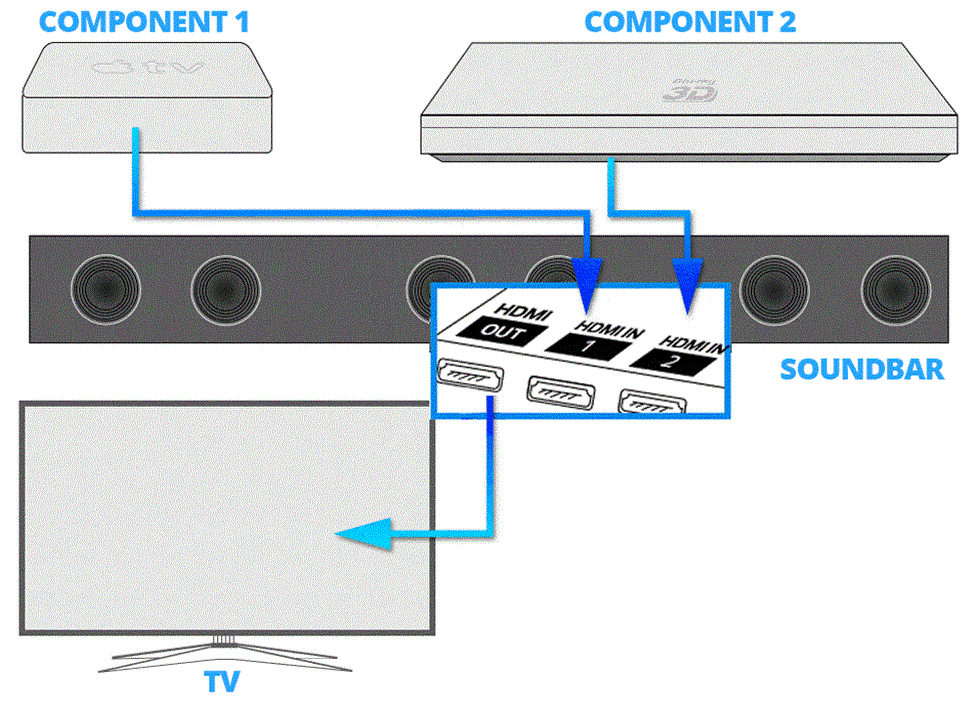 Here, your HDMI sound bar keeps control of your system's inputs, and passes the video signal to your TV.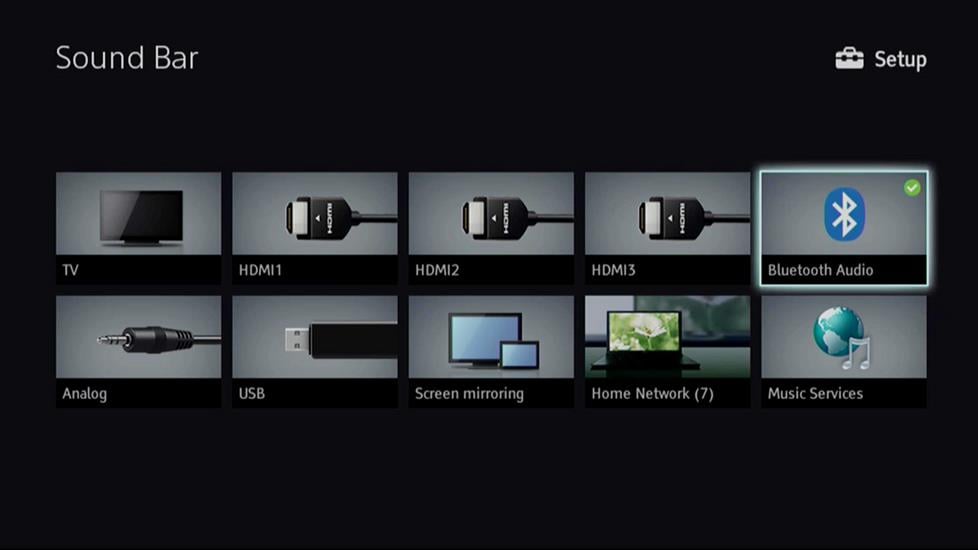 An HDMI connection carries both audio and video signals. It lets you view the sound bar's onscreen display
Setup tips for HDMI connections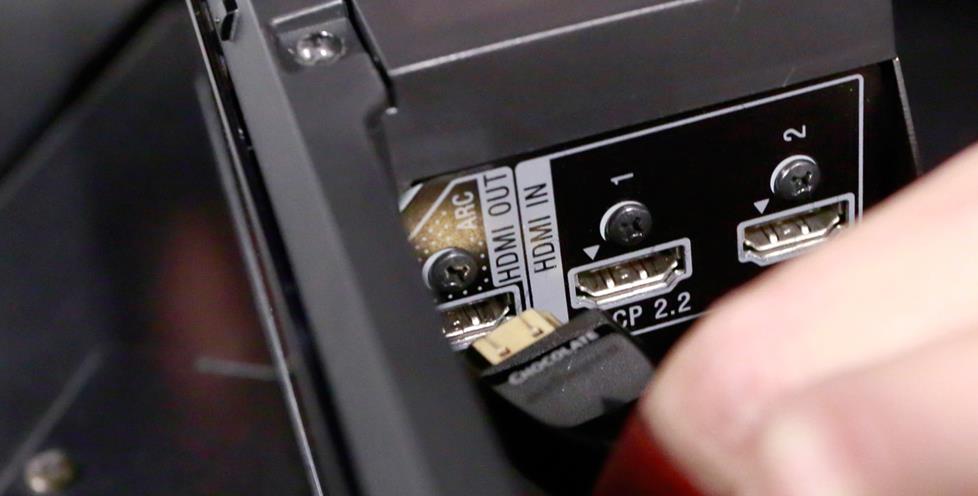 ARC (Audio Return Channel) lets you connect a sound bar to your TV with a single HDMI cable
If your TV and sound bar both have an HDMI jack marked ARC (for audio return channel), a single HDMI cable (version 1.4 or higher) is all you'll need. If your TV doesn't have an HDMI/ARC input, you'll need both optical and HDMI connections between the TV and the sound bar. You may have to activate ARC on your TV.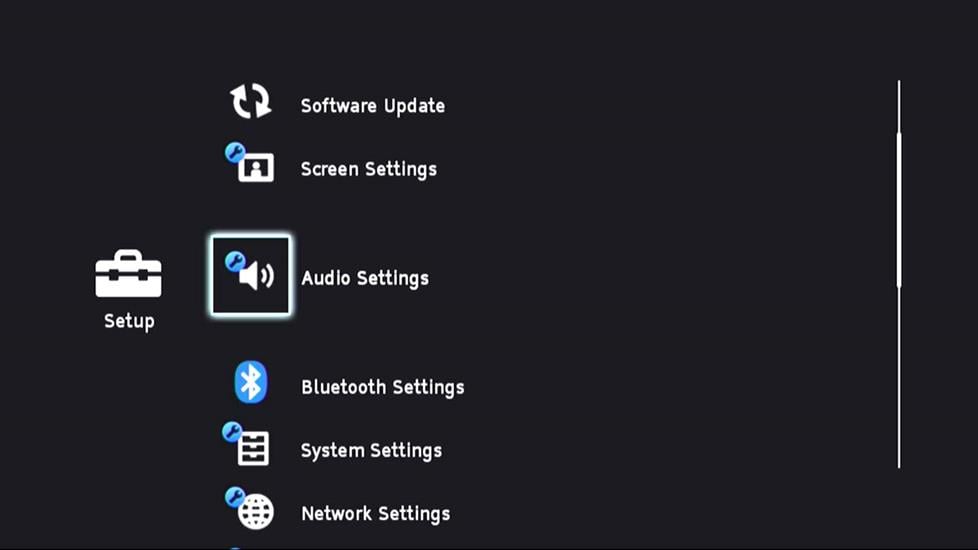 Some sound bars, like the Sony HT-ST9 I hooked up, offer an onscreen display to walk you through the setup process.
You're not quite done yet
Once you've connected the sound bar to your TV, it's time to complete the setup. Learn how to take advantage of all the features a sound bar offers. Let's start with the subwoofer.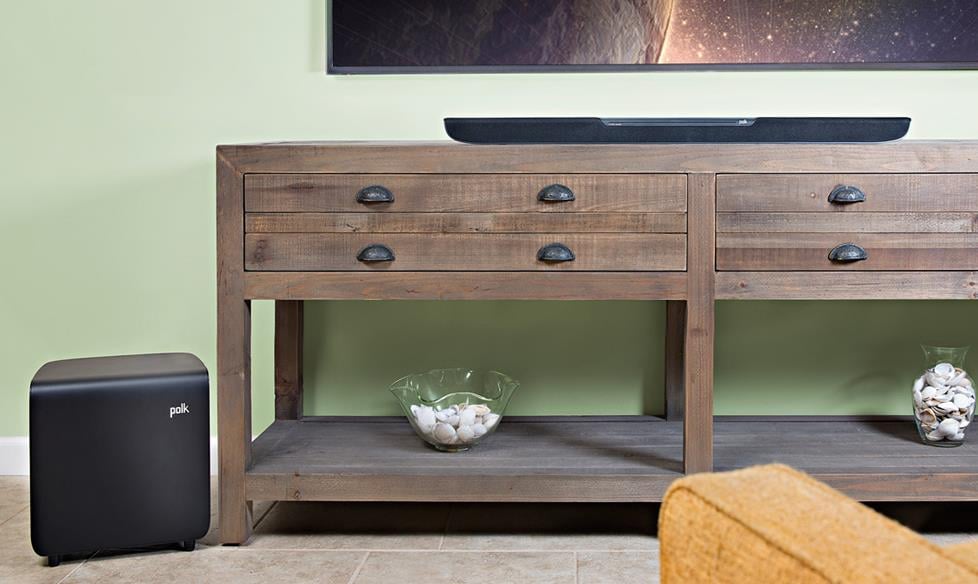 If your room setup is flexible, try placing the subwoofer in different locations to find the sound that's right for you.
Many sound bars include a wireless subwoofer to round out the sound. You just need to make sure the subwoofer is plugged into the wall and switched on. In most cases, the sound bar and its subwoofer are preset at the factory to work together, so the connection is automatic. With higher-end sound bar models, you may need to activate the subwoofer through the onscreen setup menu.
Wireless subwoofers can be placed just about anywhere in the room, within about 30 feet of the sound bar. You'll get more bass if you place the subwoofer against a wall or in a corner.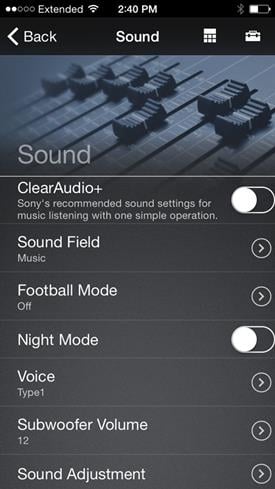 Some of today's sound bars offer a variety of useful listening modes and other settings to fine-tune the sound. You can use a remote control app on your mobile device to make the adjustments.
Cool tweaks for better sound
Sound bars don't just make your TV sound louder — they also add some adjustment options. These features help you get the most out of your sound bar.
You may find specialized processing modes for movies, music, games, and sports. These can really make the sound more engaging. Give them a try.
Do you have trouble hearing dialog over background sounds? Dialog enhancement makes spoken words easier to understand.
Sync settings remove any delay between the action onscreen and the accompanying sound.
Night mode keeps the volume from getting loud enough to disturb neighbors or family members when you're watching late night TV.
Compressed music enhancement makes MP3s and streaming music sound more full and natural.
Sound enhancements like these go by different names depending on the sound bar model. You can access them with the remote control that comes with the sound bar, or possibly from an onscreen menu or remote app.
Use Bluetooth for near-limitless listening options
Bluetooth® lets you stream any music you listen to on your phone or tablet to your sound bar. If you watch a video on your device, you can stream the audio to your sound bar.
Follow these steps to stream audio to your sound bar using Bluetooth:
Activate Bluetooth on your phone or tablet.
Select the sound bar as the device you want to stream to.
Select what you want to hear, and press play.
Some sound bars even let you transmit TV sound to a pair of Bluetooth headphones, or to a Bluetooth speaker in a nearby room.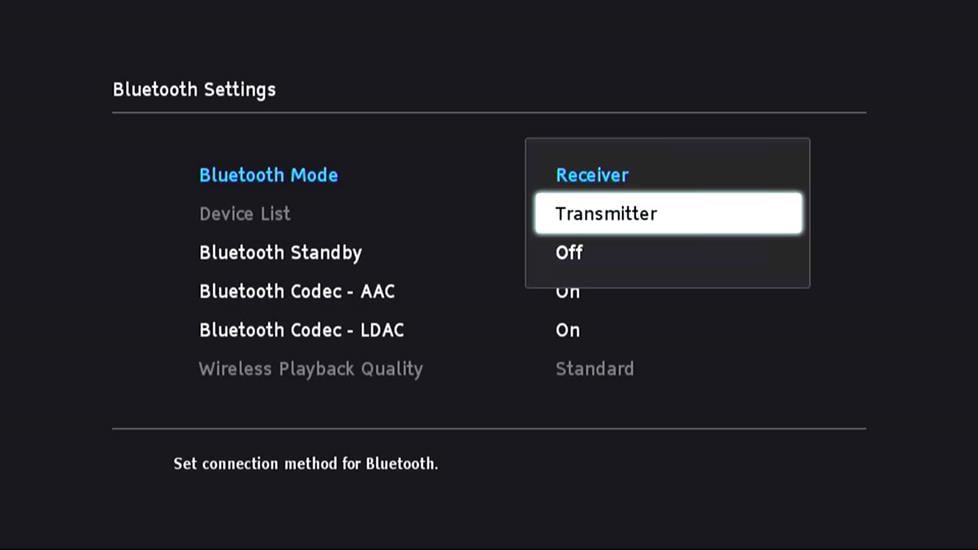 Screenshot of a sound bar's onscreen display showing Bluetooth transmitter option.
Follow these steps to transmit TV sound from a compatible sound bar to another Bluetooth device:
From the sound bar menu, designate the sound bar as a Bluetooth transmitter.
Select your Bluetooth headphones or Bluetooth speaker as the device to stream to.
Depending on the model, the sound bar may be muted when you transmit sound via Bluetooth to another device, or it may continue to play.
What does networking capability add?
With the sound bar connected to your network, you can stream from different online music services, and even your own PC. You'll also have access to quick firmware updates for your sound bar. Another cool aspect of networking capability is that some sound bars can work as part of a wireless multi-room music system.
Sound bars may offer both wired and wireless connections to your home network. The network connection setup will vary across models, but as long as the sound bar is connected to your router, the process is more or less automatic. Consult your sound bar's manual for specific setup information.
How do I control this thing?
For a basic sound bar without many advanced features, it makes sense to keep using your TV remote. With the sound bar connected via HDMI, you should automatically be able to use your TV remote to control volume. If you use the optical digital connection, just follow the instructions in the owner's manual to teach your TV remote to control your sound bar's volume.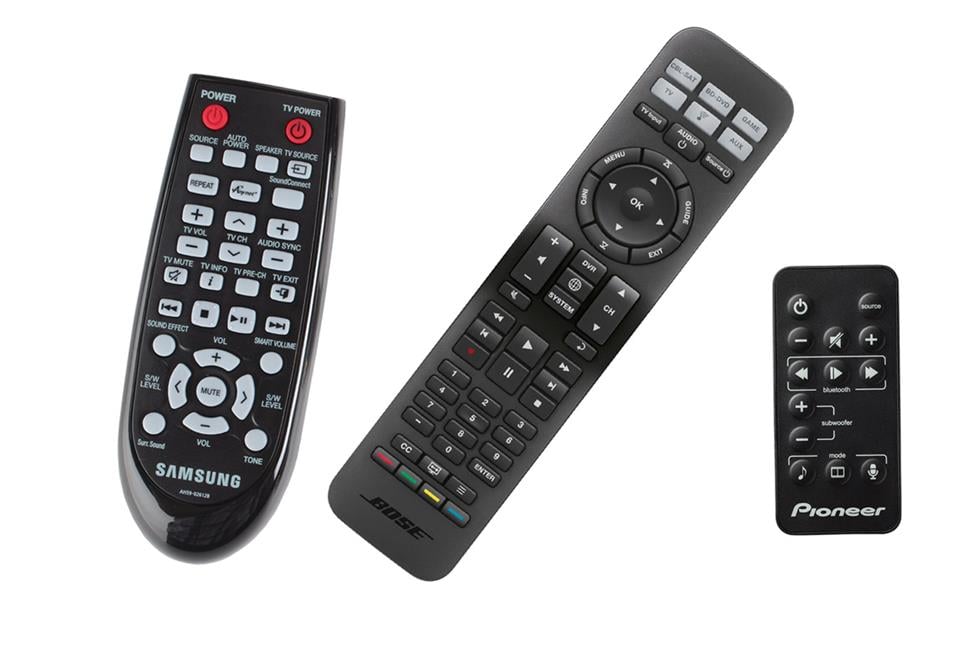 Here are three different examples of sound bar remotes, to give you an idea of the wide variance between models.
Since some sound bars have more advanced features than others, the remote controls that come with them are all different. A sound bar's remote control might let you adjust subwoofer volume, for example, along with other available sound tweaks. It may be as advanced as a receiver remote, with controls for source-switching.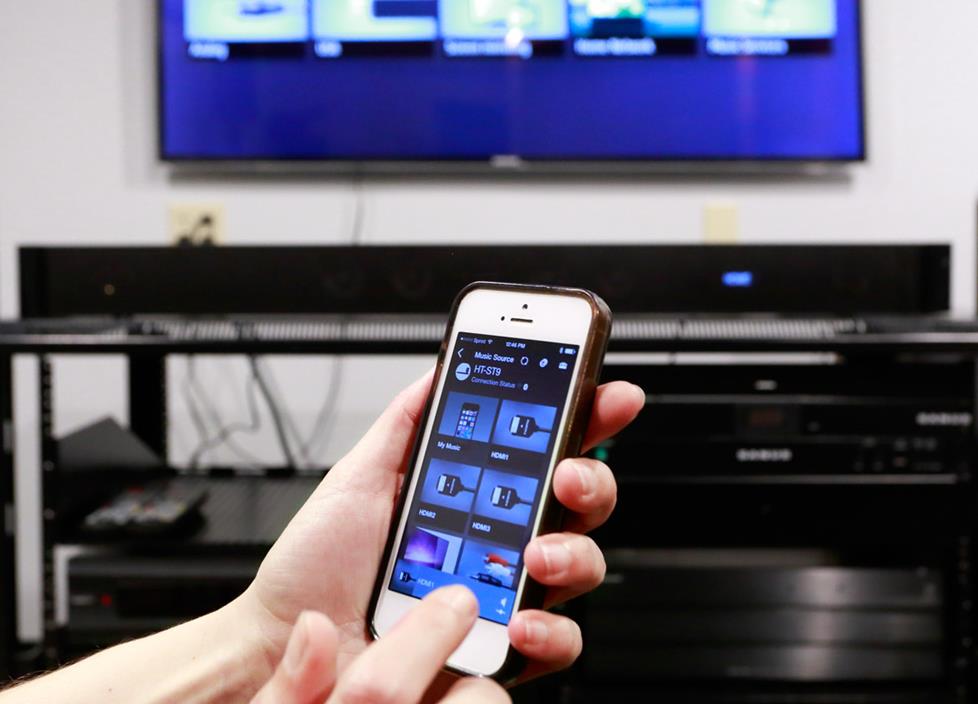 The menu screen on the Sony HT-ST9 remote app mirrors the options on the sound bar's onscreen display menu.
You may even be able to use an app on your phone or tablet to control your sound. Remote apps and sound bar remotes let you access settings you can't get to from your TV remote.