Best wireless surround sound systems
Four ways to get immersive sound without all the wires
In this article: Want the surround sound experience without the hassle of running and hiding wires for rear speakers? Consider these system options:
urround sound is an amazing experience that makes you feel like you're right there inside the action when you're watching movies, playing video games, and enjoying sporting events. But running wires to rear speakers can be a real hassle. Wireless surround sound systems give you all the gain with none of that pain.
We're going to show you four great ways to set up wireless surround sound, but first, let's answer a couple of frequently asked questions.
Can I use Bluetooth for surround sound?
Sorry, it's just not possible at this time. Surround speakers play a very specific part of a movie or TV show's soundtrack, and Bluetooth doesn't have enough bandwidth to handle the additional information. You can use them to enhance stereo sound, but that's about it.
What do you mean by "wireless?"
Keep in mind that the term "wireless" only refers to signal transmission without wires. Wireless speakers still need power, and nobody's figured out how to safely broadcast electricity (yet). There are some truly wire-free battery-powered speakers that need to be recharged regularly, but most still need to be plugged into a power outlet.
Now that we've cleared that up, here are four very convenient ways to create a wireless surround sound system in your home.
1. Receiver plus optional wireless rear speakers
Some Yamaha surround sound receivers let you use self-powered wireless speakers for the rear channels. Since 2018, their Wi-Fi receivers have used MusicCast to wirelessly transmit surround sound channels to compatible speakers.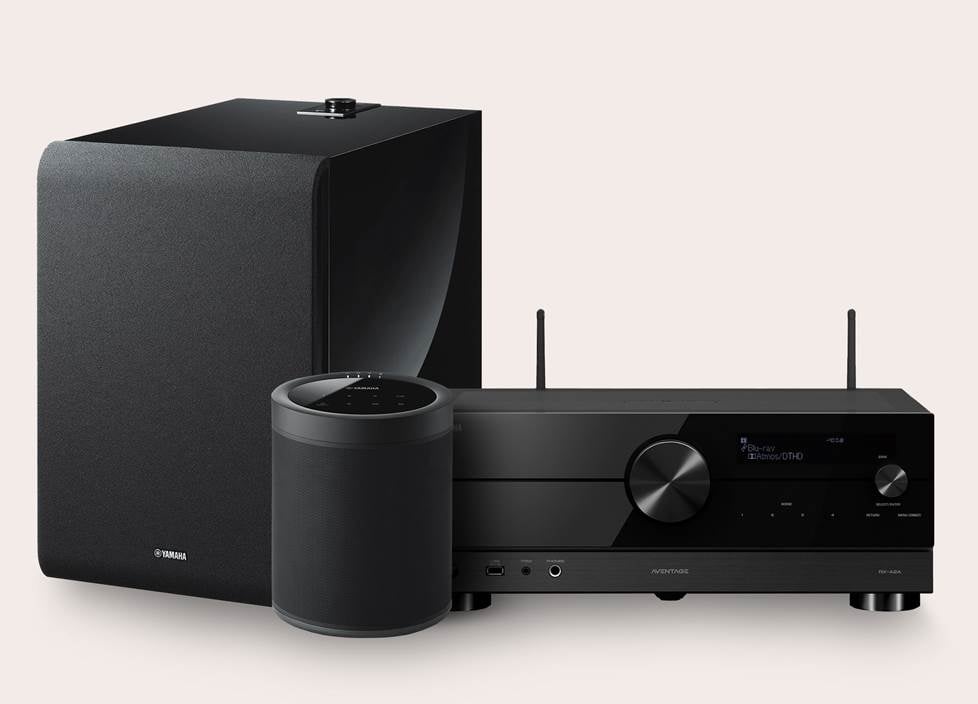 Select Yamaha receivers with MusicCast can be used with compatible speakers to build a wireless surround sound system.
You can get two MusicCast 20 speakers in a bundle. Then add a MusicCast SUB 100 for deep, clear bass.
The center, left, and right speakers still require wired connections. But those wires can be tidied up and even completely hidden with some basic cable management tricks.
2. Sound bar plus optional wireless rear speakers
There are plenty of high-quality sound bars with wireless surround speakers included, or with optional wireless surrounds. Below you'll see a few of our favorites. Check out our buying guide for more information on what to look for in a sound bar.
Sonos
You can build a Sonos system to your own specifications, because each modular component connects wirelessly to the pieces you already have. That makes it ideal for building a wireless surround sound system.
Start with a Sonos Arc or Sonos Beam to provide the front left/right and center channels. Each sound bar can then be paired wirelessly with a Sonos Sub to create a 3.1 home theater system. Add a pair of Sonos One SL speakers as wireless surrounds, and you've got a full 5.1 system for wraparound sound. We've bundled some Sonos systems for you to eliminate the guesswork.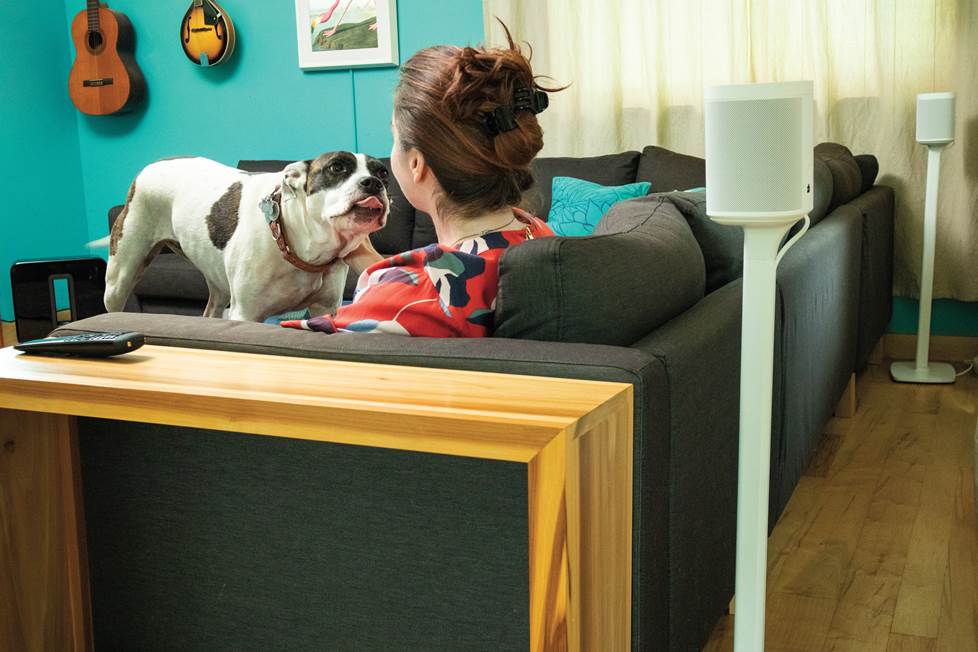 Speakers like the Sonos One can serve as wireless rear speakers on movie night, and also bolster your whole-home music-playing system.
Amazon Alexa and Google Assistant are built into these systems, so you can play music, ask for weather and traffic updates, create a shopping list, set reminders or alarms, and control connected smart home devices like lights and thermostats — all with your voice.
JBL Bar 9.1
The JBL Bar 9.1 is the only wireless surround sound system that offers truly wire-free battery powered surround speakers. Two surround sound speakers detach from the sound bar and can be placed wherever you like. Re-attach them to the bar when you're finished watching or playing, and they'll recharge automatically.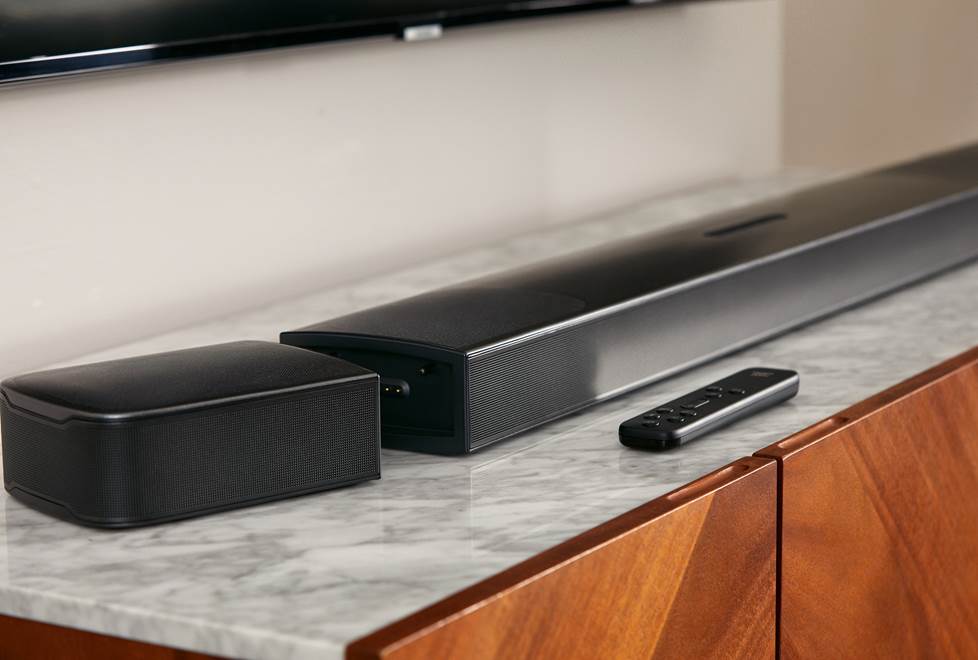 The Bar 9.1's battery-powered rear speakers recharge when connected to the sound bar. A full charge gives you about 10 hours of surround sound.
As far as sound goes, JBL always knows how to pack the bass. The subwoofer is no exception. Meanwhile, the sound bar is powerful enough as a center, left, and right channel to bring the soundtrack and accentuate the dialogue.
3. Klipsch Reference Wireless system with WiSA technology
Klipsch created a system called WiSA (Wireless Speaker & Audio) in answer to customers' frequent requests for a truly wireless surround sound system. An Axiim LINK wireless home theater transmitter is the heart of the system. It uses a USB cable to connect to compatible sources, including: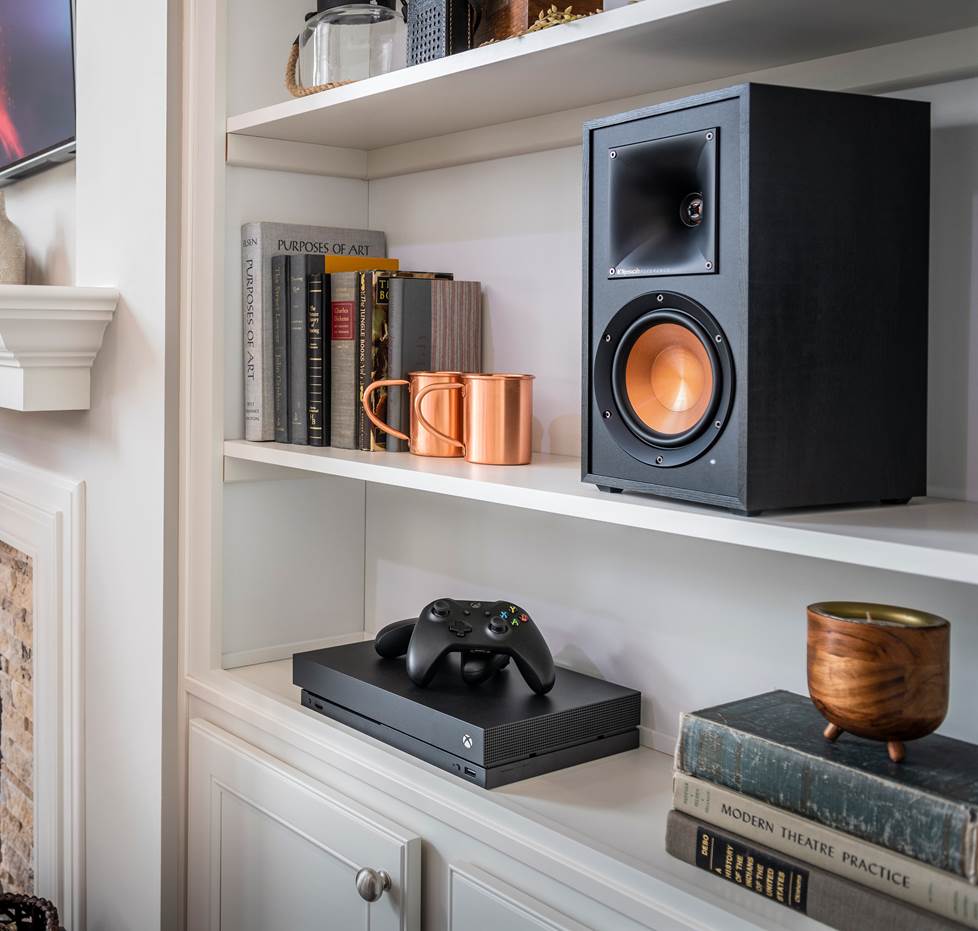 In a WiSA-enabled system, sources plug into a wireless transmitter, which sends signal to specially-equipped Klipsch speakers.
The transmitter broadcasts wirelessly to all of the WiSA-enabled speakers, including center channel and front speakers, surrounds, and subwoofers. Each speaker must be plugged into a wall socket or power protection, but requires no speaker wire (non-WiSA Klipsch speakers can't be integrated into the wireless system.)
The Axiim LINK HD does automatically recognize and connect to new wireless speakers as they're added, so you can start with a modest Klipsch Reference Wireless 3.0 System and add more WiSA-enabled speakers and subwoofers whenever you're ready to level up.
If you're already convinced, jump straight to the Reference Wireless 5.1 System, and have the immersive, wire-free movie night or video game experience you've always dreamed of.
4. Headphones with virtual surround sound
It's pretty common for gamers to wear a headset while playing, to facilitate communication. But headphones can also be used to enhance late-night TV watching and improve clarity for hearing-impaired viewers. Some manufacturers are aiming to make the experience even better, cleverly simulating surround sound in some headphone designs.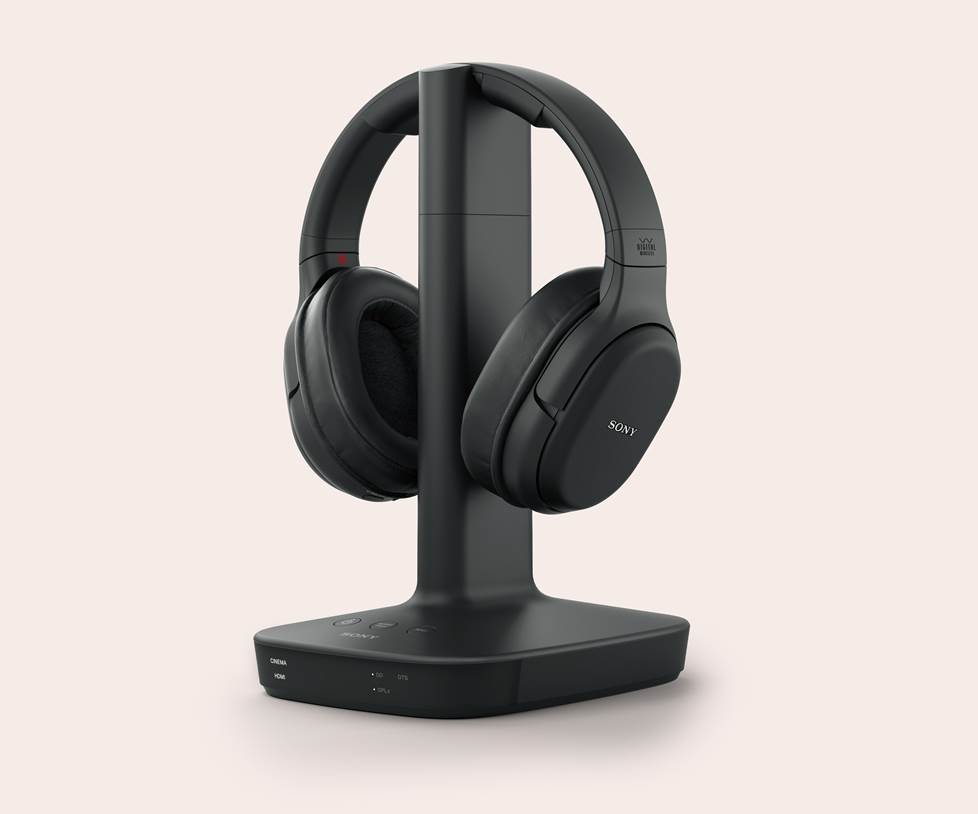 These Sony headphones allow you to hear clear dialogue and listen without disturbing others, and they feature immersive simulated surround sound effects.
Sony TV headphones
Sony WH-L600 headphones feature simulated 7.1-channel surround sound with Dolby® Digital and DTS® decoding. The included docking station that charges the headphones when they're not in use, and it houses an RF transmitter with truly impressive 98-foot wireless range. The base accepts HDMI ARC and optical digital input.
Sony also dialed in four listening modes for specific use cases: Voice, Theater, Games, and Sports.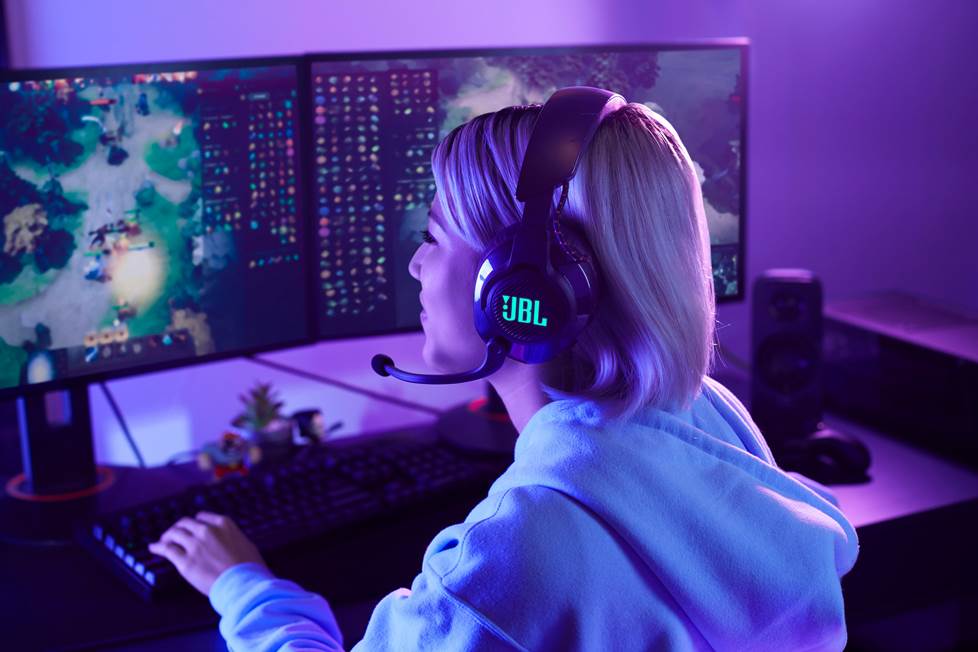 JBL Quantum headphones are designed to enhance gaming, and some add simulated surround sound to the experience.
JBL Quantum
JBL's Quantum 600 and Quantum 800 headphones are designed for gamers — the built-in microphone might give it away. A USB transmitter plugs into your gaming console or computer and sends virtual surround sound to the wireless headphones. With no wires in the way, you can flinch when startled, lean into the turns while racing, or walk away in disgust when the final boss beats you again.
And JBL offers downloadable QuantumSURROUND software that offers surround sound decoding for up to 7.1 channels, provides directional and spatial awareness cues, and customizes the sonic experience based on your head size and body height. That's pretty cool.
Connect with a Crutchfield Advisor
Have questions about choosing the right equipment for your wireless surround sound system?
For one-on-one shopping advice, contact us today. Free lifetime tech support is included with every order.