In this article: tips on choosing the right stereo speakers for your home. What size should you get? How much should you spend? How should you position them? We'll cover all of these questions and more to help you choose the best speakers for your system.
There are few things more enjoyable for me than listening to music. There's just something magical about firing up a playlist, and letting my favorite songs transport me to an imaginative inner landscape.
Part of what makes my listening experience so rewarding is that I have a speaker system that's well-suited for my room and taste in music. This aim of this guide is to help you achieve the same in your home.
Along the way we'll look at some real-world examples of how you might approach your new system. Have questions as you're reading? Give one of our expert Advisors a shout.
What size speakers should you choose?
You'll want your new speakers to be a good sonic match for your space. For example, a large open living room with a tall ceiling is an excellent candidate for floor-standing speakers. Floor-standing speakers offer big, natural sound with solid bass thanks to their large acoustic chambers.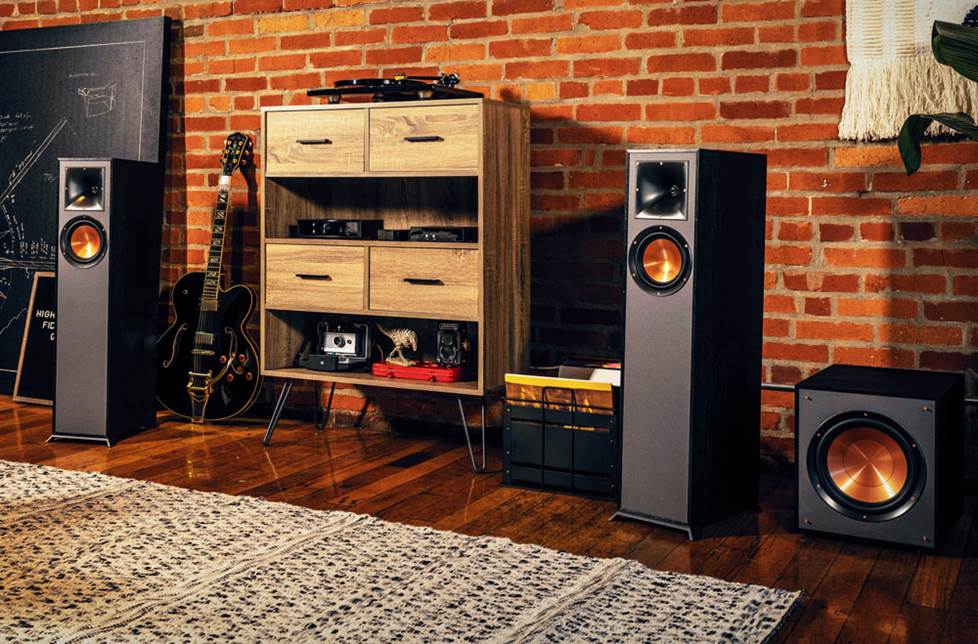 Have a large room? Floor-standing speakers deliver big sound, and can add visual pop to your décor. Depending on how much bass you like, you may or may not want a separate subwoofer.
If this system is going into a smaller room — say your home office or bedroom — a pair of bookshelf speakers might be a better fit. Bookshelf speakers generally use the same tweeter and mid-bass driver as a floor-standing model of the same series. The key difference is placement flexibility. Many bookshelf speakers can be placed on stands, mounted to the wall, or put on top of a piece of furniture.
Bookshelf speakers don't play as deeply as larger speakers. If you love hard-hitting bass with your music, consider adding a powered subwoofer to your system to round out the low end.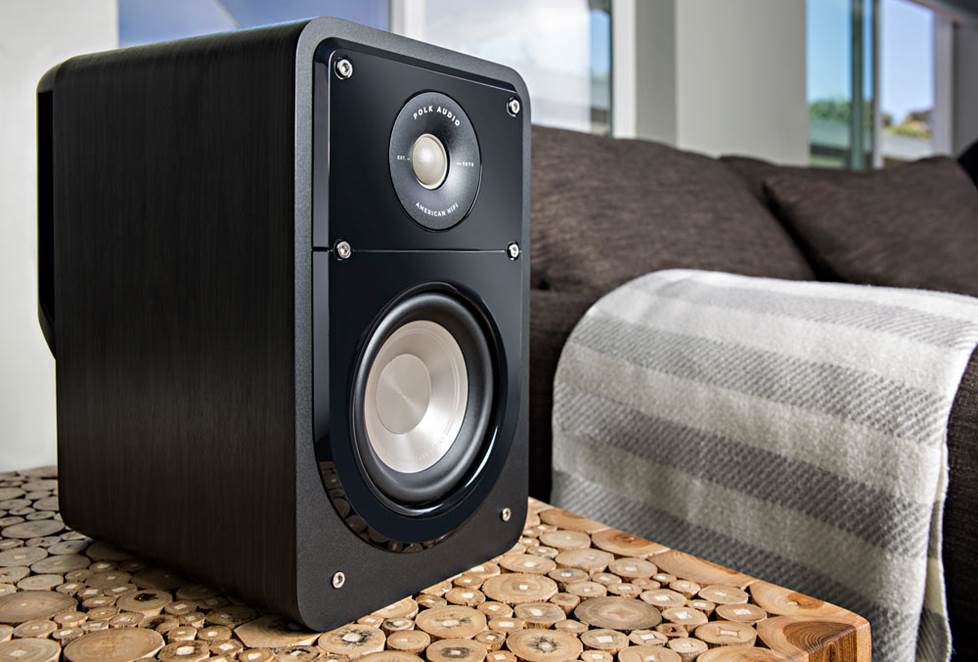 Compact bookshelf speakers are perfect for smaller rooms where space is at a premium.
What's your listening style?
My family isn't hip to me blasting music super loudly when they're around. So when I have the house to myself, I love to crank it up. That's part of why I have large tower speakers in my living room — even though I don't always "listen loud," the option is there when I want it.
On the other hand, you might prefer to listen at more moderate levels, perhaps even as background music while you do other activities. In my home office I have a pair of compact bookshelf speakers since I listen at relatively low levels there. For that system, large speakers would have been overkill. Give some thought to how you'll listen to your system. This will help you avoid over- or under-buying.
Which specs really matter?
We've all made purchases by sifting through feature filters, plugging in a price ceiling, and sorting by customer reviews. But how do you decide on your best option when you're looking at dozens of speakers in your price range that each get excellent reviews? That's where comparing specs is handy. Here are the most important to consider:
Frequency response
A speaker's frequency response — measured in Hertz (Hz) — indicates the range of tones it can produce. The first number tells you how low the speaker plays; how deep its bass goes. The second number indicates the upper limit of the speaker's tonal range (high frequencies). The wider the frequency response, the fuller the sound a given speaker can produce.
Sensitivity
A speaker's sensitivity rating tells you how effective it is at converting power into volume. The higher the rating, the louder your speakers will play with a given amount of power. Sensitivity is often measured by driving a speaker with one watt of power, and measuring the loudness in decibels (dB) one meter away.
The chart below illustrates that just a few dB in sensitivity can make a big difference in what you hear. A speaker with a sensitivity rating that's only 3 dB higher than another speaker's only needs half as much power to deliver the same amount of sound.
If you have a low-powered amp, look for speakers with high sensitivity ratings (90 dB and above) to get the most out of your system.
Speaker
Sensitivity rating
Power needed
to produce a given volume
Speaker A
85 dB
100 watts
Speaker B
88 dB
50 watts
Speaker C
91 dB
25 watts
Power handling
You'll see a recommended power range on most of the speakers we carry. This gives you a sense of how strong your amp should be. The lower number indicates the minimum wattage required, and the higher number tells you the maximum wattage the speaker can handle for an extended time.
Impedance
A speaker's impedance indicates the amount of electrical resistance that it presents to an amplifier. Like power ratings, impedance can be a little tricky, because while playing music a speaker's actual impedance constantly fluctuates. For the sake of easily comparing models, speakers are usually given a single nominal impedance rating.
It's worth mentioning that low-impedance speakers (4 ohms) can cause problems with receivers or amplifiers that are not designed to deliver large amounts of continuous current. Check your amplifier's specs to make sure it's compatible with the speakers you're considering.
Speaker materials
A speaker's drivers can be made from a variety of materials, such as metal, paper, plastic, and rubber — each with its own sonic properties. For example, tweeters made of softer materials, such as silk, tend to have smooth sound.
Most manufacturers choose driver materials that offer a good balance between light weight (for more efficient movement) and strength (for clearer sound without distortion). Premium materials generally yield better sound than their lower-cost counterparts.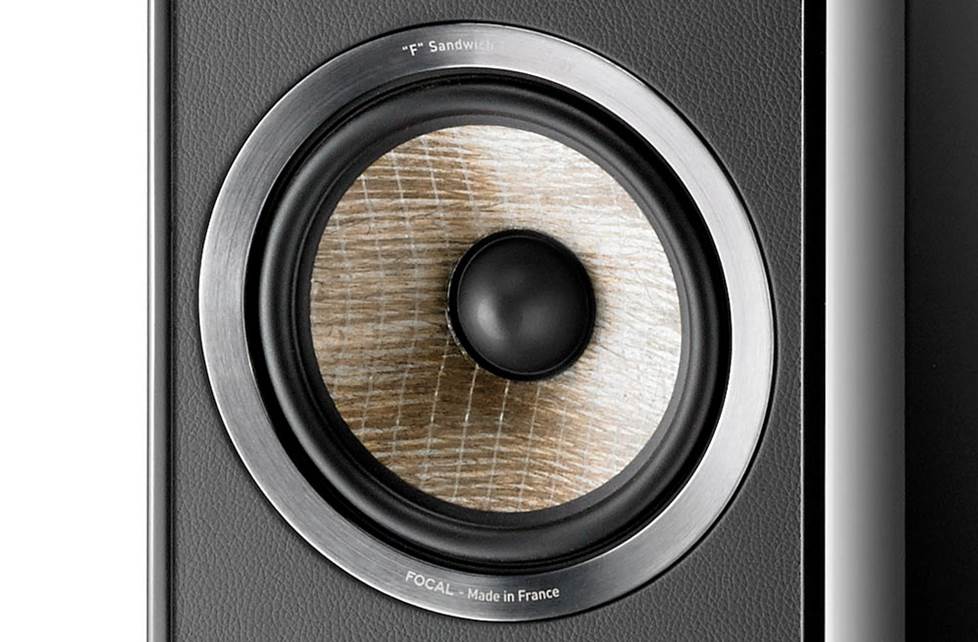 Focal uses a unique woven flax fiber woofer in many of their speakers to create warm, natural sound. A premium driver design like this one is something to look for when shopping.
How much should you spend on speakers?
One nice thing about stereo speakers is that there are great-sounding choices available for most any budget or space. Industry stalwarts like Polk Audio and Klipsch offer reasonably priced, high-performance bookshelf and floor-standing speakers that get phenomenal reviews from our customers. A few hundred dollars goes a long with these and other value-packed brands.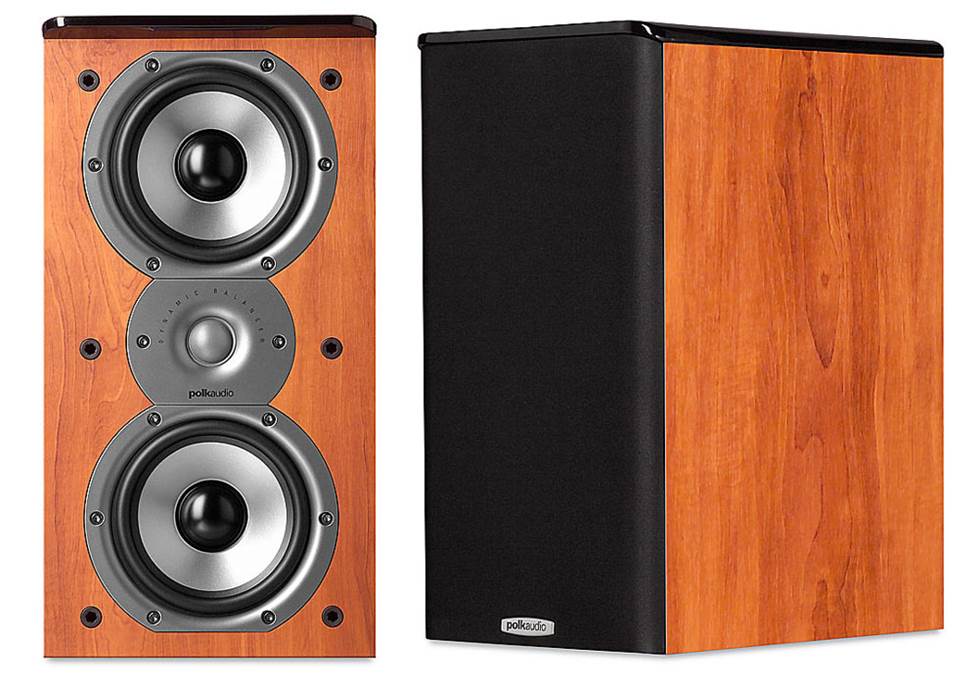 The Polk Audio TSi 200s are well-made and sound great, making them one the best bookshelf speaker values around.
If you have a flexible budget and want the best of the best, consider an upper-echelon brand. Elite stereo speakers use the finest materials available to create as pure a listening experience as possible. They also sport impeccably built cabinets and furniture-grade finishes.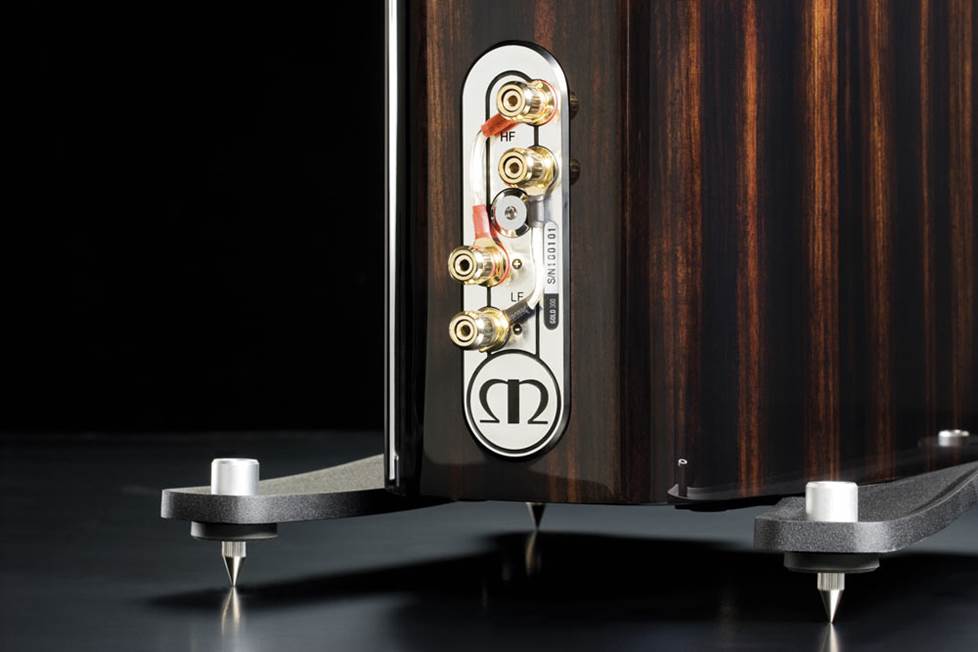 Meticulous attention to build quality — like heavy-duty outrigger feet and gold-plated speaker terminals — help make Monitor Audio's Gold 300 one of the finest floor-standing speakers we offer.
Mapping out your budget
While you're planning out your new system be sure to budget for amplification, as well as cables and wire. You want to make sure you have everything you need for your new speakers to shine.
In The Complete Guide To High-End Audio, industry guru Robert Harley makes a case for putting about the same amount of money into your amplification as you do your speakers. A high-quality "front end" means that your speakers are reproducing a strong, clean signal. He points out that if you have low-quality amplification, really nice speakers are only going to reveal the flaws in the signal, and could end up leaving you disappointed. It's much better to have a high-quality amp and budget-oriented speakers than the other way around.
Give us a shout if you have any questions about matching up speakers and amplifiers together. We're happy to give you a free personalized recommendation that best suits your budget, room, and listening preferences.
Get the most out of your new speakers
Half of getting great sound from your speakers is proper placement and setup. Their location within your room makes a big difference in terms of how they'll sound. Check out my article on stereo speaker placement for tips on positioning.
Making the right connection with your amp is important too. Steve's speaker wire guide offers insight into choosing the right wire for your system.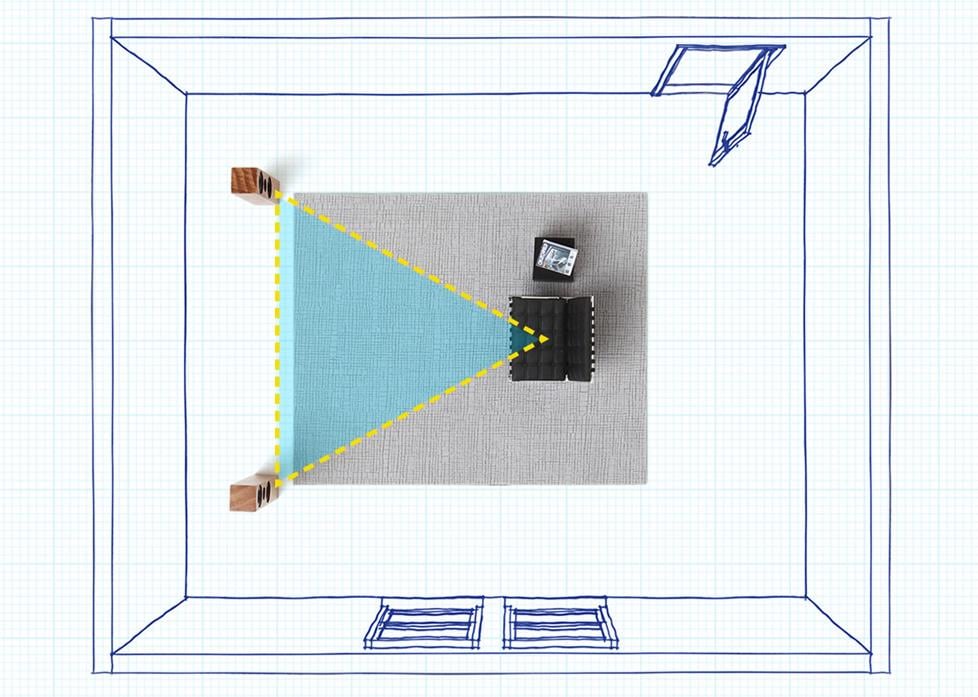 Want to create a "sweet spot" for your system? Read my placement tips on how to get the best sound out of your speakers.
What type of amplifier should you use?
There are lots of different ways to power your stereo speakers. For a budget-friendly system, consider a stereo receiver, which combines amplification with source control and an AM/FM tuner. For higher-end systems, I recommend an integrated amp or power amp for the best sound.
As I touched on earlier, the sensitivity of your speakers is an important factor when choosing your amplification. Highly sensitive speakers, like Emily's Martin Logan LX16s, produce excellent volume with 40 or 50 watts of power.
Many higher-end (and less sensitive) speakers need a lot of power to sound their best. You'll want 100 or even 200 high-quality watts driving these speakers. Our integrated amplifiers buying guide gives a great overview of matching speakers and amps together.
Want to skip the amp all together? Consider powered speakers
So far, all of the speakers we've discussed require an external amplifier for power. We also carry a nice selection of powered stereo speakers which have built-in amplification.
Powered stereo speakers are ideal for the music-loving minimalist who wants great sound without needing a whole bunch of gear. Our powered speakers buying guide walks you through the options.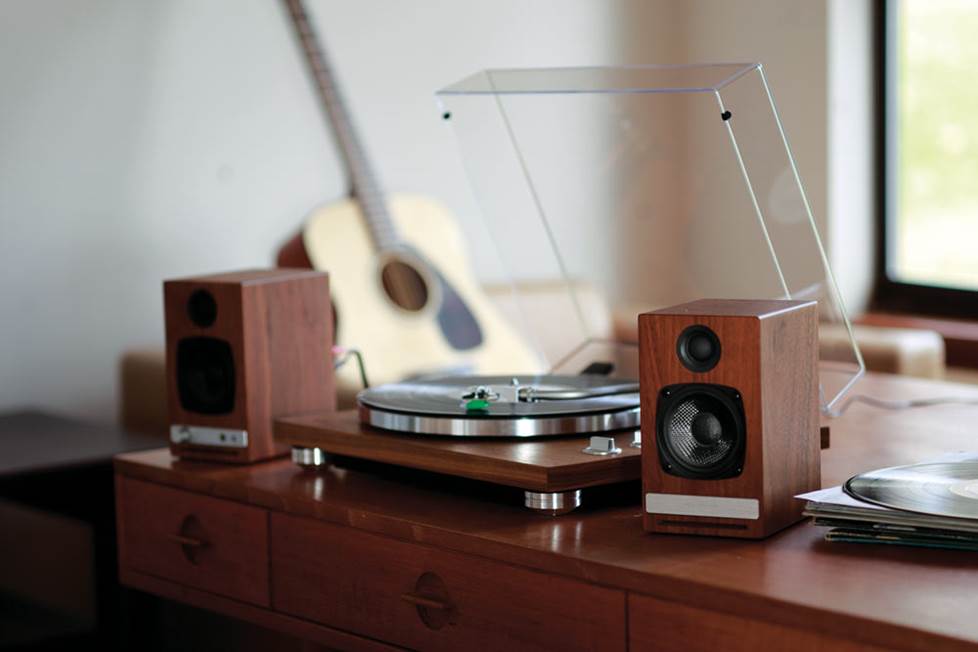 Powered stereo speakers provide excellent sound without taking up a lot of space in your room.
Get free personalized advice from a music enthusiast
Have questions about home stereo? Our expert home stereo Advisors know the gear inside and out. Contact us today. For some home stereo system design tips, read our budget audiophile playbook.