Budget audiophile playbook
How to get great home stereo sound without spending a fortune
Raise your hand if you love music. Keep it up if you listen a lot and pay close attention.
Why do you listen intently while others are content to let music serve as background sound? For one simple reason. Because the sound of a great performance makes you feel good. That's why you care about the quality of your stereo gear. And that's enough, in my opinion, to qualify you as an audiophile.
This article will give you a budget audiophile game plan. You'll find that you can get a great-sounding stereo system at an affordable price.
Headphones — the gateway drug
Looking for an audiophile sound system that's simple, portable, and cost-effective? Want a system that gets loud without bothering housemates or neighbors?
What you need is a set of audiophile-grade headphones.
With a good set of headphones, you can enjoy excellent sound for a fraction of the cost of a comparable speaker-based system. Even if you add in the cost of a companion headphone amplifier, you can stay within a reasonable budget.
With headphones, you get the same great sound no matter where you listen. Room acoustics and speaker placement don't come into play.
To get started, read Jeff Miller's headphones buying guide. Jeff is Crutchfield's headphone guru. Few other people on the planet have listened to more headphones than Jeff has.
Filling a room with great sound
Headphones are great, but they're not for everyone or every occasion.
Like a bottle of fine wine, music is better when it's shared. But even if you're listening by yourself, there's something to be said for the sensation of soundwaves moving around a room.
Play your speakers loud enough, and you'll feel the bass hit you in the gut — like it does at a live show. You can't really get that from a set of headphones.
How to set your budget
Which comes first, the budget or the wish list? My advice is to start by figuring out what you want.
You may discover that your ideal setup is out of reach for now. Don't give up. Maybe you can work your way toward your dream system by upgrading your current kit one piece at a time.
How would you describe the sound you're looking for in a stereo system? If you're struggling to put it into words, please read our article about how to listen. Learn what pleases your ear and how to talk about it.
Once you have that frame of reference, you can better understand product descriptions and reviews. You'll be able to confidently narrow down your choices and set a meaningful budget.
One way to audition a lot of different speakers is to spend some time with Crutchfield's SpeakerCompare™ tool. (Hint: for fair comparisons of sound quality, use the "equal volume" setting.)
ELAC Debut 2.0 B6.2

Klipsch Reference Premiere RP-600M II
Powered by .

Crutchfield's patented virtual audio technology.
If you stopped to compare those two, which did you prefer? Both the ELAC Debut 2.0 B6.2 and the Klipsch Reference Premiere RP-600M II are among our top bookshelf speaker picks for budget audiophiles.
Why room size matters
Big floor-standing speakers produce a lot of bass. Too much for a small room? Maybe.
If the bass sounds muddy or overpowering, you can compensate by moving your speakers away from the wall. It also helps to move your seat away from the back wall. In a small room, that may not be possible. You don't want the speakers or furniture to get in the way of your foot traffic.
That's why it usually makes more sense to go with bookshelf speakers in a small room. You'll be sitting pretty close to them, and the closer you sit, the stronger the bass will feel.
In a large room, you'll probably be sitting farther away from your speakers. Even if you don't want to play your music super loud, bigger speakers might be a better choice. They'll effortlessly fill your room with well-balanced sound.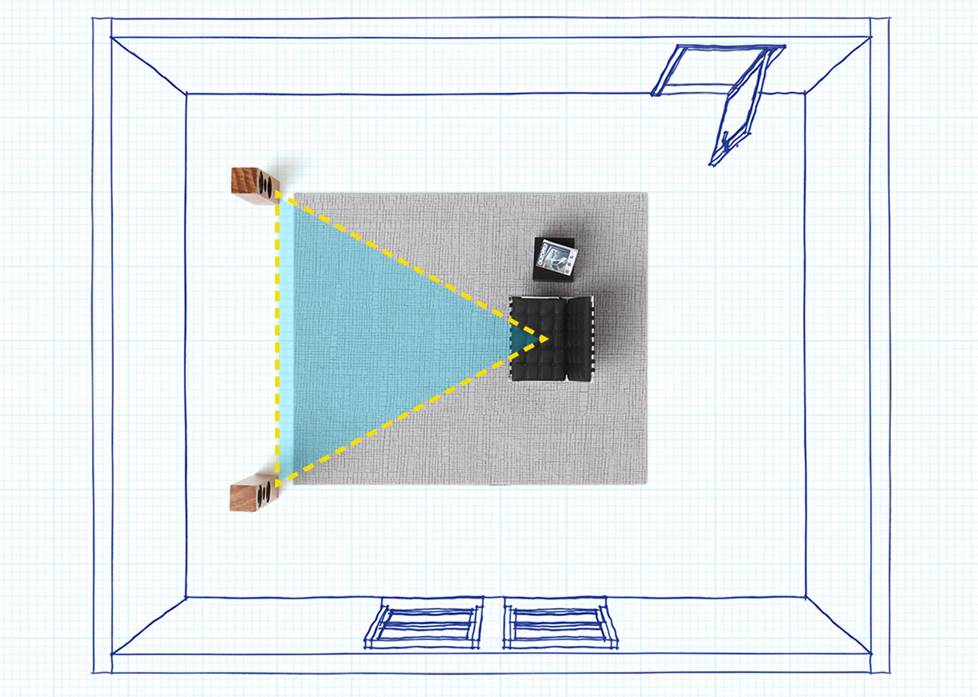 The way you position your speakers and listening seat can make a big difference in the sound you hear. Your speakers should be the same distance from you as they are from each other. Pulling the speakers away from the wall a bit can help. It's best if your seat isn't up against a wall, either.
How to match speakers and amps
You want an amp with enough power to bring out the best in your speakers.
To help you successfully match amps and speakers, we provide a recommended power range for most of the speakers we offer. My advice is to get an amp with power that's closer to the high end of the range. You'll have ample current to make your speakers sing, without driving them into distortion.
Follow this advice and you'll have plenty of "reserve power" for the dynamic peaks in your music. The ability of a system to faithfully reproduce both the quiet and the loud passages is a big deal for audiophiles. It's a huge component of a system's thrill factor.
Now you don't want to risk damaging your speakers with too much power. But too little power is risky, as well.
The danger with an amp that has too little power is that you'll turn it up too high, sending a "clipped" (distorted) signal to your speakers. And that can fry speakers just as surely as a signal that's too strong.
Look at a speaker's sensitivity rating. That tells you how easily it converts power into volume. The higher the sensitivity rating, the louder your speakers will play when fed a given amount of power.
A few decibels of sensitivity make a big difference. A speaker with a sensitivity rating just 3 dB lower than another speaker needs twice as much power to deliver the same volume. What's the takeaway? Mating a low-power amp with low-sensitivity speakers is a recipe for disappointment.
Speaker
Sensitivity rating
Power needed
to produce a given volume
Speaker A
85 dB
100 watts
Speaker B
88 dB
50 watts
Speaker C
91 dB
25 watts
Speaker impedance issues
You should also take a look at the impedance of the speakers you're considering. If you're in love with a pair of 4-ohm speakers, make sure your amp is capable of driving that low-impedance load.
Low-impedance speakers demand more current from an amp, especially when you play bass-heavy music at high volume. If the amp can't meet the current demand, it might overheat. Or it may protect itself by shutting down or limiting current output.
Be careful if you plan to use both the A and B pairs of speakers simultaneously. Check your owner's manual to make sure it's safe to do so with the speaker you have hooked up.
Most of the integrated amps Crutchfield offers can safely drive a 4-ohm load. A few models can go even lower than that.
System Design — old school vs new school
A traditional home stereo system is built around a receiver or integrated amplifier (or maybe a separate amp and preamp). Speakers and music source components connect to the central hub.
This old-school approach is still going strong. It gives you the most flexibility and a wider range of choices. If you want tons of power and big speakers, it's the way to go. But it does involve a lot of black boxes and a lot of cables.
Lately, a new school of system design has emerged, thanks to advances in amplifier design and the advent of high-quality online music streaming. The foundation of a new-school system is a pair of powered stereo speakers.
Powered speakers have their own built-in amps, as well as a variety of connections for music sources, both wired and wireless. This simple, space-saving, aesthetically-pleasing approach to system-building has become super-popular.
Powered speakers are especially attractive to people who live in apartments or tiny houses and to those who are likely to move. Anyone who gets most of their music from a phone or computer will love powered speakers. If you only have one or two music sources, do you really need a 20 lb. receiver that has six or seven inputs?
Let's look at an example. The Klipsch Reference R-15PM powered speakers give you all of the sonic boldness of the non-powered Reference Series models. And they have inputs to accommodate a CD player, turntable, and computer. You also get Bluetooth, so you can easily stream music from your phone or laptop. If you'd like to incorporate these speakers into a whole-house audio system, you can connect a Wi-Fi streaming device, such as the Sonos Port or Bluesound NODE.
Upgrading your system one piece at a time
For some, the purchase of a stereo system is a long-term investment. They aren't inclined to make changes until something breaks or wears out.
For many audiophiles, a stereo system is more like a work in progress. They see system upgrades as a fun part of the hobby.
So, how do you decide which parts of your system to upgrade, and in what order? Revisit your goals and start with the weakest link. Do you want to improve the sound or add some new capability?
If your Number 1 goal is to improve the sound, a new pair of speakers might be your best option — especially if your current speakers are decades old.
Is your primary music source an online service like Spotify, Tidal, You Tube, or Amazon? Then maybe it makes sense to upgrade your digital-to-analog converter (DAC).
Before you do that, however, check on the quality of your streams. If you're into Spotify, upgrade to premium and choose the highest music quality setting (320 kbps). Better yet, sign up for a high-resolution service like Tidal, Qobuz, or Amazon Music HD.
"I feel like the best place to start is to sign up for a high-resolution streaming service," said Athena, a Crutchfield advisor. "You can have the best gear in the world, but if your files are low-resolution, there's only so much you can do to make them sound better."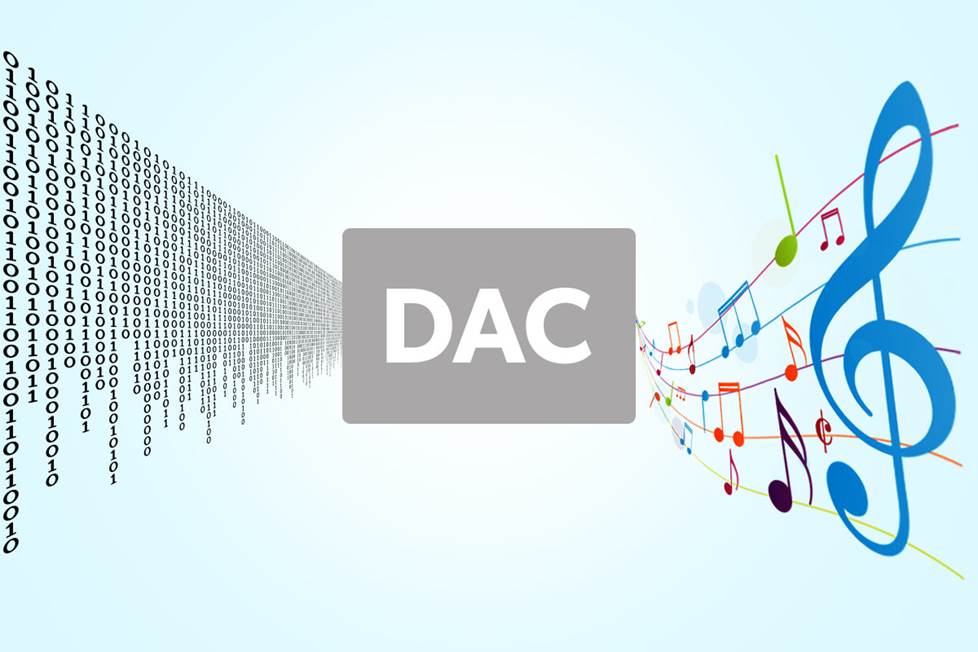 A DAC transforms digital bits into a musical signal that can be amplified and sent to your speakers. A better DAC can make a huge difference in the sound of digital music sources.
There are a few different ways to upgrade your DAC. You could add an outboard DAC. Or you could get a new stereo receiver, integrated amp, or network music player that has a high-grade DAC built in.
Have you been getting into vinyl records? Then a new turntable, a replacement phono cartridge, or even a record cleaning machine, might give you the biggest boost.
For more info and ideas, read our turntable buying guide and our tips for getting better sound from your turntable.
How to choose audio components
There's a lot to learn about turntables, CD players, receivers, amps, DACs, and speakers. That's why we've written a series of home stereo buying guides. Take your time and read those.
Browse around. Look for highly rated products in your price range. Carefully read the product information and customer reviews.
Open a Crutchfield account and make a wish list. Then start a conversation with one of our home stereo experts.
There's more to it than buying the right components
Finding the gear that meets your needs at the right price is Step 1. Step 2 is getting it all set up just right.
Budget audiophiles make the most of a modest investment by properly placing the speakers and the furniture. They might even obsess a bit about other small details that can make a difference.
Need help choosing?
I suggest that you seek a recommendation from a Crutchfield advisor. Your advisor will want to know what type of music you listen to and how loud you may (at least occasionally) want to play it.
In order to recommend the right gear for you, your advisor will probably ask you a few other key questions, including these:
What are the dimensions of your listening room?
What music source components will you want to connect?
What online music services do you subscribe to?
How many rooms do you want your system to serve?
Are you starting from scratch or do you have some gear you want to keep, at least for now?
Your answers will help your advisor recommend compatible components that work well in your room and fit within your budget.
Hunt for bargains
To stay informed about price drops and special offers, sign up for our email newsletters. Bookmark our page of current home audio specials and check in frequently.