In this article: I'll provide shopping tips to help you find an integrated amplifier with plenty of power and connections for your stereo system.
And I'll recommend six of the best integrated amplifiers I've tried...
... with budget alternatives and links to hundreds of customer reviews.
here are many convenient ways to listen to music these days: portable Bluetooth speakers and earbuds offer quick and easy ways to stream music from a phone or tablet. You can even stream music through the sound bar you use for TV watching.
I'm not knocking those handy options, but if you're like me — a music lover who really prioritizes sound quality — you may want to make an integrated amplifier the centerpiece of your primary sound system. The one you turn to when you settle into a comfy chair for a couple of hours of serious listening.
An integrated amp is the right choice if you want to connect all of your music sources to a dedicated two-channel amplifier using one component. And most of them can accomodate wireless music streaming, too. We'll go over everything these versatile amps can do, and help you narrow down your choices until you find the perfect one for your sound system.
What is an integrated amplifier?
An integrated amplifier is actually two components in one:
A power amplifier, which generates the wattage needed to drive your loudspeakers
A preamplifier that accepts the inputs from all of your music source components
The preamp lets you switch between wired and wireless sources and control the volume. The preamp may also include balance and tone controls. The built-in power amp lets you drive one or two pairs of bookshelf or floor-standing speakers.
Integrated amp vs. receiver
So what makes an integrated amp different from a stereo receiver, then? The answer is in the name of the latter component. A receiver has an AM/FM tuner built in that "receives" conventional radio signals. If you're like me, and only listen to the radio while driving, you may prefer the streamlined functions of an integrated amp.
Integrated amp vs. preamp/power amp
Many music fans prefer a system with a separate preamp and power amp. The benefits of this approach are cleaner sound — because power can introduce noise into preamp circuitry — and more flexibility in building and upgrading a high-end system.
The drawbacks, naturally, are the higher cost of purchasing two components instead of one, and the necessity of finding space in your entertainment center for two large components. It's worth noting that most integrated amps offer a preamp output that lets you send audio signals to a separate power amp and only use the integrated for source switching, so you can reconfigure your system in the future if you want more power.
There's no wrong way to build a system — your unique situation will dictate whether you choose a stereo receiver, home theater receiver, separate components, or an integrated amp. If you've read this far and the integrated amp still sounds like your cup of tea, let's dig into features and specs so you can zero in on the perfect one for your living space.
Integrated amp features
Consider the number and types of connections an integrated amp provides. You'll want to be certain that it can accommodate the components you currently have, or may want to add in the future.

The Cambridge Audio Azur 851A integrated amplifier includes plenty of analog RCA audio inputs. It also includes two pairs of balanced XLR jacks for connecting high-end gear.
Analog audio inputs
Back in the day, analog inputs were the only inputs. Modern integrated amplifiers have made room for digital inputs and wireless connection hardware, but analog features will likely never go away.
As a vinyl lover, I absolutely require a phono input, for instance. And additional RCA inputs come in handy for adding a standalone DAC, a cassette deck, or the analog output of a CD player. If you prefer to use an outboard phono preamp, you'll need to plug it into your integrated amp via a standard RCA input, too.
Some high-end sound systems use balanced XLR connections that offer superior noise rejection. If any of your other components offer XLR inputs and outputs, you can connect them using high-quality XLR cables.
If you're an analog purist, many integrated amps offer an analog mode that shuts down all digital circuits. And some integrated amps — the NAD C316BEE, for example — go old-school and offer only analog connections.

This Primare I15 provides analog and digital audio inputs, plus a USB connection for your computer.
Digital audio inputs
Some integrated amplifiers include a built-in digital-to-analog converter (DAC) that turns digital signals into analog sound your speakers can reproduce. There are a few common types of digital audio inputs:
If your integrated amp has a DAC, you can connect the digital output of your CD player to a coaxial digital input
An optical digital (Toslink) input offers slightly lower resolution for connecting a CD player or the output of a TV or Blu-ray player
Music lovers who have high-resolution music files stored on their computers will need a USB Type B connection
If you use your mobile device or USB thumb drive to store files, look for USB Type A, but make sure it's an active input and not just a service port for firmware updates
An Ethernet port is crucial for accessing files hosted on the internet or stored on a network-connected computer or hard drive
In very rare cases, an HDMI input may be present for connecting a compatible TV or Blu-ray player.
Wireless connectivity
It's hard to beat the convenience of wireless streaming when it comes to music listening. A number of integrated amplifiers support wireless music streaming — you can't beat it for convenience. And some let you add compatible speakers and components to create an expandable wireless whole-home audio system.
For instance:
As you can see, there are a lot of ways to listen to music, and you should look for an integrated amp that can give you access to all of your favorite sources.
Outputs
Inputs are crucial to getting what you need out of your integrated amp, but don't overlook the output possibilities, either:
A headphone jack (1/4-inch or 3.5mm) provides a great way to enjoy your music without disturbing others
A subwoofer output lets you connect an optional powered sub to supplement your system's bass output
A stereo preamp output gives you an easy way to add a new power amp to your system. This is handy if you move your system to a larger room or buy new speakers that need more power
A + B speaker connectors offer an easy way to connect two pairs of speakers, or bi-wire a single compatible pair
Now that we know what to look for, we can single out some of the best integrated amps for specific applications. In each category, I list my favorite, plus a lower-priced runner-up to give you even more options.
Our top picks for 2024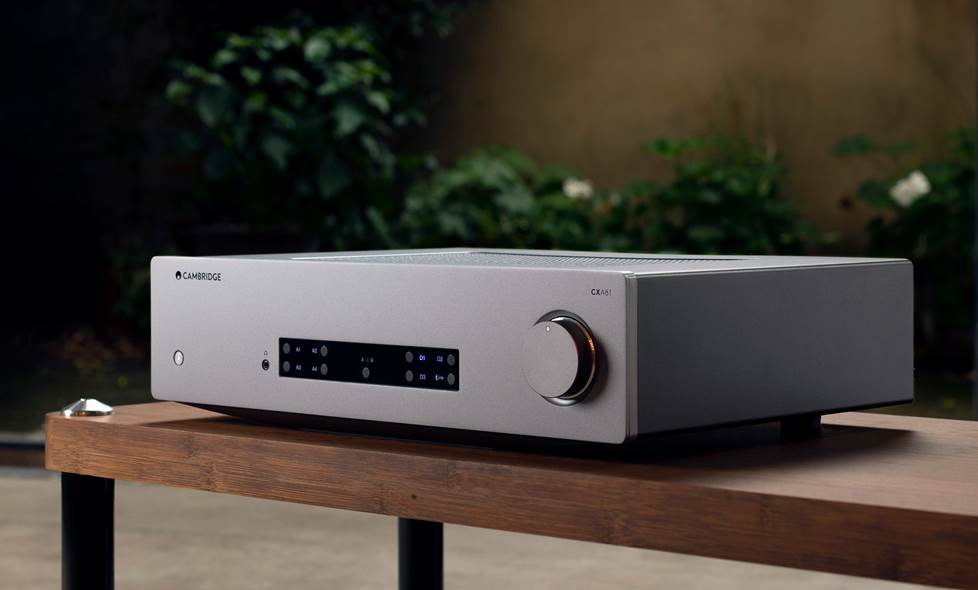 Best value — Cambridge CXA81
Crutchfield customers love this rock-solid integrated amp. The Cambridge CXA81 offers plenty of power — 80 watts per channel — plus the detail you want when listening to your favorite tracks. Those watts are generated by a power supply that employs an audiophile-grade toroidal transformer for plenty of steady, low-noise current. And it has analog and digital inputs for connecting your favorite sources, including balanced XLR connections.
The amp's built-in high-performance ESS Sabre SE9016K2M DAC ensures that sound from connected digital sources is clean and accurate. It offers convenient Bluetooth connectivity, too. And I've always liked that Cambridge favors the classy brushed-aluminum front plate, which looks super-sharp in an entertainment center or equipment rack.
Details
80 watts x 2 channels into 8 ohms (120 watts x 2 channels into 4 ohms)
4-ohm capability allows use with a wide range of speakers
toroidal power transformer for low noise and high-current output
Bluetooth with aptX® HD encoding provides high-quality music streaming from compatible devices
coaxial digital, USB Type-B, and dual optical digital inputs
balanced XLR and unbalanced RCA inputs
Budget-friendly alternative
My runner-up in this category is another of our top-sellers: the Yamaha A-S501. It's got good power and adds a dedicated phono stage that the Cambridge doesn't have. Bluetooth is optional, and requires an additional adapter, and there are no XLR inputs, but it's a rugged, rock-solid choice that won't empty your wallet.
What our customers say about the CXA81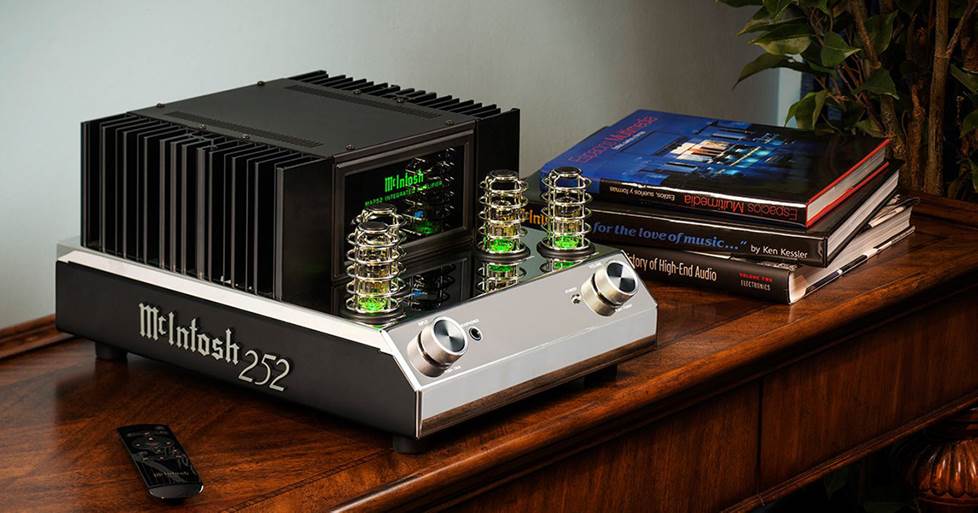 Best for Audiophiles — McIntosh MA252
This isn't the first time the words "best," "audiophile," and "McIntosh" have appeared together, and it surely won't be the last. This venerable American company has been making exquisite hi-fi equipment since 1949, and the MA252 is one of their finest efforts. It's sophisticated, powerful, and elegant.
There's no denying how gorgeous it looks, especially when its tubes are glowing. McIntosh's Hybrid Drive™ technology combines a vacuum tube preamplifier for musicality and warmth with a solid-state amplifier section that delivers formidable power. And its large transformer and multiple filter capacitors provide ready reserves of current to give your music lifelike detail and dynamics.
The MA252 is stricly analog, with a balanced stereo XLR input, a pair of line level RCA stereo inputs, and a dedicated phono input. But that doesn't mean you can't use it to amplify your digital sources. Connect your favorite network streamer. Or add the MDA20 DAC or McIntosh's amazing MB20 Bluetooth transceiver. It's also got a fantastic built-in headphone amp for private listening.
Details
100 watts x 2 channels into 8 ohms (160 watts x 2 into 4 ohms)
Hybrid Drive technology combines a vacuum tube preamp section and a solid-state power amp section
two 12AX7a and two 12AT7 vacuum tubes for characteristic warm valve sound
large power transformer with multiple filter capacitors and regulated power supply
1 set of balanced stereo XLR inputs
2 stereo RCA audio inputs
dedicated phono input for turntable with moving magnet (MM) cartridge
full-sized 1/4" headphone
Budget-friendly alternative
Obviously, in this category, "budget" has a different meaning, but the Rotel Diamond Series RA-6000 absolutely blew my mind when I auditioned it at home. I listened to my CDs and was thrilled with the crystalline sound quality and the extreme detail it was able to bring out of my DALI Oberon 7 speakers. And it was no slouch on my vinyl, either. I give credit to the Rotel signature: a custom-made toroidal transformer inside that provides 200 watts of clean power to drive just about any speakers you choose to hook up.
What our customers say about the MA252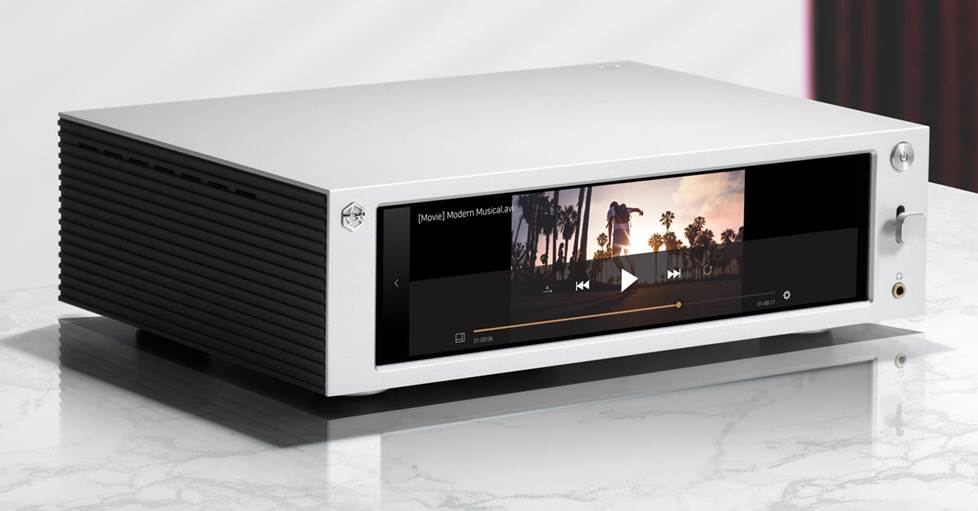 Best for wireless streaming — HiFi Rose RS201E
I'm not going to pretend this was an easy choice to make — integrated amp manufacturers are packing most amps with streaming goodies these days. But just look at this thing. The big, convenient touchscreen on the HiFi Rose RS201E makes it so user-friendly, and it has a muscular six-core ARM® 64-bit processor and a 32-bit/384kHz Sabre DAC inside for pristine, lag-free file playback.
And it's just so versatile when it comes to sources. Streaming-wise, it supports Apple AirPlay, DLNA, Roon, and MQA, plus all of the major third-party streaming platforms. And pick any of the alphabet-soup high-res file formats — WAV, FLAC, AIFF, etc. — and you can count on this amp to play it flawlessly. As for wired connections and compatibility with external storage devices, it's got you pretty well covered there, too.
Details
50 watts x 2 into 4 ohms
8.8-inch-wide high-def touchscreen LCD display
built-in dual-band Wi-Fi and Bluetooth
customized Android operating system
Apple AirPlay 2 lets you stream directly from an iPhone® or iPad® and ask Siri to play Apple Music
supports TIDAL, Spotify, Qobuz, RoseTube (YouTube), internet radio stations, and RosePodcast (subscription required for some services)
24-bit/192kHz digital-to-analog converter supports PCM files up to 24-bit/192kHz and DSD files up to 5.6MHz
Toslink optical, USB-C and USB 3.0, and RCA inputs
HDMI video output with up to 4K resolution
microSD card slot and enclosed bay for optional 7mm SSD (solid-state drive) up to 4TB
Ethernet port for connection to your home network
Budget-friendly alternative
I like the Marantz PM7000N here for a couple of reasons. For starters, the HEOS operating system gives you access to popular streaming services, and gives you the functionality to set up a multi-room wireless sound system with the addition of HEOS-compatible speakers. Its built-in DAC supports high-resolution audio files, and Marantz's Hyper Dynamic Amplifier Module (HDAM) technology offers very precise control over the drivers of connected speakers.
What our expert says about the HiFi Rose RS201E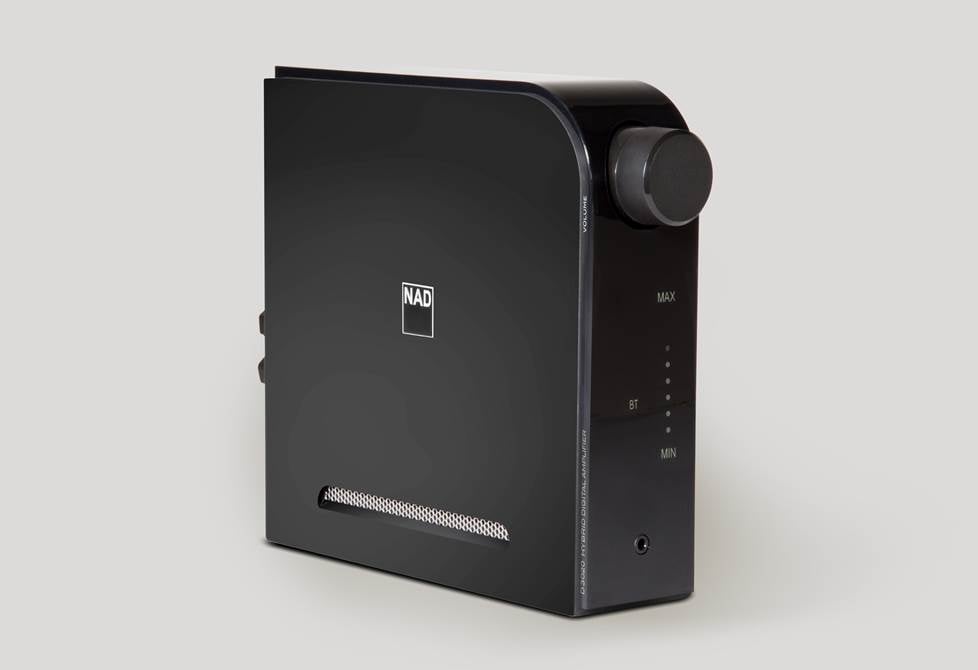 Best desktop amp — NAD D 3020 V2
Since more of us are working from home these days, it makes sense to improve your desktop system, and this is an excellent way to do so. Most integrated amps are designed to lie horizontally on a shelf in an entertainment center, so the NAD D 3020 V2 stands out immediately in that regard.
It's amazing how much functionality NAD has packed into this space-saving chassis. There's a phono input as well as an unassigned RCA input pair. There are individual optical and coaxial inputs for digital sources. And wireless streaming via Bluetooth, of course.
Design-wise, I must say, I like the gentle curve at the top corner of the chassis, and the large, easy-to-grip manual volume knob.
Details
30 watts x 2 into 8 ohms
compact, low-profile design allows vertical or horizontal orientation
built-in 24-bit/96kHz digital-to-analog converter
Bluetooth with aptX® encoding provides high-quality music streaming from compatible devices
1 pair of analog stereo (RCA) inputs
1 optical digital and 1 coaxial digital input
phono input for connecting a turntable with a moving magnet (MM) cartridge
built-in headphone amplifier with 3.5mm minijack output
Budget-friendly alternative
The Audioengine N22 is a super-affordable compact desktop amp. It has the headphone amplifier I consider so crucial for a desktop system, and I can connect a space-saving pair of desktop speakers like the Cambridge Audio Minx Mini for near-field listening that won't disturb family or co-workers.
What our customers say about the NAD D 3020 V2
Best for vinyl lovers — Marantz Model 30
I've seen a few integrated amps with the ability to accommodate turntables with moving magnet or moving coil cartridges, but the phono stage built into the Marantz Model 30 goes the extra mile. They included a front-panel knob that allows you to adjust impedance to match a low-, medium-, or high-output cartridge, which gives you a lot of versatility without having to add an outboard phono preamp.
It delivers 100 watts per channel into an 8-ohm load, and it's 4-ohm stable, thanks to a high-current double-shielded toroidal power transformer. Marantz's Hyper Dynamic Amplifier Module (HDAM® SA3) delivers pinpoint accuracy and control under high-drive conditions. And to really gild the lily, Marantz's Sound Master spent hours testing and tuning the Model 30's output to ensure that it reveals exquisite detail and musicality.
Details
100 watts x 2 channels into 8 ohms (200 watts x 2 into 4 ohms)
separate phono input with high-grade RCA terminals for turntables with moving magnet and moving coil cartridges
adjustable impedance for low-, medium-, and high-output MC cartridges
Source Direct mode bypasses tone control circuits for cleaner sound
high-current double-shielded toroidal power transformer for smooth handling of demanding speaker loads
Sound Master tuning reveals exquisite detail and musicality
4 standard stereo RCA audio inputs
dedicated CD input with high-grade RCA terminals
front-panel full-size 1/4" headphone jack
Budget-friendly alternative
If you have a treasure trove of favorite records, and like to have flexibility in what type of cartridge you use on your turntable, the Denon PMA-900HNE is a great choice. Its built-in phono preamplifier is compatible with moving coil and moving magnet cartridges, which is rare at this price point.
The amp does have a nice DAC in it, and connections for digital sources, plus a Pure Analog setting that disables its digital circuitry. Stop Mode deactivates the microprocessor when it's not in use for a lower noise floor.
What our customers say about the Model 30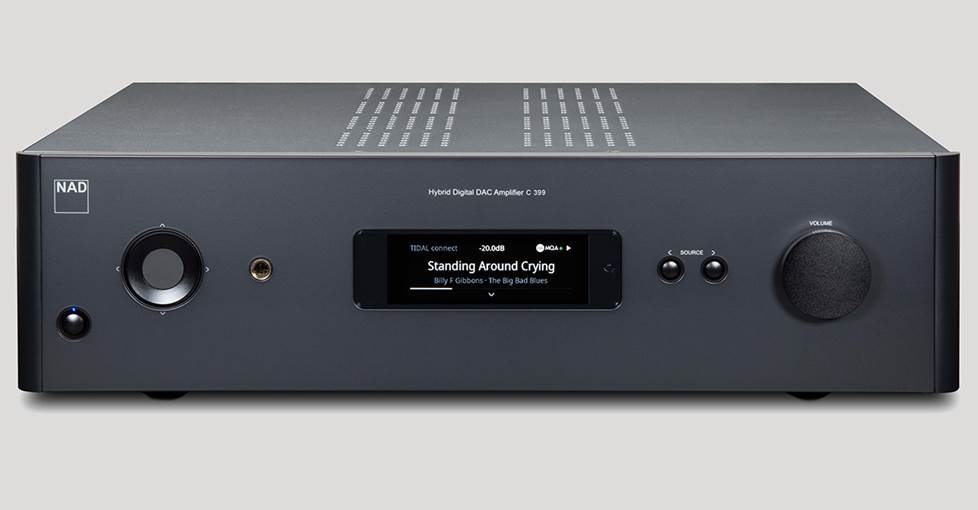 Best for playing hi-res audio files — NAD C399 BluOS-D
I'm differentiating this from our streaming champ above — I'm choosing the NAD C399 BluOS-D for its facility with high-resolution audio files downloaded to a computer or external hard drive, or encoded on a compact disc.
It has multiple digital inputs, which benefit from the built-in high-performance ESS Sabre ES9028 DAC. It's compatible with all of the file formats audiophiles favor, and it can absolutely do justice to your analog and streaming sources, too.
Details
180 watts x 2 channels into 8 ohms or 4 ohms
premium ESS Sabre ES9028 DAC with up to 32-bit/384kHz resolution
compatible file types: WAV, AIFF, FLAC, ALAC, MP3, WMA, OGG, and MQA
built-in dual-band Wi-Fi and Bluetooth
pre-installed MDC2 BluOS-D module
Dirac Live room calibration — mic included
Apple AirPlay 2
2 Toslink optical and 2 coaxial digital inputs
USB Type-A input for digital sources like thumb drives, NAS drives, and computers
3 analog stereo RCA inputs, including phono input for moving magnet cartridges
dual mono RCA subwoofer outputs
HDMI eARC port for playing TV sound
Ethernet port for connecting to a home network
Budget-friendly alternative
The Primare I15 Prisma offers a high level of performance and the USB connections I find indispensible for listening to high-resolution music files. It's a one-box solution for most people's digital music needs.
What our customers say about the NAD C399 BluOS-D:
Need help deciding?
Our friendly, knowledgeable Advisors can help you narrow down your choices to find the perfect integrated amplifier for your unique circumstances. Contact us today.
And don't forget, free lifetime tech support is included with your Crutchfield purchase.
Popular questions customers ask
An integrated amplifier is two components in one ù a power amp that drives your speakers and a preamplifier for your music source components. The preamp lets you select your sources and control the volume. An integrated amp is similar to a receiver, except it doesn't have a radio tuner built in.
A good rule of thumb is to stay within the power range of your speakers but look toward the upper end of that range. More power is a good thing ù it gives you stronger bass and clearer, louder sound, especially in larger rooms.
Yes! There are a few ways you can do that. Most of our integrated amplifiers have a dedicated "phono" input for hooking up your turntable directly. You can also use a separate phono preamp to connect a turntable to any standard audio input. And some turntables have a phono preamp built in, so you don't need a special connection on your amp.
Some integrated amplifiers have built-in Bluetooth or Wi-Fi for streaming music from your phone or other device. Streaming directly to your integrated amplifier over Wi-Fi is a solution we love ù the music doesn't stop if you carry your phone into another room. WiFi equipped integrated amps also offer built-in support for popular music services like Spotify and Qobuz, and some even let you stream music to compatible speakers or components in other rooms.
Yes. You can connect a TV to your integrated amp just as you would another audio source. This will give you much better sound than your TV's built-in speakers. A select few integrated amps have HDMI inputs for hooking up a TV, but you'll find more options with optical digital inputs that can be used for this purpose.