There are some big moments in life. Times when you accomplish something special. In those moments, you want to hear your name ring out loud and clear for all to hear.
When you score a touchdown or kick a game-winning goal against a local rival.
When you walk across a stage to accept a diploma honoring your hard work and academic achievement.
These are memory-makers, and they often happen in stadiums like the one at Central High School, nestled in the beautiful mountains surrounding Wise, Virginia. When the Warriors' old sound system began to fail in 2020 — just a few short years after it was installed — the school's students, fans, and administrators were not happy, to say the least.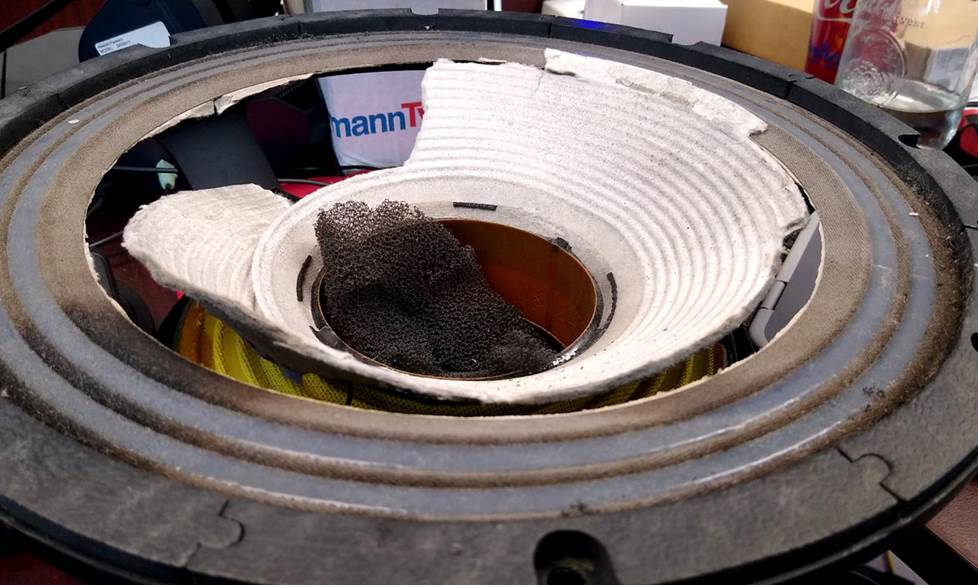 After their previous speakers — purchased from another vendor, of course — suffered extensive damage from exposure to the elements, Central High School turned to Crutchfield for a more durable replacement system.
The challenge
"With the pandemic, we had football in the spring," said Central High's Principal, David Stanley. "Our first home game it was noticeable that we had multiple speakers down. Those that were working — it was kind of painful — one was hitting just the highs, the other just the lows." The existing system was just slightly past its warranty date, and therefore more difficult to replace.
The problem needed to be fixed, and quickly. The school got some pricey estimates from other companies, but school board IT specialist Brian Lawson had a better idea. He contacted Crutchfield's Southwest Virginia headquarters and consulted with veteran Commercial Audio Specialist Roy Couch.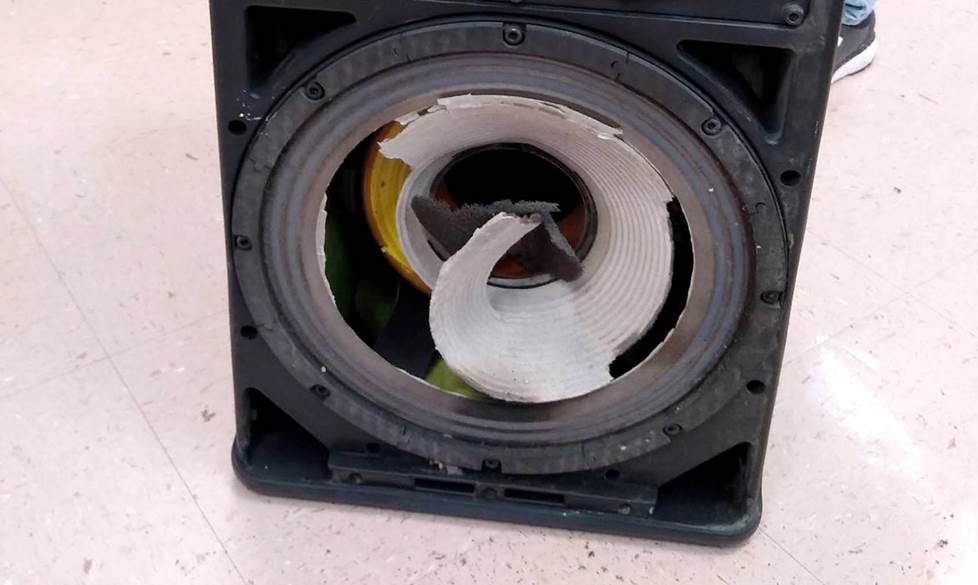 "80% of the (previous) speakers had blown, or rotted," said school board IT specialist Brian Lawson. Crutchfield system designer Roy Couch replaced them with rugged, proven QSC speakers.
First, Brian described the problem to Roy. "80% of the speakers had blown, or rotted," he said. "We get lots of freezing rain, hail, you name it." So, first and foremost, the system had to be able to stand up to the weather in mountainous Southwest Virginia.
The school also wanted the system to be easy to use, so announcers for different events could jump right in and get to work. As a bonus, if the system could be set up by school employees instead of outside contractors, they could save a bundle on installation.
Our expertise
Once bitten, twice shy, as the expression goes. Our expert Roy knew that the school would need extra assurance that the new system would be built to last. "The main issue was the durability of their existing speakers," he said. "I researched those speakers to find they have an IP rating of IP45. I showed them that the speakers I was recommending have a superior IP54 rating."
Roy gave a little more context on the IP (Ingress Protection) ratings of the QSC speakers. The first number in the IP54 rating refers to the speaker's ability to resist dust and other particles. "The speakers are very high in the mountains with direct wind exposure. This exposes them to dust, pollen, and other foreign particles that can penetrate into the woofer fibers. The QSC speakers are superior with their rating here to prevent this damage that was apparent with their original speakers."
The second number, 4, refers to the speakers' ability to resist moisture. "The new speakers are angled downward, so they're not collecting condensation the way the older, horizontally mounted speakers were," Roy explained. "Due to the new angle of the speakers, the lower moisture resistance testing wasn't necessary to the recommended longevity expectations of the new system."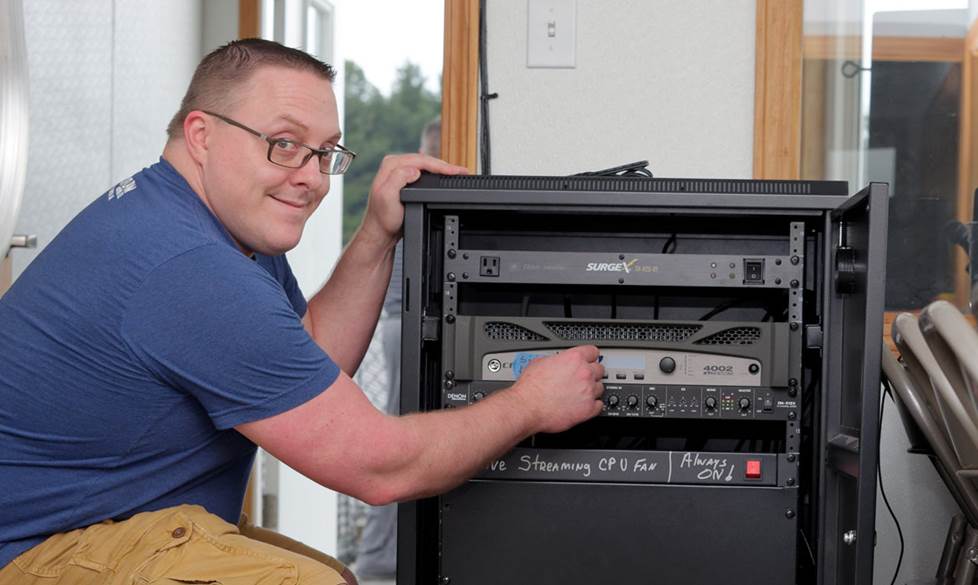 School employees installed the system themselves, but our system designer Roy was able to drop by and calibrate the equipment in person.
There was also an opportunity to improve on clarity and coverage issues the school had dealt with before. "They described it as a muffled sound that was not enjoyable to listen to, especially at high volume," Roy said. He drew on his experience using QSC speakers at nearby Bullitt Park in Big Stone Gap, VA. He had also recommended them for Linfield University in rainy Oregon, which the college installed prior to hosting the College Softball World Series. They seemed like a natural fit for the Warriors' stadium.
Roy's demonstrated personal expertise and some customer testimonials convinced the school district that the Crutchfield-designed system would outperform their prior gear, but they also wanted it to be easier to use. The old system had a complicated interface that had to be unlocked and set up by a trained technician. Roy's design could be installed by the school's maintenance crew, and operated by school employees with very little guidance.
So Roy had a plan to improve quality, performance, and usability. If that wasn't enough, he had a clincher that any public school district could appreciate — lower cost. "I knew there was a great opportunity to not only get them into a better overall system, but I could even save them money," Roy said.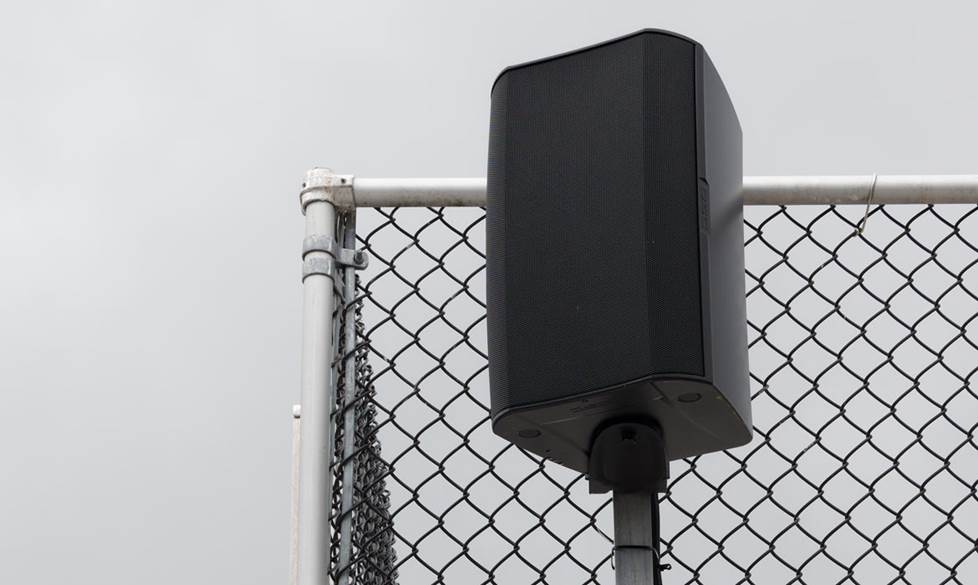 Roy recommended that the speakers be installed with a slight downward tilt so precipitation can run off and not collect in the woofers.
The system
Consulting with a Crutchfield system designer is always free, and the process is transparent throughout. Roy provided the school district with an itemized quote that showed exactly what he was recommending, and how much the system would cost.
Here's the system he built:
Five QSC AD-S10T weather-resistant surface mount speakers
A Crown XTi 4002 power amplifier providing up to 1,600 watts
A Denon DN-312X mixer for controlling volume on connected microphones and music sources
A Shure SM58 cardioid dynamic microphone for announcers in the booth
All necessary connecting cables, mic stands, and accessories
Should the school decide they want to add more speakers in the future, the Crown amplifier has plenty of power to handle an expansion of the system. There are also unused channels on the mixer for adding additional music sources or microphones — the school is already looking into adding a wireless microphone for singing of the national anthem and other on-field uses.
It's also worth noting that some of the existing equipment was functioning just fine. Roy kept the original rack and integrated the surge protector and cooling fans into his design, rather than suggesting expensive replacements for perfectly good gear.
Best of all, items purchased from Crutchfield are covered by lifetime tech support, so the high school won't be left hanging if a problem arises in the future.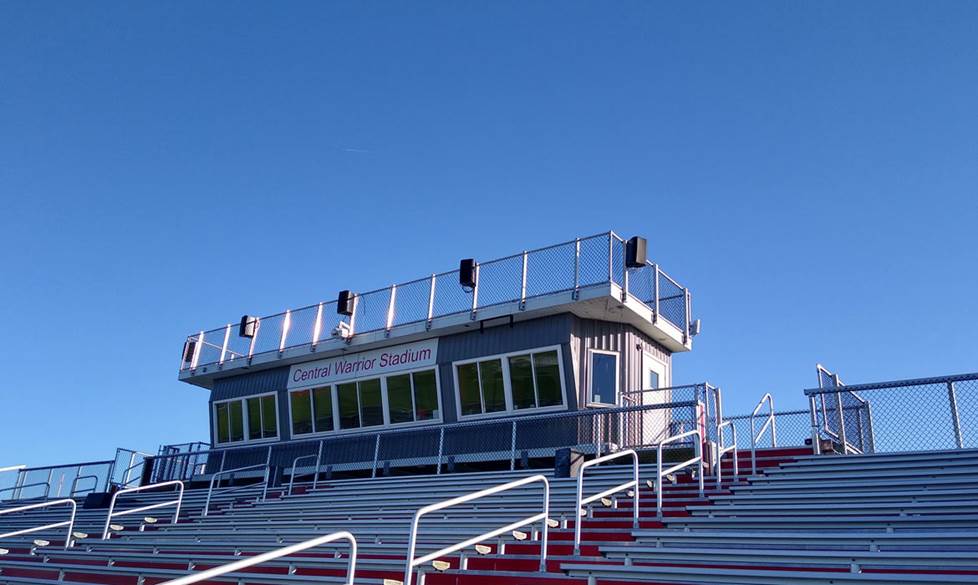 Five angled QSC speakers get loud enough for visiting fans to hear on the other side of the field, without overwhelming fans on the home side.
Satisfied customers
From first contact to installation, the process took less than three weeks. The school was able to get the system installed quickly, and used it to finish out the in-progress soccer season. And it was up and running in time to help honor members of the Warriors' 2021 graduating class as they walked across an on-field stage to accept their diplomas.
"It's absolutely what we needed," said Principal David Stanley. "We've been tickled to death. Fans have already said it's a much improved sound system from what we had before."
Central High School employees installed the system themselves, but our local experts couldn't resist coming out to hear the finished product. They listened to the system from all corners of the field, so they could be sure it would serve every fan equally well.
It's worth noting that the 10" woofers in the new QSC speakers are actually smaller than the 12" speakers they had before, but that's a clever and intentional choice. "The ones before were way too loud for the fans who sit on the press box side," said Principal Stanley. "This way we can have music that's not overpowering for the home fans, but the visiting fans on the other side can also hear clearly."
The school hosts at least 20 major events per school year, so having a reliable sound system in place has made it easier to plan for the future. Principal Stanley gave Crutchfield's Commercial Design Group a big thumbs up.
"I was very pleased with how easy they were to contact and how helpful they were," he said. "They did an outstanding job at a reasonable price."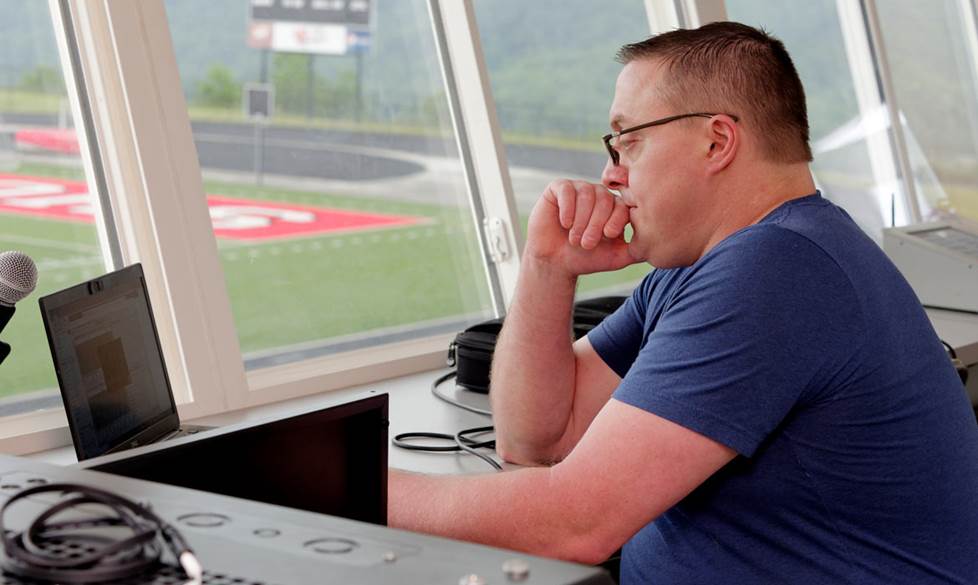 Roy Couch is just one of the talented members of our Commercial Design Team. Consultation is free, and our gear is backed with lifetime free tech support.
Get started with
a free system design
After we gather your information, we'll send you a detailed system plan. It will include a link to a pre-filled shopping cart. Ordering is easy, and delivery is fast.