Introduction to commercial audio systems
70-volt distributed speaker systems for commercial and institutional buildings
Need a sound system to play background music or make announcements in a restaurant, school, warehouse, or other institutional building? A high-voltage system often presents the most economical, practical, and safest solution.
To understand why commercial audio gear works better than home audio gear for most businesses, watch this short video:
Check out our bundled systems
Don't know where to start? Take a look at our bundled systems. For example:
If you can't find a bundle that suits your business, we can custom-build one for you.
Get a free customized system design
For expert advice and a free system proposal for your business, call our Commercial A/V Design Group at 1-800-315-2758. Or you can submit a system design request and upload your floorplans. Our designers will help you plan your system and put everything together.
A standard stereo receiver might not be the best solution
A standard home stereo receiver and a few pairs of speakers could provide a small business, such as a restaurant, with adequate background music — but that might not work well in a system with a lot of speakers and long wire runs.
Standard stereo amplifiers put out low-voltage, high-current signals that require thick (and relatively expensive) speaker wires to power distant speakers. The more speakers you add to a stereo system, the more difficult it becomes to safely connect them. You may find that you need multiple amplifiers, driving costs up considerably.
Keep your music licensed and legal
Under the Copyright Act of 1976, composers and musicians are entitled to collect royalties for each public performance of their work. When you play music for paying customers, you need a public license.
Crutchfield has partnered with a music service called Rockbot. The company makes sure you get a custom-designed soundtrack, with all of the music fully licensed and legal. As an exclusive benefit to Crutchfield customers, Rockbot is offering three free months of music service — click here to get started.
Can you legally use Sonos in your business? Yes! Please read our article about the licensed services, including Rockbot, that can be played through Sonos hardware.
Benefits of a 70-volt system
Because the voltage is high, the current running through a 70-volt system is low. You can use thinner, less expensive speaker wires. The amplifiers in these systems don't have "load impedance" issues. It doesn't matter how many speakers you connect.
A 70-volt amplifier can drive as many speakers as it has power for, regardless of their impedance. Standard systems require multiple amplifiers driving speakers that need to impedance-match the amps' outputs.
Speakers with adjustable power levels
The speakers in a 70-volt system are like houses connected to an electric power transmission line. Each speaker incorporates a transformer that steps down the high voltage to a level that the speaker can handle. The transformer has multiple taps to achieve different wattage levels for the speaker. The higher the wattage tap, the louder the speaker will play.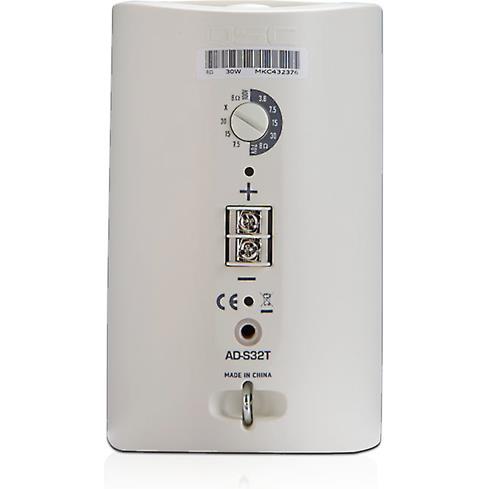 This QSC speaker's transformer can be set to 3.8, 7.5, 15, or 30 watts for a 70-volt system
It doesn't matter how many speakers are connected as long as their total wattage rating doesn't exceed the power capacity of the amplifier. System designers usually reserve 10% to 20% of an amplifier's power as extra headroom available for those occasional moments of peak demand. This means that a single 500-watt amplifier could easily run 80 to 90 5-watt speakers, covering a considerable area for background music and announcements.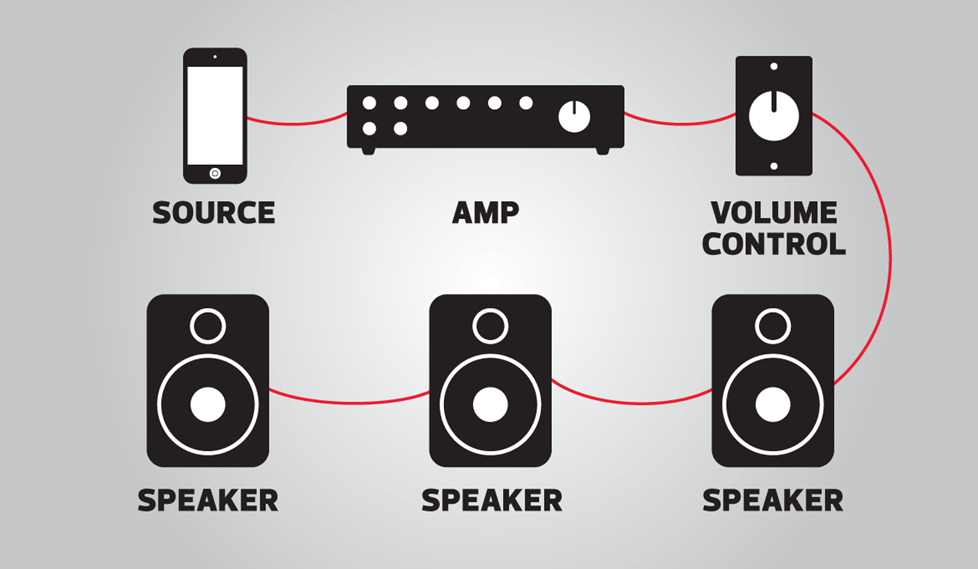 Crutchfield has put together a few commercial audio bundles that include the right components to cover the needs of a small retail store, restaurant, or classroom.
It only takes about one watt to produce clearly audible announcements or background music from a speaker about 10 feet away from the listener (two watts in a noisy environment like a restaurant or grocery store).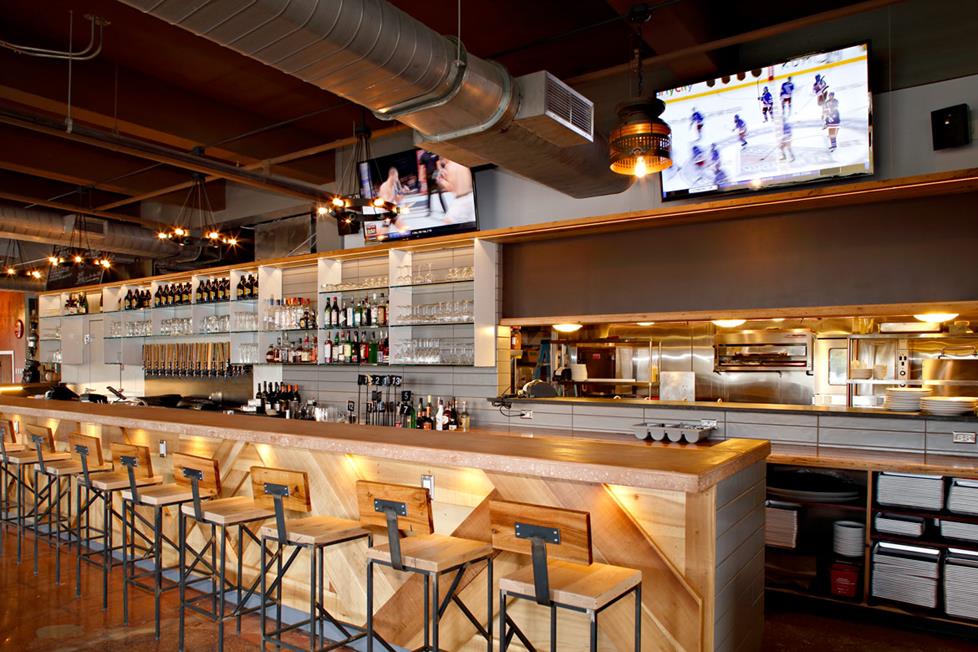 Background music speakers (one is visible at upper right) in the bar area of Kardinal Hall are set at low volume so staff can hear orders and customers can converse.
How do you determine how many speakers to put in each room? For ceiling-mounted speakers in open spaces, a rule of thumb says the distance between speakers should be twice the ceiling height. A room that measures 40 feet by 40 feet and has a 10-foot ceiling would be well covered by four ceiling-mounted speakers 20 feet apart each.

The connection panel on this JBL commercial amplifier shows the many routing options available
Acoustic treaments
We've covered the first two things you need for great sound: the right gear and good speaker placement. But there's a third ingredient that's often overlooked: acoustic treatments.
In most buildings, the first two ingredients aren't enough. Even the best equipment may not sound too good in a room that has a lot of hard surfaces. Acoustic panels kill the echoes and reverberations that produce an uncomfortable level of noise.
But what kind of acoustic panels do you need? And how many?
Your Crutchfield system designer can supply a customized solution, based on the dimensions and characteristics of your rooms.
PA systems
While 70-volt systems are perfect for background music and brief announcements, they aren't the right choice for church services, live music, speeches, school plays, or any other kind of staged event. For that you need a separate PA system. Your system designer can help you choose the right live sound speakers, mixer, amps, microphones and cables. Or you can start by checking out our live sound bundles.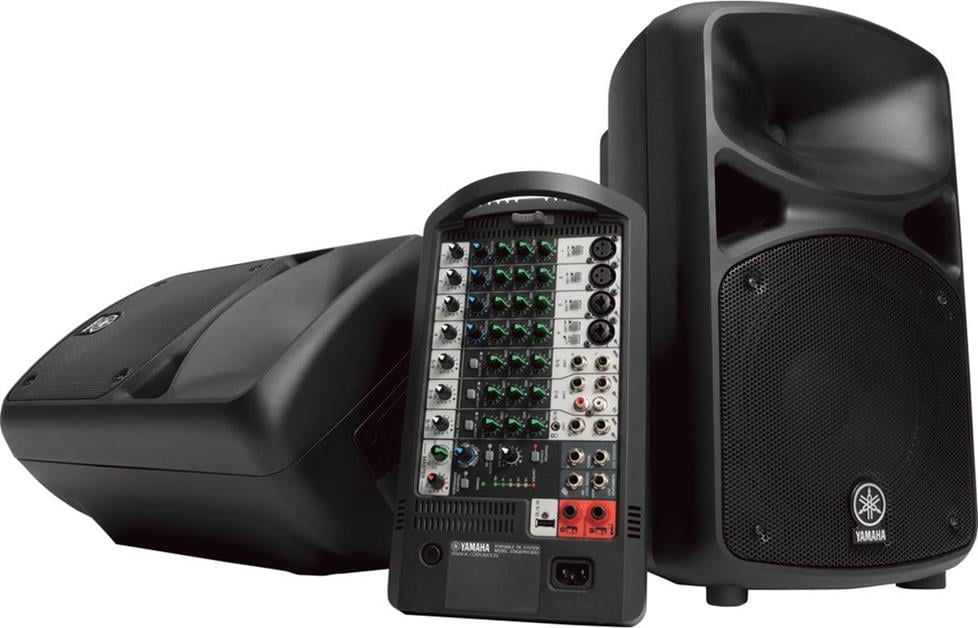 A prepackaged PA system works well with small groups in small venues. Your system designer can help build a custom system for a larger venue.
What to expect from our system design service
Watch this video to learn more about how your system designer can help you get the best audio/video system for your business.
Get started with
a free system design
After we gather your information, we'll send you a detailed system plan. It will include a link to a pre-filled shopping cart. Ordering is easy, and delivery is fast.