In this article: We show you how a commercial distributed audio system works, and explore the gear you'll need to build one ...
... plus we'll introduce you to our knowledgeable commercial A/V system design team, who can help you plan your own custom system.
Ever wonder how restaurants, gyms, retail stores, and houses of worship can play music and make clear announcements throughout a large, multi-room venue? Odds are, they've invested in a commercial A/V system — sometimes referred to as a 70-volt system — which works differently from a traditional home theater or stereo setup.
Commercial components and speakers offer flexible, cost-efficient, customizable options for adding great sound to just about any venue. There's plenty to talk about. Let's start with this short video, which offers a handy animated guide to distributed audio:
Can I use a standard stereo receiver in my business?
It's possible in a very small space, but it's rarely the best answer in a business environment.
A standard home stereo receiver can fill a modest-sized room with fantastic high-fidelity sound, but that's not going to be very efficient or cost-effective in a commercial space that requires several speakers, long wire runs, and centralized source and volume control.
Standard stereo amplifiers deliver low-voltage, high-current power that requires thick (and relatively expensive) speaker wire. And the more speakers you add to a consumer-grade system, the more difficult it becomes to power them properly. A wired multi-room system will require several amplifiers and custom installation help — costs can mount up quickly.
Benefits of a 70-volt system
In contrast to a consumer amplifier, a commercial amp provides high-voltage, low-current power. That means you can use thinner, less expensive speaker wire. And commercial components and speakers tend to use simple wiring terminals that let you daisy-chain several speakers together for more efficient power distribution.
An efficient commercial sound system can power multiple speakers with a single amplifier. A home stereo system requires multiple amplifiers to do the same thing, which can be quite costly.
In fact, this is a good time to talk about some of the special properties of commercial speakers, so we can start to understand the essential building blocks of a 70-volt sound system.
Commercial speakers
It's fair to say up front that commercial speakers don't usually deliver the type of exquisite high-fidelity sound quality you can get from a dynamite pair of consumer-grade speakers. They're designed to be rugged, versatile, and clearly audible in crowded spaces. And they offer a wide range of clever installation methods, because no venue wants to take up valuable floor space with free-standing speakers and subwoofers.
And once you've built a system, you can add more speakers with relatively little difficulty. If your business expands, your sound system can grow with it — you won't have to start over from scratch.
Transformer taps: choose how much power to use
In simplistic terms, if your consumer receiver is rated for 100 watts per channel, you will look for a pair of speakers with a similar rating. Commercial speakers are different: most have a transformer tap — commonly controlled by a rotary dial on the front or back of the speaker — that allows you to choose how much power is allocated to each individual speaker. The higher the wattage tap is set, the louder that speaker will play.
A transformer tap lets you choose how many watts will be used by each speaker, which offers a great deal of flexibility when designing a commercial sound system.
It doesn't matter how many speakers are connected as long as their total wattage demand doesn't exceed the power output capacity of the amplifier. In essence, a single 500-watt amplifier can easily run 80 to 90 speakers that have been set, or "tapped" to handle 5 watts apiece. That's how easy it is to cover a serious amount of real estate with commercial speakers.
Speaker placement options
I don't want to get too into the weeds here — we have a comprehensive Commercial audio speakers buying guide for that. But I did want to point out that commercial speakers come in a variety of shapes and sizes that are designed for an array of public spaces.
There are also a handful of special-use speakers that your Crutchfield account manager can recommend if your unique space has a few unusual corners — what we like to refer to as "character."
Estimating coverage
It only takes about one watt to produce clearly audible announcements or background music from a speaker about 10 feet away from the listener (two watts in a noisy environment like a restaurant or grocery store).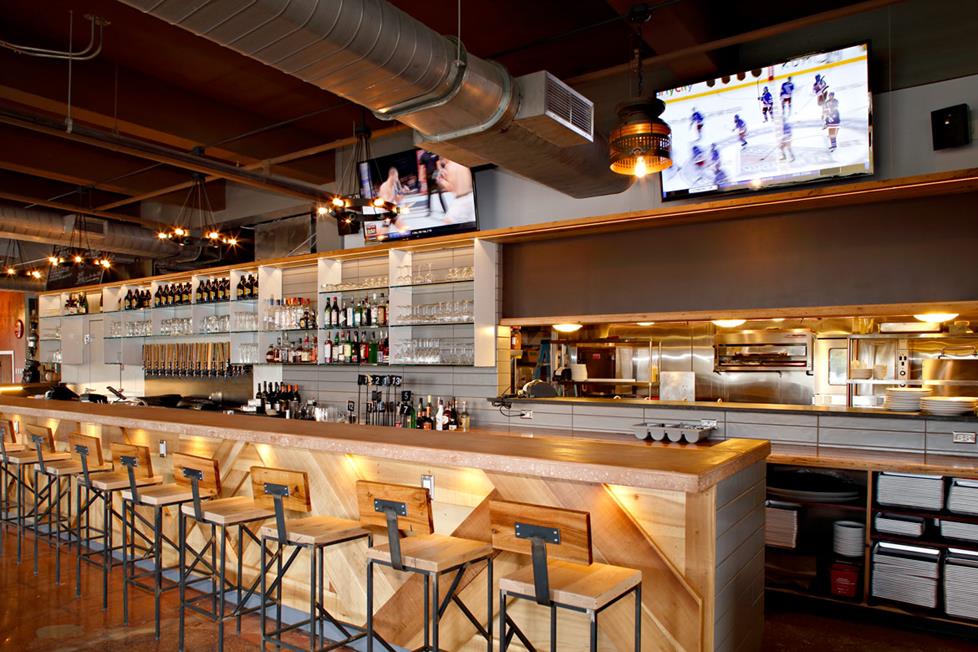 Background music speakers (one is visible at upper right) in the bar area of Kardinal Hall are set at low volume so staff can hear orders and customers can converse.
If you have no idea how many speakers you need, or which ones will sound best in your venue, don't worry. We offer some pre-assembled commercial audio bundles that may work in your space. And our experienced system design experts are available to offer free, personalized planning and installation advice for our customers. More on that later.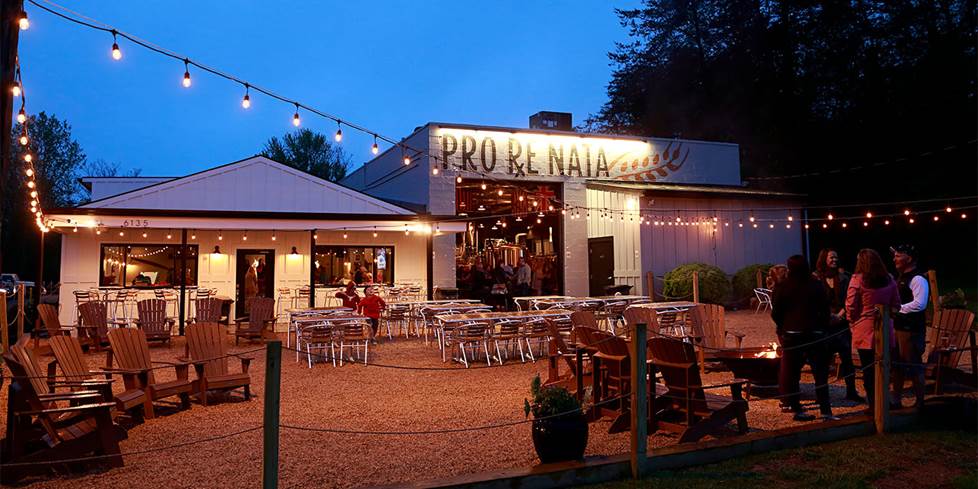 Crutchfield has put together a few commercial audio bundles that include the right components to cover the needs of a small retail store, restaurant, or classroom.
Commercial amplifiers
As mentioned above, finding an amplifier to drive commercial speakers is different from assembling a home stereo system. Since each speaker can be "tapped" to draw more or less power, an experienced designer will figure out how many speakers they want to use and which tap settings they'll select. Then they choose an amplifier that can supply the total wattage, with about 20% spare headroom capacity.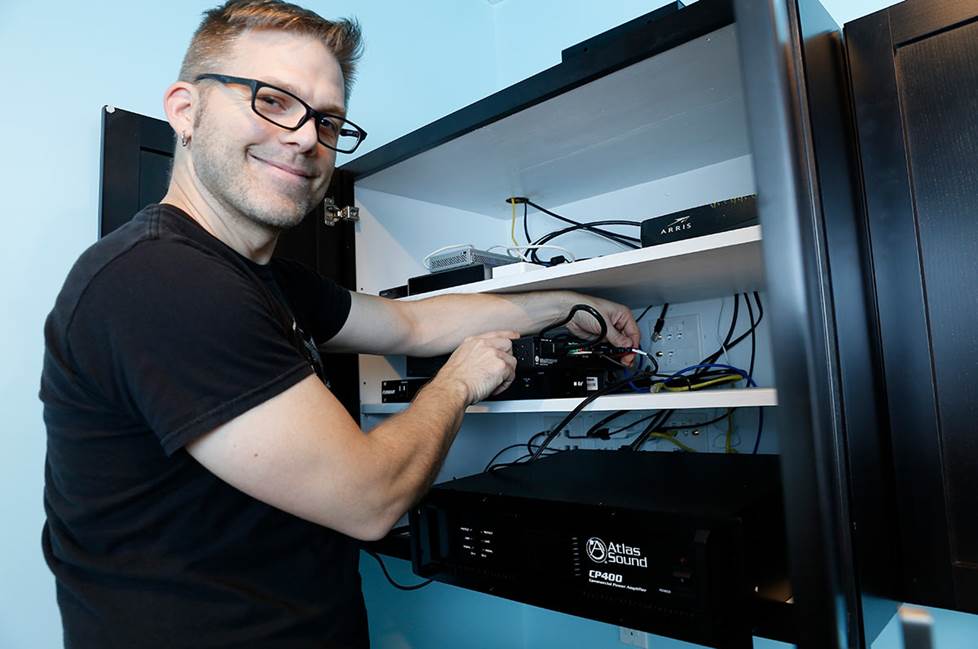 Our system designer was able to put all of the power and control equipment for a two-zone sound system in a cabinet in a gymnasium break room.
We helped design and install a gym sound system that provides a good example of how this works. We helped the owners hang 11 pendant speakers and two pendant subwoofers from 15-foot high ceilings in the gym's cavernous main workout space. And we chose to power them with a single Atlas CP400 power amplifier (200 watts x 2) which doesn't sound like enough, until you do the math:
We daisy-chained 11 speakers, each tapped at 16 watts from the output of one 200 watt channel: 11 x 16 = 176 watts.
The more power-hungry subwoofers, each tapped at 75 watts, were connected to the other 200-watt channel: 2 x 75 = 150 watts.
That smart design leaves plenty of headroom within each channel, and the total power budget of 326 watts comes in well under the amplifier's 400 watts of total power.
Amplifier connections
Commercial amplifiers gain a great deal of configuration flexibility from the use of European-style terminal blocks, known colloquially as "Euroblock" connectors. Each terminal has a specified number of female input points, known as "pins". Balanced speaker connections are made with bare wire attached to plastic "Phoenix" connectors with a matching number of "poles." The connectors plug into the terminals very snugly, providing a solid, balanced connection that can support long wire runs throughout a large commercial space.
Green "Euroblock" connection terminals let you make robust balanced connections that support long wire runs. Unbalanced RCA cables can be used to connect components that sit nearer to the amp.
While Euroblock terminals are the most commonly used connections for 70- and 100-volt distributed audio systems, you may also see more familiar RCA, XLR, and Speakon connectors on some amplifiers. All in the name of greater system design flexibility!
Zone amplification
Some commercial systems are installed in multi-room buildings. And it's usually desirable to be able to play different sources in different rooms. For instance, the owner of a popular bar/restaurant can play TV sound for the sports-loving crowd in the bar, low-volume background music in the dining room, and set up a paging system that's only heard in the waiting room. Churches, hotels, and large corporations can use the flexibility of a multi-zone system to suit their own unique needs, too.
Sometimes, a single multi-channel amp can handle the work. Other times, you may want to set up a separate zone amp for each location. A Crutchfield system designer can help you figure out the ideal solution for your situation.
Amplifier mounting
Most commercial components are meant to be rack-mounted. This lets multiple pieces of equipment "stack" vertically, so they can be stashed away in a cabinet or closet. Many amps are compatible with remote volume controls, which let you make basic adjustments at a distance, while the bulky equipment stays out of sight in a central location.
Commercial mixers
You probably have multiple potential sound sources you want to use, and that's where a mixer comes in. You need to be able to connect a variety of wired and wireless components — music streamers, public address microphones, sound output from a TV, etc. — and be able to adjust volume for each independently. That's where a commercial audio mixer comes in.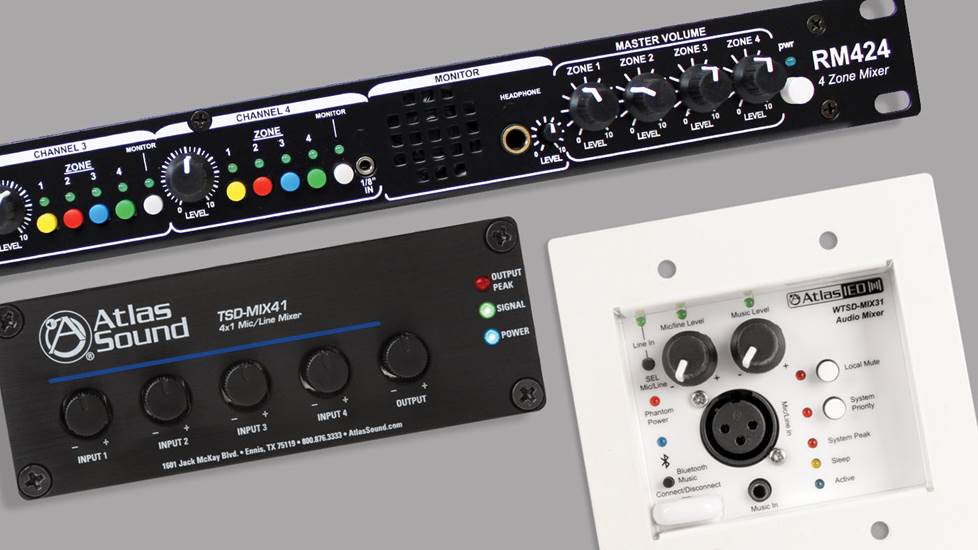 Commercial mixers appear in many different shapes and sizes. Some are for rack-mounting, some sit on a shelf, and some can be installed in-wall.
You'll need to make sure you choose a mixer that has enough channels for all of the sources you want to connect, and that the inputs can be configured to accept the desired input. Mixers come in all shapes and sizes: some smaller ones can sit on a tabletop, others have 10+ channels and can be rack-mounted. There are even some, like the AtlasIED WTSD-MIX31K, that can be installed in drywall.
PA systems
70-volt systems are perfect for background music and brief announcements, but they aren't the right choice for church services, live music, speeches, school plays, or any other kind of staged event. For that you need a separate PA (public address) system.
Your system designer can help you choose the right live sound speakers, mixer, amps, microphones and cables. Or you can start by checking out our live sound bundles.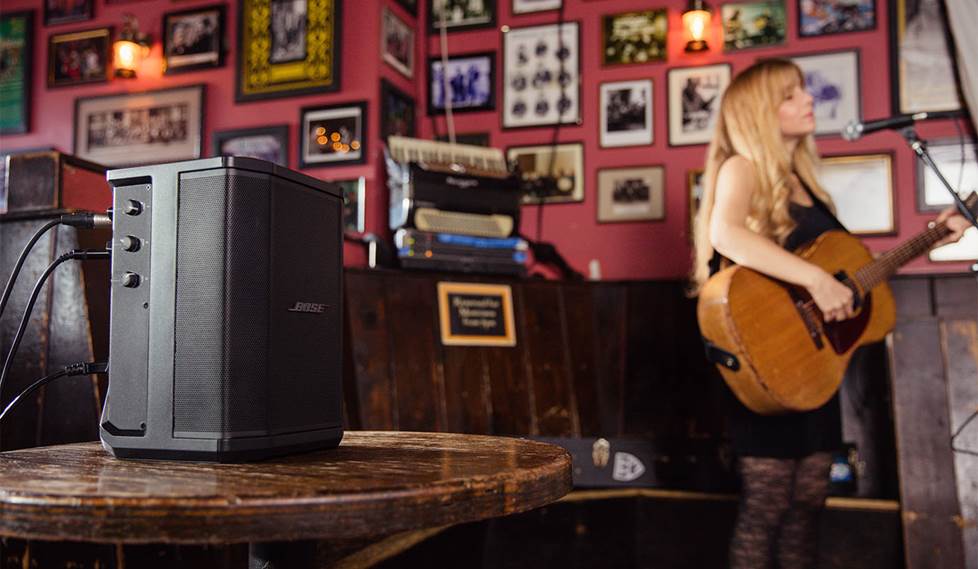 A portable PA system works well for individual artists, or a small group in a small venue. A Crutchfield system designer can help build a custom system for a larger venue.
Play only licensed, legal music
Under the Copyright Act of 1976, composers and musicians are entitled to collect royalties for each public performance of their work. When you play music for paying customers, you need a public license. Here are a couple of popular options used in businesses across the nation.
Rockbot streaming services
Crutchfield has partnered with a music service called Rockbot. The company makes sure you get a custom-designed soundtrack, with all of the music fully licensed and legal. The Rockbot Media Streamer gives you access to their cloud-based subscription service which contains hundreds of professionally curated stations with a library of over 14 million songs.
Streaming Sonos at work
Can you legally use Sonos in your business? Yes! Please read our article about the licensed services, including Spotify, Pandora, and Rockbot, that can be played through Sonos hardware.
Commercial displays
You may think you can just hang a cheap TV you bought at a big box store and call it a day, but a truly effective commercial display could require some additional features and accessories. For example:
a commercial TV like the LG 75UT640S lets you edit and play content, schedule playlists and groups, and more
some displays, especially for conference rooms, feature interactive touchscreens and collaboration software
if you want to show sports, display graphics behind a band, or advertise outdoors, you need a special outdoor TV
movie nights and presentations can reach a room full of viewers with a commercial projector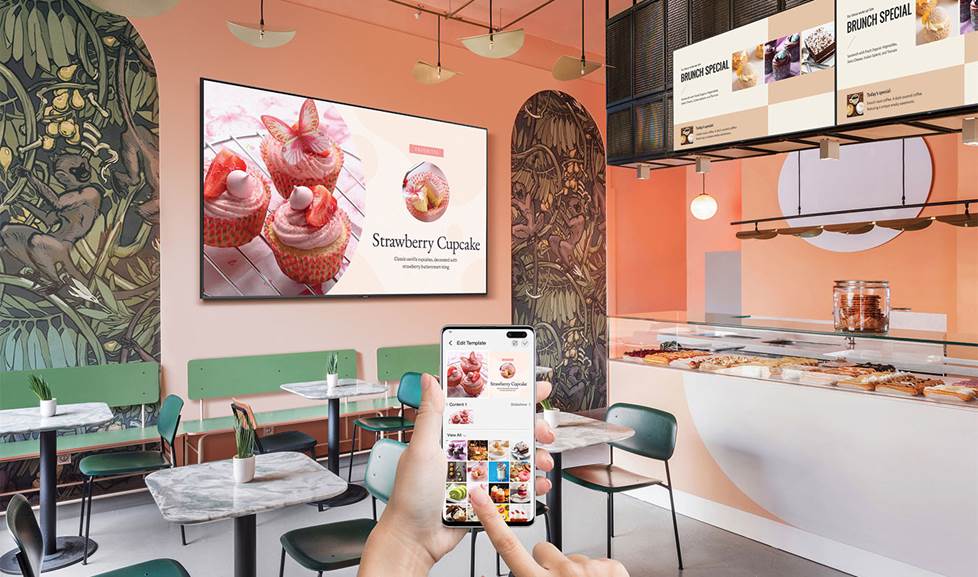 Commercial displays are different from consumer TV sets. They provide programmable digital signage for displaying visually impactful menus, performance schedules, advertising, and more.
The logistics of amplifying and routing sound from multiple TVs can require a little help from a system designer, too.
Sound masking
We've spent a lot of time telling you how to make music and announcements louder, but there are plenty of business situations that require discretion and privacy. In a doctor's office or corporate HR department, for instance, confidentiality is key. A professional sound masking system can help make sure that privileged communication is heard only by the parties involved.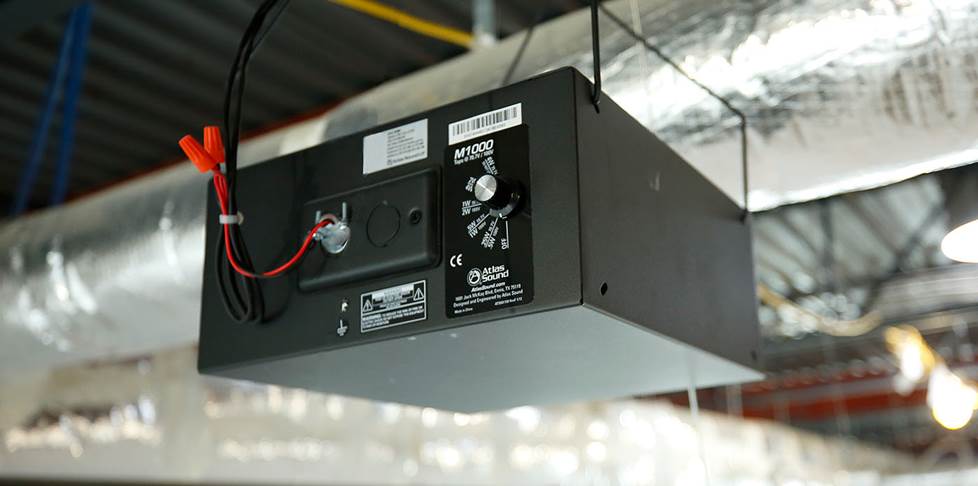 Sound masking systems bring down ambient noise levels and protect privacy. This AtlasIED M1000 speaker will be tucked out of sight behind drop ceiling panels.
Acoustic treatment
Even in a venue where you want things loud, sound waves can reflect off of surfaces and make the music or announcements echo or sound muddy. That's bad.
Acoustic panels kill the echoes and reverberations that produce an uncomfortable level of noise.
But what kind of acoustic panels do you need? And how many?
Your Crutchfield system designer can supply a customized solution, based on the dimensions and characteristics of your rooms.
Conference room systems
The days of just setting a speakerphone in the middle of the table and hoping for the best are over. A high-quality business conferencing system is key for coordinating communication between employees who are in the office, working remotely, or traveling. A variety of handy wireless conference room systems, microphone arrays, video cameras, and other accessories are available to help you keep your entire organization in the know and on the same page.
Get a little help from our commercial design service
I've mentioned our commercial A/V system design group a few times throughout this article. They're the friendly, knowledgable experts who can help take some of the stress and guesswork out of running a business. Consultation, planning, and advice are always free.
Watch this video to learn more about how your system designer can help you get the best audio/video system for your business.
If that sounds good, and you'd like us to lend a helping hand with your commercial A/V system, take the first step below.
Get started with
a free system design
After we gather your information, we'll send you a detailed system plan. It will include a link to a pre-filled shopping cart. Ordering is easy, and delivery is fast.