dropped by Elevate Training Studio — a locally-owned gym in Crutchfield's hometown of Charlottesville, VA — on a sunny December afternoon. Gym owners Adam and Nicole were leading a small group of clients through a series of exercises designed to enhance strength and flexibility, and improve overall fitness. The workout was intense, and everyone was focused, but the mood remained light and fun, thanks in part to high-energy music that permeated the large, open space.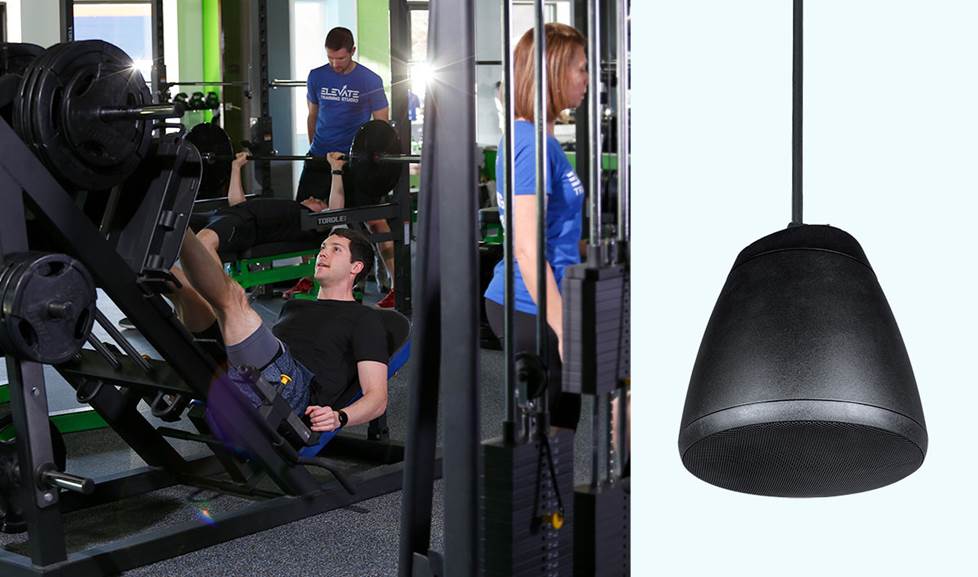 SoundTube pendant speakers provided a perfect solution for Elevate's open floor plan and high ceilings.
At the time of my visit, Elevate had only been open for a couple of weeks, but the business was humming as if it had been around for years — testament to the vision, hard work, and attention to detail that Adam and Nicole brought to bear on their dream of owning their own training studio. They knew a good sound system would be a vital part of creating the vibe they wanted at Elevate.
"We want it to be lively and interactive in here — get everyone out of their own world," said Adam. "We want to be able to change the music when we need to for different activities. Most of all, we want it to be fun."
That mission was definitely accomplished, with a little help from Rob, a sound system designer in Crutchfield's commercial design group.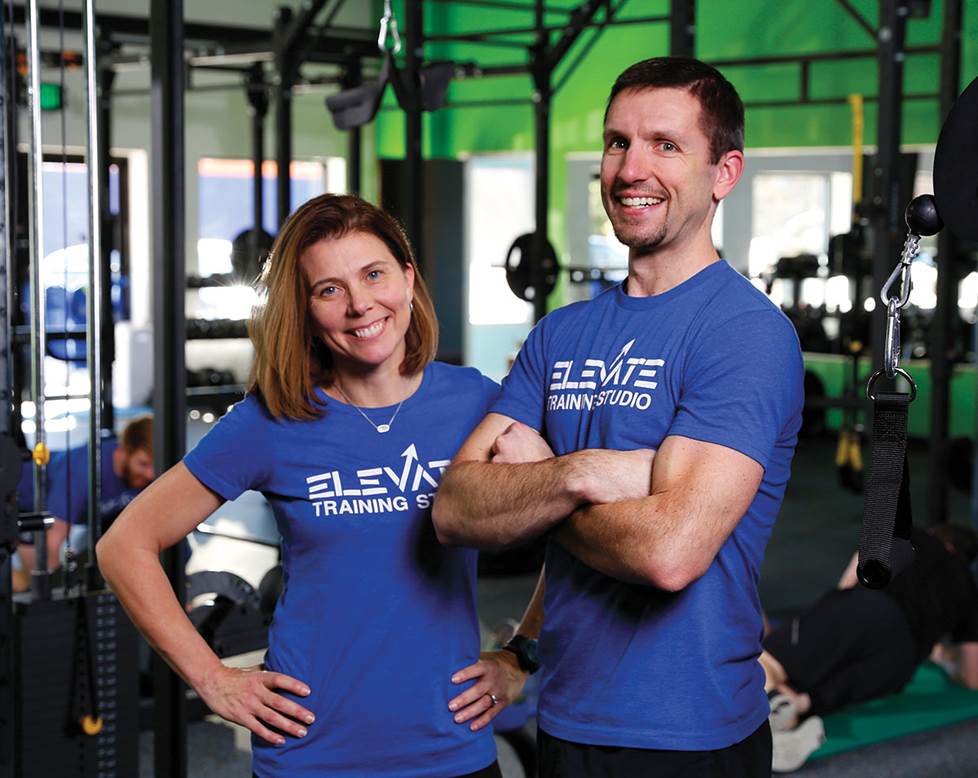 Adam and Nicole worked with one of our system designers to create a custom sound system that's a perfect fit for their unique space.
Building a small business from scratch is a huge task, and a good sound system is just one of a million details a budding entrepreneur has to juggle. Our designers apply their expertise and years of experience to make it as painless as possible. Fortunately, Adam and Nicole let us take lots of photos during the installation, so we can give you an idea how the process works.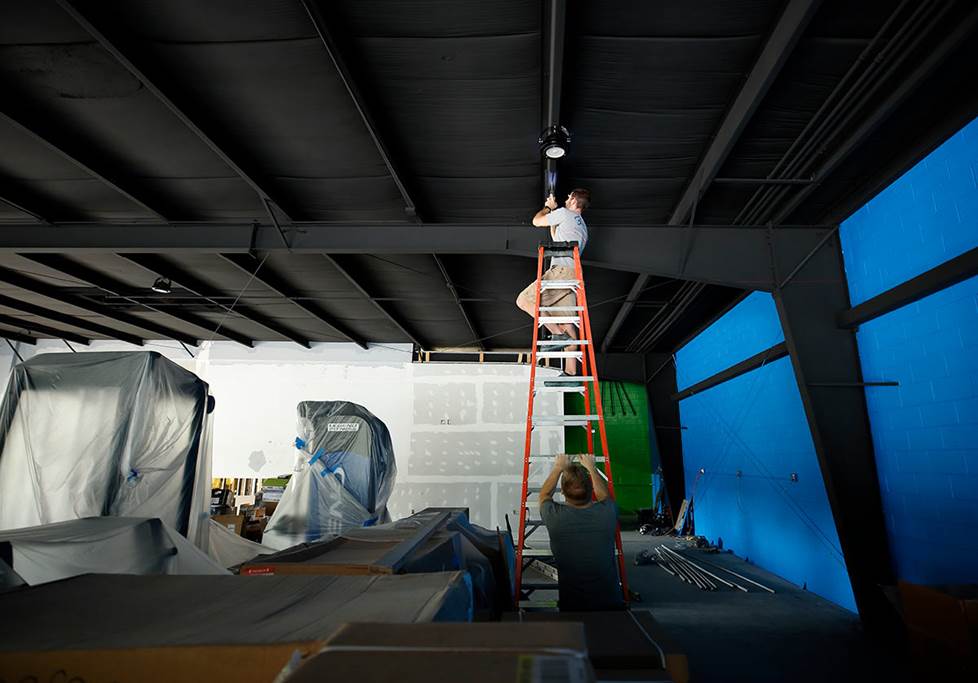 Adam, a former construction worker, did most of the installation work himself.
---
Choosing and installing speakers
The first time I set foot in the space that would become Elevate Training Studio, nobody was working out — there were no clients or exercise equipment yet — but everyone was sweating anyway. It was a late summer day, and the open garage door let in plenty of humidity even as it allowed some slight air circulation.
The building was clearly designed for industrial use, with brick walls, 15-foot high ceilings and exposed steel beams holding up the roof. Adam and Nicole, with some help from friends and family, had begun electrical, framing, and drywall work on the raw space. But they still had a long way to go.
Crutchfield system designer Rob showed Adam how to securely hang a pendant speaker exactly 12 feet above the gym floor.
Fortunately, the sound system was in good hands. Rob's plan was customized to fit the unique space he had to work with, and the specific results Adam and Nicole wanted to achieve.
"We needed a decent amount of power and a wide coverage angle for each speaker to fill this open space," Rob said. He knew pendant speakers — which could hang from the exposed ceiling beams via heavy-duty steel cable — were the solution. He recommended gear made by a company called SoundTube that offers a broad range of speakers that fit in challenging spaces. "They created the perfect overlapping grid of sound when I did the space calculations," Rob said.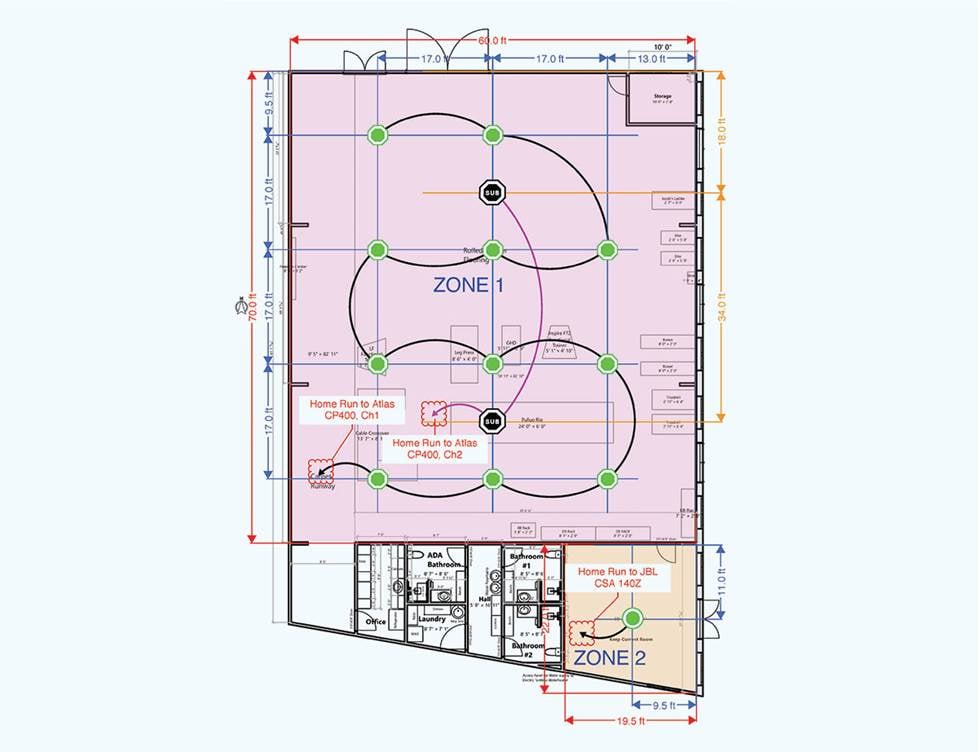 The gym's owners shared building blueprints with Rob, who worked up a free, customized design proposal.
We described the proposed installation to SoundTube, and they liked the idea. To help things along, they donated the following products:
The gym's main space is massive: 70 by 60 feet. Adam and Nicole had planned where each piece of workout equipment would be placed in the finished layout. Sound emanates from a pendant speaker in a cone shape, so Rob's sound design made sure each workout station had good coverage. The 6-1/2" pendant speakers are spaced at consistent intervals, and two overhead subwoofers provide the all-important bass that can make even a tired body want to keep moving.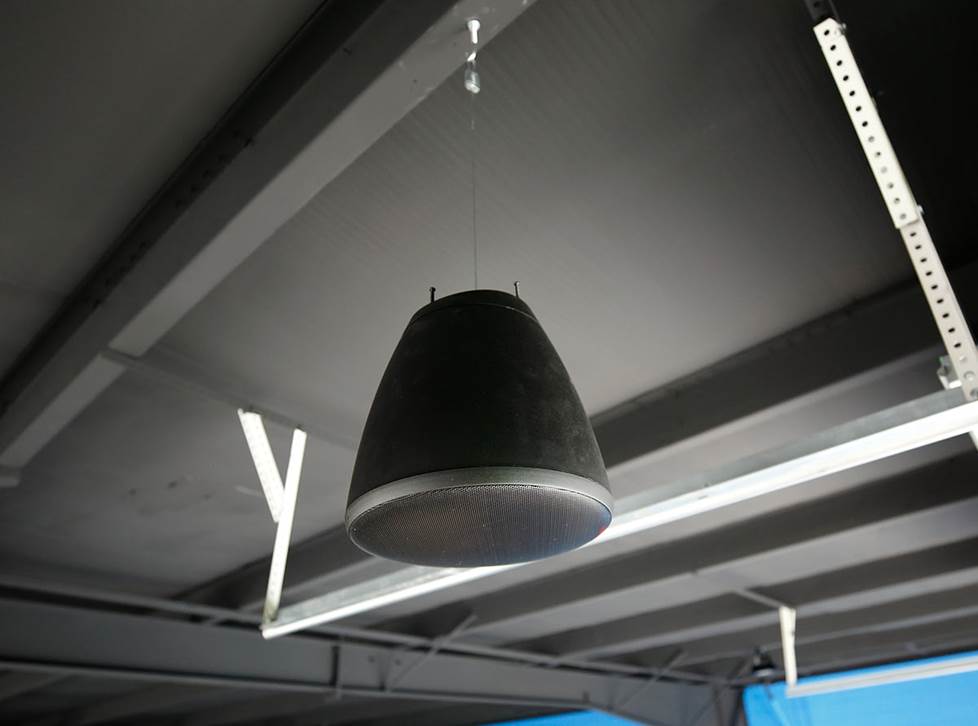 DIY spirit served the owners of Elevate well. They hung multiple pendant speakers and subwoofers themselves and saved on labor costs.
One end of the building is divided into smaller rooms. There's a comfy Pilates studio with a drop ceiling that could accomodate the CM62-EZ-II in-ceiling speaker. Adam and Nicole opted not to add sound reinforcement to the office, laundry room, and restrooms right now, but made sure the sound system could be expanded to those areas in the future.
It was a little like Christmas in August as Adam and Rob unboxed the first few pendant speakers. Rob showed Adam how to set each speaker's power tap to draw 16 watts, then climbed a tall ladder to demonstrate the process of securely hanging one exactly 12 feet above the floor.
He watched as Adam handled the next one himself, and that was it: the Elevate crew had the knowledge they needed in order to do the rest of the work themselves.
---
Power and control for two audio zones
Rob returned with Dolly, another member of our commercial audio group, in early November. By this point, the gym's owners had run electrical, drywalled all of the subdivided spaces, and taken delivery of workout machines. A professional crew was installing ductwork in the main room, working in and around the 11 speakers and two subwoofers Adam had hung in the interim. Everything was still dusty and covered with tarps, but the gym was definitely taking shape.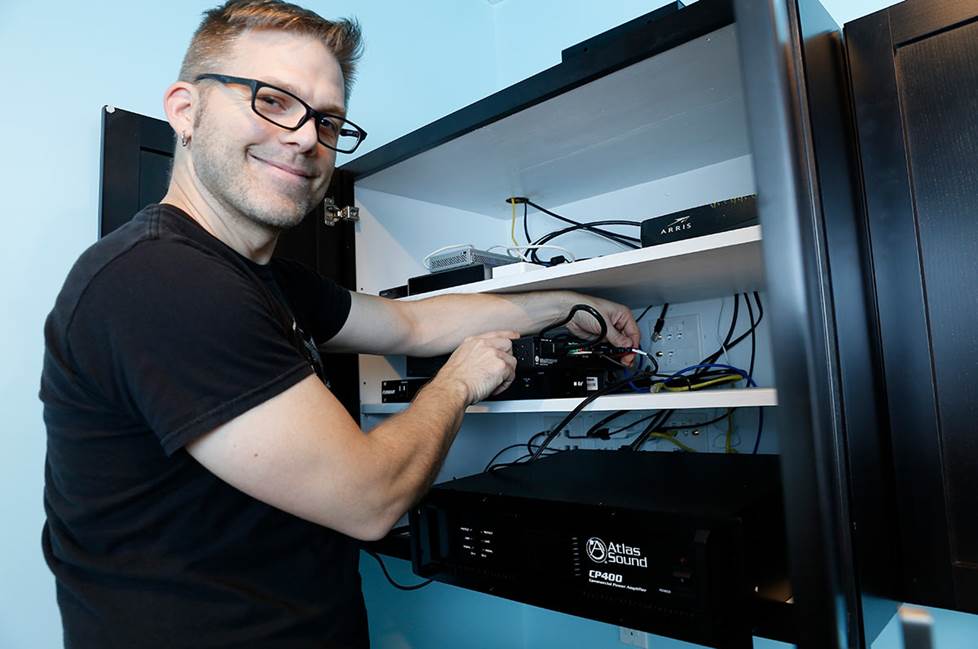 Our system designer Rob put all of the power and control equipment for a two-zone sound system in a cabinet in the gym's break room.
The Crutchfield team was there to hook up and test the equipment that would power the two zone sound system. The command and control center was confined to a single cabinet in the office/break room, and it consisted of a relatively few pieces of gear:
Atlas CP400 power amplifier (200 watts x 2)
JBL CSA 140Z power amplifier (40 watts x 1)
JBL CSM-32 3-input, 2-zone mixer
Sonos Connect music streamer (new model is the Sonos Port)
The Atlas CP400 amp provides 200 watts per channel to two channels, and that's plenty for the multiple pendant speakers.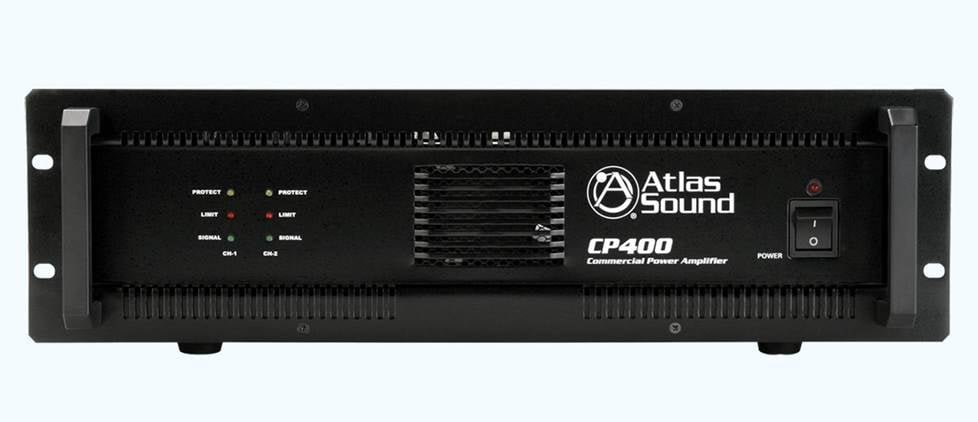 The Atlas CP400 amp is a workhorse amplifier that drives all of the speakers in the main room.
The math goes something like this: 11 speakers, each tapped at 16 watts (11 x 16 = 176 watts). Two subwoofers, each tapped at 75 watts (2 x 75 = 150 watts). The CP400 gets the job done with wattage to spare. A JBL CSR-V in-wall volume control mounted near the workout floor lets Adam and Nicole turn the tunes up when they need to.
In sound systems, as in physical training, flexibility is key. "It's a simple system with a great deal of variety," Nicole said. "We can switch music depending on our client's preference, the mood and the activity. We can change the source selection to stream the TV volume over the speaker system or connect music to our yoga/pilates studio. We're delighted."
The single speaker in the Pilates studio is powered by the JBL CSA 140Z. The speaker is tapped at 16 watts, and the 140Z offers 40 watts, so there's plenty of headroom. A JBL CSR-2SV in-wall controller lets Adam and Nicole switch between streaming music via Sonos, or a mobile device plugged into a Liberty Muxlabs Stereo Audio Balun Wall Plate.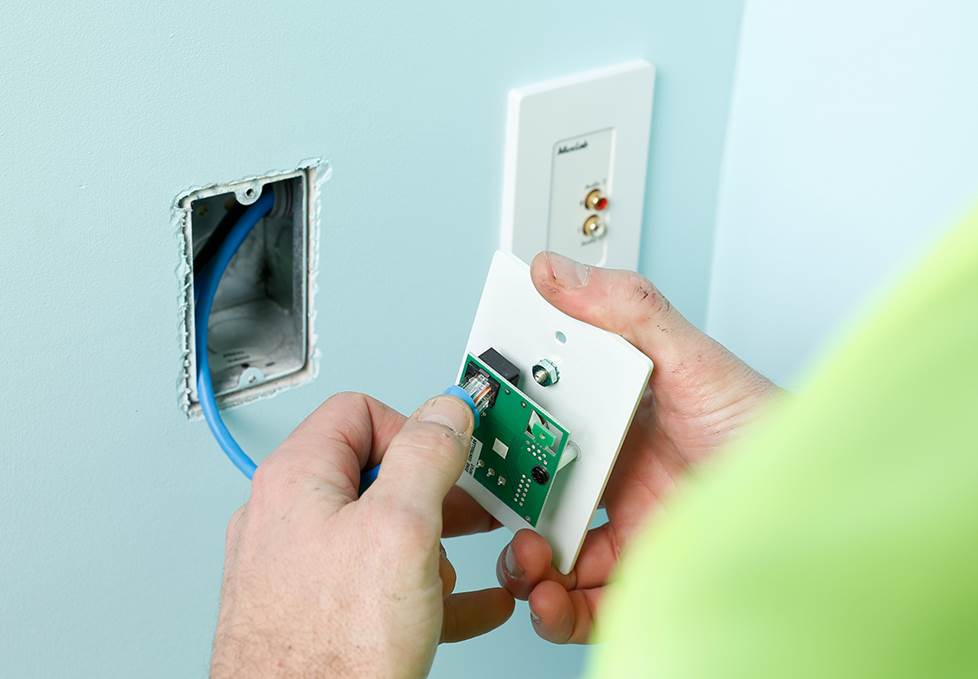 An in-wall volume control and source selector lets Elevate's staff make adjustments quickly and easily in the second zone.
Why you need a licensed commercial music source
Artists are legally entitled to collect royalties when their music is played for paying customers. Licensing organizations with alphabet soup monikers - ASCAP, SESAC, and BMI – are responsible for enforcing the law and collecting the royalties for performers. Fines for playing unlicensed music can be quite steep.
Several commercial music services exist, and their sole purpose is to deliver ready-made licensed and legal musical "stations" for you to choose from. We work frequently with a company called Rockbot.
You pay a subscription fee and avoid the hassle, so you can focus on serving customers.
On this visit, we powered up the system and played some music to test it out. The speaker in the Pilates studio was stubbornly silent, so Rob and Dolly did some quick troubleshooting (important note: designers don't charge clients for their time).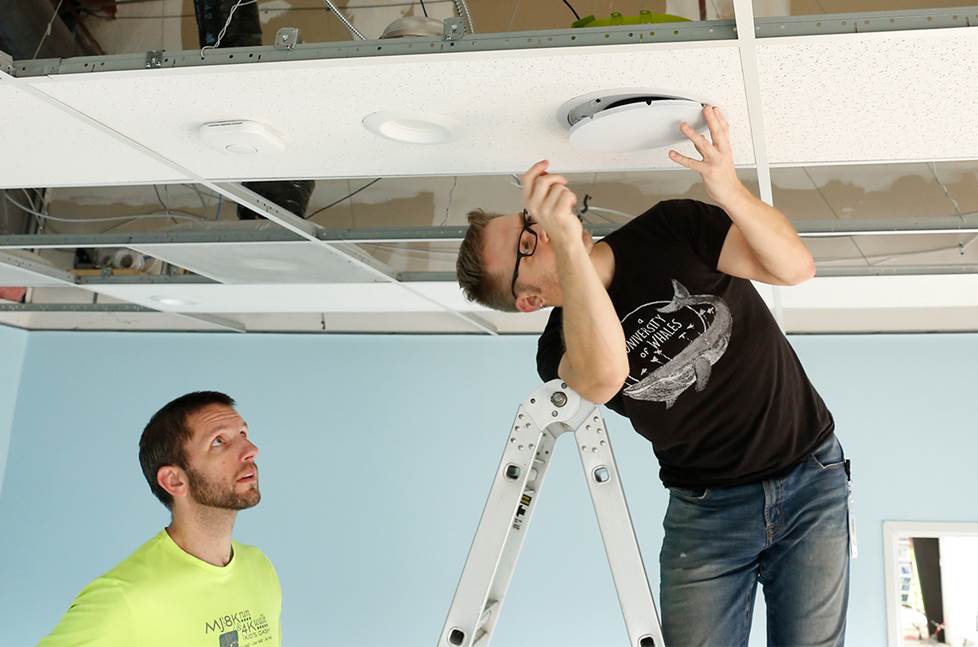 Free tech support after the sale is key — Rob helped Adam troubleshoot when a speaker went silent.
Before long, the whole system was firing on all cylinders, and the tunes were bumpin'. It was easy to imagine how Elevate would look, feel, and sound when it was ready to open. And it would be ready to open soon. A flurry of last-minute activity quickly put the finishing touches on Adam and Nicole's dream.
---
Get sound system design help for your small business
Adam and Nicole had Elevate Training Studio open in time for the holidays, and the exercise-based New Year's resolutions that inevitably follow.
"Music motivates and lifts one's spirits, so it's extremely important to have a good sound system when working out," Nicole said. "It helps us engage our clients more and challenge them to reach beyond their expectations while listening to heart pumping tunes. We love our Crutchfield music system!"
Observing the process of building a business from scratch was a real eye-opener for me. Small business owners have a million and one tasks to complete before opening day, and it's nice to know that we can do our part to help. The free consultation and design work done by Crutchfield commercial audio pros can help keep costs – and headaches – to a minimum.
Maybe you also dream of opening your own gym. Or maybe you've masterminded a new winery, hotel, retail store or private medical practice. Our commercial A/V design group can offer a free design consultation for a complete system – with audio, video, and a security system. Fill out our simple system design request form and check one major item off your to do list.