How to choose a portable projector
Get a huge picture from a lightweight machine
You want a big picture.
But maybe you don't want an 85" TV that weighs in at 100 pounds.
With a portable projector, you'll have the freedom to view a much bigger picture wherever and whenever you like. And the next time you have to move, you won't have to lug that giant TV along with you.
What is a portable projector?
Some home theater projectors are pretty bulky. Weighing as much as 50 pounds, they're meant for permanent installation in a dedicated theater room.
Big home theater projectors produce high-quality images, but that's all they do. The video programs and the sound come from other components of the home theater system.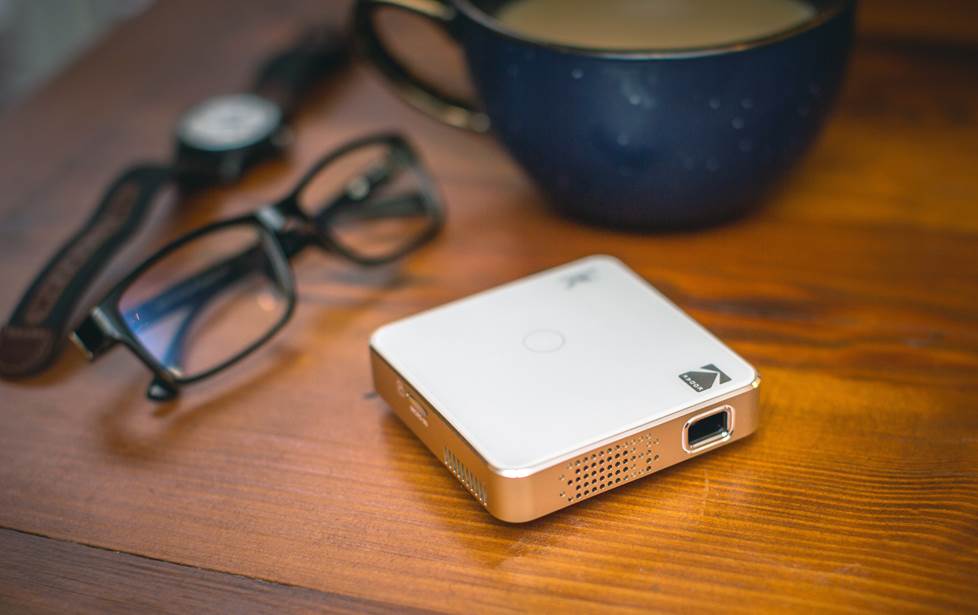 The Kodak Luma 350 pocket projector is small enough to travel in your backpack or briefcase. Its built-in rechargeable battery lasts up to 2 hours per charge.
A portable projector weighs less than 10 pounds. It's easy to carry around when you want to use it. And you can easily stow it away when you're not using it.
Some portable projectors have Wi-Fi and video streaming apps. Some that don't have the streaming apps let you mirror content from your mobile device or computer.
They usually include a small built-in speaker, as well as some type of audio output for connection to an external sound system.
What's with all the different names?
Searching for a "mini projector," "phone projector," or "bedroom projector"? A lot of different small projectors could fit the bill.
There are several different nicknames for the smallest of the portable projectors. We've seen them called "pocket projectors," "pico projectors," and "palmtop projectors." Kodak's Luma projectors are good examples. They weigh almost nothing and easily fit in a briefcase or backpack.
Do you really want to put a flat panel TV in a child's bedroom (or in each of your kids' bedrooms)? They might have more fun with a tiny, inexpensive projector that they can take to a sleepover at a friend's house.
Looking for something that's capable of higher performance than a pocket projector? Consider Epson's EF series mini-laser streaming projectors. They're about the size of a school lunchbox.
Samsung offers a compact "lifestyle" projector called The Freestyle. It has a unique cylindrical design and sits in a cradle stand that allows it to rotate 180° — so you can cast a full HD picture almost anywhere on the wall or ceiling.
Finally, there are a few small projectors that look and perform more like a regular home theater projector. They're just a lot smaller. Check out the Epson Home Cinema 2250 and Home Cinema 1080.
Portable projector styles compared
A small home theater projector like the Epson 2250 or 1080 will give you superior brightness and Full HD 1080p resolution. They're great for outdoor movie nights.
The Epson EF11 is a bit smaller than the home cinema models, and its design makes it a bit more road-worthy. You get 1080p HD resolution and 1,000 lumens of brightness. The laser light engine is meant to last for the projector's lifetime. You'll never have to replace a bulb.
Samsung's The Freestyle is a versatile Full HD 1080p option that offers a few fun features beyond basic projection.
A pocket projector like the Kodak Luma 350 is smaller and much more affordable than the rest. The tradeoff is lower resolution (480p) and less brightness.
| | Kodak Luma 350 | Samsung The Freestyle | Epson EF11 | Epson 2250 |
| --- | --- | --- | --- | --- |
| Type | DLP | DLP | 3-LCD, laser | 3-LCD UHE lamp |
| Form factor | Ultra-compact | Compact cylinder | Compact | Standard |
| Resolution (pixels) | 854 x 480 | 1920 x 1080 | 1920 x 1080 | 1920 x 1080 |
| Brightness (lumens) | 200 | 550 | 1,000 | 2,700 |
| Image size | Up to 150" | Up to 100" | Up to 150" | Up to 332" |
| Width | 4-7/16 | 4 | 8-1/8 | 12-1/4 |
| Height | 1-1/4 | 6-13/16 | 2-5/8 | 4-7/8 |
| Depth | 4-7/16 | 3-3/4 | 7 | 14 |
| Weight | 0.74 lbs. | 1.8 lbs. | 2.7 lbs. | 7.7 lbs. |
What can you watch on a portable projector?
Let's start with the Kodak Luma pocket projectors.
You could call the Luma 150 a "phone projector" because it lets you mirror the content on your mobile device or Windows 10 laptop. Use AirPlay with Apple devices or Miracast with Android or Windows 10 hardware. Use the HDMI port to connect a streaming device, Blu-ray player, game console, or cable box. The Luma 150 also has a USB connection and a slot for a microSD card. Connect your camera to show off your vacation photos and videos.
The Luma 350 is a little brighter and includes Wi-Fi. Use the built-in Android OS to download a variety of apps like Netflix and Hulu from the Google app store. The Luma 350 has HDMI, USB, and phone mirroring, just like the 150. But it doesn't have the microSD card slot.
The Luma 400 and 450 give you a bump in resolution over the other two Luma models (720p and 1080p, respectively). They also add HDR support and Bluetooth for connecting to speakers or headphones.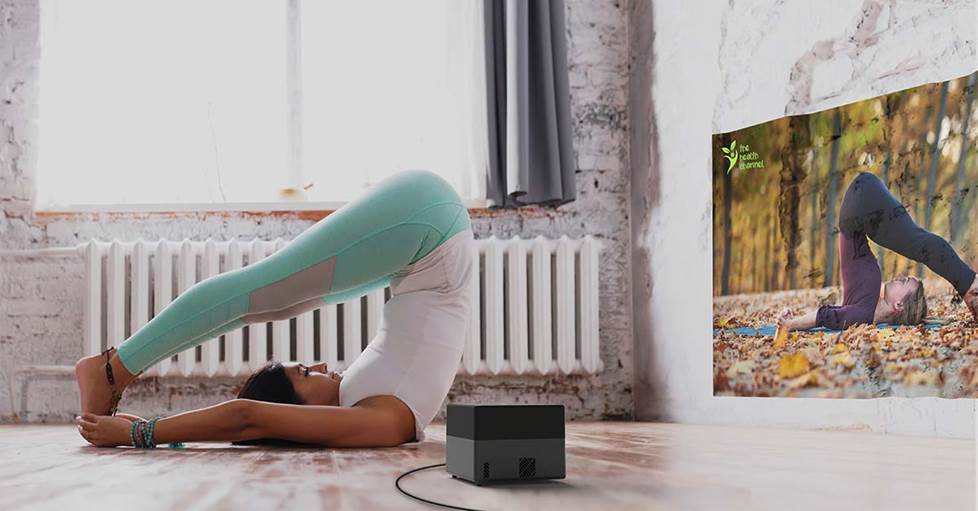 A compact projector like the Epson EF12 gives you versatile placement options.
Now let's talk about Epson EF series lifestyle projectors.
The EF11 is the lightest of the bunch, weighing in at just 2.7 pounds. It offers Miracast screen mirroring, HDMI, and USB. It's a full-size USB-A connection, so you can plug a thumb drive right into the side of the projector.
The EF12 weighs 4.7 pounds, and it's a bit bigger, but it gives you two great step-up features. The first is Wi-Fi, which gives you access to Android TV, Chromecast built-in, and Google Assistant. The second is a 5-watt stereo speaker system designed by Yamaha.
Like some of the Epson models above, Samsung's The Freestyle has a built-in streaming platform. But it also offers some cool features, like "ambient mode" that lets you display festive messages and photos.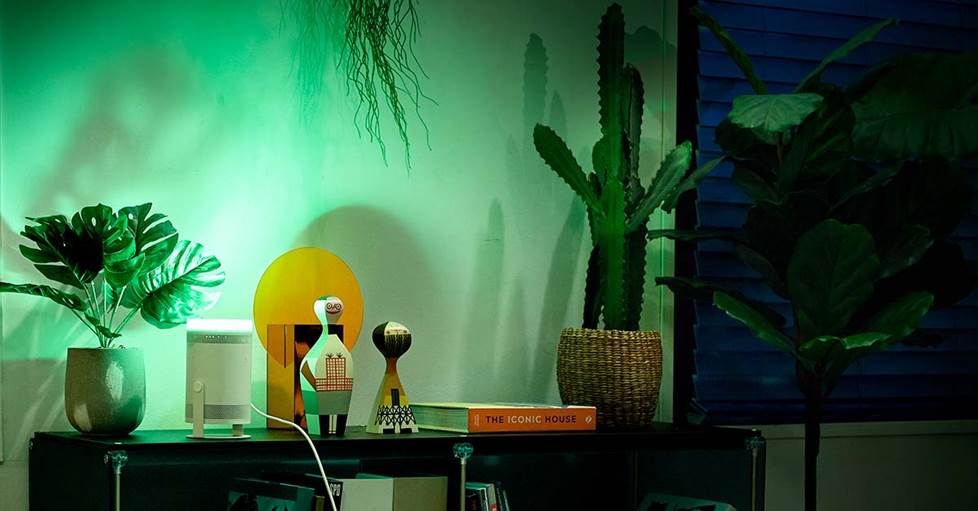 When you're not using The Freestyle for streaming video or displaying photos, you can put the included lens cap on top to create a diffused mood lighting effect.
Finally, let's look at Epson's small home theater projectors.
The Home Cinema 1080 has Wi-Fi, but can't download apps. Use Miracast for mirror content from an Android phone or Windows computer (8.x or later). Use one of the two HDMI inputs for a streaming device or other video component. The 1080 even has a composite video connection for an old VCR or video camera.
The Home Cinema 2250 is billed as a streaming projector. It gives you dual-band Wi-Fi, along with Android TV and Chromecast built-in. It has a single HDMI port, but no USB media port.
How about the sound?
The speakers built into portable projectors are convenient, but they're not exactly hi-fi. If you want bigger sound, look for a projector with a Bluetooth connection or an audio output for an external sound system.
For outdoor movie nights, a lot of people use a portable Bluetooth speaker. Powered PA speakers (some of which have Bluetooth) are perfect for Karaoke parties.
What else do you need?
You can project onto a white wall, but your pictures will look better on a projector screen. We offer several portable models, most of which are suitable for outdoor use. To learn more about screens, read our projector screen buying guide.
Aiming your Kodak Luma projector at a wall or screen is easier when you attach it to a mini tripod.
You may need an HDMI cable to connect a Blu-ray player or some other component. And you might need an audio cable to connect to a sound system.
You'll need a robust Wi-Fi network to connect to a streaming service in your back yard. So you might take a look at a mesh network router system or a Wi-Fi booster. Read our wireless router buying guide to learn more.
Finally, an extension cable or a power protection strip might come in handy.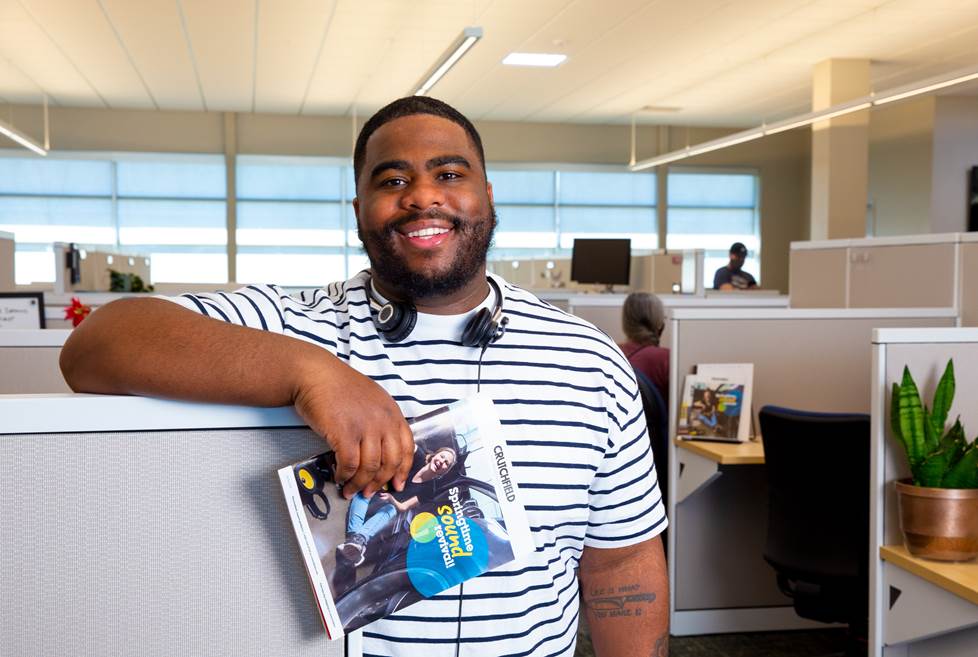 A friendly, knowledgeable advisor like Cam can help you choose the projector that best meets your needs.
Questions?
Need help choosing a projector or the accessories to go along with it? Contact one of Crutchfield's expert advisors.