Once you've mastered the basic box construction techniques, it's time to kick your creativity into gear and add some finishing touches.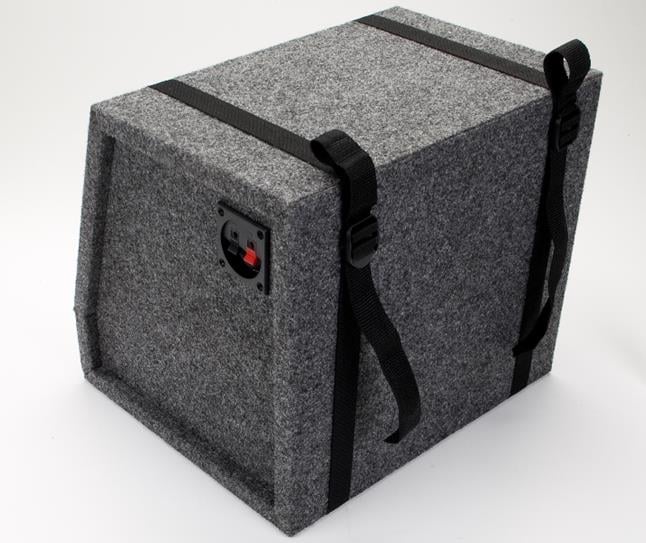 The carpet on this subwoofer box runs flush around the side insets. You can achieve this same effect on your custom sib box.
Carpeting your subwoofer box
Carpet is an economical and easy-to-apply box covering. Most prefabricated boxes come carpeted, and you can use carpet to achieve a very professional look on your custom-made box, too. Box carpet comes in quite a few colors, so you can probably find some that will closely match your car's interior carpeting. Box carpet is available here at Crutchfield and from many upholstery stores.
To apply the carpet, all you'll need is a utility knife, staple gun, and adhesive. 3M spray adhesive is an excellent choice; simply spray it on the back of the carpet and onto the box, allow it to dry until tacky, and then adhere the carpet to the box. Pop in a staple or two in to unobtrusive spots — they'll help make sure your carpet stays firmly in place.
If you plan to carpet your box, we suggest that you use a special construction technique. Inset the left and right sides of your sub box just a bit, to create a protruding edge all the way around both sides. This technique will reduce your box's internal air space slightly, so account for that in the design.
When carpeting this type of box, wrap and glue the carpet from the front, back, top and bottom around the protruding edges, and use a utility knife to trim the material flush with the inside corners. Then, cut pieces of carpet to fit the insets — glue them in place, and again run your knife along the inside corners. With this technique, the two pieces of carpet will meet each other perfectly, and you won't have any raw edges or lumpy corners. Many prefabricated boxes are made this way — the box above is an example.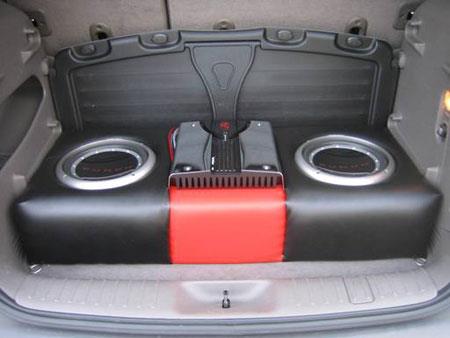 This box has some padding under the vinyl for a rounder, stuffed look
Applying vinyl to your subwoofer box
Vinyl comes in hundreds of different colors and textures — you can achieve literally any look you want. Good vinyl varies in price from $15/yard to $35/yard or more. It can be more expensive than carpet, but definitely worth the price, especially if you're covering an odd-sized or curved box, or want to match your upholstery or dash as closely as possible. You can buy vinyl at upholstery shops or through online dealers.
To apply vinyl, you'll need the same basic tools as for carpet — adhesive, a staple gun, and a utility knife — plus a heat gun. Vinyl should be heated during application, so it can be stretched tight enough to eliminate wrinkles on curved surfaces. Heating and stretching vinyl takes practice, so buy some extra material and take a couple of test runs before you start on your project. Take your time with the application — make sure not to get the vinyl too hot, or it may bubble up or overstretch. With some practice, you're sure to come up with the techniques that work best for you.
Our custom installers recommend that you use thick, high-quality vinyl that stretches in as many directions as possible. They also point out that "every single thing shows up with vinyl," so before you start to cover it, make certain that your box is extremely smooth. No bumps or lines (especially if you're applying the vinyl directly to the box's surface, with no padding in between). Use plastic body filler (Bondo®) to fill any holes, and take the time to sand everything smooth. The finished product will reflect the time and effort you put in.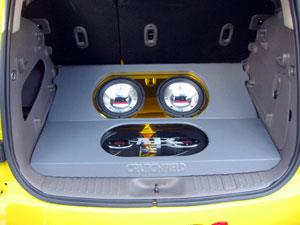 Vinyl trim looks great in this PT Cruiser
Our installers used vinyl on APC's project PT Cruiser, and you can see here how well it formed to the contours of the box, and to the raised Crutchfield logo he made of Dynamat (more on logos later in this article!).
A great way to change up the look with a vinyl-covered box is by padding it. Foam padding comes in thicknesses from 1/8" to 1" or more, so you can get just the look you're going for. Just like applying the vinyl itself, applying padding can take a little practice.
Here's a tip — when applying padding, cut each piece so it's just shy of the box's edges. When you stretch the vinyl over top, the foam will compress to the edges for a smooth, professional look. Using the same glueing technique as for carpet, first adhere the foam to the box, and then the adhere vinyl to the foam.
Applying raised logos to your subwoofer box
Custom raised logos are an awesome way to personalize your subwoofer box. The raised Crutchfield logo shown here was made of Dynamat (you could also use plywood), and covered with heat-stretch vinyl. The installer, Warren says:
"I cut out a piece of Dynamat just slightly bigger than a Crutchfield logo sticker I had printed out. I put the sticker on the Dynamat and trace cut the logo. Then I flipped the Dynamat over and trace cut it again, and removed the backing from each individual letter. Then I lined up the letters on the board, stuck them to it, and removed the excess Dynamat, leaving just a clean, raised logo."

After the logo was in place, Warren carefully covered it with vinyl, heating it and pressing it into place.
If you'd like to use a logo on a padded box, Warren suggests that you first glue the logo to your box, then cover the surface with padding — but don't glue down the padding that's on top of the logo. Use your utility knife to cut away a rectangle (or other shape) around the logo, creating a "border" effect. Then apply the vinyl, heating and stretching over the logo so that you get a clean, wrinkle-free finish.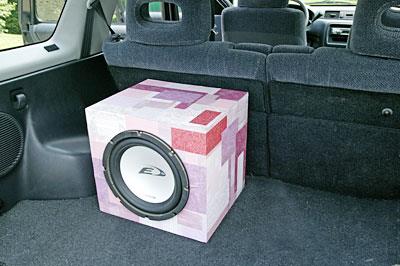 Anything goes — other ideas for customizing your subwoofer box
The sky's the limit when it comes to customizing subwoofer enclosures. Instead of carpet or vinyl, you could use just about any fabric you can find in a fabric store (cheetah spots, anyone?). Try installing a Plexiglass window in the top or side of your box, so you can show off your sub from all angles. And what about lighting? Illuminate your box from the inside or outside with neon, LEDs, or strobes — they're available in colors and sizes for any application.
For more ideas and inspiration, visit our Custom Car Showroom, or — better yet — hit the road and check out a car show in your area.