Best wireless headphones for TV
How to watch shows and movies without disturbing others
There are two main reasons people ask our Advisors about using headphones to watch TV. They have some hearing loss, which usually means they have trouble hearing what the people on the screen are saying. Or they want to watch TV without disturbing family members who are working or sleeping.
We offer a few headphone solutions for both situations. I'll take you through your options, explain the advantages and limitations of each, and show you how they work.
What is the best way to watch TV with headphones?
My go-to recommendation is still a dedicated Wireless TV headphone system. These transmitter-based systems are the easiest to setup and use from scratch. In fact, I set up my own 90-year-old grandmother with one of Sennheiser's RS-series wireless headphones. (Sony also makes a popular line of transmitter-based headphones.)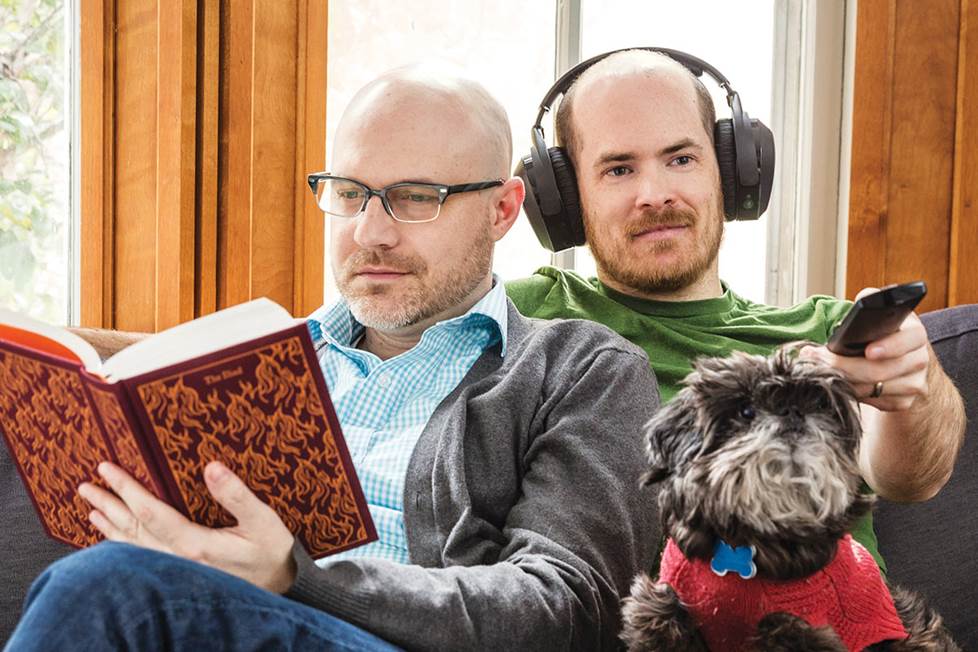 Crutchfield Art Director Jason reads a book, undisturbed, while his husband Ryan watches TV using Sennheiser TV headphones.
But if you already own a pair of Bluetooth headphones, or plan on getting some soon, I've got good news. In the last few years, Bluetooth has become a viable way to listen to TV sound wirelessly.
How does a transmitter-based TV headphone system work?
These systems consist of two main parts: a transmitter and a headset. The transmitter connects to your TV and sends an audio signal wirelessly to the included headset. You can get up to 300 feet of wireless range.
At my grandmother's 90th birthday, she told me about her TV sound problem. The built-in speakers on her flat screen are not very good, and she has to blast the volume to understand dialogue in her shows. She recently moved in with my aunt's family, and didn't want to bother others by keeping the TV up so loud.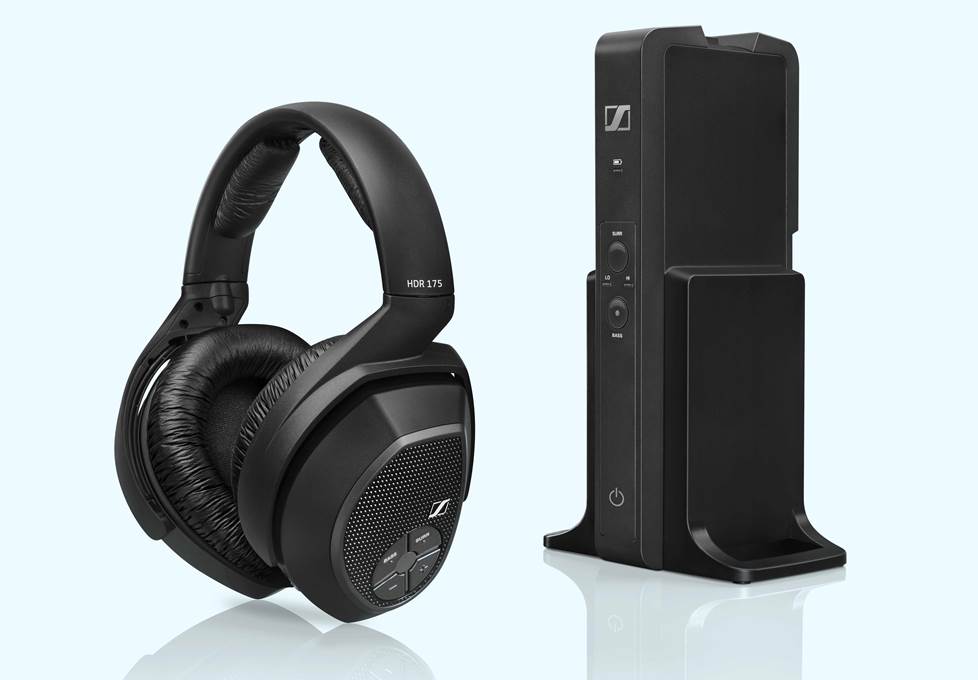 The Sennheiser RS 175 wireless TV headphones have been our best-sellers for years.
I knew right away that a transmitter-based system would be best, so I chose the top-selling RS 175. I knew it would be easy for her to operate. Volume controls and sound presets like "speech" are right on the headset.
Also, the transmitter and headset are paired out of the box. So she doesn't have to re-pair every time she wants to use them, like she would with Bluetooth headphones.
How do you connect a wireless transmitter to the TV?
You can connect the transmitter to your TV, cable box, or stereo pretty easily. It typically only takes one wire.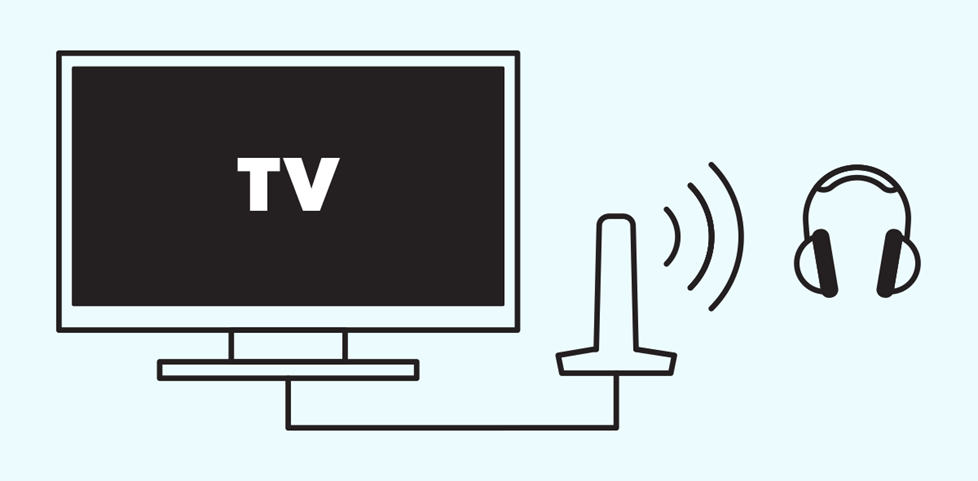 The wireless transmitter connects to your TV with just one wire.
All Sennheiser and Sony models include miniplug or RCA connection cables. Most of the Sennheiser RS series transmitters can also connect using an included optical digital cable.
Check your TV's output connections and manual before buying, or give us a call.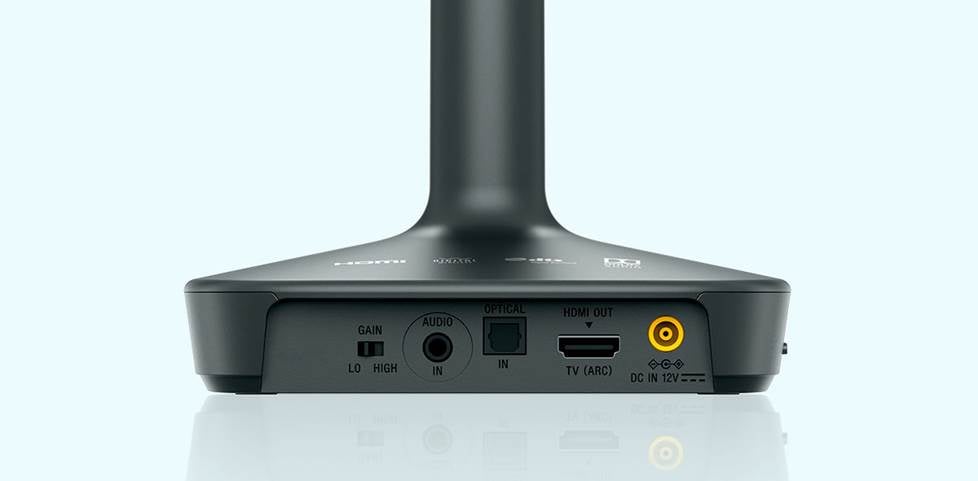 You can even connect the Sony WH-L600 via HDMI to a TV with an HDMI ARC (audio return channel) input.
What if others want to hear the TV? Can you use headphones and TV speakers at the same time?
There are usually ways to make this work, though it depends on your TV/Audio setup. My grandmother pretty much only watches cable shows, so we connected the RS-175's transmitter directly to the audio output on the cable box. Since the box is connected to the TV via HDMI, audio plays through both the headphones and the TV speakers.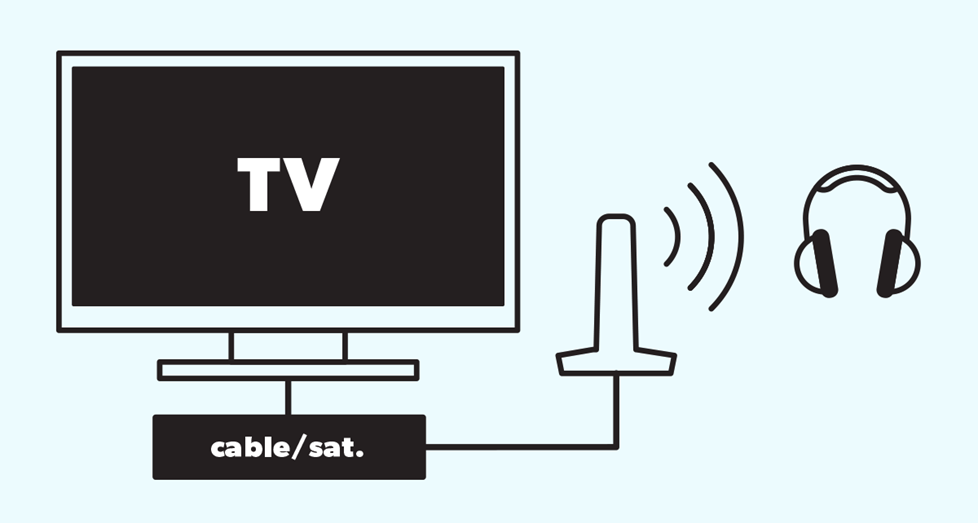 Connect the transmitter to your cable box's audio ouput, so that others can still hear sound from the TV.
Are there TV headphones for the hearing impaired?
While the Sennheiser RS 175 headphones are more of an all-purpose choice, Sennheiser also makes wireless TV headphones that target specific hearing issues. The over-ear RS 195 headphones have special presets for those who have trouble understanding shows or movies. On-ear buttons let you boost speech, suppress annoying loud noises, and compensate for quieter television scenes.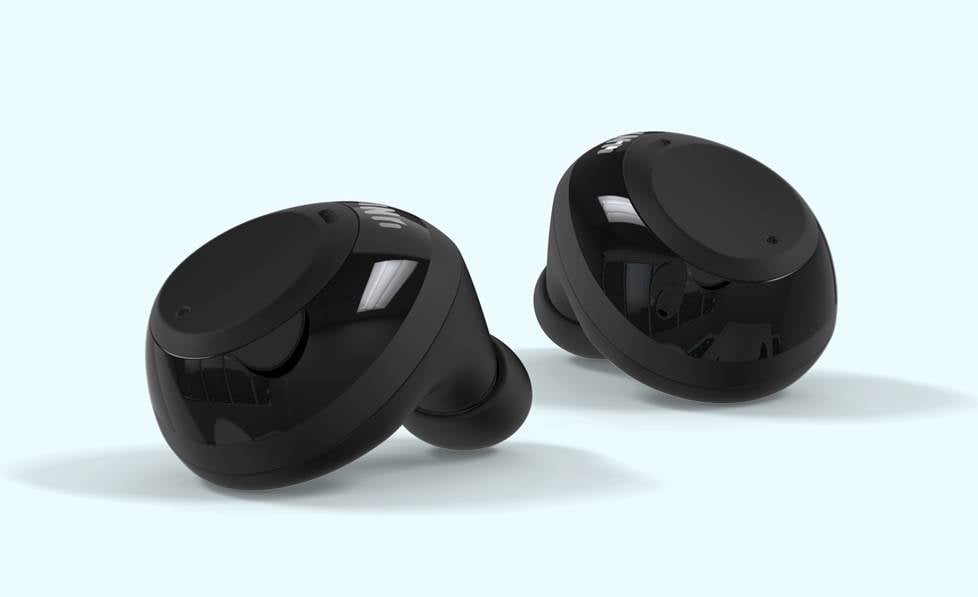 The Nuheara IQbuds™ BOOST True wireless earbuds offer personalized hearing calibration.
On the Bluetooth side of things, Nuheara's IQbuds2 MAX true wireless earbuds are an innovative solution. These Bluetooth earbuds enhance your hearing for TV shows and music — and even conversations. It starts with a hearing self-assessment that's built into a free smartphone app.
Once your hearing test is complete, the IQbuds BOOST earbuds calibrate themselves and apply processing based on your specific hearing profile. This processing is present on everything you hear. For TV sound, Nuheara's optional IQstream TV sends audio signals from your TV set to the earbuds. (Technically, the signal streams to your phone, then to the earbuds.)
Can you use wired headphones to watch TV?
Most TVs don't have a headphone jack, but you can get the Sennheiser Flex 5000 wireless system. It works like the other wireless transmitter systems, but lets you plug in the headphones you know and love.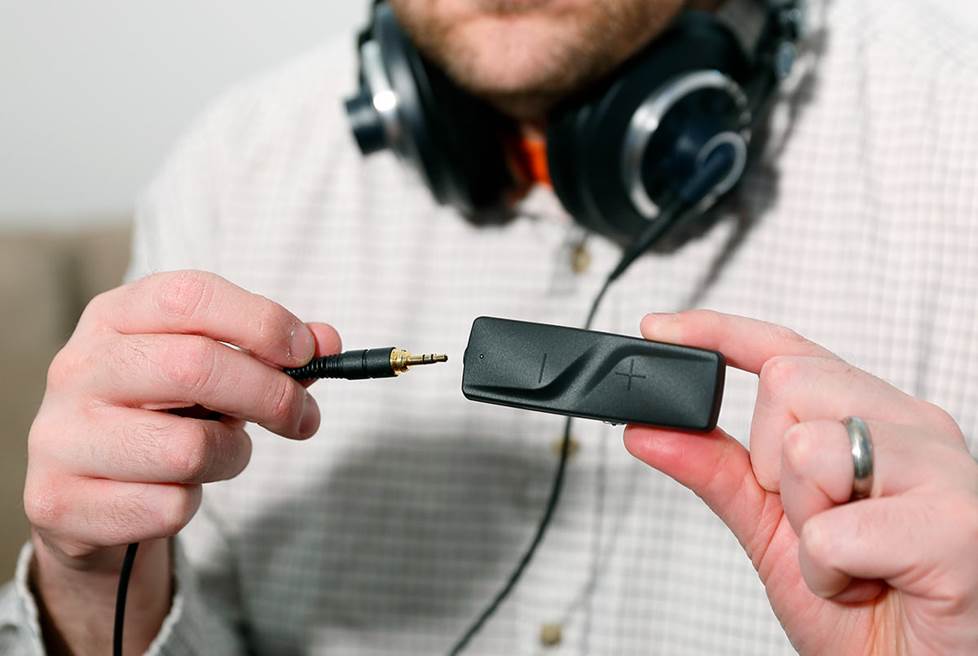 The Flex 5000's wireless receiver has a 3.5mm minijack so you can connect and listen through your favorite wired headphones.
Does your TV have Bluetooth? Here's how to connect Bluetooth headphones
Several newer TVs have built-in Bluetooth transmitting capabilities. They will deliver wireless audio to any pair of Bluetooth headphones. You can find this option in the TV's sound setting menu.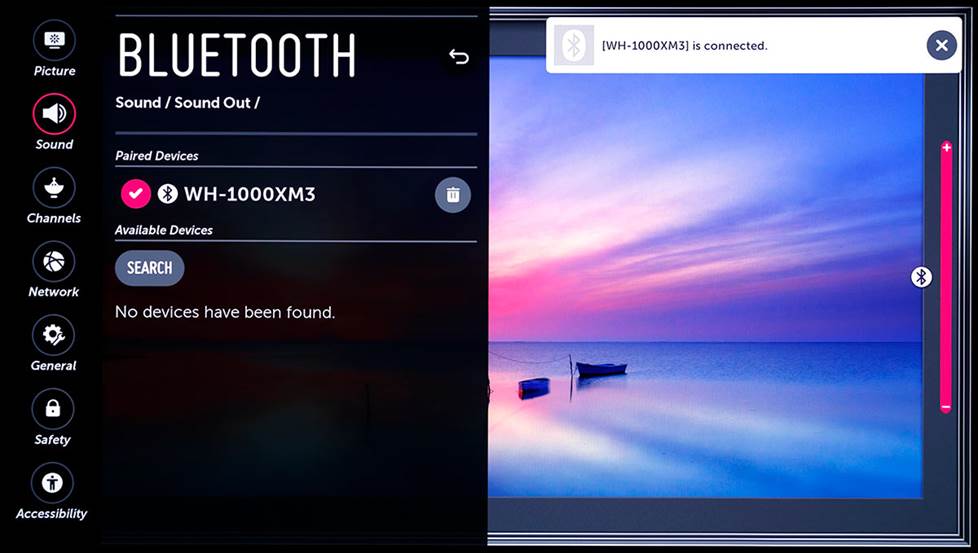 I found the Bluetooth audio option in the sound menu of my LG OLED TV.
I've tried this at home with my LG OLED TV, and it worked pretty well as long as I stayed in my living room. Standard Bluetooth has limited range, so the signal dropped out whenever I left the room and went in the kitchen.
I've tested with this with a few other TVs here at Crutchfield, and I've noticed that audio and video don't always sync up. You can occasionally get the dreaded "dubbed movie effect." No TV brand or model seems to be any better or worse for this, and it was more or less noticeable, depending on what I was watching.
Some TVs have settings and adjustments that help you correct this issue. But I found that other TVs won't let you make adjustments when paired with Bluetooth. One suggestion is to turn the TV off and turn it back on with the Bluetooth audio "on" to re-pair.
Best Bluetooth headphones for TV
There are many headphones that will work well for watching TV. For the most part, the ones that sound good for music can handle all the high peaks and deep impact you get from a movie or TV soundtrack. But here are a few that I like for very specific reasons:
Sennheiser Momentum True Wireless 2: True wireless earbuds — the ones with no cord connecting the two earpieces — might not be the first type of headphones you think of for TV watching. But these Sennheisers have a lot going for them. They are not only the best-sounding true wireless earbuds available, but they're also our best-sounding headphones with aptX Low Latency.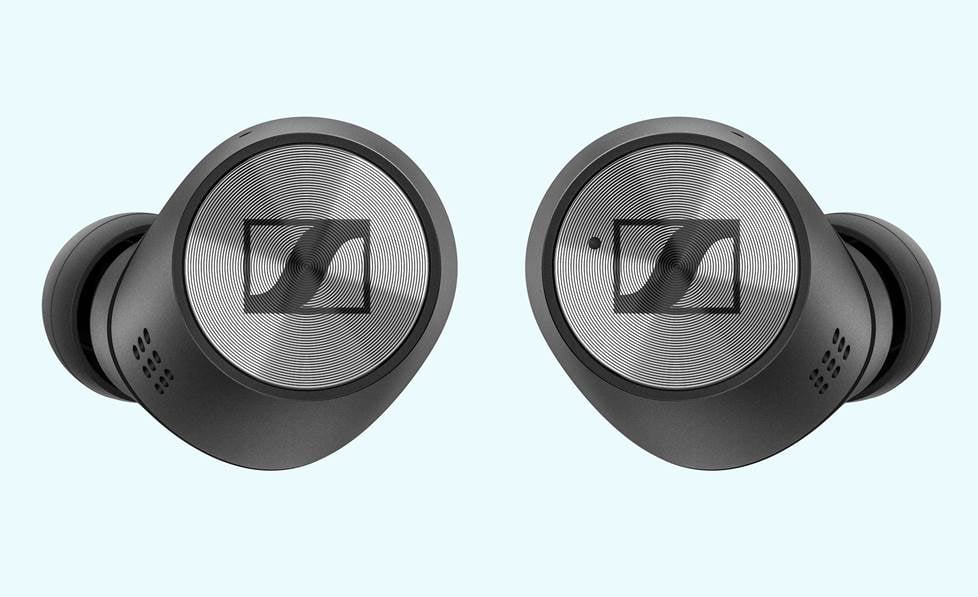 With no wires, I could turn and move however I wanted — nothing obstructed my head from sinking into the cushions.
I tried them with the SoundCast VGtx and the video and audio synced up nicely — no matter what I was watching. It was really liberating to move around with the ultra light earbuds and absolutely no cord to weigh me down or get caught up on anything. And when I sat on the couch, it was easier to relax wearing these than most of the over-ear TV headphones I've tried.
Sony WH-1000XM4: So far I've talked a lot about wearing TV headphones, so you don't disturb others. But you can also ensure others don't bother you with noise-canceling headphones. Sony's flagship model features adaptive noise-canceling circuitry.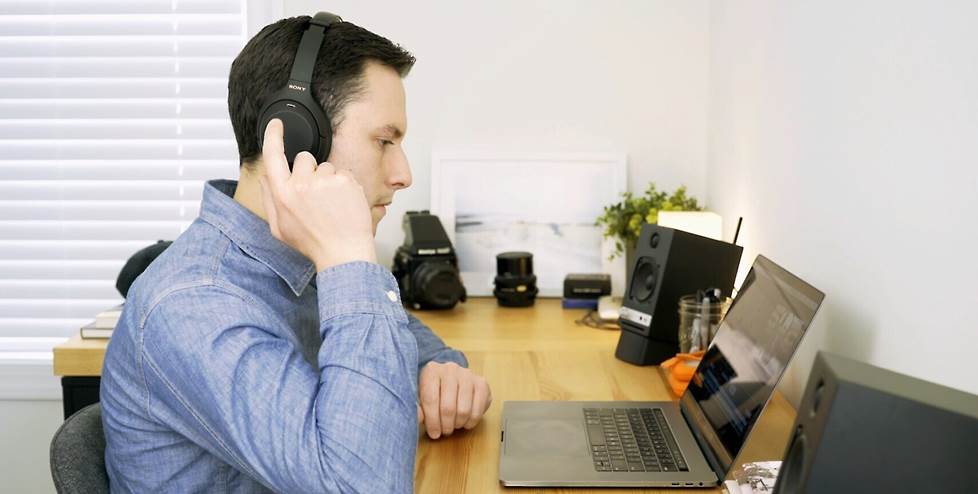 Sony's best noise-canceling headphones help block out external sounds so you can focus on your show or movie.
This special technology takes your surroundings into account, then adjusts the level of noise-cancellation. The drivers are tuned for strong bass, so effects will have full impact — but it's not at the expense of the midrange clarity and high frequency detail.
Need help with your selection?
Just ask our Advisors. They can discuss your setup and find the headphone solution that works for you.
Contact us if you have any questions.
Popular questions customers ask
Wireless TV headphones can aid in your perception of voices. Some models have advanced surround sound processing, which can help isolate voices and make them clearer in the mix. Others have modes can compensate for hearing loss and boost common speech frequencies to make dialogue more intelligible.
Most models have some form of volume adjustment available right on the earcups. Some also include controls for different listening modes, bass boost, and left/right channel balance.
Most wireless TV headphones have either an analog 3.5mm connection or an optical digital connection (or both). The good news is that most TV headsets come with the cables you'll need to make those connections.
Wireless TV headphones can last anywhere from 12 to 20 hours on a single charge (depending on the model) before they need to go back on their charging cradle.
Wireless TV headphone systems come in two parts: a transmitter and the headphones. The transmitter gets hooked up to your TV. Once it's connected, go into your TV's settings and pick the right audio output (optical or 3.5mm, often listed as "headphones" or "headphone output"). The transmitter then takes the signal from your TV and sends it to the headphones.