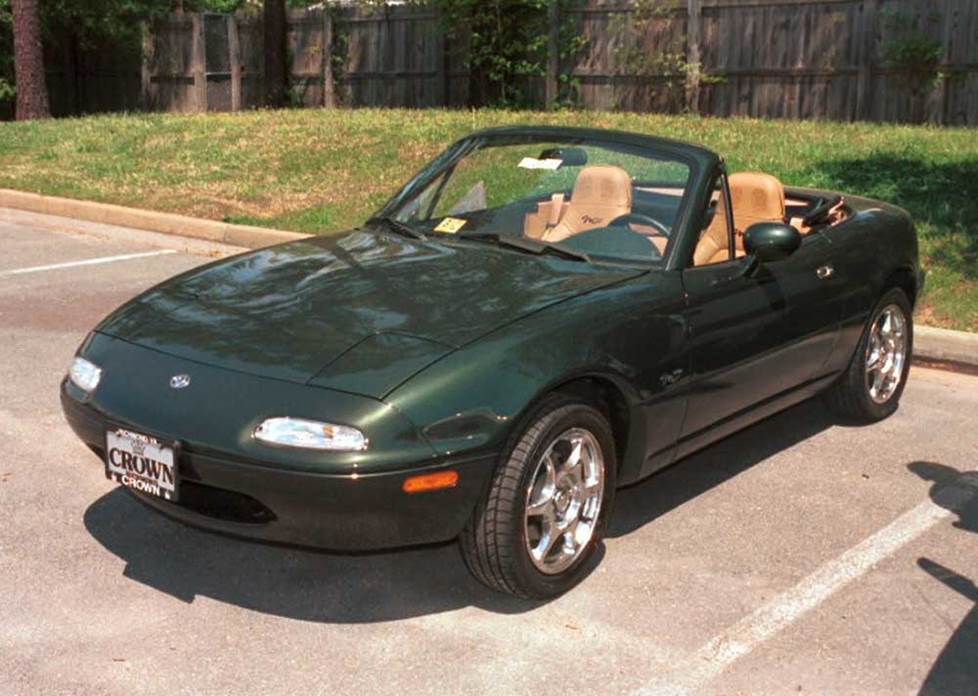 In brief: This Crutchfield Research Garage article gives you an overview of your Miata's stock stereo system and your aftermarket upgrade options. We'll tell you all about:
Then, use our vehicle selector to find the gear that will fit your Miata.
Overview of the Mazda MX-5 Miata
Imagine a classic British sports car that doesn't fry its electronics ten seconds into a rain shower or rust audibly when exposed to light or air. Imagine riding a unicorn through a field of candy corn on the way to El Dorado. Same thing, really.
We kid, but even the most devout Anglophile knows that the classic British sportsters of yore were lovely to look at, fun to drive, and about as reliable as an antique parachute. But imagine if you combined the top-down joy of a British runabout with the metronomic reliability of a Japanese compact. The resident car nuts at Mazda didn't just imagine that car, they built it.
Cute, smart, quick, and fun, the original MX-5 Miata is still everything you could ask for in a small, sporty car. More, really, since it starts, it runs, and the top doesn't leak. That said, your Miata's radio/speaker combo is, at this point, the audio equivalent of flat-spotted racing tires. If you love driving, but also love listening to music, it's time to pull into the pits for some new audio gear.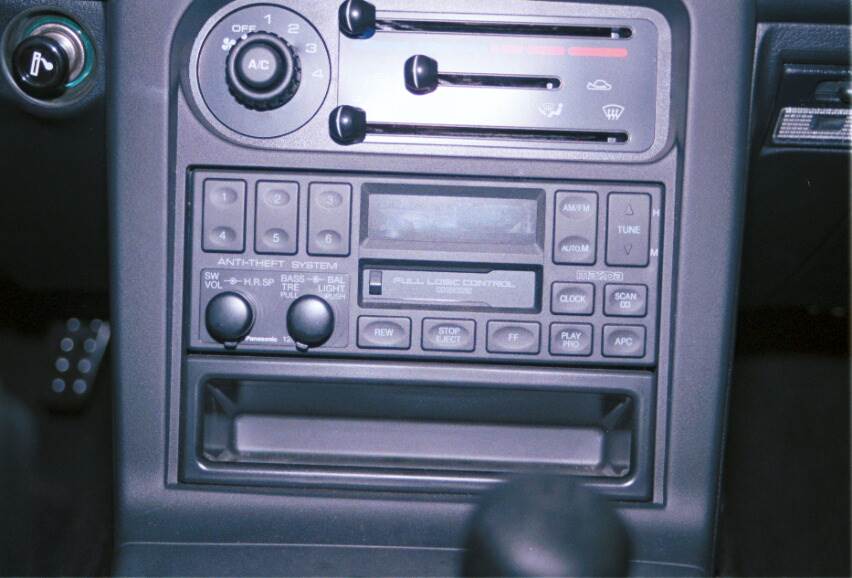 The early radio was a 3" model that can be replaced with a single-DIN stereo with help from a dash kit (Crutchfield Research Photo)
The Miata's factory stereo system
Conceived as a "pure" sports car in the British tradition (the good parts, anyway), the base-level first-gen ("NA") Miata didn't even have a standard stereo or air conditioning. Both were optional, of course, but since the stripped-down model was basically assumed to be headed for road racing or autocross duty, why add weight?
The first-gen Miata stuck around for quite a while, so Mazda kept it looking fresh with periodic interior detail and appearance changes. A number of these changes affected the car's receiver and speakers, so you'll see a lot of variations noted below.
We won't dive too deeply into the details in this Vehicle Profile, but all the relevant disassembly instructions (plus helpful illustrations) can be found in the Crutchfield MasterSheet that's included free with your receiver and/or speaker purchase.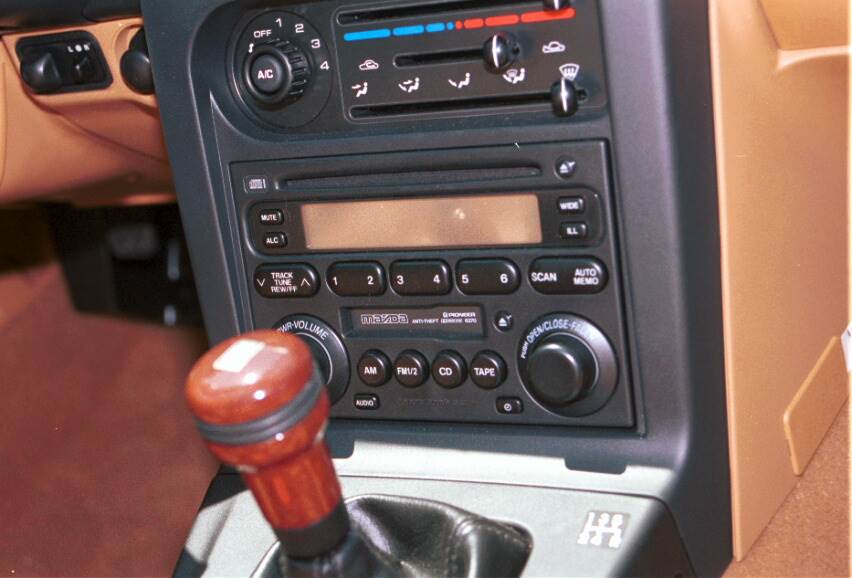 Removing the double-DIN model takes a bit of work, but it's not too bad (Crutchfield Research Photo)
Removing and replacing the factory radio
The amount of work involved in removing your Miata's radio depends on what type of radio you're removing. One of them is quite easy to deal with, but the others will involve some work.
Style A (3") and Double-DIN (4") radios: The "Style A" radio, which can be found in Miatas made prior to 11/95, is a 3" tall model with a slim storage pocket below. The double-DIN, available in 1993-1997 Miatas, is 4" tall. Removing either type involves removing the center console, the gear shift knob, the center air vents, which sounds a lot harder than it really is.
This really isn't so bad, especially if you work slowly and carefully. The key is to take special care with the vents, which can be difficult to deal with. Once the console, etc. is out of the way, removing either receiver is reasonably easy, and a broad range of aftermarket models will fit in this space.
Style B (2") radio: After November of 1995, the 3" radio went away and was replaced by a single-DIN (2") model. Removing this one doesn't involve removing the console, the shift knob, or much of anything, really.
All you need to do is pry out the DIN hole covers with a flat blade screwdriver, then use a set of DIN tools (Crutchfield includes them with your new stereo purchase.) to remove the receiver. Inset the DIN tools into the holes until you head a "click," then gently pull the receiver out. Don't get too forceful here, because you don't want to damage the retaining clips.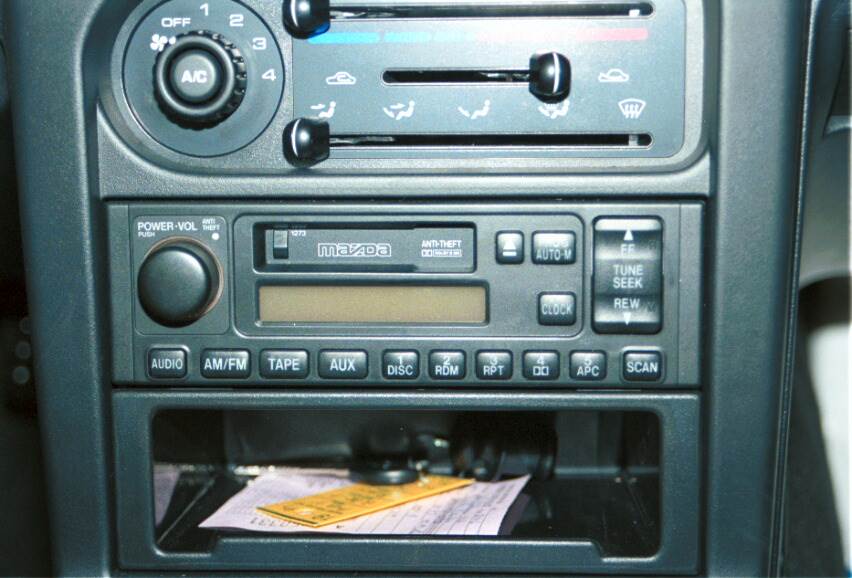 The single-DIN "Style B" radio is very easy to work with (Crutchfield Research Photo)
When you buy your receiver at Crutchfield, we'll include an installation kit and a wiring harness at a very deep discount. The discounted gear you get depends on the receiver you're replacing and the receiver you're replacing it with. You'll find detailed assembly instructions for all four kit types in your Crutchfield MasterSheet.
Follow the instructions included with your receiver wiring harness to connect your new receiver to your Miata's electrical system. This is generally straightforward, but if you have a 1996 or 1997 Miata equipped with the "Sensory Sound System", the front and rear speaker leads must be reversed to achieve proper fader operation. If you have an earlier Miata equipped with "Body Sonic" bass modules, they won't work with an aftermarket receiver.
If your car has a factory amplifier (behind the driver's side of the dash), you'll need to bypass it when you install a new receiver. Run new speaker wires from the new stereo to the amp location, and splice them (or use Posi-Products speaker connectors) into the factory speaker wires at the output side of the amp.
Detailed stereo and speaker removal instructions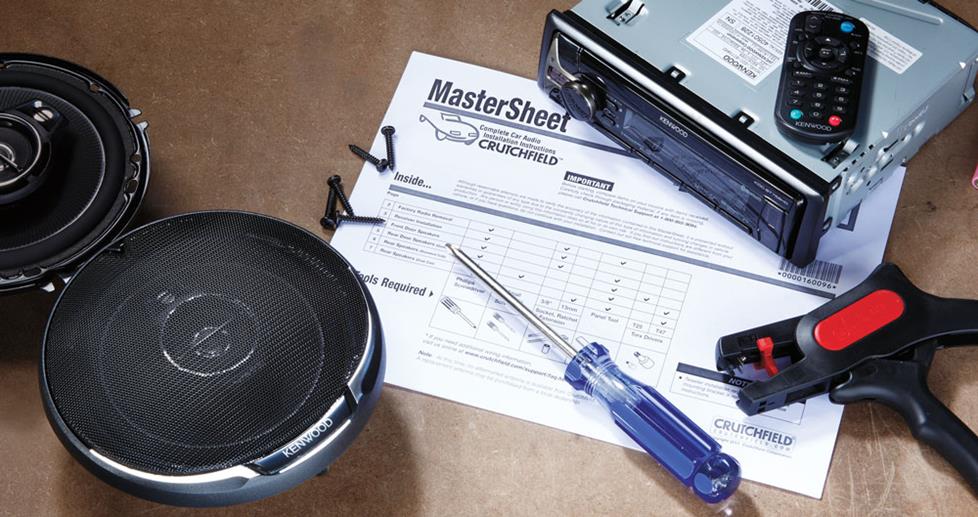 With step-by-step disassembly instructions and plenty of up-close, detailed photos, our exclusive
Crutchfield MasterSheet
™ takes the guesswork out of removing the factory stereo and speakers. It's free with your Crutchfield order, or you can purchase one separately for just $9.99.
Some receivers are deeper than others, so if you choose one of those for your car, you may need to remove the factory radio's rear support bracket to create the space you need. If this is an issue, it'll be noted in the installation details for your receiver.
In some cases, you'll need to use the factory radio's brackets in order to install your new receiver. If you don't have the brackets, you can obtain them from your dealership or look for them online. This, too, will be noted in your car's installation details if need be.
Read our Car Stereo Buying Guide for shopping tips and advice.
Shop for car stereos that fit your Mazda Miata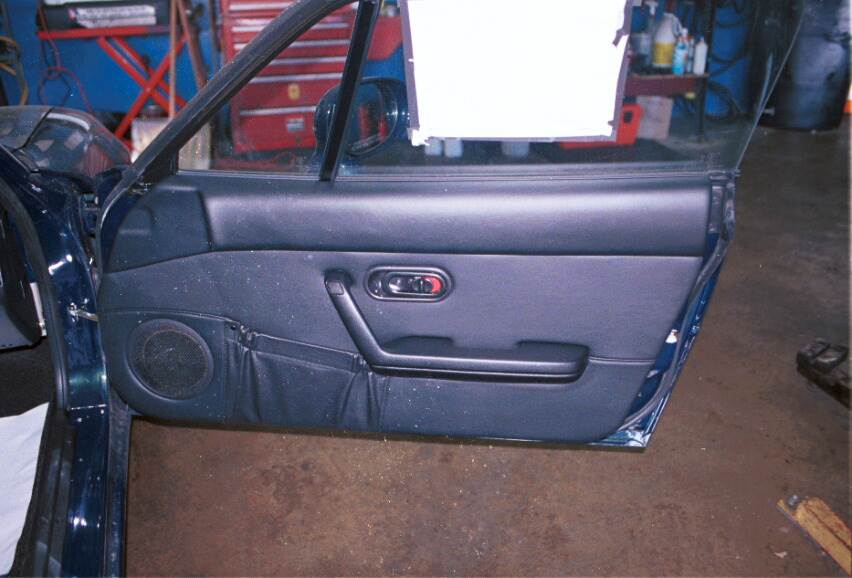 All Miatas have speakers on the doors, but some are easier to deal with than others (Crutchfield Research Photo)
Removing the factory speakers
The first-gen Miata has speakers in the doors and headrests, though the removal and replacement details vary quite a bit, depending on the model year. We'll break it down below, but your Crutchfield MasterSheet will have all the details.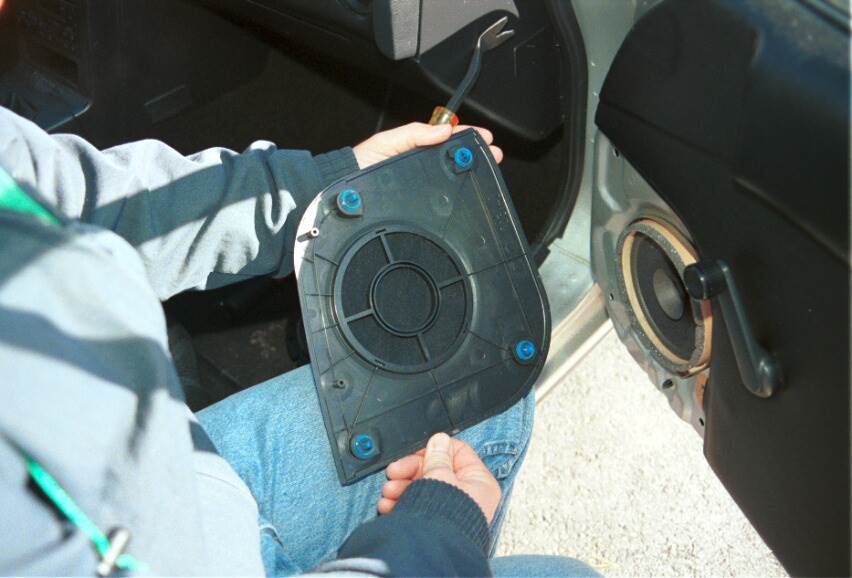 This person is about halfway through the speaker replacement process on a 1990-1993 Miata (Crutchfield Research Photo)
Door speakers
1990-1993 models: The earliest Miatas are also the easiest – at least when it comes to replacing the door speakers, anyway. You don't even have to remove the door panel on these cars. Just use a panel tool to pry the speaker grille panel away from the door to release the retaining clips and expose the speaker. Remove the three Phillips screws securing the speaker, then pull it out and disconnect it. That's it.
A variety of 5-1/4", 6-1/2", or 6-3/4" speakers will fit into the opening, but you'll need a bracket (included with your Crutchfield speaker purchase) for the smaller ones, and you'll need to drill new mounting holes if you go with 6-3/4" speakers.
This isn't hard, but it's still drilling a hole in your car, so don't take it lightly. Wear eye protection, make sure you're aware of what's around and behind where you're drilling, and work patiently.
If your Miata didn't come with factory speakers, you won't find a harness inside the door. The harness is located in the car's kick panel, so you'll need to extend that and route it into the door.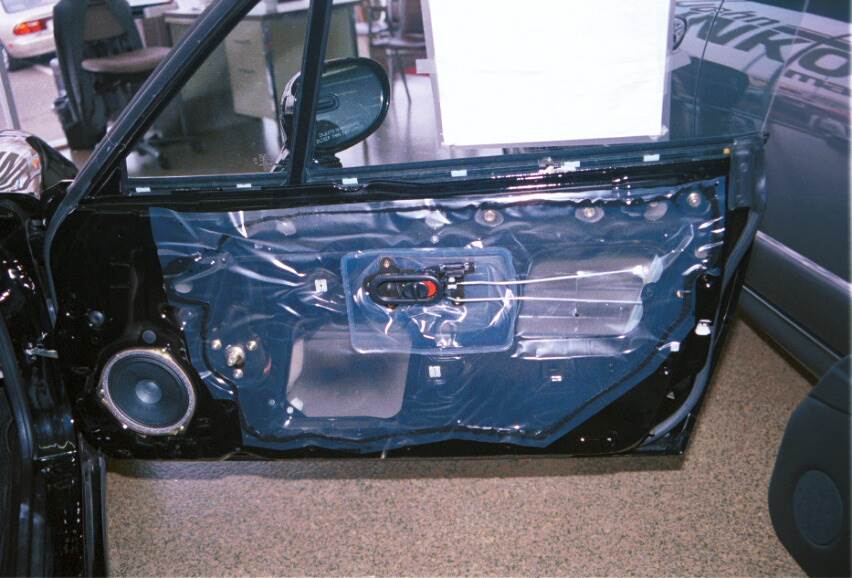 Door panel removal became necessary in 1994, but this is still pretty easy to do (Crutchfield Research Photo)
1994-1995 and 1996-1997 models: Things got a little more complicated starting in 1994. Thankfully, we're talking about a Miata here, so "more complicated" is a relative term. In this case, all it means is that you'll have to remove the door panels.
There are some very minor detail differences between the 1994-1995 and 1996-1997 cars, but it's mostly an appearance thing. The speaker removal basics are the same, and they're all detailed in your MasterSheet.
As with the earlier cars, a variety of 5-1/4", 6-1/2", or 6-3/4" speakers will fit into the opening. You'll still need a bracket (included with your Crutchfield speaker purchase) for the smaller ones, and you'll need to don protective eyewear and drill new mounting holes for 6-3/4" speakers.
For those Miatas without speakers, you'll have to dig into the kick panel to find the car's speaker wiring harness.
In all cases, remember to test your speakers before you button everything up again. The Miata is easy to work on, but you don't want to take a door apart twice if you don't have to. Before you put the doors back together on these cars, make sure the wires aren't interfering with the windows or door locks.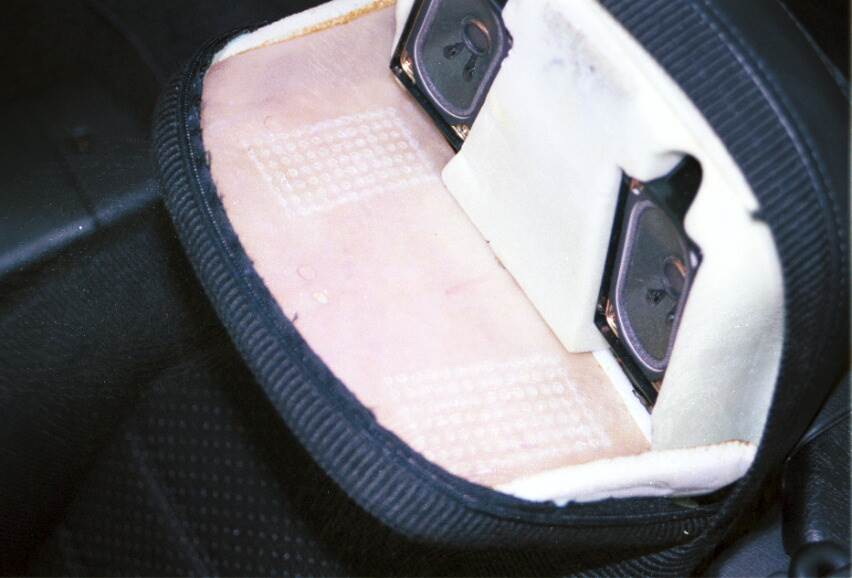 These little speakers are comfortably nestled in the Miata's headrest (Crutchfield Research Photo)
Headrest speakers
Replacing the Miata's headrest speakers is either 1) really hard 2) kind of easy, or 3) somewhat challenging. It all depends on the model year.
On pre-1993 models, replacing the speakers can be a bit challenging, depending on whether or not the headrest covers are zippered. If they are, it's easier. If not, you might want to turn the job over to a custom installer.
On 1993 models, you can get to the speakers by unzipping the headrest cover and folding it down. Remove the two Phillips screws securing the 3-1/2" speakers to the headrest foam, disconnect the speaker wiring and remove the speakers. A wiring harness is not available for this location, so you'll need to use Posi-Products speaker connectors.
Each headrest contains a pair of speakers, so you'll need to order two pairs of replacement speakers to achieve proper sound. The factory speakers are crossed over and only produce 2500Hz - up signals, so keep that in mind.
The 1994-1997 models use headrest speakers that are about 2" x 4", so direct aftermarket replacements are hard to find. Each pair is mounted in an enclosure inside the headrest, and like their forebears from the year before, they're crossed over and only produce 2500Hz and up signals.
The speakers are accessed by unzipping the zipper on the side of the headrest. What you do then depends on your interest in fabricating a speaker mounting bracket or spacer. If you want to give it a go, there are some marine-rated component tweeters that could work here. A wiring harness is not available for this location, so you'll need to use Posi-Products speaker connectors here, too.
Read our Car Speakers Buying Guide for more information.
Shop for speakers that fit your Mazda Miata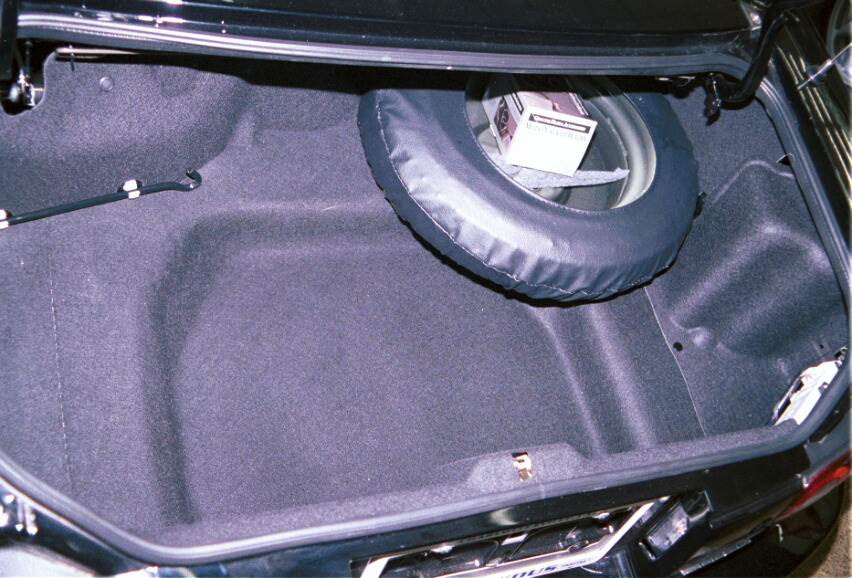 Room for a spare tire, some extra bass, and a couple of duffle bags (Crutchfield Research Photo)
Bass in your Miata
If you're looking to build a ground-pounding, contest-winning system with enough bass power to set off car alarms a quarter-mile away, you're probably not going to start with a first-gen Miata. You only have a 36" W x 9" H x 10" D (7"- 8" in '96 up models) space to work with in that tiny trunk.
To add bass to your Miata, your best bet is a powered subwoofer. A powered sub will provide the right amount of music-enhancing bass, while also leaving just enough room for a weekend's worth of duffle bags.
That said, if you do want to install some large-ish subs in an enclosure, please send some pix to our Custom Car Showroom. This could be pretty cool, and we want to see it.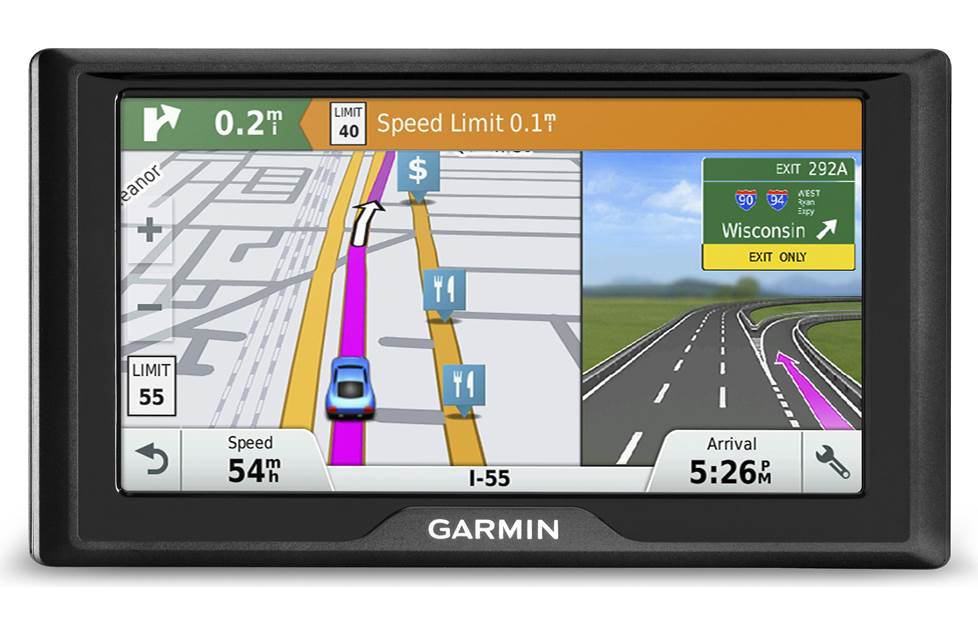 A portable GPS will be a great addition to your weekend travel kit
Other options for your Miata
The original Miata is an awesomely fun car to begin with, but here are a few ideas to make it even better.
Navigation
Need directions? You don't necessarily need a big, heavy in-dash nav receiver. A portable GPS will mount in your Miata and give you turn-by-turn directions, traffic updates, and everything you need to make your road trip go smoothly. Plus, when you get where you're going, you can put your GPS in your pocket and use it to find points of interest around town.
Antenna replacement
Life can be rough for a car's antenna, so you might need to replace the old one on your Miata. The process is relatively easy, and the Metra 44-UT30 antenna is a great solution for this car. The stainless steel mast is detachable, so you can remove it if you need to.
Security
Installing a security system in your Miata (or any convertible, for that matter) isn't easy, but it's definitely a good idea. Our Crutchfield Advisors can help figure out what you need to get the job done, but we usually recommend taking your car and new gear to a professional installer.
Let's get started!
Ready to shop? Use our vehicle selector to find the gear that will fit your car or truck. If you have questions, give us a shout via phone, chat, or email