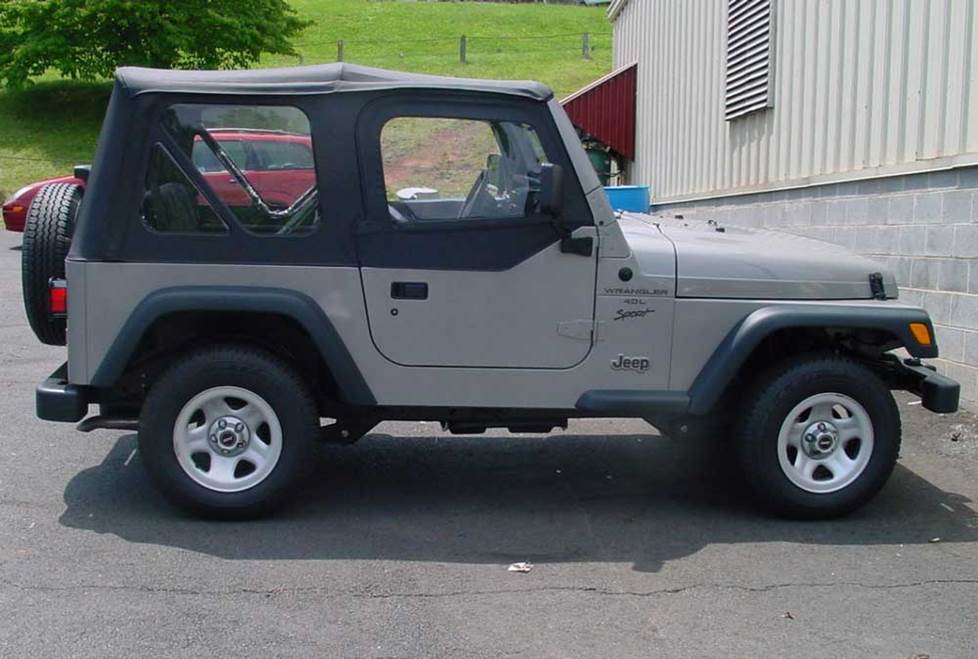 In brief: This Crutchfield Research Garage article gives you an overview of your Wrangler's stock stereo system and your aftermarket upgrade options. We'll tell you all about:
Then, use our vehicle selector to find the gear that will fit your Jeep.
Overview of the Jeep Wrangler
With the 1997-2002 iteration of the fabled Wrangler, Jeep continued to improve the legendary vehicle's around-town capabilities without compromising its off-road bona fides. Of course, the iconic shape remained the same, retaining every bit of the "rough and ready" look that's always been a hallmark of the brand.
The improvements worked like a charm, and the updated Wrangler proved to be as much fun on the road as it was on a rutted trail. The Quadra-coil suspension and antilock brakes improved everyday handling and safety, while well-chosen interior upgrades made the Jeep's cockpit more comfortable than ever before.
A weak factory stereo has also been a Wrangler hallmark, and while this versions isn't awful, it's also nothing special and it's getting on in years. Upgrading some parts of the stereo system in these off-roaders is relatively simple, while there are a couple of areas that require some good old American DIY ingenuity.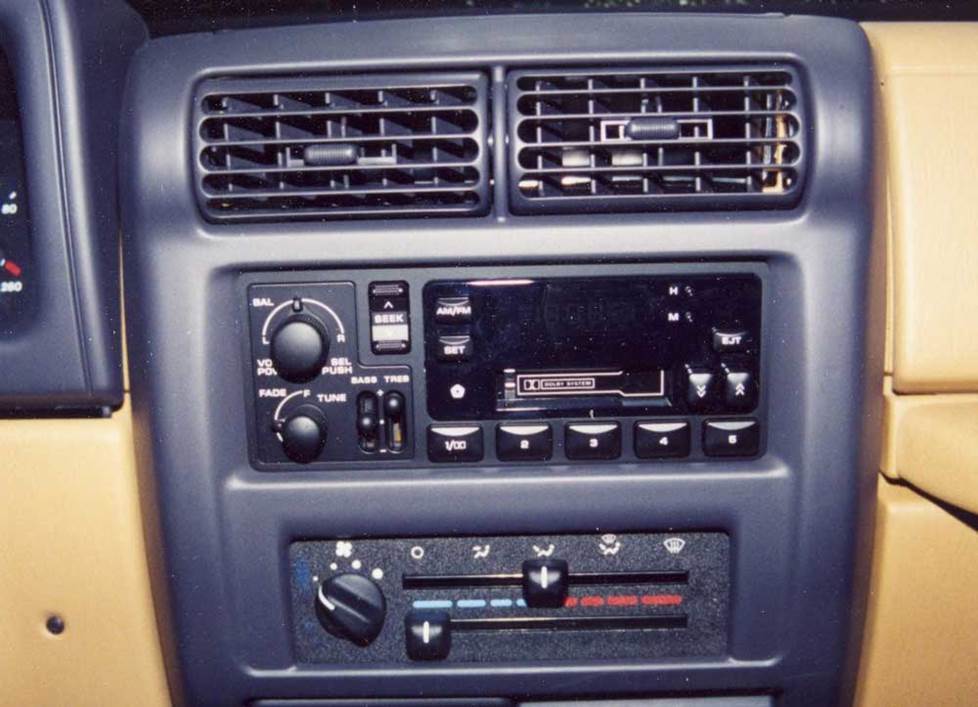 The standard Jeep stereo (Crutchfield Research Photo)
The factory stereo system
This edition of the Wrangler boasted a reasonably useful factory radio, including an AM/FM/cassette receiver, and in subsequent model years, an optional CD player. The Jeep's speaker array, on the other hand, had long been a weak point, mostly due to the limited amount of available space.
Chrysler attempted to improve the situation by putting larger 5-1/4" speakers in the overhead "sound bar," and offered an upgrade option for an extended 7-speaker setup. This system consisted of separate woofers and tweeters in the front, rear speakers in the sound bar, and a 6-3/4" subwoofer in the center console. A factory stereos go, this was certainly an improvement, but it's still a factory stereo. Thankfully, there's plenty of gear available to make your Wrangler sound great on the highway or in the high country.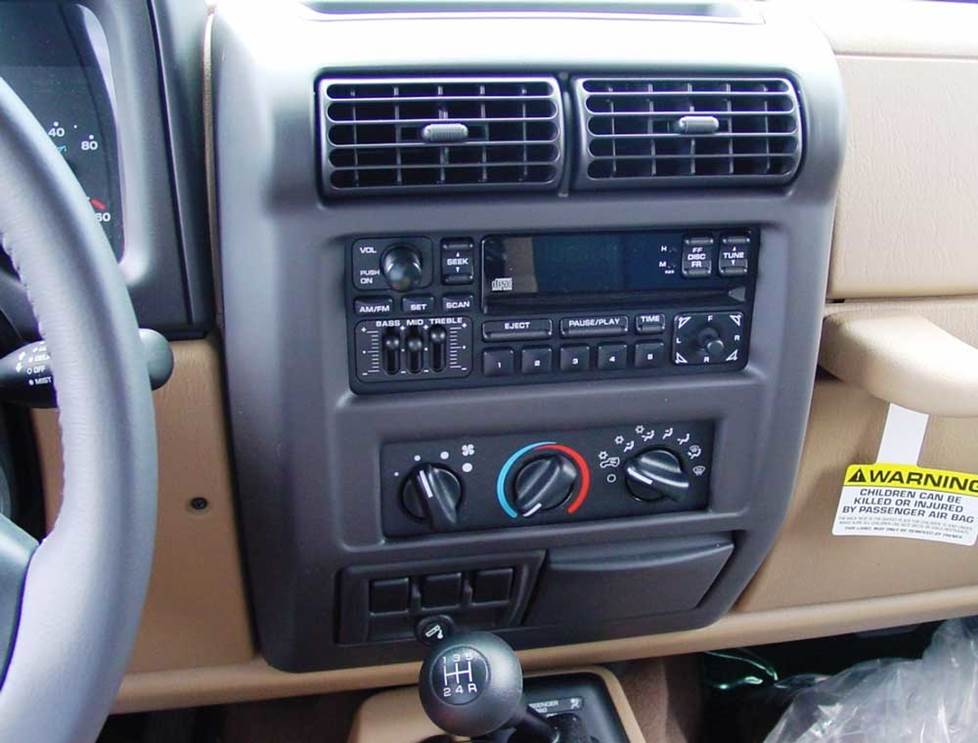 The upgraded CD stereo (Crutchfield Research Photo)
Removing the factory radio
The Wrangler's "1.5-DIN" factory radio is a shade over 3" tall, a size common in Chrysler and GM vehicles of this era. A wide variety of standard DIN-sized (2" tall) or double-DIN (4" tall) receivers will fit with the help of a mounting kit (available at a discount with your Crutchfield purchase), but you will need to modify the sub-dash to create space if you go with a new DD unit.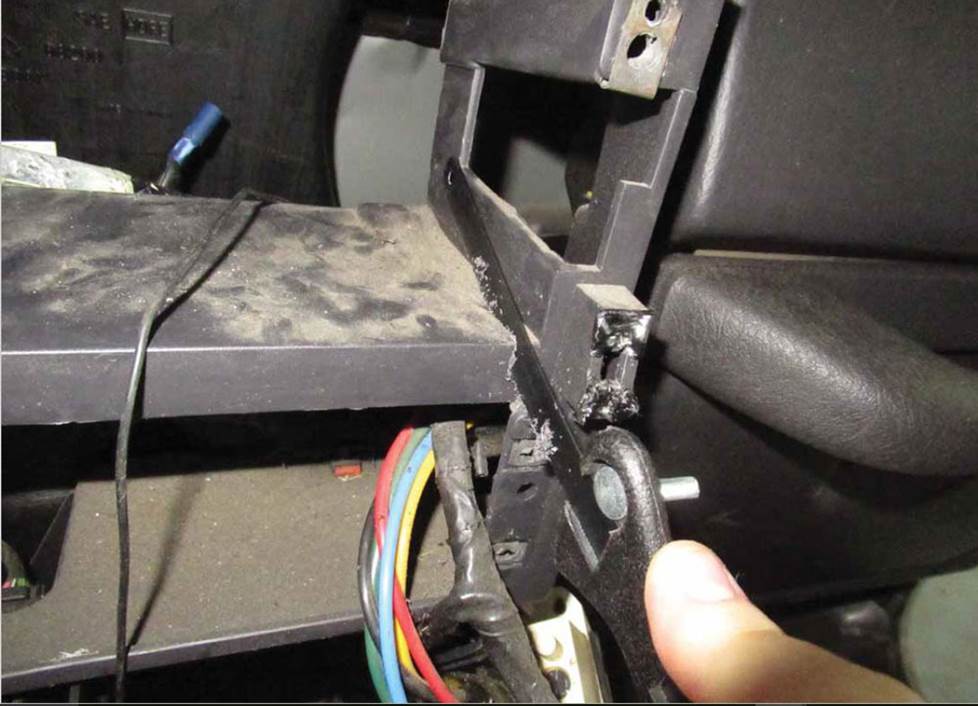 You'll need to use a hacksaw to remove this dash panel before you install a new double-DIN receiver (Crutchfield Research Photo)
The stock receiver is pretty easy to remove, and you'll only need a couple of tools (listed below). Start by prying up the top trim panel that stretches all the way across the top of the dash. Removing this will expose two screws securing the top of the center dash console. You'll then need to remove a third screw located behind the ashtray.
Starting at the bottom, pry out the center console with a panel tool to release the retaining clips. Do the same at the top, then pull the console free of the dash. Now you can get to the stereo and climate controls.
The next step isn't part of the "standard" installation procedure, but our installers and tech support crew recommend it. The FM antenna cable is pretty snug and has a connection behind the glovebox that can easily be pulled loose without you knowing it during the installation process. We suggest removing the glove box and disconnecting this antenna cable before taking out the radio. Then connect it again when you're finished.
Detailed stereo and speaker removal instructions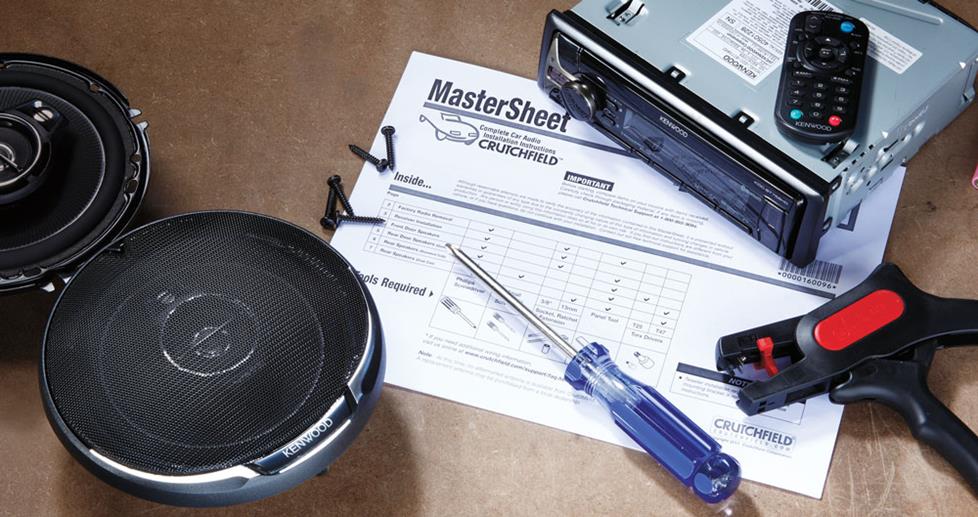 With step-by-step disassembly instructions and plenty of up-close, detailed photos, our exclusive
Crutchfield MasterSheet
™ takes the guesswork out of removing the factory stereo and speakers. It's free with your Crutchfield order, or you can purchase one separately for just $9.99.
Gaining access to this antenna connection is pretty easy. You just need to remove one Phillips screw holding the glove box in place. You'll find the anetenna connection behind the glove box. Disconnect it and then move back to taking out the radio. What you do next will depend on whether your Jeep was made in early 1999 or late 1999.
For the 1997 through mid-1999 models, remove two screws securing the radio to the dash, then pull out the radio and remove the 3/8" screw that secures the ground strap. Unplug the wiring harness and the antenna cable.
Beginning with the later 1999 models, Jeep added a rear support brace behind the stereo. You'll have to reach up behind the stereo with a wrench to remove the bolt. First, remove four screws from the climate control panel right below the radio, pull it out, and let it hang free. You should have enough room to reach behind the radio with a 3/8" wrench and unscrew the bolt that's right in the middle of the back of the radio. Once you're done, you can pull the radio out and disconnect the harness and antenna cable, as above.
If your new stereo requires more than six inches of depth, you'll have to remove this rear support bracket. To do so, remove two 10mm bolts at the top of the dash that hold the support bracket in place. Then just lift it out of the dash. If your new stereo is under six inches long, then you don't have to remove the bracket.
To install a new stereo in this Wrangler, you'll need a dash kit, a wiring harness, and an extension cable to extend the antenna cable to the radio location. These parts are available at a special discount with all car stereos ordered from Crutchfield, and every order comes with our detailed, illustrated Crutchfield MasterSheet™ installation guide.
Note: The Jeep's wiring harness does not have a ground connection, so be sure to connect your new receiver's ground wire to a grounding point inside the dash.
Tools needed: Small flat blade screwdriver, Phillips screwdriver, panel tool, 3/8" wrench, ratchet & extension, 3/8" socket, (10mm after 1999)
Read our Car Stereo Buying Guide for shopping tips and advice.
Shop for car stereos that fit your Jeep Wrangler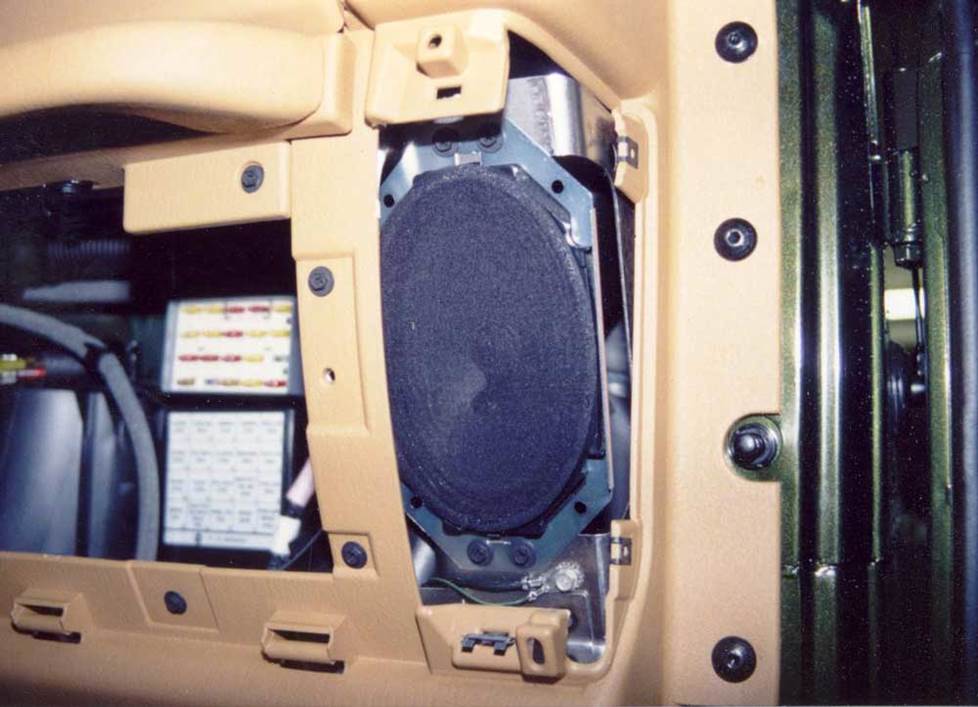 The standard 4"x6" dash speaker (Crutchfield Research Photo)
Removing the factory speakers
The Wrangler's basic system features two 4"x6" full-range speakers, each mounted in the lower portion of the under-dash. There was also an option for an overhead sound bar with two 5-1/4" speakers.
In 2002, Jeep introduced a 7-speaker system, consisting of a 4" woofer and 1" tweeter on each side of the underdash, the two 5-1/4" speakers in the sound bar, and a 6-3/4" powered sub in the center console.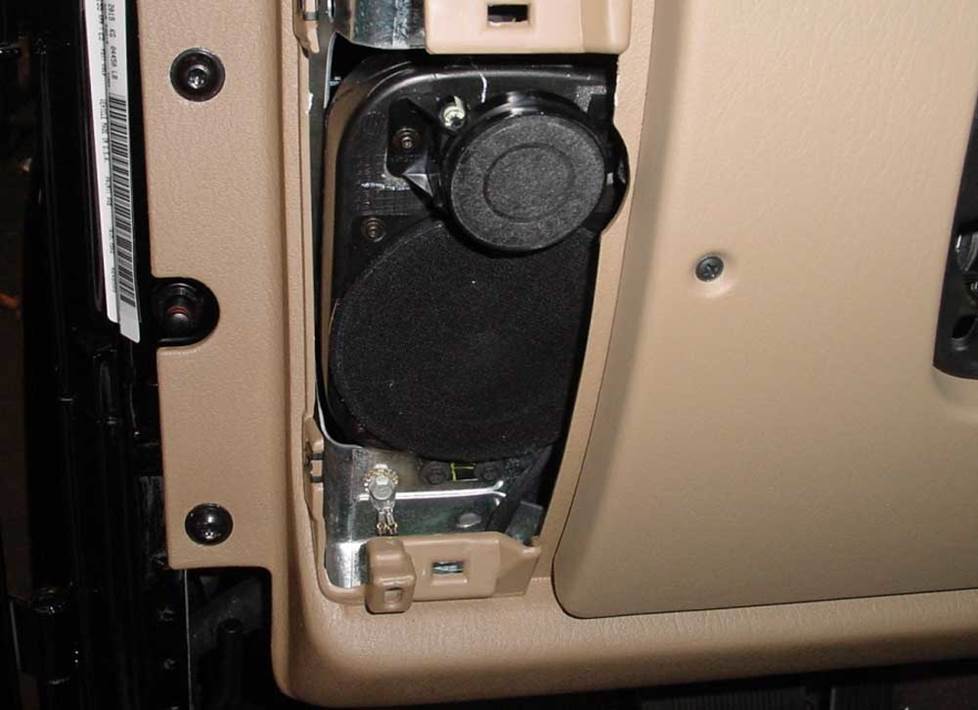 Here's a look at the upgraded Wrangler factory speakers (Crutchfield Research Photo)
With either system, you can install aftermarket 4" or 4"x6" speakers in the dash locations. These speakers are easy to get to, as you only have to take out 4 screws to remove the grille and speaker. Replacing them will require mounting brackets and harnesses, of course, and they're available at a discount with your Crutchfield speaker purchase.
With a little bit of work, you can also get a 4" component system in the dash, but the speakers face down at a slight angle, so you won't get the full benefits of the separate tweeter unless you custom-mount it elsewhere.
There's plenty of room in the sound bar, so almost any aftermarket 5-1/4" speakers will fit right in. Since those speakers are right near your head, it's worth spending a little more for a set equipped with with high-quality tweeters.
Textile tweeters are a good idea because they'll be easier on your ears at high volume. Speaker harnesses are available for that location too, making it easier to reinstall your old speakers when you sell your Wrangler.
For most Jeep owners, one of the best parts of owning a Wrangler is taking off the top and feeling the breeze. If you spend a lot of time driving with the top off, or slinging your Jeep through wet, muddy conditions, you might want to consider installing marine-certified speakers. These speakers aren't water-proof, but they're remarkably water-resistant. They won't be bothered by an occasional splash, shower, or condensation.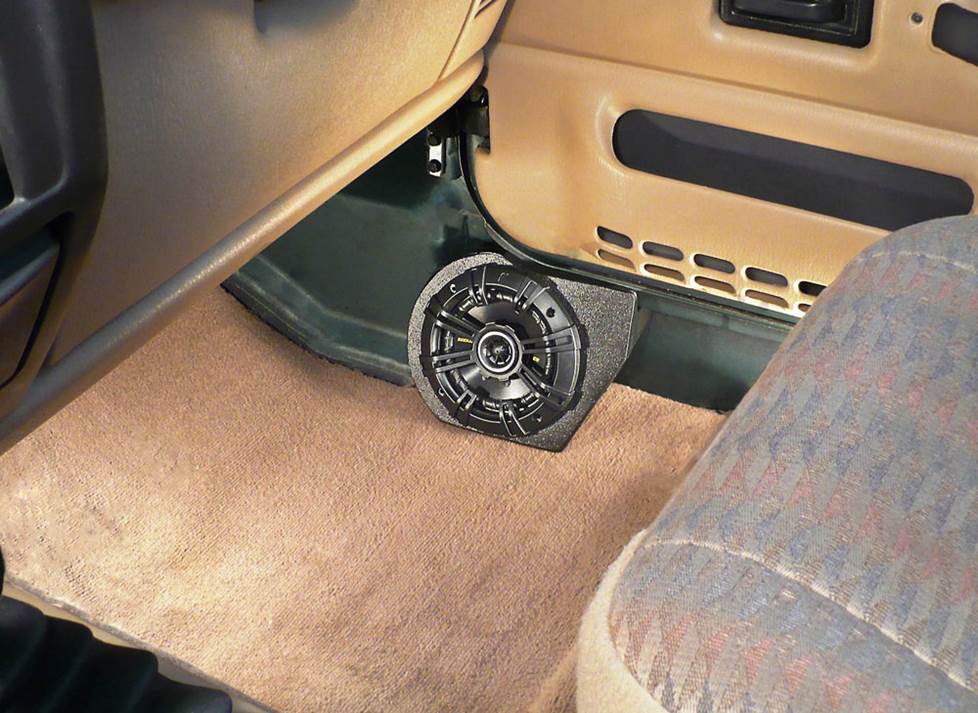 Mod-Pods fit right into your Jeep (Select Increments photo)
If a set of 4" front speakers just doesn't seem like quite enought "oomph," there are other ways to crank up the sound in your Jeep. Select Increments' Mod-Pods are unloaded enclosures that mount down under the doors in the Wrangler. These rugged enclosures can hold your choice of 5-1/4" speakers.
Tools needed: Phillips screwdriver, 3/8" socket, ratchet and extension
Read our Car Speakers Buying Guide for more information
Shop for speakers that fit your Jeep Wrangler
The rugged Stealth-Pod mounts on the inside of your tailgate and holds a 10" subwoofer
Bass in your Jeep Wrangler
Rock-solid bass is crucial if you want to enjoy your music on the open road. Without it, your speakers can sound brash and tinny. With it, your system sounds full and warm, even when you turn it up to combat the road noise. Fortunately, you have a lot of options for adding bass to your Jeep.
In the 7-speaker system, you can replace the 6-3/4" sub in the center console to get more punch, but that process involves some work. You'll have to take the console apart, remove the factory sub, redrill your screw holes, and hope that your new woofer is a good match for the small enclosure.
If you go to all this trouble, you'll want to power your new sub with a better amp. The factory amp is a perfect match for the dual voice coil factory sub, but it doesn't have the juice to drive a high-performance aftermarket sub.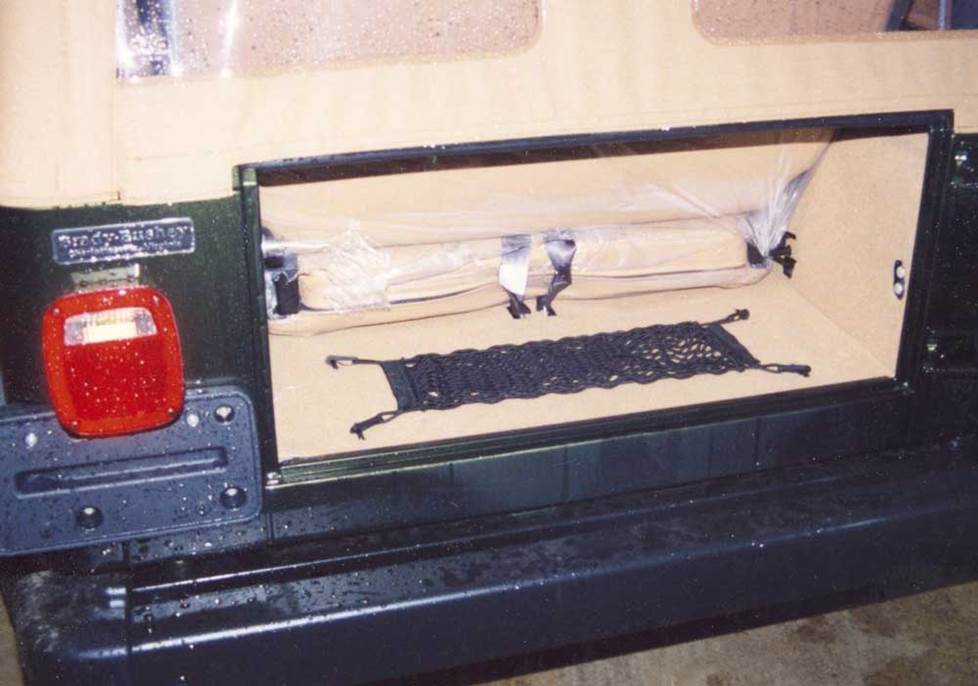 The rear cargo area in the Wrangler (Crutchfield Research Photo)
Otherwise, space is tight in your Jeep, so a powered subwoofer might be the way to go. Powered subs don't take up as much space as a subwoofer box, and most will look right at home in the back of your Wrangler.
There are also several custom-fit sub enclosures available, designed specifically to fit the Wrangler. In addition to the Mod-Pods above, Select Increments also makes the Stealth-Pod, a 10" sub enclosure that bolts onto the back gate. MTX makes a custom-fit ThunderForm enclosure that mounts behind the rear seat. It can be purchased empty or with two 10" MTX subs pre-installed.
Other options for your Wrangler
There are, of course, lots of ways to make your Wrangler just a little bit better. Here are a few suggestions:
iPod® adapters
If you're going to keep your factory radio, you can add an adapter that will let you play and control your iPod through the radio. You're really better off replacing your radio with a new stereo that has a USB input, but if you're a traditionalist and want to keep the stock stereo, at least there's a reliable option for adding iPod/iPhone® control.
Cell phone adapters
You'll find adapters that tie your compatible phone into all Jeep factory radios from 1997 to 2002. These adapters will let you make calls through the stereo and hear your caller over the Jeep's speakers.
Security systems
Installing a security system in your Wrangler isn't easy (security systems rarely are), but it's definitely a good idea. Our Crutchfield Advisors can help figure out what you need to get the job done, but we usually recommend taking your car and new gear to a professional installer.
Let's get started!
Ready to shop? Use our vehicle selector to find the gear that will fit your car or truck. If you have questions of your own, give us a shout via phone, chat, or email