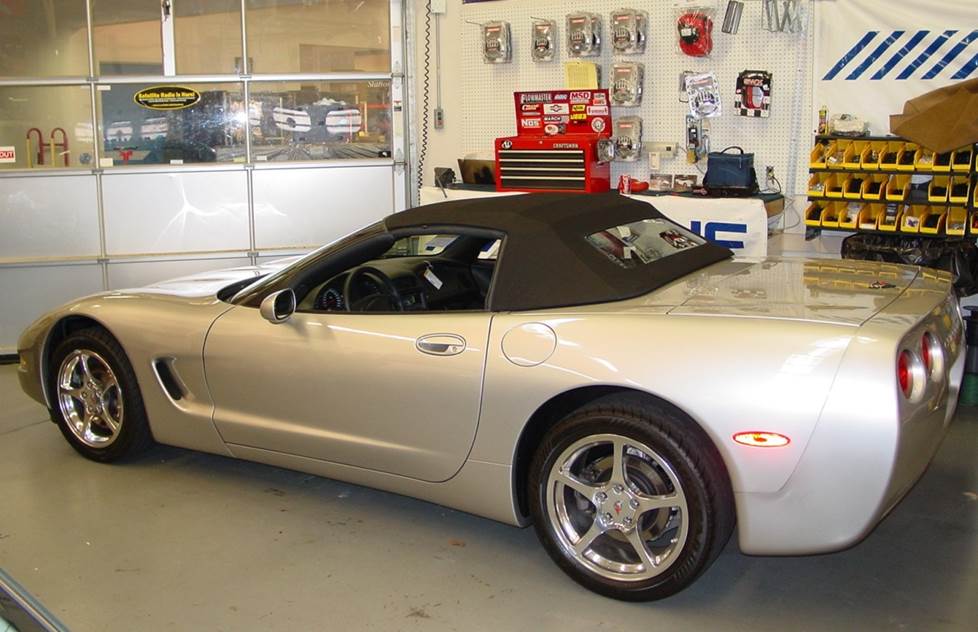 In brief: This Crutchfield Research Garage article gives you an overview of your Corvette's stock stereo system and your aftermarket upgrade options. We'll tell you all about:
Then, use our vehicle selector to find the gear that will fit your car.
Overview of the Chevy Corvette
Ask 20 car enthusiasts what they want out of their ideal sports car and you'll get 20 versions of roughly the same answer. Basically, they'll all want some combination of speed, handling, style, and comfort, plus that certain something that makes people stop and look when they see one.
By those measures, the C5 Corvette is one heck of a sports car. It's fast as stink, sexy as hell, and totally capable of moving your innards to the other side of your body in a long, sweeping turn. And, while this never shows up on anybody's want list, it also gets decent gas mileage if you don't drive like a loon. And even now, the C5 still looks like it came from the future, so people still stop and look.
The factory stereos, however, did not come from the future. They came from GM's parts bin. And if you're going to have as much fun as you want to in your Vette, you need to get that stuff out of there and step up your stereo game.
The factory stereo system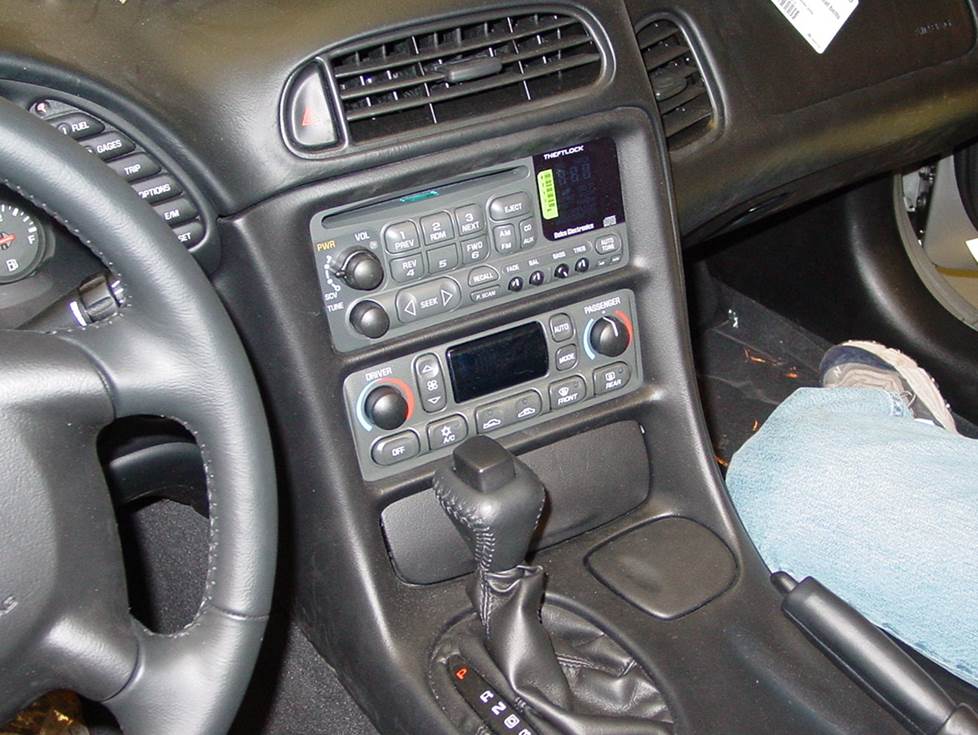 The Corvette's factory radio isn't as cool as the rest of the car. Time to fix that. (Crutchfield Research Photo)
The C5's factory systems were available in two flavors; base and Bose®. The Bose Audio System came standard on the coupe and convertible models, but it was optional on the hardtop model that appeared in 1999. If your car has a Bose system, you'll find a Bose logo on the door speaker grilles.
We haven't actually researched a hardtop with the non-Bose system, so if you're working with a hardtop model, you might be looking at some things we haven't seen. We think the basic door and speaker removal process is the same regardless, but we could be wrong. If we are, please share your knowledge in the comments section below.
Replacing the stereo with a single-DIN (2" tall) or double-DIN (4" tall) isn't difficult, but there are some things to know before you start. For one, assuming your OnStar still works (unlikely), it won't anymore when you replace the factory radio.
For another, radios of a certain size or depth will necessitate the removal of the factory radio's rear support bracket. This isn't hard, and the piece isn't important to anything other than the radio, but it's a permanent modification. When you're shopping for a new stereo on our site, we'll warn you if that stereo will require this modification.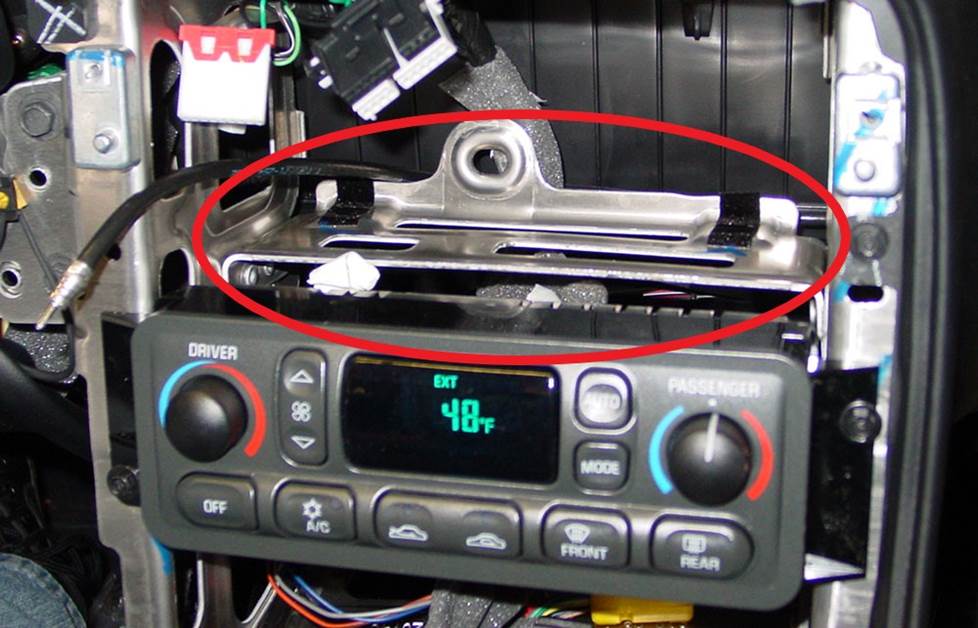 See that shiny metal support bracket? Some receivers will necessitate its removal. It's not a difficult job, but it is a permanent modification. (Crutchfield Research Photo)
A wide variety of single-DIN receivers can work, including some nav receivers with retractable screens. In most C5s, you can install a double-DIN receiver if you're willing to remove that rear support bracket and also drill some new screw holes. If you decide to do some drilling, work carefully, know what's around the area, and wear eye protection.
If you're at all concerned about keeping your car as stock as possible, you'll want to avoid this and look for a smaller, shallower stereo, like a digital media receiver. You'll enjoy great performance and functionality, and you can always reinstall the stock unit later if you feel the need.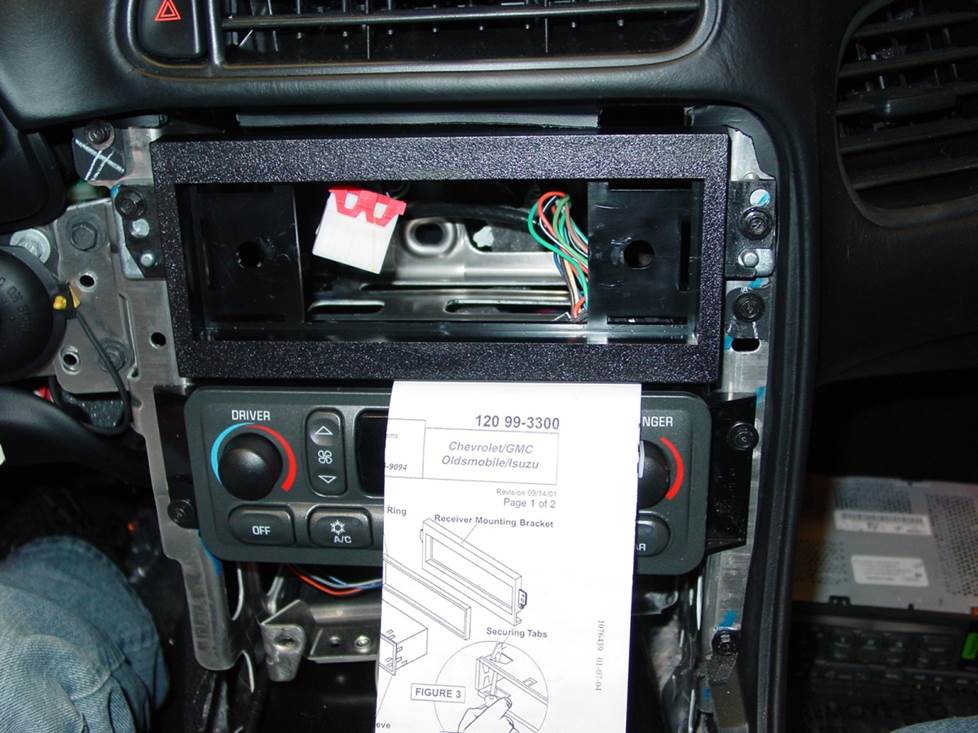 This dash kit lets you install a new single-DIN receiver (Crutchfield Research Photo)
Removing the factory radio
The first step to this (or any) car audio project is to set the parking brake and disconnect the negative battery cable to prevent an electrical short. Better safe than being the person who got shocked just before getting run over in the garage. That's not how you want to get famous.
Once that's all straight, open the console door, remove four Phillips screws from the door hinge and remove the door. Use a panel tool to pry up the traction control switch panel, starting at the rear of the panel. Disconnect the harness and remove it, then disconnect the 12-volt accessory harness and unscrew the connector. That'll expose a pair of 10mm nuts that you'll need to remove.
Next, open the ashtray/lighter door and remove the ashtray. Remove one T-15 Torx screw beside the lighter and another one that's exposed when you remove the ashtray. Pry off the small panel located to the left of the ignition switch, then remove the exposed Torx T-15 screw.
Detailed stereo and speaker removal instructions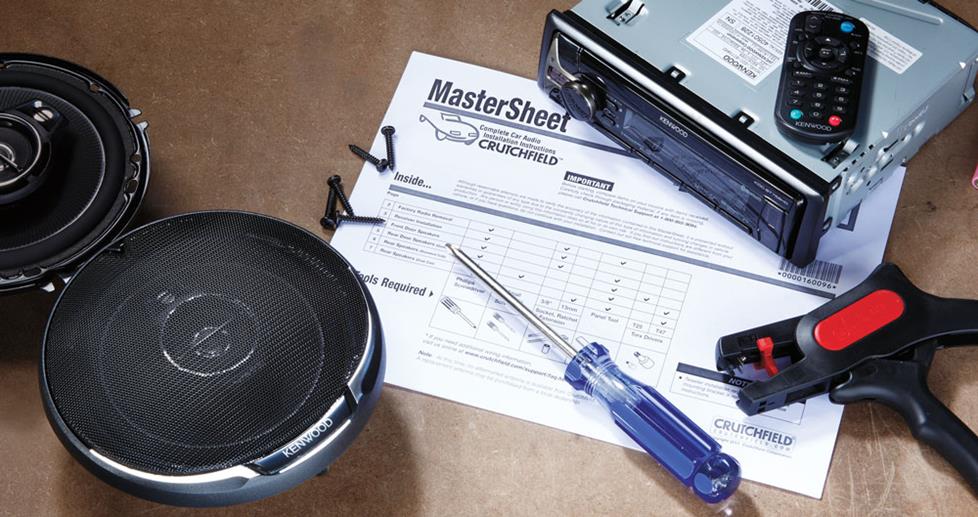 With step-by-step disassembly instructions and plenty of up-close, detailed photos, our exclusive
Crutchfield MasterSheet
™ takes the guesswork out of removing the factory stereo and speakers. It's free with your Crutchfield order, or you can purchase one separately for just $9.99.
You'll want to be careful when you lift the receiver/console trim panel. Start at the rear and work it gently from rear until it clears the fuel switch button. Lift the rear of trim panel while also (again, gently) pulling on it to release two plastic clips at the top of the trim panel. Once all that's safely accomplished, disconnect the lighter harness and remove the trim panel.
At this point, you're almost halfway home. Remove the two 7mm screws securing the stock radio, then pull out the radio and disconnect the harnesses. Get the radio out of the way and, if you plan to keep it with the car for future sale, make sure you store it properly.
From here, it's just a matter of securing the new receiver to the mounting bracket that's included at a discount with your Crutchfield stereo purchase. There are instructions with the bracket, so you'll be fine. Once that's done, do everything you just did before, but backwards, until the stereo is installed. Be sure to make sure the stereo's working properly before you perform the final reassembly steps.
Tools needed: Panel tool, small flat-blade screwdriver, Phillips screwdriver, 7mm and 10mm sockets, ratchet and extension, Torx T-15 driver
Read our Car Stereo Buying Guide for shopping tips and advice.
Shop for car stereos that fit your Chevrolet Corvette
Steering wheel audio controls
In most cases, it's reasonably easy to retain your Corvette's steering wheel audio controls when you install a new stereo. When you enter your vehicle information, our database will choose the adapter you need to make your factory steering wheel controls work with a compatible aftermarket receiver.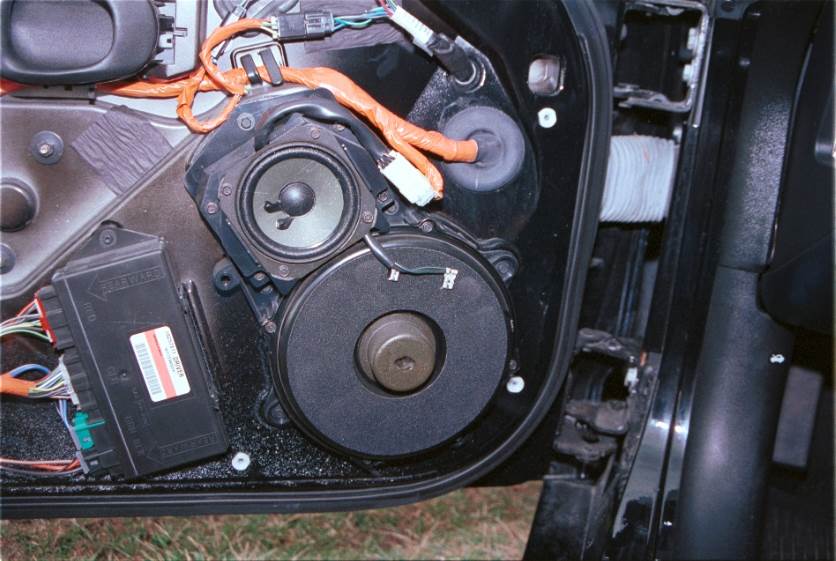 The Bose system includes woofers and tweeters in the front doors (Crutchfield Research Photo)
Removing the factory speakers
As noted above, we haven't seen a non-Bose system yet. We'll share everything we know about the Bose system, which should still be helpful if you're working with a hardtop car. And again, if that's not the case, let us know.
In cars with the Bose system, you'll find a woofer and a tweeter behind each door panel. Coupes and convertibles also have rear speakers, and we're pretty sure the hardtops do, too. Those speakers should be quite similar to the convertible arrangement,
The 3-1/2" door tweeters and the 5-1/4" full-range rear speakers are both powered by the radio, but the 8" door woofers are each powered by a small amp inside the woofer enclosure. The woofers are tied in to a Bose signal processor that tunes the sound for the Corvette's unique and snug interior. This causes some complications when it's speaker replacement time, because the stock Bose woofers won't play well with an aftermarket receiver.
In our opinion, it's best to just replace all your Corvette's speakers at once, whether you're keeping the factory receiver or not.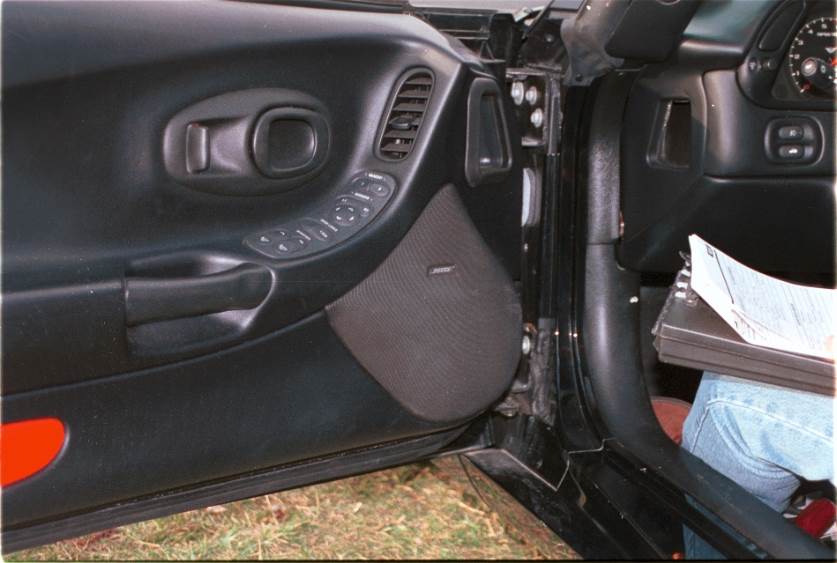 The C5 Corvette's front door speakers are reasonably easy to reach and replace (Crutchfield Research Photo)
Removing the door speakers
The actual process of replacing the speakers is generally uncomplicated and it's well within the wheelhouse of the average DIY-er. The toughest part is drilling new screw holes to mount an aftermarket speaker to the woofer's factory bracket. And that's really not that hard, but you're drilling a hole into a Corvette, so be aware of what's around the area, work carefully, and wear eye protection.
You'll start by using your panel tool or small flat-blade screwdriver to pry off the screw cover located behind the door pull handle and then removing two T-27 screws. Carefully (we mean it) pry off the door release trim.
Pry out the bottom and sides of the door panel to release six plastic clips. Work carefully here, because those clips can be fragile. Once that's safely done, lift off the panel, disconnect the harness, and store the panel(s) someplace safe in your garage. You might want to use an old sheet to protect them from life's little accidents.
After you remove the four 1/4" screws securing each speaker, you're ready to pull out the speakers, disconnect everything, and start installing the new speakers. Once they're secured, test to make sure they're working, make sure the wires aren't interfering with the windows, check the lock operation, and start buttoning everything up.
Tools needed: Panel tool, small flat-blade screwdriver, ¼" socket, ratchet and extension, Torx T-27 driver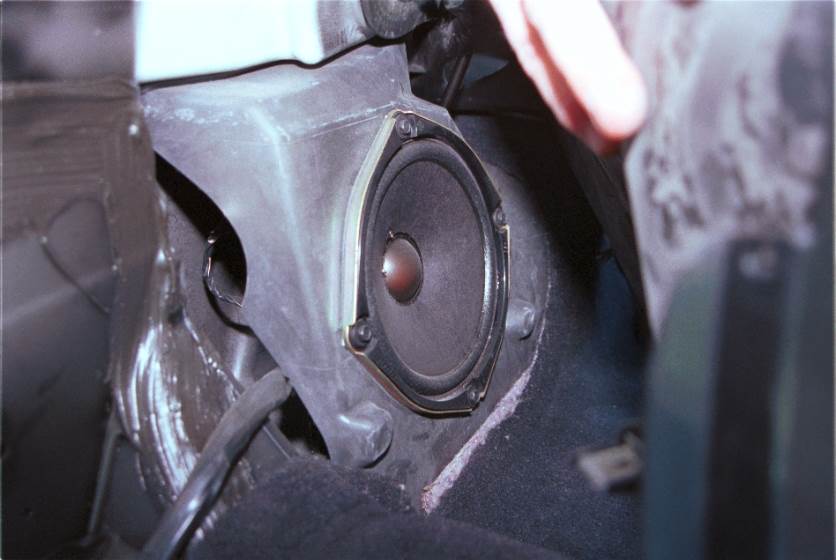 The coupe's rear speakers can be a bit challenging to replace (Crutchfield Research Photo)
Removing the rear speakers (Coupe)
Replacing the rear speakers in the Corvette coupe involves some rather fiddly bits of work, but it's really not that hard if you work carefully and stay organized. You'll have to remove the roof trim and work your way back to the speakers.
You can replace the factory 6-3/4" speakers with same-size or a variety of 5-1/4" or 6-1/2" aftermarket models. If you go with the smaller models, you'll need mounting brackets, and they're included at a very nice discount with your Crutchfield speaker purchase.
You can replace these speakers without replacing the entire system, but as noted earlier, you'll get better sound if you just go for an all-new speaker system.
If your Corvette is equipped with a removable roof panel, you'll need to remove it before you get started. If not, proceed directly to removing the four retaining clips on the interior roof trim. Remove the trim by gently working it from each side of the roof. Next, pry off the seat belt anchor cover and remove the Torx T-47 bolt that holds it in place.
Pry one retaining clip from the top of the pillar trim panel, then pry out the retaining clip from the top of the window gasket located in the door jamb. Work the pillar trim panel toward the rear of vehicle, just enough to access the speaker. Once you can safely do so, remove four 7mm screws securing the speaker, then get it out of there and use those screws to start installing the new one.
Test the speakers to make sure they're working, and if they are, start putting everything back together. Take special care to make sure the seatbelt anchor is secured properly.
Tools needed: Panel tool, 7mm socket, ratchet and extension, Torx T-47 driver
The ragtop's rear speakers are easy to get to and you'll really enjoy the improved sound from your new aftermarket speakers (Crutchfield Research Photo)
Removing the rear speakers (Convertible & Coupe)
With the convertible, you'll be replacing the stock 5-1/4" side panel speakers with same-size models only. Hey, it's tight back there.
You'll start by prying out the push pin retaining clip at the front edge of the speaker/grille panel. Gently pry out the panel to release three metal clips, then remove the panel. Remove four 7mm screws securing the speaker, remove the speaker, and install the new one. Test, check, then start putting everything back together.
As noted previously, the hardtop's side panel speakers have not been researched. But the process is probably very similar, if not identical, to the convertible. Then again, we could be wrong. If so, tell us below. We'd love to hear from you.
Tools needed: Panel tool, 7mm socket, ratchet and extension
Read our Car Speakers Buying Guide for more information.
Shop for speakers that fit your Chevrolet Corvette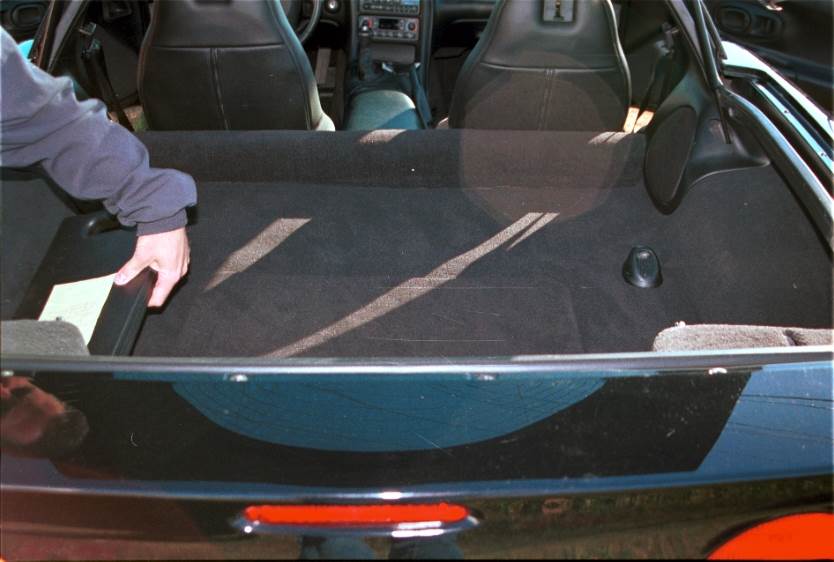 This is not a huge space, obviously, so a powered sub might be your best choice (Crutchfield Research Photo)
More bass in your Corvette
The amount of bass you can stuff into your Corvette depends on the Corvette you have. If you want to install a subwoofer box in a coupe, for example, you have a 35" W x 11" H x 35" D space to work with. That's not much, but it's still more than the 45" W x 10" D x 22" H space you have in the convertible or hardtop.
If you want better bass, but don't want to give up what little luggage space you have for those long weekend drives, you might want to look at powered subwoofers. Even the most compact models produce a surprising amount of bass that will really round out your system's sound.
Learn more about building a bass system in our Car Subwoofer Buying Guide.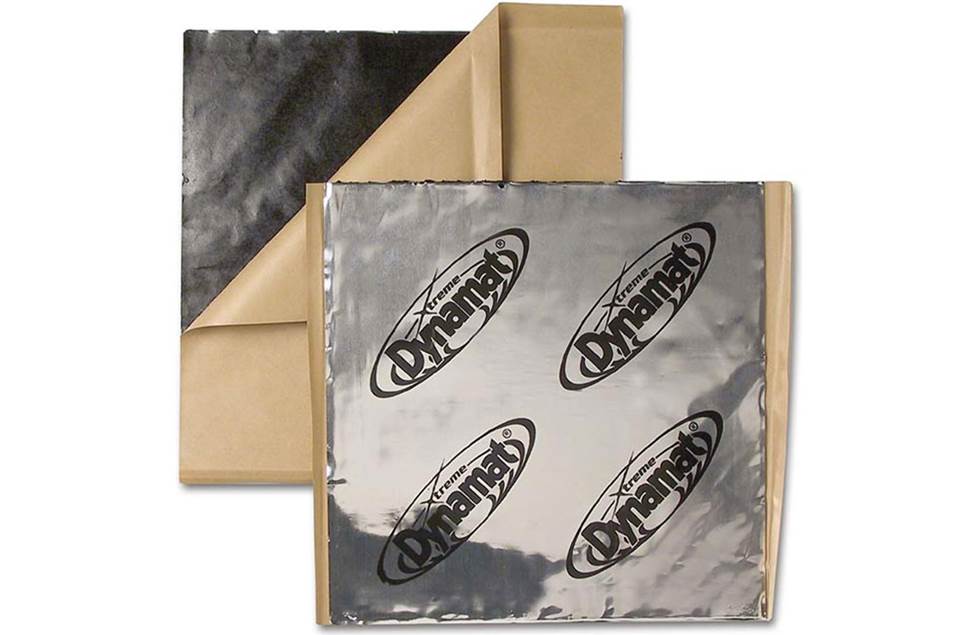 Dynamat is easy to install, and it really makes a difference in your sound quality — and more.
Other options for your Corvette
Here are some other ways to make your Corvette an even cooler ride.
Add a portable navigator
You can still get aftermarket nav functionality without installing a touchscreen nav receiver in your car's dash. A portable GPS will mount on your dash and (depending on the model) give you turn-by-turn directions, traffic updates, and other things you need to make your road trip go smoothly. Plus, when you get where you're going, you can put your GPS in your pocket and use it to find points of interest around town.
Quiet road noise with Dynamat
The Dynamat 10435 Xtreme Door Kit is the perfect way to seal in sound. This heavy-duty insulating material is easy to install, and it really makes a difference. If you're a dedicated audiophile, you might want to install Dynamat under your Corvette's seats and carpeting, too. Some owners who've done this report noticeable reductions in road noise and heat.
Add a security system
The Corvette's push-to-start system is a very cool feature, but it makes DIY car security installation even more complicated than usual — and it's usually complicated, even on lesser cars. We'll help you choose the right gear, but we recommend leaving the actual work to a qualified professional installer.
Let's get started!
Ready to shop? Use our vehicle selector to find the gear that will fit your car or truck. If you have questions of your own, give us a shout via phone, chat, or email