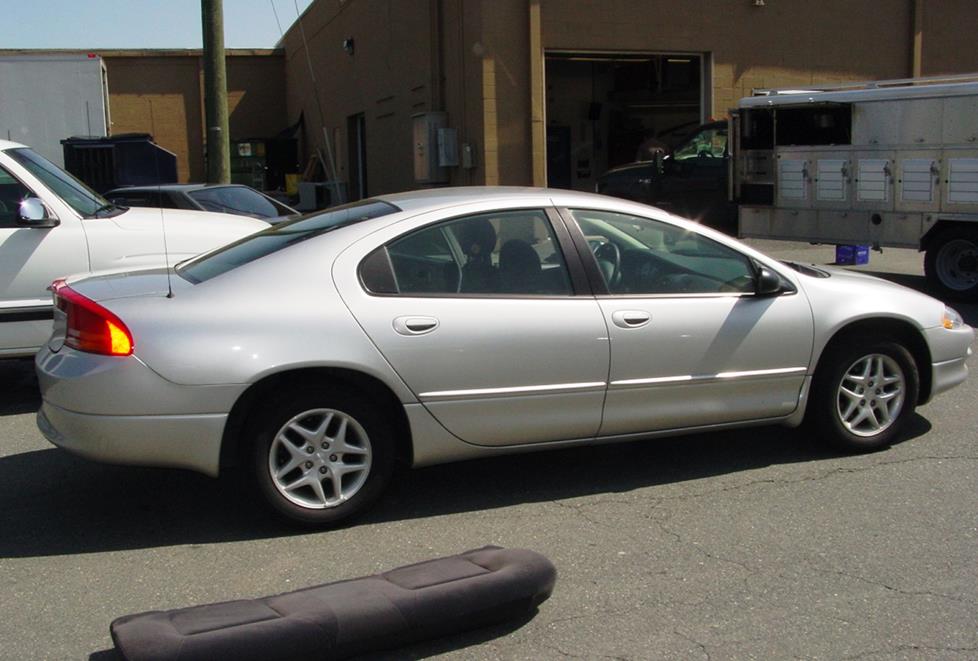 In brief: This Crutchfield Research Garage article gives you an overview of your car's stock stereo system and your aftermarket upgrade options. We'll tell you all about:
Then, use our vehicle selector to find the gear that will fit your car.
Overview of the Concorde, 300M, and Intrepid
Chrysler's second-generation "LH" cars took all that was good about the first-gen cars (cab-forward design, sleek styling, tons of interior space) and refined it into an even better package. The original LH cars were slick, but the newer cars combined good looks and efficiency in a way rarely seen in American cars back then — or since. The body was so low, sleek, and futuristic, in fact, that the racing version of the Intrepid actually looked kind of dumpy next to the street car. As any racing fan will tell you, that's an exceedingly rare occurrence.
One era's futuristic styling often becomes another era's punchline, but that doesn't seem to have happened with the LH cars. It's not just that they've aged well; it's that they haven't really aged at all. Sitting next to the average year-old sedan, an LH looks like it just drove into town from the future. Whether you're driving a Dodge Intrepid, Chrysler Concorde, or Chrysler 300M, you're going about your business in what's arguably one of the most beautiful sedan designs of the last 30 years or so. Styles come and go, but good design is forever.
Factory stereos, on the other hand, age fast. If you're tired of bad sound and old tech, we have the stereo gear you need.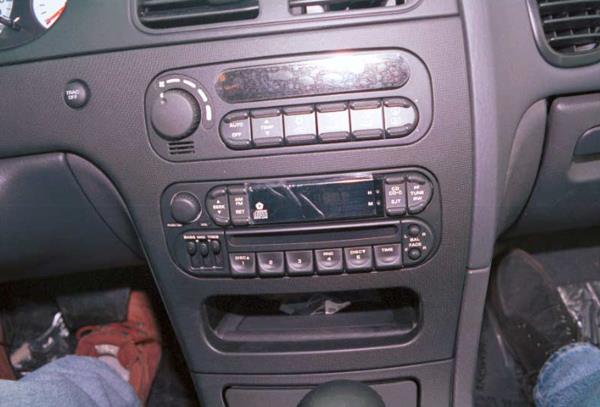 The Intrepid's radio can be replaced by a variety of aftermarket models (Crutchfield Research Photo)
The factory stereo system
The LH triplets were available with a standard 4-speaker system and two optional Infinity systems — one with seven speakers and the other with nine. The base stereo was what it was, but the Infinity systems got very nice reviews from contemporary testers. Regardless of what your car has, an upgrade is the best way to ensure that your car sounds as good as it looks.
There are some notable differences between base system, the mid-range, and the two Infinity systems:
The mid-line system added a 120-watt amplifier located behind and to the right of the glovebox, plus tweeters in the front door sail panels.
The 7-speaker "Infinity 1" system offered a 240-watt amp (also located behind and to the right of the glovebox) and added a center channel speaker in the dash. The 6"x9" rear deck speakers were actually 2-ohm subwoofers.
The 9-speaker "Infinity 2" system cranked the power up to 320 watts and added rear door speakers. You'll find this factory amp behind the right rear trunk trim panel.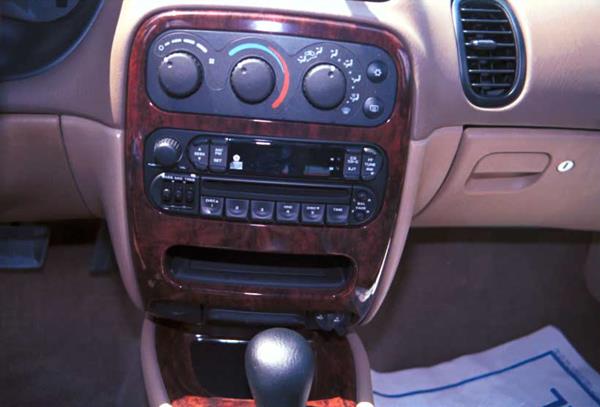 The Chrysler version of the LH added a bit more (faux) woodgrain in the interior (Crutchfield Research Photo)
Removing the factory radio
Cosmetic differences aside, the Intrepid, Concorde, and 300M have the same basic dashboard, so the factory radio removal process is almost exactly the same no matter which car you're dealing with. There are some minor differences, mostly involving the ashtray in the Concorde, but they're very minor indeed.
Two different dash kits are available for these cars, and the Crutchfield MasterSheet (included free with your stereo purchase) focuses on instructions for the mounting bracket without a lower pocket. If you're installing the bracket that does have a pocket, please follow the instructions supplied with that kit.
A big double-DIN (4" tall) receiver won't fit in your car, but you can choose from a healthy selection of single-DIN (2" tall) models.
Tools needed: Panel tool, Phillips screwdriver, 3/8" socket, ratchet & extension, small flat-blade screwdriver
Shop for car stereos that fit your Chrysler 300M
Detailed stereo and speaker removal instructions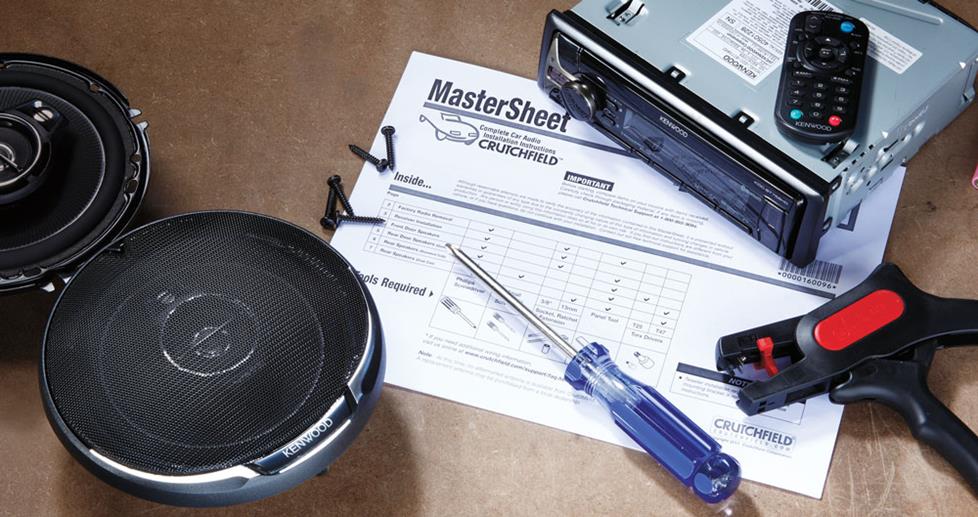 With step-by-step disassembly instructions and plenty of up-close, detailed photos, our exclusive
Crutchfield MasterSheet
™ takes the guesswork out of removing the factory stereo and speakers. It's free with your Crutchfield order, or you can purchase one separately for just $9.99.
Removing the factory speakers
Your Concorde/300M/Intrepid has speakers in the front doors and rear deck. Cars equipped with Infinity stereos also have A-pillar tweeters and, possibly, a center dash speaker. Rear door speakers were available on select models, as well.

Replacing the speaker doesn't even involve removing the door panel, which is a rare thing these days (Crutchfield Research Photo)
Removing the front door speakers
The front doors of your LH contain either a 6-1/2" speaker or, if you have the Infinity stereo, a 6-1/2", 2-ohm woofer. Size-wise, you can install 5-1/4", 6-1/2", or a pair of slightly oversized 6-3/4" speakers. The Infinity speakers are woofers, and they only receive bass signals from the factory amp. To get full-range sound from your new speakers, you'll need to install an aftermarket stereo and bypass the factory amp.
You will, however, need to drill one new mounting hole when you install aftermarket speakers (Crutchfield Research Photo)
Other than that, removing and replacing the speakers is reasonably simple. You don't even have to remove the door panel in these cars, which is a pleasant deviation from the norm. Carefully pry around the edges of the speaker grille to remove it, then remove three Torx T20 screws securing the speaker. Pull out the speaker, disconnect the harnesses, and remove it.
The tough part, which really isn't that tough, involves drilling one new mounting screw hole for the new speaker. All you're doing is drilling a small hole, but you are drilling a hole into your car, so be careful and wear eye protection.
From there, attach the replacement speakers to the mounting brackets following the instructions supplied, connect the new speaker's wiring adapter to the vehicle's speaker harness, then use the screws you just removed to tighten everything up again. Be sure to test speaker operation before you reinstall the grille.
Tools needed: Panel tool, Torx T-20 driver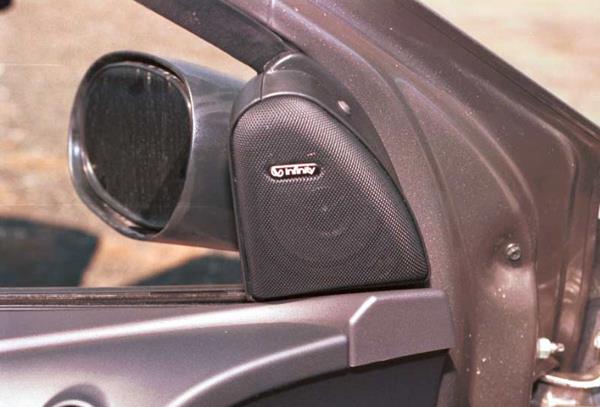 The tweeters are mounted in the sail panels, and they're not too tough to deal with (Crutchfield Research Photo)
Removing the front tweeters
The Infinity system includes a pair of 4-ohm tweeters mounted in the sail panels. The tweeter attaches to the bottom of the grille, which comes off when you remove two Phillips screws. You'll need a universal backstrap to install the new component tweeters in this location, as well as a set of Posi-Products speaker connectors.
Tools needed: Phillips screwdriver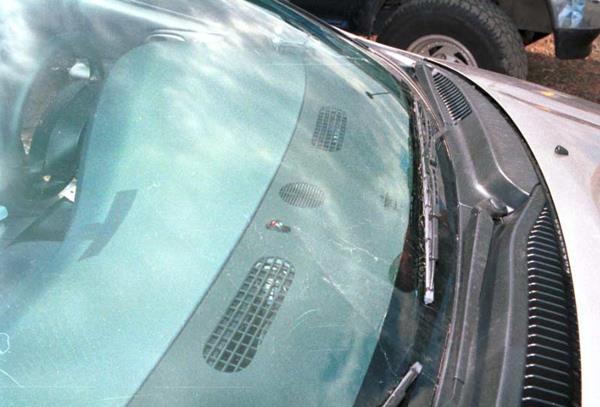 The center dash speakers aren't hard to get to, assuming they're there at all (Crutchfield Research Photo)
Removing the center dash speaker
The Infinity system includes a 2", 2.5-ohm center dash speaker – sometimes. Not all Infinity-equipped cars have it, and if yours doesn't, there's really no way to install an aftermarket speaker in this location. If your car does have a center dash speaker, it's reachable by removing the entire dash pad. This isn't hard to do, but once it's done, you'll need to use a universal backstrap (or some other method) to mount the new speaker and a set of Posi-Products speaker connectors to tap into the factory wiring.
Tools needed: Panel tool, stubby Phillips screwdriver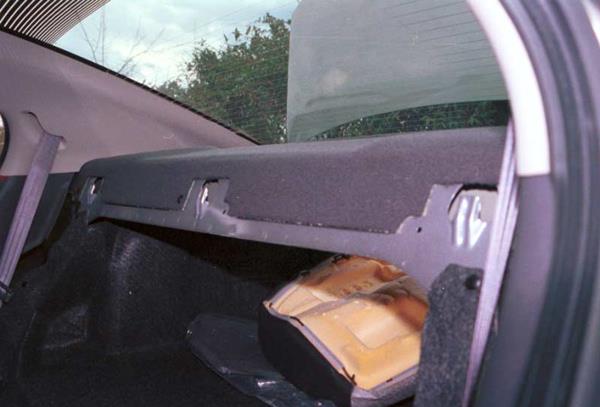 You'll probably want to have a helper when you remove the LH's rear seat (Crutchfield Research Photo)
Removing the rear deck speakers
The factory rear deck speakers are 6"x9"s with 2-ohm impedance. These full-range speakers can be replaced by a variety of 6"x9" or 5-1/4" aftermarket models. The same–size speakers will fit right in, while you'll need a mounting bracket for the smaller size.
Replacing these speakers isn't all that hard, but it takes a bit of work to get to them. You'll need to remove the rear seat and several panels, which probably looks and sounds much worse than it actually is. You'll want to work carefully and stay organized, of course, and it's also good to have a helper handy when it comes to removing the seat cushion. We find that the moral support is kind of nice, too.
Complete disassembly instructions can be found in your Crutchfield MasterSheet. You'll want to test the speakers before you put everything back together, of course, and always make sure the seats and seat belts are secured to the manufacturer's specifications.
Tools needed: Panel tool, 3/4" and 14mm socket, ratchet & extension, stubby Phillips screwdriver
Removing the rear door speakers
Believe it or not, we haven't had a chance to dig into an LH with rear door speakers, but one of our commenters (see below) tells us that the process is very similar to the front doors. If you have any additional details, please share them in the Comments section below.
Shop for speakers that fit your Chrysler 300M
Bass in your Concorde, 300M, or Intrepid
Underneath the LH's sleek decklid is a rather spacious trunk. If you're thinking about installing a subwoofer box, you'll have a 38" W x 14" H x 41"/49" D space to work with. If you're planning to use your sedan for family duties, you might want to consider a more compact powered subwoofer.
Other options for your Concorde, 300M, or Intrepid
There are plenty of other ways to improve the sound quality and overall comfort in your Concorde, 300M, or Intrepid. Here are some of the ways Crutchfield can help:
Navigation
Just because a big, touchscreen nav receiver won't fit in your LH doesn't mean you have to drive around lost. A portable GPS navigator will mount on your car's expansive dash and give you turn-by-turn directions, traffic updates, and everything you need to make your trip go smoothly. And when you get where you're going, you can put the GPS in your pocket and use it to find points of interest around town.
Sound deadening
With such a sleek exterior, you'd expect an LH to slice through the air with the silent efficiency of an arrow in flight. Alas, this car has long been noted for the surprising amount of cockpit wind noise. It's not as bad as a Hummer or a Jeep by any means, but it's enough to make you crank the stereo a bit louder than you probably meant to. The best way to tame road roar and get the most out of your system is to install Dynamat in the doors and (especially if you install a big sub) the trunk. This sound-deadening material will help keep the noise under control and allow you to truly enjoy your music.
Security
Installing a security system isn't easy (security systems rarely are), but it's definitely a good idea. Our Crutchfield Advisors can help figure out what you need to get the job done, but we usually recommend taking your car and new gear to a professional installer.
Let's get started!
Ready to shop? Use our vehicle selector to find the gear that will fit your car or truck. If you have questions of your own, give us a shout via phone, chat, or email