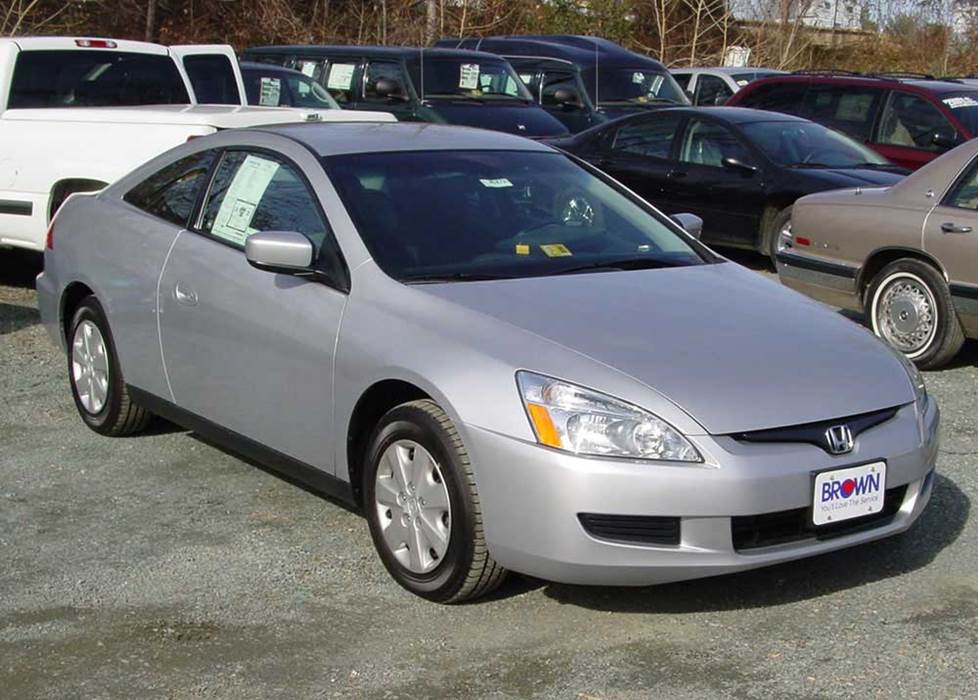 In brief: This Crutchfield Research Garage article gives you an overview of your Accord's stock stereo system and your aftermarket upgrade options. We'll tell you all about:
Then, use our vehicle selector to find the gear that will fit your Honda.
Overview of the Honda Accord
The Honda Accord sedan has long been the poster child for what the automotive industry does right. It's attractive, comfortable, safe, reliable, and known for maintaining a high resale value. Most people keep their Honda Accords for a long time, so it makes sense to upgrade the stereo system.
Detailed stereo and speaker removal instructions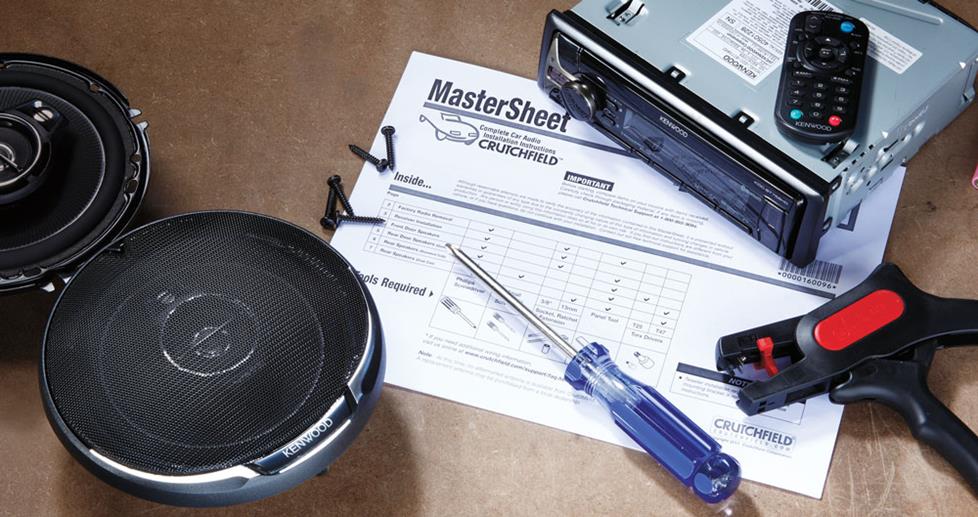 With step-by-step disassembly instructions and plenty of up-close, detailed photos, our exclusive
Crutchfield MasterSheet
™ takes the guesswork out of removing the factory stereo and speakers. It's free with your Crutchfield order, or you can purchase one separately for just $9.99.
The factory stereo system
Honda claims six speakers — two of them are tweeters — and 120 watts of power for the Accord's sound system. The reality is that it's powered by a low-output Honda radio (roughly 10 watts RMS x 4 channels) that, along with the speakers, could stand a lot of improvement.
The Accord's factory radio (Crutchfield Research Photo)
Replacing the factory radio
There's plenty of room behind the dash, so a wide variety of receivers will work in the Accord. If you don't have the dual climate controls, you have a choice on how to install a new car stereo in your dash. You can use a simple dash kit to put the radio in the factory pocket below the existing radio, or you can purchase a more sophisticated adapter that replaces the entire climate control/radio pod. The adapter houses the new radio, and retains heating, ventilation, and air conditioning controls in vehicles with either single- or dual-zone climate control systems.
You can use our Outfit My Car tool to see which stereos fit your car and get some info on what else is needed for the installation.
The factory stereo removed (Crutchfield Research Photo)
Taking the dash apart from the gear shifter all the way up to the AC vents might seem a bit intimidating, but when you follow the step-by-step instructions in your free Crutchfield MasterSheet™, you'll find it's not that complicated.
You remove the factory radio/changer, only to unplug its car harness and antenna. Then, you drape those cables down to where the new receiver's going and put the radio and dash back together, replacing the old storage bin with the new dash kit, which has a small storage shelf of its own. Once all that's done, you can install a single-DIN sized (2" tall) aftermarket receiver into the opening provided.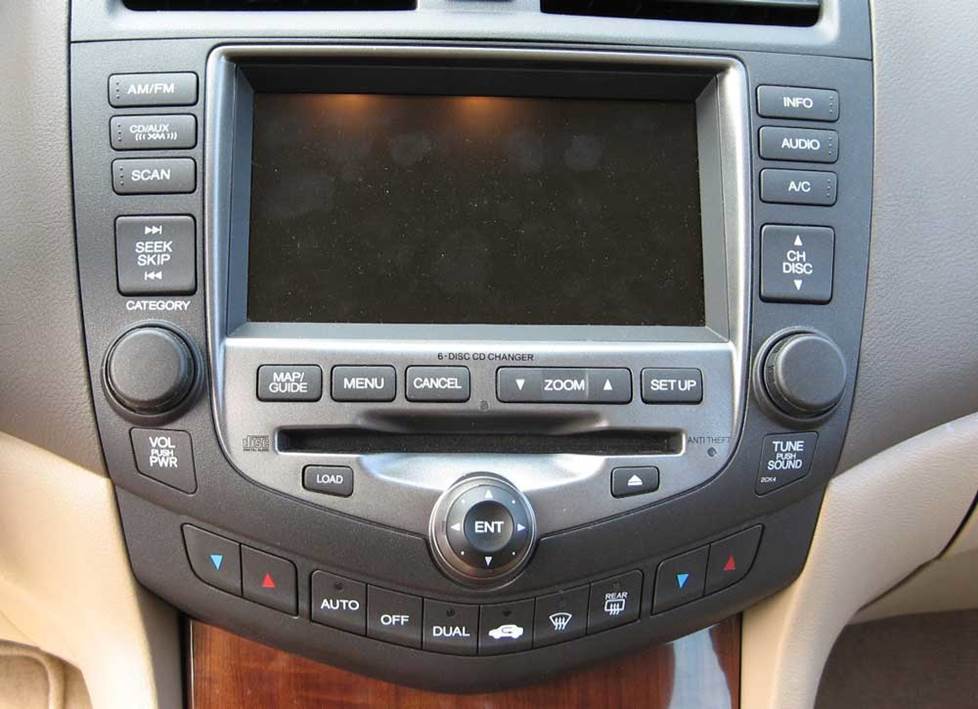 This is the Accord's factory navigation receiver (Crutchfield Research Photo)
Honda Accord radio code
You will need the factory radio security code if radio power is interrupted and the factory radio is re-installed. Honda usually includes this code on a card in the owner's manual. If you don't have that card, you'll have to talk to your local Honda dealer. Also, you'll lose your Honda's satellite radio capability when you replace the radio, but there are plenty of aftermarket solutions for that problem.
If you have the factory navigation receiver, you'll have to enter two codes if the power is disconnected: one for the navigation system and one for the audio system. Once these codes have been correctly entered, the entire system will be unlocked and ready for use.
Tools needed: Phillips screwdriver, small flat-blade screwdriver, panel tool
Read our Car Stereo Buying Guide for shopping tips and advice.
Shop for car stereos that fit your Honda Accord DX
Steering wheel audio controls
In most cases, it's reasonably easy to retain your Honda's steering wheel audio controls when you install a new stereo. When you enter your vehicle information, our database will choose the adapter you need to make your factory steering wheel controls work with a compatible aftermarket receiver.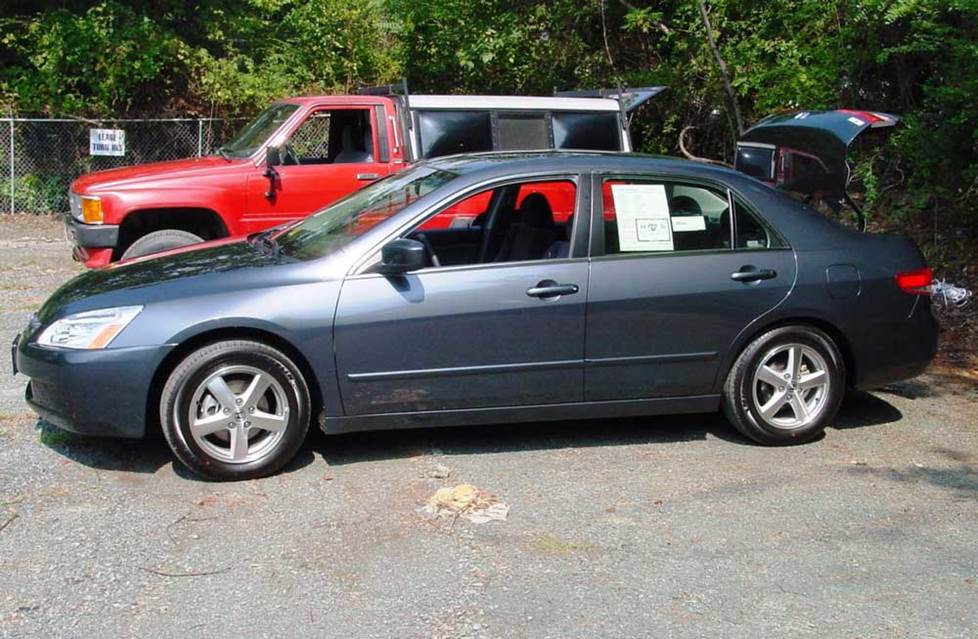 New audio gear will add new life to your Accord coupe or sedan (Crutchfield Research Photo)
Replacing the factory speakers
Depending on the options package, your Honda Accord will have speakers in the doors, the dash, and the rear deck. Speaker removal is basically the same on coupe and sedan models, and all the details can be found in your Crutchfield MasterSheet.
The dash tweeters are reasonably easy to reach and replace (Crutchfield Research Photo)
Tweeters
The "6-speaker system" includes two tweeters mounted in the upper corners of the dash. The only tool you'll need to install new tweeters is a flat blade screwdriver, but you'll need to use our Universal Backstraps or some other way to secure your new tweeter in the factory grille assembly.
You'll also need Posi-Products speaker connectors to connect them to the factory wiring, because there's no tweeter harness available. The factory tweeter has its crossover built-in, so the simplest way to replace them would be with one that also has its crossover built-in.
If you are adding components, it would be best to put the crossovers near the radio. Connect the front door speaker leads to the woofer output on the crossover network, and then run new speaker wire from the crossover to the tweeter. This keeps you from having to pull a new wire through the Molex plug in the door jamb, which is nearly impossible on most Hondas.
Tools needed: flat blade screwdriver
The Accord sedan's front door speakers are easy to deal with. Same goes for the coupe. (Crutchfield Research Photo)
Front door speakers
The plastic-framed factory 6-1/2" speakers unclip easily enough from the door frames, but you'll need to drill new mounting-screw holes into the door steel to install any new speakers. Aftermarket options include 5-1/4" and 6-1/2" speakers.
Both sizes require adapter brackets. Speaker harnesses are available for all locations in the Accord except the tweeters. These will let you connect your new speakers to the car's harnesses without cutting or soldering wires.
These brackets and harnesses are available at a very nice discount when you order from Crutchfield.
Tools needed: Phillips screwdriver, small, flat-blade screwdriver, panel tool, drill and 1/8" bit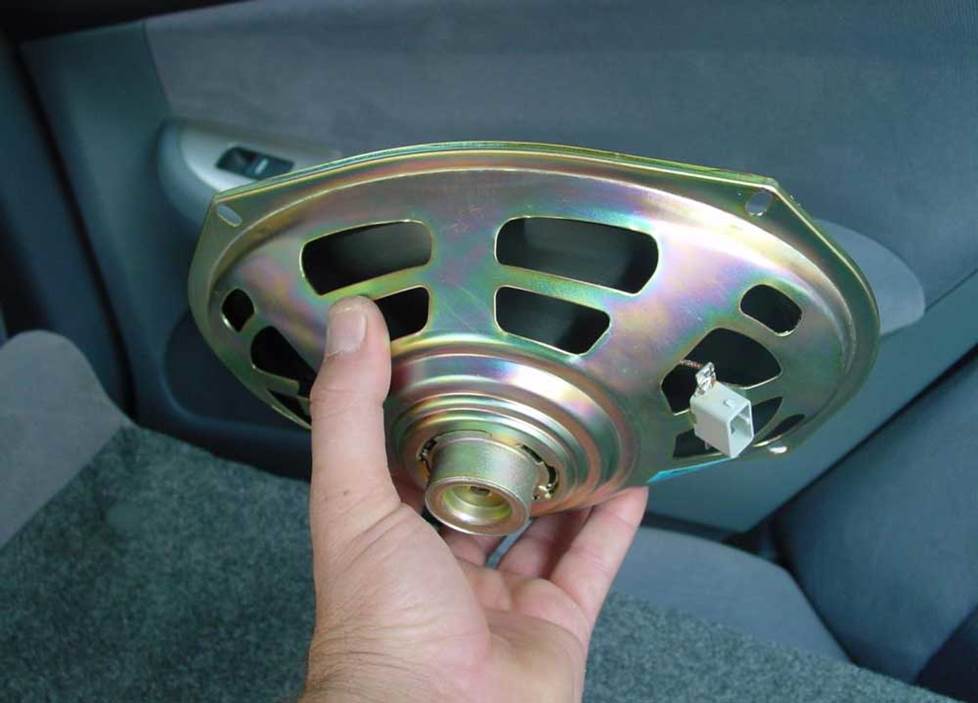 The Accord's rear deck speakers (Crutchfield Research Photo)
Rear deck speakers
The rear deck 6"x9" speakers are much easier to replace. There's plenty of room there, so most aftermarket 6"x9" speakers will fit, and you have the option of installing 5-1/4" and 6-1/2" speakers with the help of mounting brackets.
Tools needed: Panel tool, socket wrench, 8 mm socket
Read our Car Speakers Buying Guide for more information.
Shop for speakers that fit your Honda Accord DX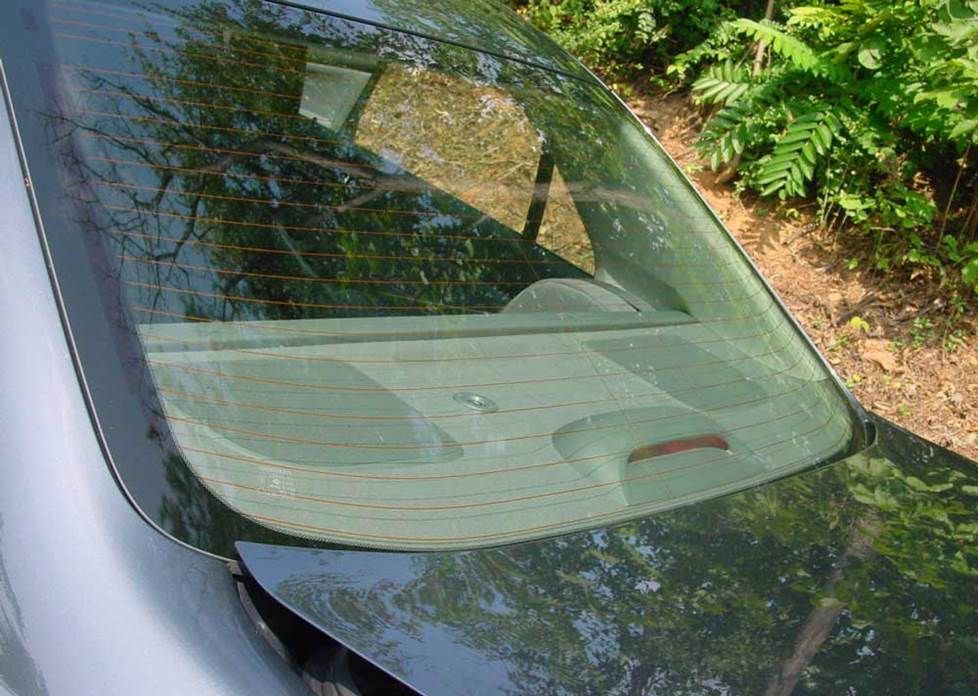 You can replace the rear deck speakers with subs (Crutchfield Research Photo)
Bass in your Accord
The factory system, at least, can really do with the additional bass a subwoofer provides. The roomy trunk offers plenty of space for a sub, enclosure, and amplifier. And you can also consider small powered subs that'll fit under the front seat.
Another solution is to replace the rear deck speakers with 6-1/2" or 6"x9" subs, for a stealthy way to get bass. If you choose this option, make sure you use plenty of Dynamat or another noise-dampening material on the back deck. This material will keep the deck from rattling and buzzing when the small subs start pumping out lots of bass.
Learn more about building a bass system in our Car Subwoofer Buying Guide.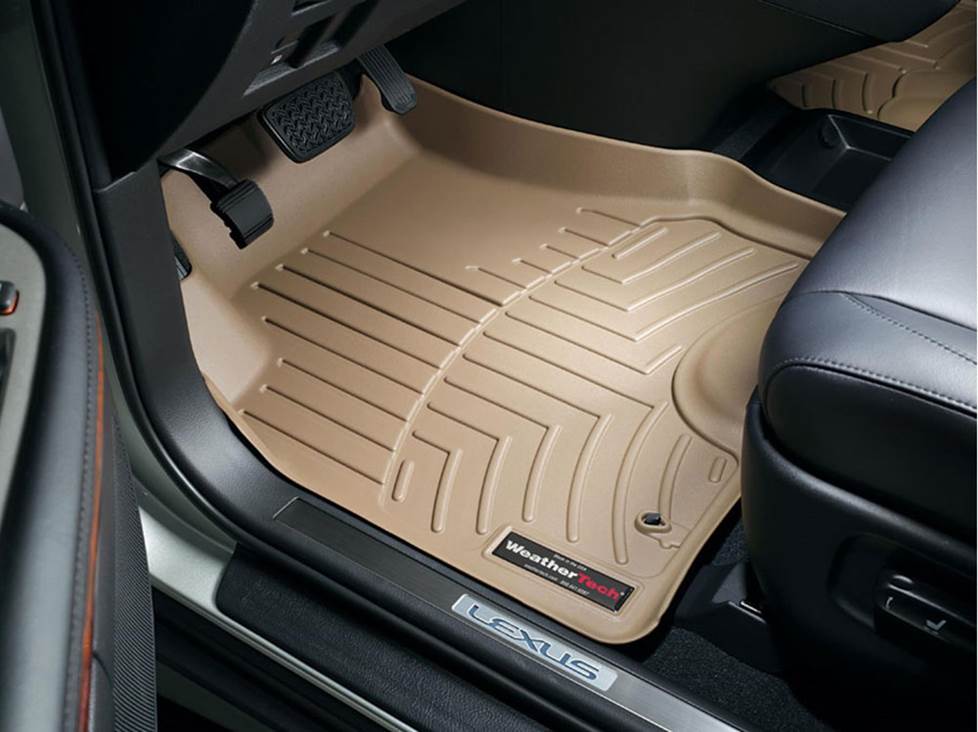 Protect your Accord's carpeting with custom-fit WeatherTech floor liners
Other options for your Accord
There are plenty of options available when you decide to take your Accord to a whole new level.
Protect the carpets with WeatherTech floor liners
It's easier than you think to mess up your Accord's interior while you're going about your daily business. Floor mats and liners from WeatherTech will help protect your car's carpeting from dirt and damage. And if they're already dirty and damaged, these mats will cover it up and make your car's interior a nicer place to be.
Keep the factory radio
If you want to leave your Honda's radio connected, you can still add features like Bluetooth® and iPod® connectivity by way of accessory adapters and harnesses that hook in behind the factory radio. Some Hondas come with XM Radio built-in, and you'll lose that if you replace your radio. If you're a satellite radio addict, pick a new car stereo that supports SiriusXM so you can keep listening to your favorite channels.
Remote start and security systems
Adding remote start capability to your vehicle lets you warm it up in the winter or cool it down in the summer. The iDatastart system is incredibly convenient and makes it easier than ever to install a remote start system, so we highly recommend it. The module requires a vehicle-specific T-harness (sold separately) to connect with your vehicle's computer, security, and ignition systems, so we ask that you call to order so that we can make sure you get the right harness for your ride.
You can also talk to your Crutchfield Advisor about a security system. They're not as easy to install (we usually suggest letting a professional do the job), but we can help you choose a system that'll work in your vehicle.
Hybrid note
A hybrid's gas-electric hybrid powertrain makes replacing the stereo a little more complicated. As you might expect, these hybrid Accords contain some very sensitive electronics, so here are a couple of things to keep in mind:
Be sure to only use a multi-meter when testing wires, and NEVER use a test light to test wires in this vehicle. Doing so could cause some serious (by which we mean dangerous and expensive) damage.
A hybrid is not the car to choose if you want to build a massively powerful audio system. The thirsty current draw of a high-powered stereo is not a good thing for the hybrid system, so don't exceed a 30-amp current draw or 350-watt RMS power rating.
Let's get started!
Ready to shop? Use our vehicle selector to find the gear that will fit your car or truck. If you have questions, give us a shout via phone, chat, or email