2004-2008 Ford F-150 SuperCrew
Upgrading the stereo system in your F-150 SuperCrew
2004 • 2005 • 2006 • 2007 • 2008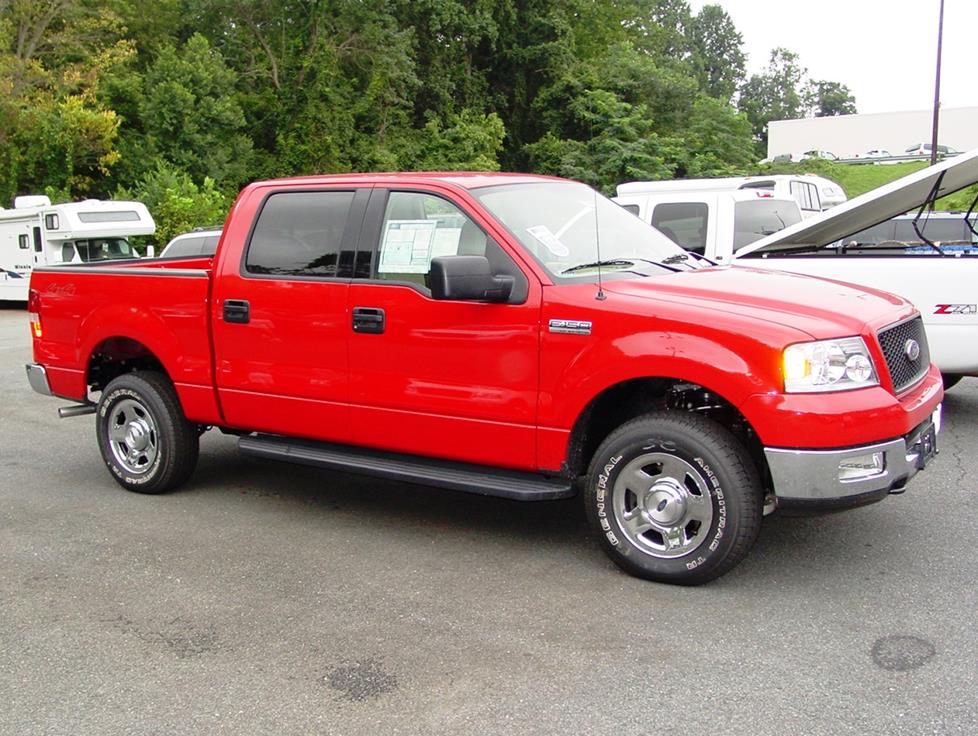 In brief: This Crutchfield Research Garage article gives you an overview of your F-150's stock stereo system and your aftermarket upgrade options. We'll tell you all about:
Then, use our vehicle selector to find the gear that will fit your truck.
Overview of the Ford F-150 SuperCrew
The F-150 SuperCrew is a true "do-anything" truck. It can haul the kids to school and haul an old projection TV to the recycling center--on the same trip. The roomy interior gives you lots of space for entertainment upgrades and the modular construction makes it easier to turn your dreams into reality.
Detailed stereo and speaker removal instructions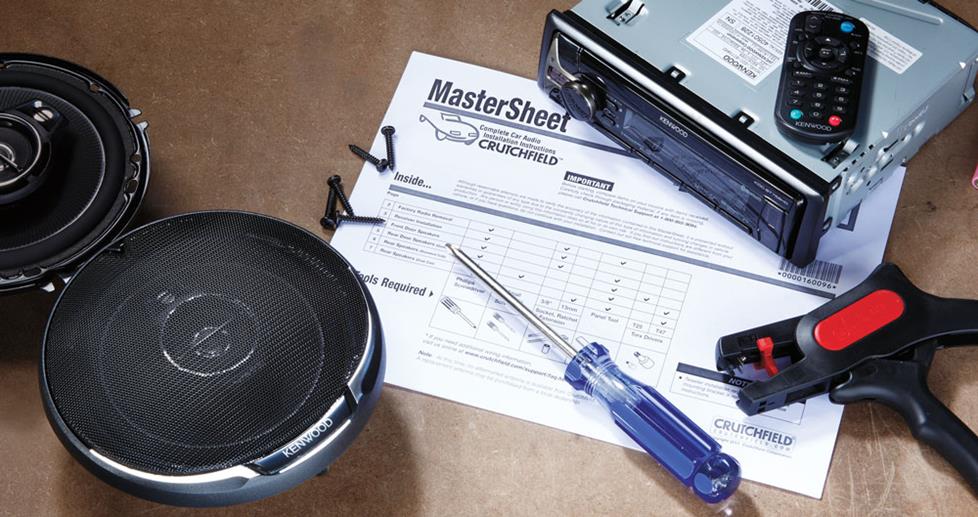 With step-by-step disassembly instructions and plenty of up-close, detailed photos, our exclusive
Crutchfield MasterSheet
™ takes the guesswork out of removing the factory stereo and speakers. It's free with your Crutchfield order, or you can purchase one separately for just $9.99.
The factory stereo system
This Ford F-150 SuperCrew came with several receiver options. An AM/FM/CD receiver came standard, but Ford offered three other options:
an AM/FM/6-disc in-dash changer;
AM/FM stereo/6-disc CD changer with Audiophile Sound System with mp3 (with factory sub);
Rear Seat DVD Entertainment System
Note: You will lose the use of the rear seat DVD entertainment system if you replace the factory radio.
Each of the four doors houses a 6" x 8" speaker, and in some trucks you'll find an enclosure with an 8" sub and an amplifier under the left rear seat. It's really easy to get into the dash and speaker locations. You only have to remove one piece of trim to get to the radio, and the speaker grilles pry off in the front doors. You'll have to remove panels to replace the rear door speakers, but that's not difficult.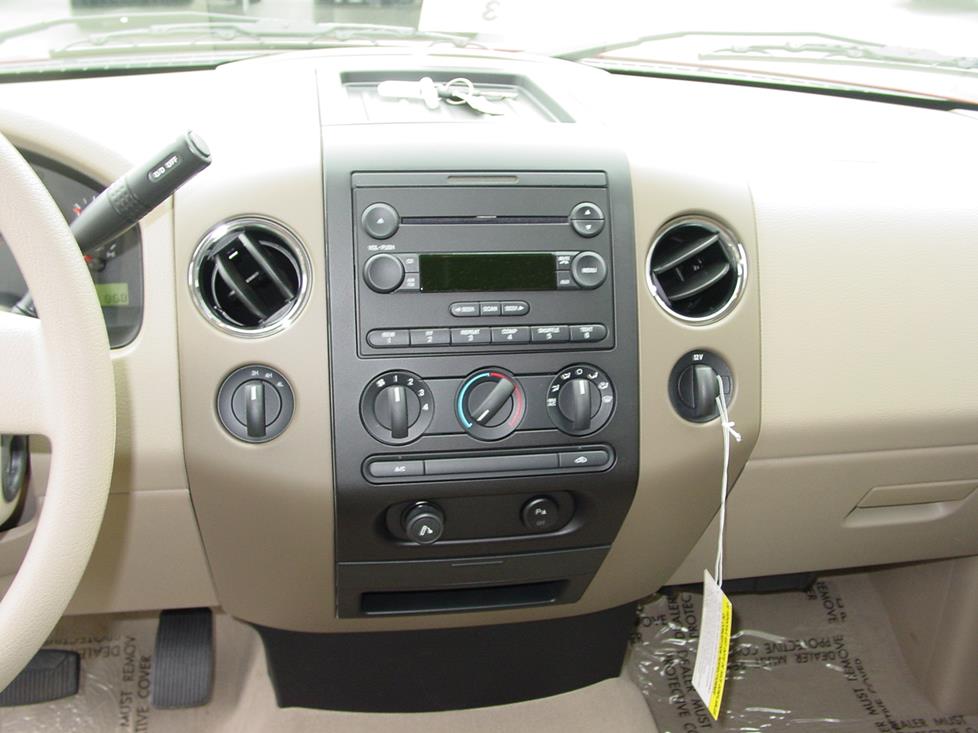 The F-150 SuperCrew's factory radio (Crutchfield Research Photo)
Removing the factory radio
There's plenty of room behind the dash, so you can install just about any car stereo in this truck, including single-DIN (2" tall) and double-DIN (4" tall) receivers.
Installation is pretty simple. You remove the center dash panel surrounding the stereo, then unbolt the stereo from the dash. You'll need a mounting kit to trim out the new radio, along with a wiring harness that allows you to connect your new radio without having to cut the factory wiring Crutchfield includes these installation parts at a very nice discount with receiver orders, along with our own MasterSheet™ step-by-step instructions for your F-150.
You'll have no problem fitting accessory items like satellite radio tuners, iPod adapters, navigation modules, or even small amps back behind your new stereo. Remove a couple of trim pieces, and you'll have all the access you need for the installation. You'll lose the factory Video Entertainment feature if you replace the Ford radio.
Tools needed: 7mm socket wrench, panel tool
Shop for car stereos that fit your Ford F 150
Steering wheel audio controls
Two companies (PAC and Axxess) make adapters that allow you to connect your Ford steering wheel audio controls to a new car stereo. The F-150 uses a single wire to send commands to the factory radio, so you can install either adapter without much trouble.
Removing the factory speakers
This truck will accept several speaker sizes: 6"x8" speakers drop right in, most 5"x7"s will also fit, and 5-1/4" speakers will fit in with mounting brackets. You'll find enough room in both locations that you can almost always buy matching speakers for front and back.
It's a good idea to get speaker harnesses for your new speakers. They'll allow you to attach the new speakers to the plugs that connect to the Ford factory speakers, and they make it easier to reinstall the factory speakers if you ever sell your truck The brackets and speaker wiring harnesses are available at a discount when you order your speakers from Crutchfield

The Ford's front door panel is reasonably simple to work with (Crutchfield Research Photo)
Front doors
You don't have to pry off the entire door panel, as there's a pop-out panel that covers the speaker location. Since the SuperCrew offered advanced audio options, you should find factory tweeter openings in the front door panels in addition to the oval 6"x8" openings.
If you're handy with tools, you can fashion a plate to hold aftermarket tweeters in those openings. Since the speaker openings are high up in the front doors, you'll get great sound from a nice set of component speakers. You can also install kick panel enclosures that hold 6-1/2" speakers and tweeters in this truck if you prefer that option.
Tools needed: Panel tool, ratchet, 5.5mm, 8mm, 10mm, 1/4", and 7/32" sockets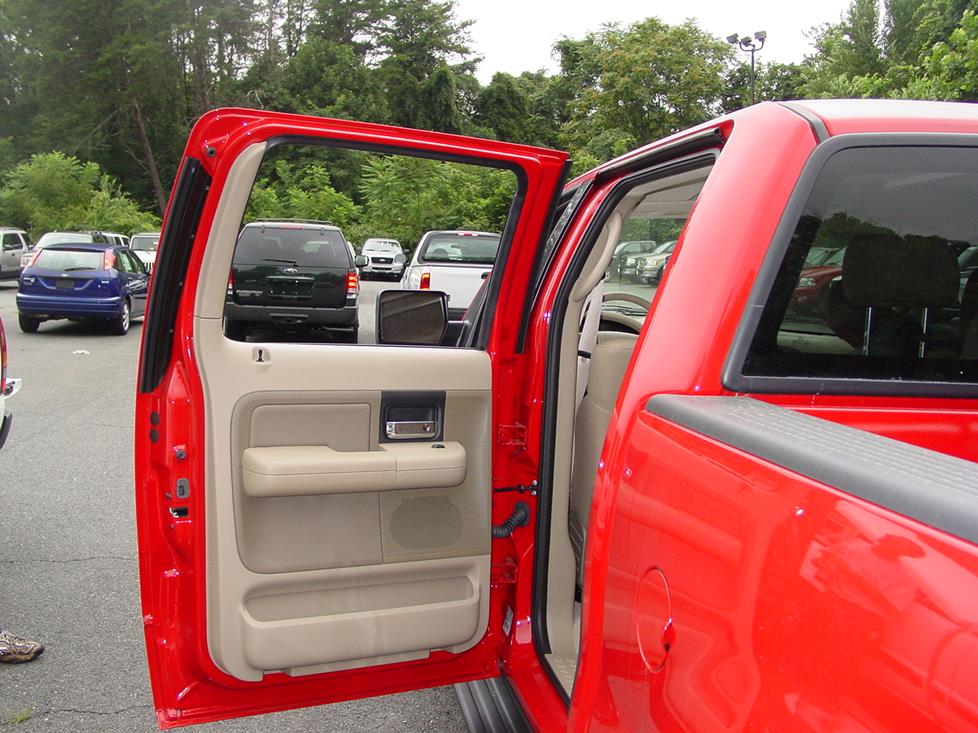 The SuperCrew's rear door panel (Crutchfield Research Photo)
Rear doors
You will have to remove the rear door panels to access the speakers. Again, there's plenty of room for most 6"x8" speakers, or you can also use 5-1/4" speakers in brackets.
Tools needed: Panel tool, ratchet, 5.5mm, 8mm, 10mm, 1/4", and 7/32" sockets
Shop for speakers that fit your Ford F 150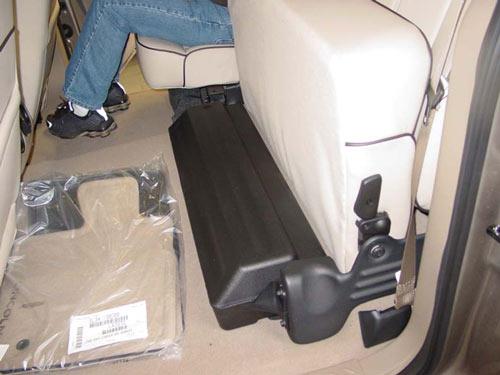 Factory sub enclosure under rear seat in SuperCrew (Crutchfield Research Photo)
Bass in your F-150 SuperCrew
Bringing some extra thump to your F-150 SuperCrew isn't hard, but the amount of effort involved depends on how your truck was equipped when it rolled out of the factory.
With factory sub
This Ford truck offered a factory sub as an option. If you've got the factory enclosure under the rear seat, you can replace the 8" DVC sub in with any aftermarket sub with a mounting depth less than 3.6 inches. If you pick a high-performance sub, you'll want to replace the factory amp too.
The factory stereo only sends 5 volts to the sub amp, which can cause a turn on/off pop from the subwoofer when an aftermarket stereo is installed. To avoid this, a 12V-to-5V regulator can be installed on the remote lead. This regulator produces a large amount of heat for its size and should be bolted or screwed to a clean metal surface that will act as a heat sink.
Tools needed: 10mm socket, Torx T20 driver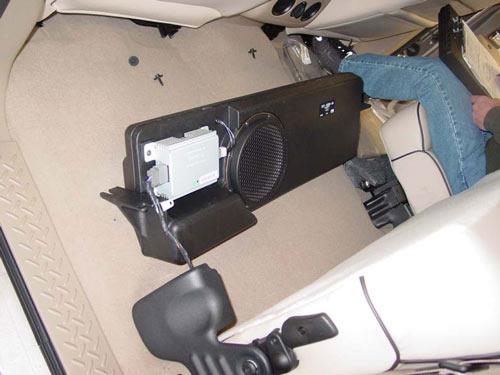 Factory subwoofer and amp opened up (Crutchfield Research Photo)
Without factory sub
If you don't have the Ford factory sub (or if you want to replace yours), you'll find a bunch of subwoofer options available. Your best bet would be vehicle-specific enclosures from manufacturers like JL Audio, Q-Logic, or MTX, available in unloaded, loaded, and amplified versions. They'll give you powerful bass without wasting much (if any) space. There's also room under the rear seat for a compact Class D amp that will deliver some serious bass power.
Shop for vehicle-specific subwoofers for your Ford F 150
Other options for your F-150 SuperCrew
With a vehicle like the F-150 SuperCrew, there are lots of ways to upgrade your entertainment and security.
iPod® and video
iPod® users, you'll find a great spot for an iPod connection next to the 12-volt port that's situated low in your console, and the pocket just below that port is a great place to stash your player. Also, if you're thinking about installing an overhead video screen, the JCI rail system in your headliner contains power and ground leads that you can tap into, making that job much, much easier.
Navigation
You can still get aftermarket nav functionality without installing a touchscreen nav receiver in your car's dash. A portable GPS from Garmin, Magellan, or TomTom will mount on your dash and give you turn-by-turn directions, traffic updates, and everything you need to make your road trip go smoothly. Plus, when you get where you're going, you can put your GPS in your pocket and use it to find points of interest around town.
Security and remote start
If you want to add a remote start system to your F-150, you'll have ample room to mount the security system of your choice, and all models that we carry would be a great fit for this truck. All the connections you will need to make are in convenient locations, and you won't have to break your back in the process. If you have heated seats and you plan to add remote start, we can help you turn these on when you start your truck remotely. When you come out to your F-150 on a cold winter day, the seats will be nice and warm.
Installing a security system in your F-150 isn't that simple (security systems rarely are), but it's definitely a good idea. Our Crutchfield Advisors can help figure out what you need to get the job done, but we usually recommend taking your car and new gear to a professional installer.
Let's get started!
Ready to shop? Use our vehicle selector to find the gear that will fit your car or truck. If you have questions, give us a shout via phone, chat, or email