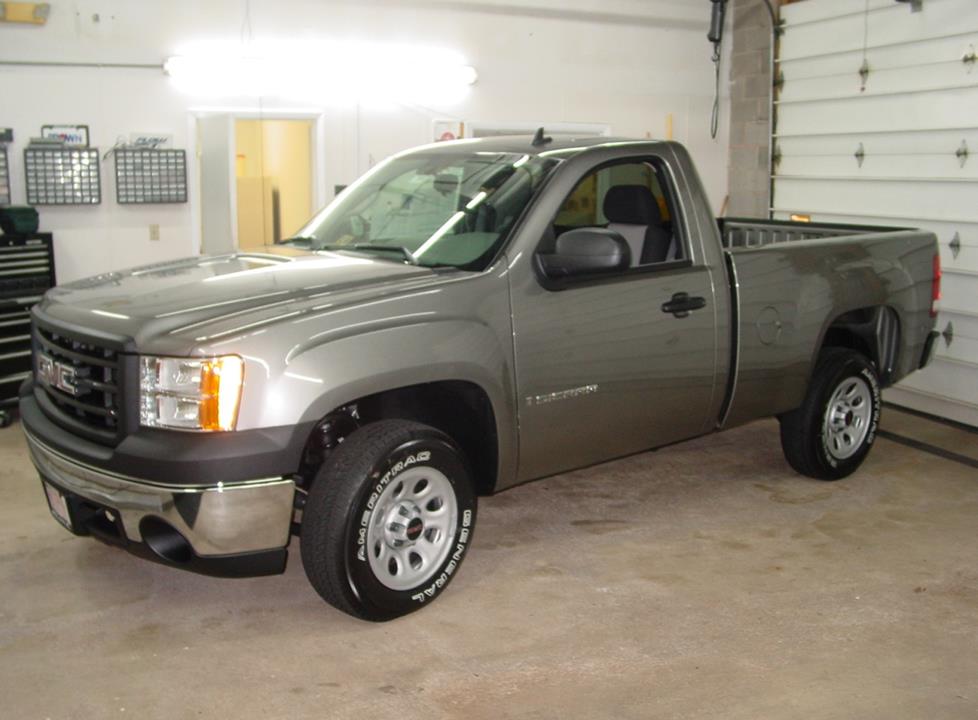 In brief: This Crutchfield Research Garage article gives you an overview of your truck's stock stereo system and your aftermarket upgrade options. We'll tell you all about:
Then, use our vehicle selector to find the gear that will fit your pickup.
Overview of the Silverado and Sierra
The best part of driving a regular cab pickup is that when you and three friends need to go someplace, you probably won't be the one driving. The worst part is that when one of those friends has to move something somewhere, you'll definitely be getting a phone call. Then again, that might eventually lead to free pizza, so maybe it's not that bad when you think about it....
The Chevy Silverado and GMC Sierra regular cab trucks were typically more utilitarian than luxurious, but they were available with some decent (for the time) stock stereos. That said, at this point in your truck's life, the stock stuff is probably getting a bit tired. If your truck has a lot of life left in it, replacing the old gear is probably a good idea. Your friends will appreciate your new sound system while your'e heading across town with their new furniture.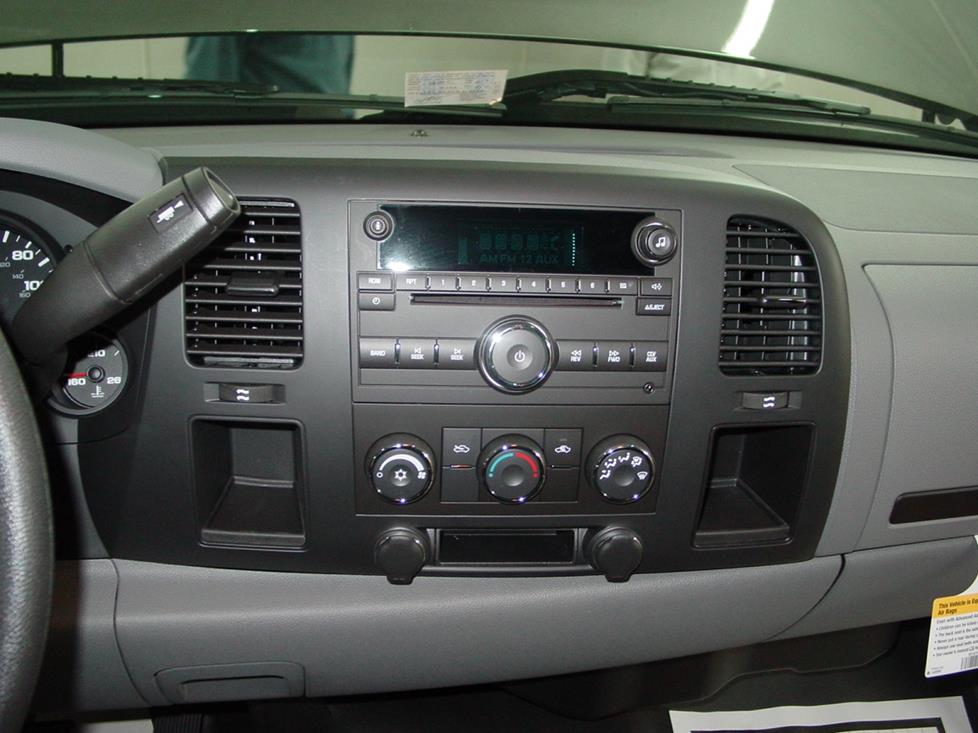 The dashes differ, but radio replacement is still pretty simple in these trucks (Crutchfield Research Photo)
The factory stereo system
Regular Cab (and Extended Cab) Silverados and Sierras were available with two different dash configurations. The lower trim level trucks have a "Type A" dash, while the mid- to upper-level trucks have a "Type B" dash.
Both configurations use the same mounting kit, which, along with an antenna adapter, is included at a deep discount with most Crutchfield stereo purchases. You'll also get our exclusive Crutchfield MasterSheet, which contains the illustrated, step-by-step instructions you'll need to remove the stock audio gear.

It's a big space, but not every double-DIN (4" tall) receiver will fit here (Crutchfield Research Photo)
Removing the factory radio
A variety of single-DIN (2" tall) and double-DIN (4" tall) receivers will fit in these pickups, but there are some irregularities in the dash substructure that prevent certain double-DIN radios from fitting properly. It's best to pick a double-DIN radio with wire harnesses or RCA connectors located on the bottom half of the back of the radio, but you can also go with a number of CD receivers or digital media receivers with a depth of less than 6-1/2". A receiver with a fold-down face will not work in this truck, though, so avoid those.
To get started, enter your truck's information on our Outfit My Car page, find the receiver you want, and add it to your cart. We'll show you which mounting kit you need, and you'll receive a big discount when you purchase everything together at Crutchfield. If you have any questions, especially when you're looking for the right double-DIN receiver, one of our Crutchfield Advisors will be happy to help you make the right choice.
Detailed stereo and speaker removal instructions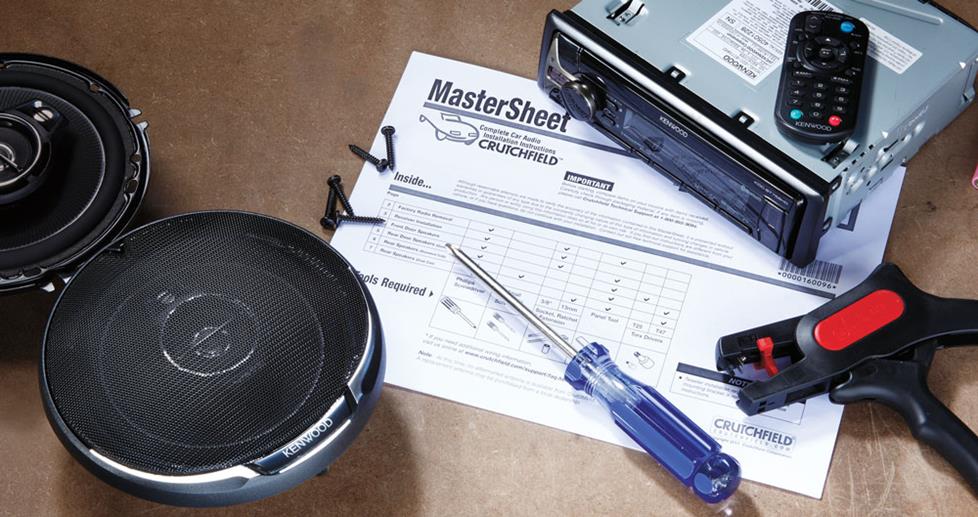 With step-by-step disassembly instructions and plenty of up-close, detailed photos, our exclusive
Crutchfield MasterSheet
™ takes the guesswork out of removing the factory stereo and speakers. It's free with your Crutchfield order, or you can purchase one separately for just $9.99.
You'll also need to purchase an adapter that allows you to install a new stereo and still retain your warning chimes (along with OnStar functionality if you have it), plus a relay to keep your audible turn signals working with your new car stereo. These adapters are not free, but we'll give you a very nice discount on the ones you'll need for this installation.
Crutchfield strongly recommends that you use one of the recommended adapters. Failure to do so may result in serious injury or death. It will most certainly result in our (very) polite refusal to provide technical assistance when you call us for installation advice.
Tools needed: Panel tool, 7mm socket and ratchet
Read our Car Stereo Buying Guide for shopping tips and advice.
Shop for car stereos that fit your Chevrolet Silverado
Steering wheel audio controls
In most cases, it's reasonably easy to retain your truck's steering wheel audio controls when you install a new stereo. When you enter your vehicle information, our database will choose the adapter you need to make your factory steering wheel controls work with a compatible aftermarket receiver.

We'll give you a nice discount on the installation gear you'll need for the doors (Crutchfield Research Photo)
Removing the factory speakers
Removing the door speakers
You'll need to remove the door panel to access these speakers, of course. Depending on whether your truck has manual or power windows, there will be some differences in exactly how you do that. All will be explained in your MasterSheet.
The standard factory door speakers are closest in size to an aftermarket 6-3/4" model, but you'll need an adapter plate to install any aftermarket speaker. You can install 6-3/4" or 6-1/2" speakers and the adapter plates make installation relatively easy. The factory speakers are 4-ohm models, so you have a wide selection to choose from.
You'll need speaker harnesses to attach the new speakers to the plugs that connect to the GM factory speakers. Crutchfield includes these harnesses, plus the mounting brackets you'll need, at a deep discount with every speaker order.
Tools needed: Panel tool, 7mm & 10mm drivers, flat blade screwdriver, needle-nose pliers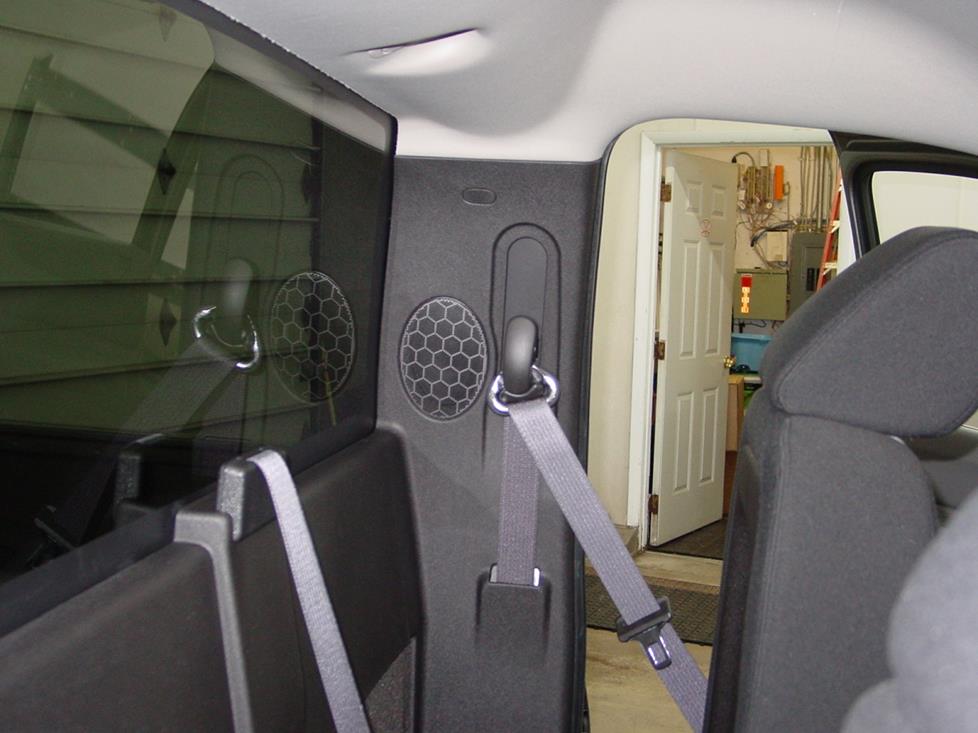 Replacing the pillar speakers takes a little work, but it's nothing you can't handle (Crutchfield Research Photo)
Removing the rear pillar speakers
These Regular Cab trucks have 4"x6" speakers mounted behind the rear side pillars. They can be replaced by same-size or 4" aftermarket speakers, though you'll need to re-drill the mounting screw holes no matter which size you choose. The drilling isn't any harder here than it is in your home workshop, but be smart, work carefully, and be sure to wear eye protection.
If you want to get maximum sound quality out of your new rear pillar speakers, purchase a set of foam baffles. These baffles fit snugly around the rear of the speaker to reduce rattling and improve performance. They also protect the speakers from dust and moisture, which is always a good thing in a truck. Baffles are an inexpensive addition that really makes a difference, here and in the doors.
Tools needed: Panel tool, small flat blade screwdriver, 7mm socket, ratchet and extension, Torx T-50 driver, drill with 1/8" bit
Read our Car Speakers Buying Guide for more information.
Shop for speakers that fit your Chevrolet Silverado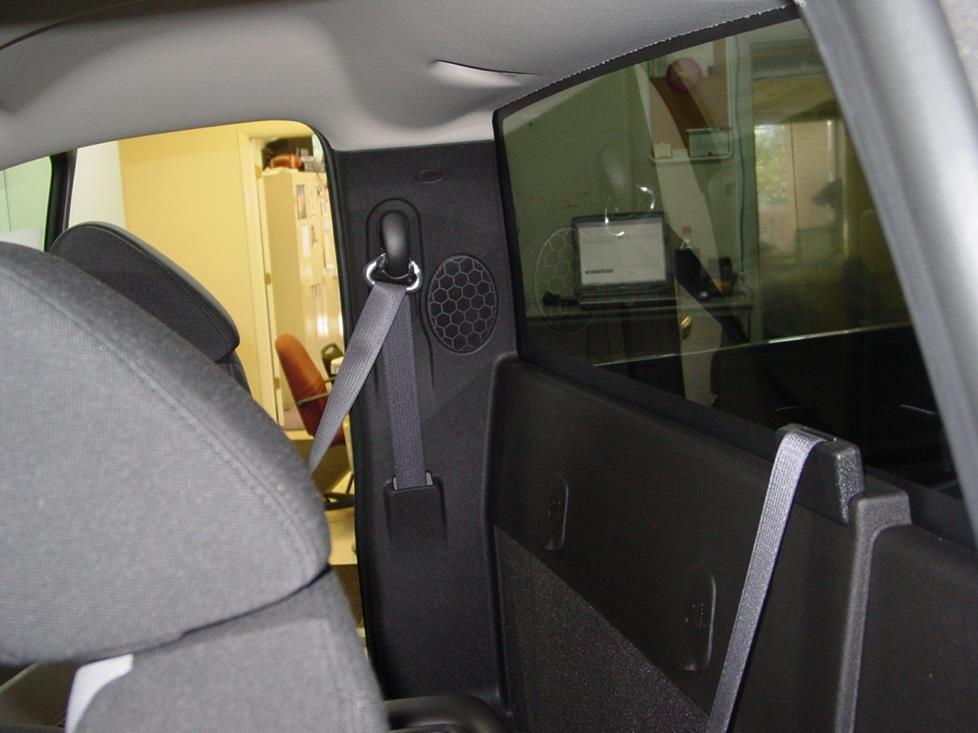 There's not a ton of space for bass back here, but a powered sub might fit (Crutchfield Research Photo)
Bass in your Silverado or Sierra
There's not a lot of room for aftermarket bass in these trucks, but all is not lost. There are some small powered subwoofers that could fit back there. And if you want to power your other speakers with an aftermarket amplifier, there's space back here to mount that, too.
Learn more about building a bass system in our Car Subwoofer Buying Guide.
Shop for vehicle-specific subwoofers for your Chevrolet Silverado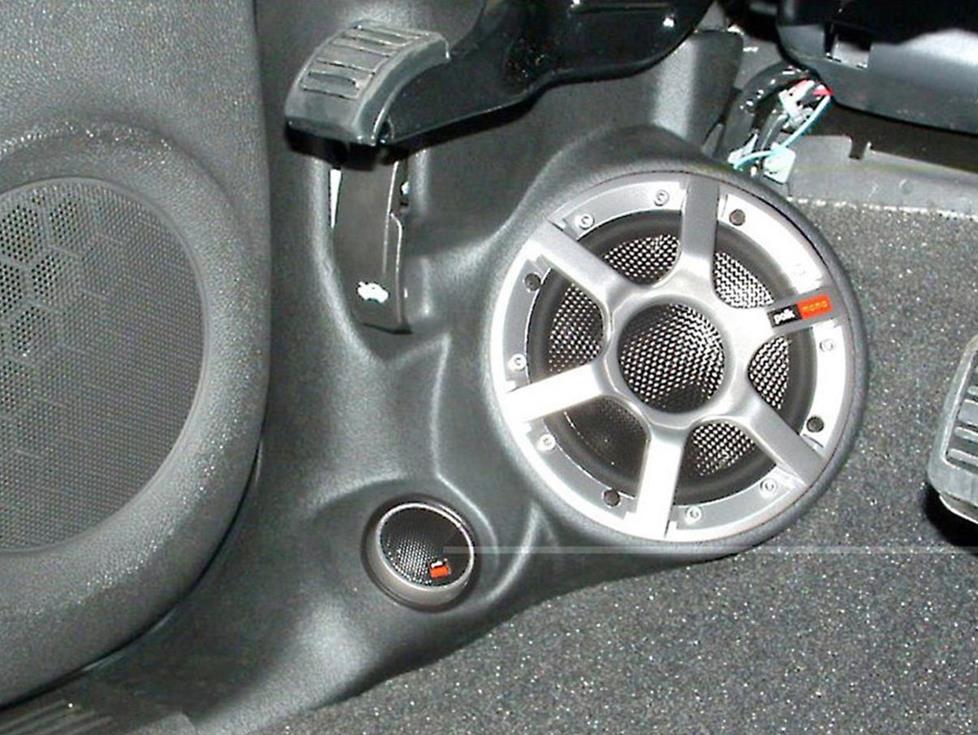 Q-Forms Kick Panel Enclosures (speaker not included) can really add to your sound.
Other upgrade options for your Silverado or Sierra
Here are some other upgrade ideas for your GM pickup:
Kick panel pods
If you really want to improve the sound in your Silverado or Sierra, install a set of Q-Forms Kick Panel Pods. These unloaded, custom-fit speaker enclosures fit into the space where your kick panels are now. They hold a set of component speakers in an ideal position, angling them to maximize sound quality. They're available in a variety of colors to match your truck's interior. Installation takes some work, but it's not beyond the realm of an experienced DIY-er.
Portable nav
If you don't want to invest in a big double-DIN receiver, you can still get the nav you need and more with a Garmin portable navigation unit. A portable GPS can be transferred from vehicle to vehicle, or just tucked into a storage compartment when not in use.
Remote start and security systems
Adding remote start capability to your vehicle lets you warm it up in the winter or cool it down in the summer. The iDatastart system is incredibly convenient and makes it easier than ever to install a remote start system, so we highly recommend it. The module requires a vehicle-specific T-harness (sold separately) to connect with your vehicle's computer, security, and ignition systems, so we ask that you call to order so that we can make sure you get the right harness for your ride.
You can also talk to your Crutchfield Advisor about a security system. They're not as easy to install (we usually suggest letting a professional do the job), but we can help you choose a system that'll work in your vehicle.
Let's get started!
Ready to shop? Use our vehicle selector to find the gear that will fit your car or truck. If you have questions of your own, give us a shout via phone, chat, or email