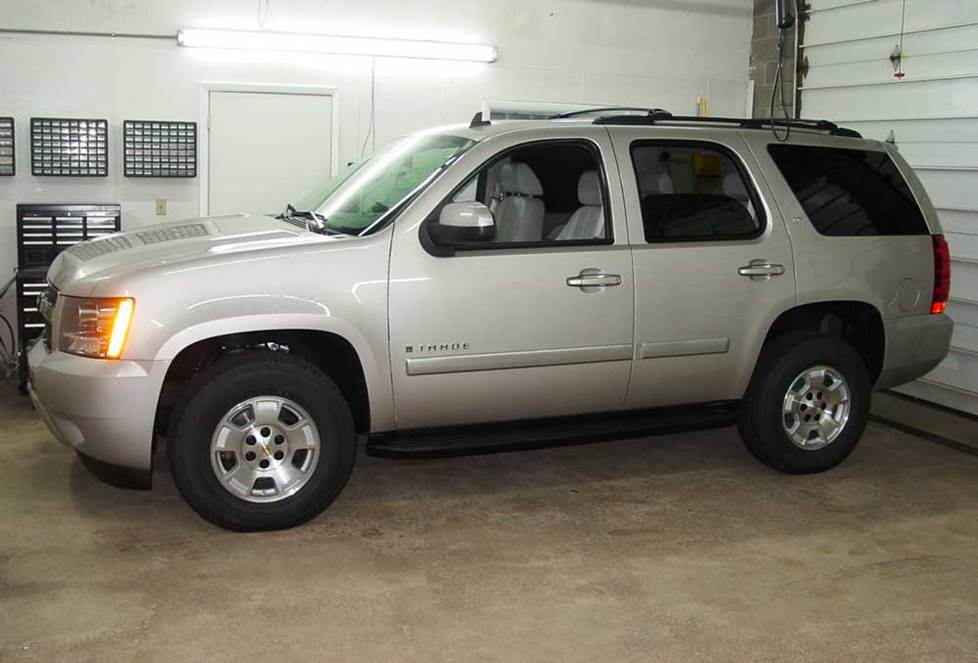 In brief: This Crutchfield Research Garage article gives you an overview of your SUV's stock stereo system and your aftermarket upgrade options. We'll tell you all about:
Then, use our vehicle selector to find the gear that will fit your Chevy or GMC.
Overview of the Tahoe, Suburban, Yukon, and Yukon XL
GM's full-size family of SUVs has long been a favorite of big families, outdoor enthusiasts, and hyper-observant men in dark suits and sunglasses. The're comfortable, capable, and thoroughly practical for anyone who needs this much SUV. No wonder they've become a (pardon us) suburban staple.
The Suburban/Yukon XL/etc. is a big vehicle. Really big. If you have more people to move than this vehicle can hold, you need to buy a passenger van. If you have more stuff, you need to rent a box truck. For most people, though, there's more than enough space in these trucks to haul everything that matters in comfort and style. By any name, the Suburban is a classic piece of American automotive design.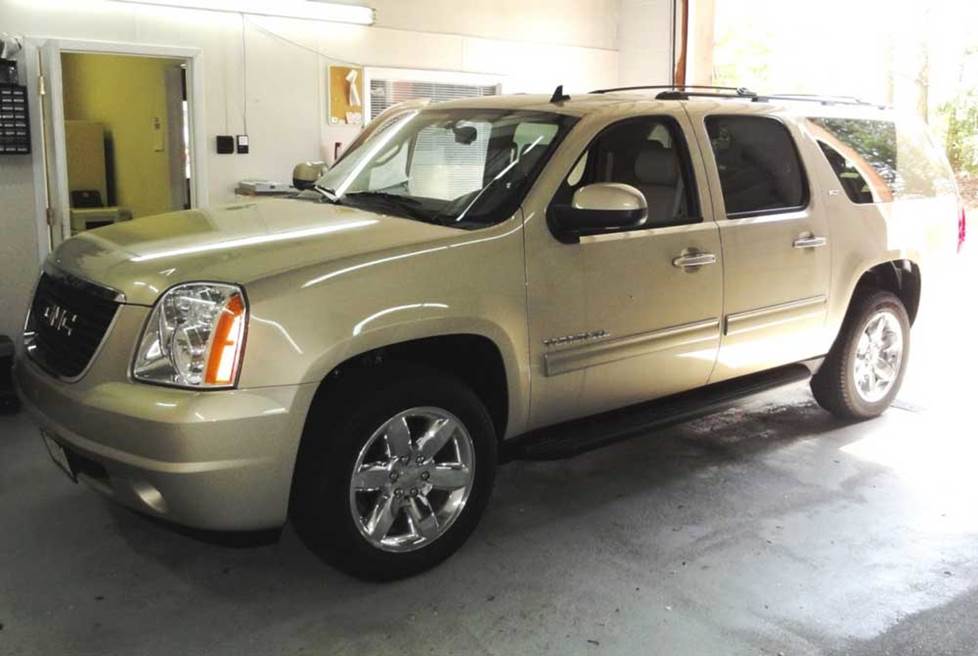 The Tahoe and Yukon are (slightly) smaller than the Suburban and the aptly named Yukon XL. Stereo-wise, there's almost no difference between them, so we've lumped them all together in one super-sized article. The factory stereos were adequate, but there's plenty of room for improvement. Thankfully, these trucks are generally easy to work on, and there's a lot of aftermarket gear available.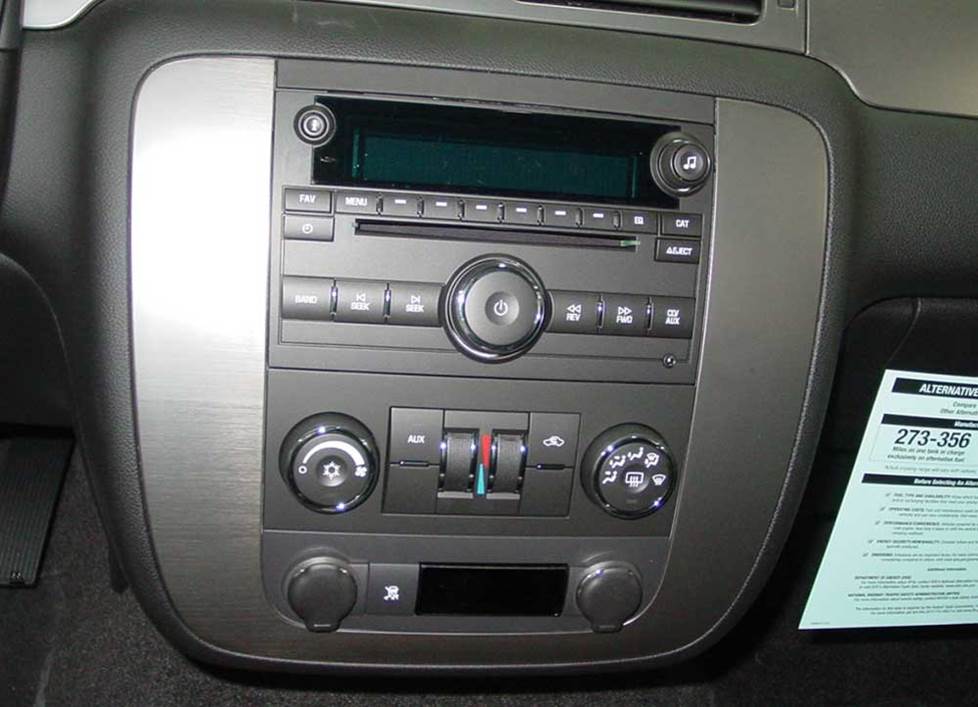 The Tahoe/Yukon/Suburban's rather basic base radio (Crutchfield Research Photo)
The factory stereo system
These trucks could be ordered with several different stereo systems, including a 6 CD in-dash Bose® system and options to add navigation, rear seat audio, DVD systems, or satellite radio. It's possible to add to or completely replace any of these stereo systems fairly easily, though getting to the amplifier and 6-1/2" subwoofer of the Bose system requires some extensive teardown of the interior.
Some integration adapters we sell let you keep factory features you may have in these vehicles, like the rear seat entertainment system, backup camera, or Bluetooth® hands-free calling. It's also possible to replace (and improve) every one of them with the majority of receivers and other gear we sell.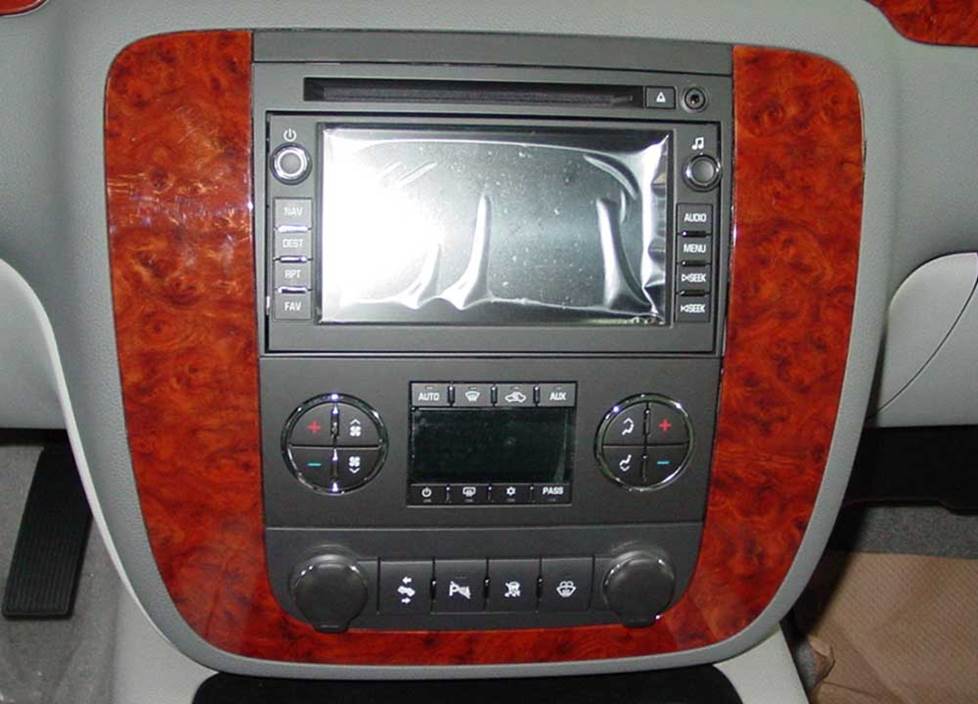 The optional big-screen nav radio (Crutchfield Research Photo)
Removing the factory radio
Removing the stock receiver isn't terribly difficult, but you should work carefully and patiently to avoid damaging the trim pieces. Starting at the bottom edge, pry around the edges of the receiver trim panel to release the retaining clips. These clips are very tight, so don't succumb to the temptation to use brute force. They'll come, but finesse is the best approach.
Once you've gotten the trim panel off, remove eight 7mm screws securing the switch panel, the temperature controls, and the radio. It's okay to let the switch panel and temperature controls hang while you pull out and disconnect the radio.
Single-DIN and most double-DIN aftermarket receivers will fit nicely in your truck with the help of a mounting kit. Crutchfield includes this kit and an antenna adapter at a very nice discount with most orders, along with our step-by-step Crutchfield MasterSheet disassembly instructions.
Some double-DIN (4" tall) radios will not fit because the wiring harness interferes with the dash substructure. Check our product photos to make sure the radio you're buying does not have wire harnesses or RCA connectors that plug into the top half of the back of the radio. If you have any questions, our Crutchfield Advisors are here to help.
Detailed stereo and speaker removal instructions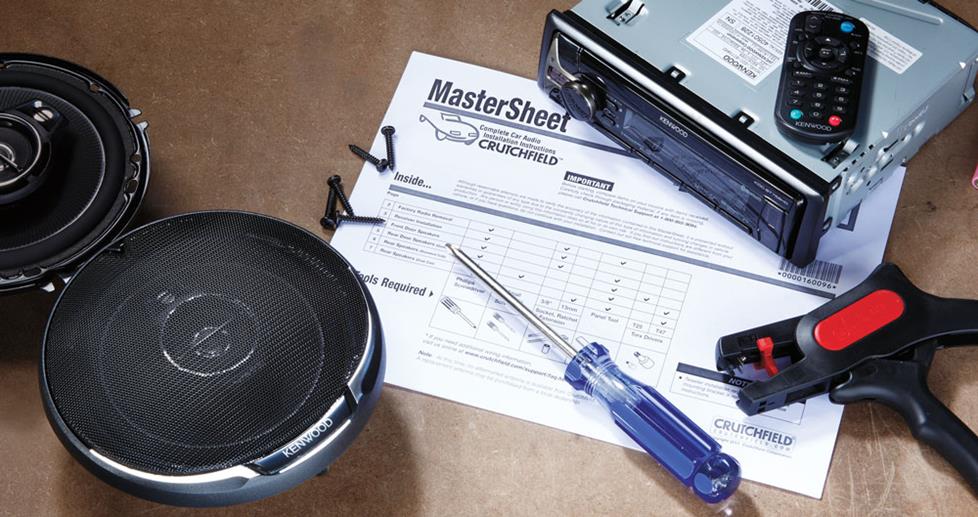 With step-by-step disassembly instructions and plenty of up-close, detailed photos, our exclusive
Crutchfield MasterSheet
™ takes the guesswork out of removing the factory stereo and speakers. It's free with your Crutchfield order, or you can purchase one separately for just $9.99.
In order to connect a new stereo to your truck's electronics, you'll also need a special integration adapter. This adapter is not free, but we offer a very nice discount if you purchase it with your new stereo. This integration adapter lets you retain your warning chimes, keeps the Bose amplifier working, and retains the OnStar functionality (if either are present…).
You might also need a relay to keep your audible turn signals working with your new car stereo. If your SUV is equipped with the GM Rear Seat Entertainment (RSE) system, you'll definitely need a separate adapter to connect it to the audio/video output on your new receiver
Since installing a new receiver can disable the warning chimes in your Yukon or Tahoe, we strongly advise that you use the recommended integration adapter to retain these chimes. We will not provide technical support for any installation that does not utilize the recommended adapter.
The optional factory DVD system features a flip-down screen in a roof console and two pairs of wireless headphones. A secondary set of controls for the radio and DVD system are housed in the rear of the center console, and some models include an A/V input for adding more gear, like a gaming console.
Creating some aftermarket movie magic in your SUV is relatively easy, thanks to products like flip-down overhead monitors with DVD players or replacement headrest screens that match the truck's interior. Our Outfit My Car tool will help you find what you need for your SUV.
Tools needed for stereo removal: Panel tool, 7mm socket, ratchet, and extension
Read our Car Stereo Buying Guide for shopping tips and advice.
Shop for car stereos that fit your Chevrolet Suburban
Steering wheel audio controls
In most cases, it's reasonably easy to retain your truck's steering wheel audio controls when you install a new stereo. When you enter your vehicle information, our database will choose the adapter you need to make your factory steering wheel controls work with a compatible aftermarket receiver.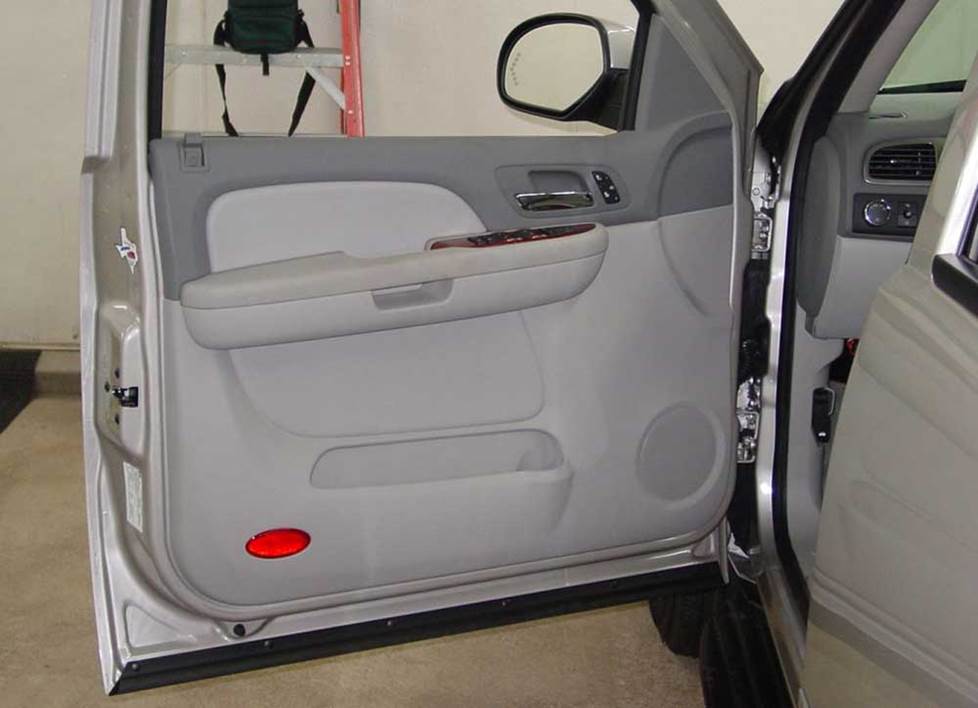 The front door speakers aren't hard to replace, but there are several steps involved (Crutchfield Research Photo)
Removing the factory speakers
Your Tahoe, Suburban, Yukon, or Yukon XL is equipped with speakers in the front and rear doors. If you have the Bose system, you'll also find speakers in the dash and the front and rear pillars.
You can read our Car Speakers Buying Guide for more information on choosing speakers for your vehicle.
Removing the front door speaker (Crutchfield Research Photo)
Front door speakers
The front door speakers are 6-3/4" models that can be replaced with same-size or 6-1/2" aftermarket speakers. There are a couple of moderately challenging aspects to the process, but they're well within the capabilities of a reasonably skilled do-it-yourselfer.
You'll need to remove the door panels, of course, and while that's not terribly difficult, there are a lot of "small" tasks (removing the factory speakers from their mounting brackets, for example) involved in the process. Work carefully, and keep track of the various trim pieces and screws you remove while you're taking the door apart.
No matter which size you choose, replacement speaker adapter brackets are required, and they're included free with your speaker purchase. A wiring harness is not available, though, so you'll either need to splice the speaker wires or connect the speaker to the vehicle wires using a set of Posi-Products speaker connectors. Whether you use your truck off-road or not, the latter is recommended because the connection is much more secure.
The removal and replacement process isn't difficult, but it is somewhat detailed and there is drilling involved. Complete, illustrated instructions can be found in the Crutchfield MasterSheet included with your order.
If you're even slightly handy around the home and garage, you already know how to use a power drill. That said, we should remind you to be extremely careful when drilling in your vehicle. Be aware of things such as wiring, windows, fuel lines and safety devices. And, of course, check (and re-check) the drilling depth and location before you drill.
We frequently suggest foam speaker baffles for other big vehicles, but with these GM SUV's, we strongly recommend them. These big, thick doors can waste a lot of great sound, and this is an inexpensive way to rein it back in. These baffles are easy to install, and they'll give you improved performance while also protecting your speakers.
Tools needed: Panel tool, socket wrench, 7mm & 10mm drivers, flat blade screwdriver, drill & 1/8" bit.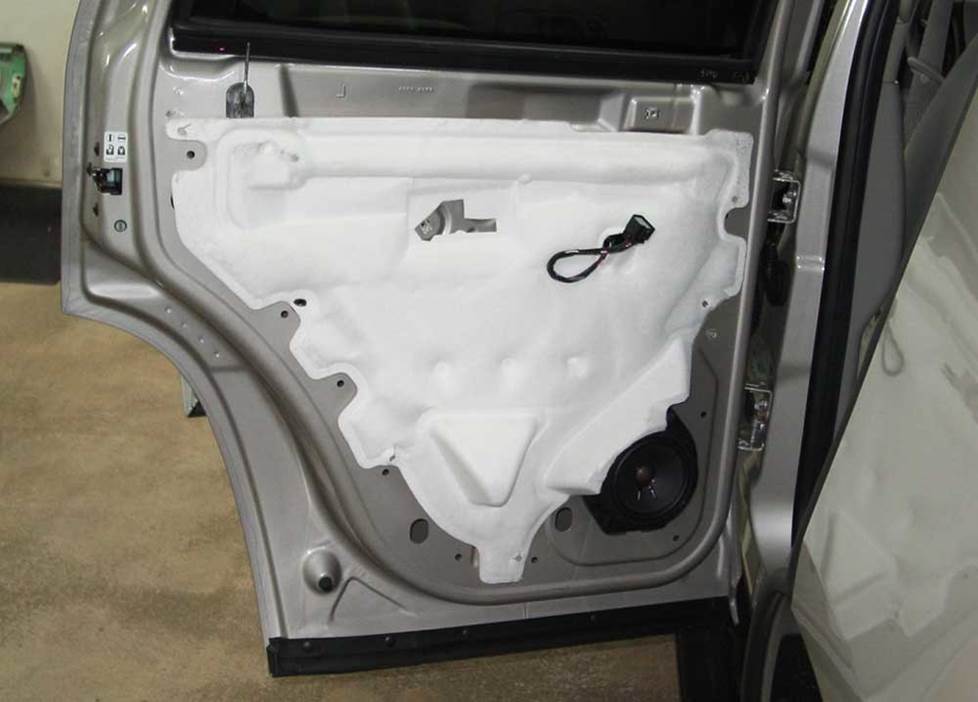 The rear doors are a little easier to work with in these SUVs (Crutchfield Research Photo)
Rear door speakers
The rear speakers are a little easier to work with. As with the front speakers, the rears are a non-standard factory GM size, but they can be replaced with a host of 6-1/2" or 6-3/4" aftermarket models.
You'll need to do a bit of drilling here, too, but it's the same basic job that it was up front. You should check for mounting screws in your rear speaker packaging, too. Detailed instructions for the rear door speaker installation can also be found in your Crutchfield MasterSheet.
We highly recommend the use of speaker baffles in this location. They're an inexpensive way to reduce rattling, protect your speakers and get the best possible performance.
Tools needed: Panel tool, socket wrench, 7mm & 10mm drivers, flat blade screwdriver, drill & 1/8" bit.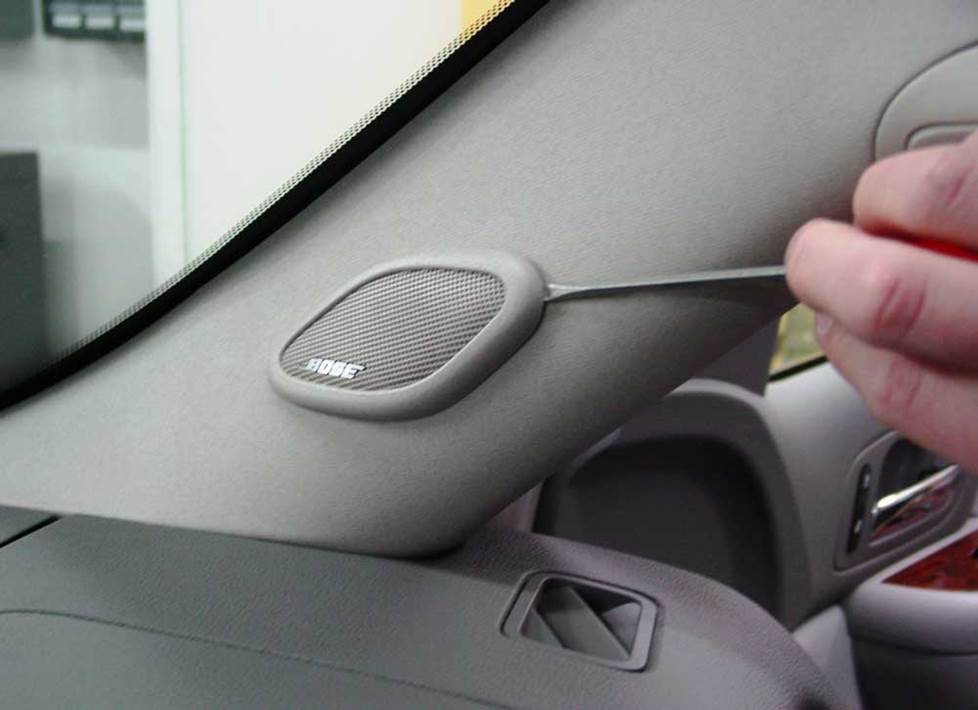 The front pillar tweeter (Crutchfield Research Photo)
Front pillar speakers
The Bose stereo system includes one tweeter mounted in each A-pillar. These speakers are reasonably easy to remove, but you'll need to do a bit of work to install the replacements.
There's no wiring harness adapter made for this location, so you'll need a set of Posi-Products connectors to hook everything up. You'll also need to create mounting brackets, and a pair of our universal backstraps are a dandy DIY solution.
Tools needed: small flat blade screwdriver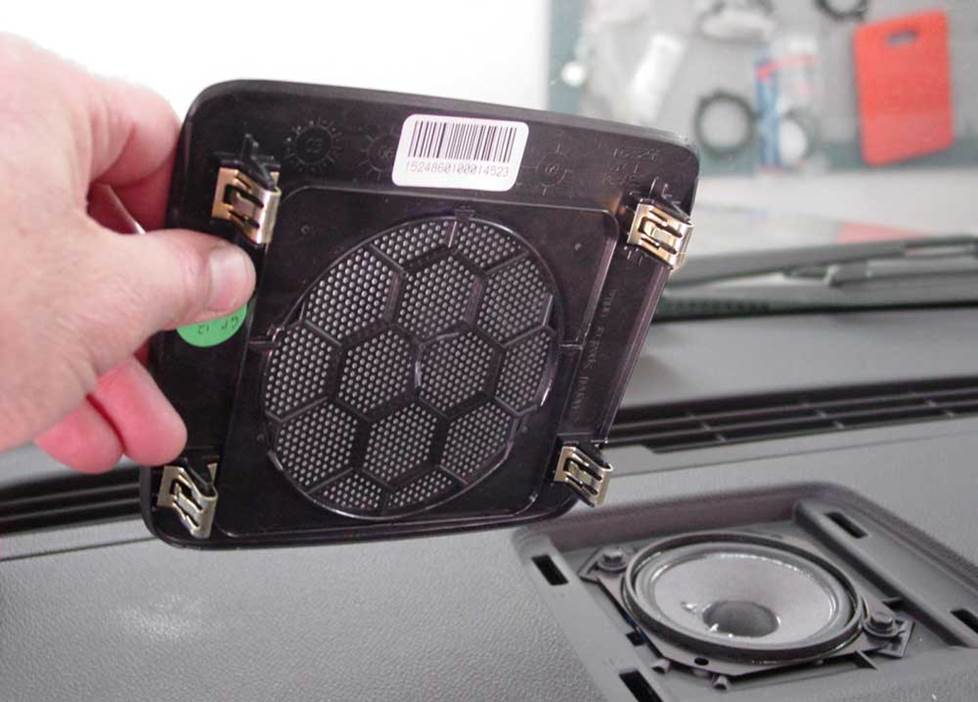 The Bose-only center dash speaker (Crutchfield Research Photo)
Center dash speaker
If your truck is equipped with the Bose stereo package, there's a speaker in the center of the dash beneath a grille. It's a tight spot, but a number of 3-1/2" aftermarket speakers will fit here. Use a panel tool to pry up the four metal clips that secure the grille, remove the 7mm screws holding the speaker in place, then take out the old speaker.
The key here is to work carefully. The same advice holds true any time you're removing plastic panels, but it's especially important here. A slip on a door panel is one thing, but a massive boo-boo in the center of the dash will annoy you every time you get in the truck!
This, by the way, is another location that would benefit from a foam speaker baffle.
Tools needed: Small flat blade screwdriver
The rear pillar tweeters (Crutchfield Research Photo)
Rear pillar tweeters
The small rear pillar tweeters are, like their counterparts up front, reasonably easy to reach. You'll need to pry away some panels, but that's not terribly difficult. You'll need a mounting bracket, so we recommend bending and shaping our universal backstrap to hold the new tweeters in place.
Tools needed: Phillips screwdriver
Shop for speakers that fit your Chevrolet Suburban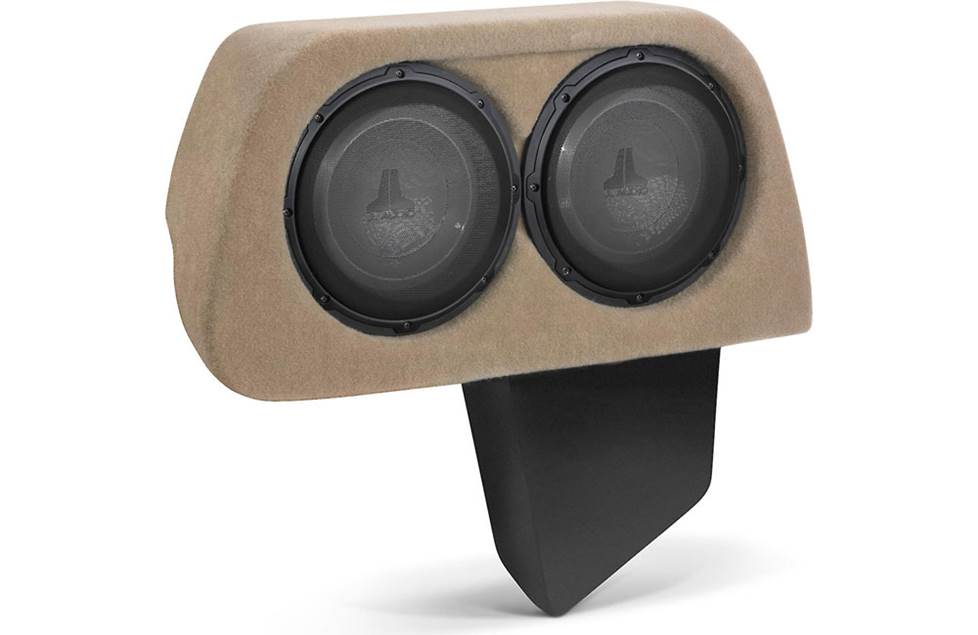 This Stealthbox fits on the driver's side rear window ledge
More bass in your Tahoe, Yukon, or Suburban
The factory subwoofer is an oblong piece that's roughly the size of a 6-3/4" speaker. It's located in the center console, which is nice, but if you want to replace it, the entire console must be removed. That is not so nice. In fact, it's a very difficult process that provides plenty of opportunities to damage the truck's interior. Because of all this, your best choice is to simply bypass the factory sub and look into the numerous aftermarket solutions available for these vehicles.
There are a variety of subs from JL Audio and MTX Audio that will give you the improved bass you want while also blending into your vehicle's interior. They're all slightly different, but they all sound very impressive. Installing them takes some skill, though, so you should consult a Crutchfield Advisor before ordering. Due to the complexity of the installation, this is a case in which we strongly suggest turning the work over to a pro. To learn more about these enclosures, visit our Outfit My Car feature and enter your vehicle information.
You can also add more sound up front, with the help of Q-Forms Kick Panel Pods. As you might imagine, these unloaded enclosures install in the kick panels, and they're available in three colors to match your truck's interior. Q-Forms hold 6-1/2" speakers in an ideal position, angling them to maximize sound quality. Since they're located near your feet, the distance from your ears to each speaker becomes closer to equal, creating a superior soundstage. Q-Forms do not come with pre-cut holes and installing them can be a bit challenging, so check with a Crutchfield Advisor before you order.
There's plenty of room for boom in the cargo area of your SUV, but there's obviously a bit less if you have third-row seats. The amount of subwoofer power you need depends on your musical tastes and how you use your truck every day. If you want to squeeze every bit of bass out of your music, you have room for a subwoofer enclosure, plus the amplifiers you'll need to power your subs.
If you're just looking to add richness and depth to your tunes, you can install something a bit smaller that'll still leave you some room for hauling things. And, if you need those third-row seats or place a lot of value on the "utility" part of your sport utility vehicle, you can always opt for a powered subwoofer. You'll get a surprising amount of sound, plus you'll still be able to stock up at the warehouse store on the way home from the kids' soccer match.
Learn more about building a bass system in our Car Subwoofer Buying Guide.
Shop for vehicle-specific subwoofers for your Chevrolet Suburban
Dynamat will help seal in your sound (Crutchfield Research Photo)
Other options for your Tahoe, Suburban, Yukon, or Yukon XL
The aftermarket offers an amazing variety of other ways to improve your SUV. Here are some of the ways Crutchfield can help.
Sound deadening
Like most big, boxy SUVs, these trucks can get a bit loud at speed. To combat wind noise and road roar, you can install Dynamat in the doors and (if you install a big sub) rear hatch area. This sound-deadening material will keep the noise out and allow you to really enjoy your music.
Rear-view camera
With a vehicle this large, it's important to be aware of your surroundings. A rear-view camera is a big help when you're backing up in a crowded parking lot. We offer cameras from Kenwood, Alpine, Pioneer, and more. Some are designed to work with same-brand receivers only, but others come with a composite video connector and will work with almost any video receiver.
Remote start and security systems
Adding remote start capability to your vehicle lets you warm it up in the winter or cool it down in the summer. The iDatastart system is incredibly convenient and makes it easier than ever to install a remote start system, so we highly recommend it. The module requires a vehicle-specific T-harness (sold separately) to connect with your vehicle's computer, security, and ignition systems, so we ask that you call to order so that we can make sure you get the right harness for your ride.
You can also talk to your Crutchfield Advisor about a security system. They're not as easy to install (we usually suggest letting a professional do the job), but we can help you choose a system that'll work in your vehicle.
Let's get started!
Ready to shop? Use our vehicle selector to find the gear that will fit your car or truck. If you have questions of your own, give us a shout via phone, chat, or email