In brief: This Crutchfield Research Garage article gives you an overview of your Ram's stock stereo system and your aftermarket upgrade options. We'll tell you all about:
Then, use our vehicle selector to find the gear that will fit your truck.
Overview of the Dodge Ram
It takes a lot to stand out in the ultra-competitive, full-size pickup market. From horsepower to payload to towing numbers to bed strength, every single statistic matters. The objective facts change with each new model, but one subjective thing has remained true for years now: Dodge (okay, Ram) makes some seriously stylish trucks.
When there's a Ram in the rear-view mirror, most everyone knows exactly what they're looking at. What follows that big, retro-cool grille is up to the person who owns the truck. Like most truck lines, the Ram family (Ram Fam?) includes a healthy assortment of engines, cab choices, payload ratings, options, and trim packages. From a basic, light-duty, regular cab truck to an optioned-out, heavy-duty beast that can tow pretty much anything that isn't attached to a foundation, there's probably a Ram for you.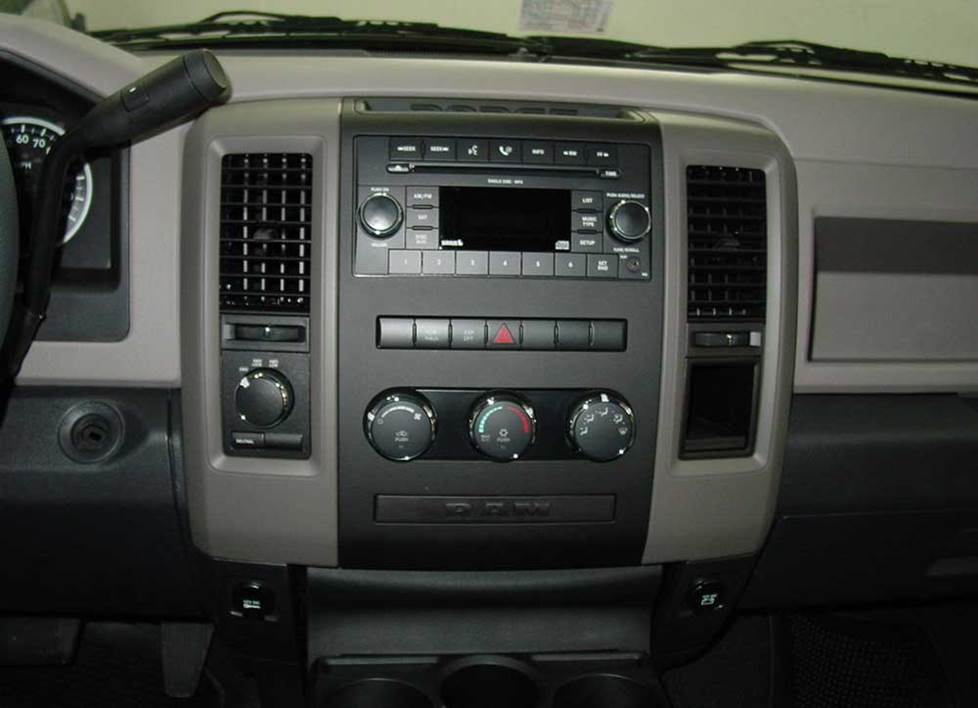 If your truck has a column shifter, radio replacement is a reasonably easy job (Crutchfield Research Photo)
The factory stereo system
The Ram's base system was a perfectly acceptable AM/FM/CD/AUX receiver with six speakers. Further up the line, owners could add things like satellite radio, steering wheel audio controls, Bluetooth® connectivity, a touchscreen receiver, a rear-view camera and, in the larger trucks, a rear-seat entertainment system. The top-shelf trim level included a list of features that you'd expect to find in a luxury sedan, including a 10-speaker Alpine system with a subwoofer under the rear seat.
As factory systems go, this stuff isn't bad. But you can do better. We'll take a brief look at all the radio options and the various speaker configurations found in each cab style. These basic installation tips apply to the 1500, 2500, and 3500 models, any of which can be a great home for a high-performance audio system.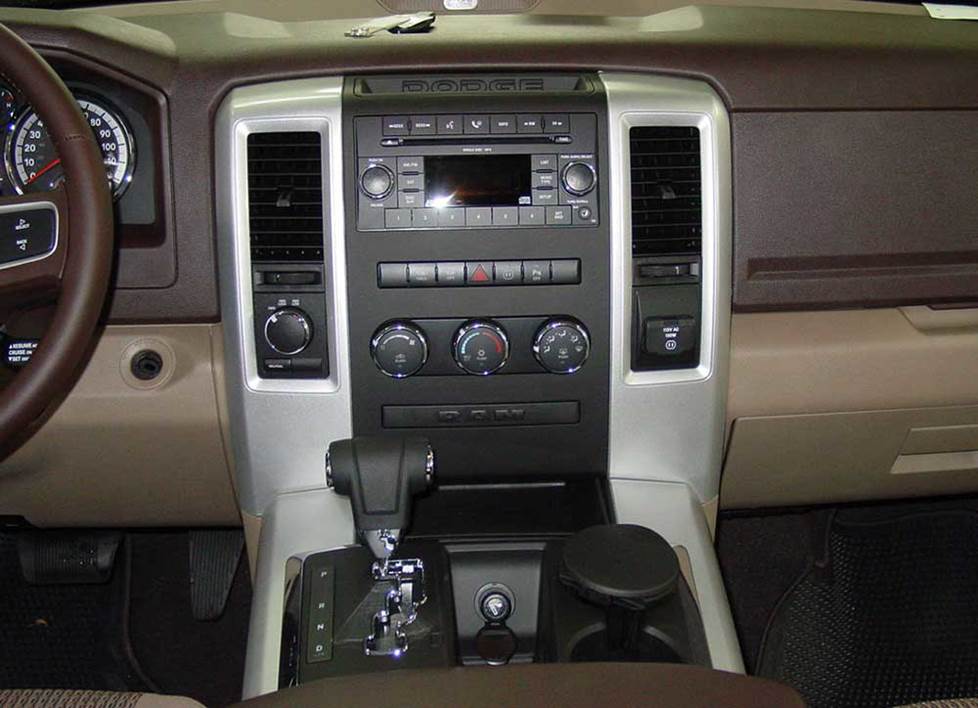 If there's a console shifter, the job is a little tougher, but it's still a good DIY project (Crutchfield Research Photo)
Removing the factory radio
Swapping out the stock radio for an aftermarket single-DIN (2" tall) or double-DIN (4" tall) receiver isn't difficult in any case, but there are two cases, and one's less difficult than the other. It's all about shifter location in these trucks. If you have a column shifter, getting to the radio is a snap. If you have a console shifter, it'll take a bit more work because you need to remove some of the console panels.
Detailed stereo and speaker removal instructions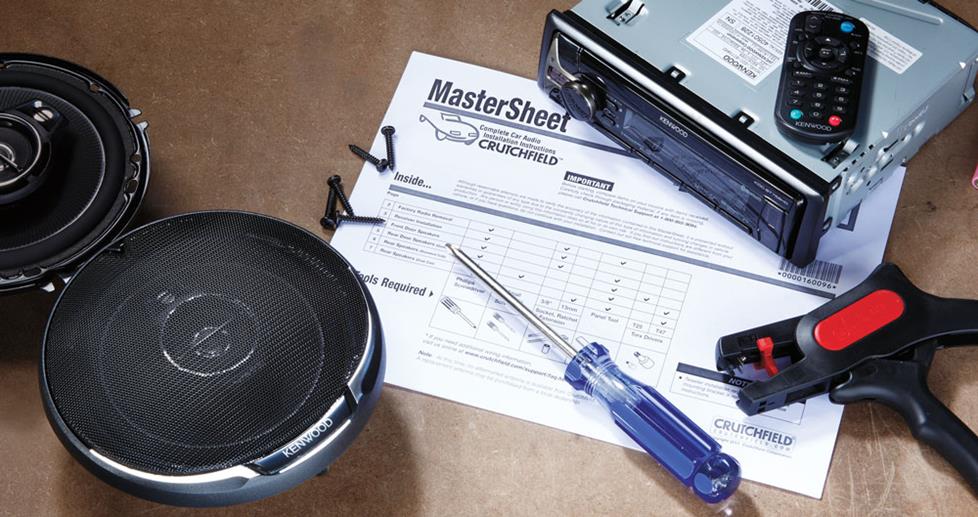 With step-by-step disassembly instructions and plenty of up-close, detailed photos, our exclusive
Crutchfield MasterSheet
™ takes the guesswork out of removing the factory stereo and speakers. It's free with your Crutchfield order, or you can purchase one separately for just $9.99.
The (slightly) challenging part comes if you install a double-DIN receiver in any of these trucks, because you'll need to do a little trimming inside the cavity to allow for the new stereo's extra chassis height. Approximately 1/4" of the plastic sub-dash and approximately 3/8" of the metal sub-dash support will need to go. You can use a hacksaw blade or Dremel® tool for this, and it's really not that hard to do. These modifications should not affect reinstallation of the factory radio.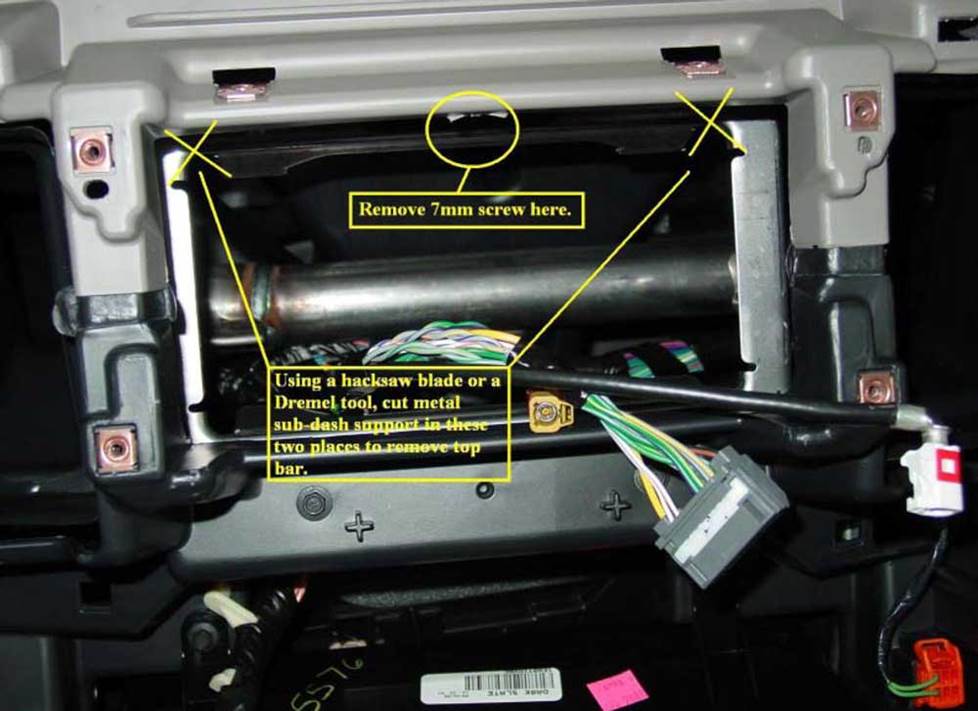 You'll need to a bit of trimming and modification to install a double-DIN radio (Crutchfield Research Photo)
When you replace the stock radio, you'll lose factory features like satellite radio capability, video entertainment, hands-free calling, and the navigation system. All of these things can be replicated (and probably improved upon) with an aftermarket radio.
Tools needed: Phillips screwdriver, small flat blade screwdriver, Torx T-20 driver, panel tool, 7mm socket, rachet and extension, shop rag, hacksaw or Dremel tool (double-DIN only)
Read our Car Stereo Buying Guide for shopping tips and advice.
Shop for car stereos that fit your Dodge Truck 1500
Steering wheel audio controls
In most cases, it's reasonably easy to retain your truck's steering wheel audio controls when you install a new stereo. When you enter your vehicle information, our database will choose the adapter you need to make your factory steering wheel controls work with a compatible aftermarket receiver.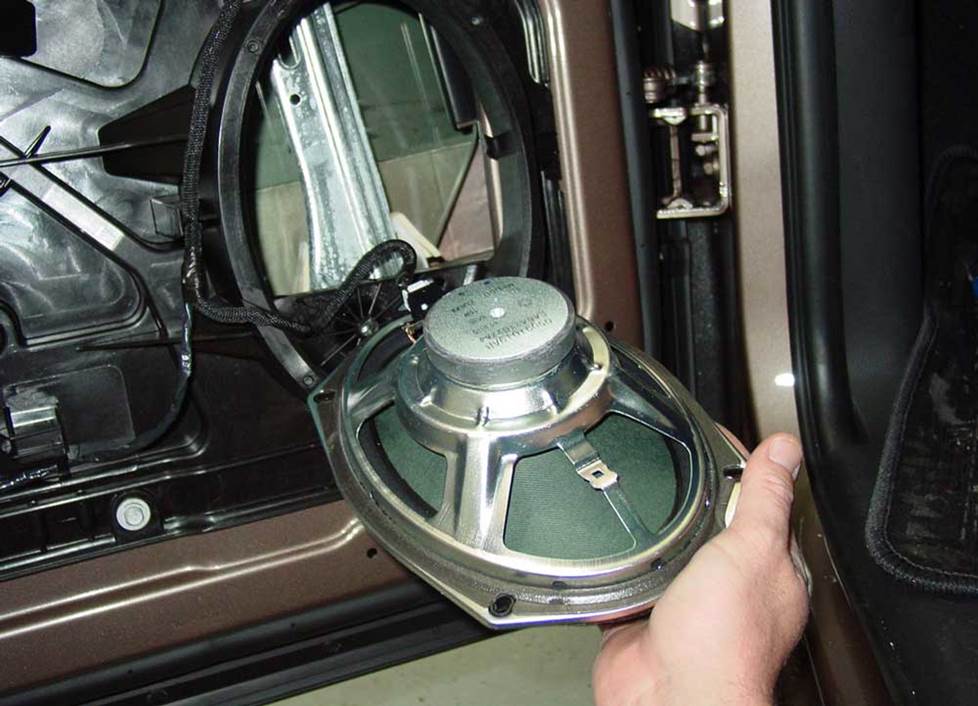 The Ram's front door speakers are 6"x9" models. Replacing them is a great way to improve sound quality. (Crutchfield Research Photo)
Removing the factory speakers
The number of speakers in your Ram truck depends on the cab style and the stock radio system. None of the speakers are terribly difficult to replace. In all cases, however, it's important to remember that replacing these 1- or 2-ohm factory speakers with a higher-impedance aftermarket speaker will result in lower volume levels. Shop accordingly, and if you have questions, just give us a call.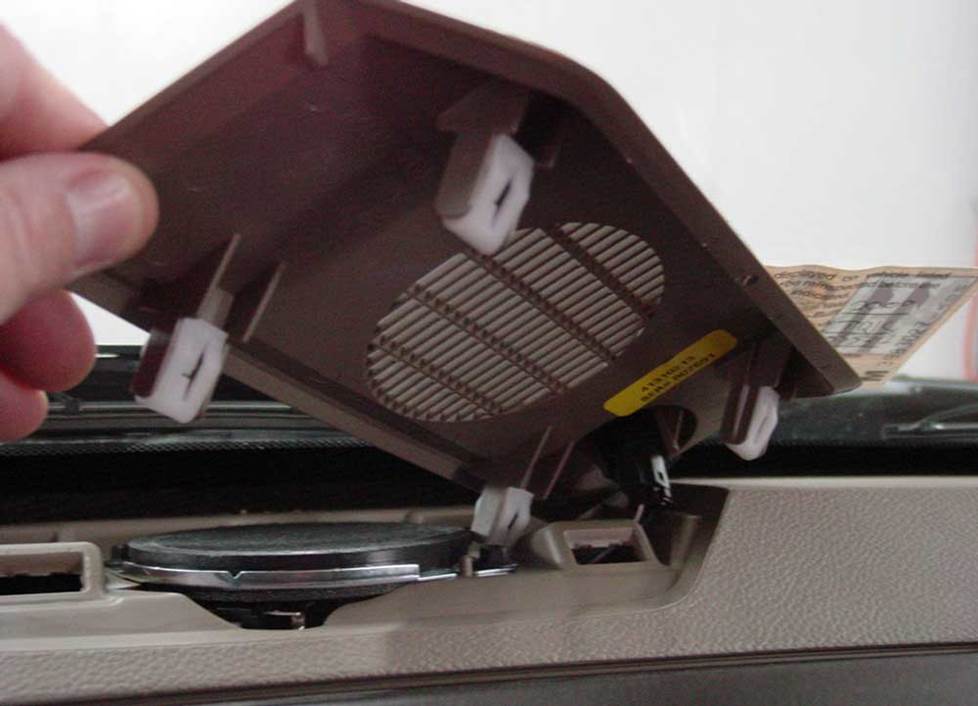 The Alpine center dash speaker is easy to remove and replace (Crutchfield Research Photo)
Center dash speaker
The center dash speaker in Alpine-equipped trucks are 3-1/2" models that are quite easy to remove and replace. Use a panel tool to pry up the speaker grille and release four clips. Lift the grille, disconnect the sensor wiring harness, and remove the grille. Next, remove the two 7mm screws securing the speaker, disconnect it, and remove it.
With that done, you're ready to install the new speaker and secure it with the screws you just removed. Be sure to test the speaker before you replace the grille.
Tools needed: Panel tool, 7mm socket, ratchet and extension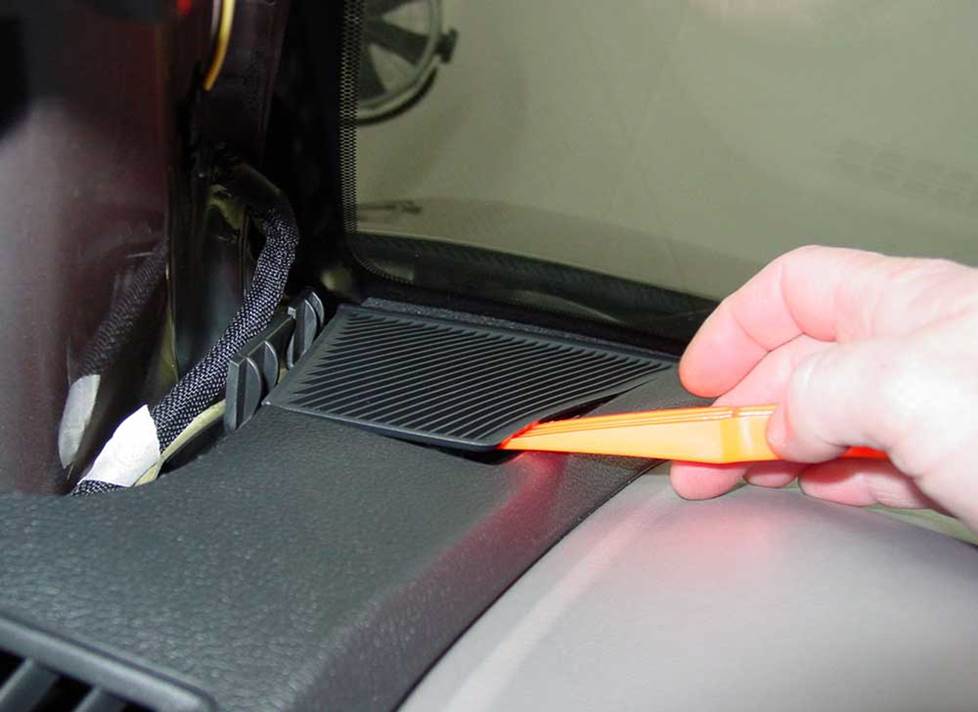 The corner dash speakers are also easy to deal with. Using a panel tool will protect the dash from damage. (Crutchfield Research Photo)
Corner dash speakers
The corner dash speakers, available on all trucks, are 3-1/2" models. The non-Alpine speakers are wired in parallel with the front door speakers.
Replacing these speakers is basically the same as replacing the center speaker. Just pry up the grille, remove the old speaker, and install the new one.
Tools needed: Panel tool, 7mm socket, ratchet and extension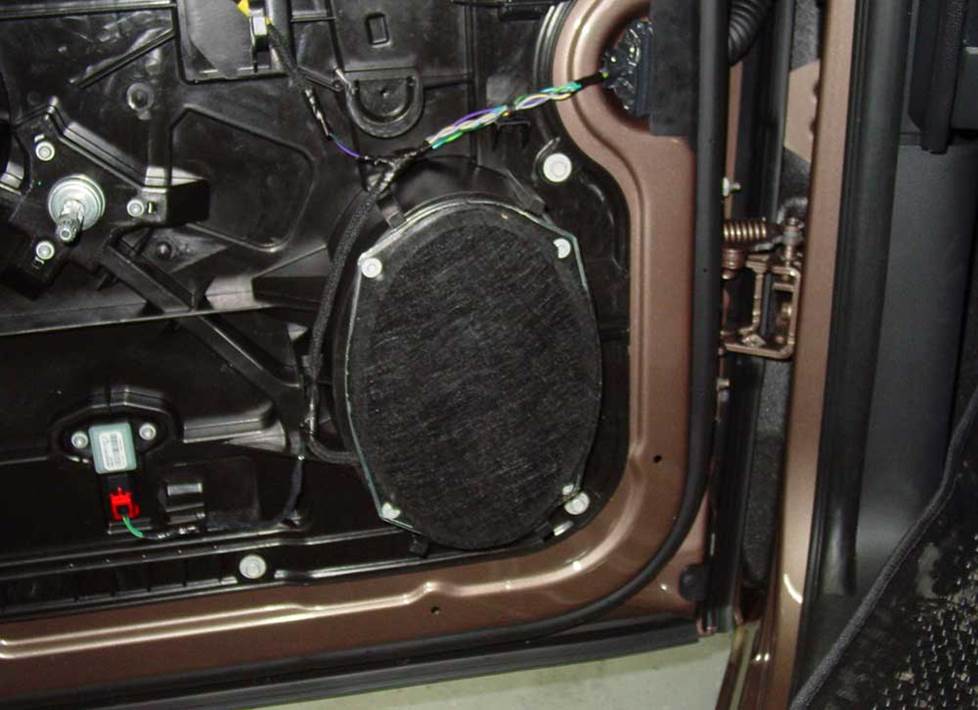 You'll have plenty of aftermarket options to choose from when you replace the front door speakers (Crutchfield Research Photo)
Front door speakers
The 6"x9" front door speakers can be replaced by same-size models, or you can install 6-1/2" or 5-1/4" models with help from mounting brackets that will be included with your Crutchfield speaker purchase. You'll need to remove the door panels, a process that will vary depending on whether your truck has manual or power windows.
Important note about 2009 Ram 2500/3500 trucks

If your truck is the 2009 Ram 2500 or 3500 with a 7-speaker system, you have a little something extra to be aware of. The front door 6"x9" speakers only receive bass frequencies from the factory amp. That means any new speakers you install will also only receive (and play) bass. In order to upgrade the sound fully, you should also replace the corner dash speakers, preferably with the same brand as the new 6"x9"s.
Starting at the top corner, pull off the sail panel (pull it away from the door, then lift it up to remove it). Next, pry open the screw cover behind the door release and remove the exposed Phillips screw you'll see there. With that out of the way, pry out the front edge of the door release trim and remove it.
This brings us to the window controls. If you have power windows, pry up the switch panel to release the clip, then disconnect the wiring harness and remove the panel. If you have good old-fashioned manual windows, use a (clean) shop rag in a "shoeshine" motion to release the "C" clip on the rear of the crank, then remove the crank.
You'll need a Torx T20 driver for this next bit, which involves removing two Torx T20 clips along the front edge of the door panel, two more along the bottom edge of the door panel, and finally three more clips along rear edge of door panel. Once those are taken care of, you can remove the door panel, remove the four 5mm screws securing the speaker, and remove the speaker.
Once you've installed the new speakers, test to make sure they're working, then make sure the locks and windows are working properly before you start replacing the door panels.
Tools needed:
Power windows: Torx T-20 driver, panel tool, #3 Phillips screwdriver, 5mm socket, ratchet and extension, small flat blade screwdriver;
Manual windows: #3 Phillips screwdriver, Torx T-20 driver, 5mm socket, ratchet and extension, shop rag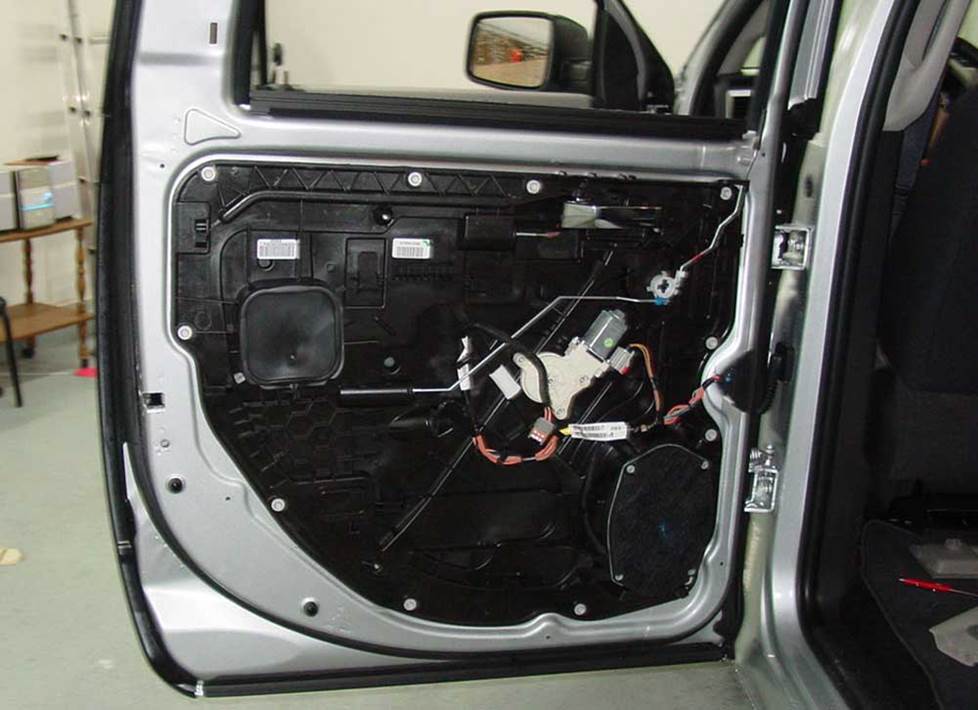 The rear door speakers on all the 4-door trucks are 6"x9" models (Crutchfield Research Photo)
Rear door speakers (Quad Cab, Crew Cab, Mega Cab)
The Quad Cab (extended cab) and Crew Cab models have 6"x9" speakers in the rear doors. In terms of sizing and removal/replacement, everything you'll do here is the basically same as what you did on the front doors. There are a couple of very small differences, but it's nothing to stress over and it's all explained in your Crutchfield MasterSheet.
We actually haven't had a chance to examine a Mega Cab truck from this generation, but we're going to assume that these rear door speakers are also 6"x9" models. If we're wrong, let us know. To learn more about our "crowdsourced" vehicle research process, check out this informative article. If that sound like something you'd want to do, contact us via the email addy in the article.
Tools needed:
Power windows: Torx T-20 driver, panel tool, Phillips screwdriver, 5mm socket, ratchet and extension, small flat blade screwdriver;
Manual windows: Phillips screwdriver, Torx T-20 driver, 5mm socket, ratchet and extension, shop rag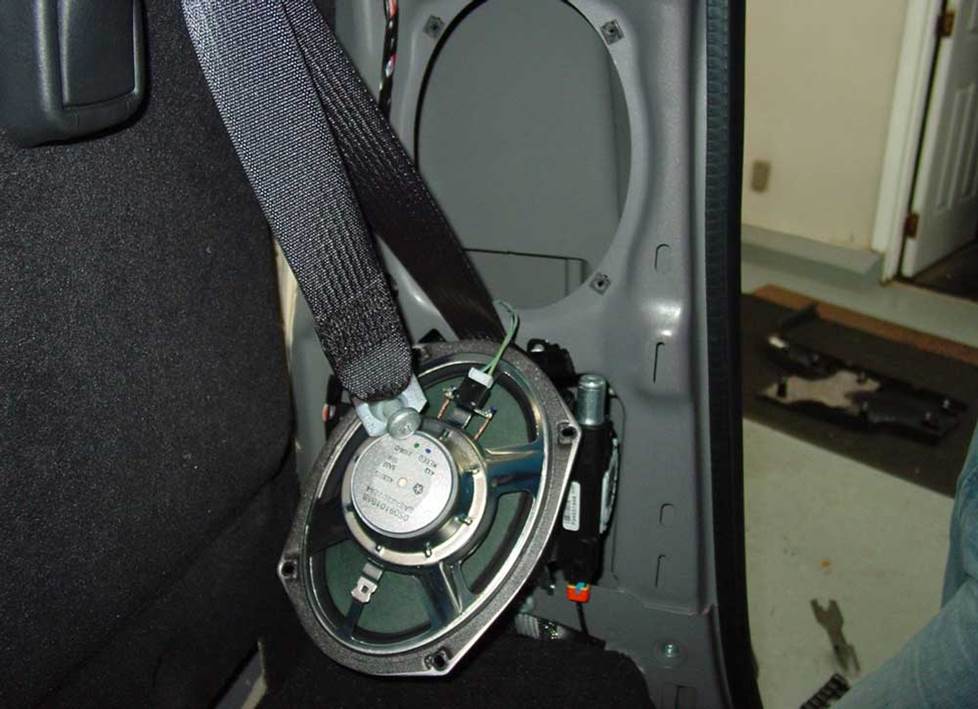 Standard cab trucks have speakers in the rear side panels (Crutchfield Research Photo)
Rear panel speakers (Standard Cab)
Standard Cab trucks feature a pair of 6"x9" speakers in the rear side panels. Like their cousins in the doors, they can be replaced by same-size, 6-1/2", or 5-1/4" aftermarket models. You'll need mounting brackets for the smaller ones, and they're included at a discount when you buy your speakers at Crutchfield.
Before you start, move the seats forward to get a little more working space. Once you're (more) comfortable, remove two Torx T20 screws located inside the storage tray behind the seats. Lift the tray out of the truck and store it someplace safe while you work.
Next, remove one Torx T50 bolt securing the lower seat belt anchor and remove the anchor. Then pull up the rear edge of the scuff plate juuuust enough to clear the side panel, then pry off the panel and release eight retaining clips. Store the panel in a safe place — near the storage trays, maybe.
With the speaker exposed, remove the four Torx T20 screws securing it to the side wall, then disconnect the speaker, set it aside, and start installing the new speaker. You'll use the same screws you removed, so don't strip them and be sure to keep them together until they're needed again.
Once the speakers are in, test them out and start putting it all back together.
Tools needed: Panel tool, Torx T-20 and T-50 drivers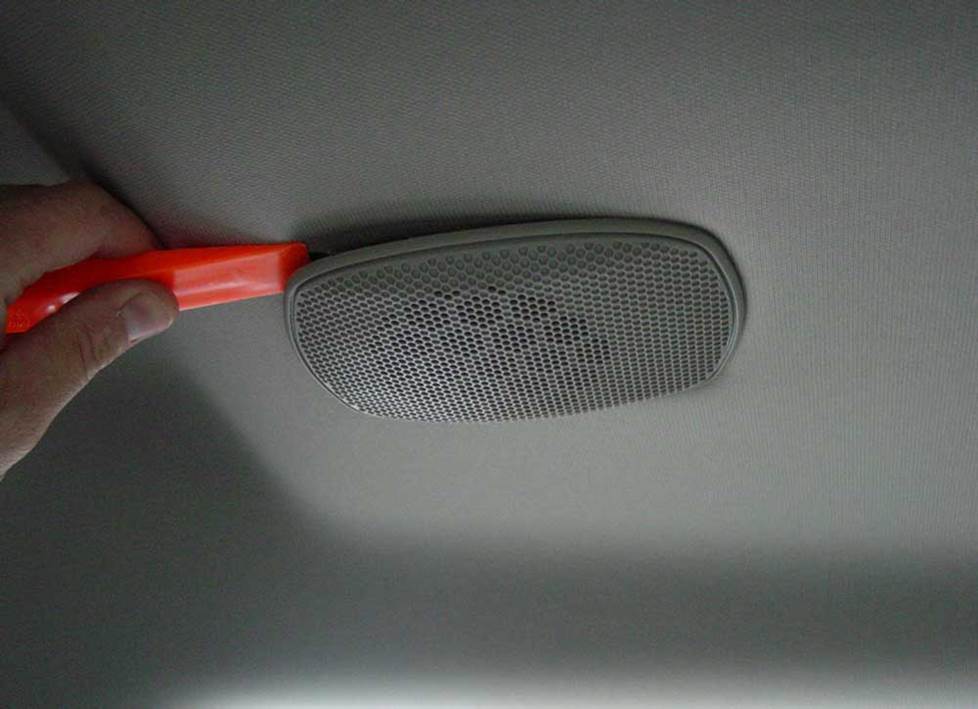 The Alpine system's rear roof speakers are 2-1/2" tweeters (Crutchfield Research Photo)
Rear roof speakers (Quad Cab, Crew Cab, Mega Cab)
The rear roof speakers, found in Alpine-equipped trucks, are 2-1/2" tweeters. Removing them is easy and aftermarket replacements are available, but installing the new ones will take a little work on your part, because there are no mounting brackets available.
The fix is simple, though. Just use our universal backstraps (or hot glue or silicone, if you prefer), and you'll get a secure fit that also fits underneath the stock grilles.
Your new roof speakers might not come with screws, so check the box before you start and run to the hardware store if you need to.
Tools needed: Panel tool, Torx T-20 driver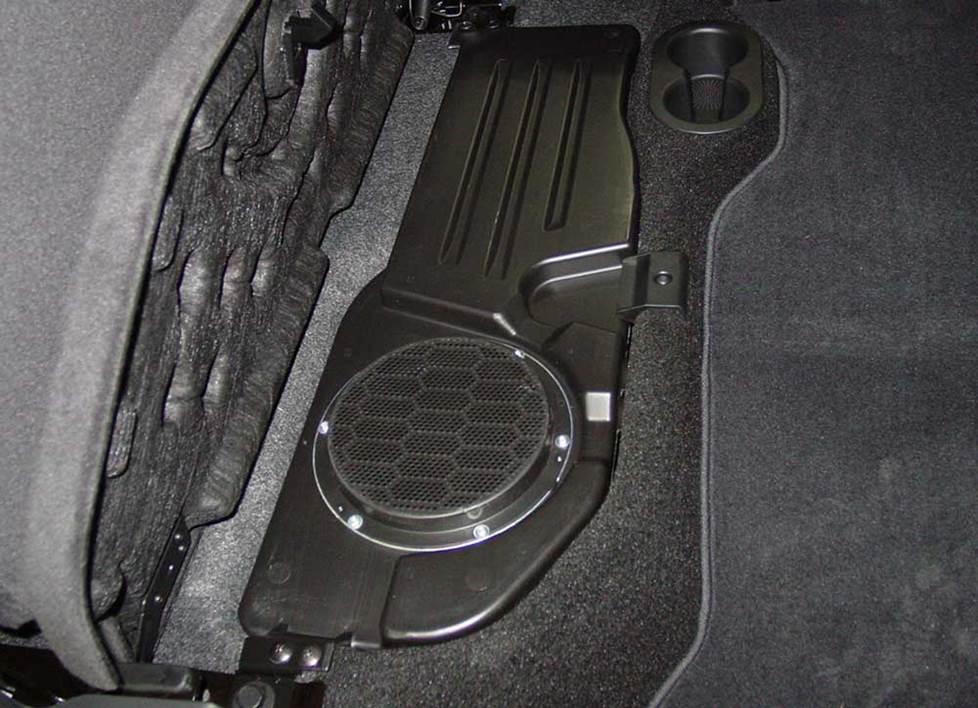 The 8" Alpine sub is mounted underneath the rear seat. You can replace the sub or the entire enclosure. (Crutchfield Research Photo)
Rear subwoofer (Quad Cab, Crew Cab, Mega Cab)
The 8" Alpine factory subwoofer is mounted to a polymer enclosure under the right rear seat. To replace it, you'll need to remove the enclosure from the truck, then remove the sub from the enclosure. None of this is hard to do, but it's not like you just reach under the seat and pull the thing out, either!
The step-by-step instructions can be found in your MasterSheet, of course, but there are a few handy things to know before you get started.
There are some 8" aftermarket subs that will fit nicely into the enclosure, but in some cases, you may need to drill new mounting holes. This isn't any tougher than drilling into anything else, but work carefully, know what you're drilling into, and always wear eye protection.
If you need to drill new holes, you might need new screws, and not all aftermarket subs include them. Check the box before you start and get what you need then. If you don't have to drill new holes, you should be able to use the screws removed from the stock sub.
Tools needed: Torx T-25 driver, Phillips screwdriver, 18mm socket, ratchet and extension
Read our Car Speakers Buying Guide for more information.
Shop for speakers that fit your Dodge Truck 1500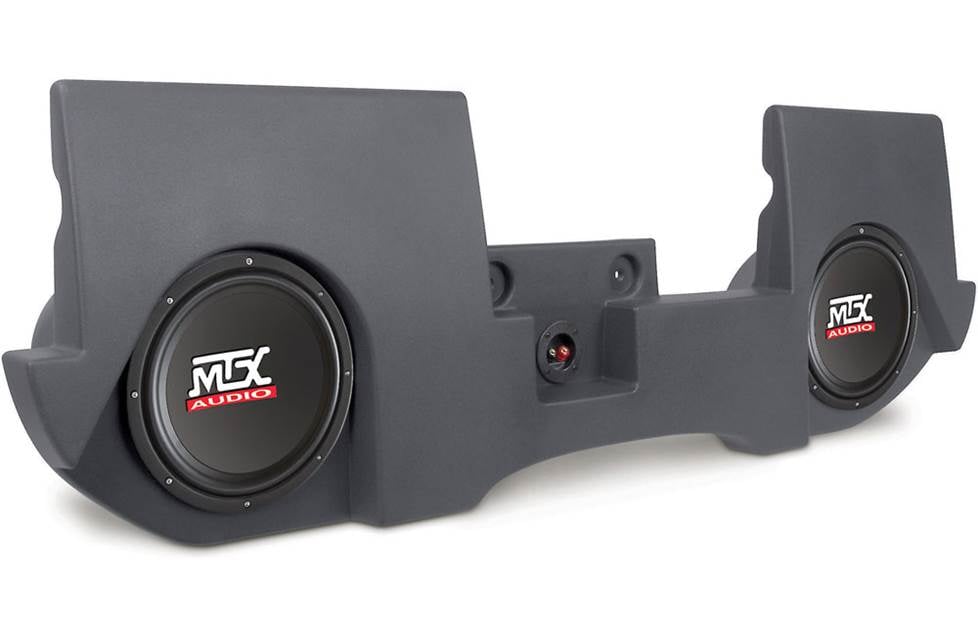 This MTX Thunderform is one of several designed for Ram trucks.
More bass in your Ram
Adding even bigger bass to your Ram truck is a great way to get even more enjoyment out of your audio system. How much you can add depends on what you're starting with.
Regular Cab trucks don't have a ton of room, but there is some room behind the seats. And it kind of depends on which seat you're looking behind. On the driver's side, there's a 33" W x 16" H x 7" D space, while on the passenger's side (with the storage tray in place), there's a 16" W x 16" H x 8" D space. Like we said, not much, but there might be room for a compact powered sub.
In the 4-door, Alpine-equipped trucks, there really isn't any room for an additional subwoofer box, unless you can convince your rear seat passengers to sit with their feet on a sub box. Replacing the sub itself is the best idea.
Another option, which works whether or not you have a stock sub back here, is a custom-fit sub enclosure. JL Audio, Kicker, and MTX each make powerful subs that are specifically designed to fit under the rear seat of these trucks. The sound is impressive, and they blend right into your truck.
If that's what you're looking for in a subwoofer, enter your vehicle information and check all the loaded and unloaded options available.
Learn more about building a bass system in our Car Subwoofer Buying Guide.
Shop for vehicle-specific subwoofers for your Dodge Truck 1500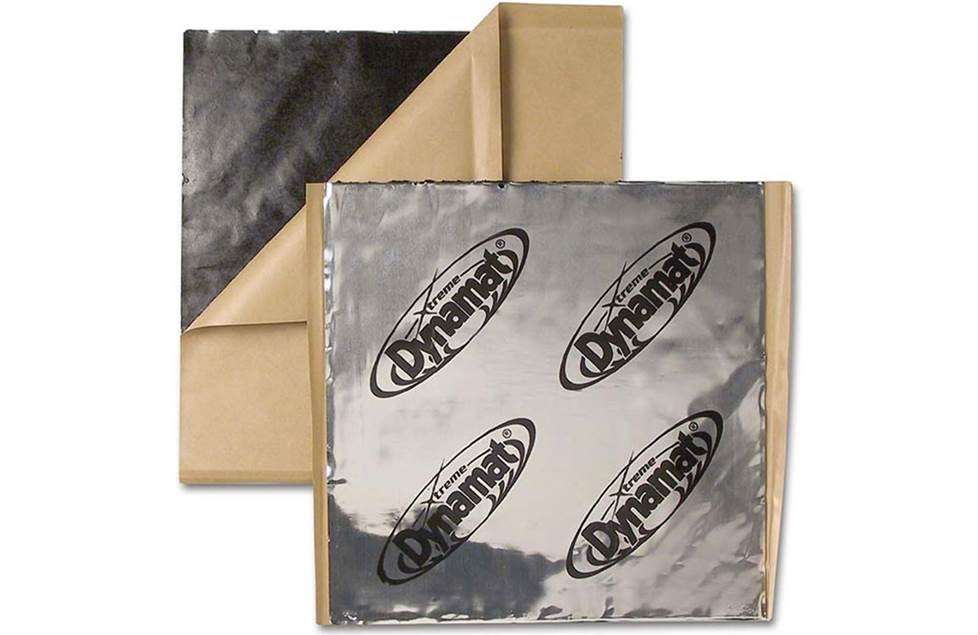 You can reduce road roar and wind noise by installing Dynamat in your Ram truck
Other options for your Ram
Here are some other ways to improve your Ram pickup's comfort, safety, and sound.
Sound damping
Your Ram is a big vehicle with big doors and a big grille, so it punches a big hole in the atmosphere. To prevent wind noise and road roar from undoing the great work your new stereo is doing for you, make sure you install Dynamat when you're replacing your speakers. This soundproofing material will dampen the sounds you don't like, so you can get more enjoyment out of the ones you do.
Rear-view camera
Ram trucks are made for big trips and wide-open spaces, not crowded parking lots. A rear-view camera will help increase your visibility and safety when your busy day takes you into town. And a camera is also a huge help when you're backing up to a trailer.
Floor mats
No matter how much you pamper your Ram truck, you're eventually going to get involved in some sort of truck-like activity that gets you and/or it dirty. When that happens, it's a good idea to have a set of WeatherTech Floor Mats and Liners. These incredibly durable mats trap moisture, contain dirt, and keep your factory carpets looking good.
Remote start and security systems
Adding remote start capability to your vehicle lets you warm it up in the winter or cool it down in the summer. The iDatastart system is incredibly convenient and makes it easier than ever to install a remote start system, so we highly recommend it. The module requires a vehicle-specific T-harness (sold separately) to connect with your vehicle's computer, security, and ignition systems, so we ask that you call to order so that we can make sure you get the right harness for your ride.
You can also talk to your Crutchfield Advisor about a security system. They're not as easy to install (we usually suggest letting a professional do the job), but we can help you choose a system that'll work in your vehicle.
Let's get started!
Ready to shop? Use our vehicle selector to find the gear that will fit your car or truck. If you have questions of your own, give us a shout via phone, chat, or email