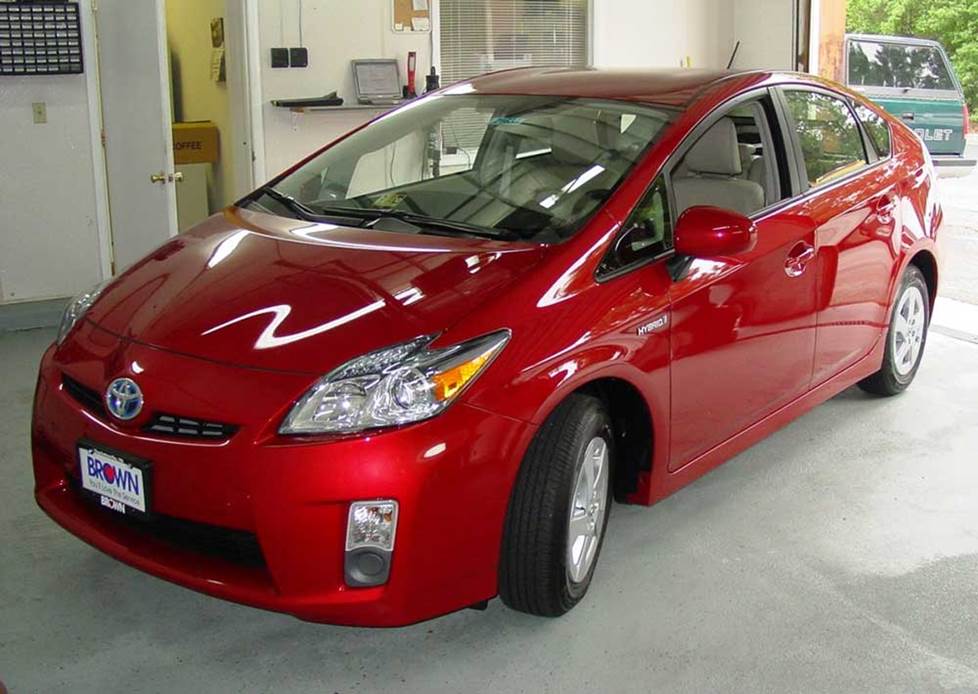 In brief: This Crutchfield Research Garage article gives you an overview of your Prius's stock stereo system and your aftermarket upgrade options. We'll tell you all about:
Then, use our vehicle selector to find the gear that will fit your Prius.
Overview of the Toyota Prius
The Toyota Prius isn't the only hybrid car on the road anymore, but there's a good chance it's still the only one most people know by name. Almost two decades after the first-gen car rolled into a showroom in Japan, the Prius is still the first thing people think about when they think about hybrid cars.
The third-generation Prius debuted in 2010, and combined all the things people liked about the old one with new technology that made them like this one even more. Comfortable, efficient, and well-made, the Prius is at the head of the hybrid class for a reason.
The Prius is not the car for people who like thunderous stereo systems and window-rattling 12-inch subs. Then again, if you own a Prius, massive power and over-the-top performance probably weren't high on your wish list anyway! The Prius is a car for people who value efficiency and reliability over high speed and cheap thrills. But that doesn't mean a music-loving Prius owner has to settle for weak, tinny sound.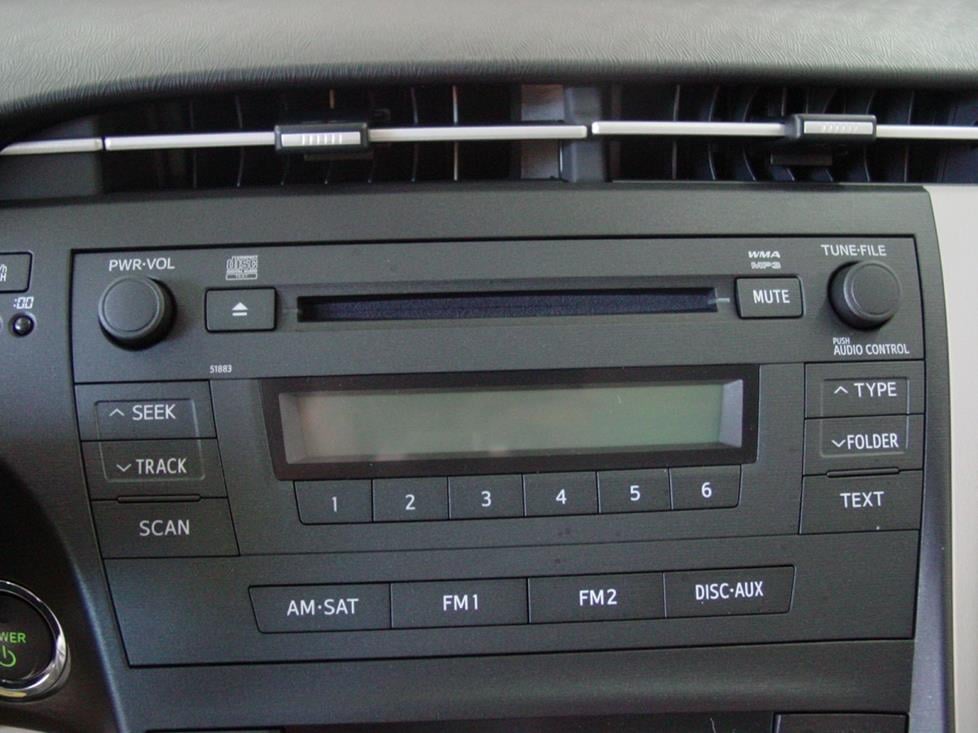 The Prius' standard AM/FM/CD receiver (Crutchfield Research Photo)
The factory stereo system
The Prius' factory systems were decent enough as far as factory systems go, but that's about it. There was a base set-up with six speakers and an optional JBL system with eight speakers. A navigation receiver was also available.
Starting in 2012, the Prius was available with Harman's GreenEdge audio systems, eco-friendly gear designed to consume less power and generate less heat while still producing quality sound. These pieces are lightweight and compact, but when it comes to replacing them, the process is the same as it is with the base stereo or the optional JBL system.
When you replace whichever factory receiver your car came with, you'll lose related features like the AUX input, satellite radio capability, hands-free cellphone interface, and the factory nav system. All of them can be replaced and, honestly, upgraded with an aftermarket receiver.
Hybrid note
A hybrid's gas-electric hybrid powertrain makes replacing the stereo is a little more complicated. As you might expect, these hybrid trucks contain some very sensitive electronics, so here are a couple of things to keep in mind:
Be sure to only use a multi-meter when testing wires, and NEVER use a test light to test wires in this vehicle. Doing so could cause some serious (by which we mean dangerous and expensive) damage.
A hybrid is not the car to choose if you want to build a massively powerful audio system. The thirsty current draw of a high-powered stereo is not a good thing for the hybrid system, so don't exceed a 30-amp current draw or 350-watt RMS power rating.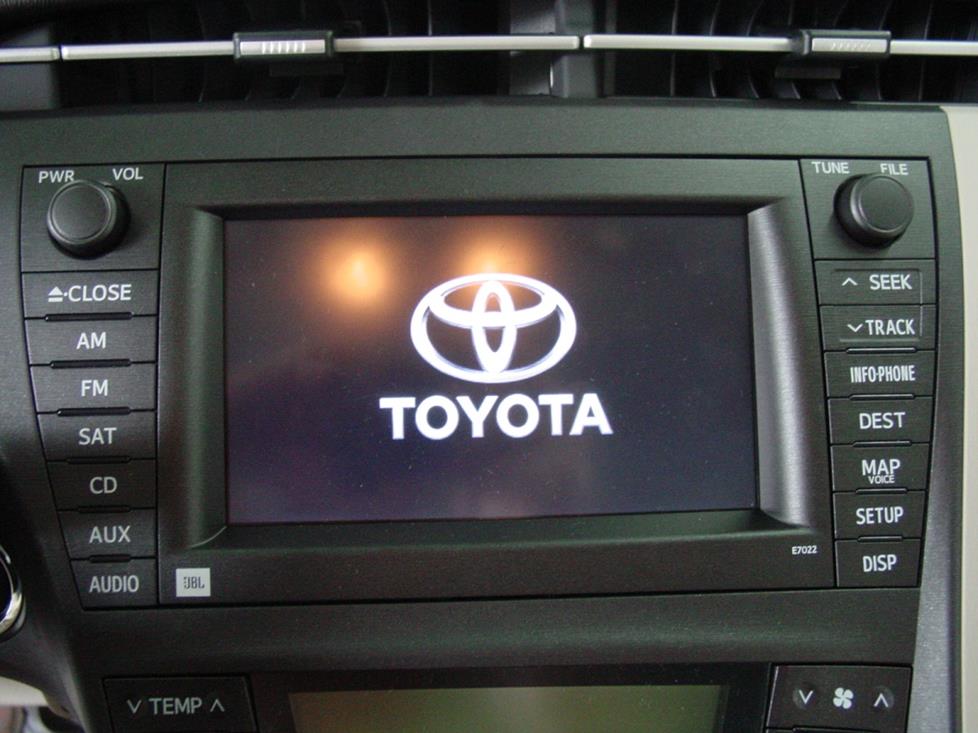 The nav receiver came along later in the Prius' model run (Crutchfield Research Photo)
Removing the factory radio
Whether you have the base system or the nav, the regular JBL or the GreenEdge, the Prius' receiver is relatively easy to remove. The exact same steps, tools and techniques are involved either way, and they're all covered in the Crutchfield MasterSheet that's included free with your stereo purchase. The key part of the DIY process is patience. Not because the job is hard, but because Toyota is very good at assembling dash panels and you'll want to be gentle when you're taking things apart.
Detailed stereo and speaker removal instructions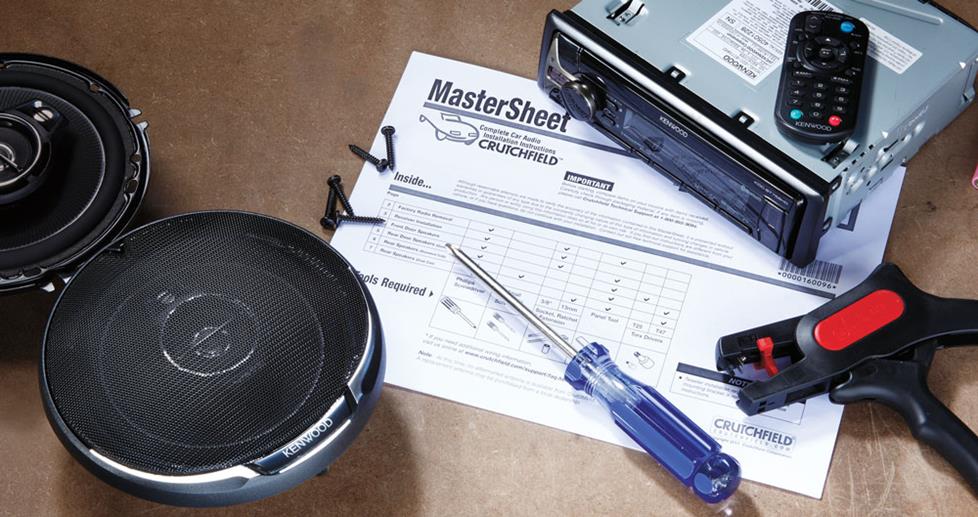 With step-by-step disassembly instructions and plenty of up-close, detailed photos, our exclusive
Crutchfield MasterSheet
™ takes the guesswork out of removing the factory stereo and speakers. It's free with your Crutchfield order, or you can purchase one separately for just $9.99.
A variety of single-DIN (2" tall) or double-DIN (4" tall) receivers will fit into the factory opening with the help of a dash kit and wiring harness, both of which are available at a steep discount when you buy them along with your new receiver. You'll also save on the tools you'll need to do the job properly.
If you run into problems of any kind, you can talk to our in-house tech support team seven days a week for the life of the gear. Just call the number on your invoice.
Tools needed: Panel tool, 10mm socket, ratchet and extension
Read our Car Stereo Buying Guide for shopping tips and advice.
Shop for car stereos that fit your Toyota Prius
Steering wheel audio controls
It's relatively easy to retain the steering wheel audio controls when you install a new stereo in your Prius. When you enter your vehicle information, our database will choose the adapter you need to make your factory steering wheel controls work with your new receiver.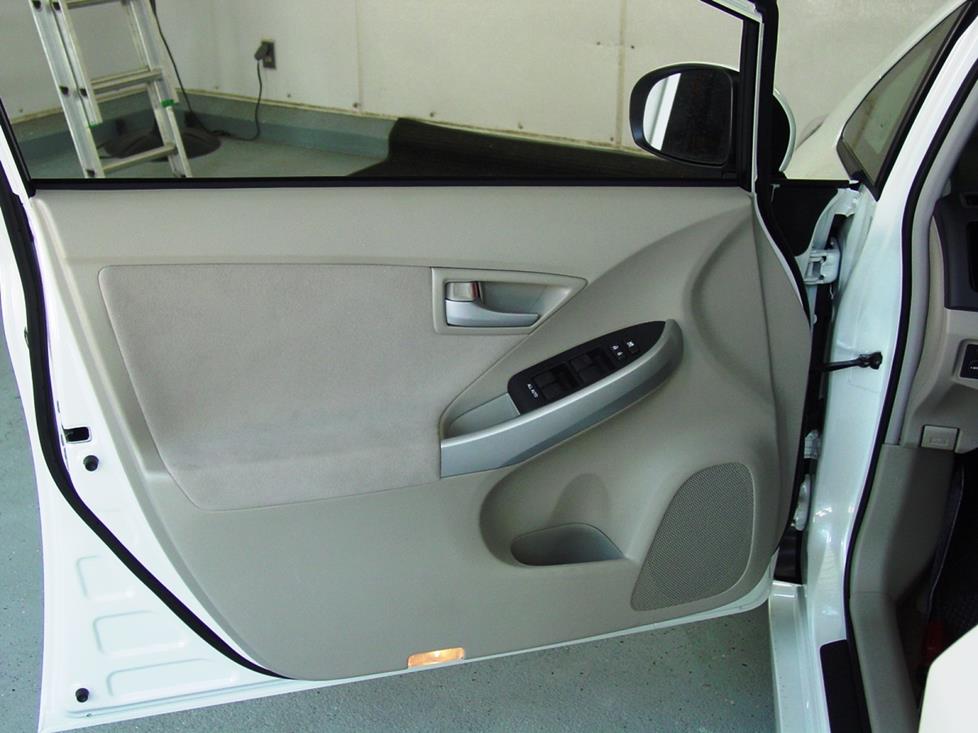 The front door speakers are reasonably easy to reach and replace (Crutchfield Research Photo)
Removing the factory speakers
The Prius will have either six or eight speakers, depending on which stereo system is installed. Plenty of high-quality replacement speakers fit into these locations and installation isn't difficult.
Removing the stock front door speakers and rear door woofers will involve drilling out the rivets that hold them in place. That's not all that hard to do, but work carefully and wear eye protection.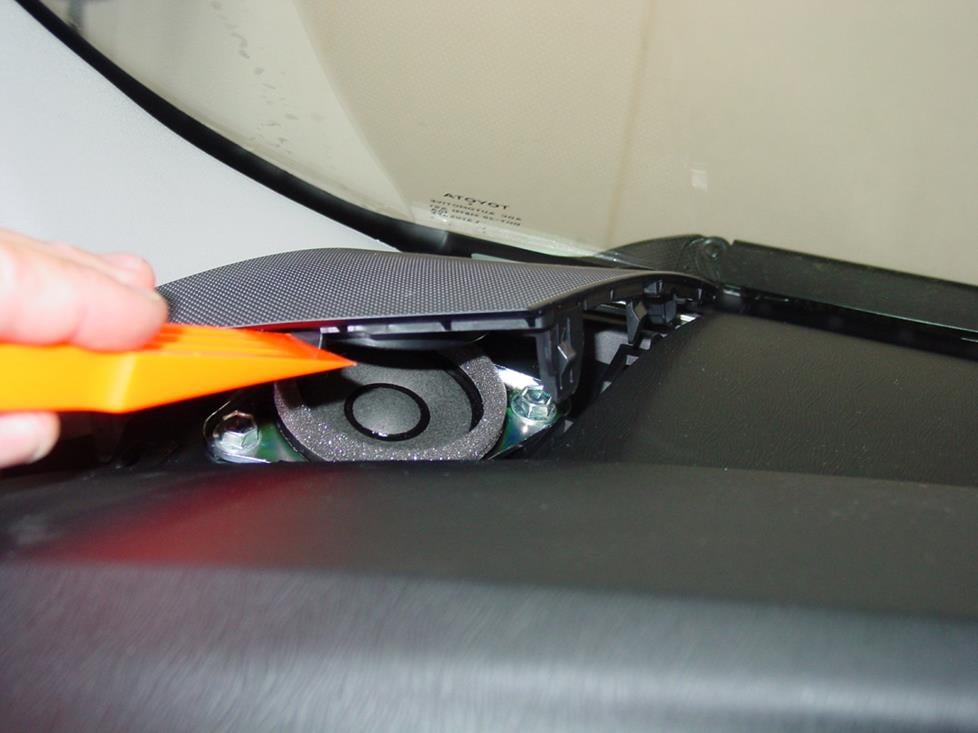 The dash speakers are easy to reach and replace (Crutchfield Research Photo)
Dash tweeters
The front tweeters are located in the dash corners, but you'll have to pry out the A-pillars to get to them. This isn't hard, but again, you'll want to be patient when you're working the plastic panels out of their nesting spots. Most component tweeters will fit into this space, but you will have to secure them using our universal backstraps, hot glue, silicone, or some other method.
There's no wiring adapter that'll work with for cars with the JBL system, so you'll have to splice, solder, or use Posi-Products speaker connectors to connect the new tweeters to the car's wiring.
Tools needed: Panel tool, needle nose pliers, 10mm socket, ratchet and extension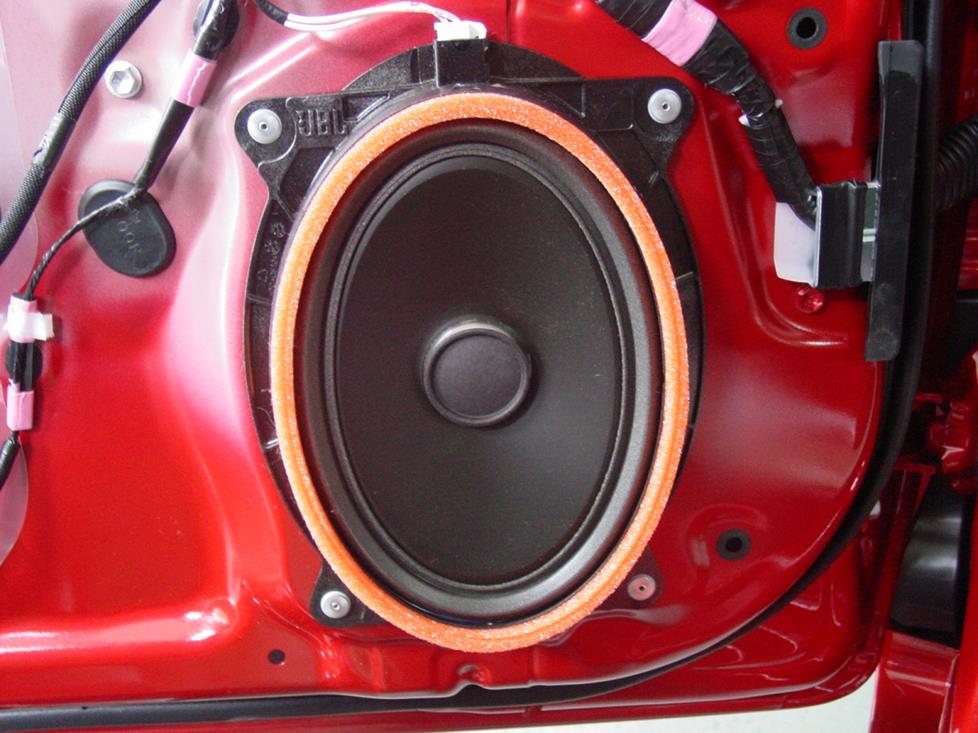 The factory JBL speakers are distinguished by their bright orange trim (Crutchfield Research Photo)
Front door speakers
You have lots of options when it comes to replacing the door speakers, which are full-range speakers in the base system and component woofers in the JBL version. The factory 6"x9" speakers can be replaced by same-size, 6-1/2" or 6-3/4" aftermarket models. This is true of all Prius systems, by the way. If a speaker adapter bracket is required, we'll make sure you know about it so you can include it on your order.
If you replace the low-impedance JBL system's woofers with higher-impedance aftermarket models, you might notice lower volume levels, so take care when choosing your new component speakers. We suggest choosing aftermarket speakers that have a lower impedance level (like 2-ohm or 3-ohm) as the replacements. A Crutchfield advisor can help you find the best options for your system.
You'll need to remove the door panels to get to the front door speakers, a process that's detailed in your Crutchfield MasterSheet.
Tools needed: Panel tool, Phillips screwdriver, small flat blade screwdriver, drill and 1/8" drill bit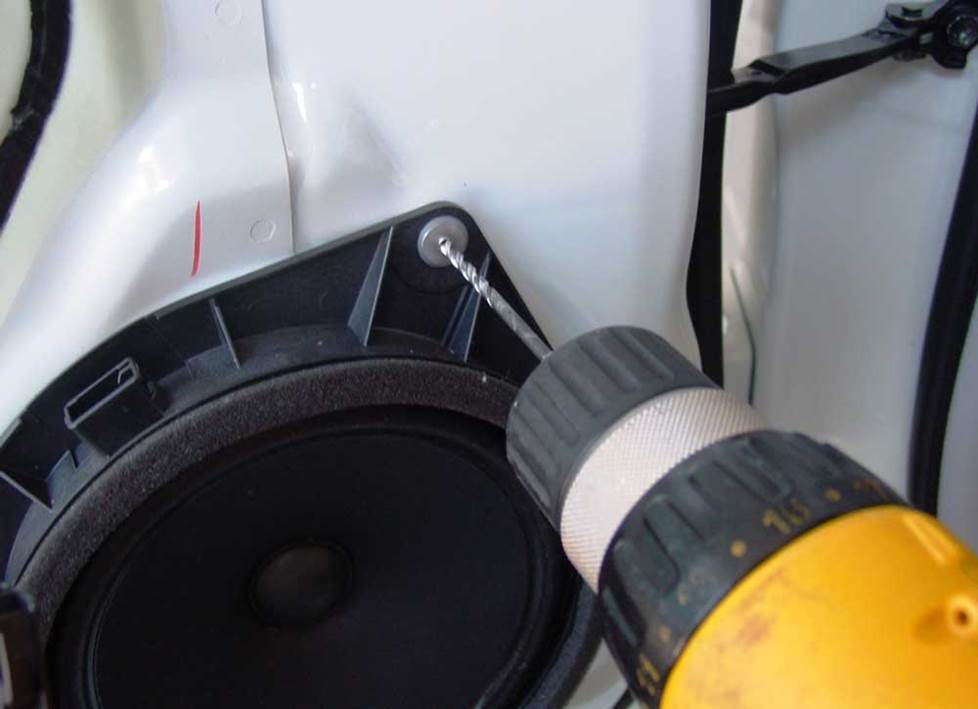 You'll need to remove rivets from all four door speakers, then drill new speaker holes (Crutchfield Research Photo)
Rear door speakers/woofers
You'll find 6-3/4" speakers in the lower part of your Prius' rear door. What kind of speakers you find depends on what kind of stereo you have. With the base stereo, they're full-range speakers. With the JBL system, they're woofers. Either way, they can be replaced by same-size or 6-1/2" aftermarket models and speaker brackets will be added to your purchase if needed.
If you replace the low-impedance JBL woofers with higher-impedance aftermarket models, you might notice lower volume levels, so take care when choosing your new component speakers.
Tools needed: Panel tool, Phillips screwdriver, small flat blade screwdriver, drill and 1/8" drill bit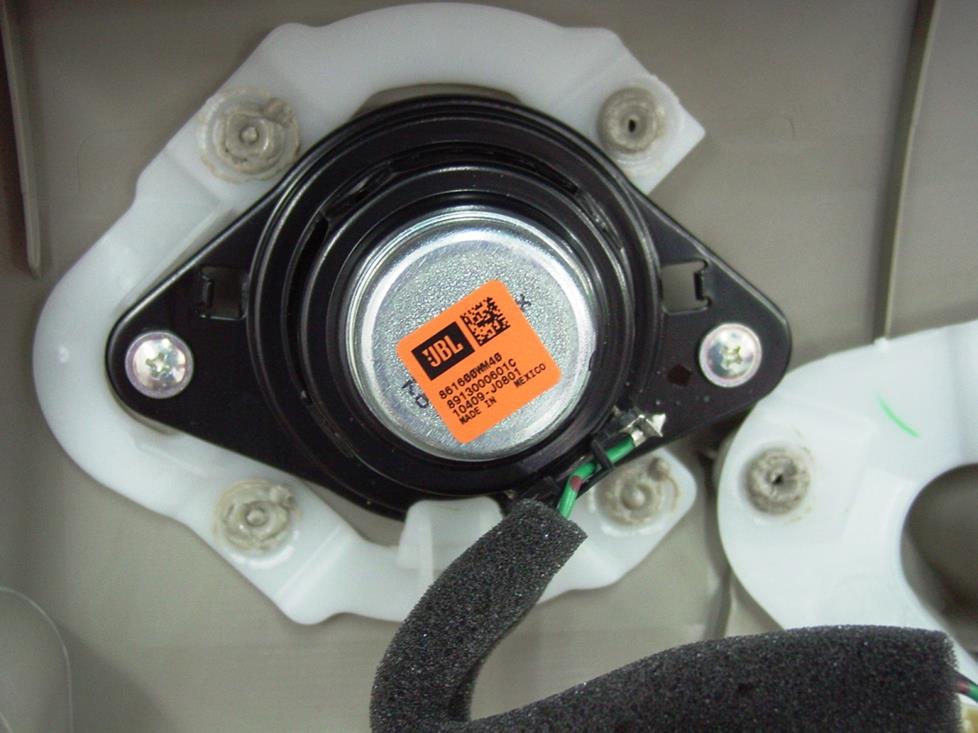 A close-up look at the rear door tweeter that's part of the JBL system (Crutchfield Research Photo)
Rear door tweeters (JBL system)
When you remove the rear door panels, both the woofer and the tweeter will be visible. The tweeters are quite easy to remove and can be replaced with a variety of component speaker tweeters. A speaker bracket is not available, so you'll need to secure them with a universal backstrap or maybe hot glue or silicone. And, just another reminder, pay attention to impedance levels when you're choosing the speaker set that will replace the low-impedance JBL gear.
Tools needed: Panel tool, Phillips screwdriver, small flat blade screwdriver
Read our Car Speakers Buying Guide for more information
Shop for speakers that fit your Toyota Prius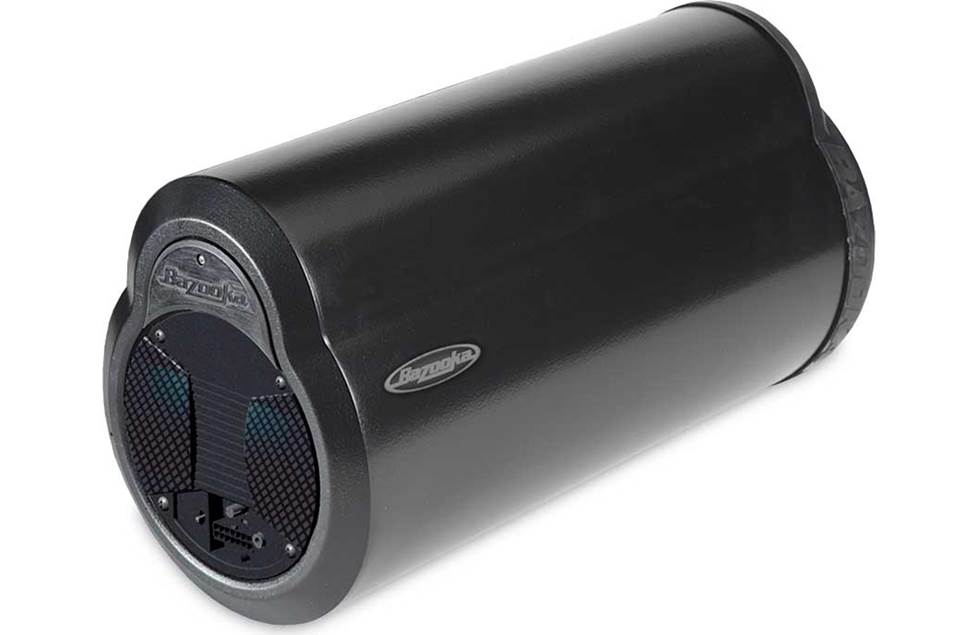 Bazooka BTA6100 6-1/2" powered subwoofer
More bass in your Prius
There's plenty of space for a subwoofer box in the Prius (39" W x 12" H x 25"/32" H), but we don't recommend adding big bass in this car. A compact, powered subwoofer is a much better idea for this hybrid. Besides taking up less space, a powered sub has the amplifier and subwoofer built together in one package. It takes the guesswork out of putting together a bass system and the current draw of a powered subwoofer won't endanger your car's sensitive electronics.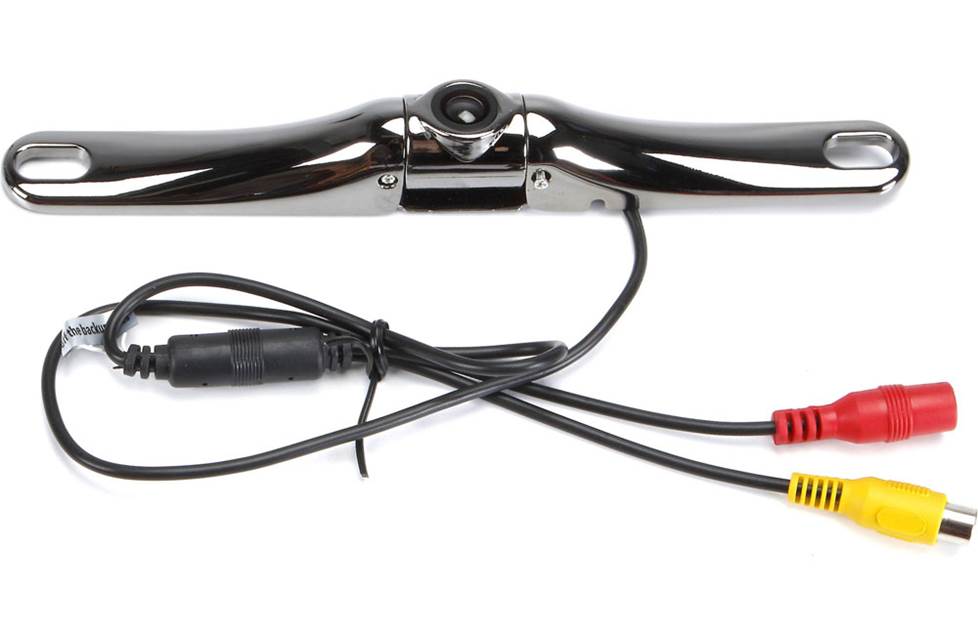 Accele RVCLPMBS license plate camera
Other options for your Prius
There are plenty of other ways to improve your Prius. Here are a few suggestions.
Rear-view cameras
Even a relatively small car like the Prius can benefit from the added visibility and improved safety that a rear-view camera brings to the table. We offer cameras from Alpine, Kenwood, Sony, Pioneer, and more. Some are designed to work with same-brand video receivers only, but others come with a composite video connector and will work with almost any video receiver.
Speaker baffles
Putting foam speaker baffles behind each door speaker is an inexpensive way to make a big difference in sound quality. These inexpensive, lightweight baffles will protect your speakers, too.
Security
Installing a security system in your Prius isn't easy (Security systems rarely are anyway, plus this is a hybrid…), but it's definitely a good idea. Our Crutchfield Advisors can help figure out what you need to get the job done, but we usually recommend taking your car and new gear to a professional installer.
Let's get started!
Ready to shop? Use our vehicle selector to find the gear that will fit your car or truck. If you have questions, give us a shout via phone, chat, or email