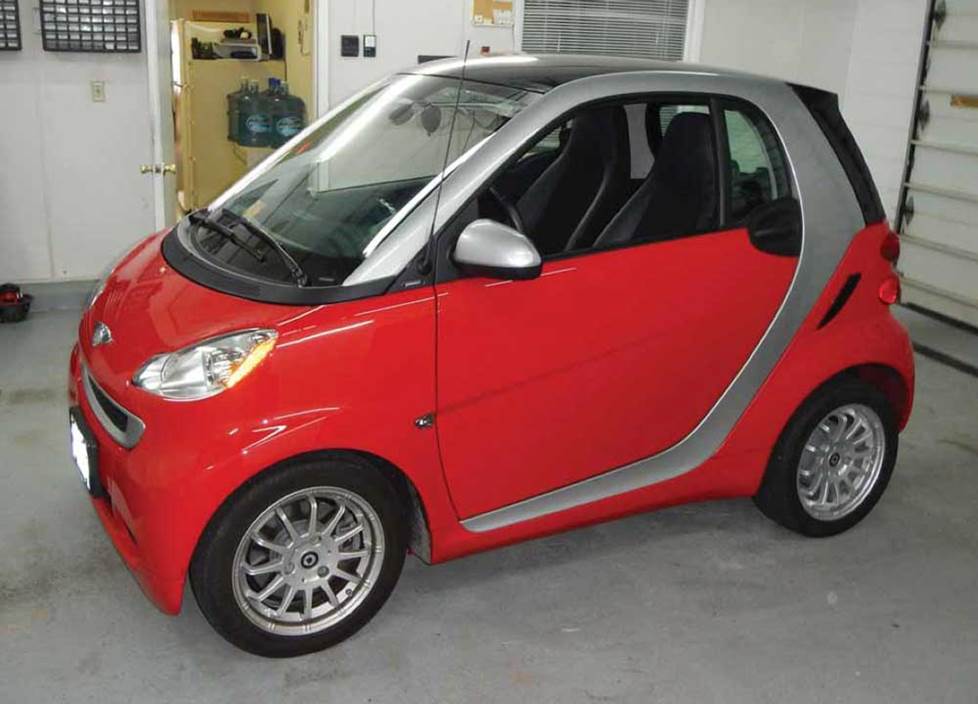 In brief: This Crutchfield Research Garage article gives you an overview of your fortwo's stock stereo system and your aftermarket upgrade options. We'll tell you all about:
Then, use our vehicle selector to find the gear that will fit your smart fortwo.
Overview of the smart fortwo
If you're a sucker for the romance of the open road and daydream about getting your kicks on Route 66, the smart fortwo is probably not foryou because it's simply not forthat. The smart (lack of capitalization theirs) is a city car, pure and simple, designed for urban environments where traffic is tight and finding a parking spot within two blocks of your building is cause for a celebratory Tweet. If that sounds like your life, the fortwo will fit right into it and give you a lot of enjoyment.
Now well into its second generation, this tiny, 2-seat, rear-engined machine has found a definite niche in the marketplace. It's not everybody's cup of chai tea, but if it's yours, you're probably going to like it a lot. You'll definitely want to crank up the fun by upgrading the audio equipment, though. Just because you're driving a tiny car doesn't mean you have to put up with a tinny stereo.
Detailed stereo and speaker removal instructions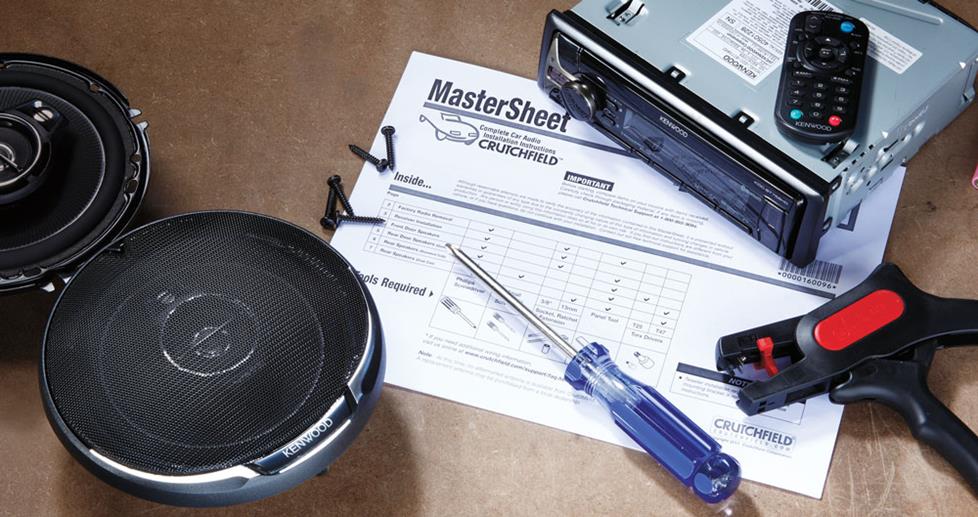 With step-by-step disassembly instructions and plenty of up-close, detailed photos, our exclusive
Crutchfield MasterSheet
™ takes the guesswork out of removing the factory stereo and speakers. It's free with your Crutchfield order, or you can purchase one separately for just $9.99.
The factory stereo system
The fortwo's interior was revamped a bit for the 2011 model year, with a revised dash topping the list of interesting things in this context. The base model could be ordered with no radio at all, though most customers probably opted for the standard AM/FM digital media player and 2 speakers. An optional multimedia receiver was available, as was a 7-speaker surround sound system. That optional system was certainly better than the base set-up, but aftermarket gear is still the way to go if you want to get the most out of your music.
The fortwo cabriolet offered the same audio equipment as the coupe, so we fully expect that the receiver and door speaker instructions below will also work with the 2-speaker drop-top model.
We haven't had a chance to fully research a cabriolet, however, so there may be some unique aspects to the 7-speaker model. If you know something we don't, we should talk. To learn more about our "crowdsourced" vehicle research process, check out this informative article. If that sound like something you'd want to try, contact us via the email addy in the article.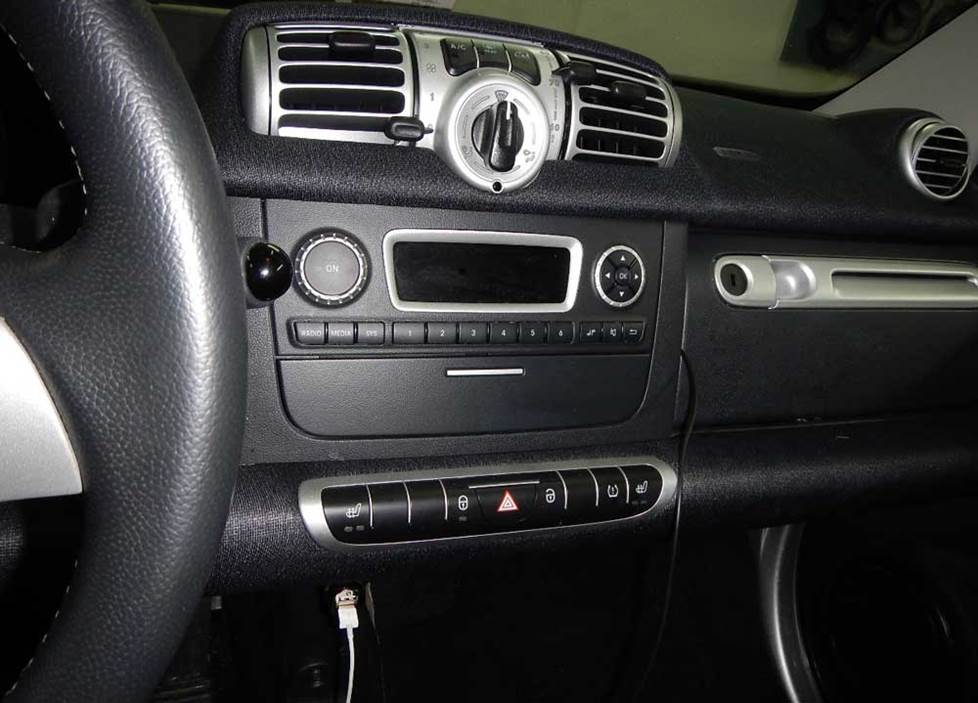 The fortwo's factory radio (Crutchfield Research Photo)
Removing the factory radio
For a car that's less than nine feet long, the fortwo has a surprisingly roomy interior. The factory receiver is easy to get to, and you'll have plenty of elbow room when you swap it out for a new one.
The work itself is relatively simple, too. You'll need a panel tool and a Torx T-20 driver, but there's nothing complicated here. You'll want to work patiently when you're prying off the plastic bits, because haste could certainly make waste here. You'll also want to have a small container handy to keep the screws organized until you need them again. One more tip: the battery, which you'll need to disconnect before you do anything else, is located underneath the passenger's footwell.
A variety of single-DIN (2" tall) and double-DIN (4" tall) receivers will fit in the fortwo with the help of a dash adapter kit that will blend in nicely with your car's stock dash color and texture. You'll also need a wiring harness to make connections between your new receiver and your car's electrical system. These installation essentials are available at deeply discounted prices with your Crutchfield stereo purchase.
When you install a new stereo, the factory USB and AUX ports located in the glove box won't work anymore. Thankfully, most receivers today offer one or both in a much more convenient location.
Tools needed: Panel tool, Torx T-20 drive
Read our Car Stereo Buying Guide for shopping tips and advice.
Shop for car stereos that fit your Smart fortwo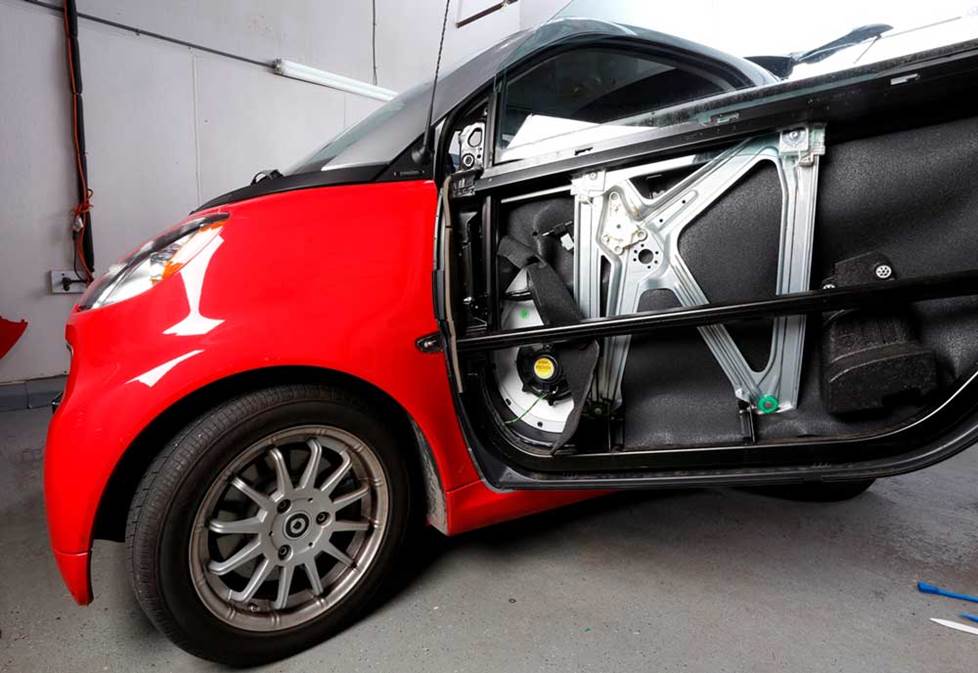 You'll need to remove the outside of the door to access the fortwo's speakers (Crutchfield Research Photo)
Removing the factory speakers
Upgrading the stock door speakers is as interesting as it is essential. The speakers themselves are small, weak, and utterly disposable, but the removal and replacement process is actually kind of cool. On most cars, you start by removing all or parts of the interior door panels. On the smart, you get to remove the exterior door panel.
If you're a smart enthusiast already, you know that the fortwo is built around the sturdy "Tridion" safety cell, which is the silver or black part of the car's exterior that looks like trim but really isn't. The exterior body panels, including the doors, are the "trim" on this car, and they can be painted, replaced, or wrapped to suit your tastes. They also come off when you decide to replace the speakers.
This isn't hard to do, but it is kind of weird. If you have any experience with car audio, the process is largely the same as any other panel removal, except for the fact that you're standing on the other side of the door. As you can imagine, you'll want to work slowly and carefully here, plus you'll also want to have a safe place to store the panels while you're working.
To release the clips that hold the door in place, slide the outer door skin towards the front of vehicle, then pull the top edge of the outer door skin to release it from the frame. Then you'll simply work the door skin off the frame. It's not hard to do, it's just different.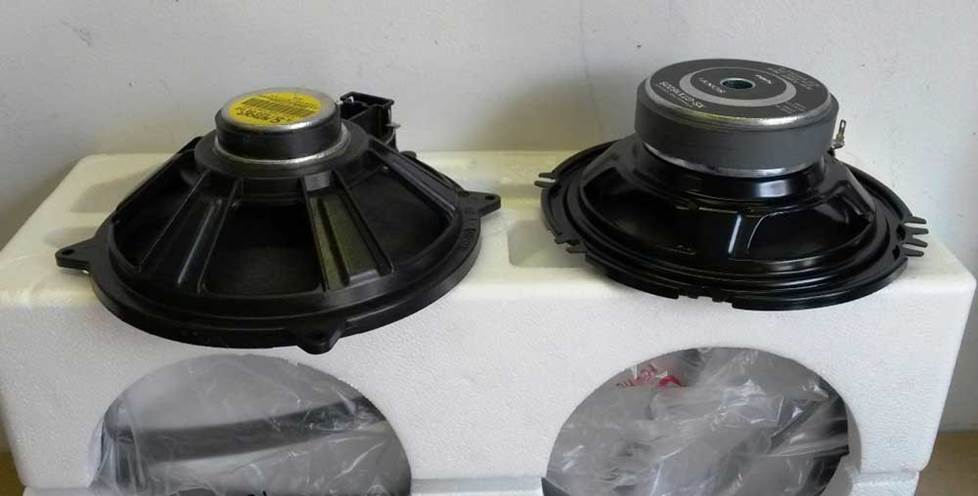 As you can see, the fortwo's factory speaker (left) pales in comparison to an aftermarket model (Crutchfield Research Photo)
The magnets on the stock speakers are almost comically tiny (which explains a lot), so whether you're installing a 5-1/4", 6-1/2", or 6-3/4" replacement, you'll need to make sure the felt/cloth vapor barrier inside the door fits neatly over the new speaker's magnet. It will, trust us, but there might be some scrunching and fiddling needed before it fits well enough for the window to operate properly. Be sure to test everything out before you put the doors back together.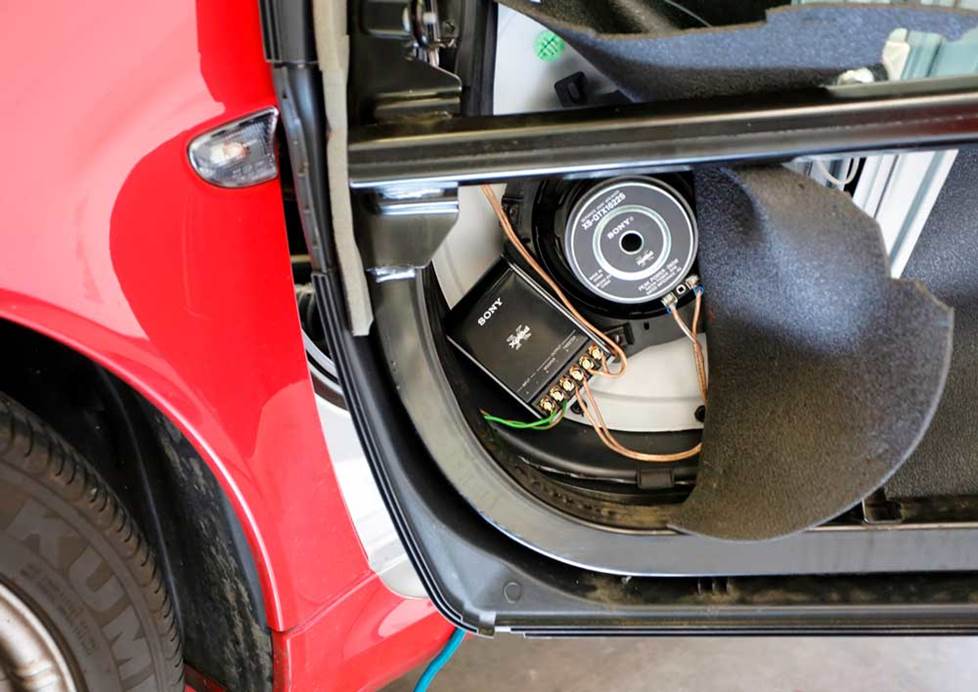 It's a tight fit, but it works (Crutchfield Research Photo)
How you install the speaker depends on what size speaker you're installing. An aftermarket 6-3/4" speaker will mount directly to the door. With a 6-1/2" or 5-1/4" model, you'll mount the speaker to a mounting bracket (available at a discount with with your speaker purchase), then mount the resultant speaker/bracket combo to the door.
A wiring harness is not available for this car, so you'll have to cut off the factory connectors and use a set of Posi-Products connectors to hook everything up. They're a lot easier than splicing, plus the connections are much stronger, which is a definite asset in this location.
Tools needed: Panel tool, Torx T-20 driver
Tweeters
The smart's surround sound system includes a set of tweeters mounted in the sail panels. We haven't researched this system, but we're reasonably sure aftermarket tweeters will fit in this spot when you upgrade to a set of component speakers. But until we remove the sail panels ourselves and see what's back there, we're not making any promises. Same goes for the small rear pillar speakers,
We have installed a component set in a fortwo equipped with the standard 2-speaker system, though. We drilled a hole in the sail panel and mounted the tweeters there, which is probably not the easiest thing for a novice installer.
If you're an experienced DIY'er, you can probably handle it, and most component sets include a set of mounting templates that are quite handy for measuring and centering. But if you're not entirely comfortable with this kind of work, you might want to turn things over to a car audio pro.
Read our Car Speakers Buying Guide for more information.
Shop for speakers that fit your Smart fortwo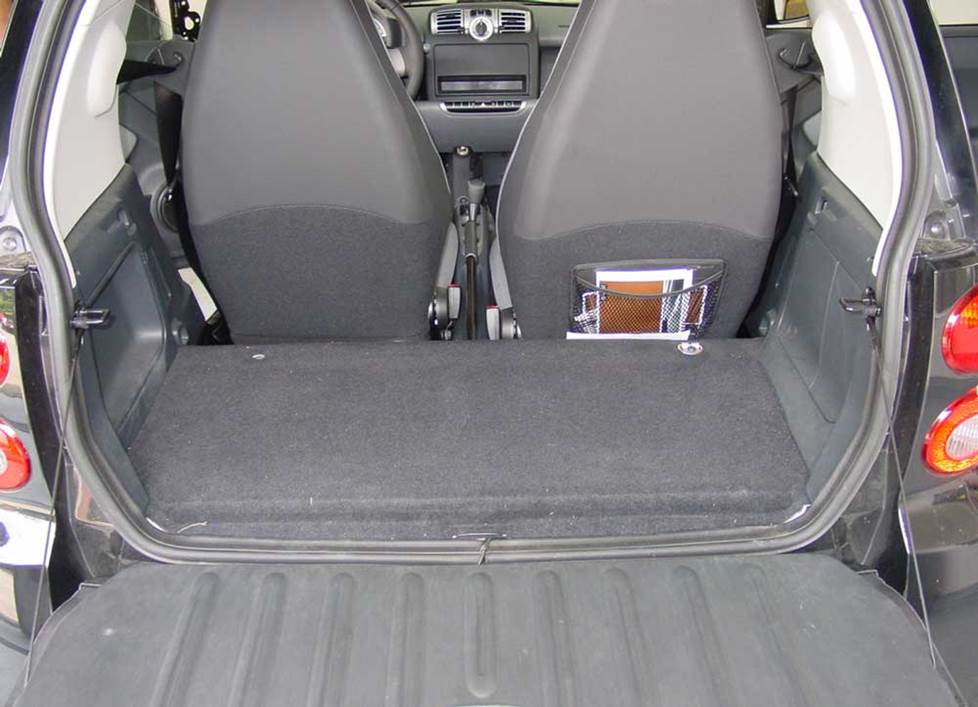 Will a big sub fit here? Yes. Should you install one? That's up to you! (Crutchfield Research Photo)
Bass in your fortwo
Though we haven't had a chance to research the smart's surround sound system, we do know that that the factory subwoofer is located under the driver's seat. A small powered sub could/should work in this location, but we haven't measured, so we're not totally positive. If you know more, check out the "crowdsourcing" info above.
We have seen photos of fortwos equipped with some mind-blowing component subs, so with the right combination of subs and enclosures, there's plenty of anecdotal evidence to suggest that you can fit a lot of bass into the 39"W x 10"H x 12-18"D space available. If you plan to use your car for normal everyday tasks like, say, buying a few bags of goodies at the farmer's market, you're probably better off with a powered sub here, too.
Learn more about building a bass system in our Car Subwoofer Buying Guide.
Other options for your smart car
Here are some other upgrade ideas for your smart fortwo:
Mounts
No matter what type of phone, music player, or portable GPS you're using, having a safe place to put it is essential. A device holder from ProFit will be a great addition to your fortwo's interior.
Floor mats
The smart is small, but there's still more than enough room to make a mess. Floor mats and cargo mats from WeatherTech will help protect your floors from dirt and damage. As for the seats, door panels, roof and everywhere else a froyo cone can possibly land, we recommend WeatherTech's TechCare car care products.
Security
Installing a security system in your Smart isn't easy (security systems rarely are), but it's definitely a good idea. Our Crutchfield Advisors can help figure out what you need to get the job done, but we usually recommend taking your car and new gear to a professional installer.
Let's get started!
Ready to shop? Use our vehicle selector to find the gear that will fit your car or truck. If you have questions, give us a shout via phone, chat, or email