In brief: This Crutchfield Research Garage article gives you an overview of your ProMaster's stock stereo system and your aftermarket upgrade options. We'll tell you all about:
Then, use our vehicle selector to find the gear that will fit your Ram van.
Overview of the Ram ProMaster
The last time vans were cool, bellbottoms were cool. That was a long time ago and we can only hope that bellbottoms remain in the dustbin of fashion history where they belong. Vans, on the other hand (the non-mini kind, we mean) are making a bit of a comeback. While we haven't seen any ProMasters sporting enormous airbrushed wizards on the sides just yet, we have noticed that, like their shag-encrusted forebears, these trucks are being used for both work and play.
If you drive one of these vans, you're probably in it nearly every day. The ProMaster offers tons of space for audio upgrades, so you can build something truly remarkable in the cargo area if you want to. But even if you use your van for hauling people and stuff, you can still improve your daily drive by upgrading the receiver and speakers.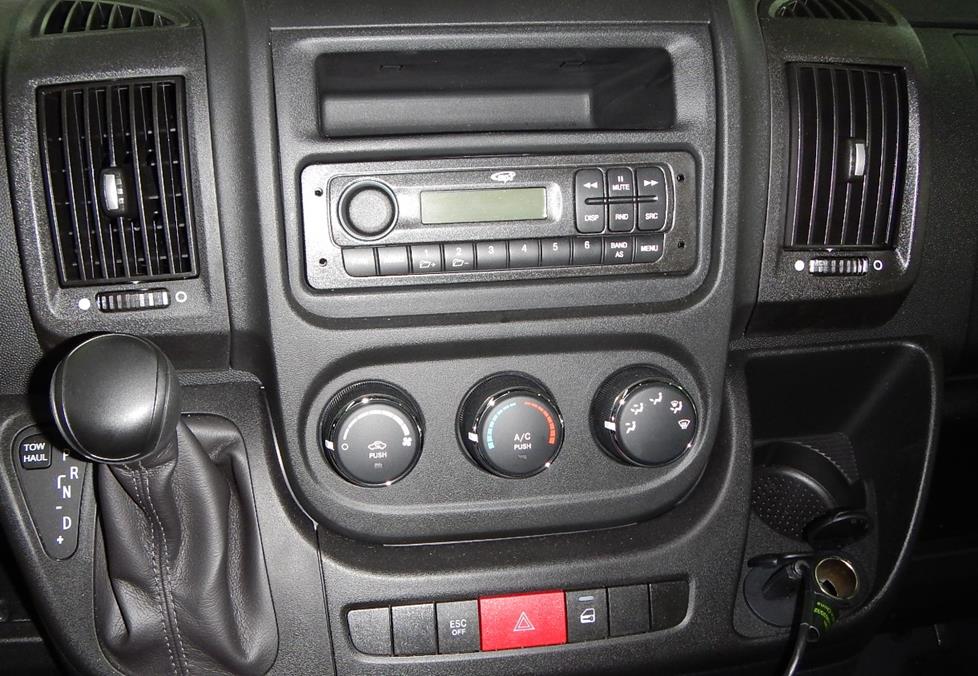 Even for a base radio, this is a pretty basic radio. (Crutchfield Research Photo)
The factory stereo system
The ProMaster was designed primarily as a work vehicle, and the standard sound system reflects that utilitarian philosophy. There's an AM/FM radio with four speakers, plus a USB input located below and to the right of the radio. If all you really want to do is listen to local radio, that's fine, but you can certainly do better.
The spacious dash offers room for a single-DIN (2" tall) or double-DIN (4" tall) aftermarket stereo, so you can upgrade all the way to a high-quality navigation receiver if you want to. That would be a handy thing, whether you have a delivery route or not.
The storage slot is above the radio in some ProMasters, and below it in others. Removal and replacement is the same either way.
Note: Receiver replacement is not recommended for 2022 model year vans.
Here's what a single-DIN receiver looks like installed. Double-DIN receivers work, too. (Crutchfield Research Photo)
Removing the factory radio
With the notable exception of the 2022 vans, replacing the receiver is reasonably easy in the ProMaster. You'll need a set of DIN tools, which are included with your order, plus a Phillips screwdriver.
To start, push the DIN tools into the holes in the radio faceplate until you hear a "click." Spread the tools apart, gently pull the receiver out of the dash, and disconnect the harnesses. With the receiver out of the way, remove two Phillips screws from the DIN opening, then pull the pocket assembly towards you to remove it.
To install a new receiver, you'll need a dash kit, a wiring harness, and some other gear. All of those pieces are available at a significant discount with your Crutchfield stereo purchase.
Detailed stereo and speaker removal instructions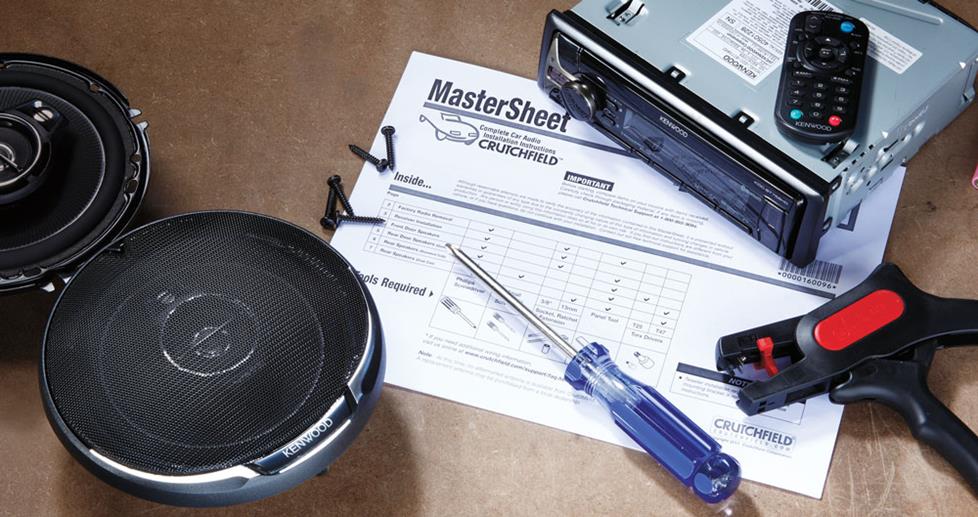 With step-by-step disassembly instructions and plenty of up-close, detailed photos, our exclusive
Crutchfield MasterSheet
™ takes the guesswork out of removing the factory stereo and speakers. It's free with your Crutchfield order, or you can purchase one separately for just $9.99.
A couple of installation notes: When you replace the factory radio, you'll lose the factory USB input connection. But these days, pretty much any aftermarket receiver has one, so you'll be able to retain that functionality. Also, some single-DIN receivers with smaller trim rings may leave a gap when installed. If that's the case, you can fabricate a trim ring to make the installation look a little more professional.
Tools needed: DIN tools, Phillips screwdriver
Read our Car Stereo Buying Guide for shopping tips and advice.
Shop for car stereos that fit your Ram Promaster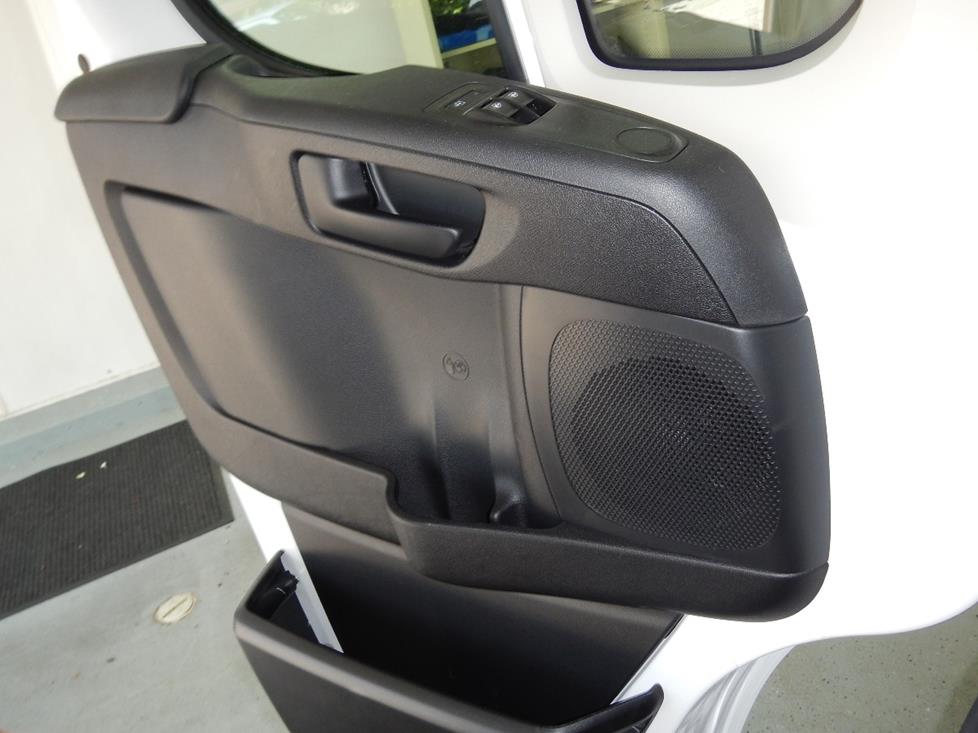 The door speakers are in the front-center of the door, behind grilles. (Crutchfield Research Photo)
Removing the factory speakers
The standard ProMaster set-up features speakers in the front pillars and front doors. There are no stock rear speakers, so if you're really serious about adding more sound, add some 6"x9" speakers mounted in a pair of rugged boxes. It shouldn't be too hard to find the space to mount them somewhere behind the seats. A 4-channel amplifier will provide your speakers the power they need to fill this massive space.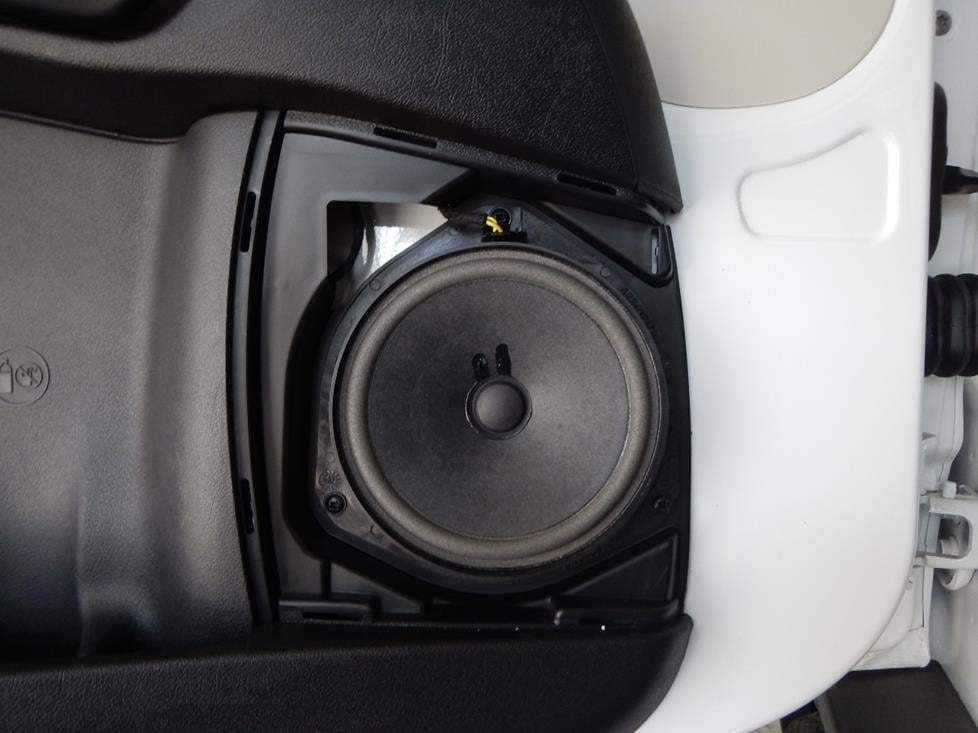 Replacing these speakers will make a huge difference in your audio performance (Crutchfield Research Photo)
Front door woofers
The stock front door speakers are 6-3/4" models, which can be replaced by same-size or 5-1/4" or 6-1/2" aftermarket speakers. The task is pretty simple, but you will have to re-drill the mounting screw holes to install your new speakers. This isn't hard to do, but when you're drilling a hole in your vehicle, it's important to use caution, know what's behind and around the area you're drilling into, and wear eye protection.
Starting at the rear edge, pry off the speaker grille to release the retaining clips. Remove the grille, then remove the three Phillips screws securing the speaker to the door. Then just disconnect the harness and remove the old speaker.
A speaker adapter bracket is required for smaller speakers, and it's included at a deep discount with your speaker purchase.
Tools needed: Panel tool, Phillips screwdriver, drill and 1/8" bit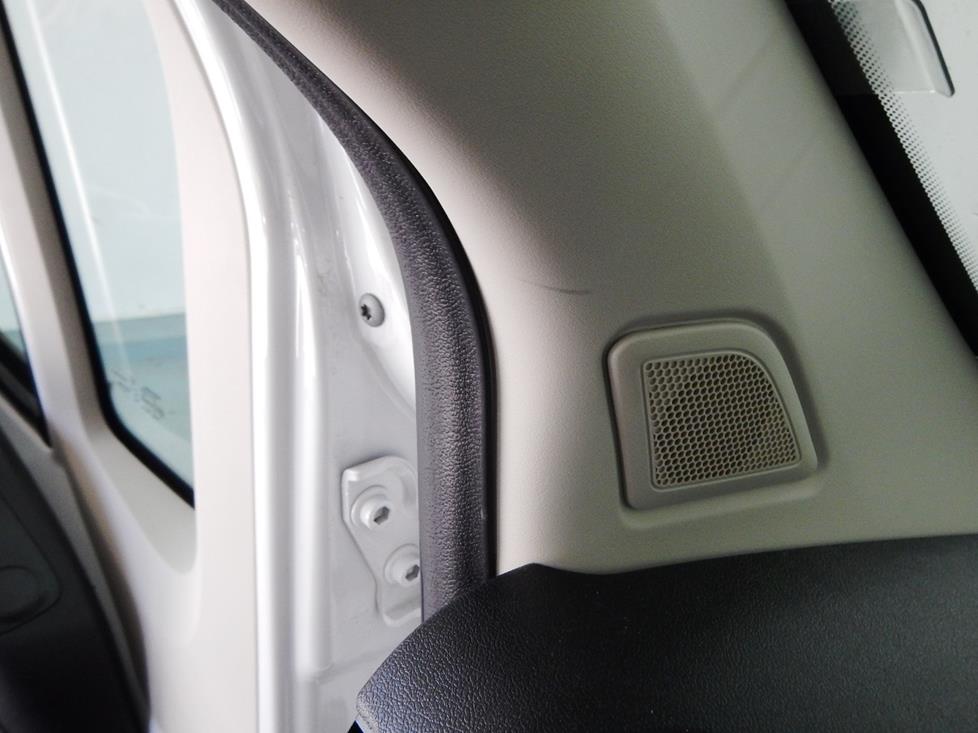 The tweeters are at the base of the ProMaster's A-pillars (Crutchfield Research Photo)
Front pillar tweeters
The 4-speaker system includes a pair of tweeters mounted in the A-pillars. They're about 1-1/2" each, and mounted to the back of the pillar trim panel. You'll need to use a couple of our universal backstraps (or silicone or hot glue) to attach your new tweeters to the pillars. You'll also need Posi-Products speaker connectors to connect the tweeters to the factory wiring.
Removing them is simple. Use your panel tool to pry out the pillar trim panel. That'll release the retaining clip and let you pull the panel out from under the headliner. You'll see a zip-tie, which you'll need to cut before you pry up on the pillar trim panel tether to release it. Lift the panel up, disconnect the harness, and remove the trim panel.
Be careful when you're prying the tweeter out of the panel. Plastic can be fickle, and you certainly don't want to break anything here. Be patient, trust your tools, and it'll come out fine.
Tools needed: Panel tool, small flat blade screwdriver
Read our Car Speakers Buying Guide for more information.
Shop for speakers that fit your Ram Promaster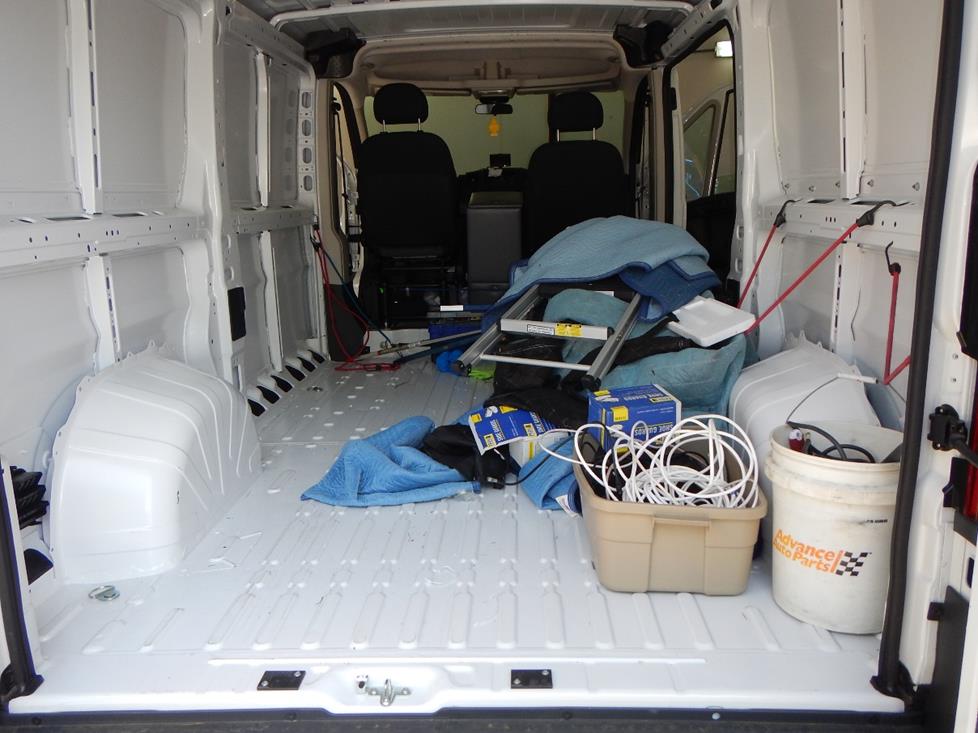 Safe to say there's space for a sub. Not easy to say, necessarily, but safe (Crutchfield Research Photo)
Bass in your ProMaster
There's obviously plenty of room for an aftermarket subwoofer in the ProMaster's cavernous cargo area. There's also room for a small recording studio back there, so if you ever get tired of playing someone else's music and decide to start making your own, you're good to go.
A lot of these vans have been outfitted with shelves and storage cubbies, so it's kind of hard to say exactly what you can or can't install back here. But you can probably do an awful lot if you want to! Measure the space you have and compare those measurements to our supply of subwoofer boxes. To make the job even easier, take a look at our preloaded subwoofer boxes – they come with subs already installed. Plan accordingly, and if you have questions, give us a call.
If your van is mostly used for recreational purposes, you can also set up a mobile home theater. There are some conversion issues, but we can help you with that.
Learn more about building a bass system in our Car Subwoofer Buying Guide.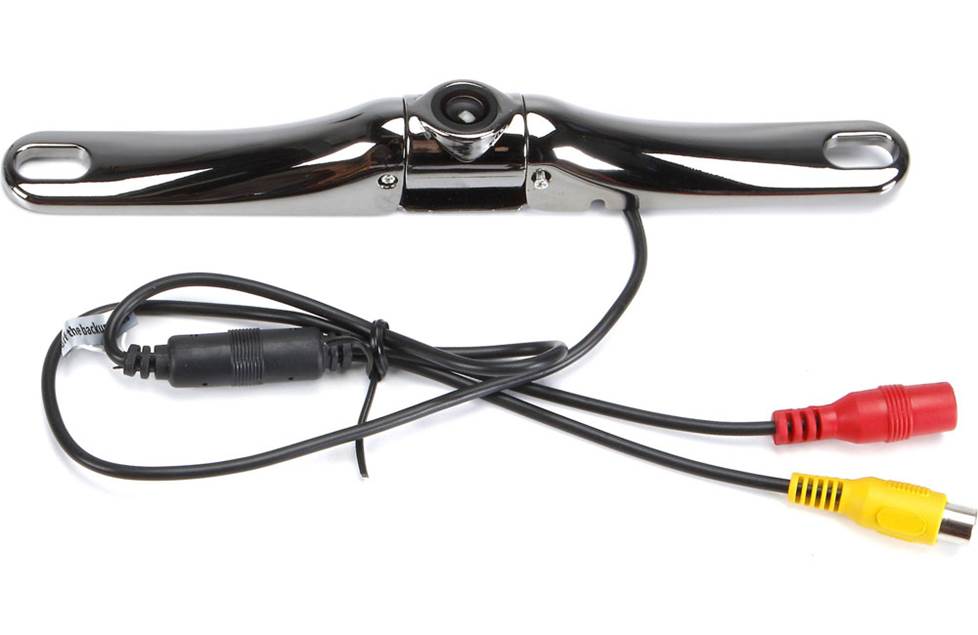 A rear view camera is a great addition to any van
Other options for your Ram van
We already mentioned the idea of adding a pair of 6"x9" speakers and a 4-channel amplifier to power the system. That really is one of the best things you can do to improve the stereo system in your ProMaster.
Here are some other ideas for you to consider. You'll probably have a few of your own, so please share your notes and photos in our Customer Car Showroom.
Rear-view cameras
The ProMaster is a long, tall, and somewhat unwieldy vehicle when you're in traffic or a crowded parking lot. If you want to improve your visibility and safety, we offer rear-view cameras from Alpine, Kenwood, Sony, Pioneer, Accele (above) and more. Some are designed to work with same-brand receivers only, but others come with a composite video connector and will work with almost any video receiver.
Noise reduction
The ProMaster is rather aerodynamically slick for a van, but it's still a van, and exterior noise is a fact of life. There's no way to totally eliminate wind and road noise in this (or any van, really), but installing some Dynamat in the doors – and maybe throughout the cabin – can really seal in sound and let you enjoy your stereo to the fullest.
Speaker wire
You've got tons of room for speakers in this vehicle, but you'll also need a lot of speaker wire to make all those connections. If you're planning a big system, factor in the wiring when you're making your plans — and setting your budget.
Security
Installing a security system in your ProMaster isn't easy (security systems rarely are), but it's definitely a good idea, especially if you leave tools and other valuables in it overnight. Our Crutchfield Advisors can help figure out what you need to get the job done, but we usually recommend taking your car and new gear to a professional installer.
Let's get started!
Ready to shop? Use our vehicle selector to find the gear that will fit your car or truck. If you have questions, give us a shout via phone, chat, or email