Apple CarPlay technology is a convenient way to access your iPhone® through your car stereo. You can use certain phone functions as you drive, but in a manner that'll let you stay focused on the road.
Apple iOS 13 CarPlay update: With the release of iOS 13 some time ago, Apple made significant upgrades to CarPlay. Read all about those changes below and check this space for any major CarPlay updates in the future.
A CarPlay stereo gives you access to your iPhone's calling, music, mapping, and message applications with a simple one-cord connection to your iPhone using the phone's Lightning-to-USB cable, or – in some cases – wirelessly.
How does Apple CarPlay work?
When you connect your iPhone to a car stereo that's compatible with Apple CarPlay, large, familiar iOS app icons appear on the stereo's touchscreen, along with the time and a Dashboard button you can press to activate the Siri voice assistant. You'll be able to operate some apps with fingertip touches, while many functions can be initiated via Siri using the "Hey Siri" voice command. You won't even have to take your hands off the wheel once you've started.
See CarPlay in action
Watch this video demonstration for a real-world glimpse at an Apple CarPlay stereo in action.
How can I get Apple CarPlay in my car?
CarPlay requires a diagonal screen size of at least 6" to work. You can find Apple CarPlay compatiblilty as a factory option in select 2014 and newer vehicles, and in many aftermarket stereos.
Check out our full selection of car stereos with Apple CarPlay. There are an impressive number of stereos with wireless Apple CarPlay, too. Most of the stereos we offer are also compatible with Android Auto™ making them ideal for shared vehicles driven by owners of different types of phones.
iOS 13 upgrades made CarPlay even more driver-friendly
We're getting right to the updates, but if you're new to Apple CarPlay, make sure you read the rest of the article, too. First, the good news: Apple CarPlay lives on your iPhone, so you don't need to update any car stereo with existing CarPlay compatibility, just your iPhone. But you will need to have an iPhone current enough to run iOS 13 (anything newer than a 6s should work) and update your phone's software accordingly to take advantage of these specific features.
With that out of the way, let's move on to the most exciting aspects of that iOS 13 update...
Tiled Dashboard
The Dashboard screen offers a split-screen view with the map on the left and multiple tiles on the right. You'll see the audio you're playing, smart Siri® suggestions, info about incoming texts and calls, and other common tasks. This drastically improves CarPlay's functionality as you don't have to flip between different app screens to get all the key info while you're driving.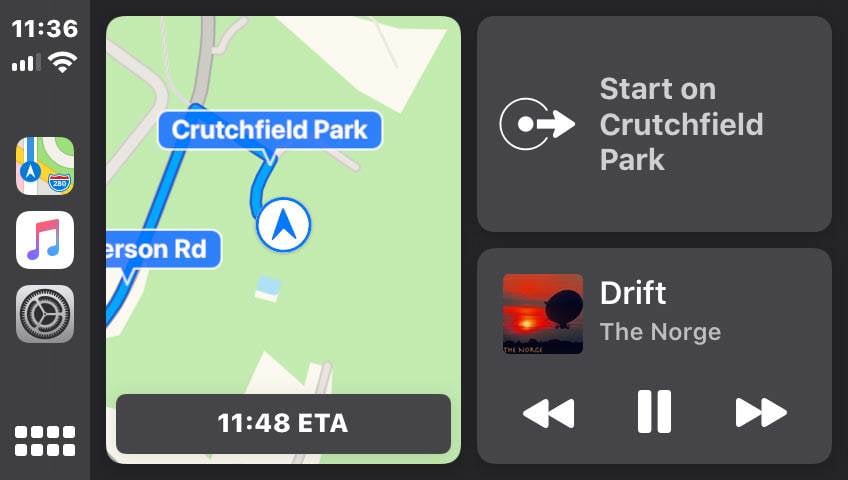 Siri to the rescue
Siri's a lot easier to use, too. When you trigger it with your voice or a button, the newer CarPlay shows a mic icon in the lower corner of the display rather than taking over the whole screen. Ever since the iOS 13 update, non-Apple app developers can add direct Siri functionality, giving you voice control over CarPlay-compatible apps like Spotify, Audible, and Waze.
A new Calendar app
Want to plan your day ahead as soon as you get into your car? Now you can pull up the Calendar app in CarPlay and see every reminder and appointment that's in your iPhone.
Dark and Light Modes
CarPlay has always featured a sort of Dark Mode that shows white text against black backgrounds. Now you can add Light Mode, which exhibits black text against white backgrounds that should be easier to decipher in direct sunlight. Users can choose Dark Mode all the time or have CarPlay automatically shift from Light to Dark when the ambient light in the car changes.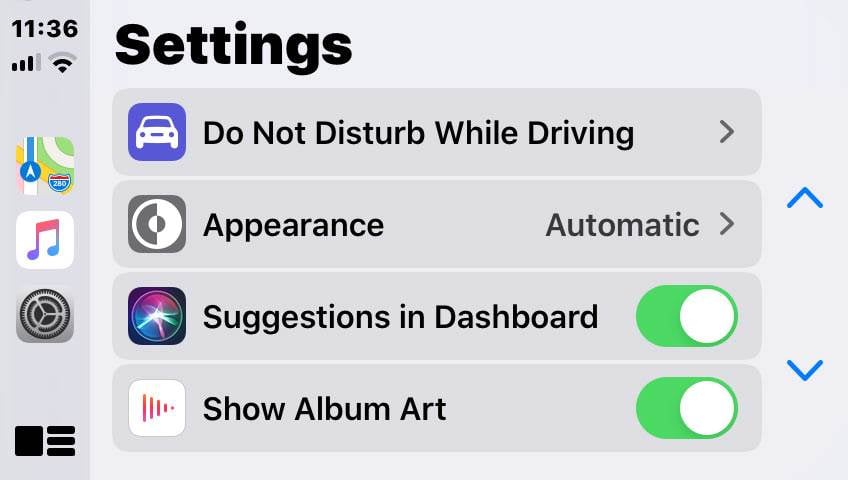 Light Mode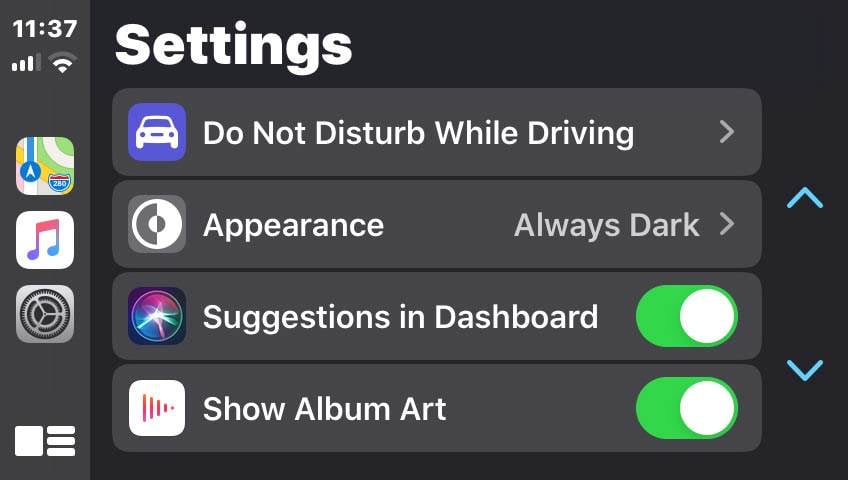 Dark Mode
Album artwork: yay or nay? You can choose!
There are a couple of changes for album artwork, too. The Now Playing and Apple Music app interfaces now put an even bigger emphasis on album artwork. But you can also select to have album artwork never displayed on the stereo's screen in Now Playing.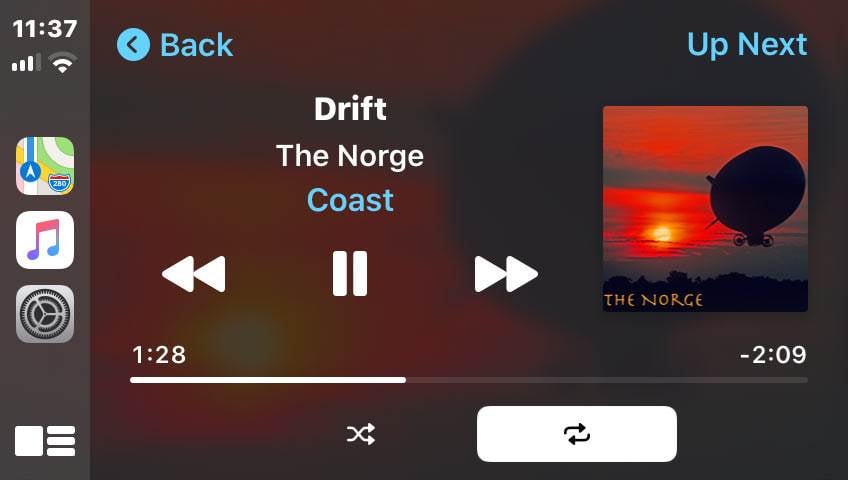 Don't want to be disturbed? CarPlay lets you drive without notifications
You can now turn on your phone's "Do Not Disturb While Driving" feature through CarPlay's Settings app, so you won't see phone or text notifications on your car stereo. Those trying to get in touch with you will get a text back letting them know you're driving.
Keep using your iPhone
Finally, one key change is that your iPhone is now able to retain its functionality while connected to your stereo in CarPlay. In the past, your iPhone would be basically locked while in CarPlay mode, but this is no longer the case. Your passengers can check out your iPhone to choose new tunes, see your latest photos, fire off a text with plenty of emojis, or whatever — your iPhone works normally even while your stereo's running CarPlay.
So those were the major changes to Apple CarPlay in the iOS 13 update. Continue reading to learn more about CarPlay basics and how you can more safely use your favorite iPhone functions from the driver's seat.
iOS apps that work with CarPlay include:
Phone — Make calls, return calls you missed, and check your voicemail, all with Siri's help. You'll be able to see your caller information right on the receiver's screen.
Music — Pull up your iPhone's artists, songs, playlists, and more through your stereo's controls, or tell Siri what you want to hear. The display will mirror your iPhone's Music screen, so you'll be able to see what's playing and choose tracks easily, whether you're streaming from your Apple Music account or playing downloaded files from iTunes.
Maps— View your Apple Maps screen on the receiver's display, complete with turn-by-turn directions, traffic conditions, and estimated travel time. Use Siri and your voice to enter a destination or search for nearby points of interest.
Messages — You already know that texting and driving is a bad idea. With Apple CarPlay, you can have Siri send, read, and reply to your text messages for you, so you won't have to look at or touch your phone while you're behind the wheel.
Podcasts — Pull up your favorite podcast to help pass the time…
Audiobooks — …or listen to a story without touching your phone.
Now Playing — One touch will show you instantly what's providing the soundtrack to your travels.
Calendar — See all of your upcoming appointments and reminders in one place.
Navigation apps that work with CarPlay
CarPlay already includes Apple Maps. But users like to have options, so Apple listened and added two other popular navigation apps.
Waze — The popular navigation app is available on Apple CarPlay. Not only does Waze provide turn-by-turn directions, but its users count on crowd-sourced info for up-to-the minute details about congestion, accidents, speed traps, and more.
Google Maps — Apple listened to their customers who wanted more navigation options and joined forces with their smartphone competitors to bring Google Maps to the CarPlay platform. You can use your voice to enter a destination or search for a nearby stopping point.
There are a handful of other navigation apps that work with CarPlay, but most of them are used mainly outside of the United States.
Audio apps that work in CarPlay
Naturally, since we're talking about a car stereo, there are plenty of listening options for music, podcasts, and audiobooks. Here is a sampling of the most popular apps that are available in CarPlay – but these aren't all of them!
Spotify
Tidal
Pandora
Amazon Music
YouTube Music (formerly Google Play Music)
Qobuz
iHeartRadio
Stitcher
SiriusXM Radio (subscription required)
Audible
LiveOne Music (formerly Slacker Radio)
Radio Disney
Nugs.net
Most other non-audio and non-navigation apps will not be accessible through Apple CarPlay. Non-audio apps that do work include WhatsApp for messaging. Apple may approve more apps for CarPlay in the future, but they'll likely only be apps that can be used safely while driving and with Siri.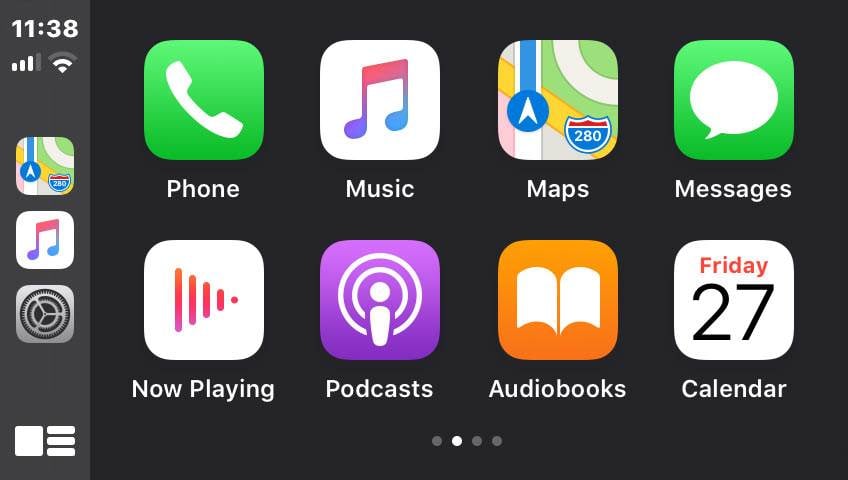 What about wireless Apple CarPlay?
Wireless Apple CarPlay first made it into the dashes of some high-end factory stereos but now it has moved into the aftermarket realm. Compatible stereos employ a built-in Wi-Fi network in combination with Bluetooth to communicate with your iPhone. After the initial setup and pairing with your phone, you'll be able to launch CarPlay on the stereo without touching your phone as soon as you get into your vehicle.

Not only does wireless CarPlay save you the hassle of having to plug in your phone whenever you get into the vehicle, it also works great for fans of wireless charging in the vehicle, as they can set their phone down and leave it alone to charge as they travel.
Check out our full selection of car stereos with wireless Apple CarPlay.
Can I make my wired CarPlay radio wireless?
If you already have a wired-only CarPlay unit in your dash, it used to be nearly impossible to make the switch without buying and installing a new radio.
The CRUX ACP-WLX Wireless Apple CarPlay Interface works with nearly every factory and aftermarket radio with wired CarPlay capability to turn it into a wireless unit. Adding this interface is as simple as plugging the included cable into your radio's dedicated CarPlay USB port, then pairing your iPhone via Bluetooth. After that, you're ready to enjoy CarPlay as you drive without needing to connect your iPhone again.
Do you have questions about Apple CarPlay?
If you're ready to shop, see our full selection of car stereos with Apple CarPlay.
If you have any questions about CarPlay, we can help. Check in with a knowledgeable Crutchfield Advisor via phone or chat. There's likely a solution that fits your ride and we'll help you get on the road with CarPlay bringing your favorite phone functionality within reach.