Best small car or hatchback bass systems for 2023
Get perfect bass with a small footprint to fit any budget
In this article: We present six highly recommended subwoofer systems for small vehicles, arranged according to loudness and price:
e field lots of calls from customers who want to improve the bass in their small car audio systems. Crutchfield Advisors, many of whom have ears-on experience with the products, always recommend subwoofer systems that fit customers' desires for loud or soft bass at prices they can afford.
"What subwoofer will work best in my hatchback?"
Having a small car doesn't mean that you can't have solid bass in your music. When customers come to us looking for a new subwoofer or bass system, our advisors often start the the conversation with questions like this:
We have solutions for either answer.
Below are our recommendations for putting a subwoofer in a small car or hatchback-style vehicle, for different tastes and budgets. First we'll list our suggestions for people who want loud, car-shaking bass.
Then we'll share our favorite products for people who just want to fill in that missing low-frequency sound. The goal is to complete the musical experience without rattling the windows.
Loud bass for under $200
Want big bass but you're a little short on cash? This subwoofer package offers a great way to add bottom-end punch to your vehicle without putting a strain on your wallet. It includes two 10-inch subs in a ported enclosure along with a matching power amplifier.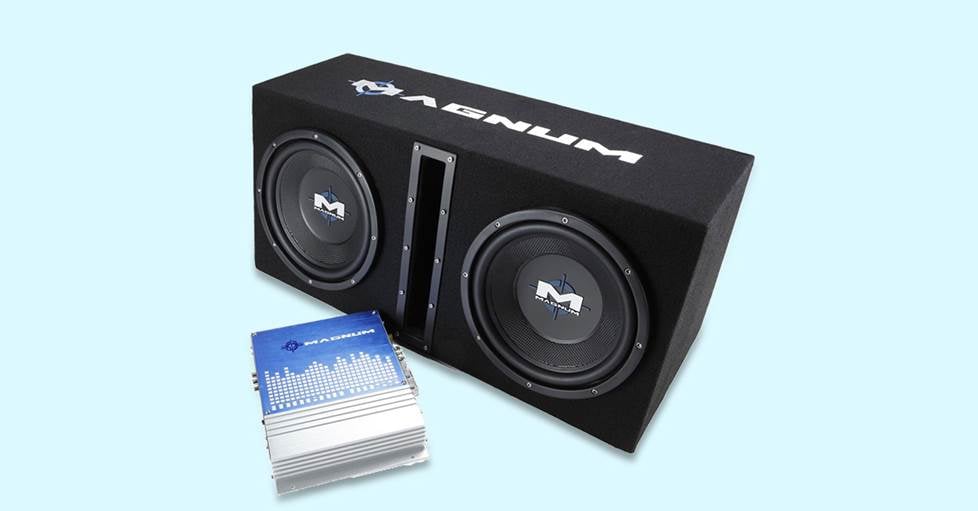 MTX Magnum Audio 250-watt bass package
Loud bass for around $500
If you have a little money and want the biggest bang for your bucks, this sub-amp combo will probably fit the bill. The 12" sub, ported enclosure, and 500-watt amplifier have been matched together for maximum performance.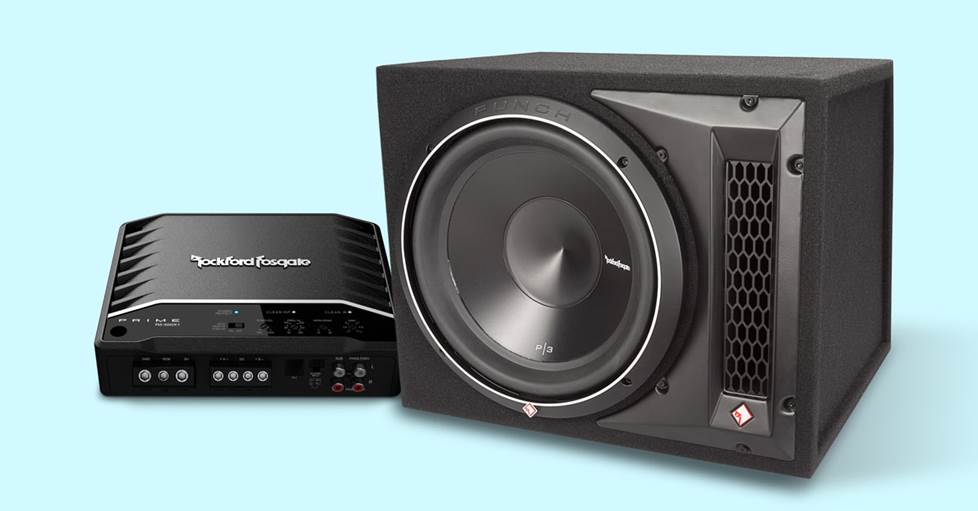 Rockford Fosgate Prime R2-500X1 amplifier
Rockford Fosgate P3-1X12 ported box and 12" subwoofer
Loud bass for a high budget
When money's no object and you crave loud bass, go with the best. And what's better than pairing an award-winning subwoofer — cited for power-handling and sound quality — with 1,000 watts of crystal-clear amplification? The amp also features onboard distortion detection, which alerts you when the volume's gotten out of hand.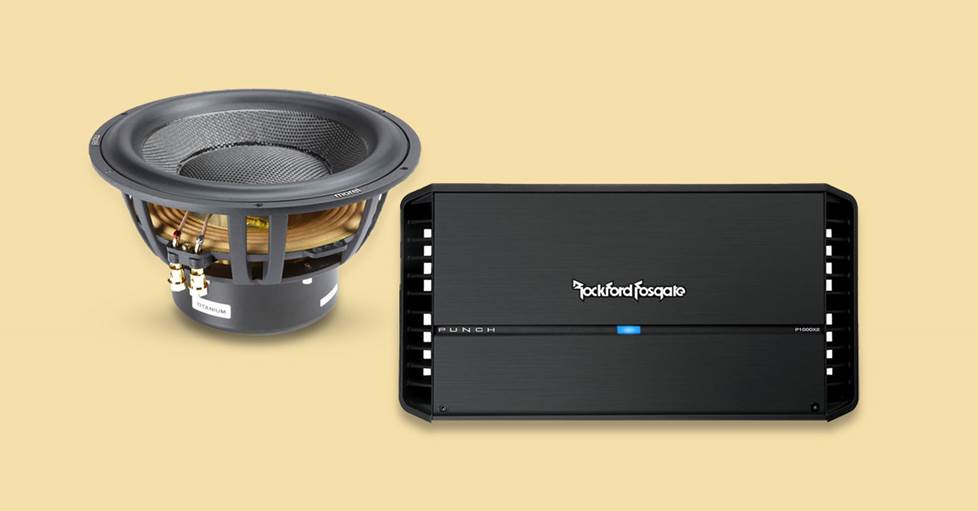 Morel Ultimo Titanium 104 10" subwoofer
Rockford Fosgate Punch P1000X2 amplifier — 1,000 watts RMS
---
Adding bass to make your music sound better
Some people don't want shake their car apart and impress (annoy) other drivers. Some people just want to turn their car into a great place for listening to music. Here are our top picks for filling your vehicle with good-sounding bass.
Bass fill for under $200
The simplest way to add bass fill to your system is with a compact powered subwoofer. Whether mounted under a car seat or in an out-of-the-way location in the cab of your truck, this little workhorse will surprise you with its impressive bass and its ability to mesh perfectly with the rest of your system.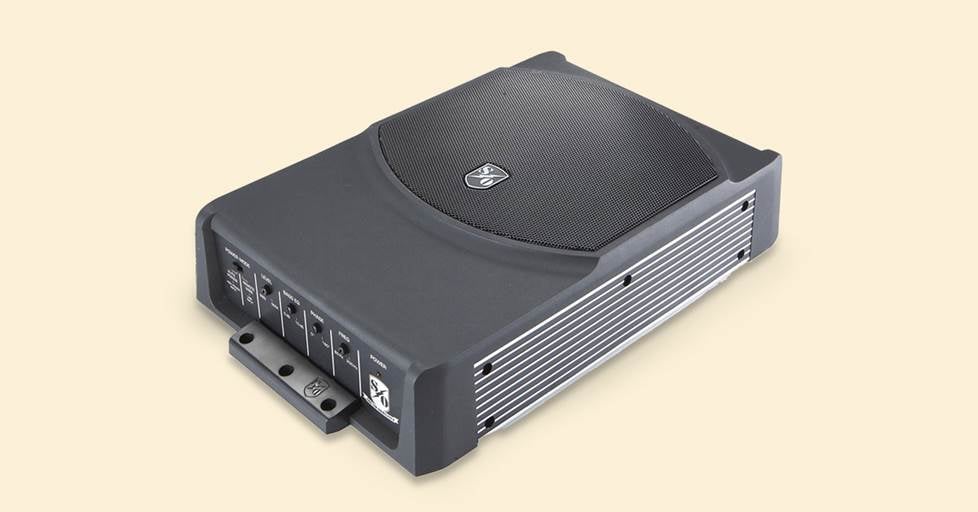 Sound Ordnance B-8PTD powered subwoofer
Bass fill for around $500
You don't need to rattle windows and set off car alarms, but you do want a subwoofer large enough to fill your truck, sedan, or SUV with bass you can feel. Here's a modestly-priced system that'll fit in a lot of different places in almost any kind of vehicle.
JL Audio MicroSub+™ 250-watt 8" powered subwoofer
Bass fill for a high budget
You want the bass in your car to sound like it does in your home theater, with lots of low-frequency impact that blends in well with your high-fidelity music. This package puts together top-of-the-line components that'll produce some of the cleanest and most accurate bass tones you'll ever hear.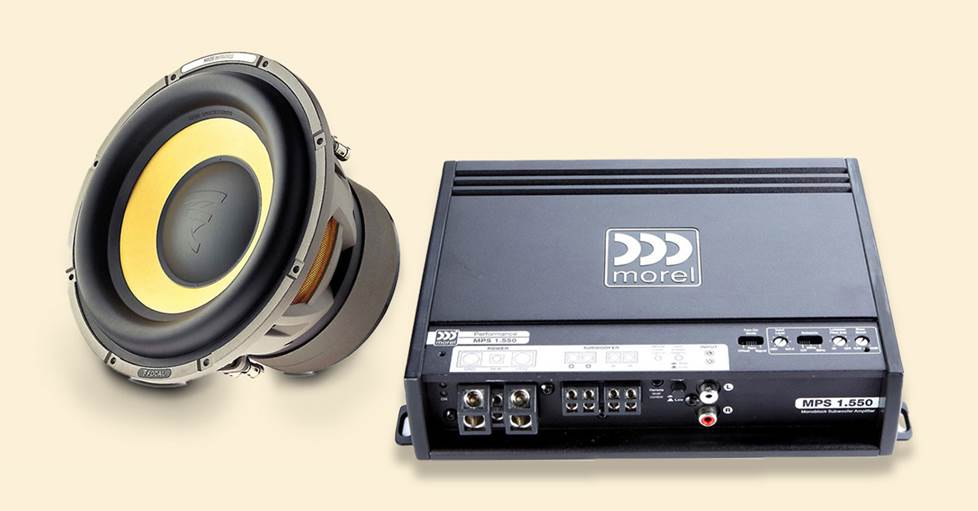 Focal K2 Power E 25 KX 10" subwoofer
Morel MPS 1.550 subwoofer amplifier — 550 watts RMS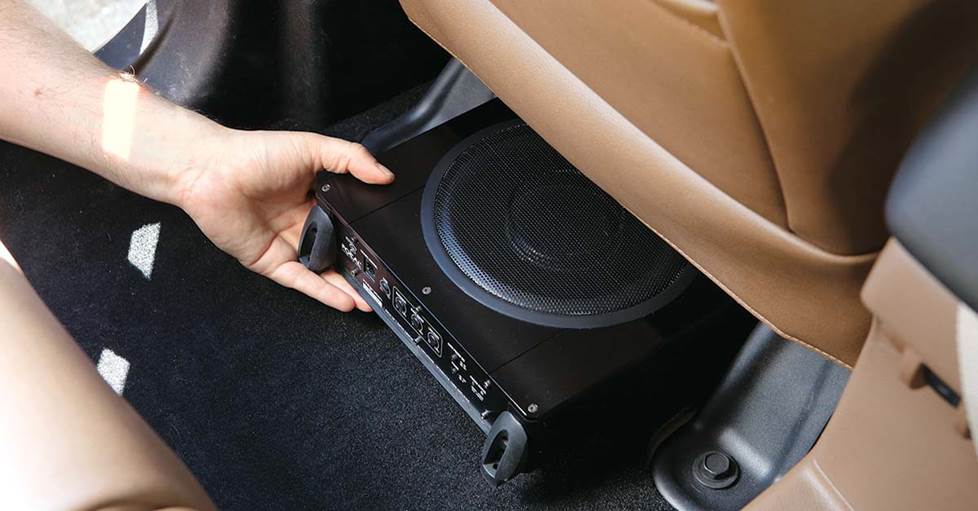 Wiring and some boxes not included
Don't forget that you'll always need to add a wiring kit, speaker wire, and often a subwoofer box to house the sub. This will add to the cost of the gear listed above, so plan accordingly. You can find appropriate recommendations listed in each subwoofer's and amplifier's accessories, or just talk to our advisors and they'll fix you up.
Get yours bass system today
If adding a subwoofer to your system sounds like something you want to do, head on over to Car Subwoofers and then Subwoofer Amplifiers to shop for your new gear. Or better yet, call us, so a knowledgeable Advisor will make sure you get the right bass for your music and vehicle.
Popular questions customers ask
If you have limited space, consider a compact powered sub, otherwise go with the biggest subwoofer that'll fit. A 12" subwoofer will usually play louder and deeper than a 10" sub. A single sub might be all it takes to reinforce your music, but if you're looking for volume, then two subs are louder than one.
The amount of power you'll want for your bass system will depend on how loud you want your bass to sound when blended in with the rest of your music. The systems we recommend for small cars come in three basic output power ranges:
100-250 watts RMS for bass fill with a factory or aftermarket stereo
500-750 watts RMS for powerful bass to go along with an amplified system
1,000 watts RMS or more for dedicated bass-lovers
Even little speaker cones can produce large bass sound waves, which are generally between 12 and 30 feet long. Such large sound waves will be unaffected by something as small as a car seat. They won't get reflected or absorbed and will be heard everywhere in your vehicle. The large size of bass waves also makes it almost impossible for our ears to locate their source precisely, so mounting positions for your compact powered subwoofer can vary with minimal adverse effects.
A ported (or vented) enclosure makes the bass sound louder, with more thump and boom, but with a slight loss of accuracy. A sealed enclosure will sound less reverberant (less boomy) but more accurate. A bandpass box is a combination of those two designs, producing a narrower range of powerful bass-frequency sound.
If you're handy with tools, you shouldn't have any problems. You'll need to run a power wire from your vehicle's battery to your powered sub's location, and then a ground wire from there to the chassis. You'll also need RCA cables to carry signal from your aftermarket stereo, or factory stereo interface device, to your new powered subwoofer. Don't worry — when you buy your gear from Crutchfield, our Tech Support people can help you if any issues come up.
Last updated 3/16/2022