Car audio for the first-time buyer
Tips to help you find the right stereo gear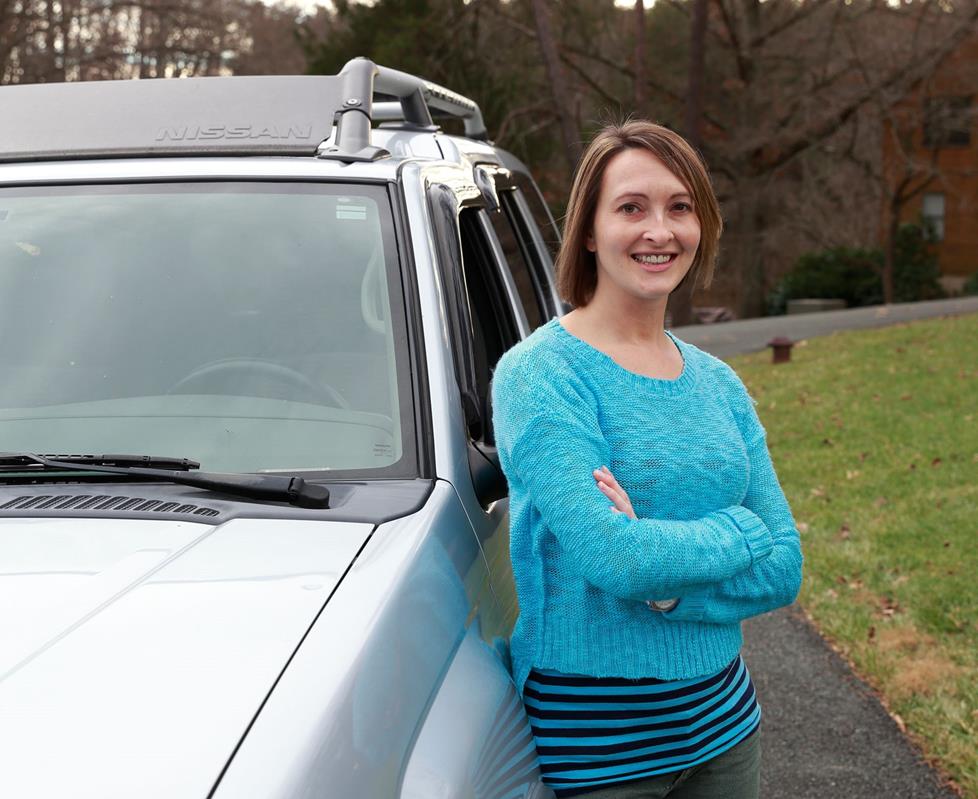 You spent lots on your home stereo system, but you actually spend more time listening to music in your car. Maybe it's time to invest in a good car audio system.
Listen to a familiar track on your home speakers, then repeat the experience in your car Lots of people go through life happy with their car stereo — they never give it a second thought. But you're not one of those people — not anymore.
All of a sudden, you have doubts about the stereo system in your vehicle. These doubts usually start when music that sounded great on your home system sounds totally flat in your car. Whatever the reason, your ears are trying to tell you something.
Signs of a weak stereo system
Turn up your car's stereo to a healthy level and listen.
Do you find yourself turning the treble control way up to make the music sound clear?
Do the bass notes sound hollow and exaggerated? Or weak?
When you drive, do you turn up the volume for a song you like, but then turn it down immediately because the sound is a little irritating?
If you're nodding your head in agreement, you're a prime candidate for a quality aftermarket sound system. But, if you're new to car audio, the road to better sound can be a long and winding one. Here are a few things to keep in mind along the way.
Replacing your factory system
Your vehicle's factory system consists of a stereo and some speakers. In the vast majority of cases, if you replace these, your music will sound better. Sounds pretty simple. So what's involved?
In most vehicles, it's a relatively easy job to remove the factory stereo from your dash and replace it with an aftermarket stereo (aka "receiver" or "head unit"). In many cars, the stereo pops right out with the aid of simple tools; in other cars, you might have to remove a section of the dash.
When you purchase your new gear from Crutchfield, we include our one-of-a-kind MasterSheet™ instructions. These illustrated, step-by-step installation guides will show you everything you need to do to replace your stereo and speakers. And as a Crutchfield customer, you'll also get access to our tech support team if you need help along the way. That help is available is available toll-free by phone seven days a week, for the life of the gear.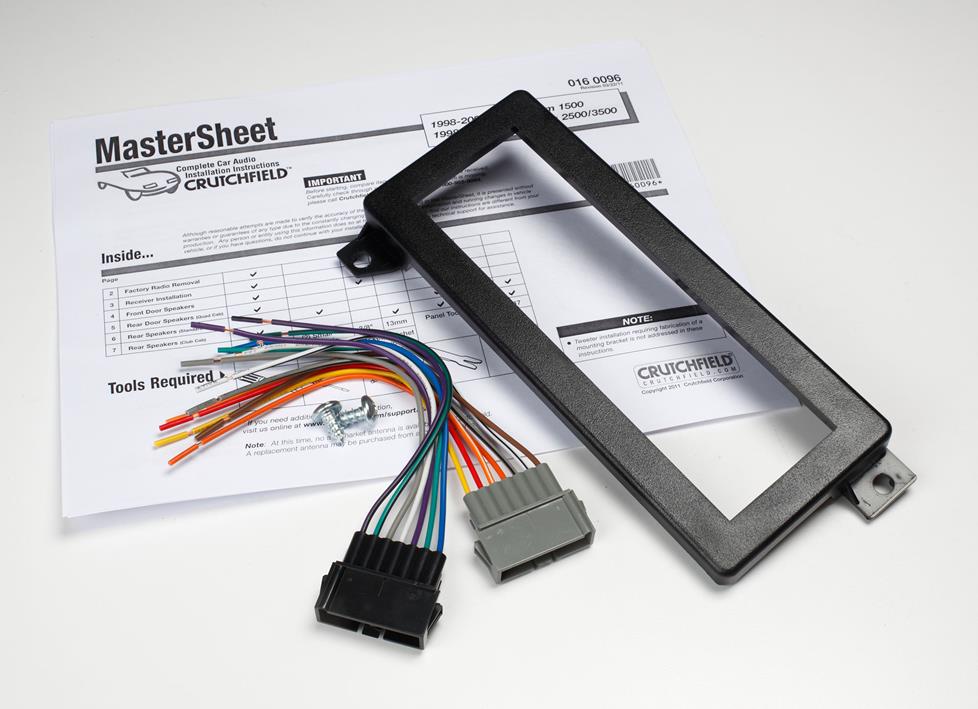 A mounting kit and wiring harness like these simplify the installation of your new stereo, and make it easy to replace the factory stereo when you sell your car. If they're available for your car, you'll get them at a deep discount when you buy any car stereo from us.
To get started, use our vehicle selector tool to find out which stereos fit your car.
Will I ruin my car?
No, you won't hurt your vehicle if you install a new stereo. But it's important to install new gear properly. Your Crutchfield MasterSheet will help, and so will the vehicle-specific harnesses that allows you to connect the new stereo to your factory wiring. Since you don't have to cut any wires, it's easy to re-install the original stereo when you get rid of the car.
If the prospect of dismantling the car is a little intimidating, get a knowledgeable friend to help you through the installation. You might be surprised how easy it is to do it yourself.
So what do you get for your trouble?
The average aftermarket stereo will have the following advantages over a factory stereo:
more power — for cleaner sound and better bass response, which you'll notice even at lower volume levels;
better AM/FM reception — more stations, less drift, better FM stereo;
more effective tone controls — a factory stereo offers basic bass and treble adjustments, but a more sophisticated aftermarket receiver has control options that allow you to get the sound exactly the way you like it;
more entertainment options — most new stereos let you play music from your phone or control a satellite radio tuner, and they also offer auxiliary and USB inputs.
Bluetooth® connectivity — another common benefit of of a new stereo is hands-free calling and being able to wirelessly stream music from your phone.
If you want to do more research, check out our CD receiver buying guide. And feel free to contact our advisors if you just want to ask some questions. They've available by phone or chat, and they're happy to help.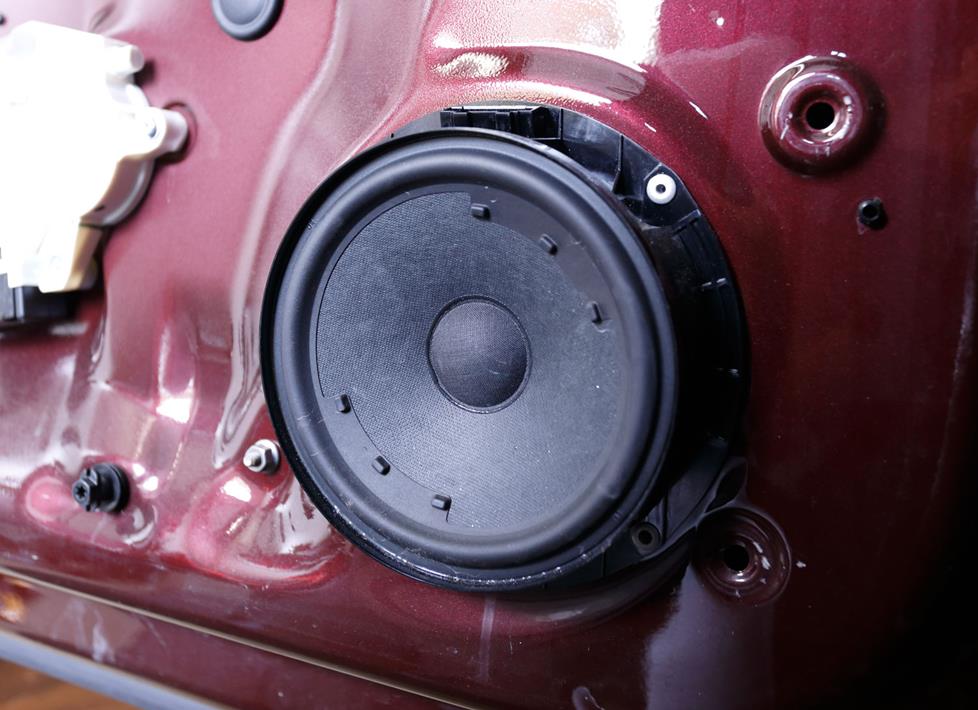 This factory speaker is limited by its construction. An inexpensive paper woofer and paper "tweeter" will not produce accurate, high-fidelity sound.
"Oh, my speakers sound just fine."
Your car's speakers are not a high-priority item for the auto manufacturer. In most vehicles, you'll find simple paper cone speakers that produce little more than minimum acceptable sound quality. Even the separate speakers (woofers and tweeters) that you'll find in many so-called "premium" factory sound systems are typically of low quality.
For many people, "minimum acceptable sound quality" is good enough. But you must be wondering if there's something better out there or you wouldn't be reading this article.
Listen to a familiar track from a favorite CD on your home stereo speakers, and then repeat the experience in your car. Factory speakers will often sound dull and a little fuzzy in comparison.
Individual bass notes turn to mush, while the high-frequency sounds that add sizzle to your music (cymbals, tambourines, etc.) are buried. In short, your music loses detail and impact.
New speakers will sound better
By comparison, aftermarket speakers will offer:
brighter sound and more overall clarity, thanks to higher-quality tweeters
more accurate bass from woofer cones made from superior materials
better construction for longer speaker life and overall performance
How to choose the right speakers
The key to buying speakers is choosing the right set of speakers for the job. If you plan on using your car stereo to power the speakers, you'll want to choose speakers with a high efficiency rating (also known as "sensitivity" or "SPL" rating) because they won't require a ton of power. Look for a sensitivity rating of 90 dB or higher. Speakers can sound just as distorted if they're underpowered as they can when overpowered.
If you're using an amplifier, choose high-quality speakers that are designed to handle high power. If you're installing separate component speakers (woofer and tweeter sets), you'll get top performance by powering them with a separate amplifier.
You might have to do a little work (remove your door panels, or unscrew a section of your dash, or crawl into your trunk), but it's not all that difficult to remove the factory speakers from most vehicles. Speaker wiring harnesses are available for most vehicles, so you can hook up your new speakers without cutting off the factory speaker plugs. That means you can pop the factory speakers back in at a later date — good news if you lease your car.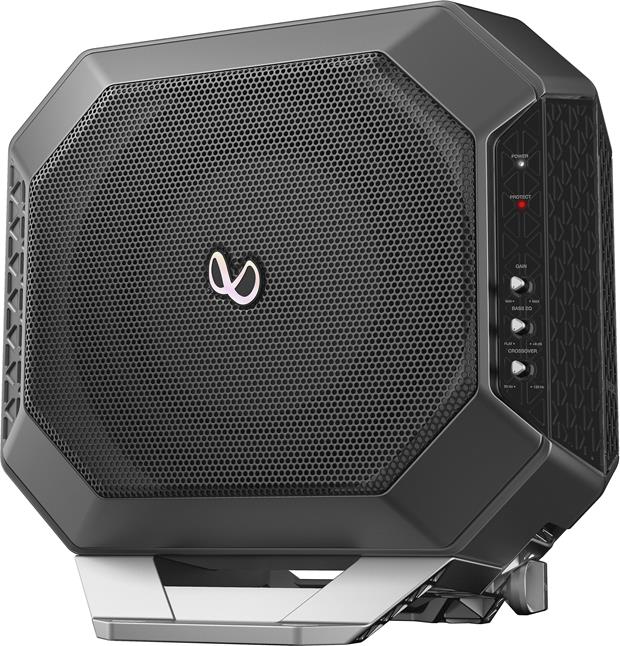 A small powered sub like Infinity's Basslink can make a world of difference in the sound of any car's audio system.
Where do I start?
First, narrow down your choices by asking yourself some questions:
What's your budget?
There's no law that says you have to replace all this stereo equipment at one time. Many people test the waters by replacing their front speakers first — you can buy a good set of front speakers for as little as $30-$50, depending on the size.

It's fun to build your system step-by-step, since you get to hear the sonic improvement made by each new piece of equipment. If you want to do it all at once, plan on spending roughly 60% of your hard-earned cash on the stereo, 40% for front and rear speakers.
Do you love your factory stereo?
If your car's factory stereo looks and operates just fine, you can replace your speakers with efficient aftermarket speakers first. You'll notice a big improvement in the sound quality, and odds are you won't have to turn up the radio as loud to hear the music.

In many newer vehicles, you can't remove the factory stereo because it also houses climate controls and other essentials. No worries. Replacing the speakers will still make an improvement and if you want even more, you'll find plenty of factory stereo solutions that can improve the sound and functionality of your system.
Do you hate your factory stereo?
If so, make a list of all the little things that irritate you. You'll be surprised how handy that list will be when you start shopping for a new stereo. If it's tough to make adjustments on your factory stereo, look for an aftermarket stereo with a simple layout (a volume knob is a beautiful thing).

If you can't get the sound quite right, look for a stereo that offers more extensive tone control — a built-in equalizer, or preset EQ curves. If you can't see the factory display, buy a stereo with a bright, multi-color display for maximum visibility.
Just need more bass?
Some premium factory systems sound okay in general, but don't offer much in the way of bass. That's not hard to fix. You can add a subwoofer to any factory system.

A basic subwoofer system consists of an amplifier, a subwoofer (a low-frequency speaker generally between 6-1/2" and 15" in diameter), and some type of enclosure. You can buy the components separately or purchase an all-in-one unit (called a "powered sub"). Powered subs are a great solution if you have a small car or a bigger car with a limited amount of cargo space.
Want more volume?
Like to crank it up? Buy a separate amplifier to power your new speakers — you won't regret it.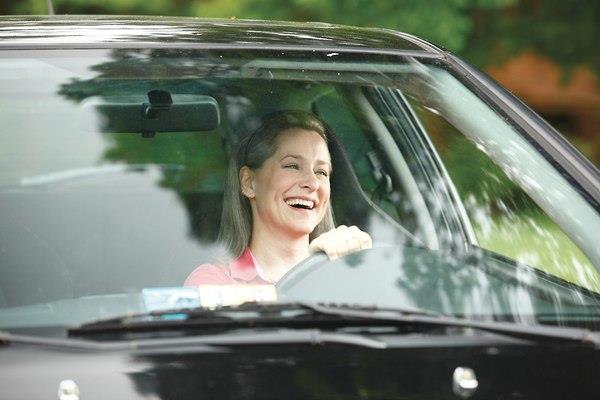 Next step — go shopping
Be a smart shopper, and ask plenty of questions. If you know someone with a nice car stereo system, ask for his or her advice.
Check out the different brands to see which look appeals to you. You might think you're saving money on an unknown brand name, but inferior construction and mediocre sound may cause you to regret that decision. Always buy a reputable brand from a reliable retailer who offers a trial period and/or a satisfaction guarantee.
Yes, the number of choices can be mind-bending — but there are plenty of people out there who are ready to help you find the car stereo of your dreams. In fact, we have a dedicated team of advisors who do exactly that. If you have questions, call us at 888-955-6000.
There are few things in life as fun as rockin' out to a great-sounding stereo system that you designed for your car. Have fun.