What do you get at each step of building a car audio system?
Jeff, Crutchfield's Senior Car Merch­andiser, devised a plan: to test the sound of an after­market system one component at a time in order to prove how much better it sounds than factory. He wanted to test each configuration for sound quality and loudness, then evaluate the soundstage. We started with the factory system of Jeff's '04 Ford F-150, then upgraded to an Alpine receiver and a set of Polk speakers. We ran tests after installing each component to note improvements in the sound. Now it's time to add power and bass to the mix.
Catch up with Part 1 of our test series and read more about our testing methodology.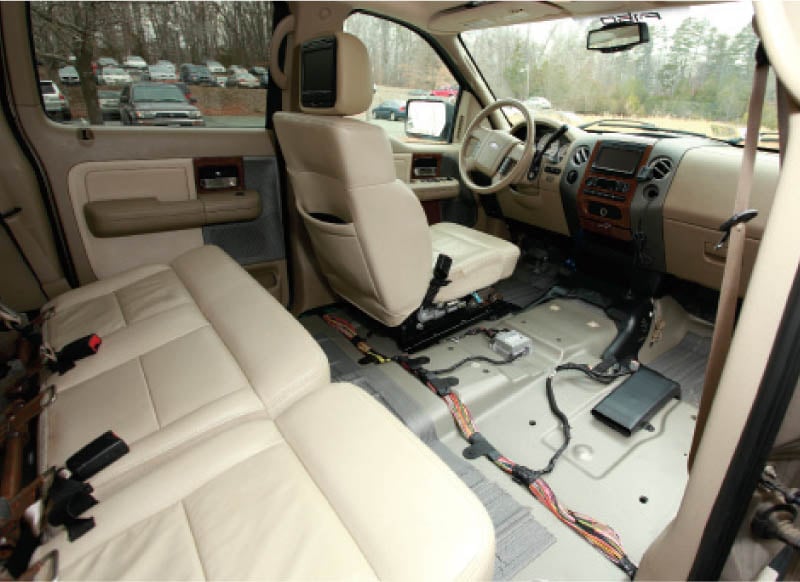 Jeff took out the carpet to run wires for this part of the installation - note how clean and carefully he does this. The extra effort here will pay off in the end.
Round 2: Testing amps and subs
We've found that when people hear a system with amps and subs for the first time, they experience an awakening as they realize how good sound in the car can be. Here's what we'll test this time around using the same methodology:
An add-on Alpine "Power Pack" amp that hooks into the receiver's harness — easy-to-install power
A subwoofer and dedicated amplifier
A more powerful separate amp
EQ and time alignment — we'll show you how much they can help
But first: a speaker change
You may recall that Jeff chose Polk DXi speakers for the first round of testing. At the time, he wanted them for their efficiency — they can play louder in low-power systems. Plus, they're a good example of how much better your sound can be with a modest investment.
Going forward, Jeff needed a set of speakers that can handle a little more power, plus offer more sonic flexibility. The JL Audio speakers fit the bill, and they also include an outboard cross­over network that'll help him dial in the right mix of mids and highs.
Now on to the test!
Easy power: the Alpine Power Pack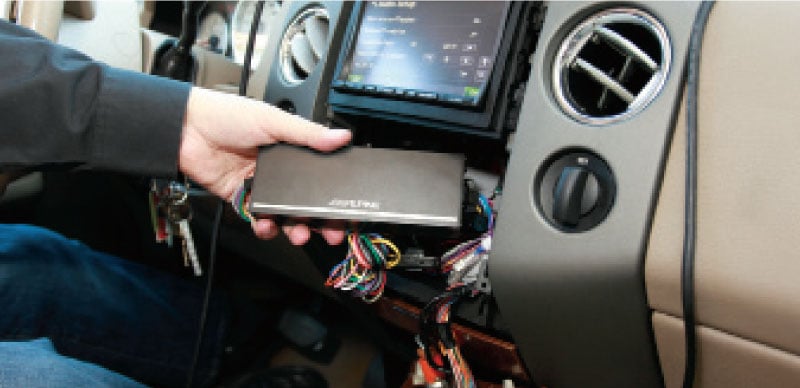 Alpine's KTP-445A Power Pack plugs into the receiver's wiring harness, and tucks neatly behind Jeff's dash.
Jeff's improved the sound quite a lot so far, but he needs more power in order to improve the soundstage. The Alpine KTP-445A Power Pack boosts Jeff's power from 18 to 45 watts RMS per channel, and clips right into his Alpine receiver's wiring harness.
Now that the Power Pack is in place, let's take a look at the sound curve:
Now lets check out the soundstage:

The soundstage is spreading out a bit, but remains a little too far back in the cab for Jeff's taste. He's going to need more power...and some bass. Still, it's miles better than the stock system
Power pack results:
Finally...time to add bass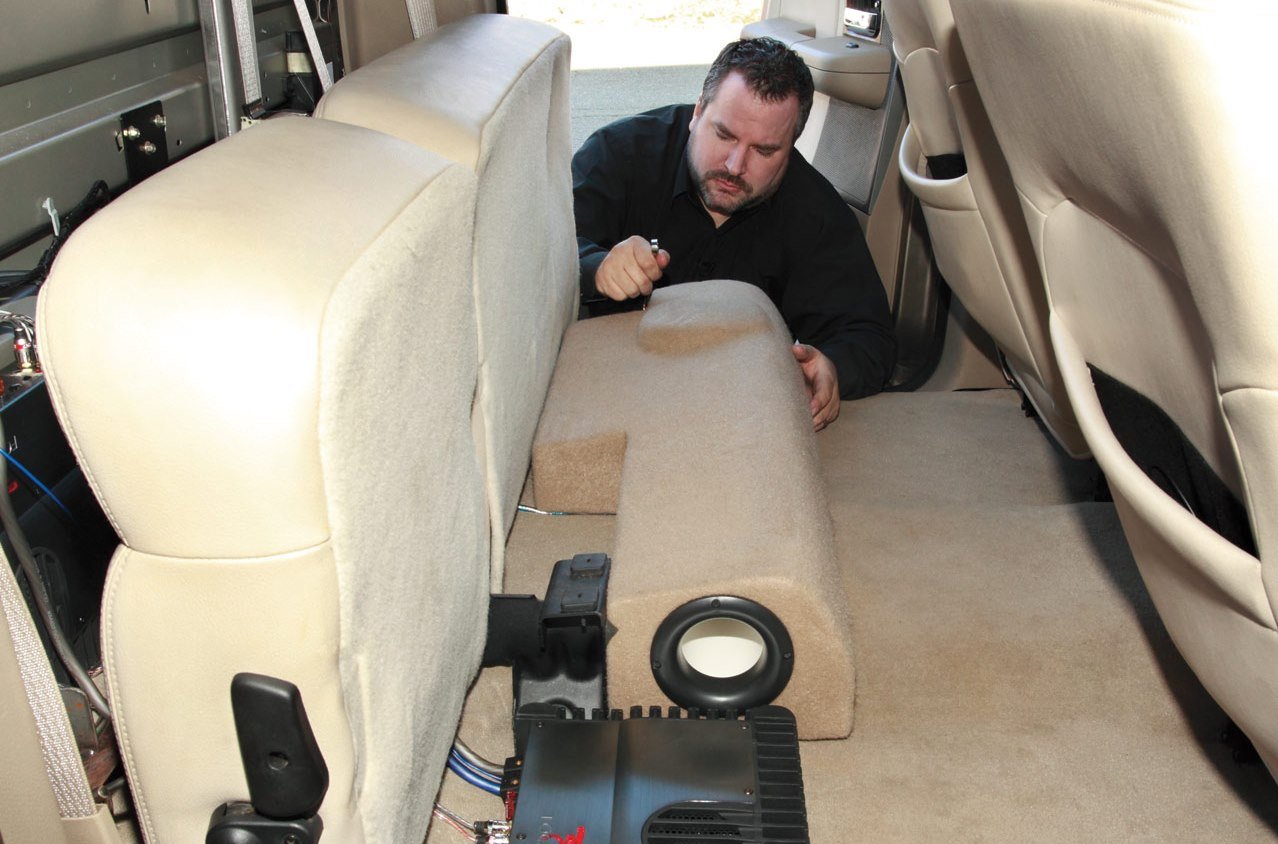 Now you know why JL Audio calls it the "Stealthbox®" — Jeff added a hard-hitting 10" sub without losing any legroom.
The wait is over: Jeff finally gets to add bass to his system. Space is at a premium in a truck, so he chose a JL Audio Stealthbox® - it gives him a powerful 10" sub that fits under the back seat and even matches his interior color. Paired with a Focal mono amplifier, he gets the bass he wants without sacrificing storage space in his F-150. JL Audio makes Stealthboxes for a wide range of vehicles.
Here's the sound curve after adding a sub and bass amp to the mix:
Jeff's evaluation of the soundstage:
Subwoofer results:
Switching to a more powerful amp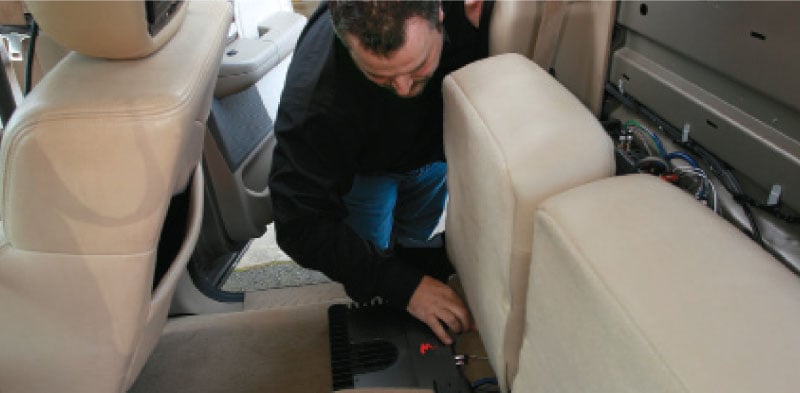 Jeff inspects one of the two Focal amps he used to power his system.
With the Stealthbox® kicking out the low notes, Jeff unified his sound with a more powerful Focal 4-channel amp. By supplying the speakers adequate power, Jeff's system won't have to strain to help the speakers keep up with the sub. The result should be a superior soundstage, one that gives him plenty of headroom for fine-tuning.
Take a look at the sound curve:
And the resulting soundstage:

Now we're talking. Adding the 4-channel amp has tied it all together, helping to raise the soundstage even higher while pushing it out toward the hood where we want it.
More powerful amp results:
---
Tweak your sound from the dash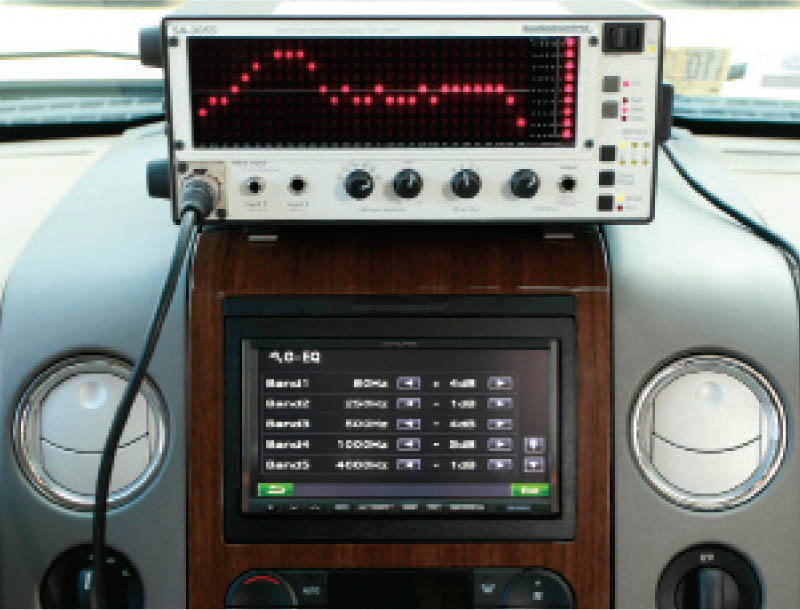 Jeff's Alpine receiver features a 7-band parametric equalizer and time alignment, two tools which ended up making a huge difference in the soundstage.
Early on in our testing, Jeff used the RTA to identify weak spots in his sound, then used his receiver's 7-band parametric EQ to attack them. He also adjusted the timing of the left and right speakers and sub to center the soundstage and bring the bass forward (see how this works below). The final piece of the puzzle was to tweak the sound of the door speakers by moving sets of jumper pins in the crossovers, which adjusted the output of the tweeters and mids.
Check out what Jeff was able to do just by manipulating these built-in features:
What did we learn during this round of testing?
Power and bass make a system sing. Adding a sub makes all your music sound better by belting out the low frequencies your speakers can't play, so your music sounds fuller. You'll feel the kick of a bass drum hit and the impact of a bass note. The best part is that all your music benefits from a sub — not just the loud stuff.
Then you power the speakers with an amp and it all snaps into focus. Wow, what a difference proper power makes, especially in the soundstage. With the amp in place, musical details emerge, and it feels like you're in the front row at a concert, with the band standing in front of you — and you really get to hear the music for the first time.
What's up next?
Time to fine-tune. We're going to add a processor to become the "brains" of the system, plus tweak as many other things as we can. Jeff's system is pretty good right now, but he knows it can be even better.
Learn more
Check out Part 1, where we added a receiver and new speakers.
In Part 3, we add processors and some other upgrades.