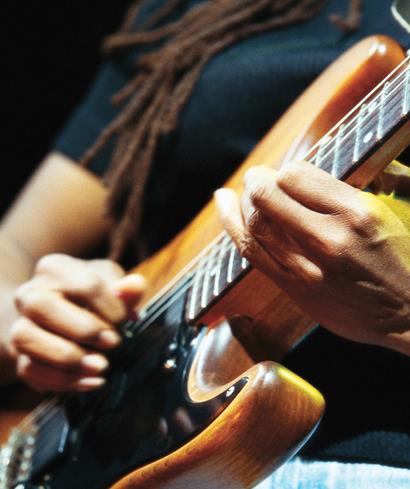 To listen to high-resolution audio you'll need at least two basic things: a high-res music source and a high-res player. For most people, the source will be high-res music files stored on a computer, hard drive, thumb drive, etc., but there are also high-res disc formats like SACD, DVD-Audio, and more recently, Blu-ray.
The player can either be a piece of gear or software on your computer. You don't need special high-res-capable speakers or amplifiers or headphones, although the better those items are, the easier it will be to hear the high-res difference.
If you've looked at online high-resolution music stores, like HDtracks, you've probably noticed that there are several different flavors of high-res audio. Components that can play high-res audio — stand-alone DACs (digital-to-analog converters), or products with built-in DACs, like receivers or integrated amps — aren't always able to play every format out there. The same caveat applies to music player software. Make sure the hardware and software you buy can play the types of files you intend to buy.
High-res music files have the potential to sound better than CDs because high-res files can contain more musical information than CD tracks. With digital audio formats you'll often see two numbers which relate to sound quality: the "word length" which is listed in bits, and the "sampling rate," which is in kilohertz. The CD format is 16-bit/44.1kHz, while high-res formats have longer word lengths and higher sampling rates.
The most common resolution for high-resolution music has a word length of 24 bits and a sampling rate of 96kHz.
Another common resolution keeps the word length at 24 bits while doubling the sampling rate to 192kHz.
DSD (Direct Stream Digital) is a digital audio format that stores information differently than the above two formats. It's a "1-bit" system — the music signal is processed as a stream of single bits rather than multi-bit chunks.
If you aren't exactly sure what terms like "bits" and "sampling rate" mean, or if you're not exactly sure what high-resolution audio is, check out our intro to high-resolution audio article.
The compact DacMagic 100 has a Type B USB input that feeds digital audio from your computer into the DacMagic 100's on-board DAC, bypassing your computer's sound chip to yield much clearer sound.
"I can just use my computer to play high-res audio files, right?"
You can if you have the right music player software. But you probably won't hear all of the sonic improvements. Computers typically have low-quality DACs and low-cost, low-performance circuitry to power their headphone jacks.
One of the simplest ways to really hear what high-res audio is all about is to connect your computer to an outboard DAC via USB. The USB port on your computer is known as "type A," while the connection on most DACs is "type B," so to connect the two, you'll need a type-A-to-type-B cable.
Many DACs include a headphone amplifier for listening through headphones. But in most cases, if you want to hear the DAC's sonic improvements through your speakers, you need to connect the DAC to powered speakers or to an amplifier or receiver.
See our selection of DACs.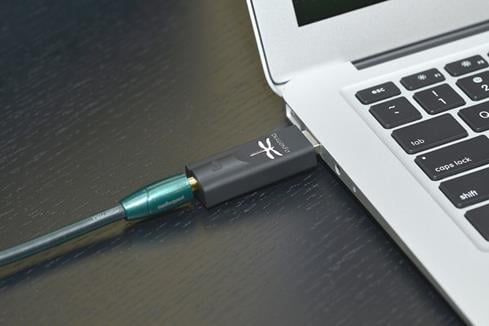 The tiny AudioQuest DragonFly DAC/headphone amp makes an easy plug-and-play upgrade for your laptop listening.
"How can I get better sound from my laptop?"
Your laptop's mediocre sound chip is the problem. A separate DAC can translate digital files to music more accurately. These versatile units not only play high-res audio files, they also make MP3s and streamed music services like Spotify® sound better.
For ultimate listening flexibility, there are ultra-compact DACs like the AudioQuest DragonFly DAC-on-a-USB-stick, which combines a high-quality DAC and headphone amp, yet plugs into a standard USB port. Put a high-performance DAC like the DragonFly together with a pair of quality headphones and your music will sound amazing anytime and anywhere. This is a fantastic option for travel.
Ultra-compact DACs aren't just for headphones, though. You could also use one to connect your laptop to a pair of powered speakers or to an amp.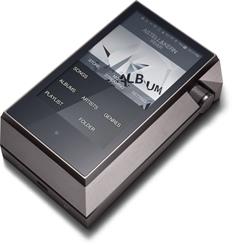 The Astell & Kern AK240 high-res audio player features an easy-to-navigate color touchscreen display.
"Is there such a thing as a high-res portable player?"
Yes, we carry several portable models, all of which can provide better-than-CD sound quality when playing back high-res files. They let you store your music files on built-in memory or removable memory cards. They can play most digital file formats, but check to be sure your favorite formats are covered.
If you think your headphones sound good out of your iPhone®, you'll be amazed by the sonic detail and dynamics of these players. And they're really easy to use. To load music onto the player just connect it to your computer with the included USB cable. Then you can copy your selections to the player while its built-in battery charges. These players include some built-in memory for storing music, and microSD card slots make it easy to expand the player's memory to put more music at your fingertips.
See our complete selection of portable high-res audio players.

Bowers & Wilkins P7 headphones: a customer favorite.
"What kind of headphones work best for high-resolution audio?"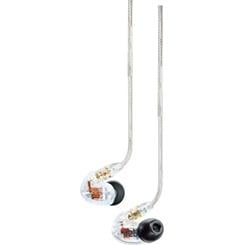 Shure's SE425 earphones sound amazingly open and natural.
The short answer is, "The best ones you can afford." High-res audio can reveal subtle nuances and low-level details in music, but you'll need high-precision 'phones to hear them. For listening at home we recommend full-sized, around-the-ear headphones. If you prefer portable headphones, try a pair of high-quality in-ear models.

Sony's HAP-Z1ES high-resolution digital music player. Its built-in 1-terabyte hard drive allows you to store and play all your digital tunes. The front-panel LCD shows album art and song info.
"Can I listen to high-res music without booting up my computer?"
Yes, with the help of a "digital audio server." It stores and plays all your digital music files once you transfer them from your computer. Simply connect it to your receiver and control it like any other audio component.
Sony's HAP-Z1ES is a great example of this new type of component. It's very easy to set up and use, especially compared to configuring a computer-based music server. It handles virtually all digital formats from MP3s all the way up to lossless FLAC and DSD files.
See our selection of digital audio servers.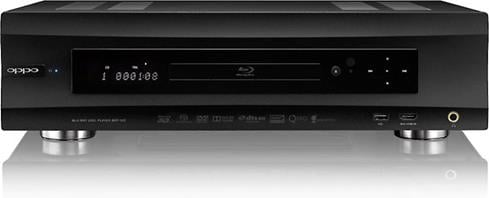 The Oppo BDP-105 Blu-ray player is also a great high-res audio player. It handles SACD and DVD-Audio discs, both stereo and multichannel, and plays virtually all high-res music files including FLAC and DSD.
"Can I add high-res audio to my home theater without replacing my receiver?"
Absolutely. If you have a high-performance receiver that lacks high-res capability because it's a few years old, hang onto it and upgrade your player, instead. The most versatile and best-sounding player we know of is Oppo's BDP-105. It's a Blu-ray player designed for audiophiles.
Its world-class built-in D/A converters deliver astonishing sound quality for both stereo and multichannel sources. For optimum sound, use the player's analog outputs connected to the preamp inputs on your receiver, or hooked directly to your amplifier(s). Oppo also includes a first-class built-in headphone amplifier.
"Are there any smartphones that do high-res audio?"
Although a few smartphones can play high-resolution music files, most, including Apple's iPhone® 6 and 6 Plus, cannot (at least not without a special app).
That covers some of the most common questions we've been getting about high-resolution audio. It's a bit of a moving target, though, as new hardware and software options continue to appear almost monthly. For answers to questions we didn't cover here, or for an expert recommendation, give our Advisors a call at 1-888-955-6000.