A sound processor cleans up and optimizes the audio signal coming from your factory stereo before it gets to your aftermarket amplifier. Which sound processor you should use will depend on your factory sound system and what kind of aftermarket gear you want to add. Below, we'll discuss:
Factory car stereos are getting more and more complicated. Often, they are tied into a navigation system, climate controls, or other electronic functions, which make swapping them out for aftermarket stereos difficult or even impossible. The problem is that the sound quality might not be up to your lofty standards.
Basic audio upgrades aren't always enough
Replacing the speakers and adding an amplifier and subwoofer are great ways to improve the sound. But factory stereos have built-in sound shaping and equalization designed to make cheap, mass-produced OEM speakers sound as good as they can without breaking. Bass output is also limited. These limitations prevent your aftermarket gear from giving you their best performance. Your aftermarket gear and your ears deserve better.
How can I overcome the factory processing?
A sound processor (sometimes referred to as a "digital signal processor" or "DSP") will strip away the sound-shaping limitations of the factory system and provide a clean signal for your aftermarket amplifiers, speakers, and subs. This way, your upgraded system will be able to play your music with the desired balance of sparkling high-frequency sounds, thundering bass, and coherent natural-sounding vocals that you like.
How to install a sound processor
There are two strategies for installing a sound processor:
Connect the processor's inputs to the analog and digital signal outputs of the factory radio and bypass the factory amp, or
Connect the processor's inputs to the high-powered analog outputs of the factory amp.

Typical factory system

Strategy 1: Connect to stereo with T-harness and bypass the factory amp's output

Stategy 2: Connect to factory amp output
In both cases, the digital sound processor feeds signal to an aftermarket amplifier, which in turn sends its outputs to the speakers through the factory speaker wiring harness (which should be unplugged from the factory amp). This way, you'll be able to keep the look and controls of your factory stereo while expanding the system with some serious sound improvements.
Vehicle-specific harnesses and other helpful tips
There are vehicle-specific T-harness and amp bypass harness options available that make sound processor installation a lot easier than having to know exactly which wires to disconnect and which to splice together. For more help, check out Adding an amp to a factory system.
Choosing the right sound processor for your car audio system
We carry a few different vehicle-specific and "universal" sound processors for the car. Each has different hook-up requirements and processing capabilities. Generally speaking, they range from being simple and straight-forward to set up and use, to being complicated and seriously tech-intensive. Here are some examples: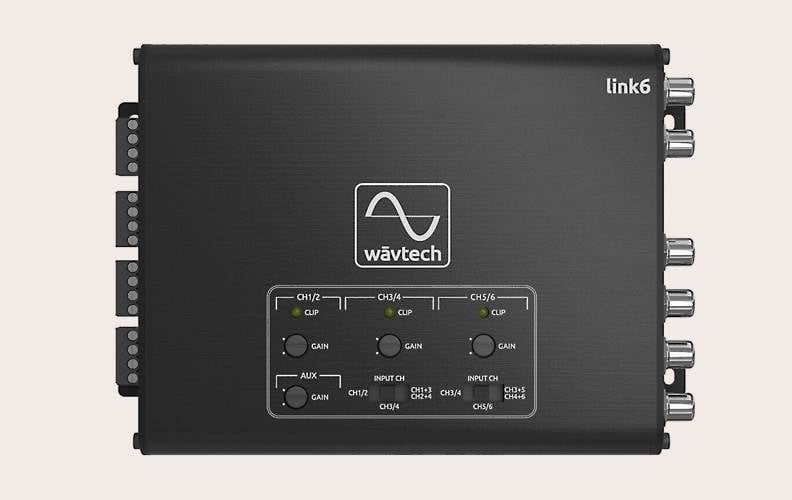 Wavtech link6 six-channel line output converter and summing processor
Your aftermarket amplifiers need clean line-level input signals, especially when getting them from a factory amplifier's speaker outputs. The Wavtech link6 high-level output converter's six channels can get routed and mixed into a number of different configurations, and will work great in a factory system with separately powered tweeters, midrange drivers, and woofers.
---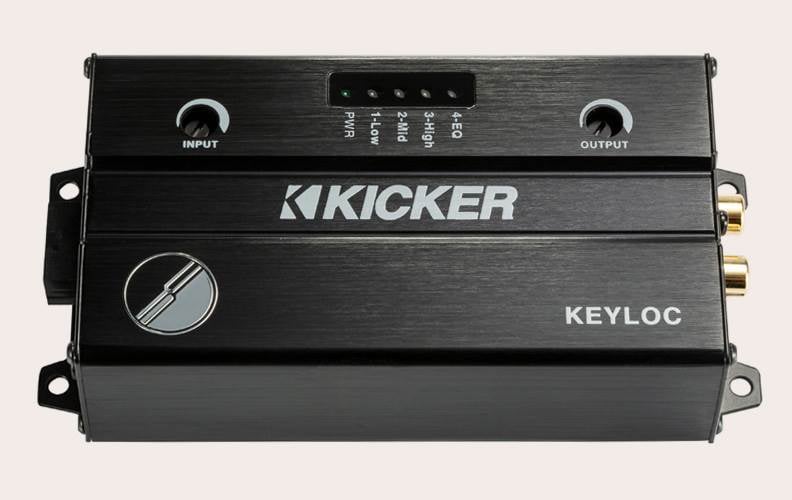 Kicker KEYLOC 2-channel line output converter with automatic tuning DSP
Kicker's KEYLOC Smart Line-Out Converter automatically detects the frequency range of the speaker wiring you want to use for your system's input, and then corrects the signal to produce a flat response for your aftermarket system to handle.
---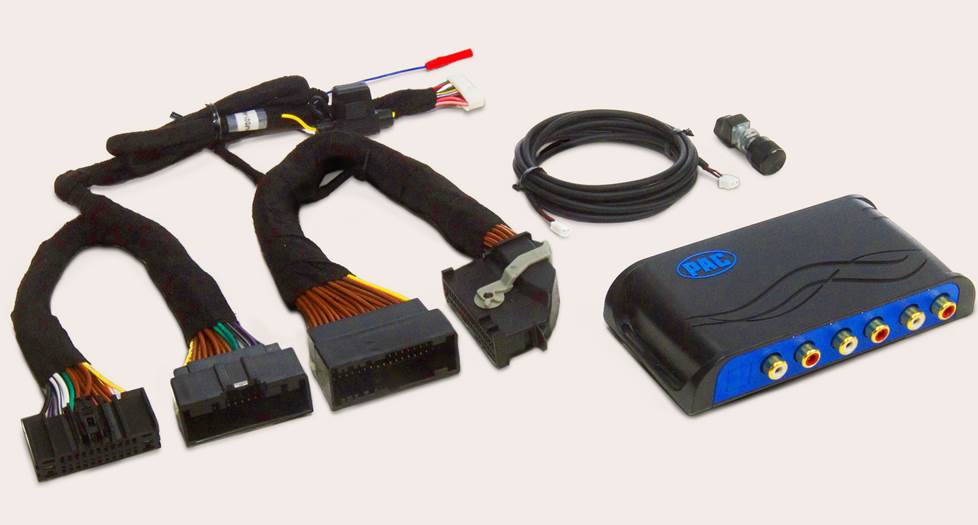 PAC AmpPRO AP4-FD21 T-harness and aftermarket amp interface module allow seamless addition of an amplifier in select 2012-up Ford vehicles
The PAC AmpPRO amplifier interface consists of a module and a vehicle-specific T-harness that plugs into the factory radio and vehicle harness, bypassing the factory amp — so you can install your own aftermarket amplifier without losing any of your vehicle's factory audio features like warning chimes, navigation prompts, and Bluetooth functions.
---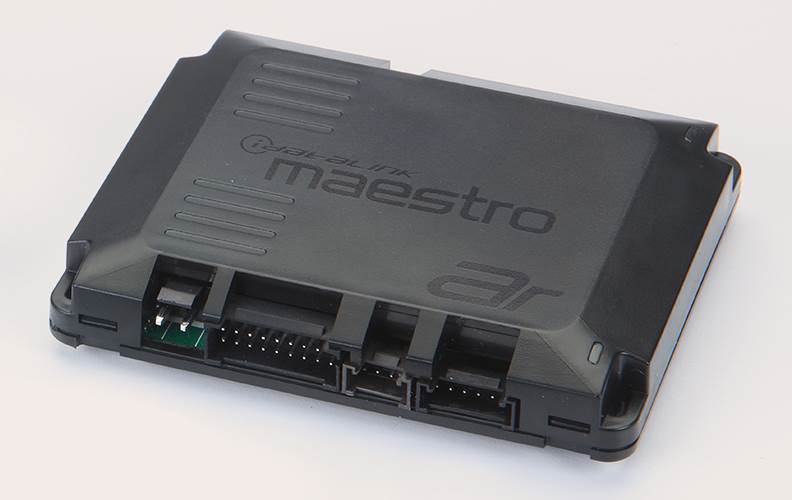 iDatalink Maestro amp replacement processor
iDatalink's Maestro AR amplifier replacement module, combined with a vehicle-specific T-harness (sold separately), will supply a clean audio signal for your aftermarket amplifiers. The T-harness plugs into your factory amp's input wiring, linking the radio digitally to the Maestro module and your amplifier. Your factory radio will continue to work just as it always did, only with better, more powerful sound.
---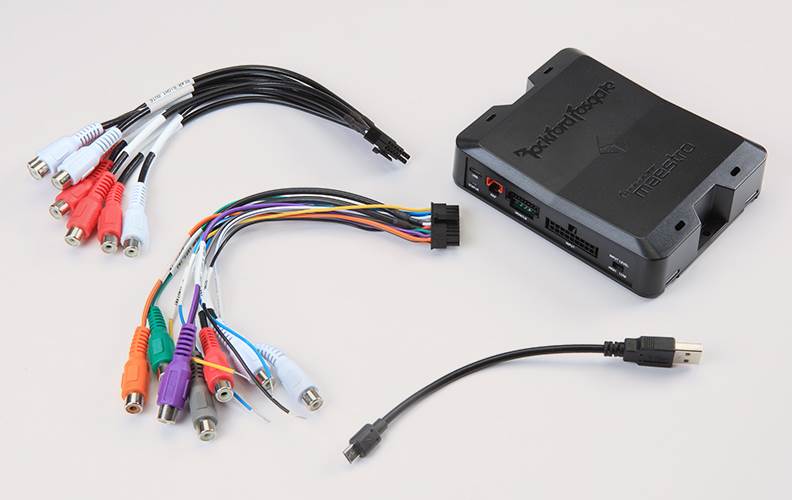 Rockford Fosgate DSR-1 digital signal processor
Rockford Fosgate's DSR-1 digital signal processor is a hardcore sound-shaping tool for the serious tweaker. The DSR1 includes an iDatalink Maestro amp replacement module inside, so you can use an iDatalink vehicle-specific T-harness to supply clean audio and digital control signals to the processor. Controlled via Bluetooth® connection to your iOS or Android device, Rockford Fosgate's PerfectTune app provides eight channels of 31-band equalization, variable crossover filtering, signal distribution and balancing, and much more.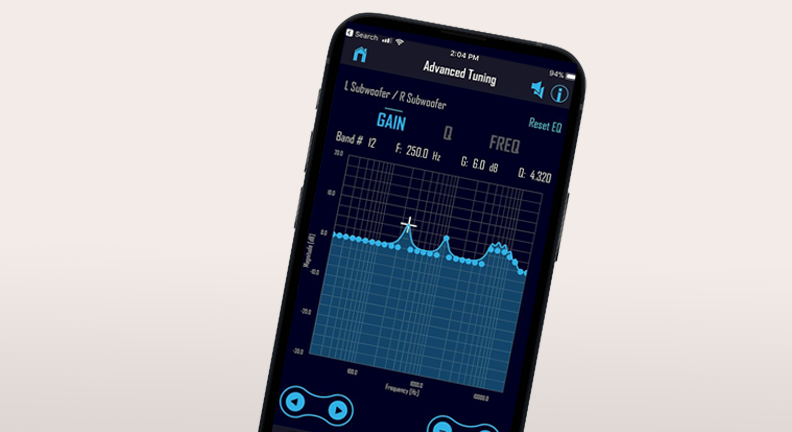 The DSR-1 lets you control every aspect of your sound system from your phone.
---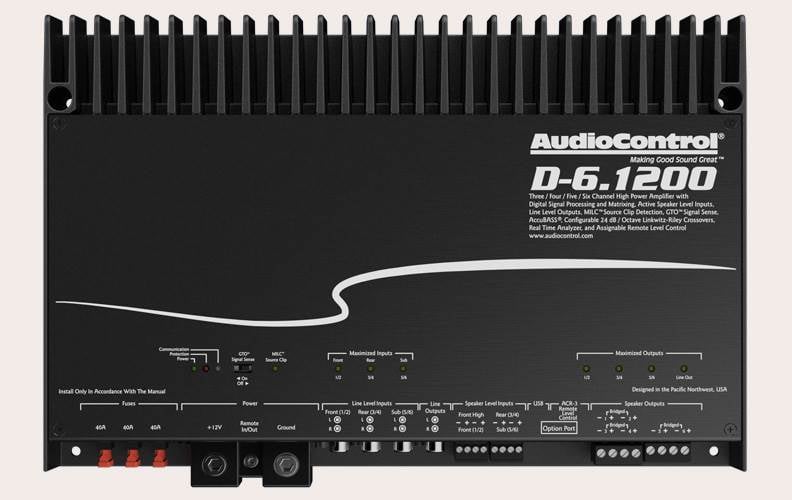 AudioControl D-6.1200 6-channel amp with digital signal processing
A six-output, 125 watts RMS per channel amplifier with a sound processor and DSP built in, AudioControl's D-6.1200 features eight speaker-level inputs that allow you to connect this amp to almost any factory system, and sum the different signals into one smooth, unified output for you to balance, align, and tune for your high-performance system. You make the digital signal processing adjustments and settings via your laptop (PC or Mac) and AudioControl's Smart-User DSP software.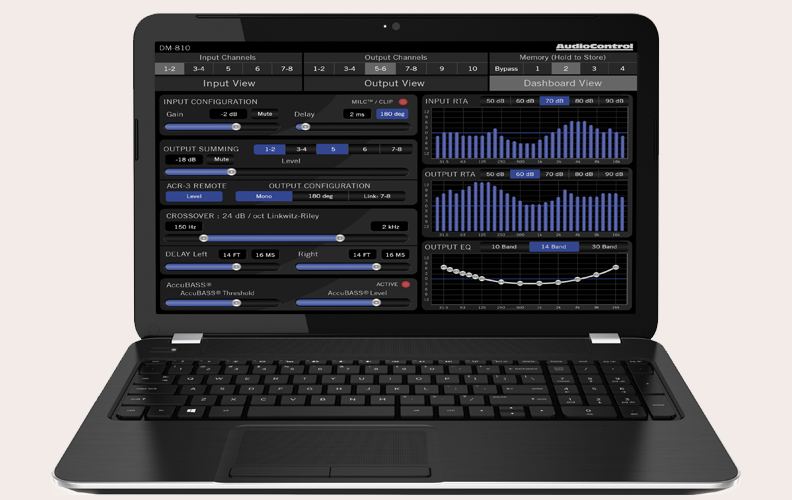 AudioControl Smart-User DSP tuning software on a laptop
---
Keep the look, love the sound
For some car owners, radio replacement is not an option, so when improving the sound quality by adding an amplifier, a sound processor becomes absolutely necessary. You won't have to put up with lousy sound anymore just because you want to preserve the factory features and look of your car's interior.
When you're ready for your upgrade, contact our advisors and let us help you find a sound processor and amplifier that's perfect for your car's audio system and your ears.