Charlotte, North Carolina is known as a banking town, and it would appear that local resident Andrew W. knows a few things about improving the return on investment for his toys. He came to Crutchfield with a wealth of ideas for tricking out his 2007 Toyota Tacoma PreRunner, and we were glad to help him with most of the A/V stuff, including a handy navigation receiver, and some sweet-sounding speakers. We also helped him find a pair of hard-hitting subwoofer enclosures to give Andrew some bass, which isn't always easy in a truck.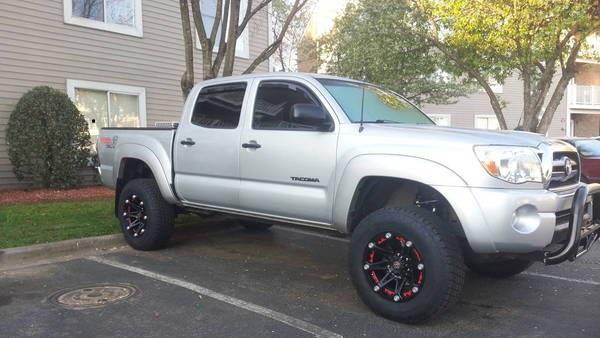 Andrew gave his truck some flair with a lot of other cool add-ons, including new wheels and floor mats. He decided to protect his investment by adding an alarm system with remote start, to keep potential thieves at bay and to help him get his truck's interior to the perfect temperature before his travels.
Items installed:
Some of the other modifications that Andrew made to his Tacoma are: an air horn with compressor, 3" lift, Bilstein shocks and struts, Light Racing upper control arms, Ballistic Jester 17" rims, Nitto Terra Grappler tires, headlights and foglights with relay, a bull bar, and window tinting all around.
A sound choice
"I drive a lot and couldn't stand my stock unit, and I like all the options I have on my new head unit," is what Andrew has to say about why he chose the Kenwood stereo. And that's tough to argue with. The Kenwood navigation receiver gives Andrew a lot of versatility for his audio sources, plus great sound. He tells us that the head unit went into his dash "fairly easily," and here's what it looks like now: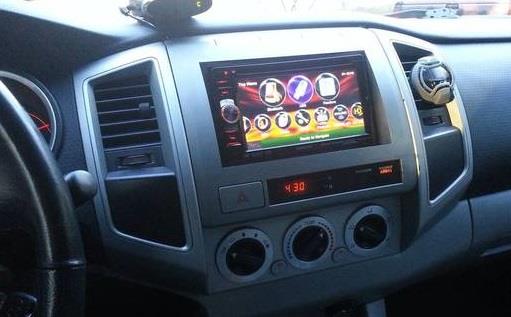 Speaking of sound
Up next comes the speakers: "For the speakers I used the brackets and harnesses from Crutchfield. I cut a hole next to the door handle in the back so that I could have separate tweeters in the back." We certainly wouldn't recommend cutting holes into doors unless you absolutely know what you're doing, but the results can be quite satisfying when done correctly: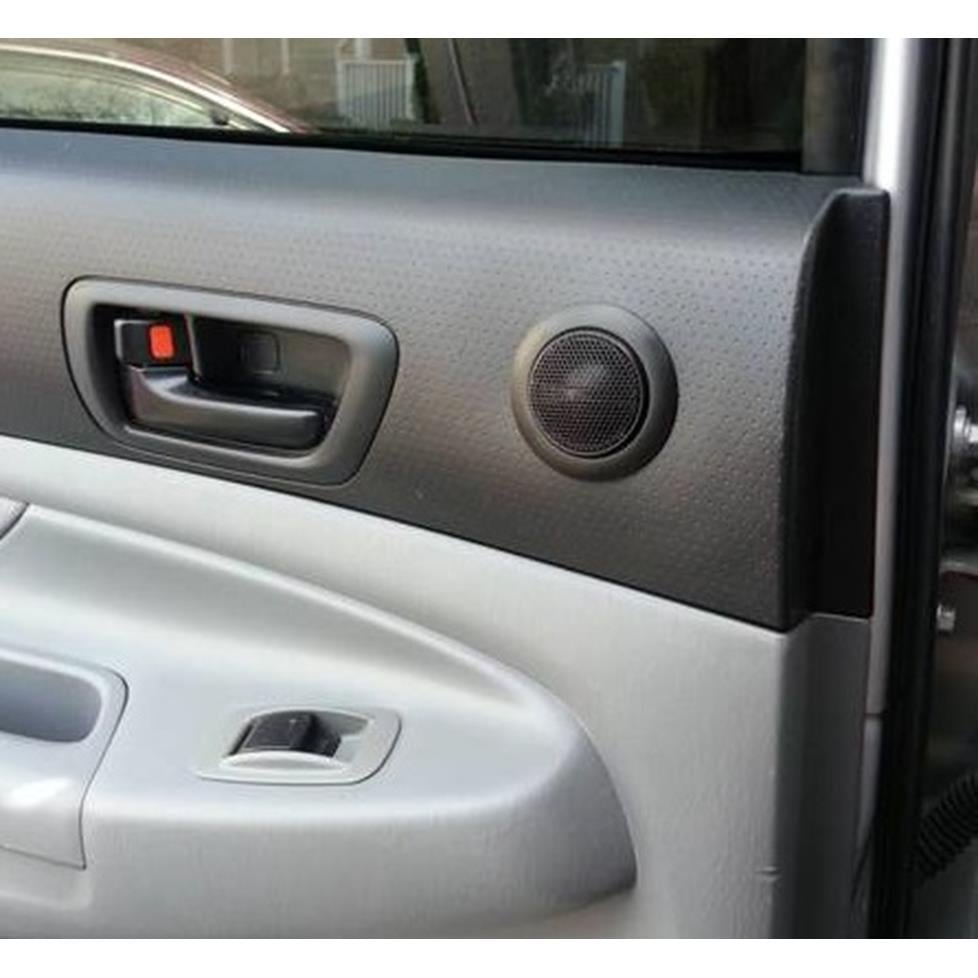 This is one of the first things Andrew likes to show people when they check out his system.

Andrew gets amped
Andrew tells us he also made an amplifer rack out of plywood, painted it black, and placed it behind the Tacoma's rear seats. He mounted the amp to the rack, and then added the Rockford Fosgate subwoofer enclosures — mounted with bolts "so they wouldn't rattle around or be easy to steal."
As you can see, there's not a whole lot of room behind the seat, but the enclosures DO fit. Andrew tells us he ran his wiring under the side steps inside the doors, and the power wire through the firewall.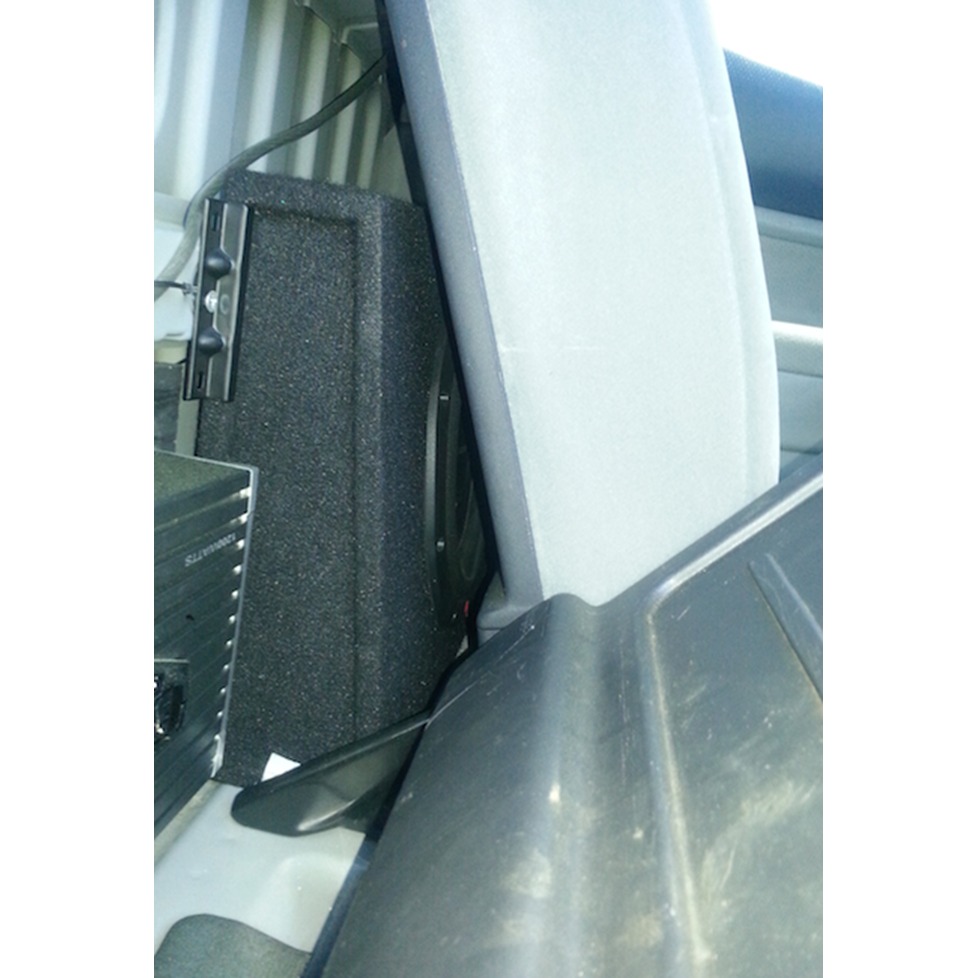 The truck-style sub enclosures fit snugly behind the seats.
---
Finishing strong
Finally, Andrew mounted the microphone along the Tacoma's upper storage compartment so he can carry on hands-free conversations through the Kenwood navigation receiver's Bluetooth® connection. He ran the rear-view camera wire along the length of the truck's frame to the flood plug behind the backseat.
Bluetooth microphone installation on the cab's ceiling near the upper storage compartment.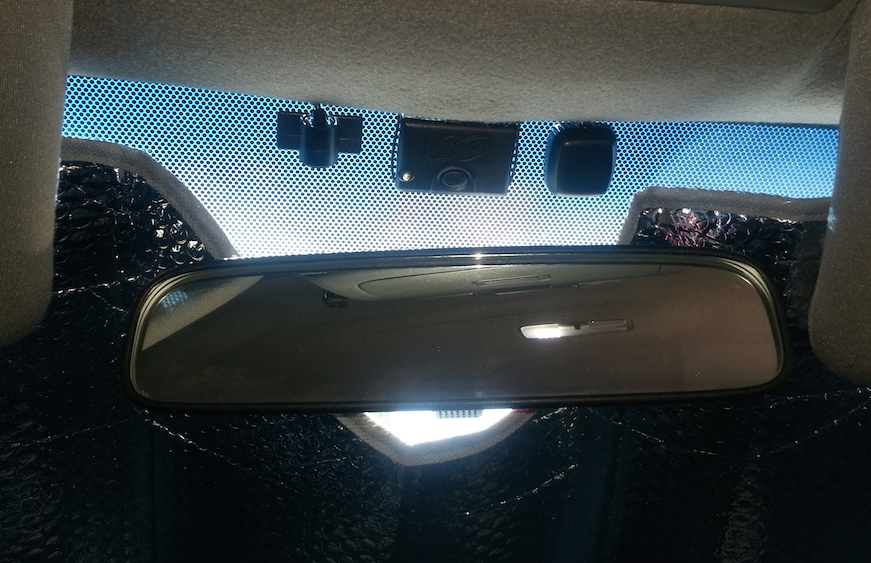 The alarm system module on the Tacoma's windshield.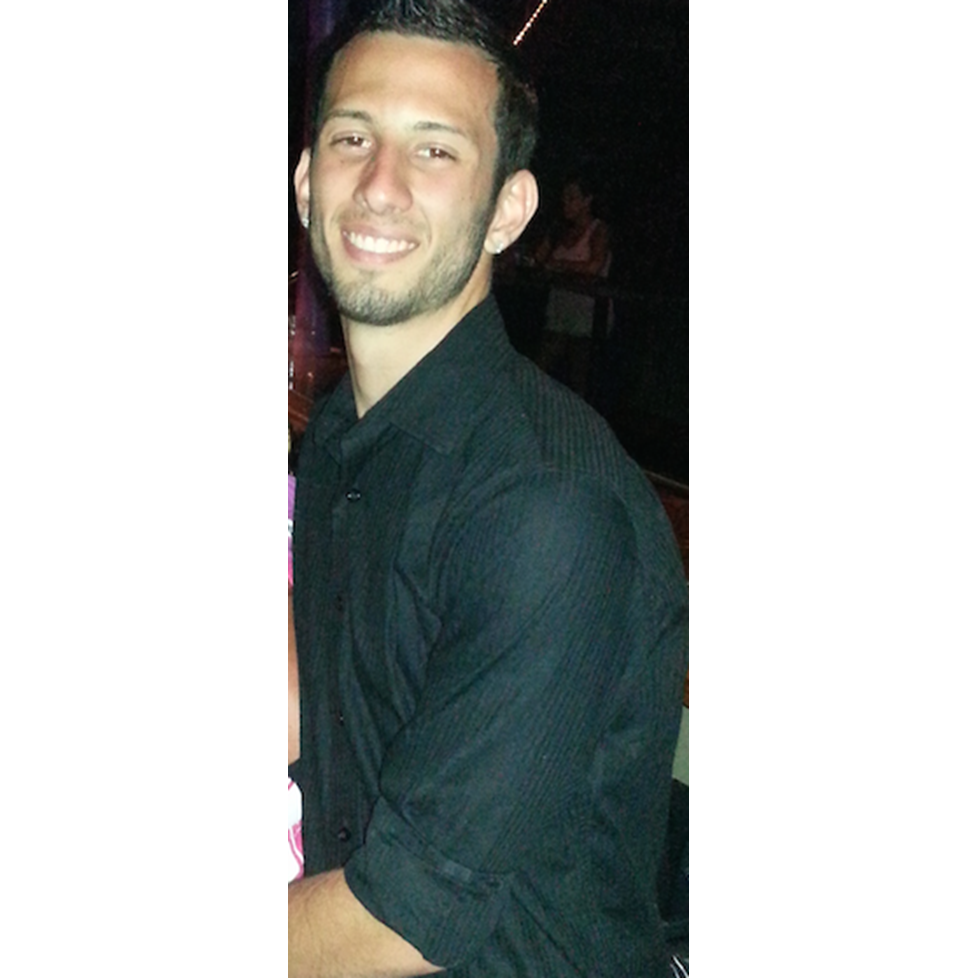 The man behind this heavy-duty Tacoma PreRunner, Andrew W.
Andrew's Tacoma is more than just a tough-looking ride now — it's got great sound, security, and safety enhancements. Great job Andrew, and we look forward to hearing about your next project.
---
Vehicles in the Custom Car Showroom are submitted by customers and fans, and edited by Crutchfield writing staff. You can find more of these articles on the Showroom main page.