Lopaka L's 2011 Ford Mustang GT
Truly custom audio and video
Lopaka L. from Portland, OR, has an eye for flair and an ear for the sublime. He does own his own car customization shop and has experience as a videographer, after all. So when he decided to upgrade his 2011 Ford Mustang GT with some items he had "around the shop," as he says, he didn't just go for a straightforward audio installation. He brought this pony to a gallop with his own fabricated headrest and visor mounts to bring video entertainment on board as well.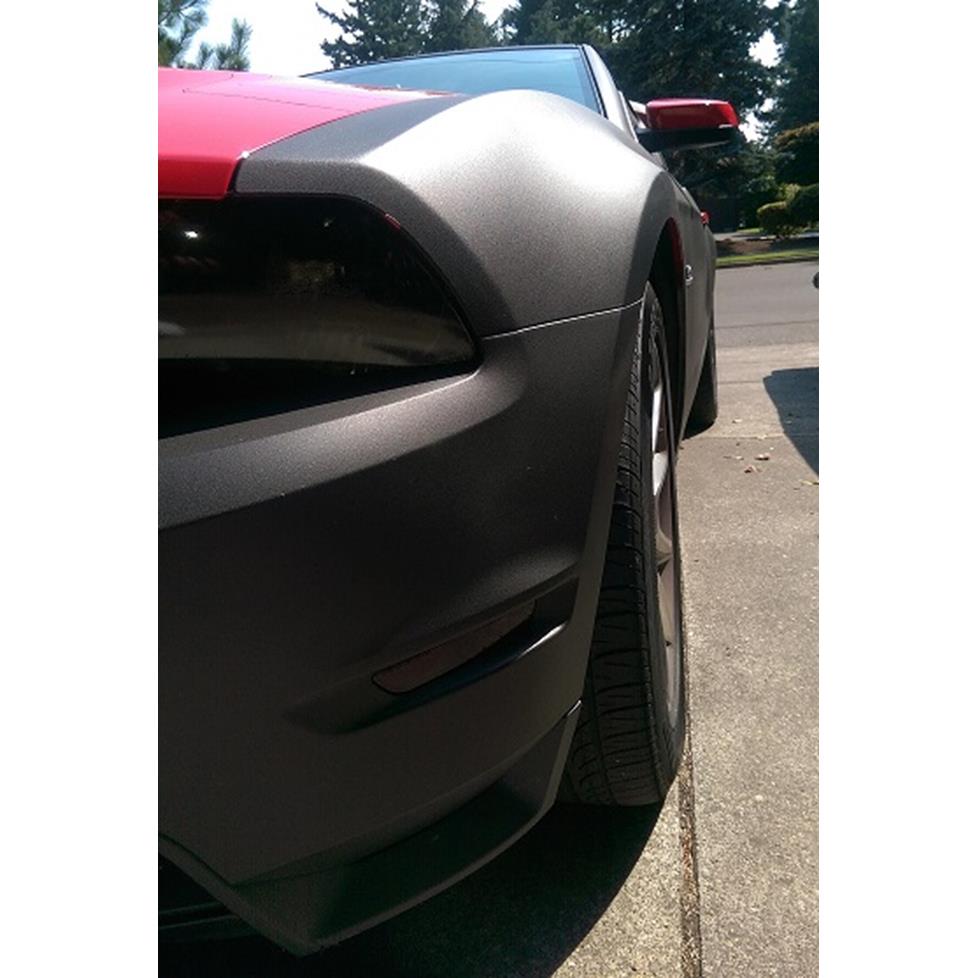 Items installed:
A plan for success
Lopaka tells us he did a lot of planning before he got started, including drafting diagrams, which helped to eliminate headaches as he went along. With a project this big — one he calls "one of the most exciting to date" — it's important to have a course of action thought out ahead of time. Here's the Mustang after the first few steps of the project, which involves not just a new A/V system but cosmetic changes as well.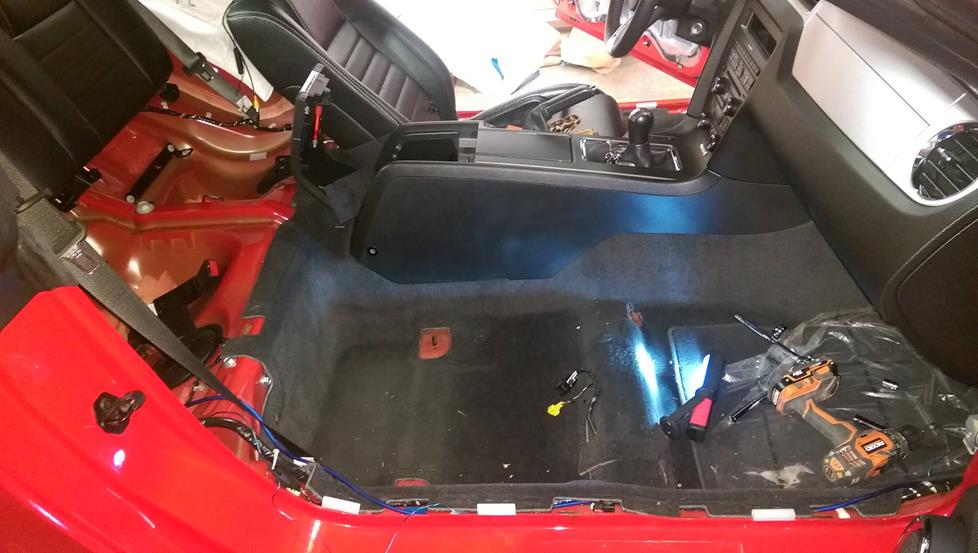 The right dash kit for the job
"With the 2011 Mustang you have few options for dash kits," Lopaka tells us, so he made choosing the right one the centerpiece of his project. He already had the Pioneer receiver and the Rockford Fosgate amplifier, so he needed something which would fit both the car and radio. He chose the Metra dash kit for its "sleek interface and feature set," allowing him to retain his Ford SYNC® functionality and climate controls with a handy color touchscreen.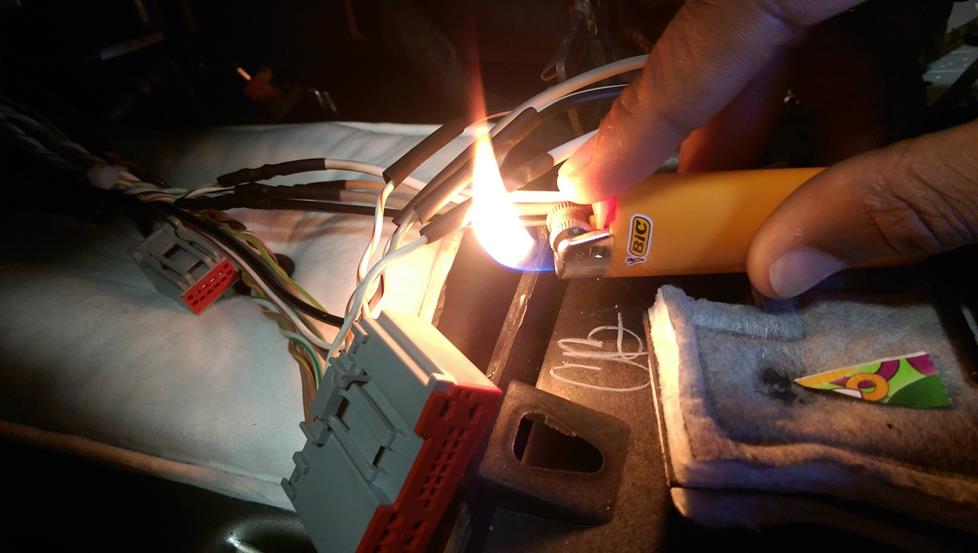 Above, we see Lopaka taking a lighter to the heatshrink connections for the Pioneer head unit. Below, the end result of the first stage of his project: a fresh receiver and dash kit that's ready for the road.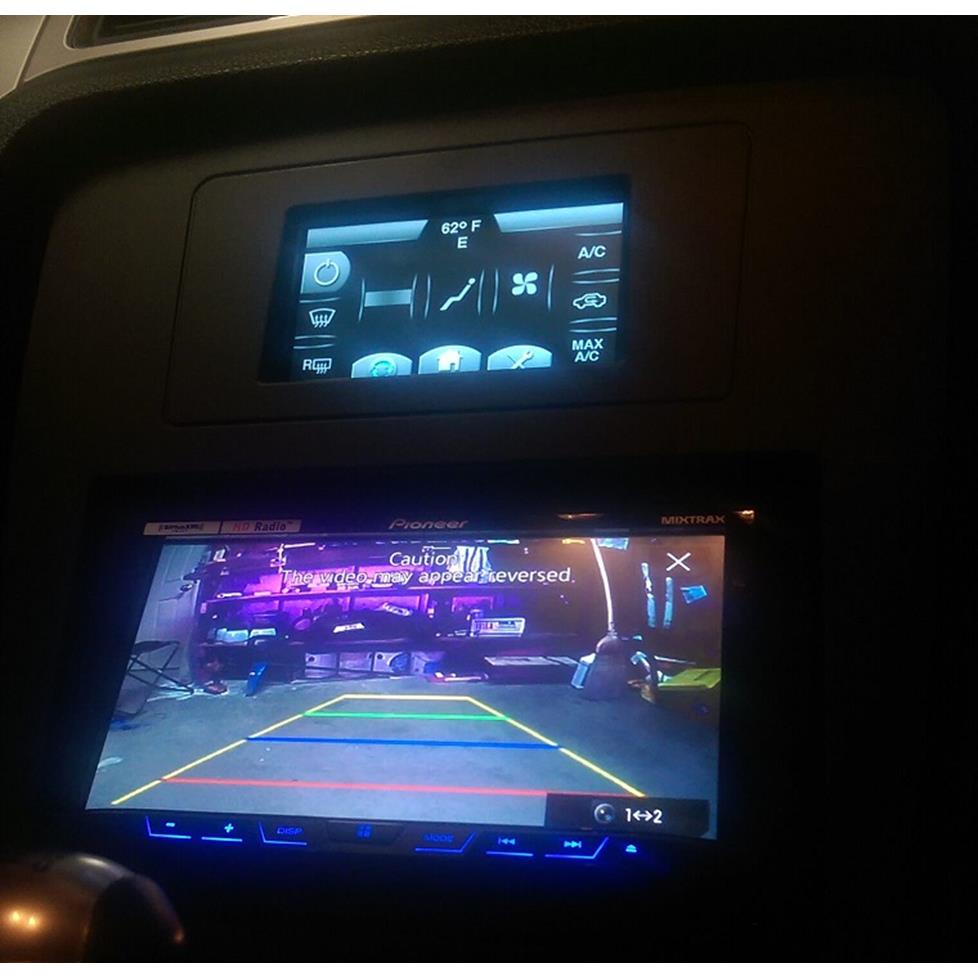 Power and wiring
Lopaka continues: "Once the deck was in, I ran the speaker wiring to each speaker location, installed the amp wiring kit, and then mounted, tested, and tuned the system."
Sound damping material isn't the most glamorous aspect of installing a new audio system, but Lopaka knows it's invaluable for reducing road noise and other issues caused by interior vibration. Here we see some of his Second Skin material before it goes into his vehicle, along with some of the tools of the trade: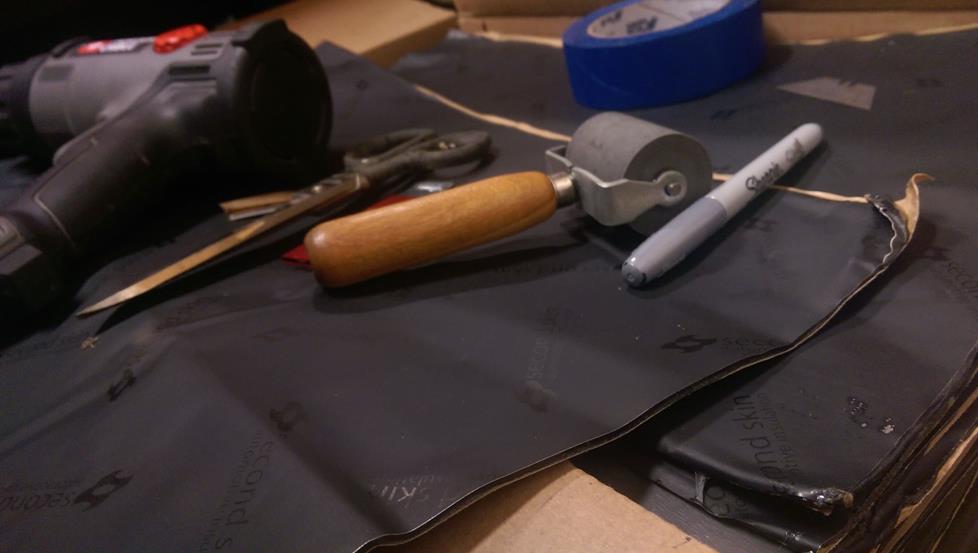 A personal touch for sight and sounds
Lopaka's a real pro when it comes to customizing his vehicles, as evidenced by the snazzy coating on the Mustang's exterior in the first photo of this article. Here's the full front in progress, transforming from red to matte black.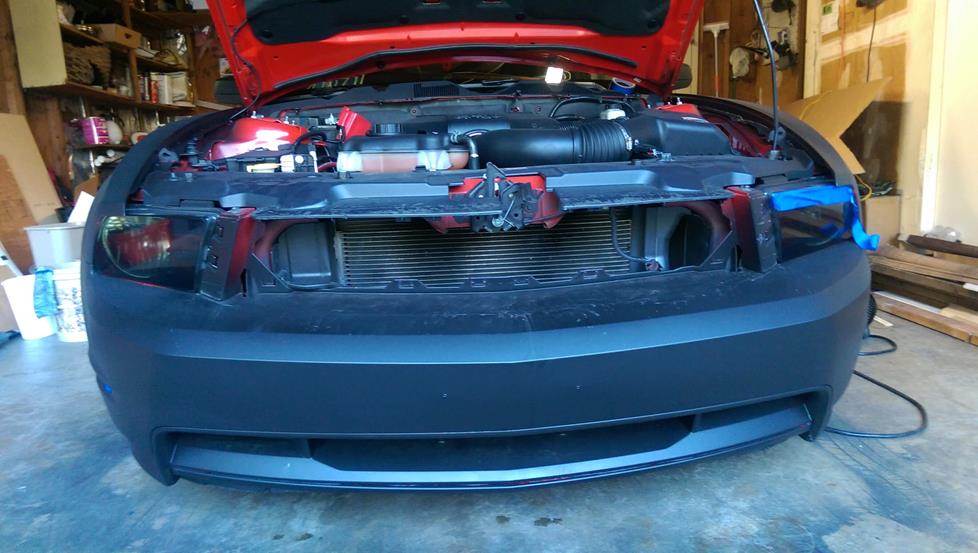 On top of that, he fabricates his own speaker trim rings so he can add even more eye-catching accents. Here are a pair he did for his Rockford Fosgate speakers using medium-density fiberboard (MDF):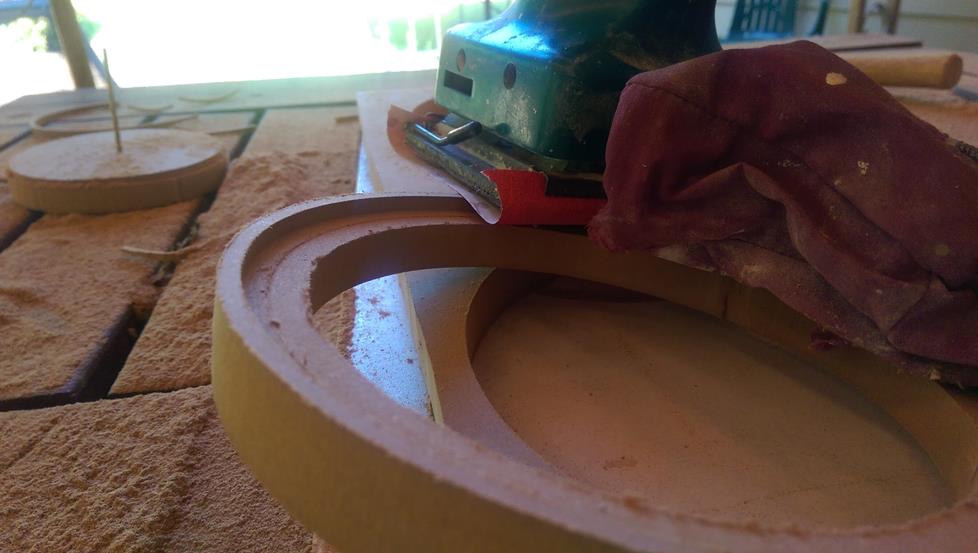 Adding video
Lopaka continues: "I fabricated headrest/sun visor TV mounts and installed a video distribution system. Everything's run by the Pioneer head unit." Here we see some wiring going to the driver's side headrest: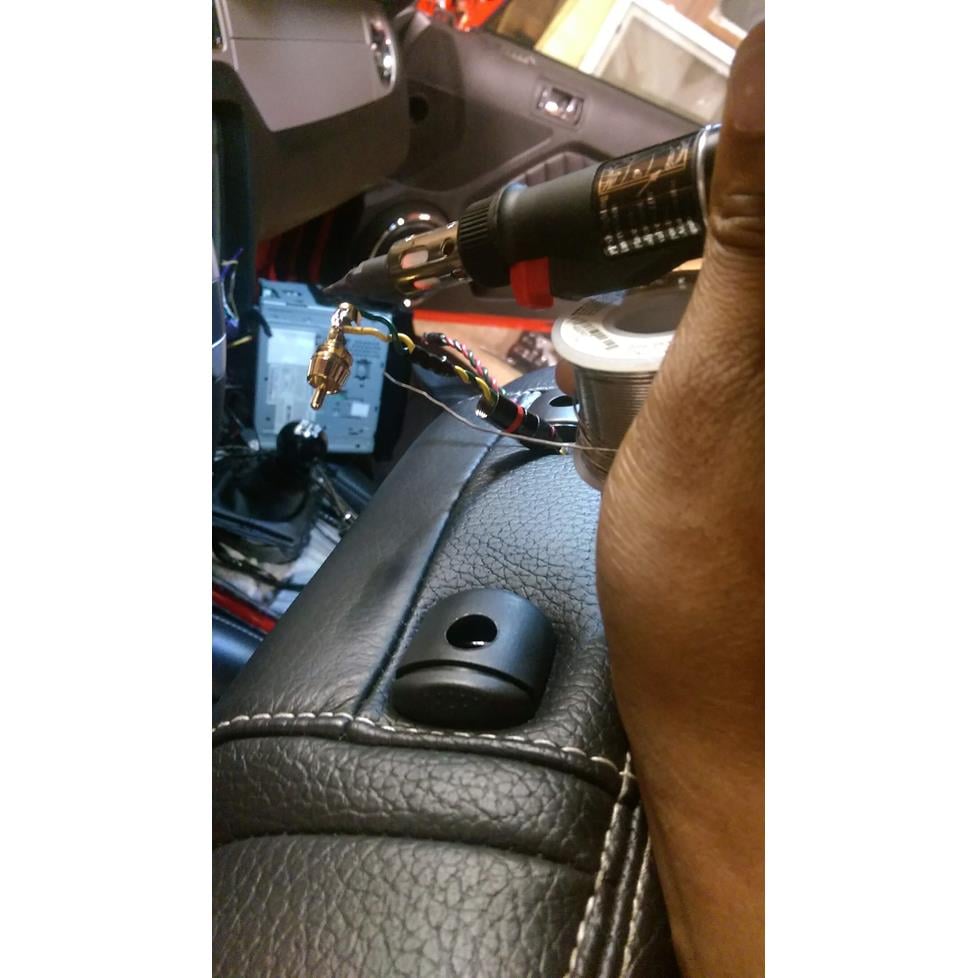 Finally finished
After a lot of sweat and effort, Lopaka's got a mighty steed he can be proud of. And it's loaded with A/V options, including video monitors in the headrests. Here's what the interior looks like through the rear windshield: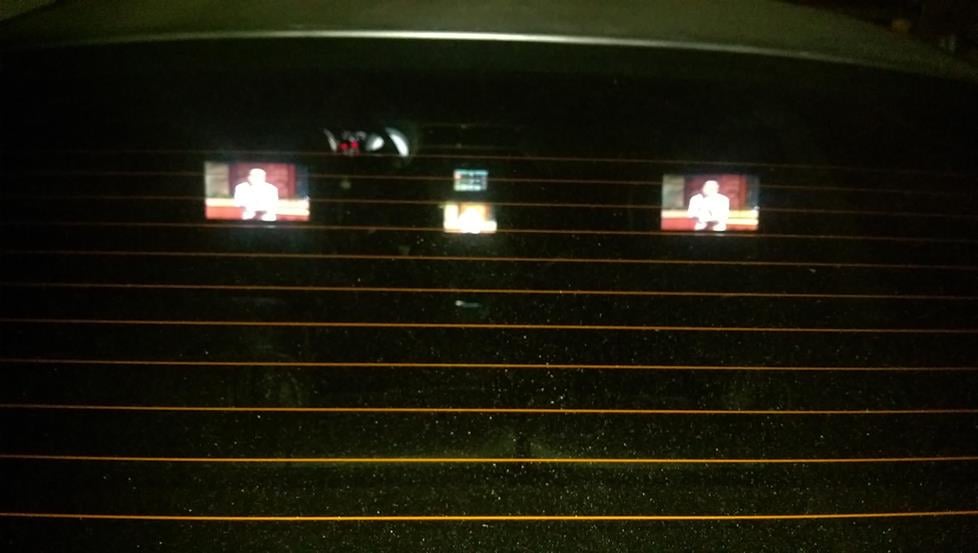 Lopaka mentions that he's loved Ford cars since he was a kid, especially the "prized '89 5.0 Fox Body," and the effort he put into this job shows his devotion. But he's not quite done yet — he hopes ot add an alternator and a custom subwoofer in the future. We wish him all the best and hope he'll share more of his future projects with us.
---
Vehicles in the Custom Car Showroom are submitted by customers and fans, and edited by Crutchfield writing staff. You can find more of these articles on the Showroom main page.