4 tips for upgrading the audio in your hybrid
How to safely install an amp and sub in your hybrid car
Can I install a new stereo or an amplifier in my hybrid? Yes, as long as you do it right. Here are our tips for making your audio mileage match your gas mileage.
fter years of business trips in the company hybrid vehicle, a few of us decided it was finally time to perform a long overdue audio upgrade to overcome its excruciating factory sound. But first, we had to consider a few things.
Sharing our installation experience
As Anthony, a former Crutchfield Advisor and longtime car audio enthusiast, installed new gear in our 2010 Mercury Mariner Hybrid, we thought it would be a great opportunity to share some hybrid-installation tips.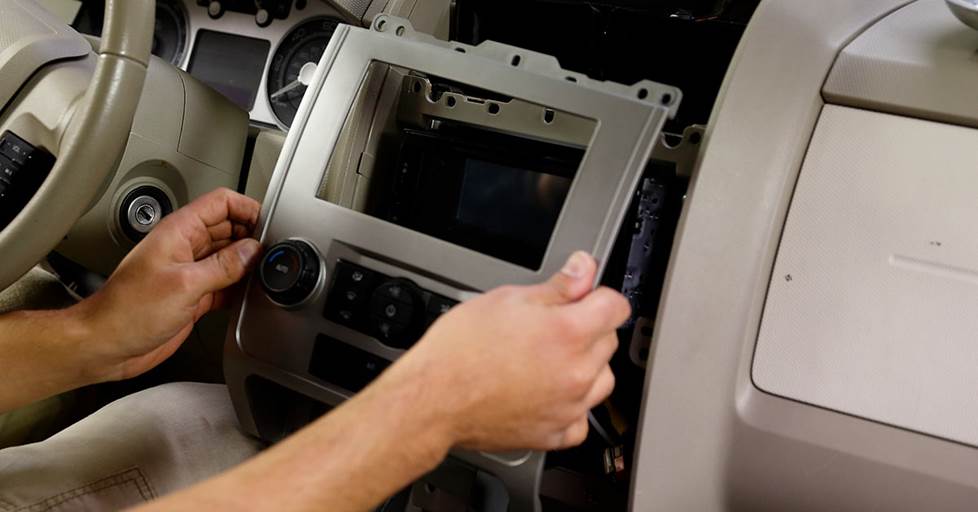 Tip 1: The general rule for upgrading the audio in a hybrid
Whether your hybrid is a Prius, a Fusion, or a Civic, hybrid vehicles have sophisticated electrical systems. And there's a limit to how much you can tax the system with additional electronics.
As a general rule for hybrids, we recommend not exceeding a 30-ampere current draw on your battery, or a total output of 350 watts RMS from your audio system. Luckily, that still leaves you with lots of room for a great sound system upgrade in your ride. Since you're going to pass all those gas stations, you might as well enjoy your drive more.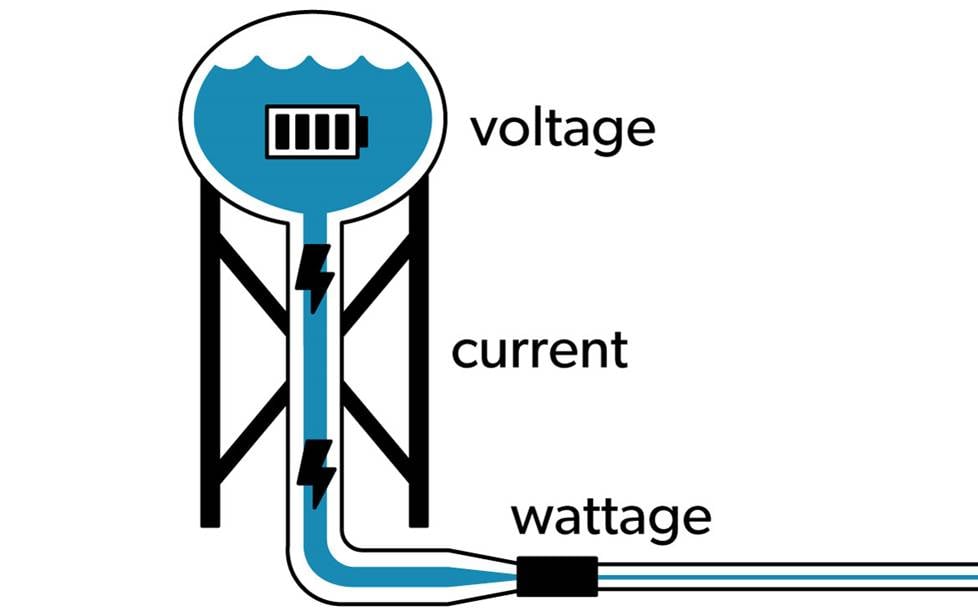 An explanation of current draw
If you're new to car audio, don't let the technical terms intimidate you. To understand current draw, it helps to think about a water tank, which represents your car's battery. Voltage is the amount of available power, represented by the amount of water in the tank. Electrical current is like water flowing through a pipe — the speed at which it flows is the current draw.
Wattage is the amount of work the current can produce — represented by how forcefully the water comes out of the pipe. When you pull too much current from the battery to produce more wattage, there isn't enough voltage left to power other vital electronics in your hybrid.
Tip 2: Install a better stereo and speakers
Replacing the factory radio usually gives you an immediate bump in audio power and cleaner sound due to improved digital-to-analog converters. And the typical new car stereo isn't going to strain your electrical system. New speakers are an easy upgrade that doesn't negatively affect electrical current draw at all.
Replacing the factory stereo
For our new stereo, we chose a Kenwood DVD receiver with a touchscreen display to run the show. It offers Apple CarPlay™ and Android Auto™, which the factory radio did not include. Drivers would now have a lot more music options and stereo functionality on their company trips.
[See all of our touchscreen stereos]
We paired the Kenwood stereo with the iDatalink Maestro RR interface, which provided all the wiring connections, steering wheel integration, and the ability to check out the cool diagnostic gauges in the Mariner.
We had listened to some demo music on the factory system before the installation. It was a painful listening session. I can't believe we waited this long to upgrade this sound system. Once the Kenwood car stereo was installed, we did another sound check with the factory speakers still intact. The difference was immediate and impactful. The soundstage, which had been suppressed and lowered by the factory system, was now much more open and natural. We couldn't wait to continue.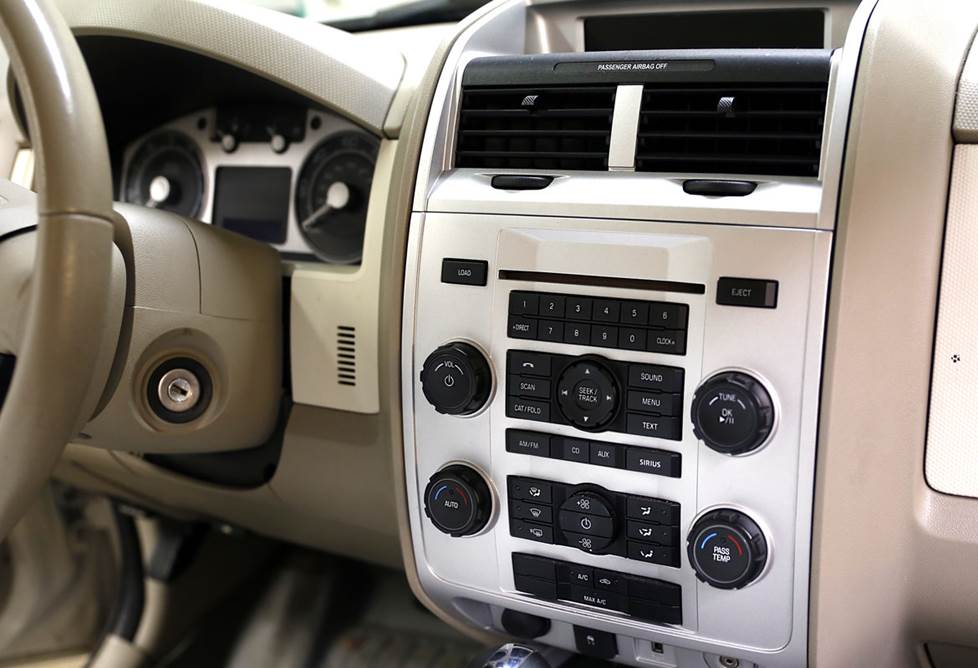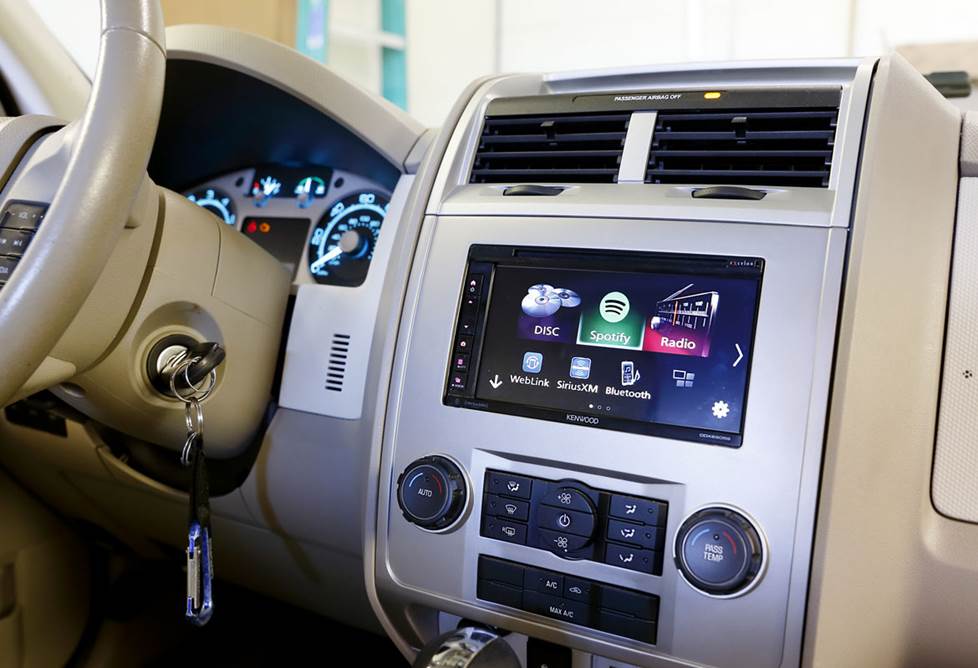 Replacing the factory speakers
For speakers, we decided on the Polk DB572 5"x7" speakers for the front and rear doors. These are hugely popular with our customers, as the reviews can attest. They also work well with a variety of music, and their efficiency complements the Kenwood stereo's power.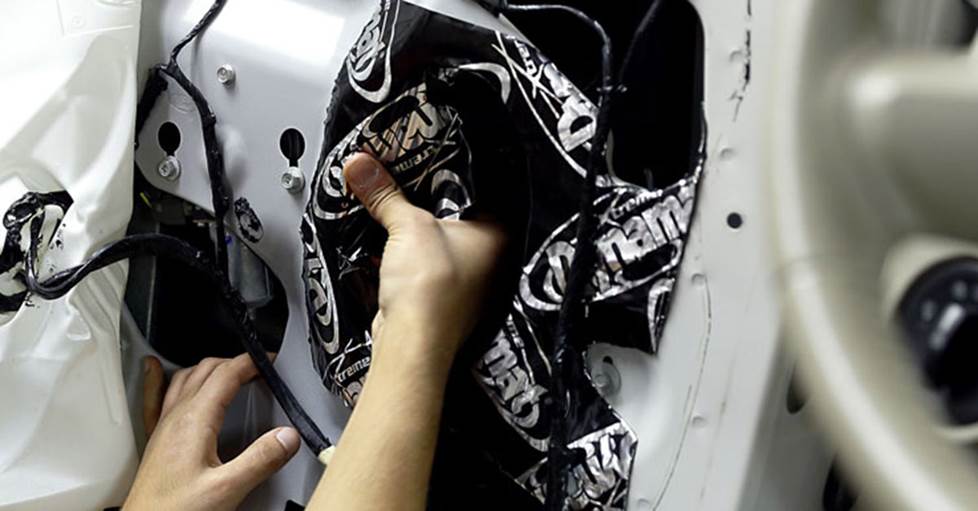 We applied the Dynamat directly to the door metal to eliminate unwanted vibrations.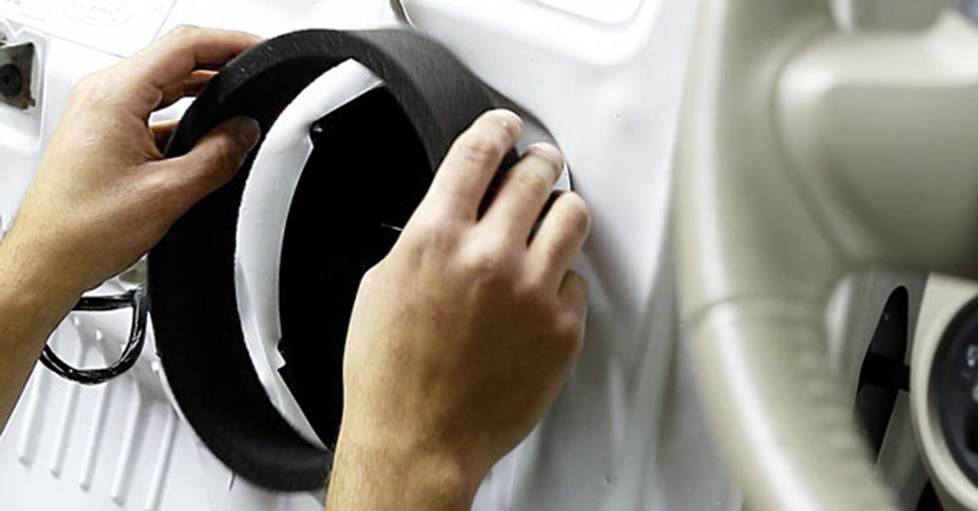 We then installed the Stinger FAST foam rings to improve the speaker's overall sound.
In addition to the speakers, we also decided to go with a combination of Dynamat and a set of Stinger Roadkill FAST Rings to seal the speakers in the factory openings. These items also deadened unwanted noise and rattles, so we could get the best sound possible without interruptions. Anthony had experience with both, and he was very complimentary of the FAST Rings he'd used in previous vehicles. They're easy to install and can be cut to needed shapes.
Tip 3: Add the biggest amplifier you can
People always ask us, "Can I install an amplifier in my hybrid vehicle?" The answer is, Yes, you can! Since we're all music lovers here at Crutchfield, we understand the need for impact in your music.
When selecting an amplifier to install in your hybrid vehicle, check the total fuse rating of the ones you're interested in. If the rating doesn't exceed 30 amperes, you're good to go. Your best option is usually a compact amplifier, because it'll draw little current, is cost-effective, and stays out of the way.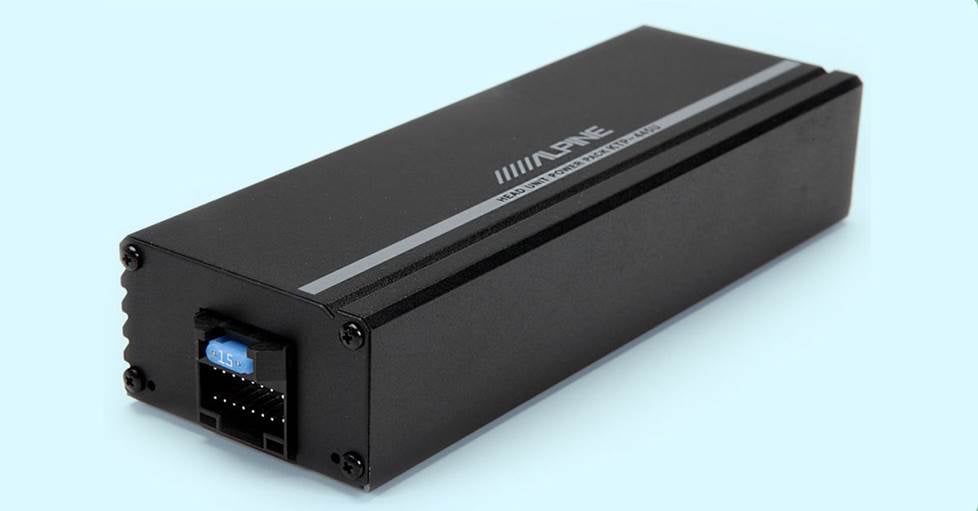 This little Alpine KTP-445U Power Pack amp delivers 45 watts per channel, but only draws 15 amperes of current.
Yes, you can even install a subwoofer in your hybrid
If you're using stereo power for your speakers, then you can add a subwoofer to the mix and further enhance the sound. When matching an amplifier to a subwoofer, subs that are efficient (with a sensitivity rating of 90 dB or higher) and have a power handling of approximately 200 watts RMS or less work nicely in keeping current draw down. Again, make sure your amplifier's fuse rating doesn't exceed 30 amperes.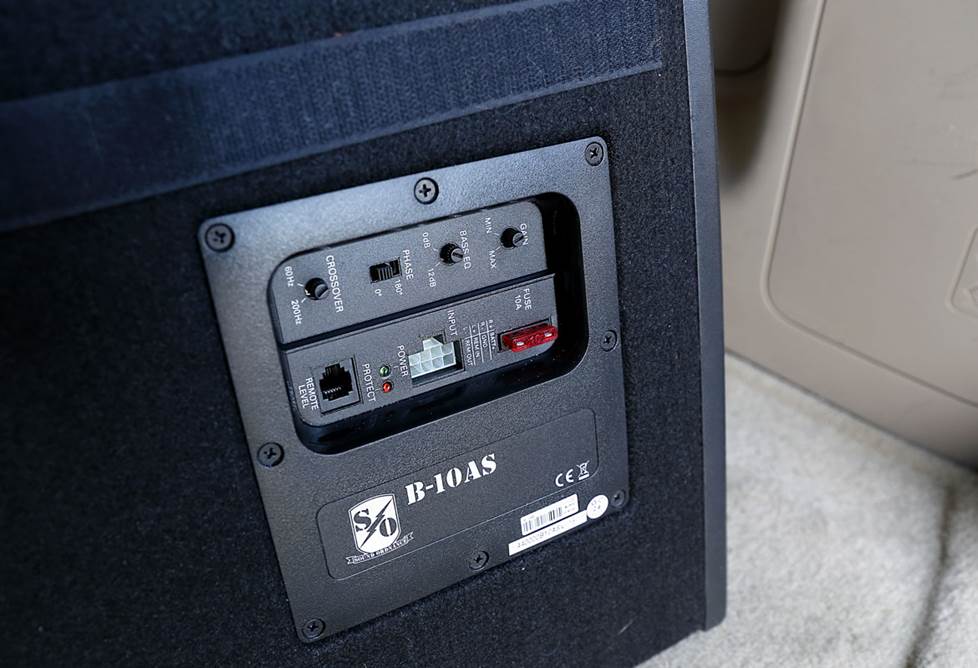 Powered subwoofers are also a great all-in-one option to add more bass without creating problems for your system. For the Mariner, we chose the Sound Ordnance B-10AS 10" powered subwoofer. It draws only 10 amperes of current, but still delivers some solid thump. It also features a detachable plug, so the enclosure can be removed if more cargo space is needed. Super handy!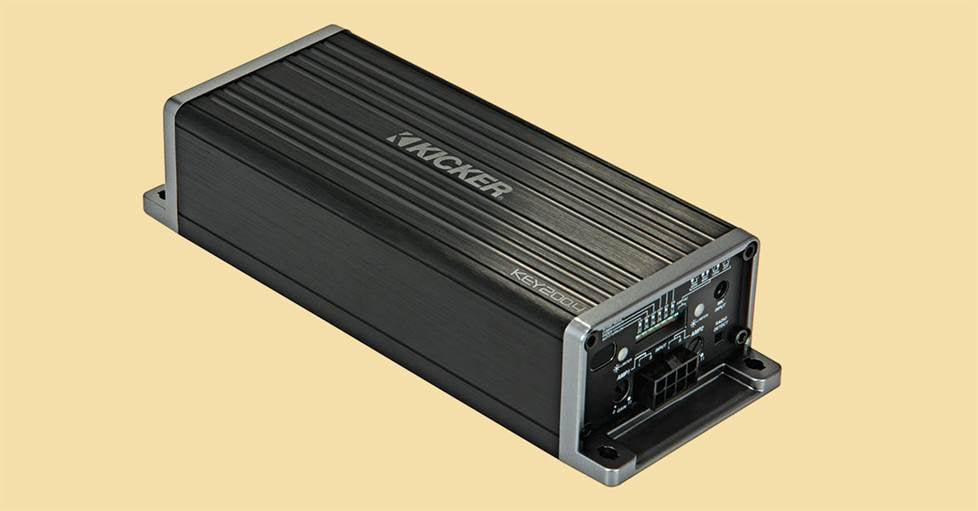 If you're keeping the factory radio, Kicker's 47KEY2004 4-channel amplifier with built-in DSP adds power and features, but only draws 20 amperes of current.
Tip 4: Dial in your sound with in-depth tone controls
Many factory systems are equalized for the original gear installed in a particular vehicle. It's often not optimal for everyone's ear, nor is it very adjustable. But don't worry! We offer several digital signal processors (DSPs) to get around the factory equalization and clean up that sound, even if you're sticking with the factory radio. While we relied on the Kenwood stereo's robust sound-shaping controls for the Mercury, these outboard DSPs can also offer up additional features to factory radios, like built-in amplifiers or preamp outputs for additional amps.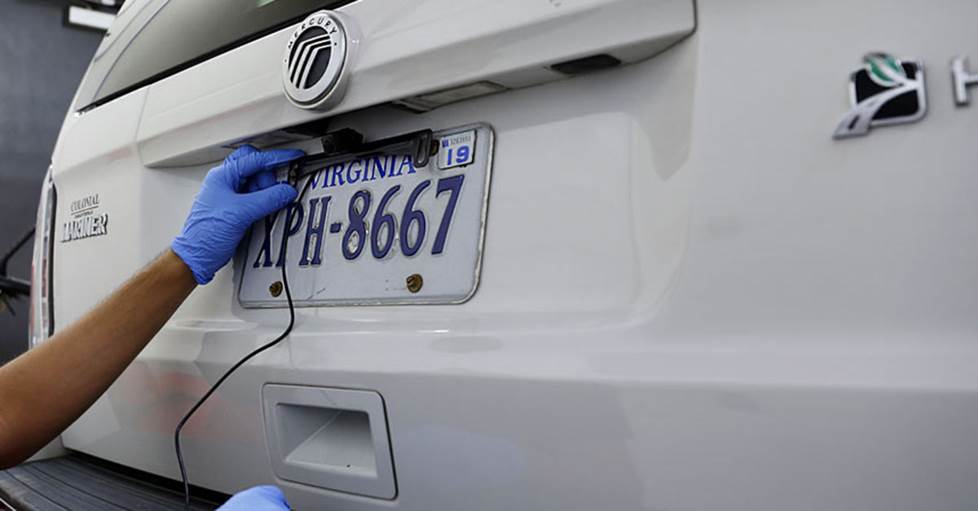 Some extra gear for the ride
Since this was a company vehicle, we decided that a Brandmotion backup camera was a great idea for safety. Its video would show up on the Kenwood's display when the Mariner was in reverse. We ran the video cable from the dash location to the back door and drilled a new hole behind the license plate to accommodate the camera.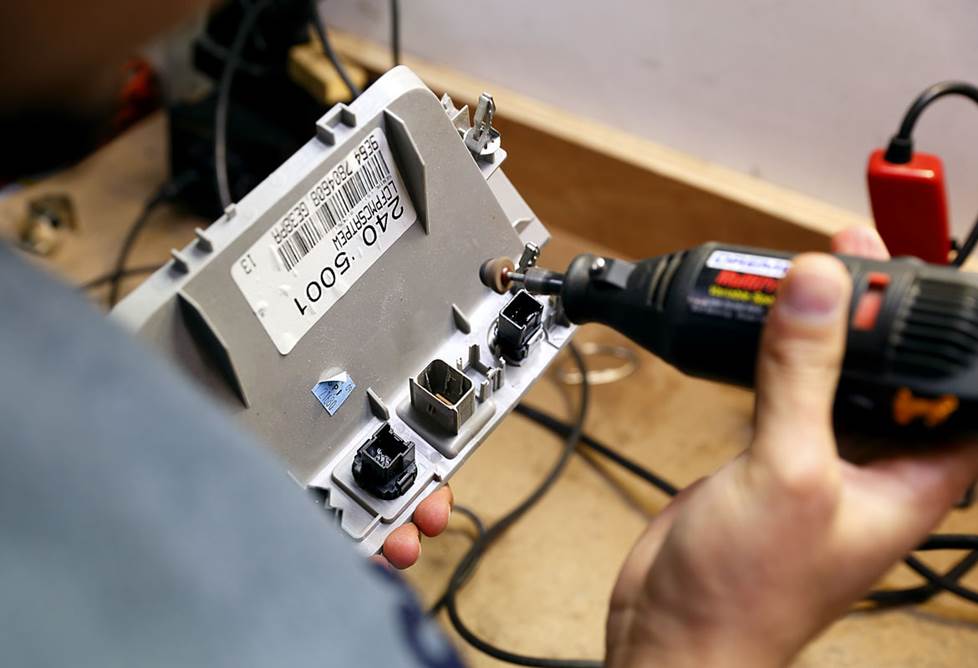 We had to modify the inside of the factory USB port opening to allow the new USB cable to fit. This way, drivers would be able to plug their smartphones directly to the Kenwood receiver.
Since the factory USB port is lost upon replacing the stock radio, we fed the USB cable that Kenwood supplied with the radio from the back of the new stereo to the factory USB port location. We modified the panel and affixed the new USB input to the old USB opening, making it look just like factory. Now, any drivers can plug in their smartphone and engage Android Auto™ or Apple CarPlay™ to access music and navigation apps for their journey.
Find the right audio gear for your hybrid
When you're ready to upgrade your hybrid and add features that the factory setup may not offer, contact one of our Advisors. They'll be glad to set up a system that sounds great and safely works with your fuel-efficient vehicle.